Zoho People Kiosk
Disclaimer:
Liveness detection and anti-spoofing through depth detection are currently available in a limited number of devices.
We are working to extend these features to other devices.
Full anti-spoofing supported devices:
Front camera: iPhone X to iPhone 13, iPad Pro 3rd Gen or newer. Front & rear camera: iPhone 14
A kiosk that allows employees to check-in and check-out through a quick photo capture based on facial recognition.
The setup is simple and can be typically used at a front desk or office reception. Zoho People Kiosk could be a perfect fit for onsite employee attendance management in remote offices, warehouses, and similar office situations.
Let us start with the pre-requisites:
Zoho People account
Kiosk Setup in Zoho People
An Internet-enabled device
Profile picture in Zoho People for AI photo-match
When an employee walks into an office space, an internet-enabled tablet, mobile phone or computer will be used for employee check-in/out through AI face recognition. The captured image will be matched and verified against all employee images stored in the database.
Note: The captured employee image is matched against all profile pictures in the Zoho People database of your organization. In case of no match or when there is no profile picture for a particular employee, the employee will have to do a mobile/web check-in or check-in by other conventional methods used in the organization. Furthermore, images from Zoho Accounts or other Zoho Applications are not taken into account here. Zoho People Kiosk operates through the Zoho People profile picture only.
Easy setup process with minimal hardware requirements.
Simplifies check-in and check-out for offices with multiple remote offices, on-site locations, warehouses, and construction sites.
Provides a quick and cost-effective upgrade to a digital punch-clock-like solution.
Employees can check-in without a physical ID card.
Can also be used for non-users (employee profiles) or contract role employees who may not have an ID card or Zoho People account.
Brings all the advantages, especially the additional layer of security that facial recognition enlists.
Ensures that employee identity is never compromised.
The setup process can be done on the Zoho People web application by an administrator, location administrator or attendance module administrator. This is a one-time process.
Follow the steps below to proceed with the setup process:
To get started, navigate to Attendance > Settings > Kiosk setup
Enter a name for your kiosk and click Save.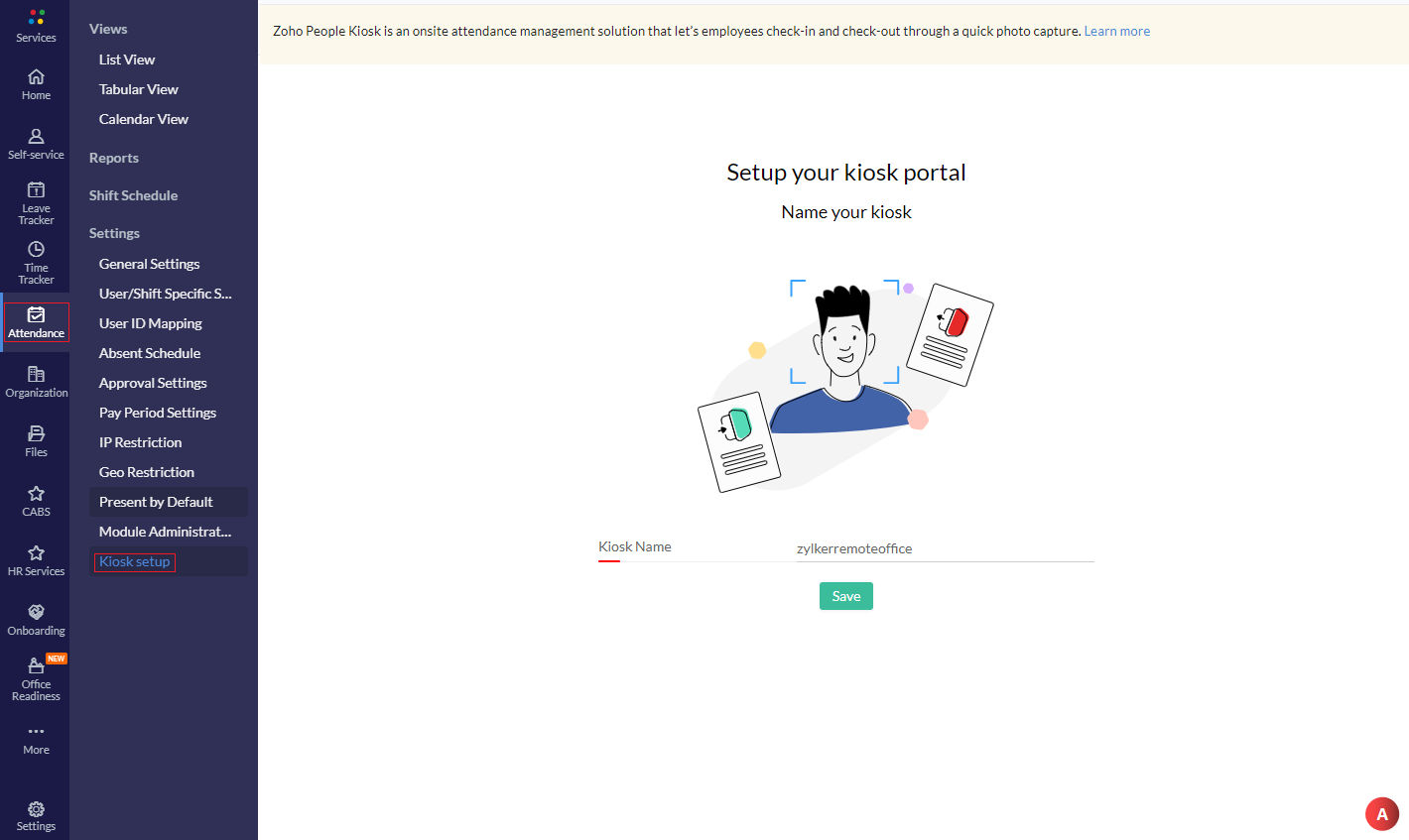 Now click on +Add Login Credential. Add a name for the device that is to be used to capture employee attendance. It can be for any internet-enabled device.
Add the Login email address and password. This email address can be any verifiable account. The email address can belong to any employee or staff, it need not be the administrator or an on-role employee. For example: "frontdesk@zylker.com or arthur95@gmail.com.
Note : When an email address is added, a verification email will be sent to the email address. The user will need to confirm their account. Once confirmed, the email address can then be used to login to configure the Kiosk mobile application or when setting up Kiosk using the portal link. Setup steps are given further below.
Based on the operating location, choose the corresponding Time Zone, Country, and Language.
​
Click Add. The setup is now completed in Zoho People.
​With Zoho People Kiosk setup now completed, it is possible to implement this feature using the Zoho People Kiosk mobile application or through a computer web browser using the portal link access URL. (refer to screenshot B).
​Typically, once the administrator has to set up the Kiosk account, the login credentials can be shared with the front office. They will in turn either download the app or access it through the portal link to be used on a daily basis
Note 1: IP/Geo-restrictions are not considered for check-in/out from Zoho People Kiosk. However, city data tagged to IP address will be included as part of check-in/out data.
Note 2: Web check-in & Mobile check-in can still be used by Employees. (as per the Organization's settings)
Note 3: Zoho People Kiosk is available from Zoho People professional plan and above.
Note 4: Photos captured using Kiosk will not be stored. Only the check-in/check-out action will be logged.
Use any smart phone (Android or iOS) to set up Zoho People Kiosk mobile application. This will make it possible for employees to check-in and out using the configured device. The device can be deployed in the front-desk or reception area.
Note that the Administrator must provide the login credentials and kiosk name (refer to screenshot B) to the concerned staff, employee or staff, it need not be the administrator or an on-role employee.
Follow these steps to set up the Zoho People Kiosk Mobile Application:
To set up kiosk from an Android or iOS mobile/tablet device, install the People Kiosk app from Google Playstore or the Apple App store.
Select your operating location region and enter the kiosk name (as configured in Kiosk Setup - refer screenshot B) and login using the same login credentials.
Ensure that the camera access permissions are allowed.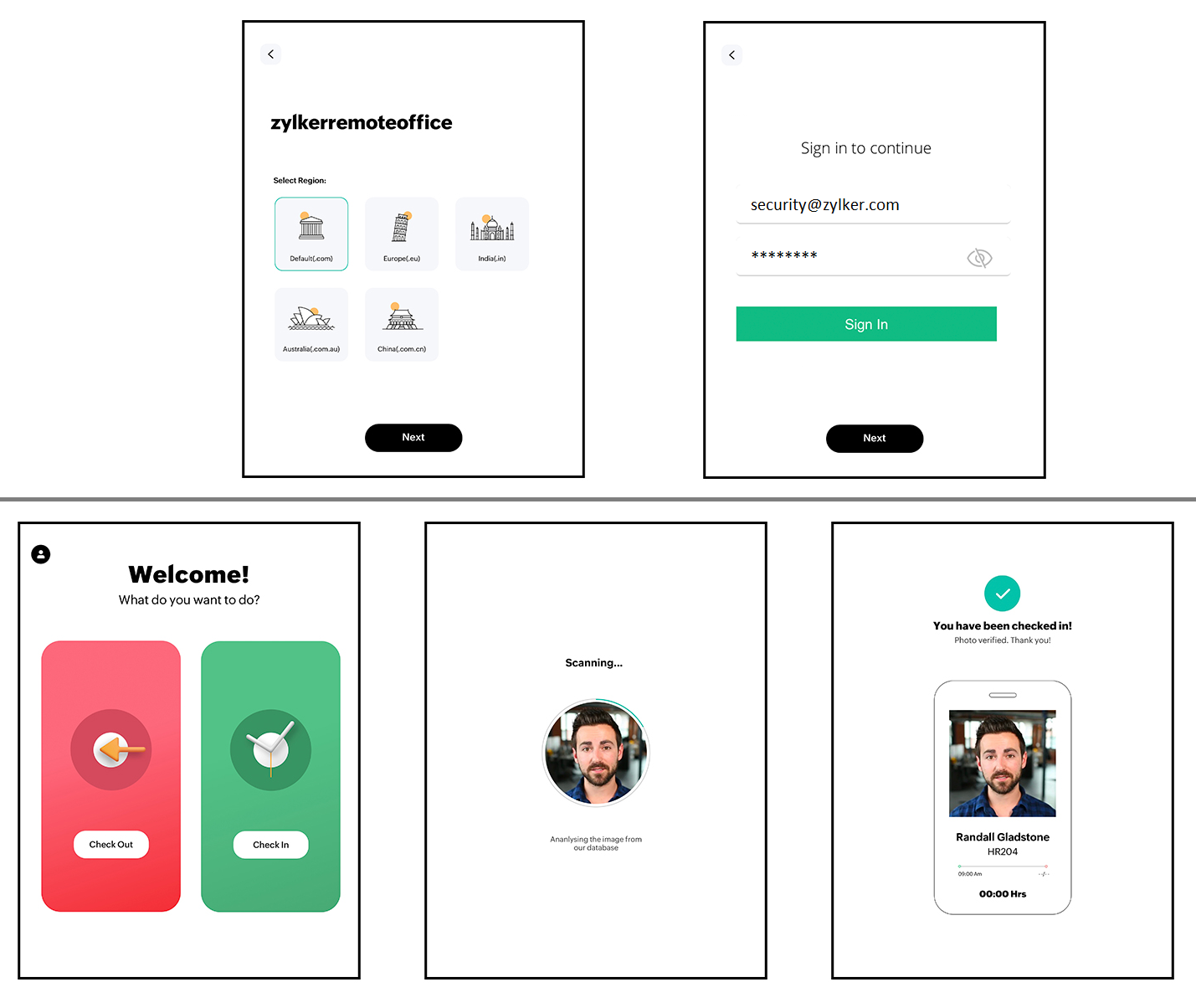 Now that the web portal and mobile device setup is completed, employees can check-in/out using this configured device. Typically, this can be deployed in your office front-desk or reception area to capture employee attendance.
Zoho People Kiosk can be implemented through any internet-enabled computer. Use the portal access link obtained during the Kiosk Setup process in Zoho People. (refer to screenshot B)
Note that the Administrator must provide the login credentials and kiosk name (refer to screenshot B) to the concerned staff, employee or staff, it need not be the administrator or an on-role employee.
Go to your computer web browser and access the link. The access link can be obtained by clicking the copy icon from the Kiosk setup screen.
Login using the same Kiosk Name and credentials used in Kiosk setup (refer to screenshot B).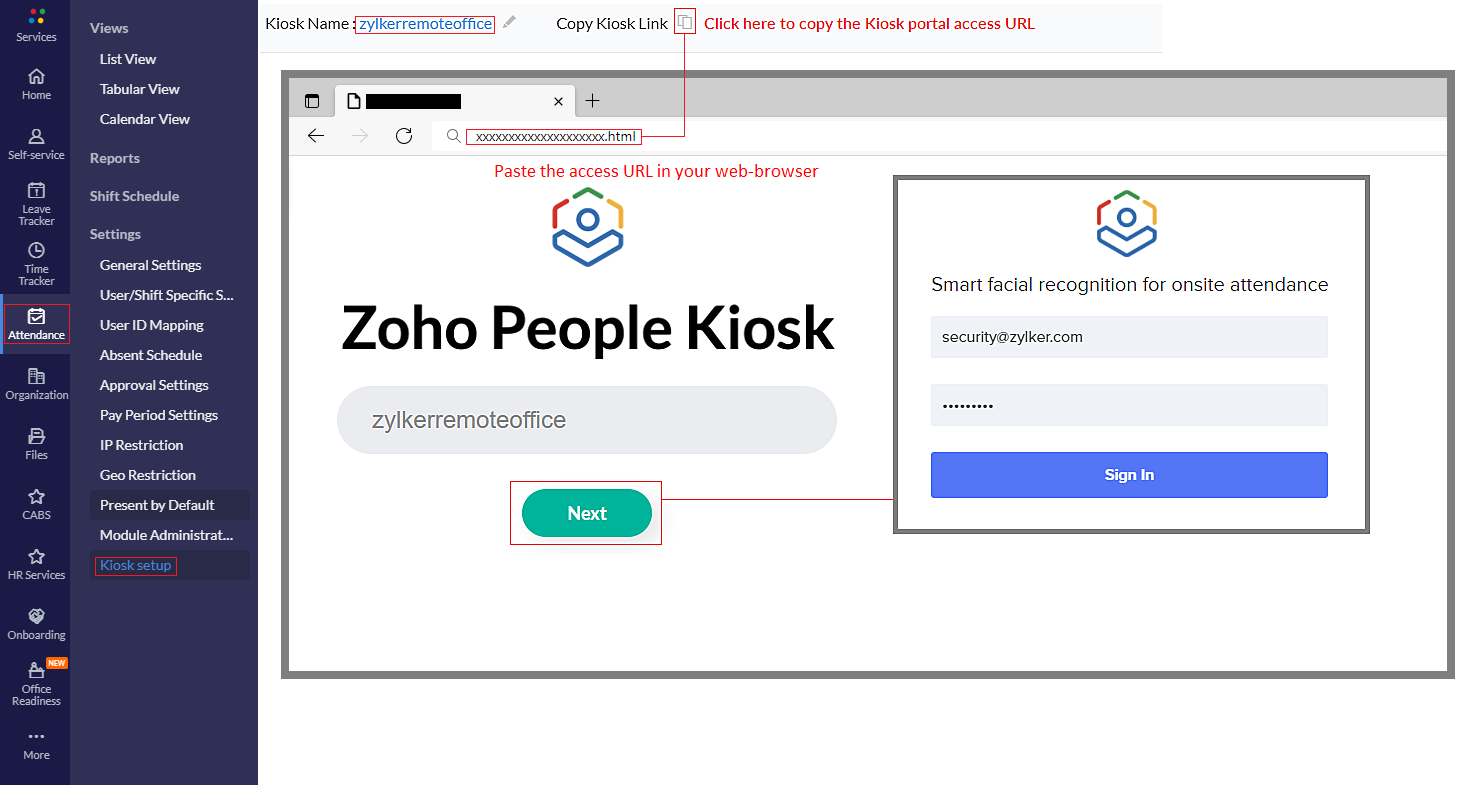 That is it! Now employees can check-in and check-out using the corresponding action buttons. Ensure that webcam access is allowed in your web browser to be able to use this feature.
Any employee can check-in/out by using one of the configured devices. (typically the organization may use it in the reception, front-desk)
On clicking the action button (Check-in or Check-out), the user will be prompted to take a photo.
Once the photo is clicked, the image will be matched against all profile picture images in your organization's Zoho People database.
If the image has a successful match, the employee will be automatically checked-in.
If the image does not match, then they will be prompted to try again.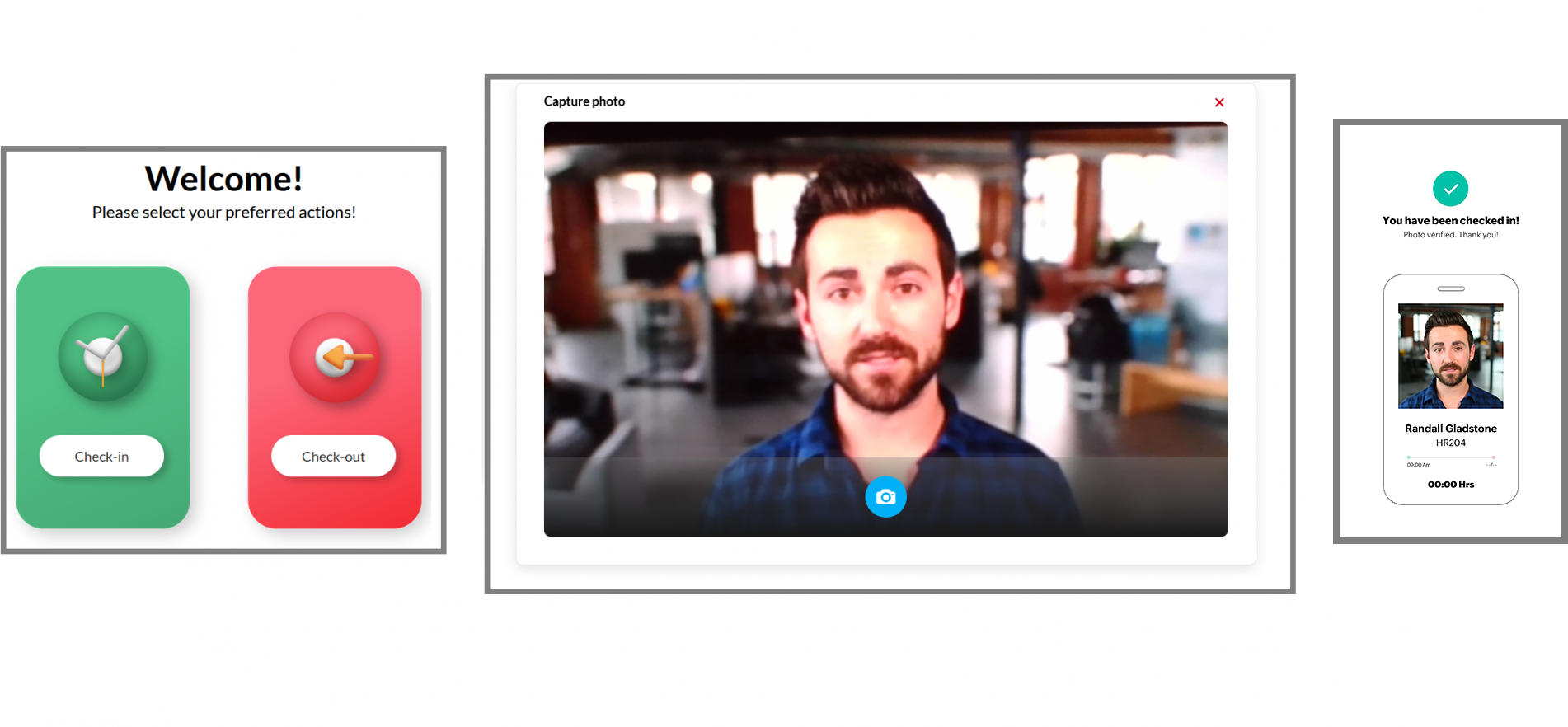 Important: Click here to read the Zoho People Kiosk privacy policy.