ADFS Integration
This integration helps to log into Zoho People with your organization's AD credentials. The main aim of this is to help you connect your AD with your cloud applications because, although it is the time of Cloud apps, AD still plays a vital role in managing centralized login systems.
This mainly involves two steps.
Setting up SAML with Zoho Accounts
Adding a custom domain to access Zoho People
Steps to Setup SAML with Zoho Accounts:
Click here to know how to setup SAML with Zoho Accounts
Steps to add a custom domain:
A custom domain has to be added and verified which will serve as your access to Zoho People.
To add a custom domain,
From your home page, go to Settings (Gear icon) > General > Rebranding
Under Login URL, give the URL (e.g: http://myhrms.mydomain.com) name and select the domain name from the drop down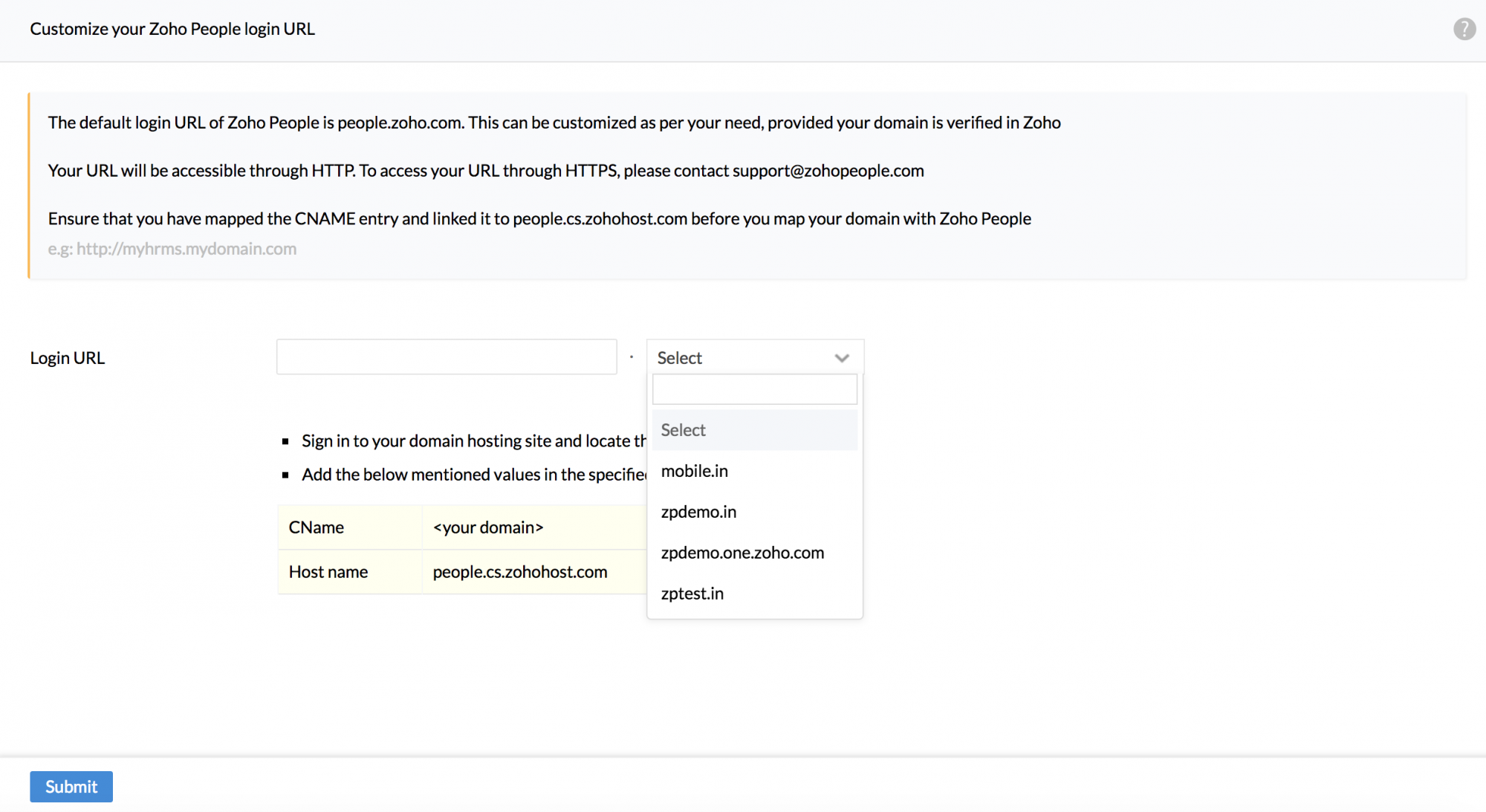 Click Submit.
Note: Ensure that you have mapped the CNAME entry and linked it to people.cs.zohohost.com before you map your domain with Zoho People
Sign in to your domain hosting site and locate the DNS management page
Add the below mentioned values in the specified fields
CName : <yourdomain>
Host name : people.cs.zohohost.com
Note: Once you have configured the domain mapping in Zoho People, send an email to support@zohopeople.com to purchase an SSL certificate which has a validity of one year.
Once this is done, you can directly login to Zoho People.
You can,
Avoid multiple logins and reduce the number of passwords. This means that you have more security ensured and have a centralized access control particularly, if you have your users spread across multiple directories.
Ensure compliance to organizational security policies and maintain a centralized audit trail.