complexities.
Choose Zoho One.
One dashboard. One platform. One experience!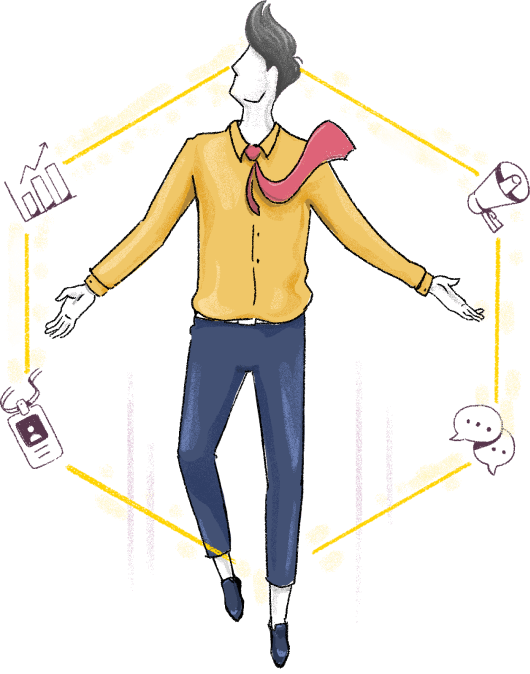 Features

Open-source

no

Yes

Platform-as-a-Service (PaaS)

Yes

Yes

AI-powered Assistant

Yes

Yes

CRM for Small Businesses

Yes

no

Developer Platform

Yes

Yes

Drag and Drop Report Creation

Yes

no

Desktop Apps and Extensions

Yes

Yes

Outage Prediction

Yes

no

Contextual Dashboards

Yes

no

App Launcher

Yes

no

Custom Solutions

Yes

Yes

AV Platform

Yes

Yes
What is a Business Management Software?
A business management software (BMS) is a one-stop solution for all of your processes, it's a central platform to visualize, navigate, and orchestrate your daily projects and tasks. Be it a CRM, customer support, or eCommerce solution, a business management software can be used as a platform to run your business and navigate through obstacles.
A carefully layered and successfully integrated business management software will close multiple points of contact while collaborating, managing, transferring, and integrating your data. With complete unification at every layer, users get a superlative experience. When unification works, silos disappear and multi directional integration makes for a holistic user experience.
Does Odoo stack up as a Business Management Software?
At first glance, you might place Odoo and Zoho One within the same bracket. Let's try to change that.
An open-source suite of software, with tools including CRM, eCommerce, accounting, manufacturing, and project management. It provides both subscription-based proprietary software and cloud-hosted SaaS. Its current architecture allows business users to create various modules and showcase them in the marketplace to be used freely. Odoo hosts about 30 core applications across business functions as official modules.

Boasts more than 45 applications on its platform. A deeply and holistically integrated BMS, Zoho One provides end-to-end business solutions hosted completely on the cloud. Every application in Zoho One is a stand-alone product, each backed by years of intense research and development. The Zoho One platform is as deep as it is broad. Each business function has a consecutive application that works in tandem with the other.
Download PDF
Over organizations
run their businesses with Zoho One
purolite

neon

ketai

thub

ecomark

iifl

ipexia

yuki

farmav

arroba
What sets
Zoho One apart?
Here are a few more key features that set Zoho One apart.
Everything in Zoho One works just as it should. It's an enterprise-ready suite empowered by our in-house intelligent assistant, ZIA. Business analytics and everyday reports are all included in one dashboard. You can integrate third-party applications effortlessly into the Zoho One ecosystem. Ready-to-use widgets give you the ability to glance at your daily tasks quickly.
Customization
Customize, extend, and redefine your business processes using our low-code-no-code developer tools to create your own applications with automated workflows. Map your specific business practices into a custom app designed from the ground up to meet the needs of your organization.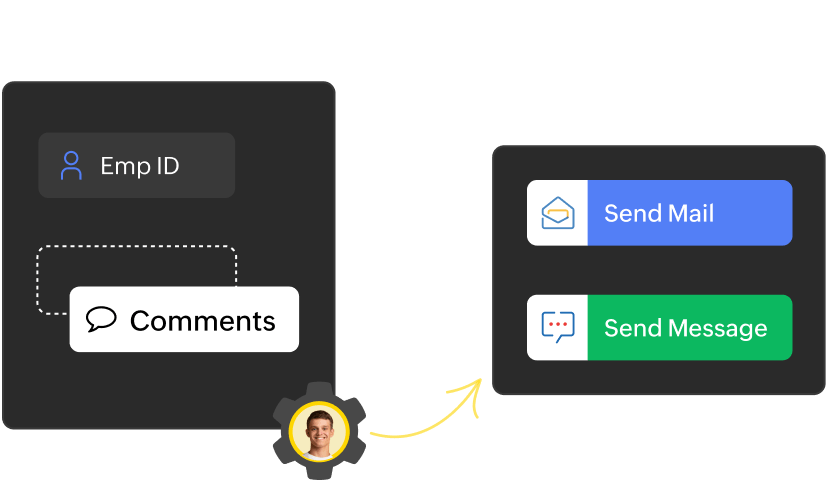 Extensibility
The Zoho One Marketplace features a number of apps—from both inside and outside the Zoho suite of products—that can enhance the power of the Zoho One platform. Add your favorite third-party applications to your Zoho One dashboard. With single sign-on (SSO), access all of your apps instantly for a seamless and holistic user experience.
AI & BI
Transform your data into insights and actions in minutes. Create interactive reports, predictions, sheets, charts, and graphs that can drive decision-making using our AI-powered assistant, ZIA. Use ZIA Search to generate reports of your queries from all across Zoho One.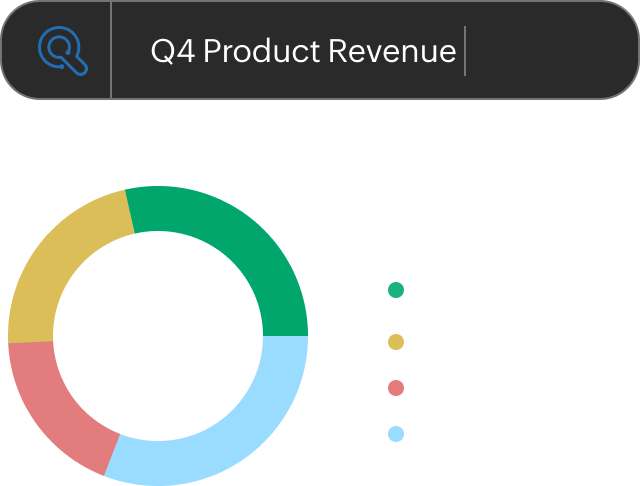 Unified UI
Navigating through multiple apps for your business processes is made simple with a unified dashboard and navigation panel. Pin and unpin apps under any category to organize and increase the efficiency of your daily tasks. Track data real-time with built-in dashboards and 50+ widgets.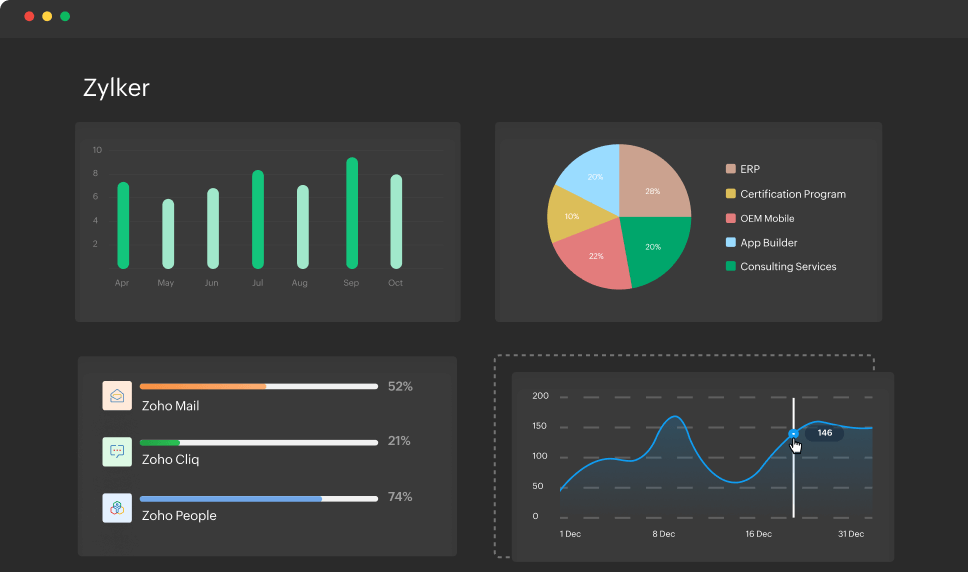 Value that brings volume
$

13.60
/user/month - billed annually
All apps
Odoo Online / Odoo.sh ** / On-premise
Odoo Studio
Multi-Company
External API
/user/month - billed annually
Access to 45+ apps and future apps
Friendly with 3000+ third party apps
Mobile Device and Application Management (MDM and MAM)
Single-sign-on (SSO) and Identity Access Management (IAM)
Unified and Contextual Dashboards
Developer platform
DIY website builder and forms
Prebuilt widgets, reports and dashboards
Commitment to data security and privacy
Custom application builder
"The thing that drew me to Zoho One is the sum of its parts is greater than the standalone quality of each app. The total collective experience is worth it, otherwise you end up with all these point solutions that don't really connect."
"Zoho has become our admin team, our pseudo accountant, our sales support, our client support system, and an intrinsic part of our business structure. It's like we employed a business solution that actually does the work for us in a lot of instances."