Generate great leads
Smart pop-ups
Get more leads for your business by adding sign-up forms and smart pop-ups to your website, landing pages, and social media posts. You can assign an action upon which the pop-up will appear on the users' screen.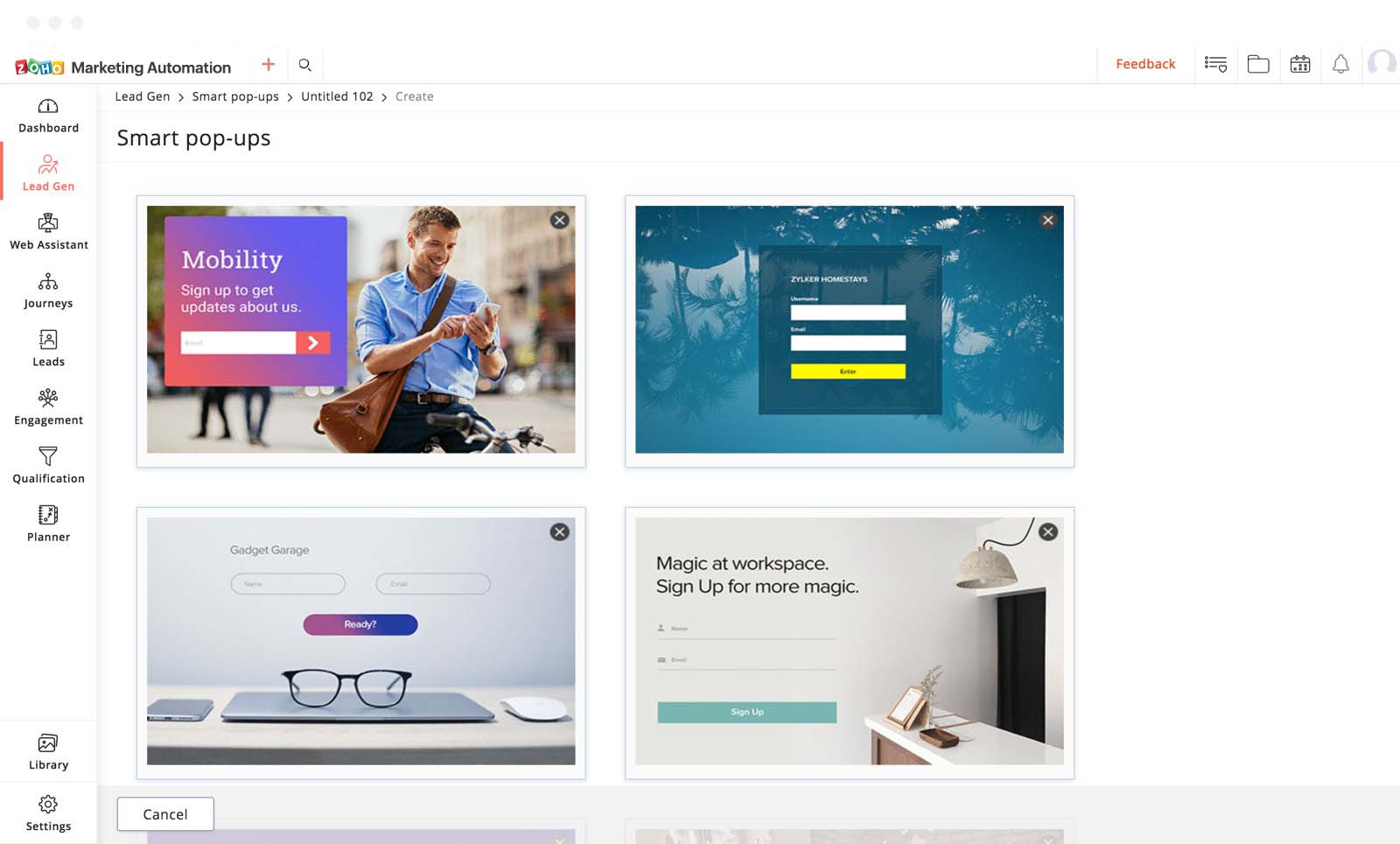 Get live data
While organizing a webinar or an event, make the most of the on-spot forms to collect the attendee data. This data will help to nurture them into leads and eventually, customers.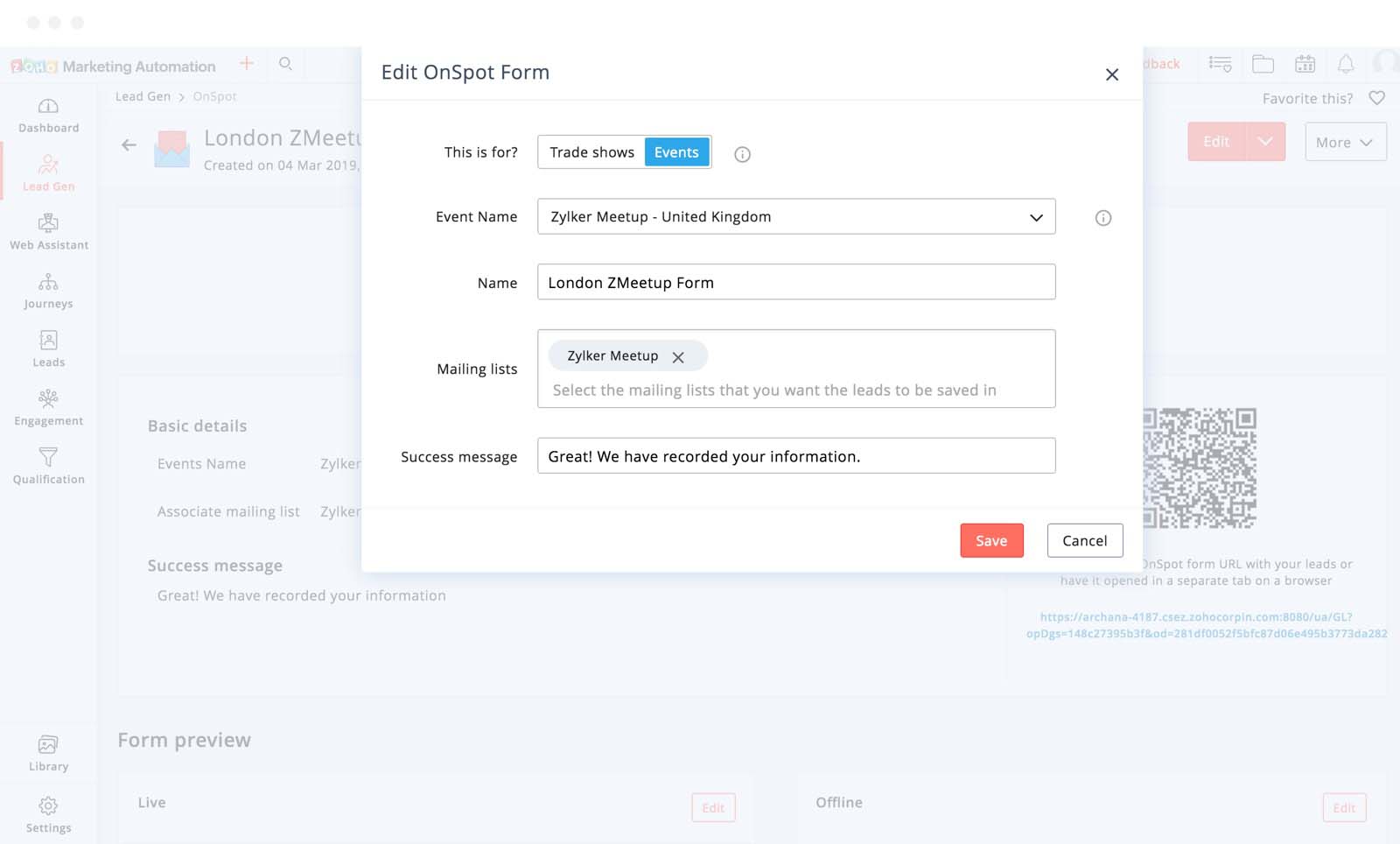 Touchpoints
Touchpoints allows you to see which URL from your website gets more visits and the medium that gets the most leads. Based on this information, you can better decide which medium to concentrate on.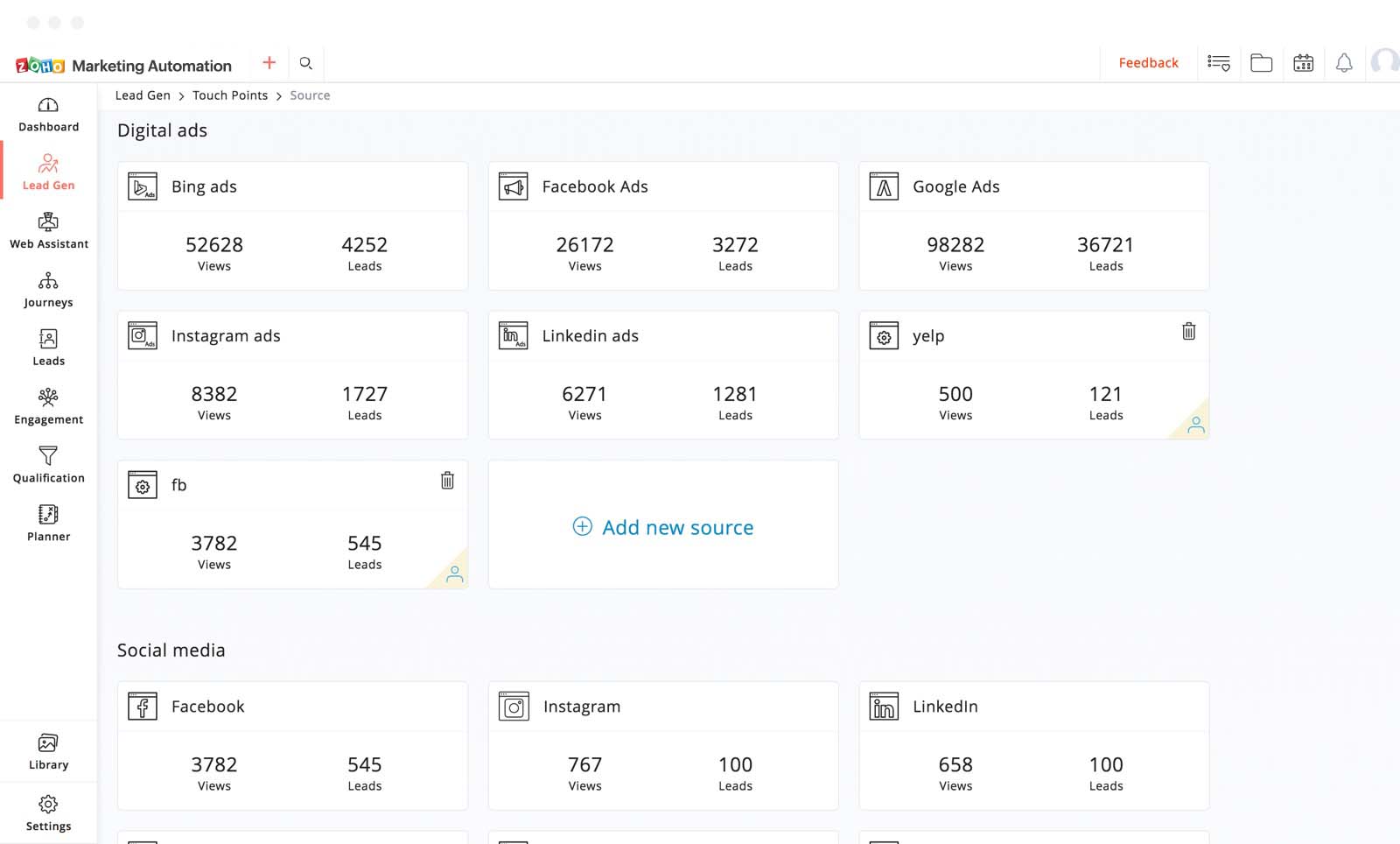 Smart pop-ups
Get live data
Touchpoints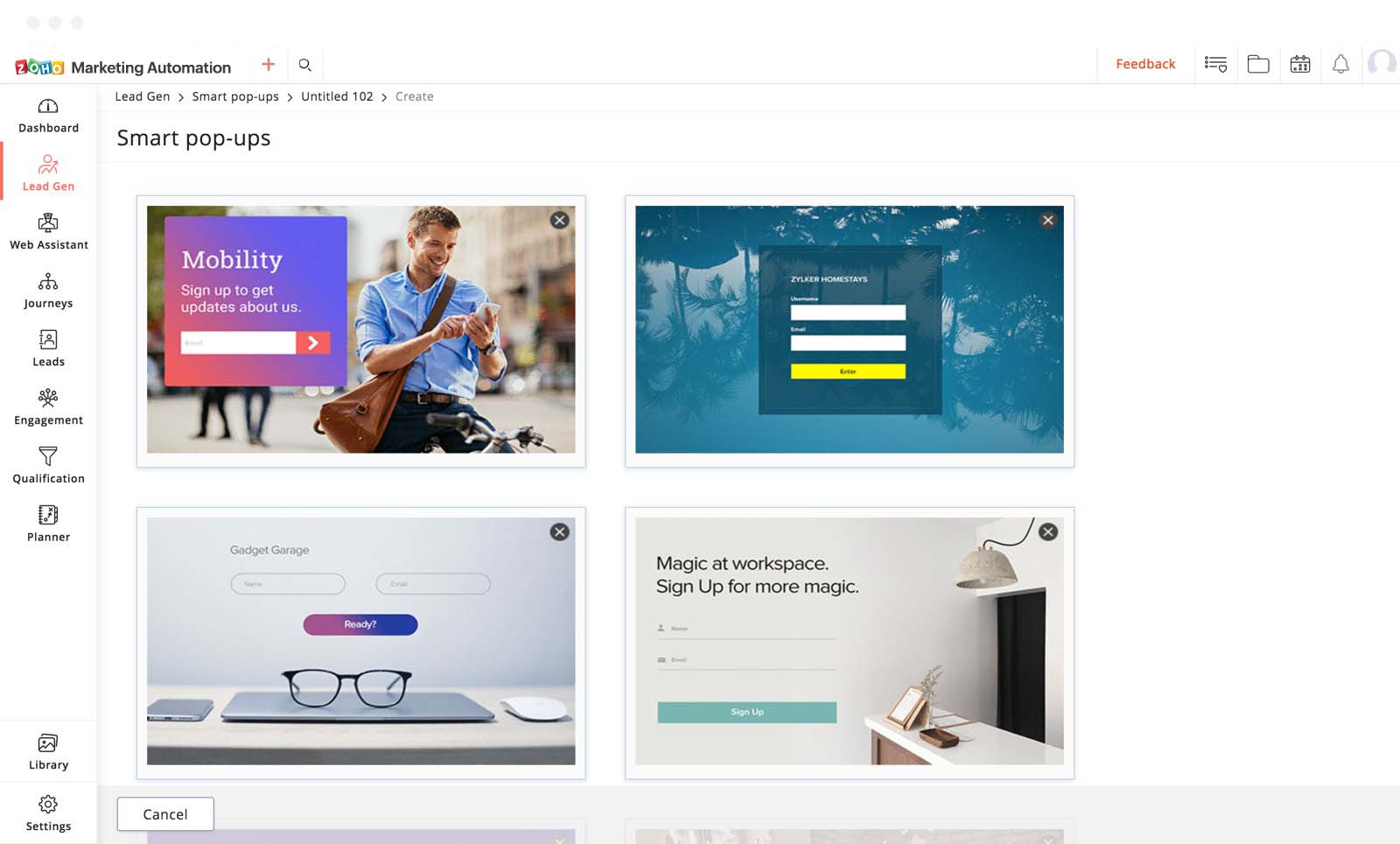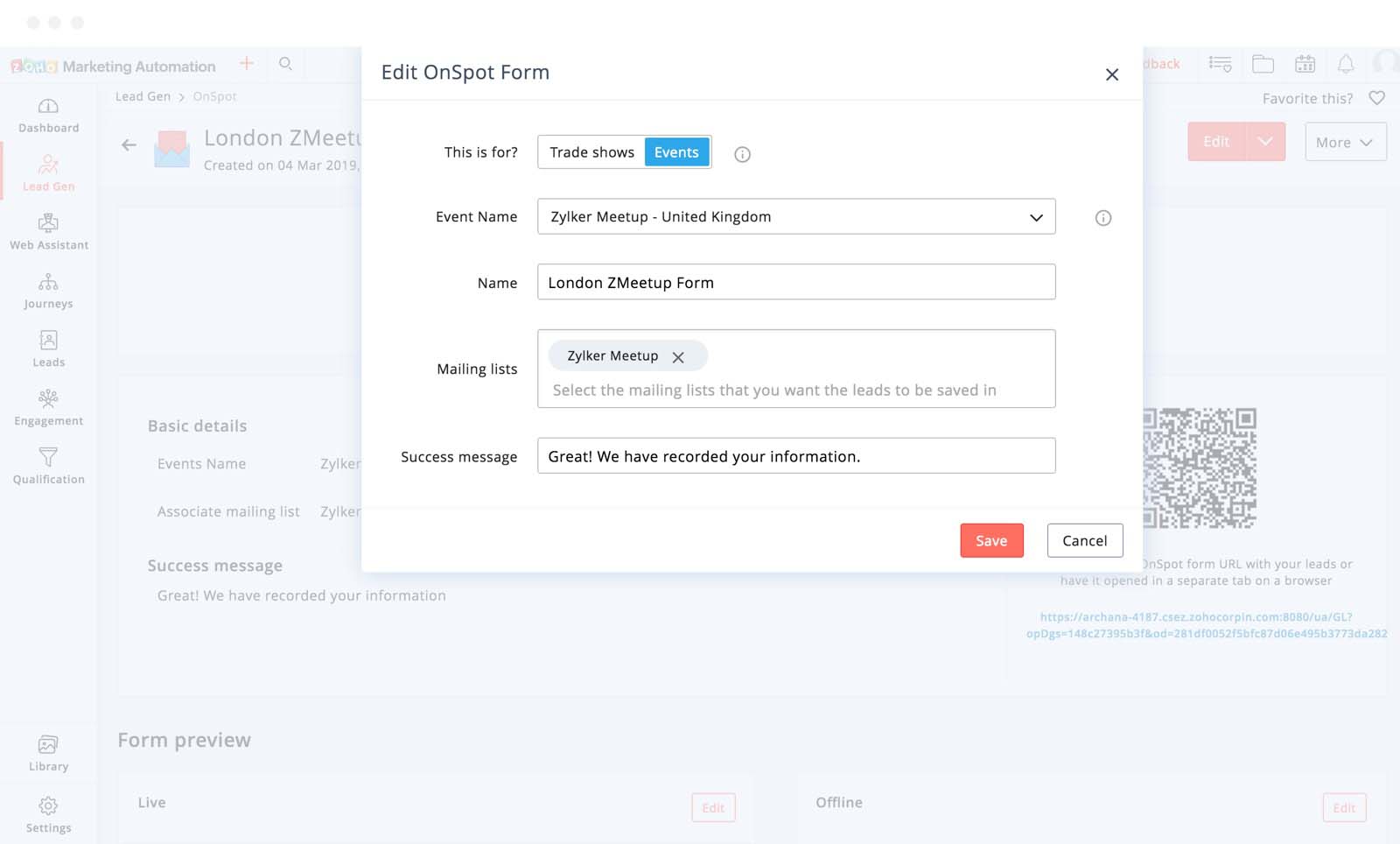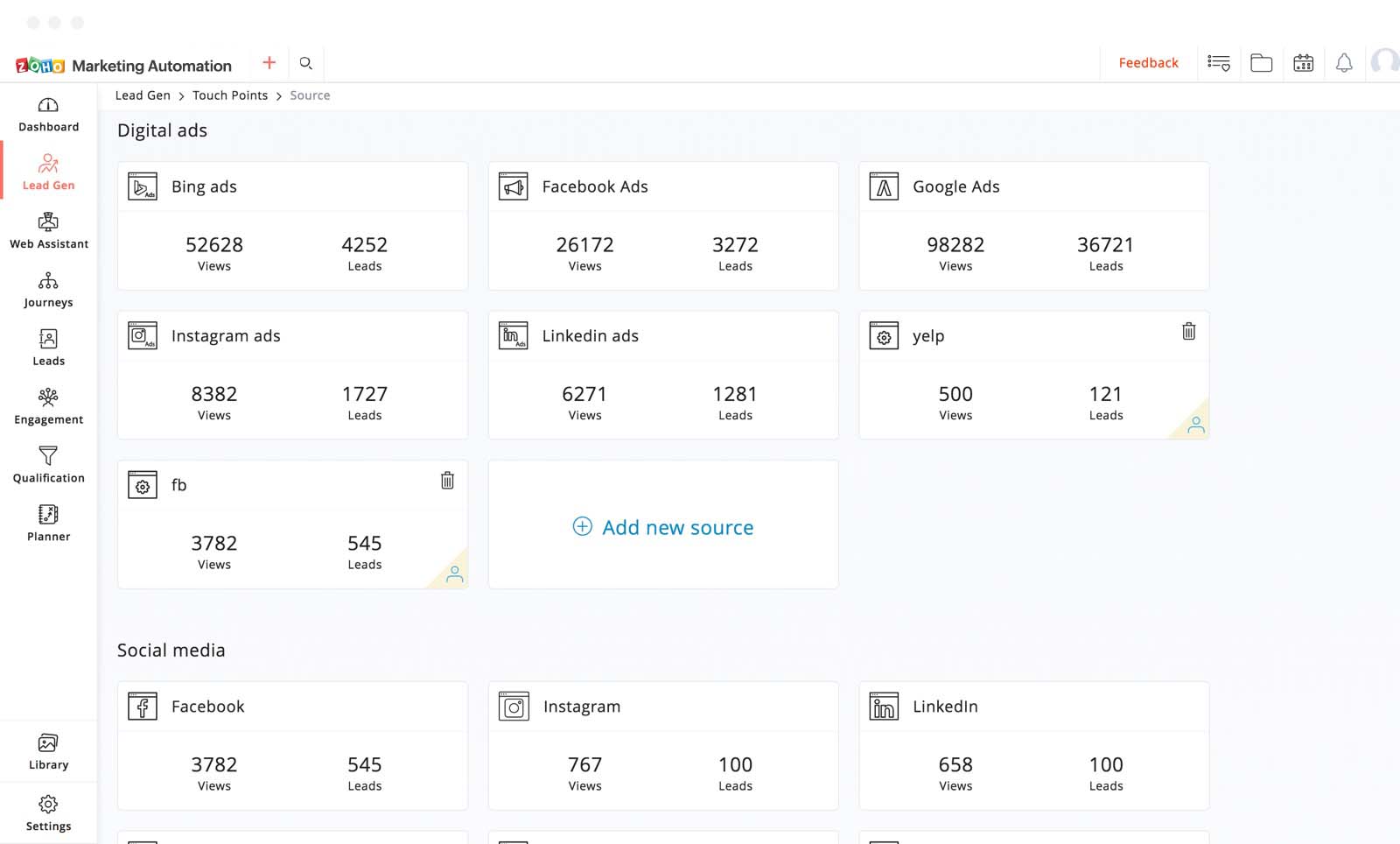 Web behaviour marketing
Website tracking
Understand the online behavior and patterns of your leads and tailor your messages to them accordingly. Learn how visitors are interacting with your website in terms of page visits and link clicks.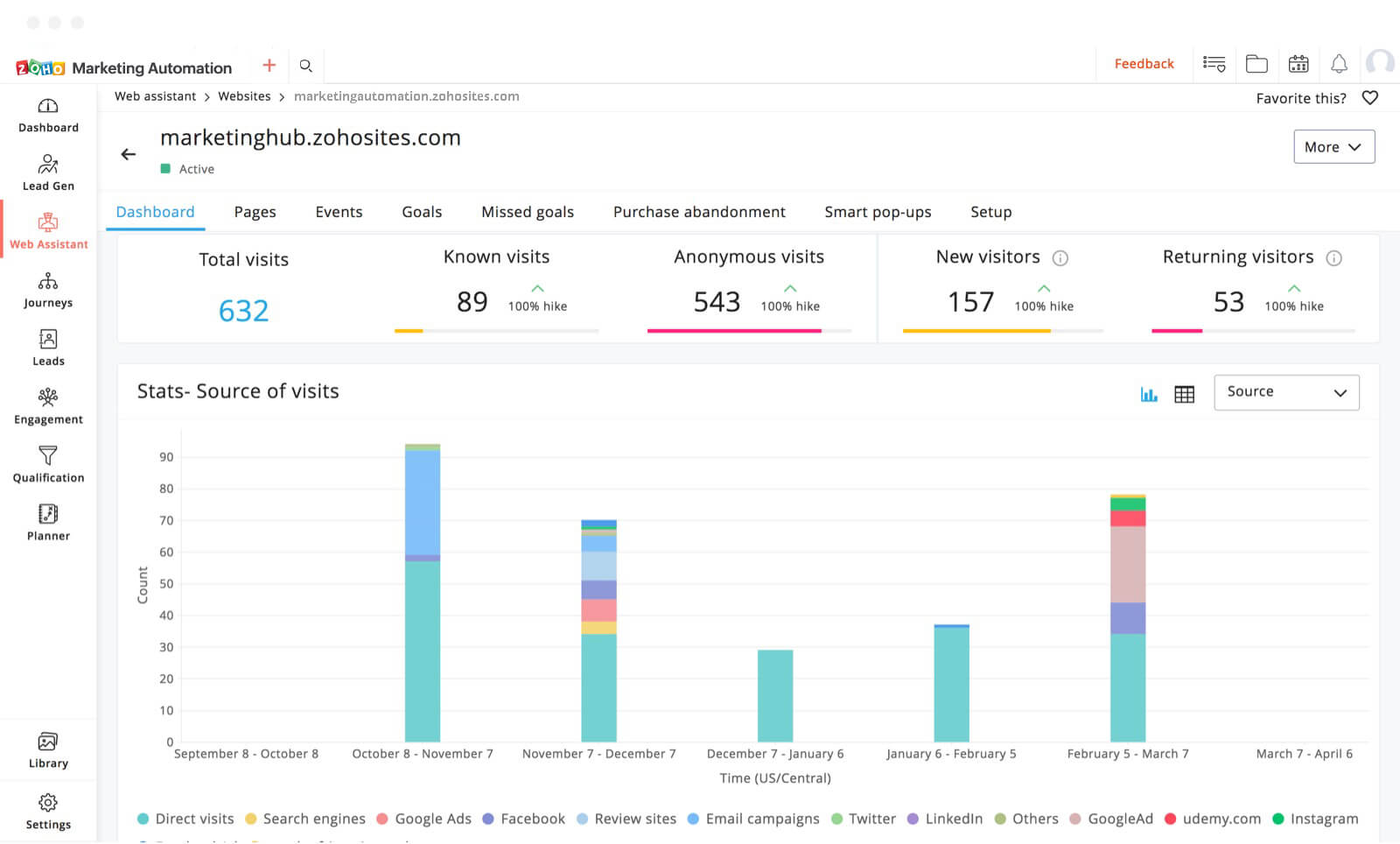 Website goals
Define goals for visitors, group them based on their actions, and create a more personalized experience.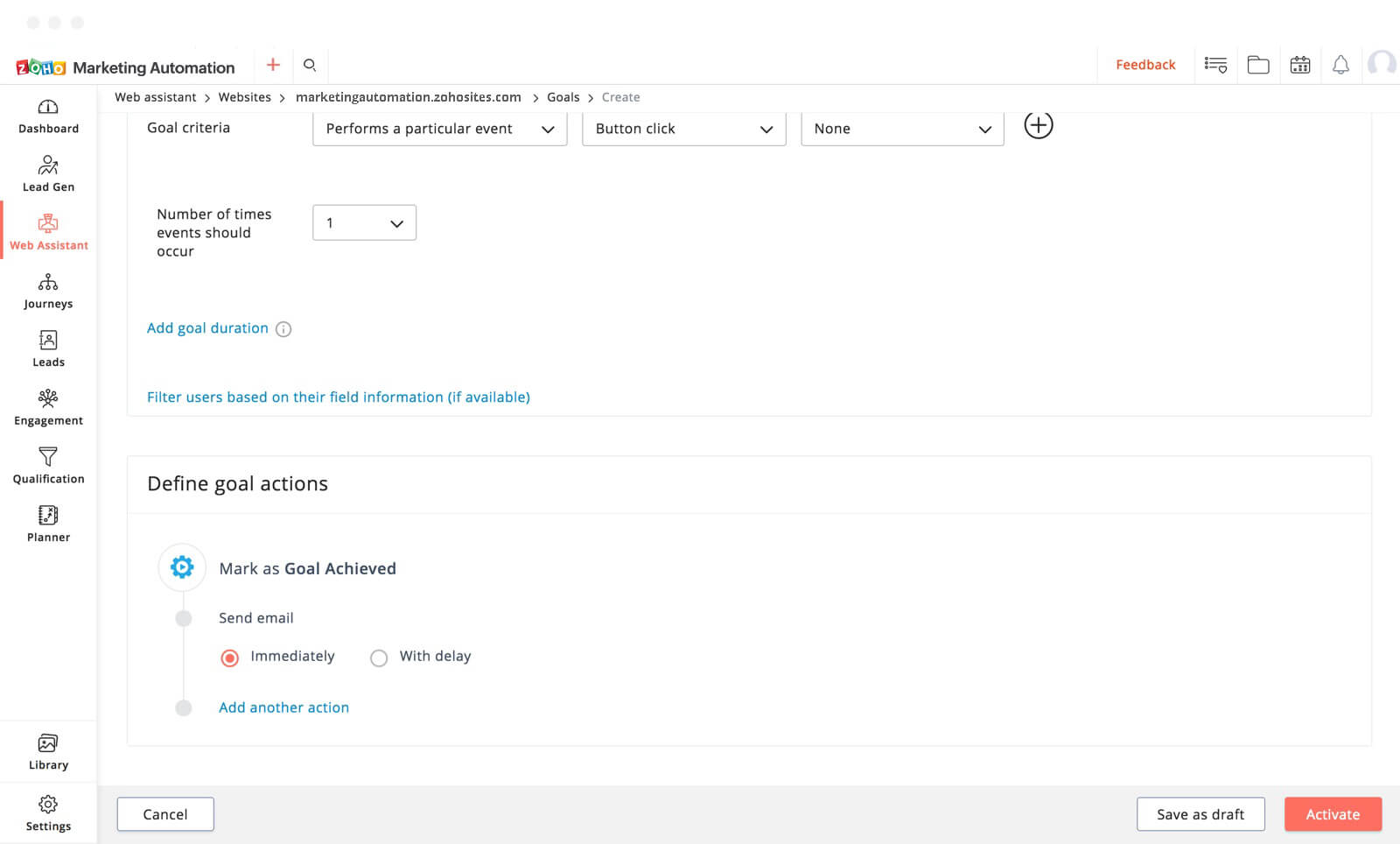 In-app tracking
Understand user interaction with your product and get a clear understanding of features that interest them. Send tailor-made content to improve and personalize their experience.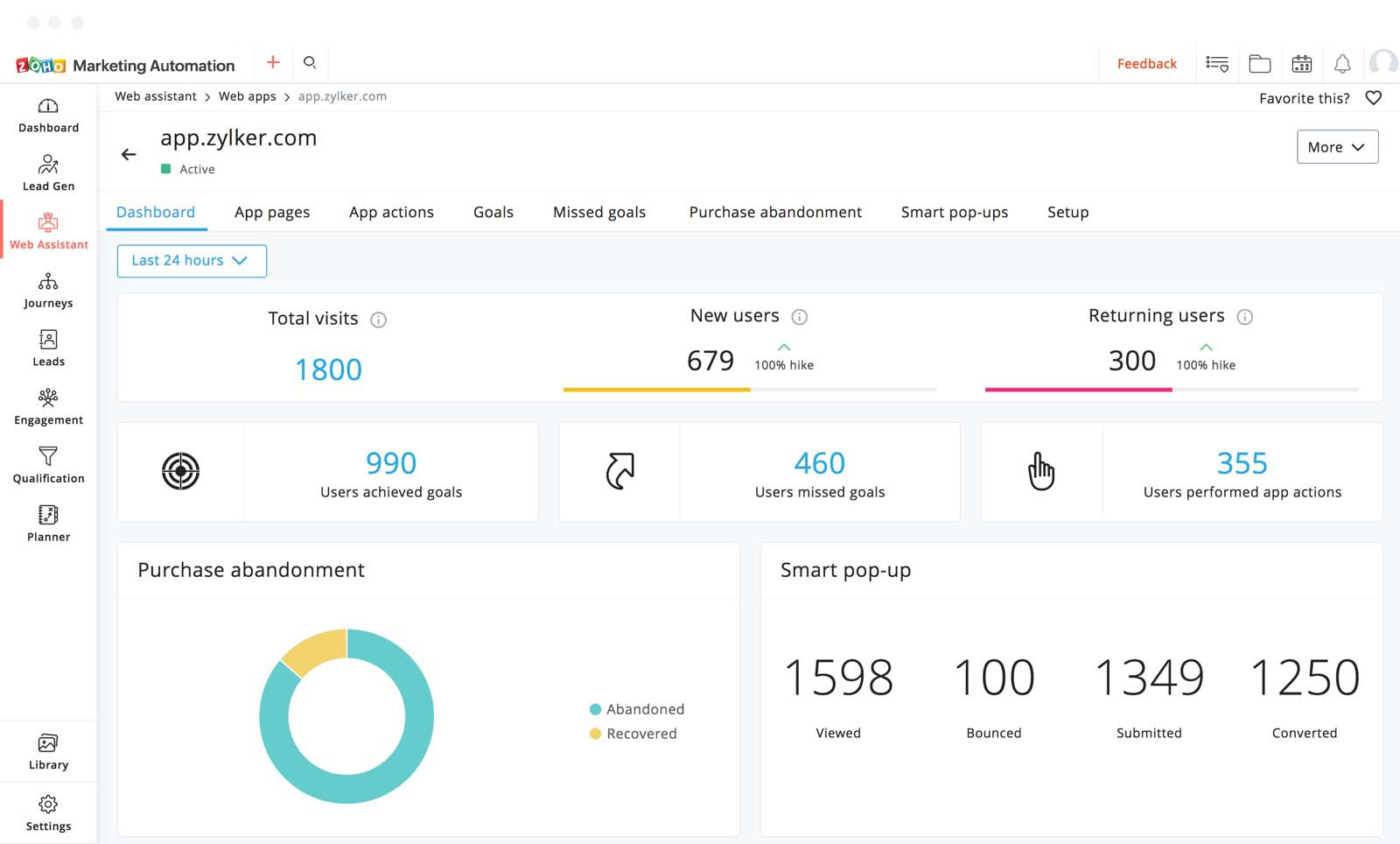 Purchase abandonment
When you see that your customers have selected items to purchase but have not yet made a payment, send relevant emails to remind them about items in their cart.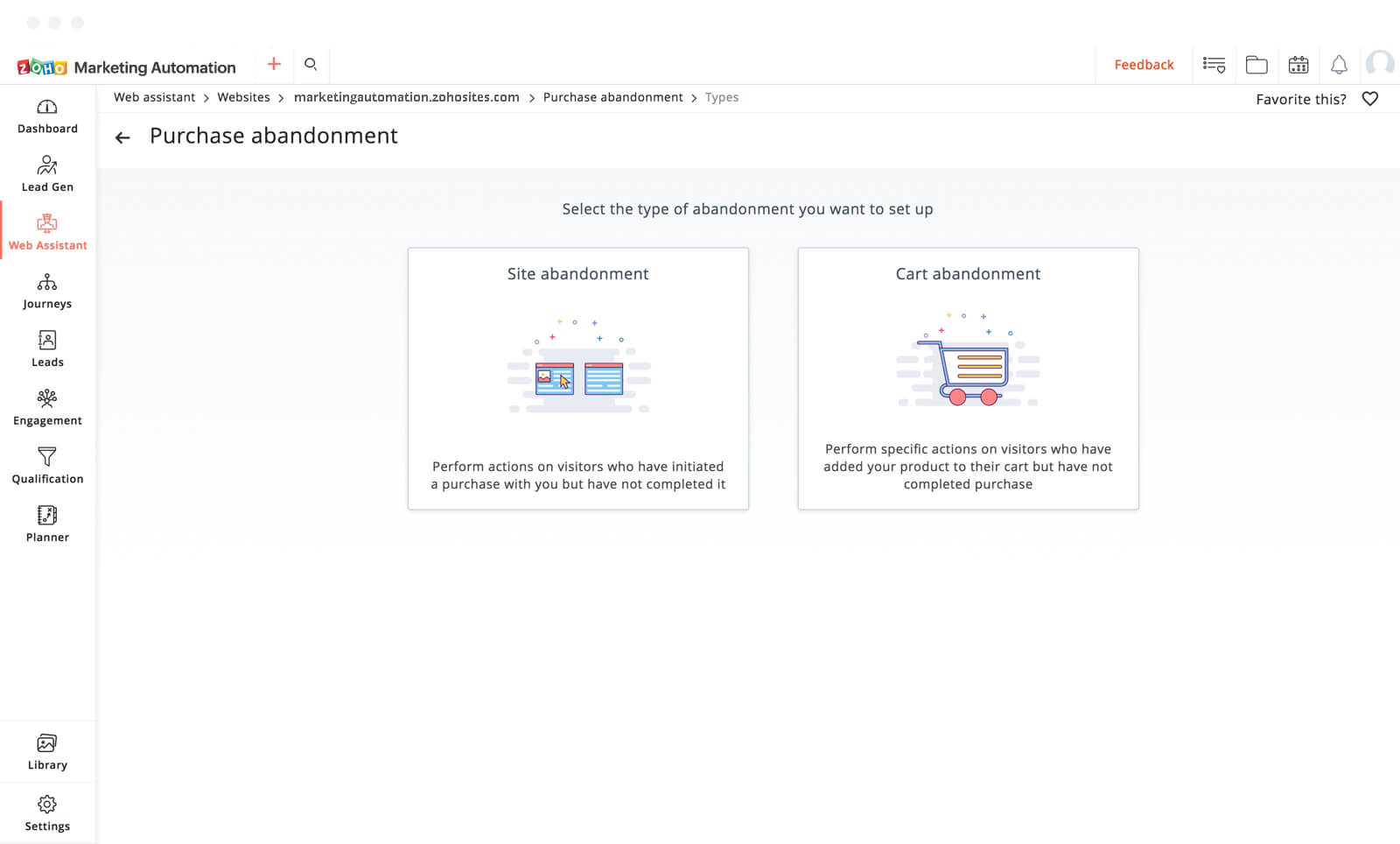 Website tracking
Website goals
In-app tracking
Purchase abandonment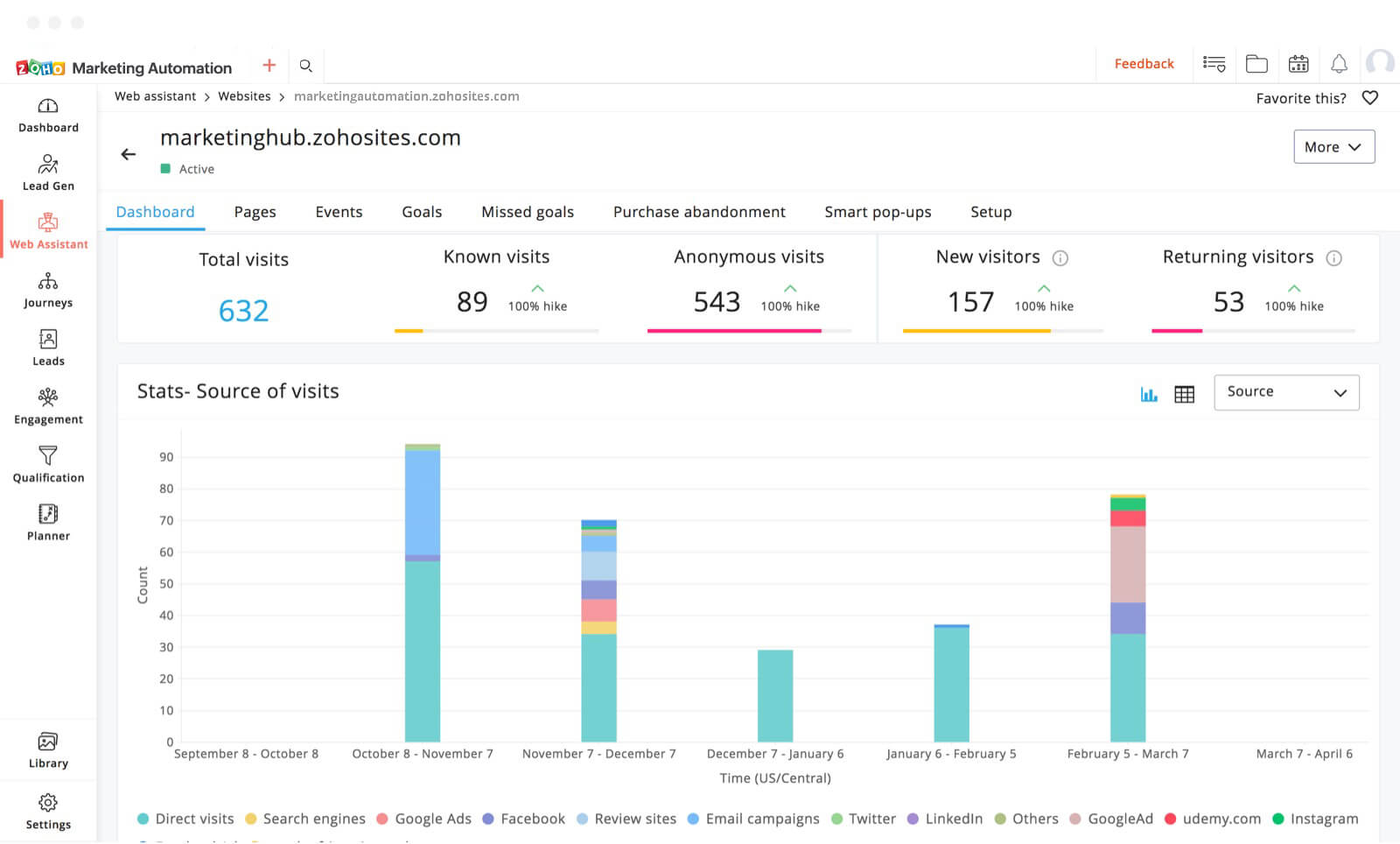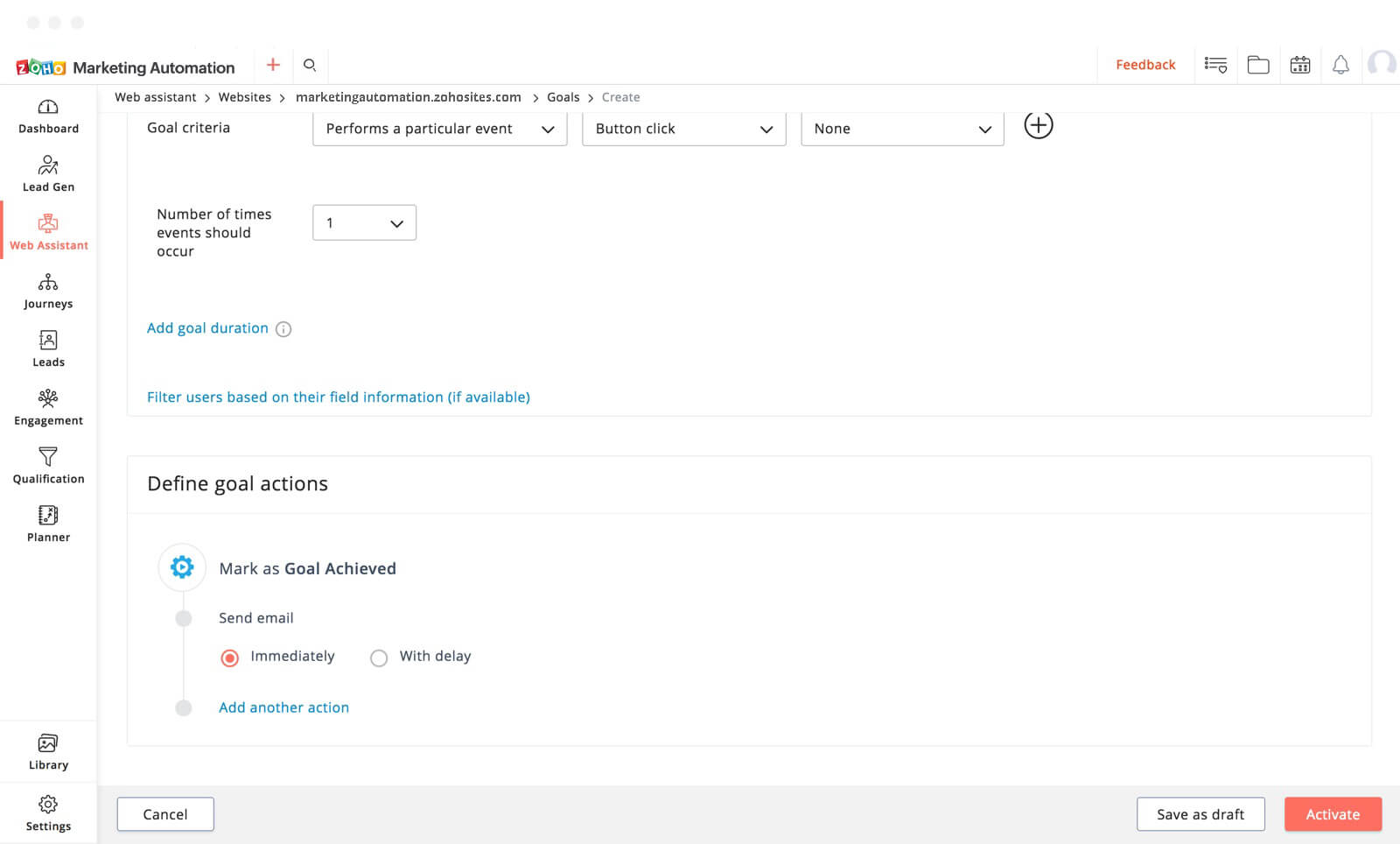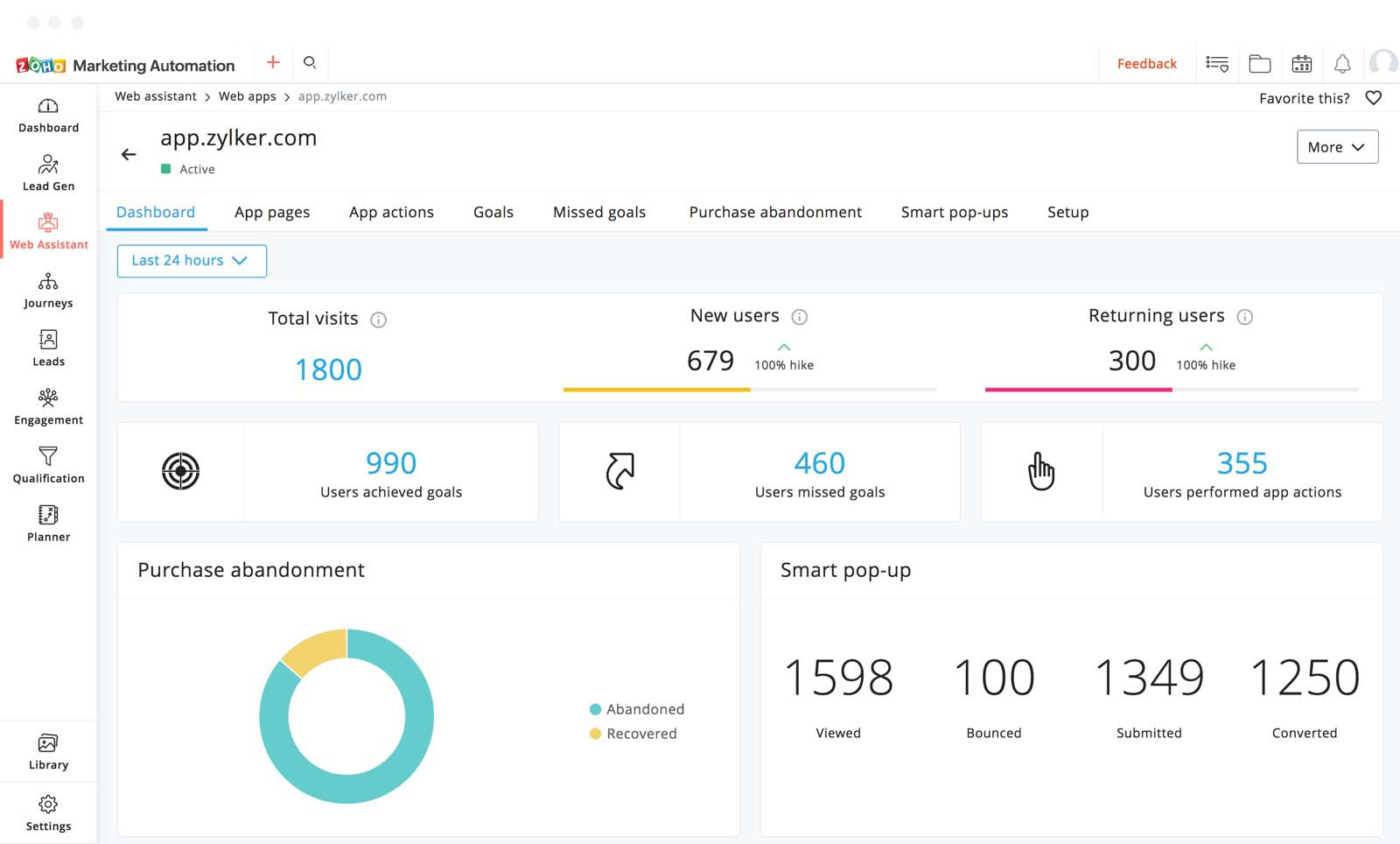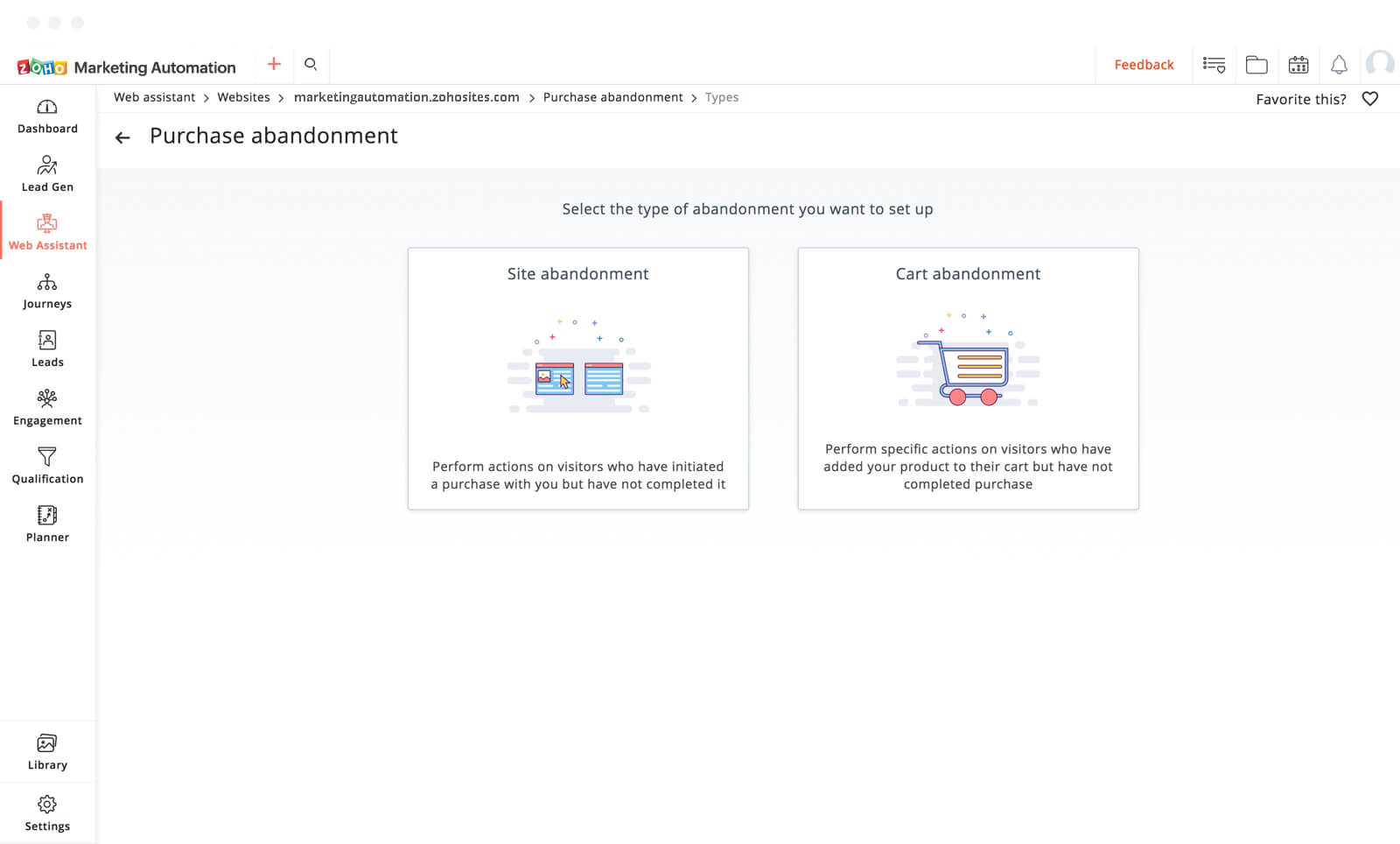 Create personalized journeys
Create journey
Create customized engagement plans for every lead and nurture them from the very beginning. Visualize and map your users' experience with your product or service.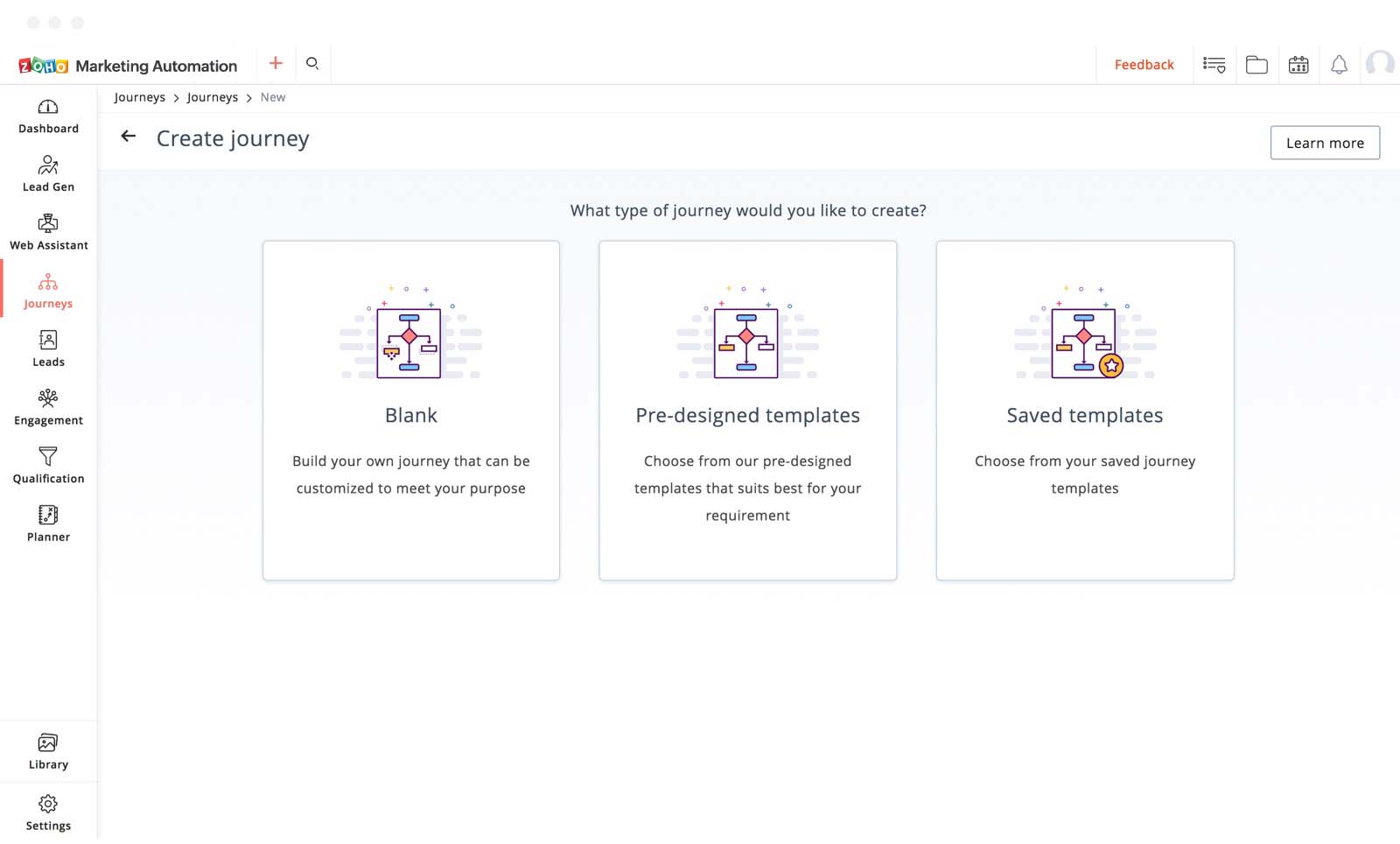 Design your own flow
Use the drag and drop editor to give your marketing plan a pictorial representation. You can either choose a pre-designed journey template or start from scratch.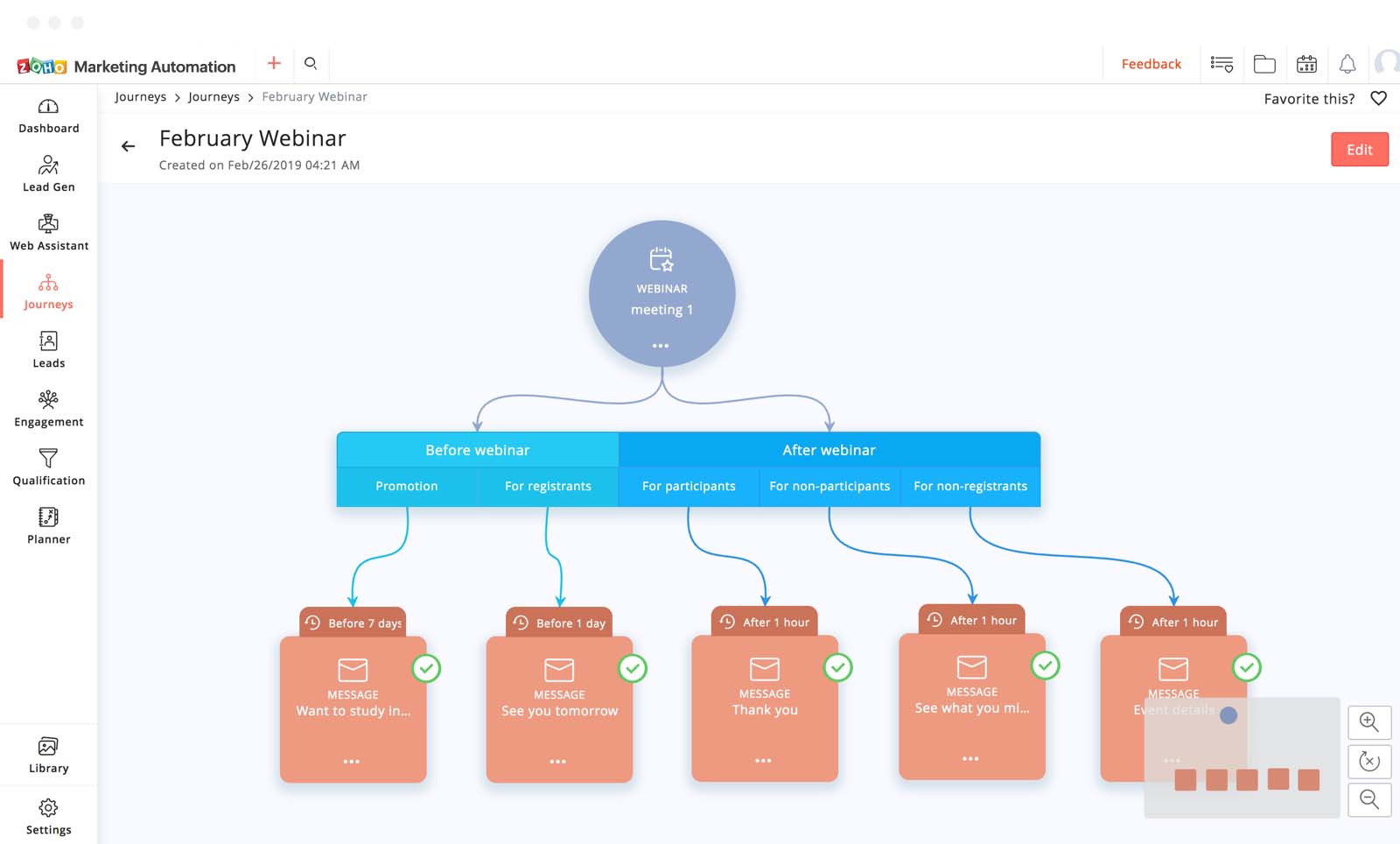 Set triggers
Set the right action triggers -- from when the emails should be sent, to when a lead should be removed from your program. For instance, submission of the sign-up form could be set as a specific trigger.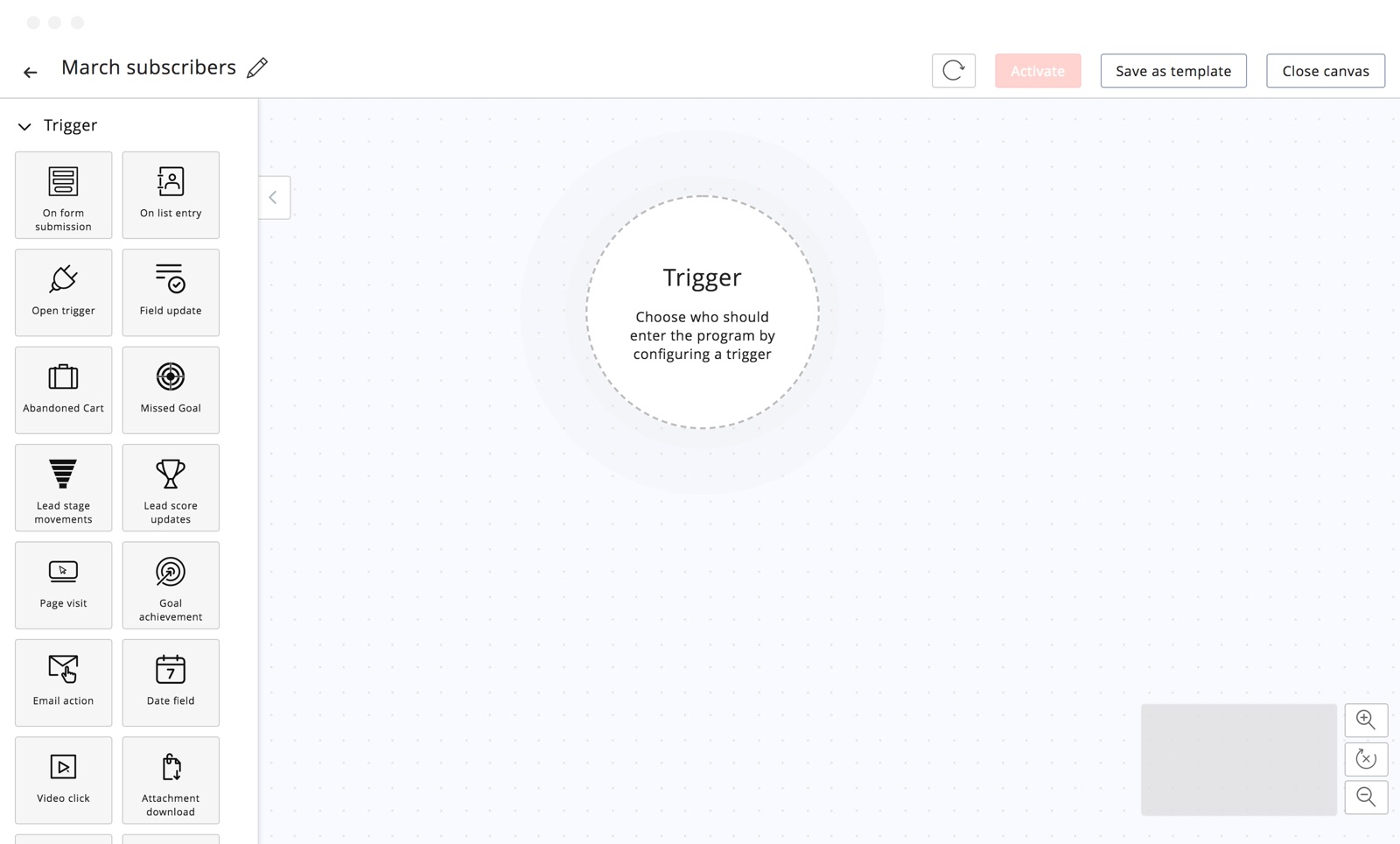 Track journey
Trace each lead's journey from start to finish with detailed reports. You can check the reports based on the goals set, leads, or the message sent.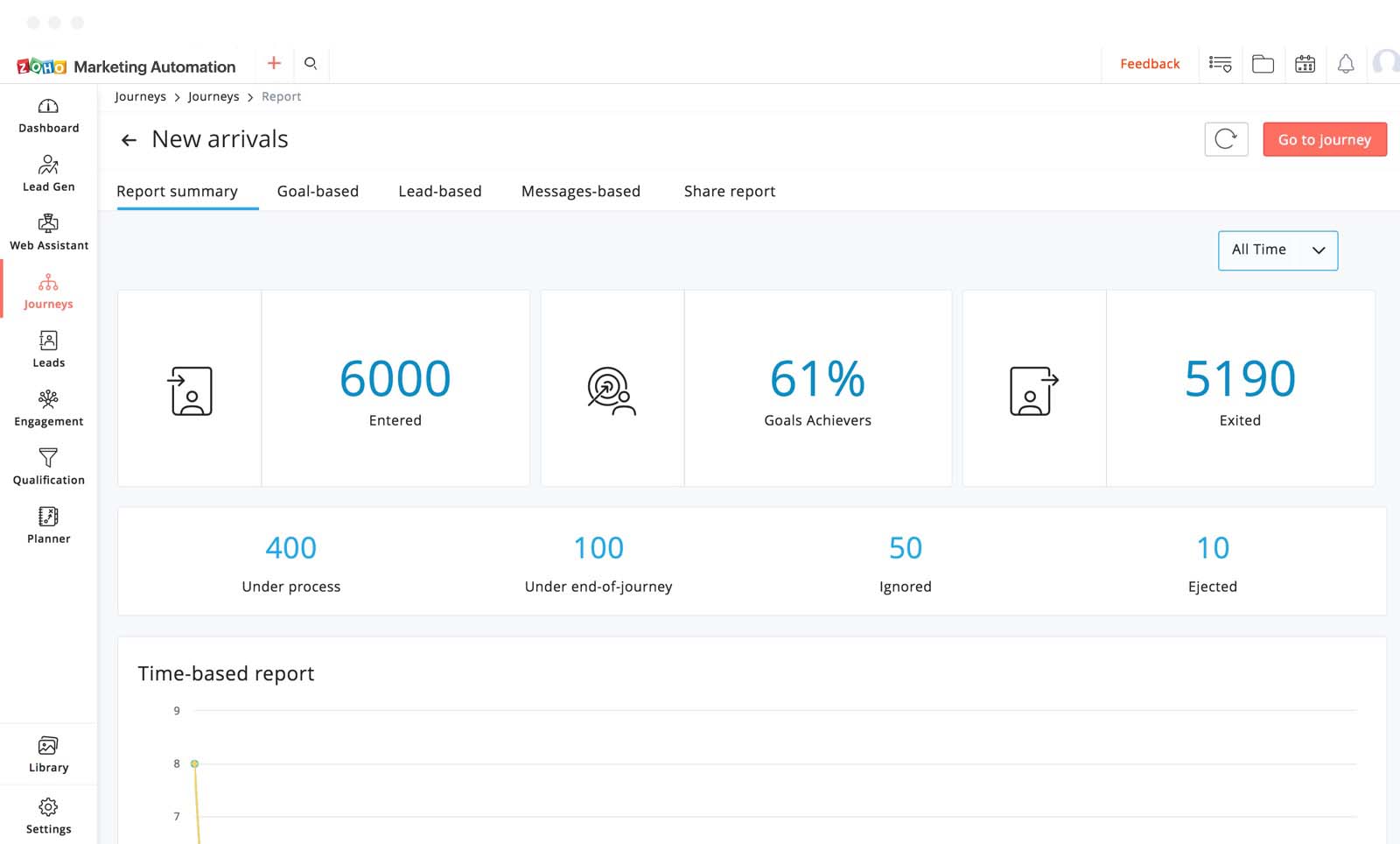 Create journey
Design your own flow
Set triggers
Track journey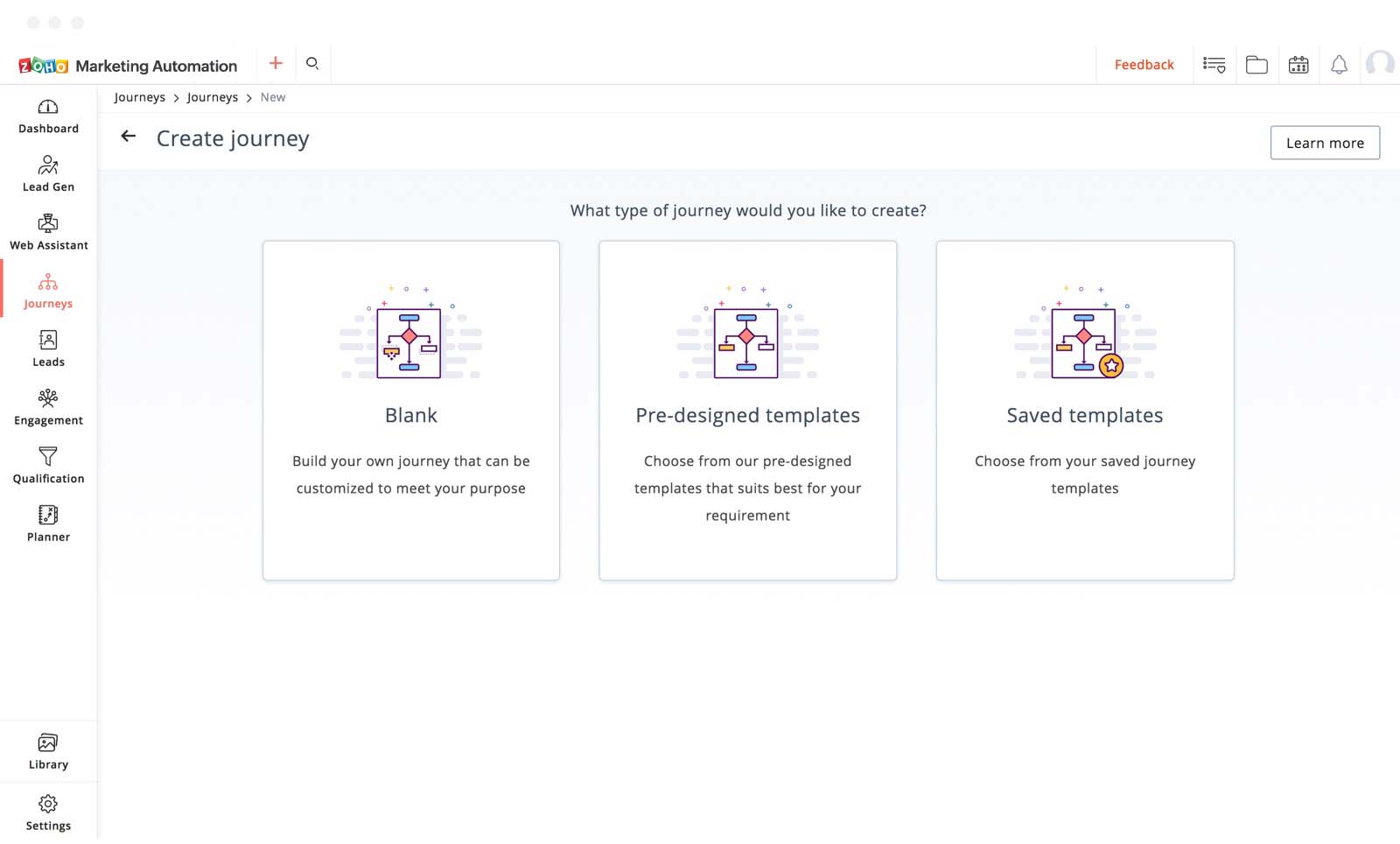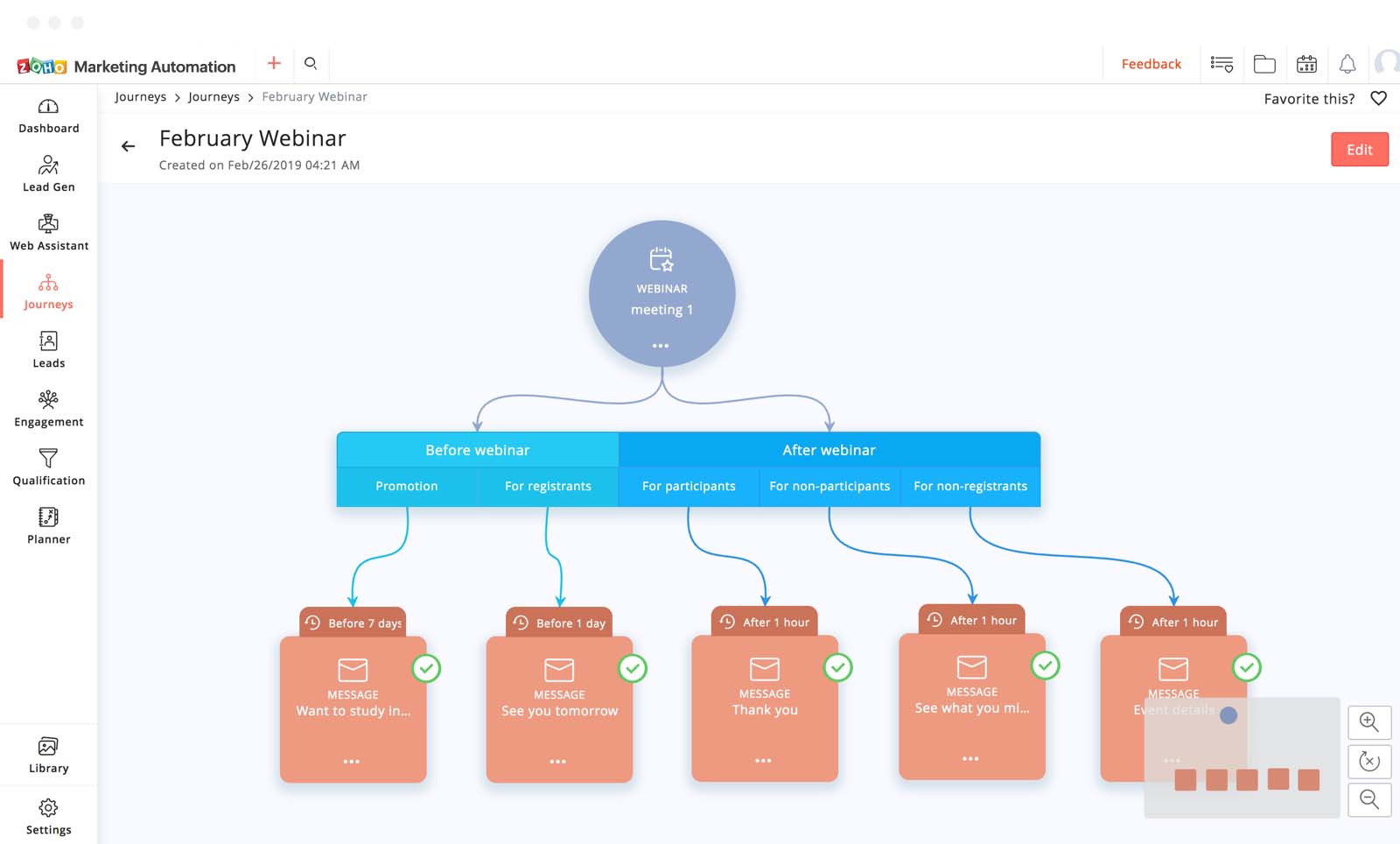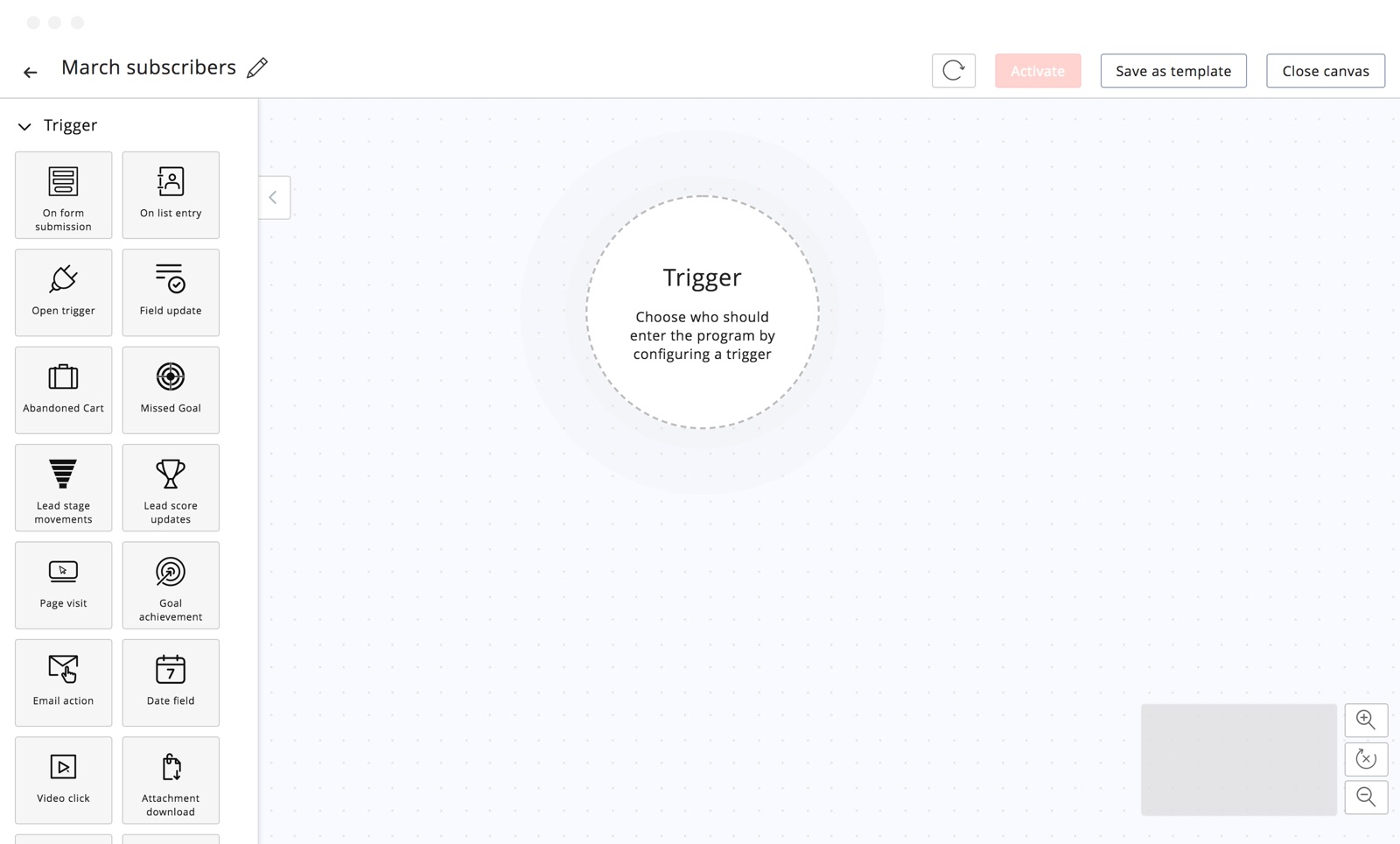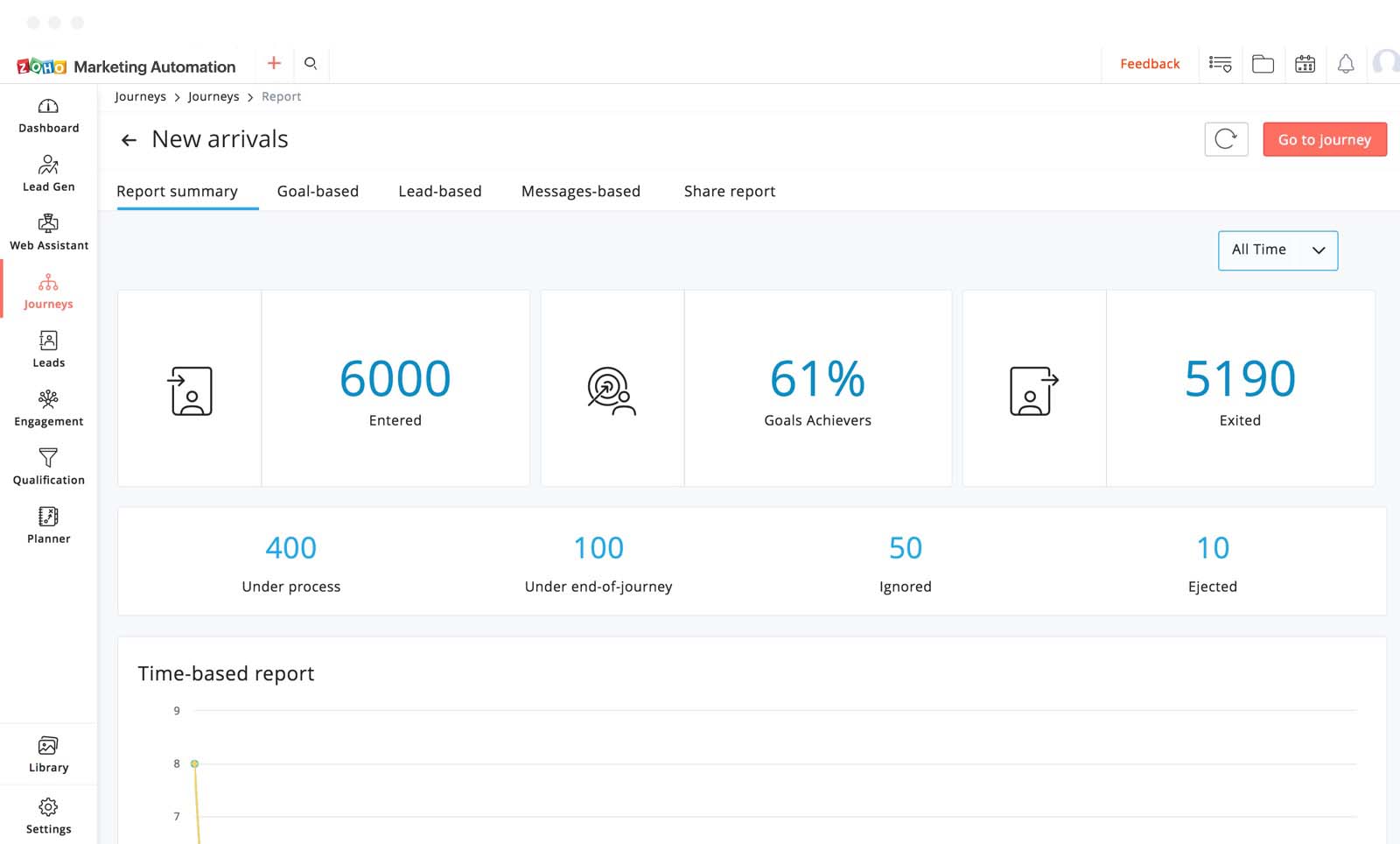 Manage leads
Intergrations
Boost your business by integrating Zoho CRM, Zoho Creator, Zoho Contacts etc.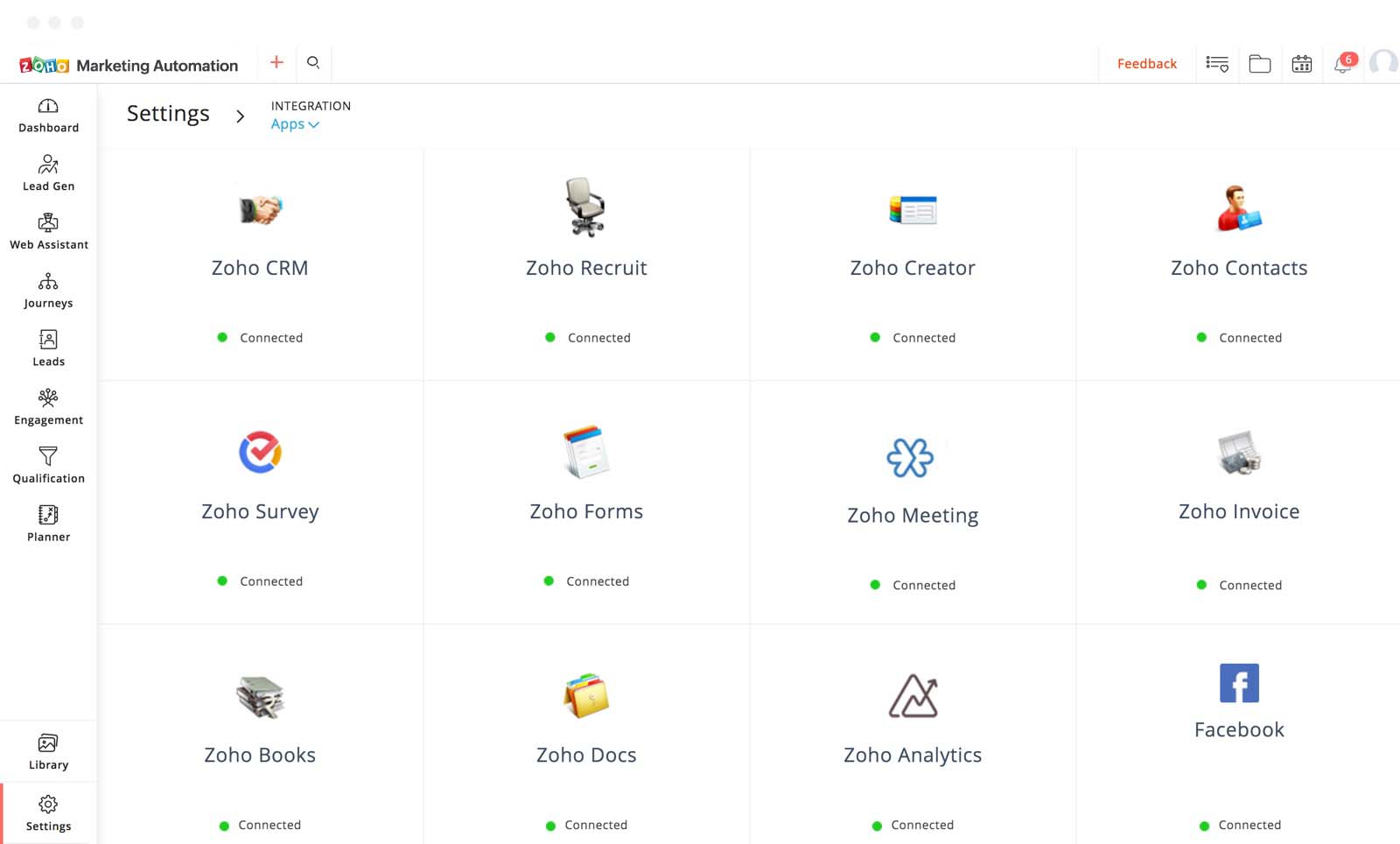 Workflows
Use workflows to categorize subscribers based on their behavior and information, then perform various actions.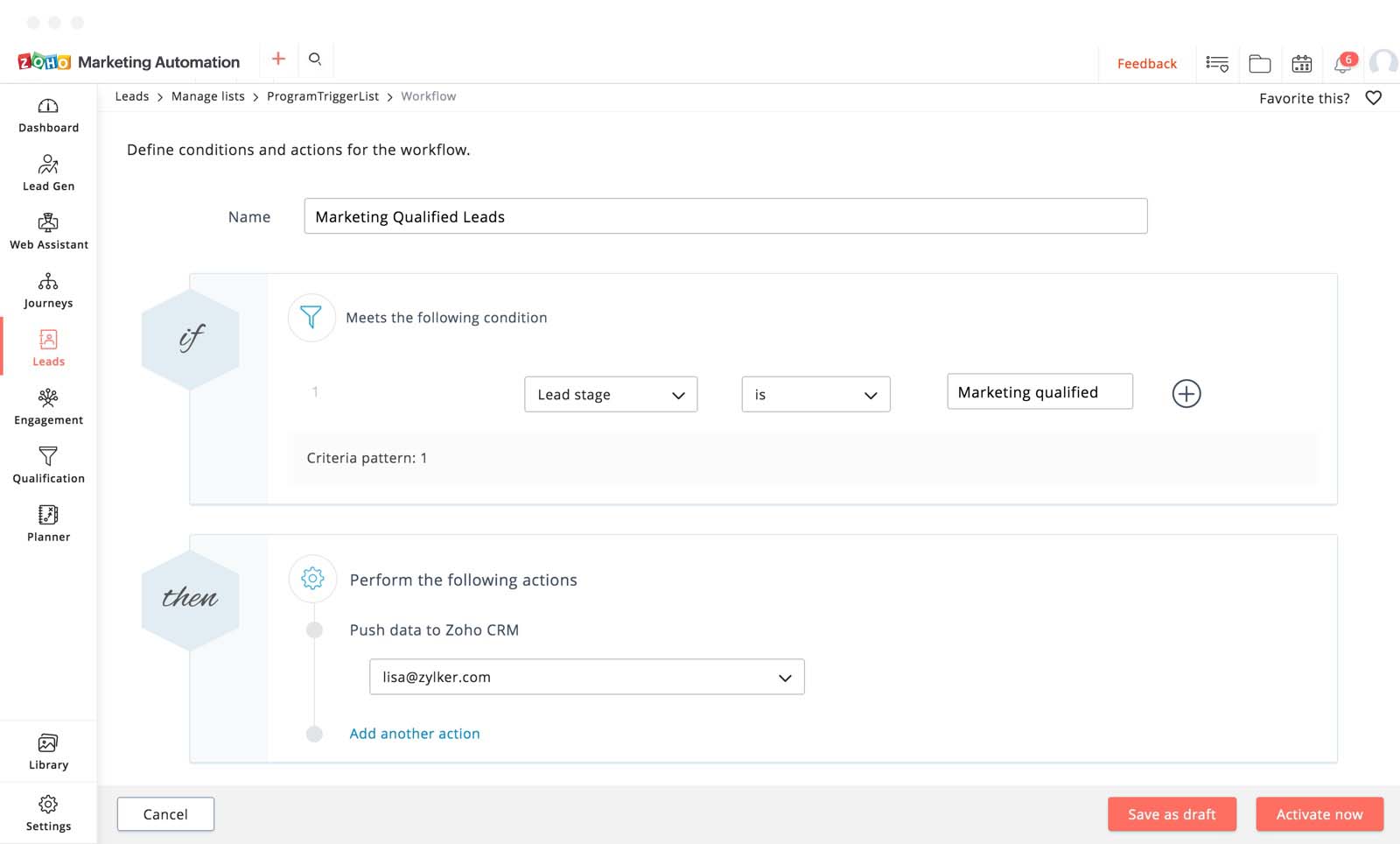 Customer response
Understand recipient behavior by tracking the clicks and page views performed on your site. Assign goals and keep records for each of your recipients. You can also compare your campaigns to understand what works and what doesn't.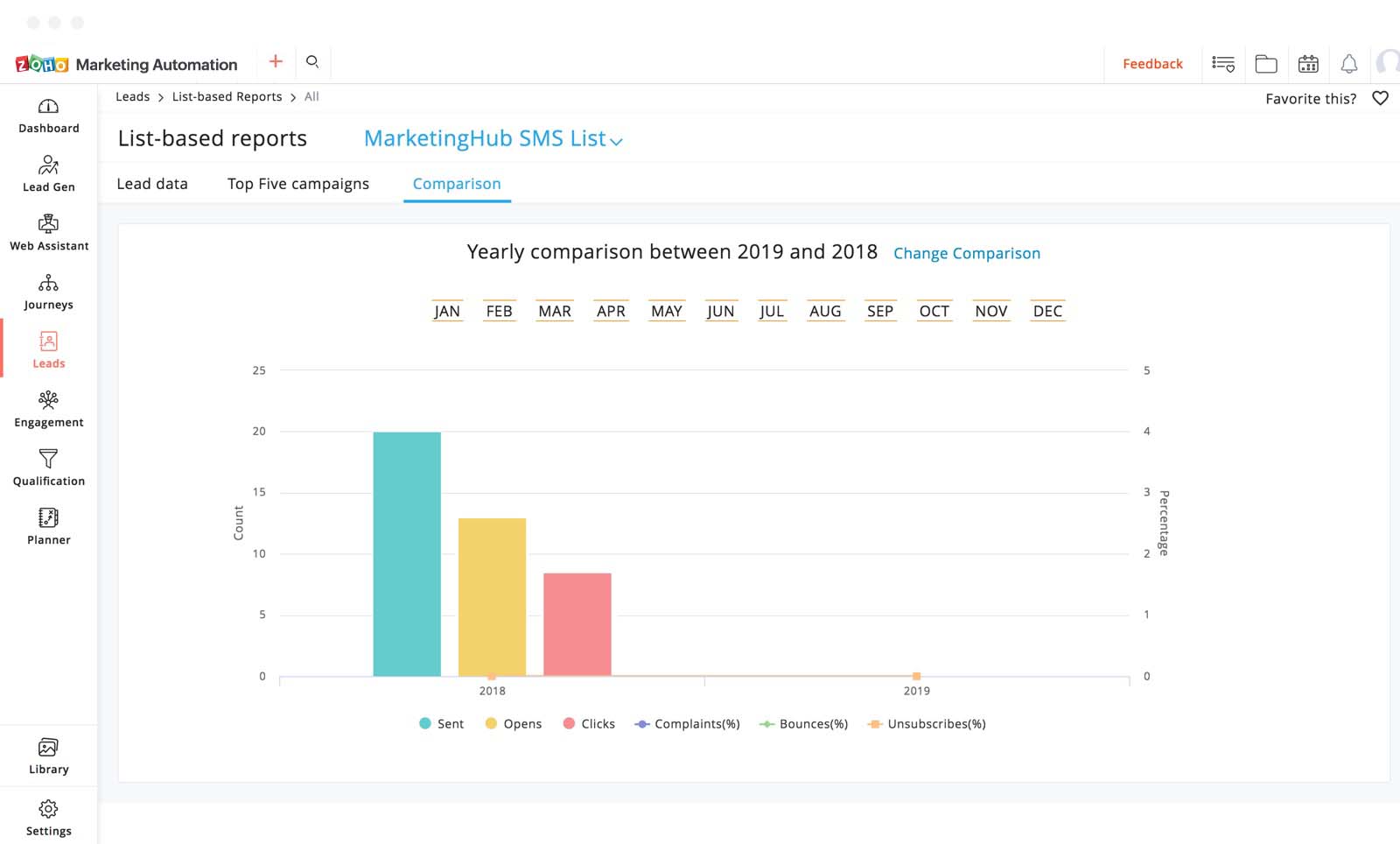 Get consent
Intergrations
Workflows
Customer response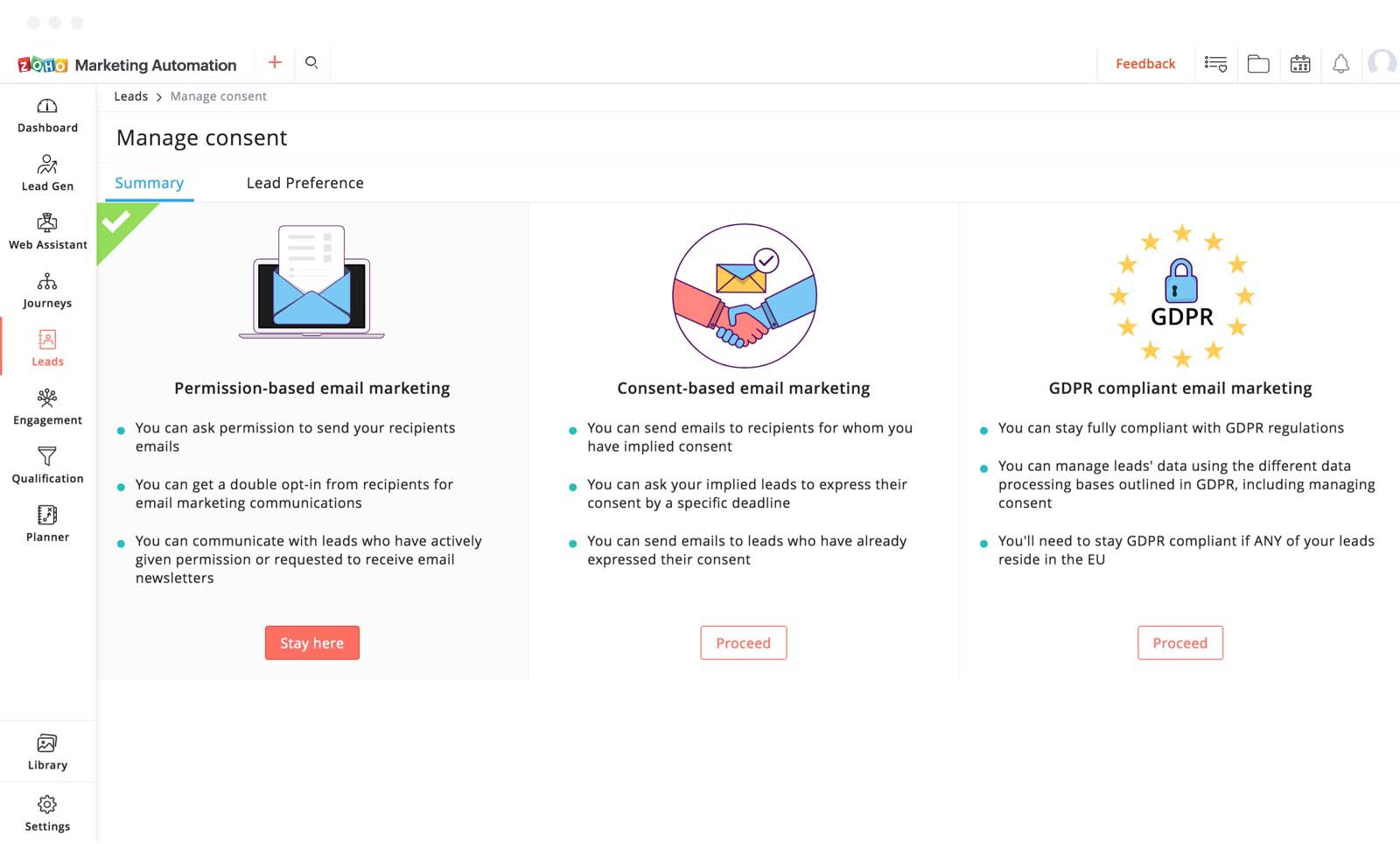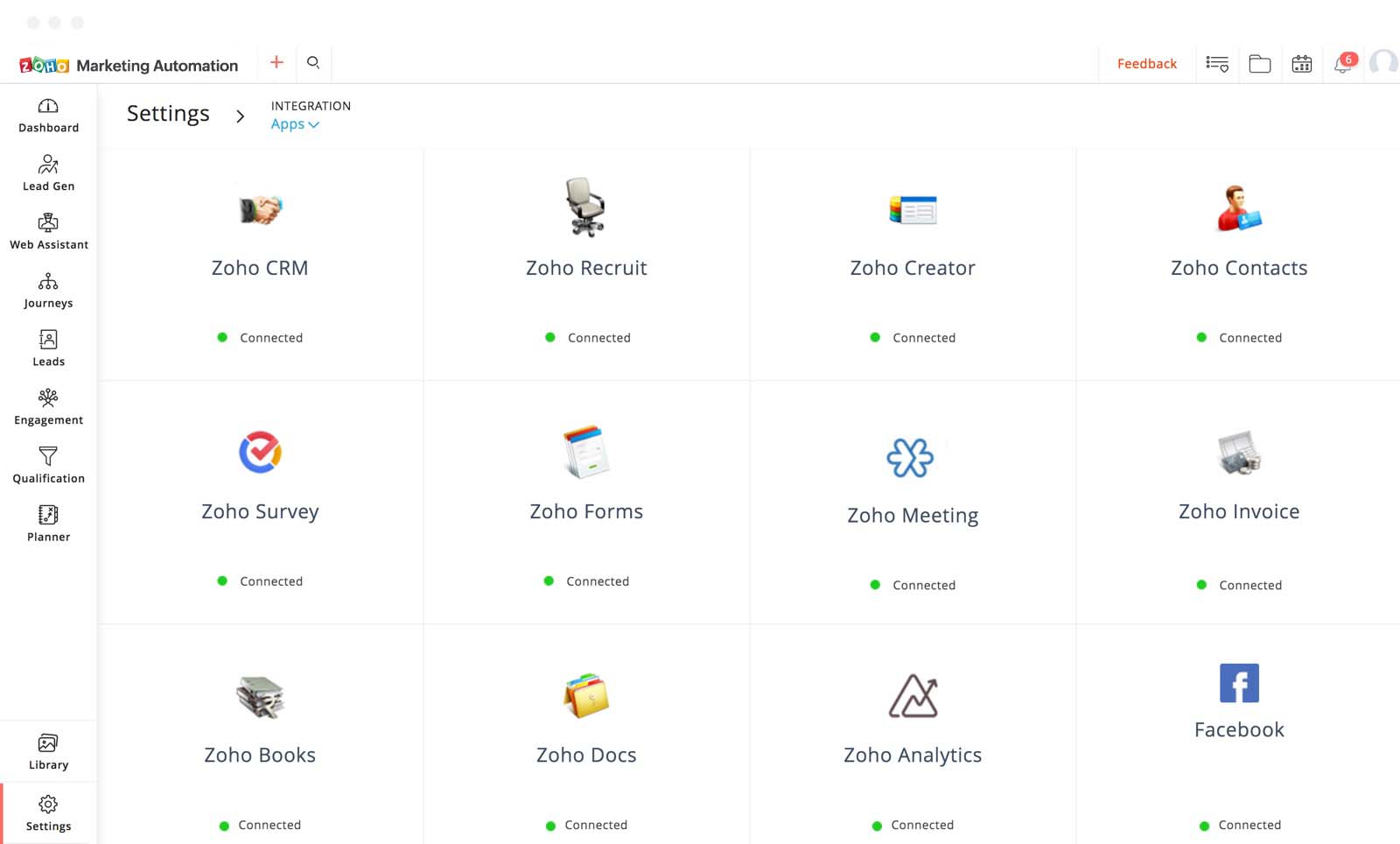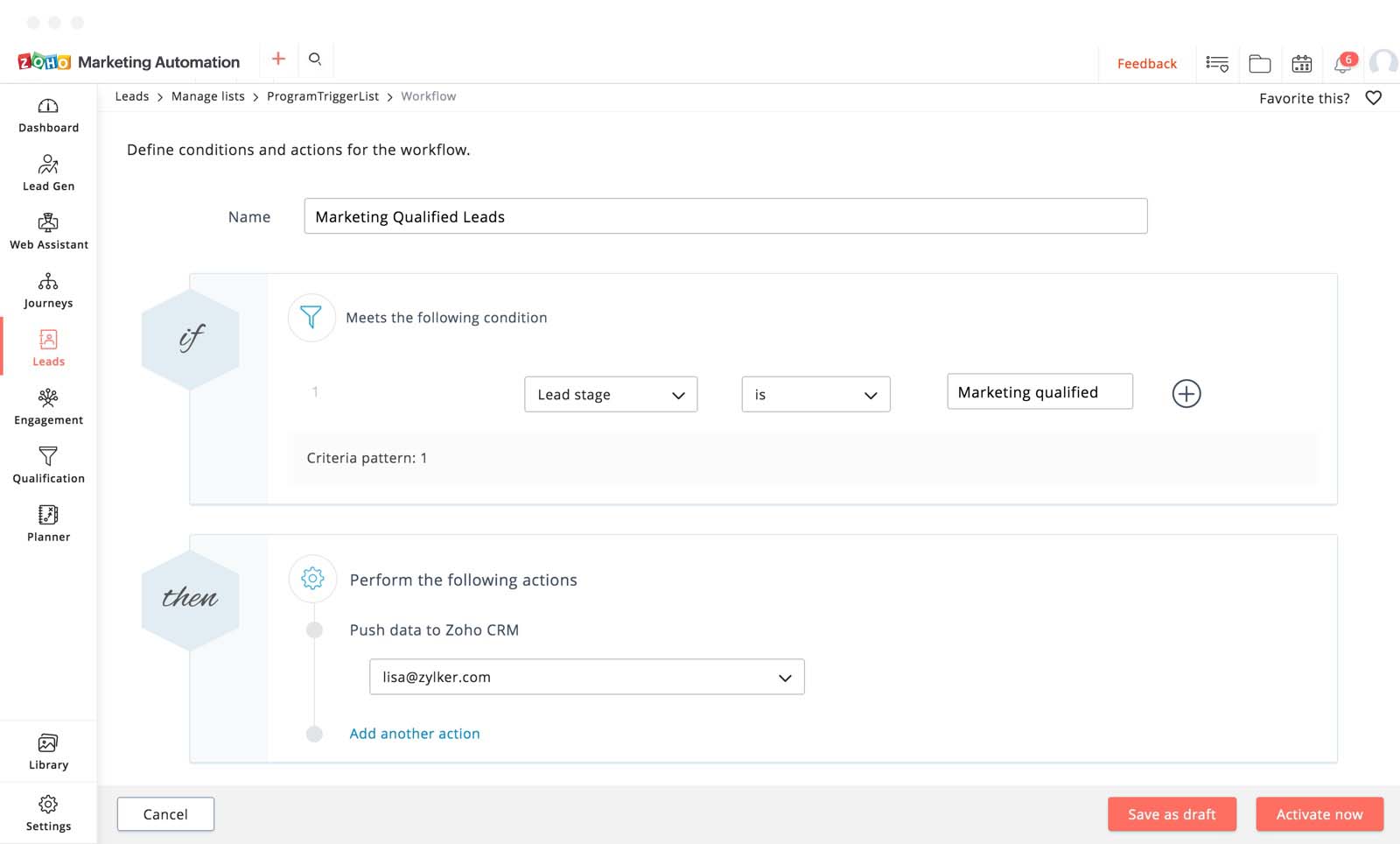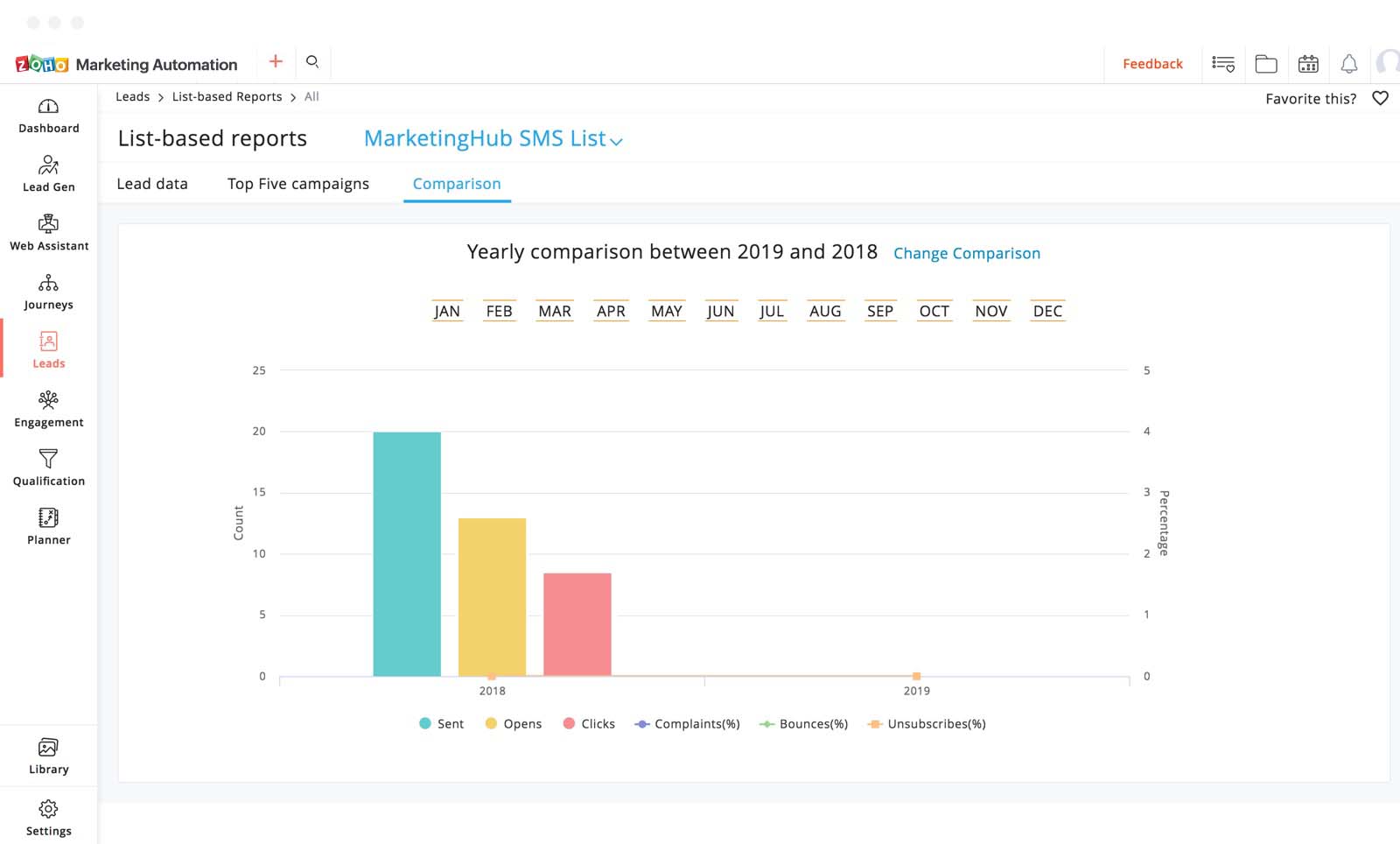 Multi-channel marketing
Email Marketing
Create email workflows that will automatically send emails to subscribers once certain assigned triggers are activated. You can also target visitors who have viewed a page or finished a pre-assigned goal on your website and send personalized emails based on their behavior.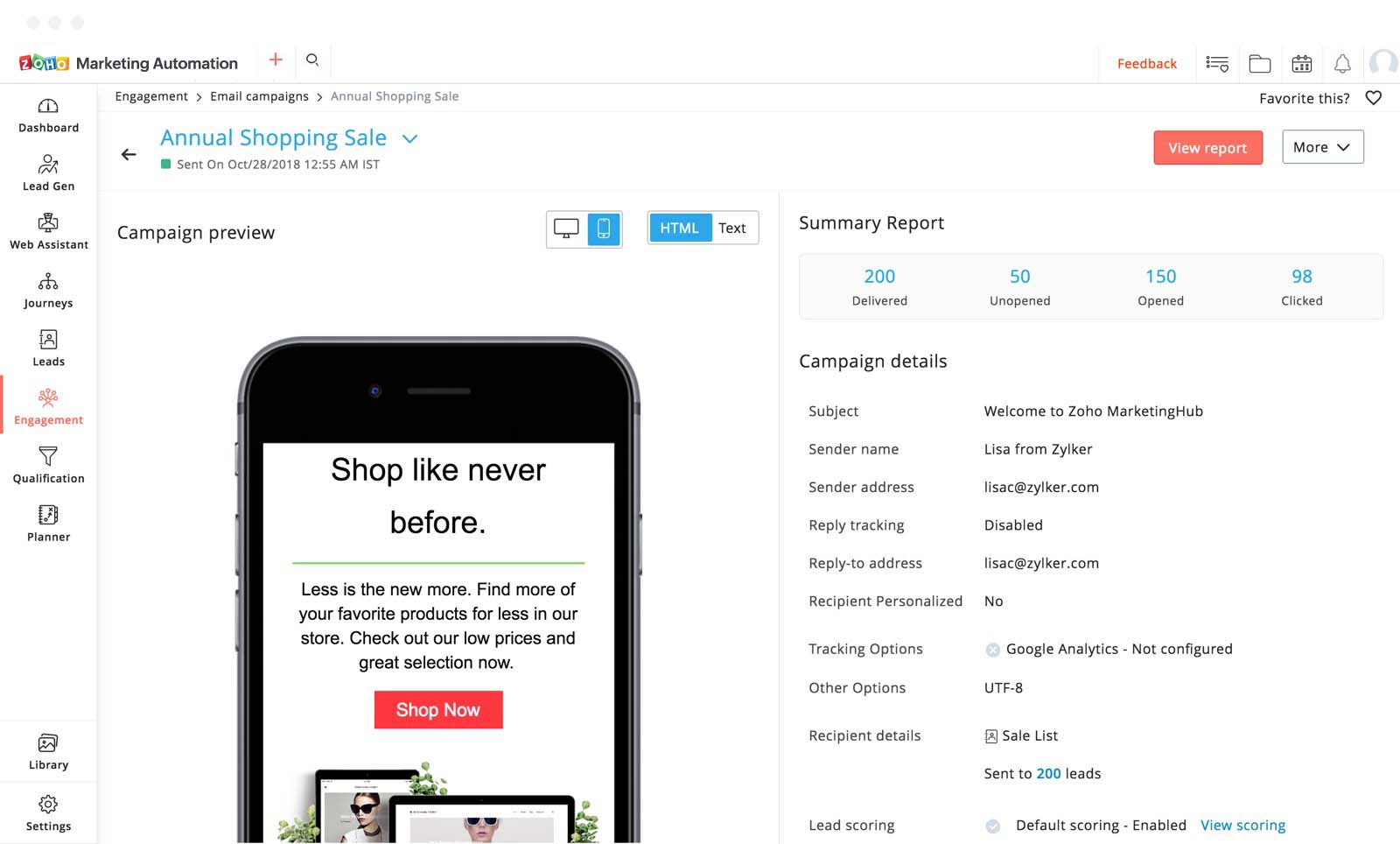 SMS Marketing
Marketing Automation integrates with Twilio and Clickatel to send SMS messages to your mobile audience. You can send relevant, personalized text messages to your contacts and later see sent, delivered, and opened messages. With multi-channel marketing, including SMS, email, and social media, it's easy to improve your future campaigns.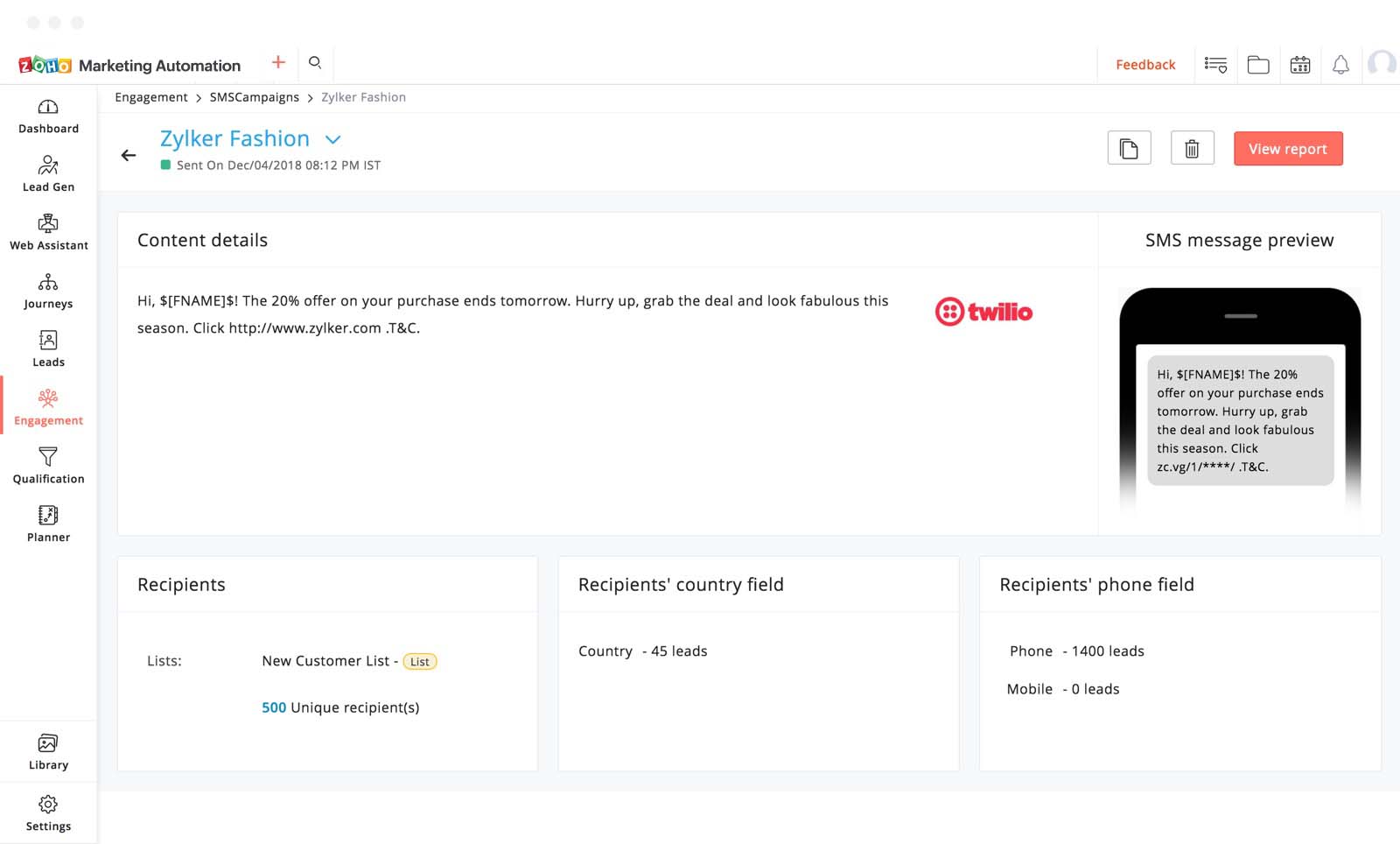 Automation
Use autoresponders to make your email campaigns more effective. Engage more effectively with your contacts by sending a series of automated messages based on contact activity. You can automate welcome messages, birthday wishes, onboard training, and more.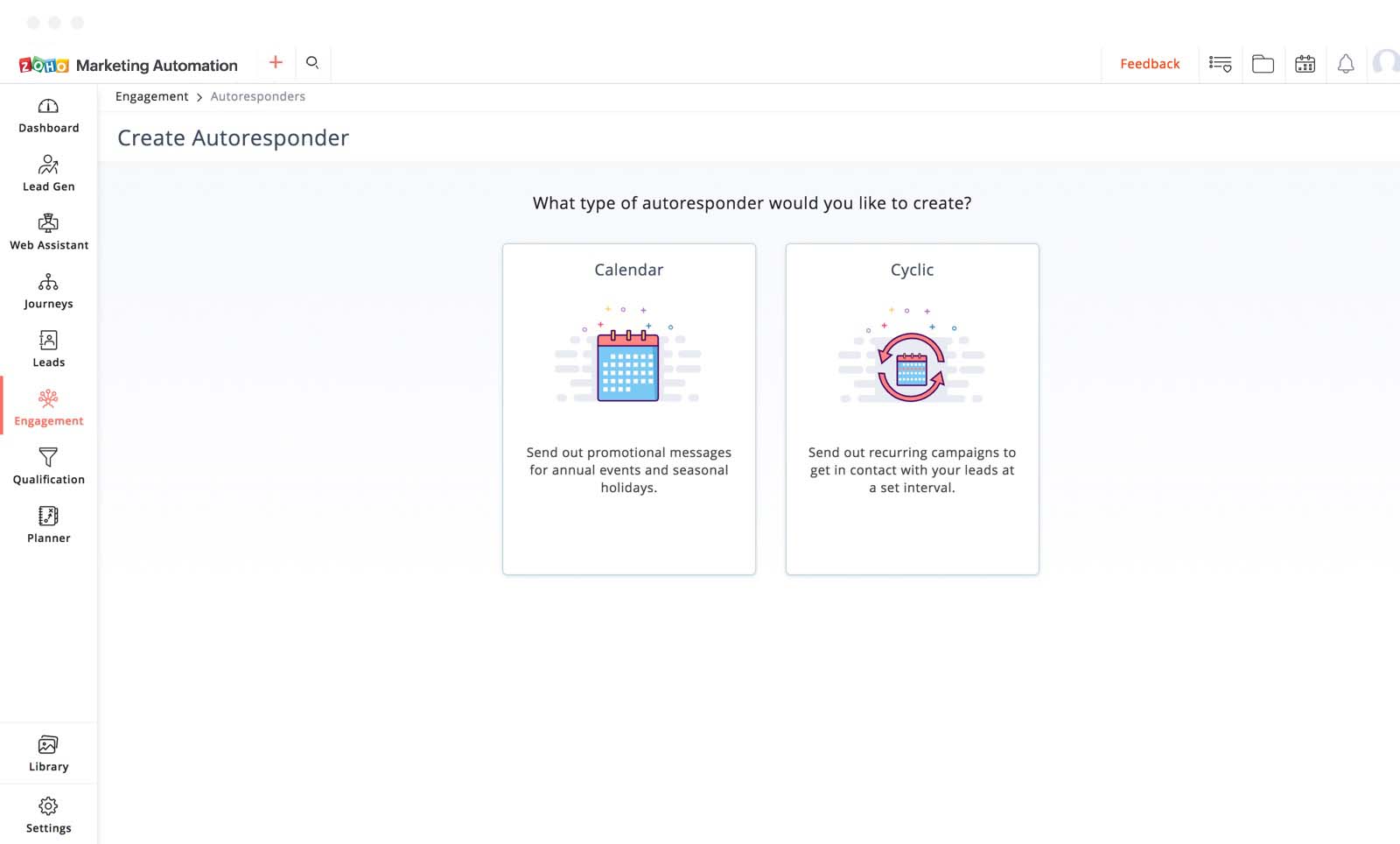 Campaign reports
Get real time reports of your own campaigns' activity and that will help you understand what works and what doesn't. You can also study your campaigns' performance and compare campaigns.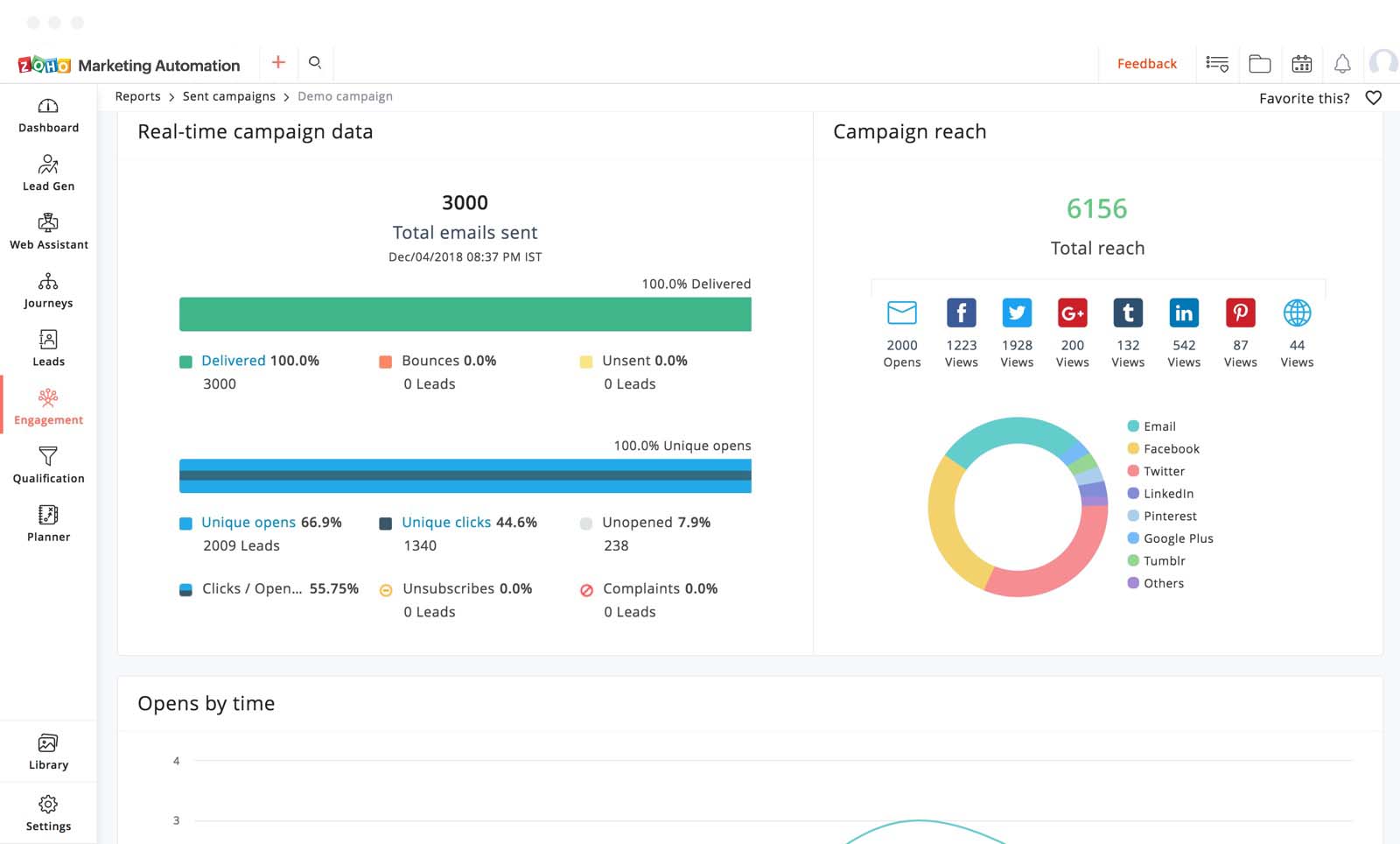 Email Marketing
SMS Marketing
social-Campaigns
automation
Campaign reports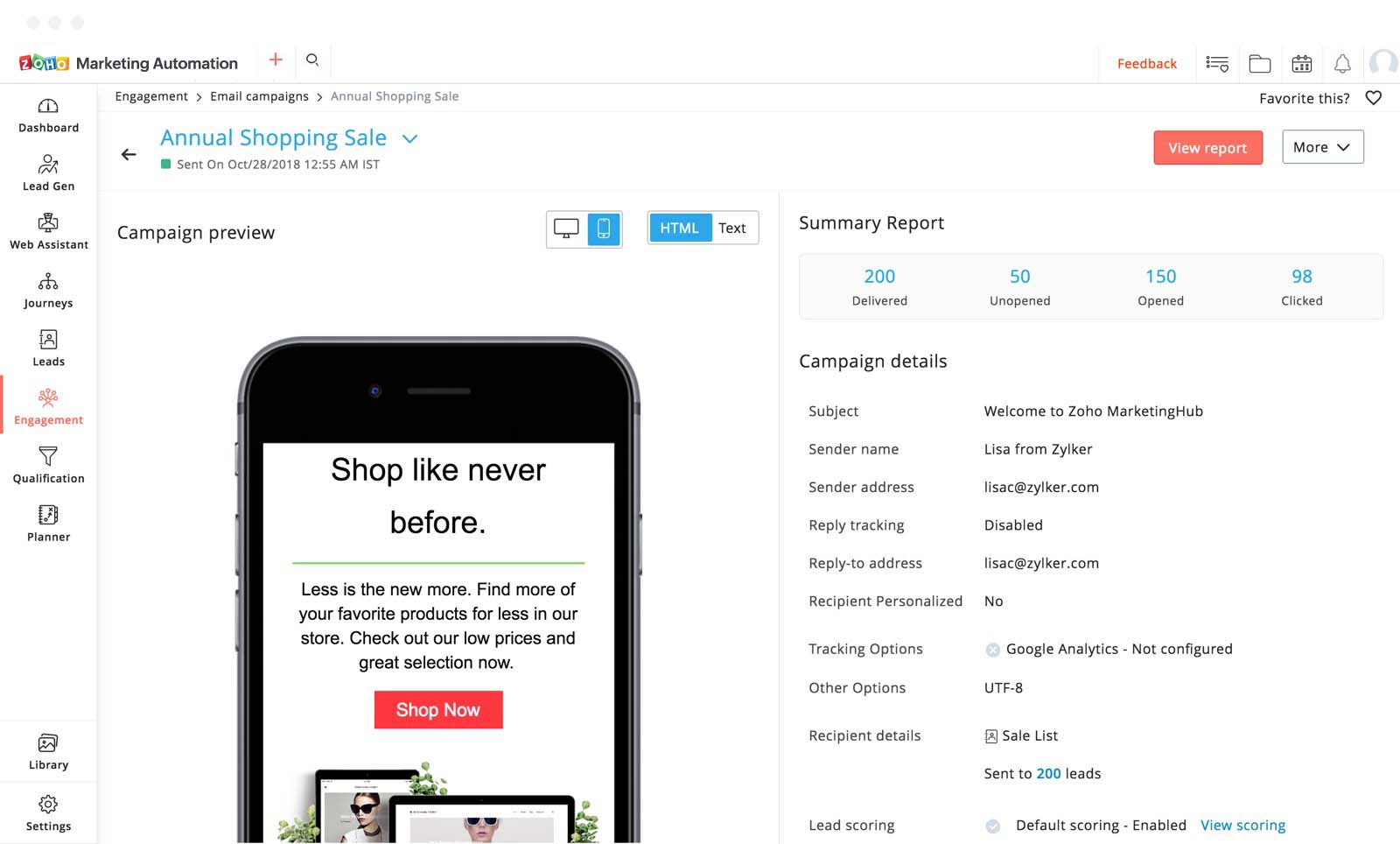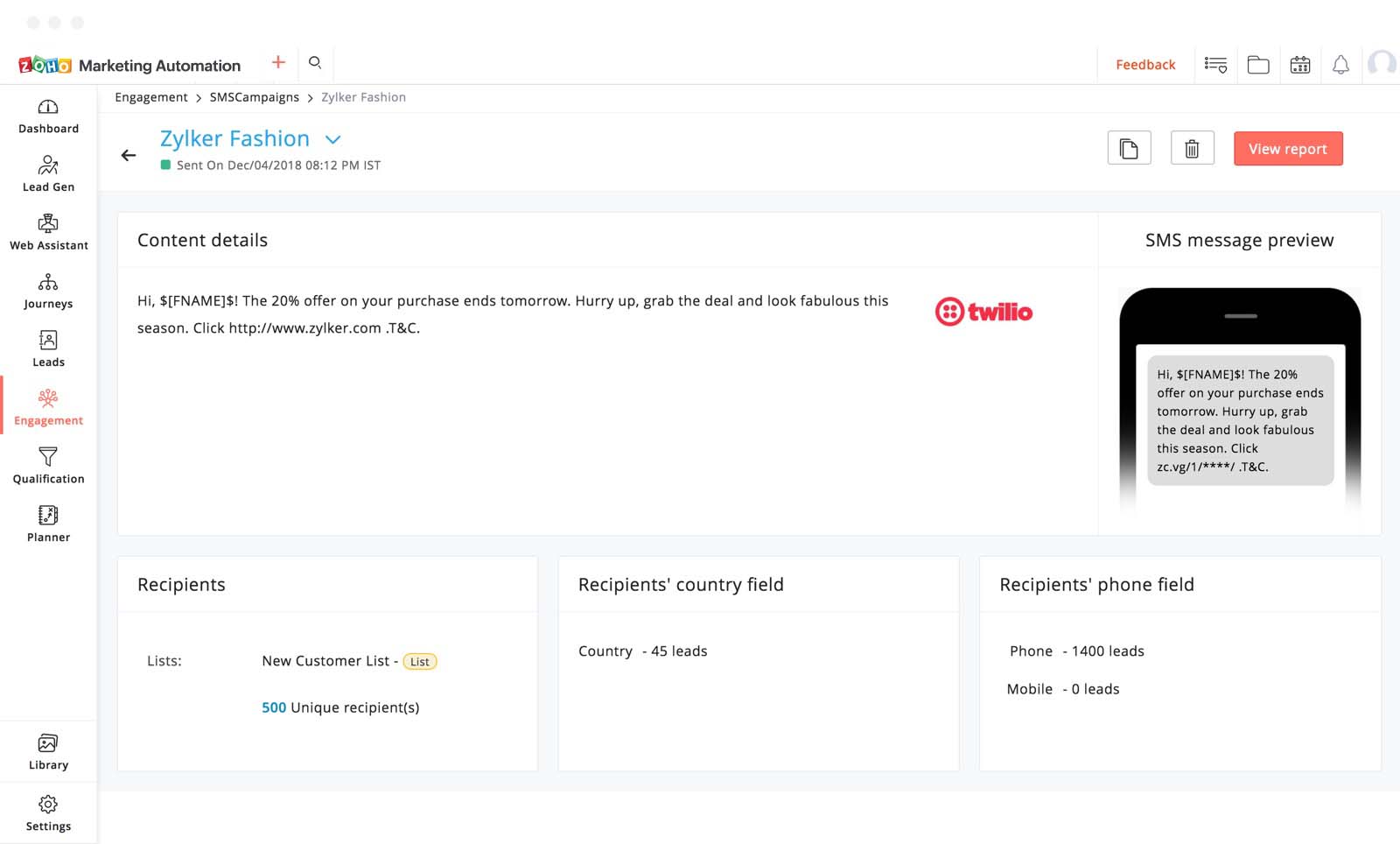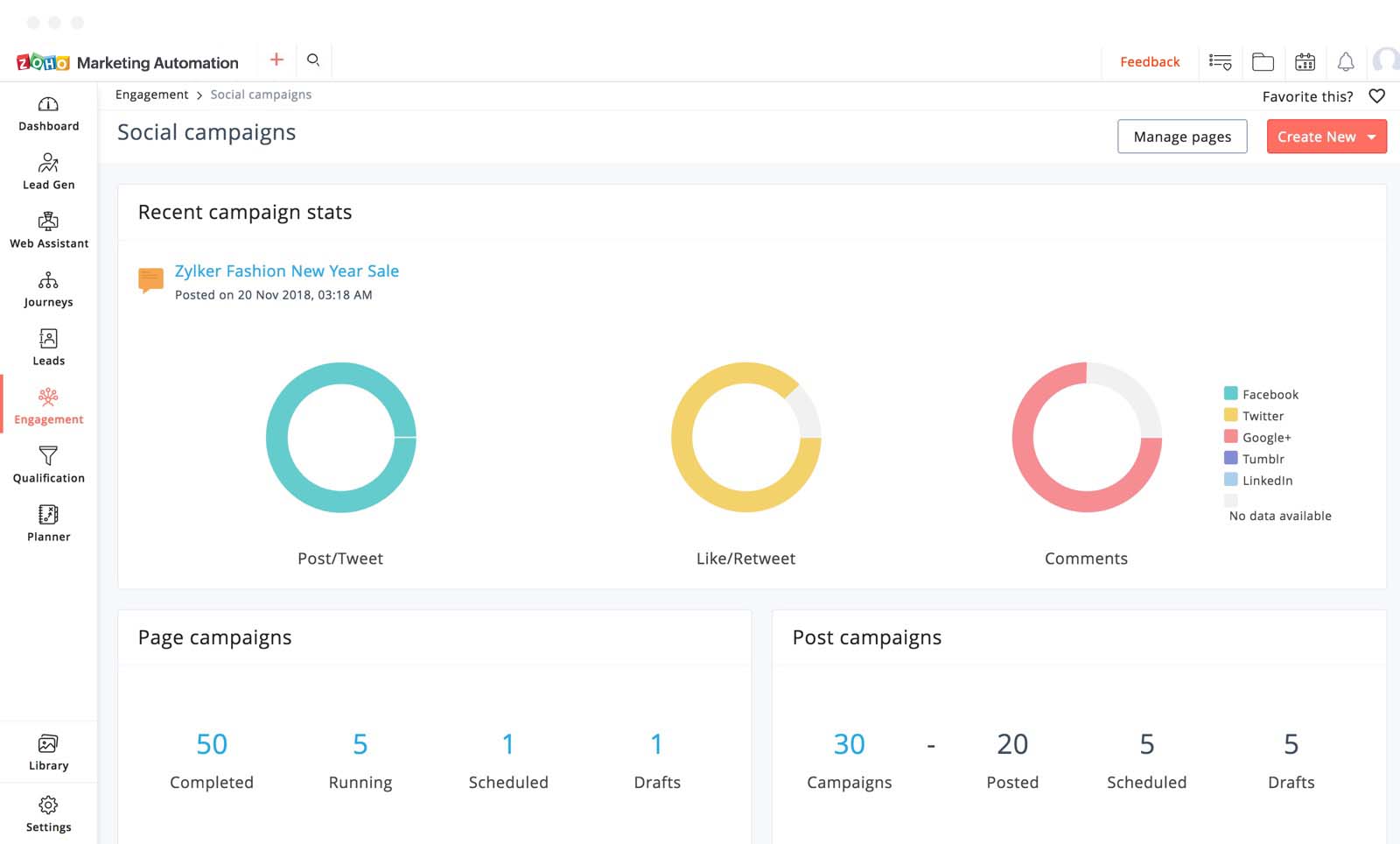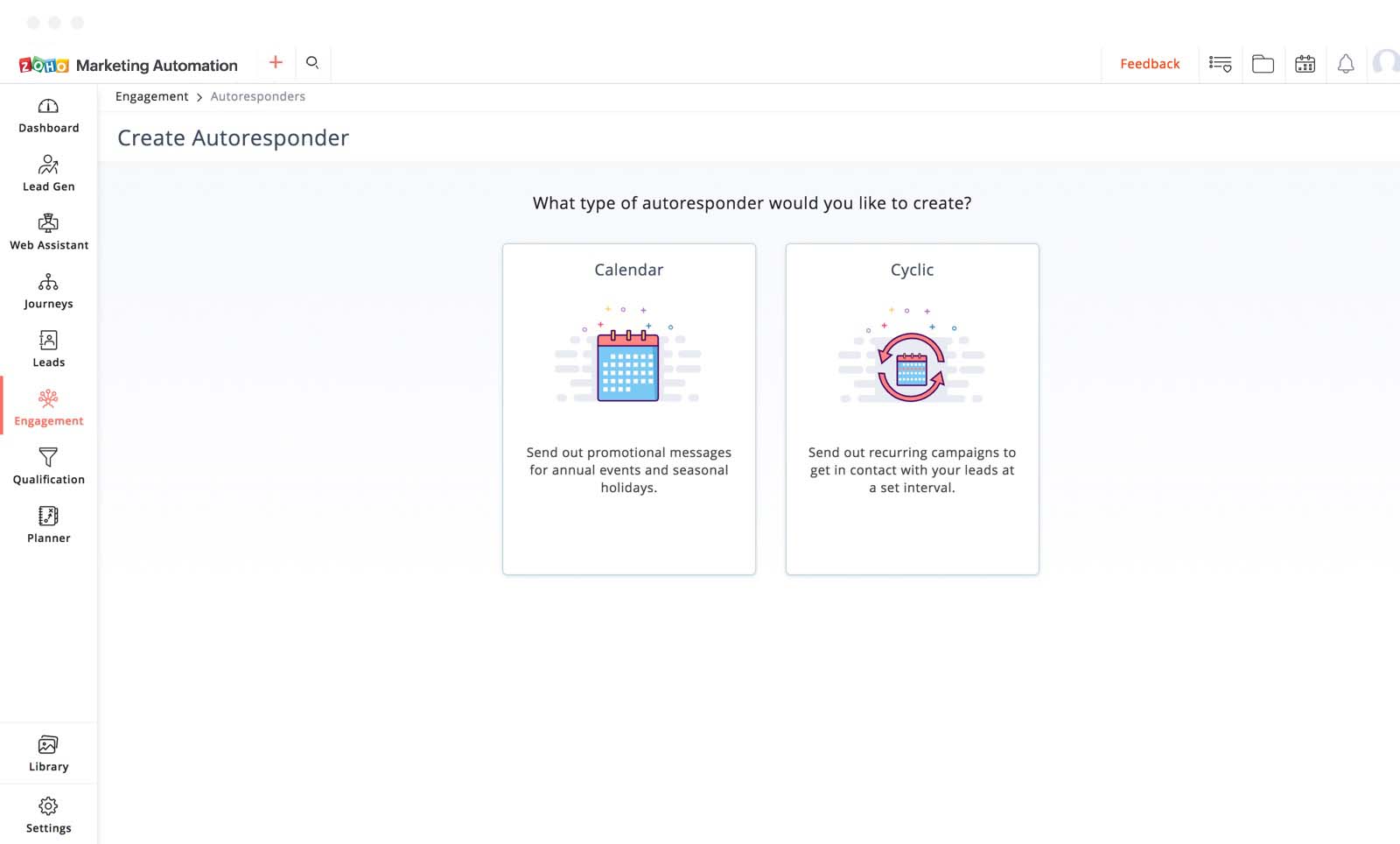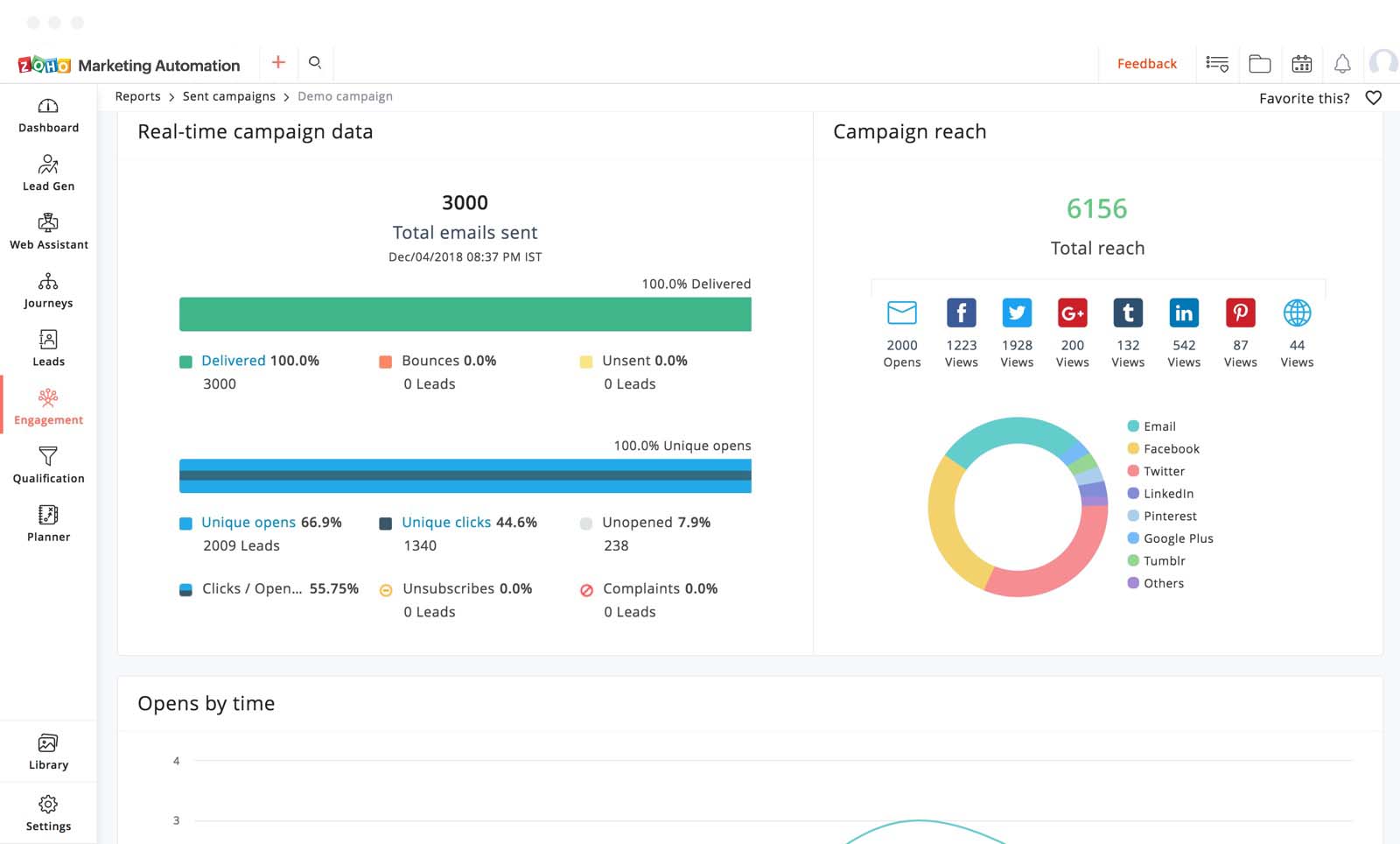 Lead scoring and tagging
Allot scores
Assign scores to your leads based on their website activities - opens, clicks, forwards, and follow-ups. Target them individually by attaching tags based on their interests and activities.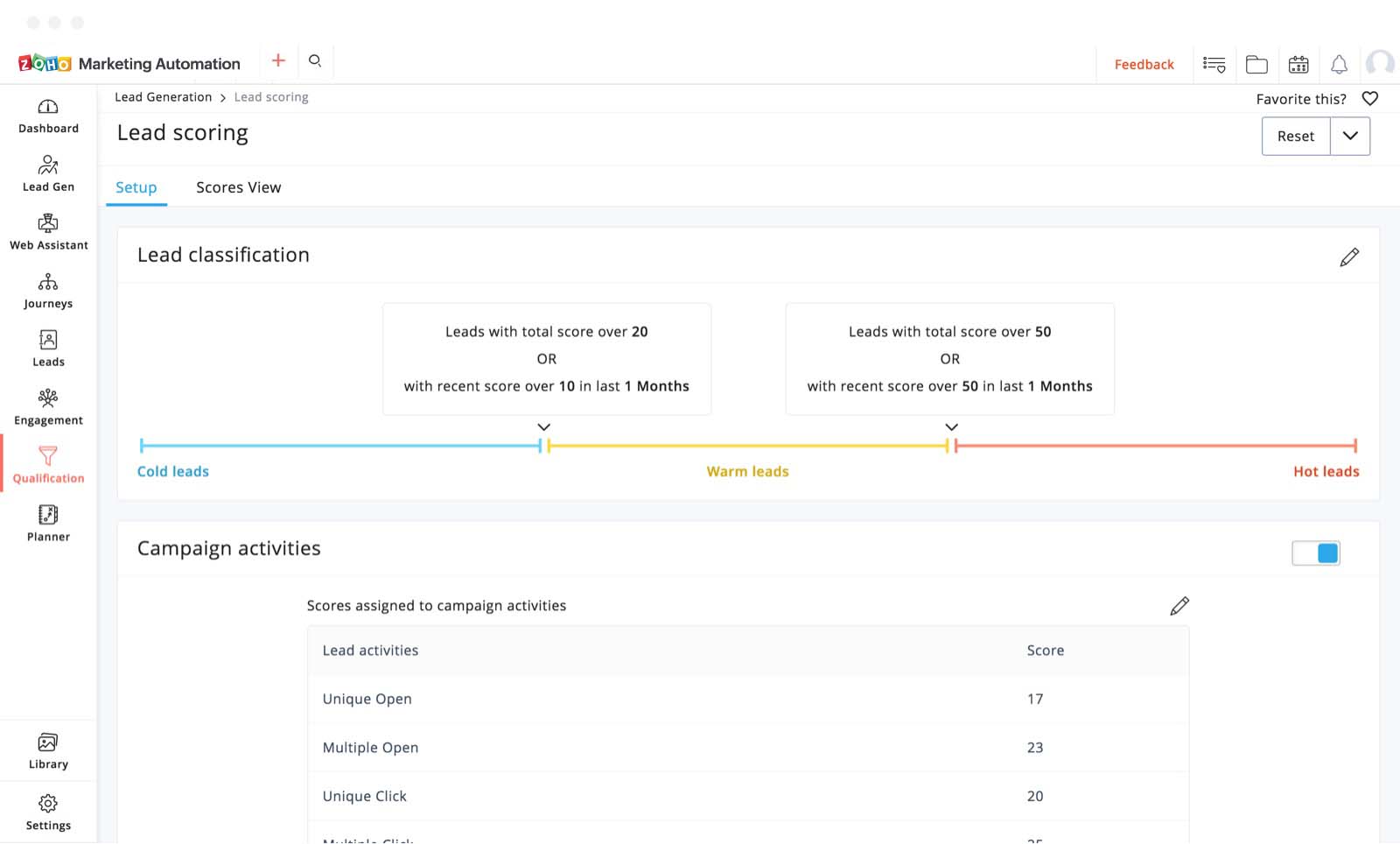 Lead insights
See how many leads you have gained over a specific period of time and evaluate the effectiveness of your lead generation activities.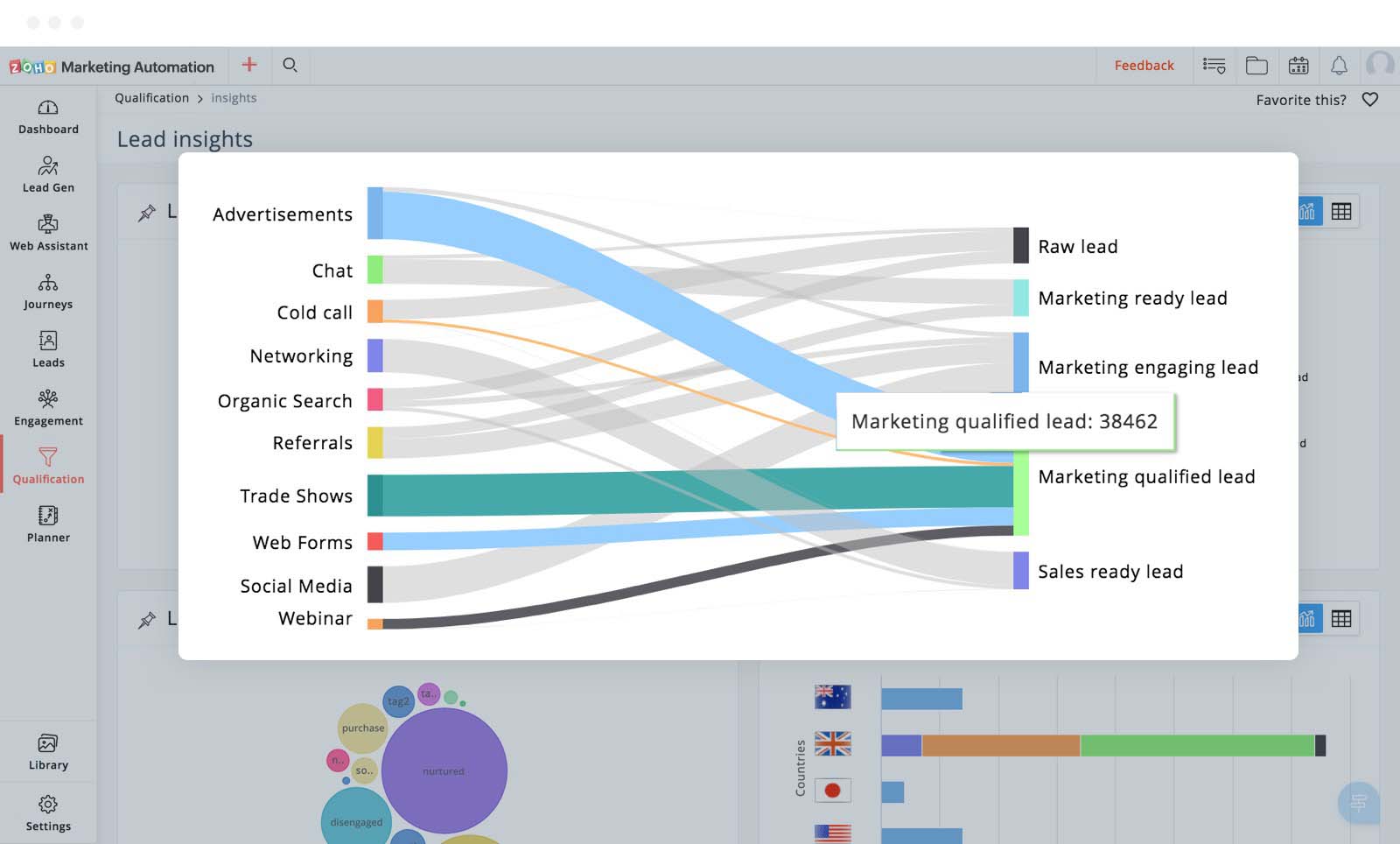 Lead stages
Get to know which sources you're getting leads from so you can focus on targeted promotions. You can identify them as raw leads, marketing ready, marketing engaged, marketing qualified and sales ready.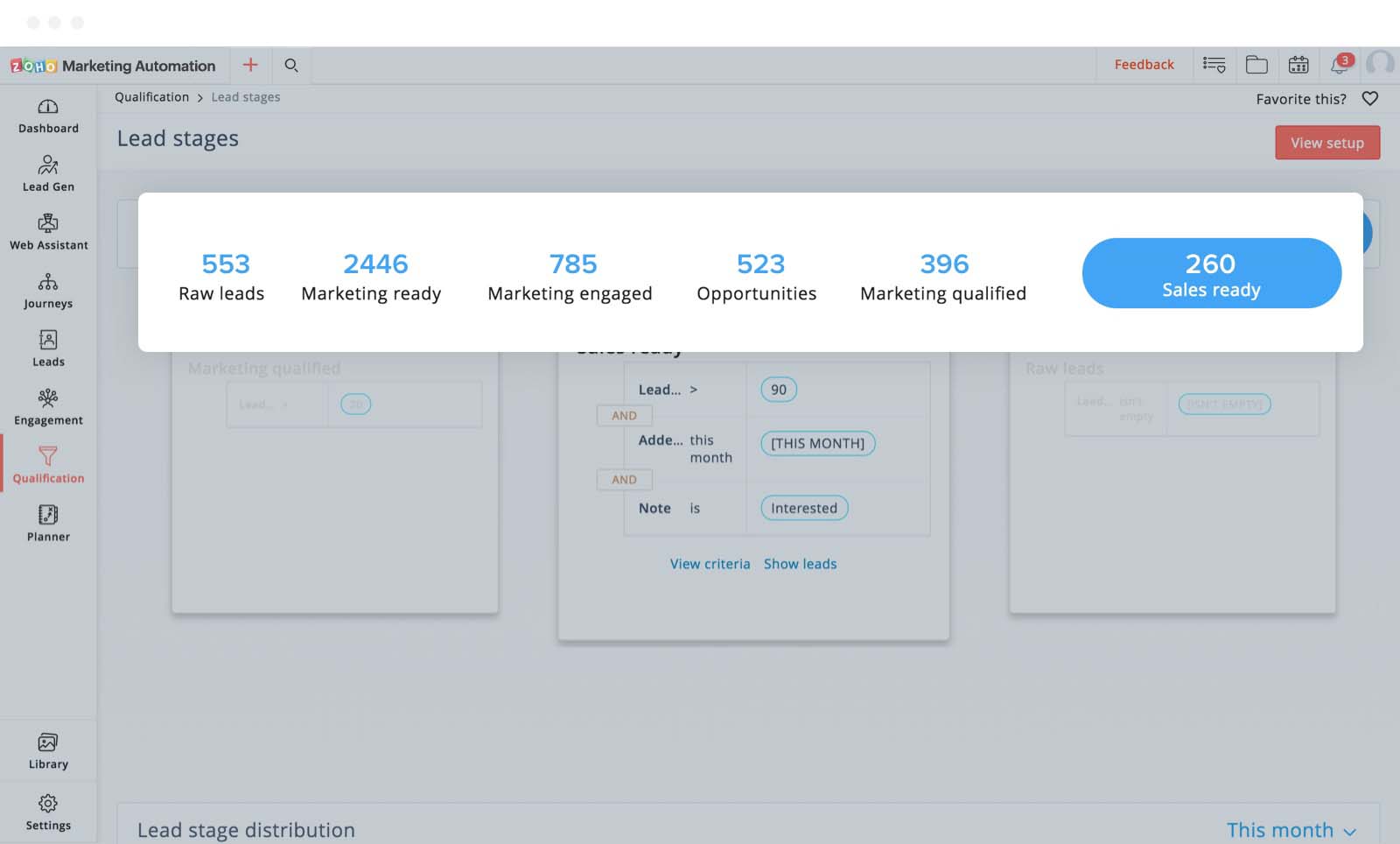 Allot scores
Lead insights
Lead stages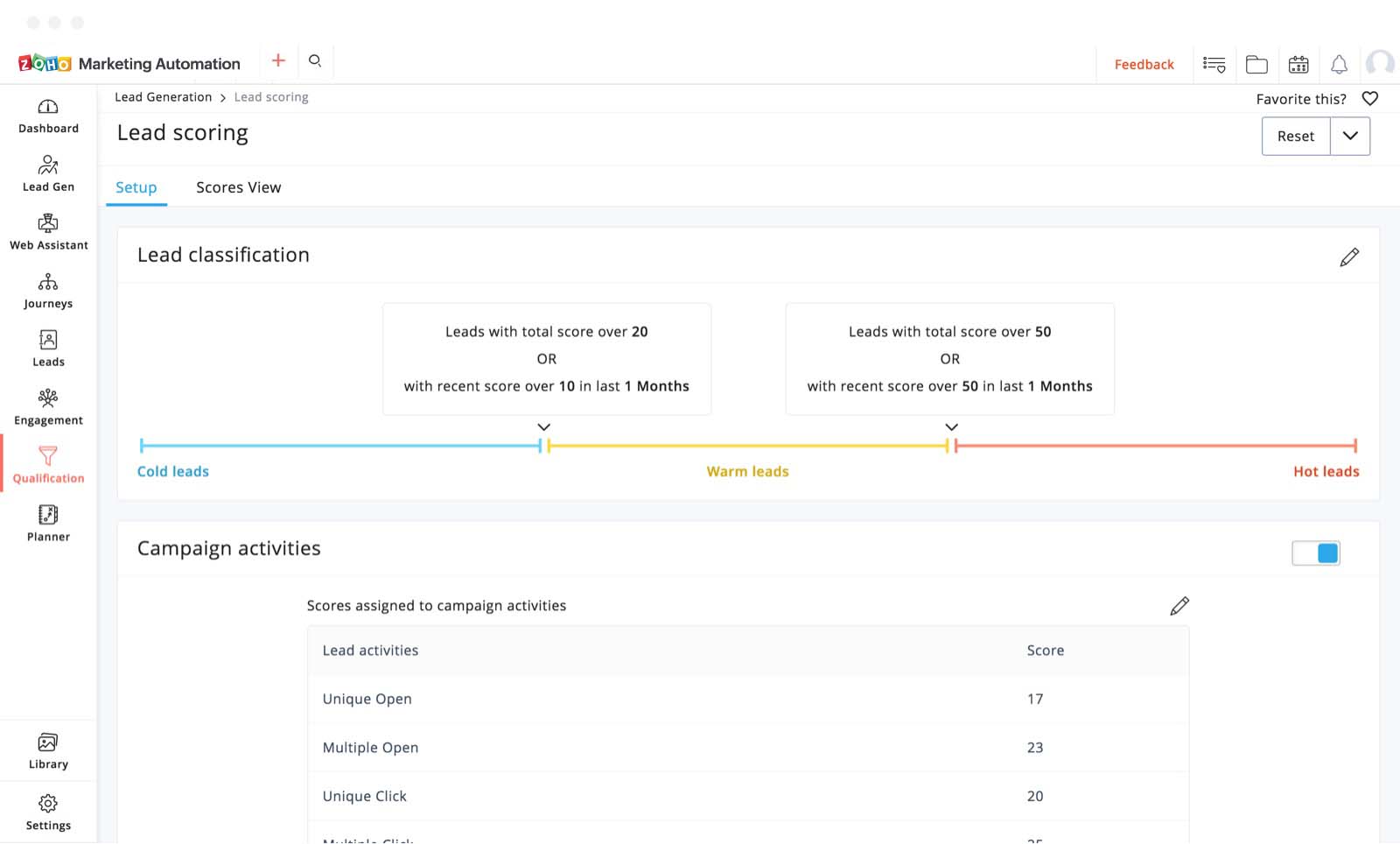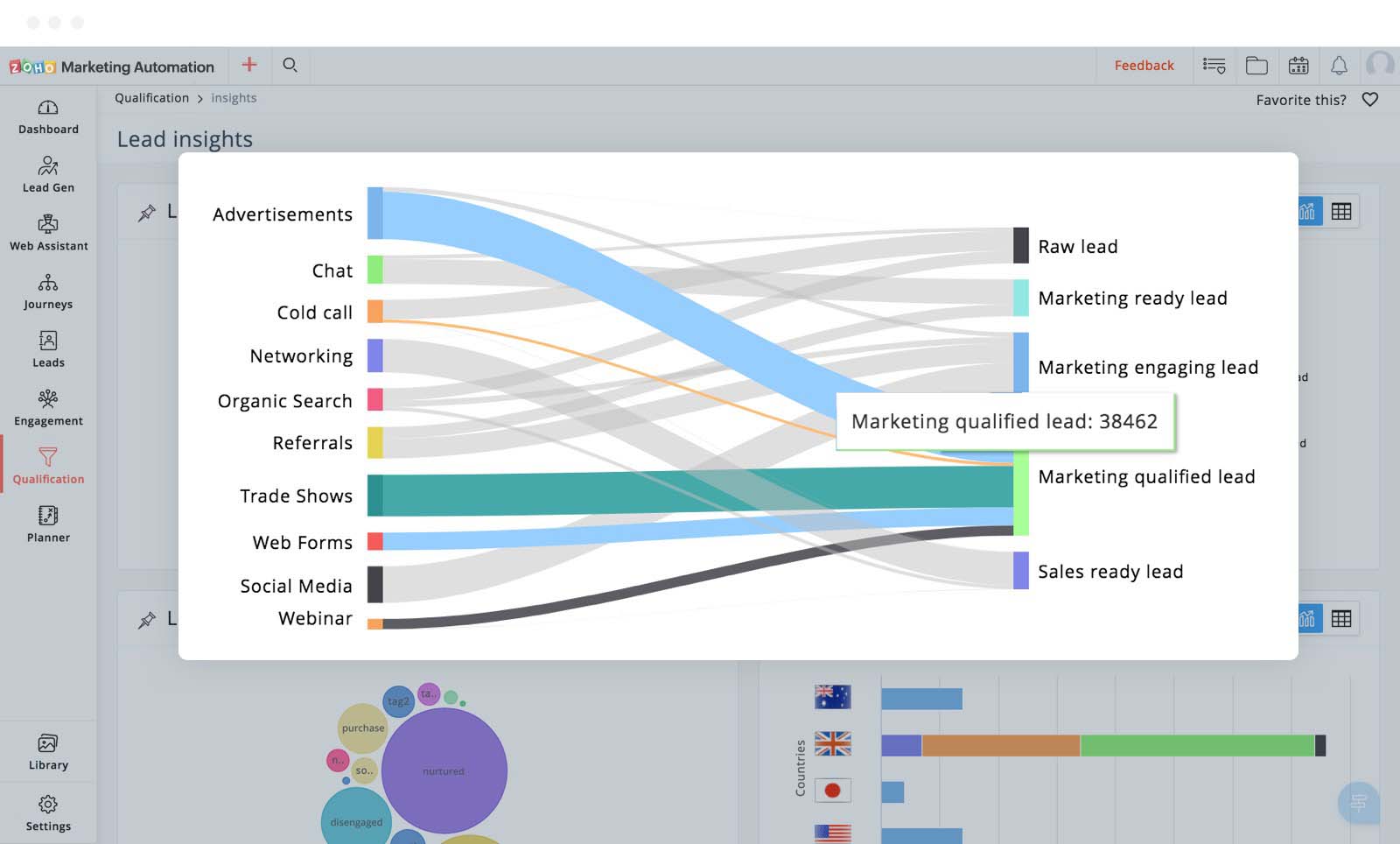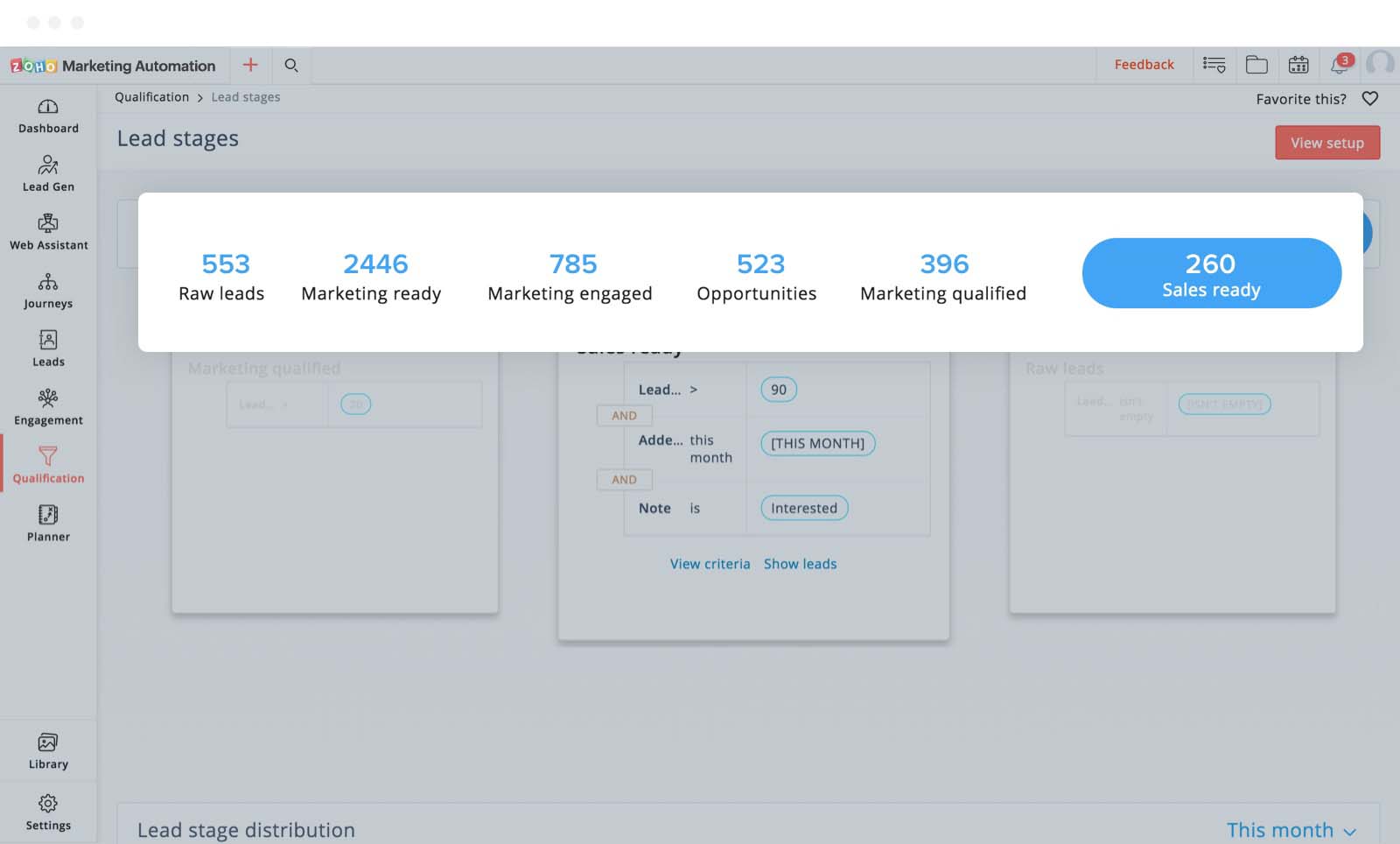 Plan your marketing campaign
Gauge perfomance
Drive brand awareness by establishing a connection with your audience on various platforms that they use.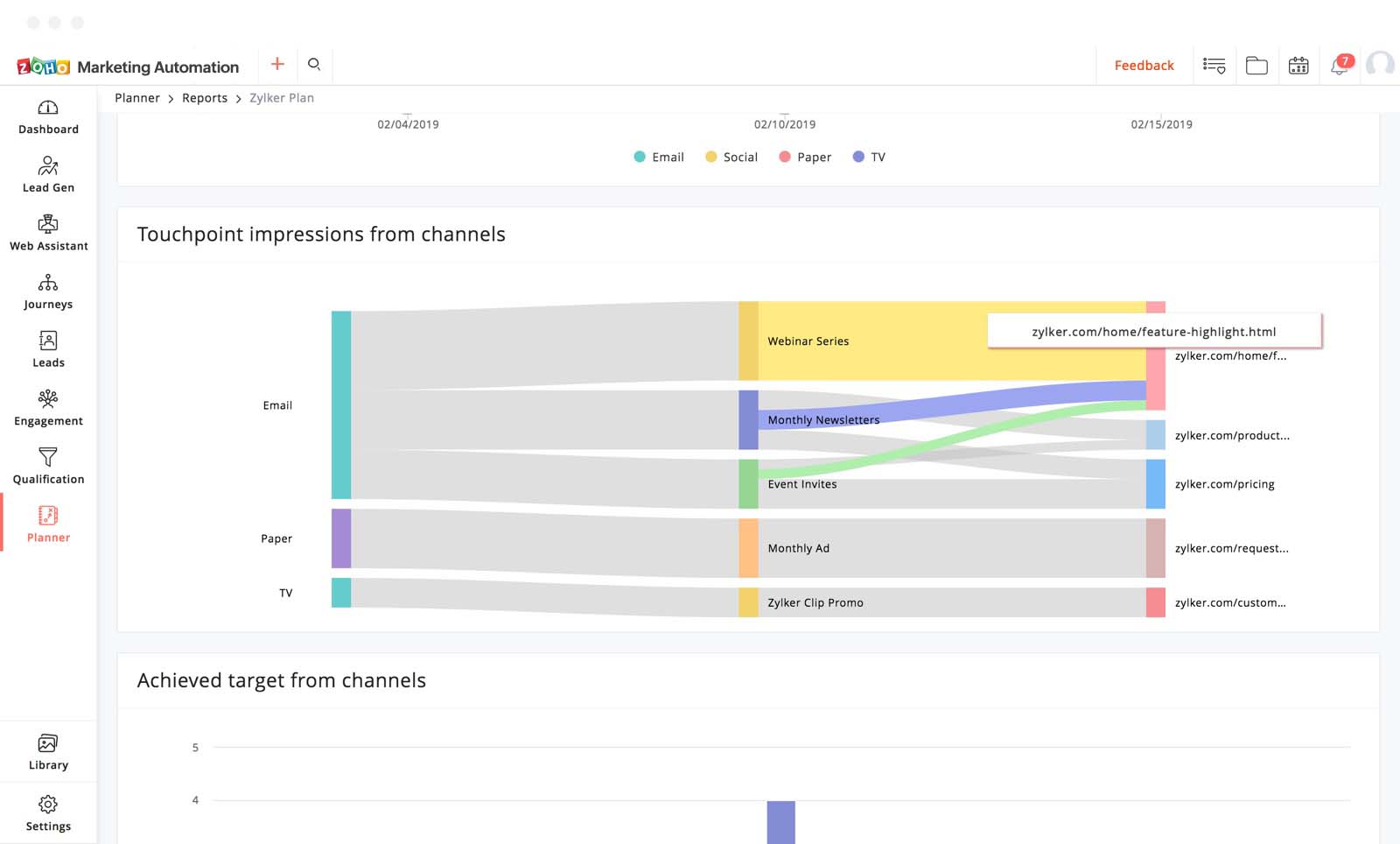 Track your ROI
Plan your marketing activities across mediums, allocate a budget, and achieve your ROI.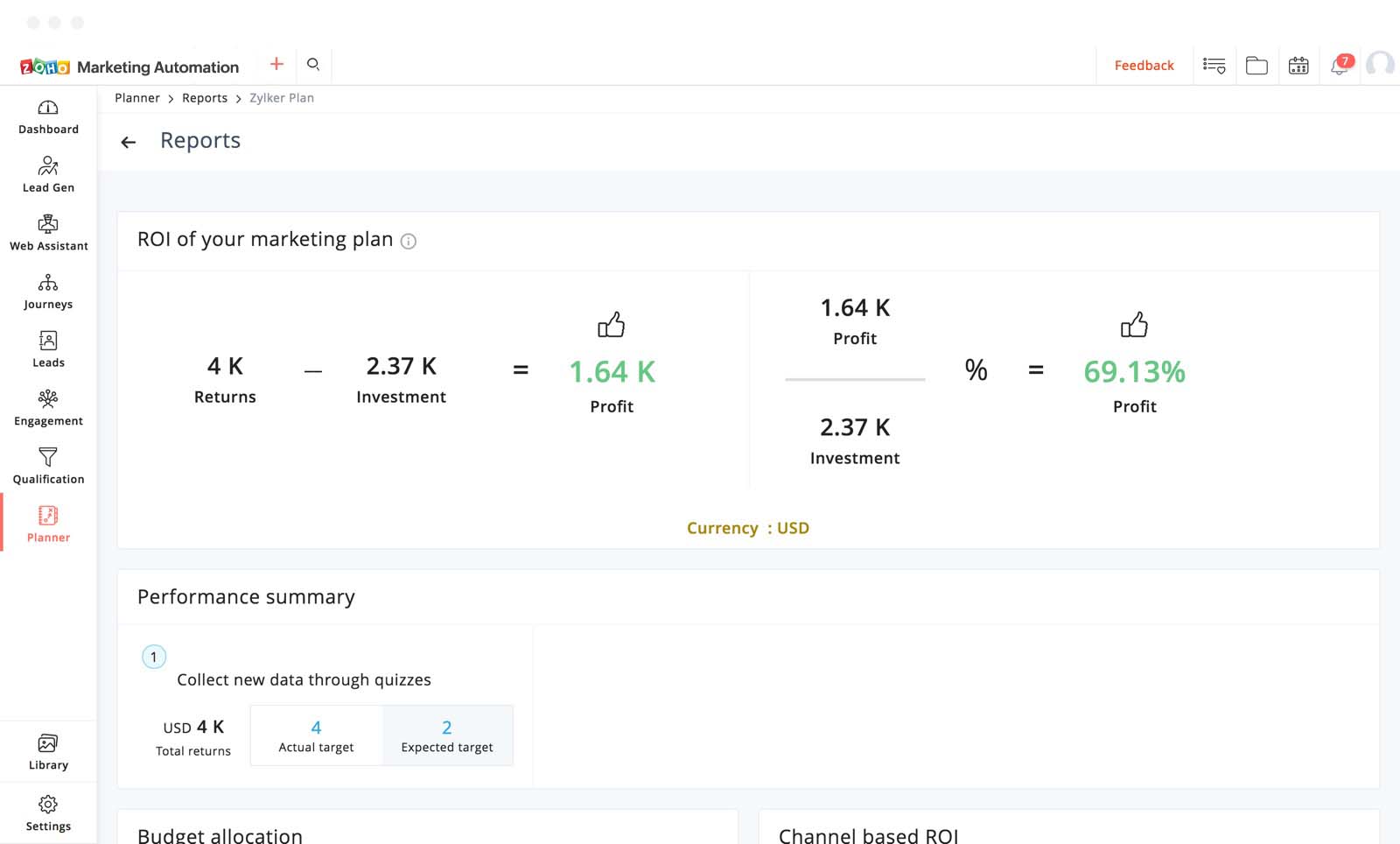 Gauge perfomance
Track your ROI