Table of Contents
 Sign Out
To Sign Out from all Zoho Apps, click on your Profile Image in the top right corner. You will see a drop down with an option to Sign out. When you sign out, you will be signed out of all other Zoho Applications, in other tabs in the current browser.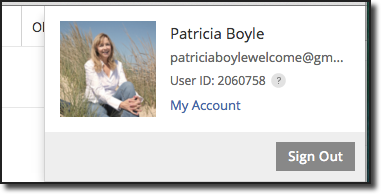 Close Account
Closing the account will close the Zoho account and terminate access to all the applications of Zoho. You will not have access to any Zoho applications. Only personal users will be able to close their accounts.
Only the admin can delete the the organization users accounts.
Login to Zoho Account, the Identity and Access management application for all Zoho accounts. (Or Click on the My Account link)
Select Preferences.
Under Preferences select Close Account
 
Provide your current Password.
Provide your comments and click Close Account.
In case you have hosted your domain with Zoho or have an active subscription, you need to cancel your subscription, delete the domain, delete the organization and then close the account. 
 Delete Organization
In case you have set up an organization account, and want to change your account to a personal account, or want to join another organizations account, you have to delete the current organization in which you have Super Admin role, before joining the other organization.
The three major steps before you delete the organization are removing users, deleting domains and cancelling any paid subscriptions you are part of. Refer here for instructions to cancel Zoho Mail Subscriptions. 
 Steps to Delete Domains
You need to remove all the domains mapped under your organization, before you delete the organization. 
Login to www.zoho.com/mail as Super Administrator 
Click Control Panel >> Domains 
Remove email hosting for any domain you have added, if email hosting is in enabled state (Click on the dark mail icon in the domain).
When you remove email hosting and delete the domain, all the domain based aliases and email addresses are removed from the account. 
Delete the domain. 
The domains registered through Zoho, cannot be deleted from Domains section. Please get in touch with support@zohomail.com to remove such domains. 
 Steps to Delete organization
Login to mail.zoho.com as Super Administrator
Launch the Control Panel
Make sure that you have deleted all the listed domains.
 
Select Dashboard
Click on Delete Organization link in the top
 
The Organization Setup will be removed and you will now converted to a personal user in Zoho Mail