Huge Attachments
You can use the Huge Attachment feature in Zoho Mail to send large files to your recipients through emails. We support different attachment sizes depending on the user's subscription plan. The size varies from 250MB with Mail Lite plan, 500MB with Workplace Basic to 1GB with Mail Premium & Workplace Professional plans.
Using Huge Attachments
Login to your Zoho Mail Account.
Click New Mail to compose your email.
Select the Attachment icon and locate the attachment you want to send in the email.

If the attachment size exceeds your plan limit, you will receive a prompt to attach it as a Huge Attachment instead.
Click Yes to add your attachment as a link in your email.

Select attach.

The Huge Attachments will then be uploaded to your account and will be sent as a link to the recipient(s) who can access and download the files using it. You can send multiple attachments of up to 1 GB each depending on your account storage and subscription plan.
Note:
If you want to send the same file via email to a different set of recipients, you needn't upload the file again. You can select the file from the attachment section under My attachment >> Huge attachments section and send it again.
Huge Attachments is not available with free plan.
File Permissions
You can set access permissions while sending a Huge Attachment. The permissions are:
Limited access - Only the recipients can access using their linked Zoho accounts
You can choose the limited access permission when you want to send Huge Attachment to Zoho users or users with linked Zoho accounts. This ensures only those recipients of the email can access/ download the attachment using the link. If the link is accessed without logging in to the respective Zoho account, the file won't be accessible.
Public access - Anyone can access using a secure and unique link
When you want to send large files to recipients who may not have Zoho accounts, you can set Public access permission. Upon which, a secure link will be generated for the attachment. The file uploaded can be accessed and downloaded by anyone who has this secure link.
Edit Permissions
By default, all attachments are set to Limited access. You can change this access level, after attaching it to an email, by clicking on the Limited access option available on the attachment.

You will have the option to make it a Public (accessible by all), in which case anyone with that link can access the attachment. Select Public and click Ok to generate the secure attachment link.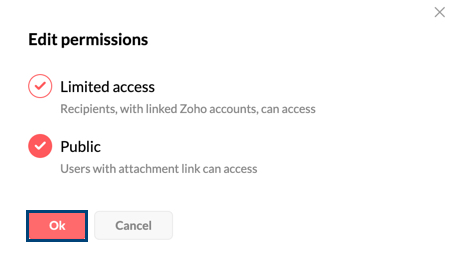 ​
Huge Attachments in Attachment Viewer
The Huge Attachments are also listed in the Attachment Viewer for you to view and access it. You can also use the filter in the attachment viewer by clicking Filter >> Attachments from >> Huge Attachments.

You can also make changes to the Huge Attachment like changing edit permissions, attach and send a new email, download, delete, etc from the attachment viewer.