Make your machines & processes efficient with real-time factory insights
For a Smart factory, it is vital to monitor machines and processes in real time as well as ensure optimal performance to improve production. Increased visibility and better insights on the health of the machine is also critical in order to detect anomalies and fix issues before they occur.
Zoho Industrial IoT solution helps factories & discrete manufacturing industries to increase OEE and productivity through real-time data visibility, deep manufacturing analytics, and predictive/prescriptive alerts.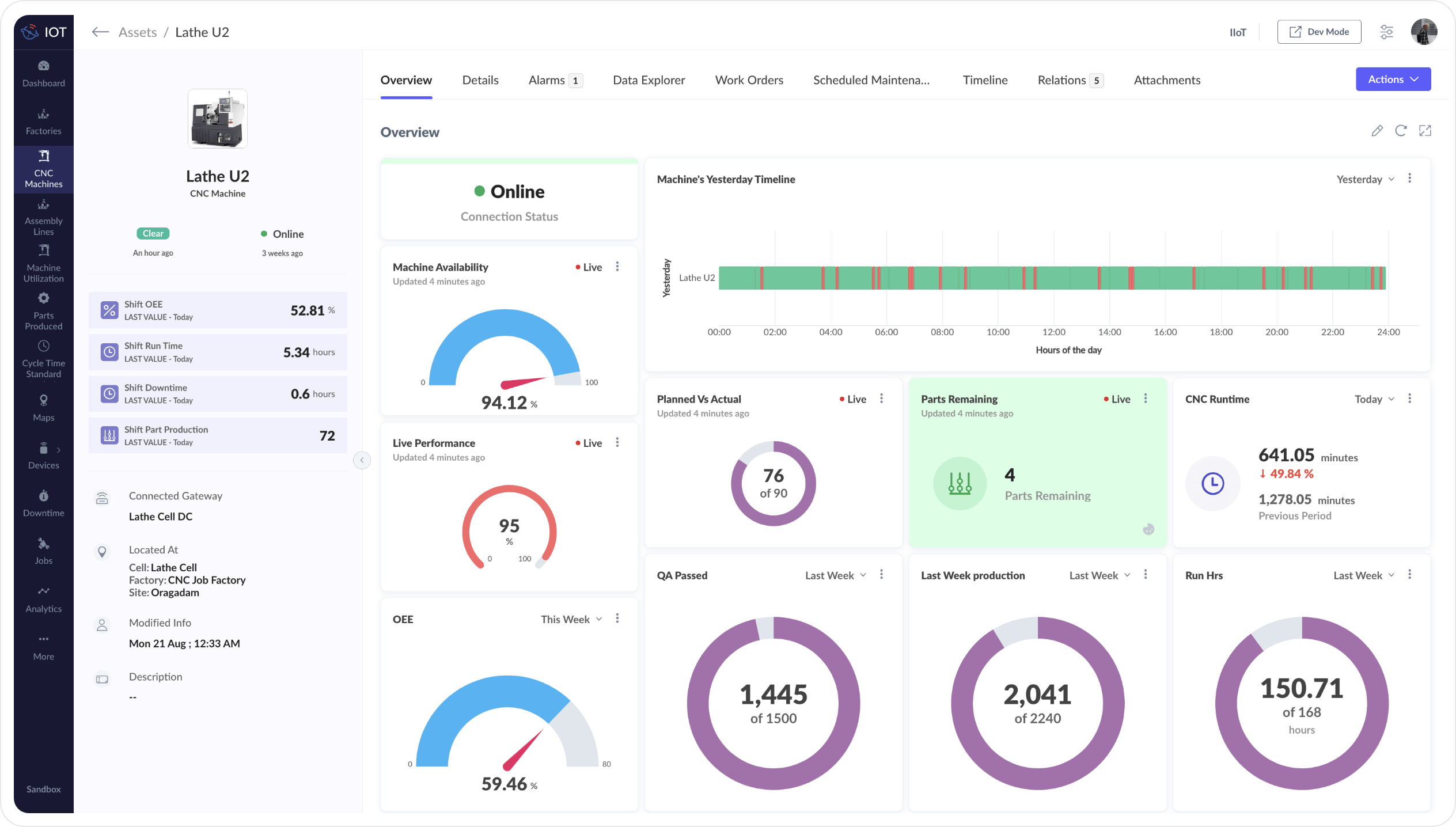 Downtime Insights for machines & assembly lines
Streamline your production process and enable proactive maintenance to reduce or eliminate planned/ unplanned downtime.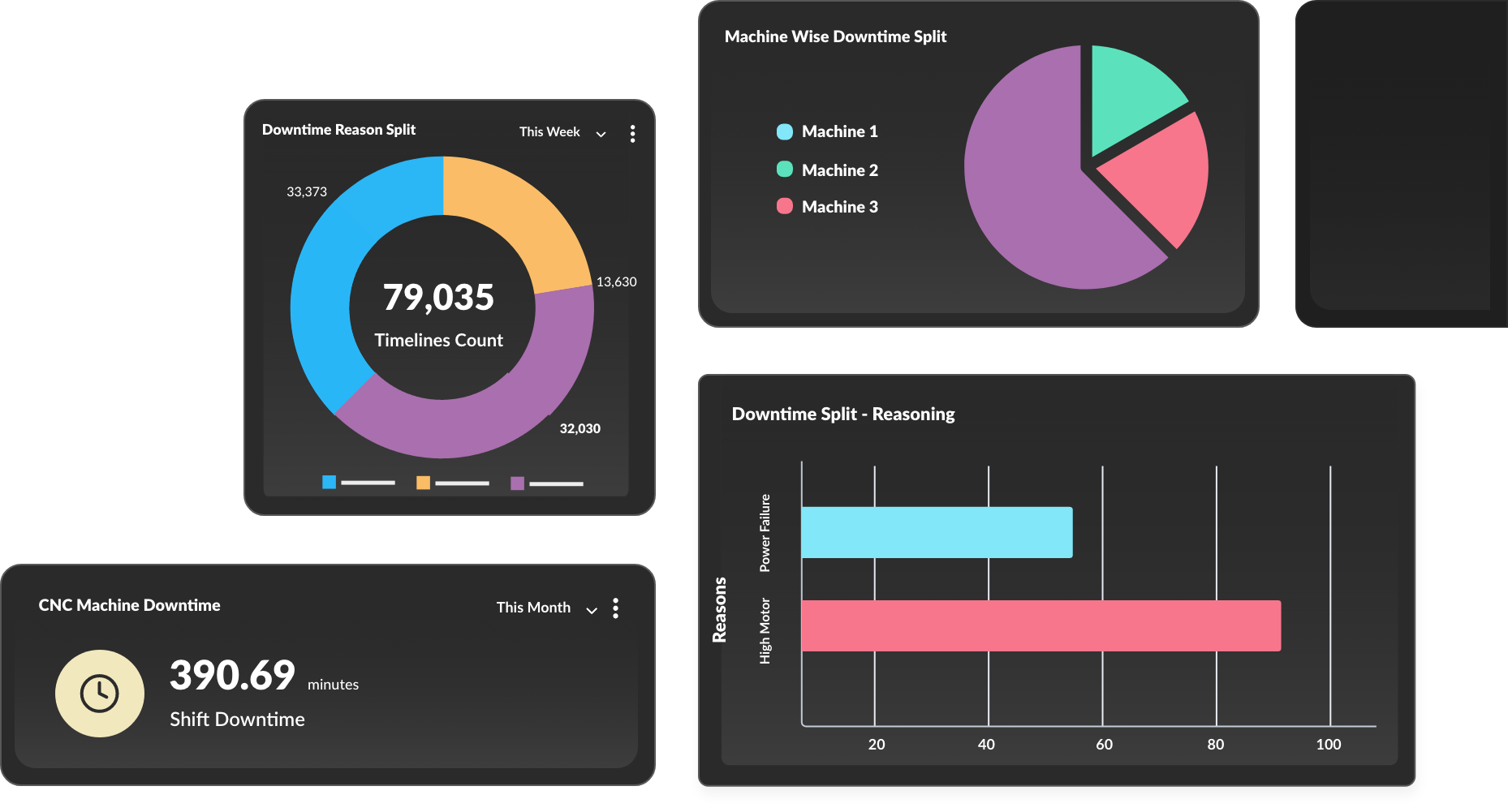 Peek into the innovative world of IIoT
What is Industrial IoT (IIoT)?
An industrial IoT or IIoT is about the amalgamation of machines, processes, and production to monitor, collect, exchange, and analyse real-time sensor data to perform advanced analytics and deliver meaningful shop-floor insights.
Why Zoho IIoT solution?
Zoho IIoT solution powered by the Zoho IoT platform can help improve overall equipment effectiveness (OEE), minimize equipment failure, improve shop floor efficiency, and enable proactive maintenance to reduce or eliminate downtime.
Why do businesses need IIoT?
Businesses need to adapt IIoT to stay competitive and sustainable in the modern industrial sector. IIoT empowers businesses with data-driven insights, improved efficiency, cost savings, and the ability to innovate and adapt in a rapidly changing business landscape
What are the benefits of IIoT?
There are multiple benefits of using IIoT for your manufacturing unit- Optimizing machine utilization, Predicting and preventing failures, Optimizing maintenance cycles, On-time alerting on any anomalies, increasing asset life cycle, Reducing maintenance costs, etc.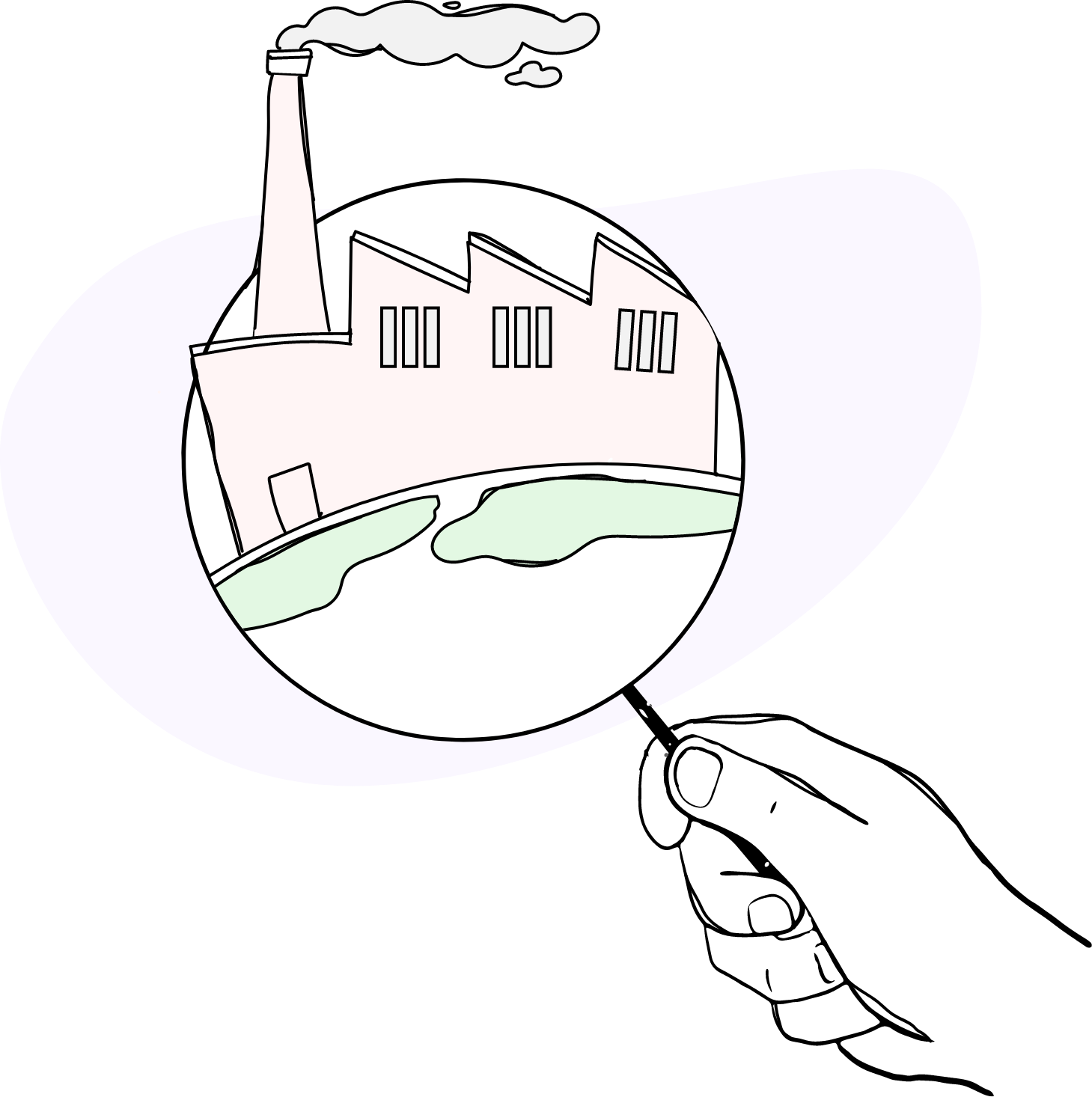 Machine Monitoring
Production Line Monitoring
OEE Performance
Shifts & Jobs Allocation
Maintenance & SLA
Quality Analysis
Asset & Inventory Tracking
Energy & Sustainability
Utilities Monitoring
Safety & Control
Third-party Integration
Single destination to achieve holistic shop-floor automation mastery
Machine Monitoring
Increase uptime and slash CapEx on new machines
Operators and maintenance personnel can monitor machines in real-time (CNC, robotic arm, SWISS, Precisions, etc.) to identify factors like health parameters, performance, uptime & downtime, asset operations, and usage patterns.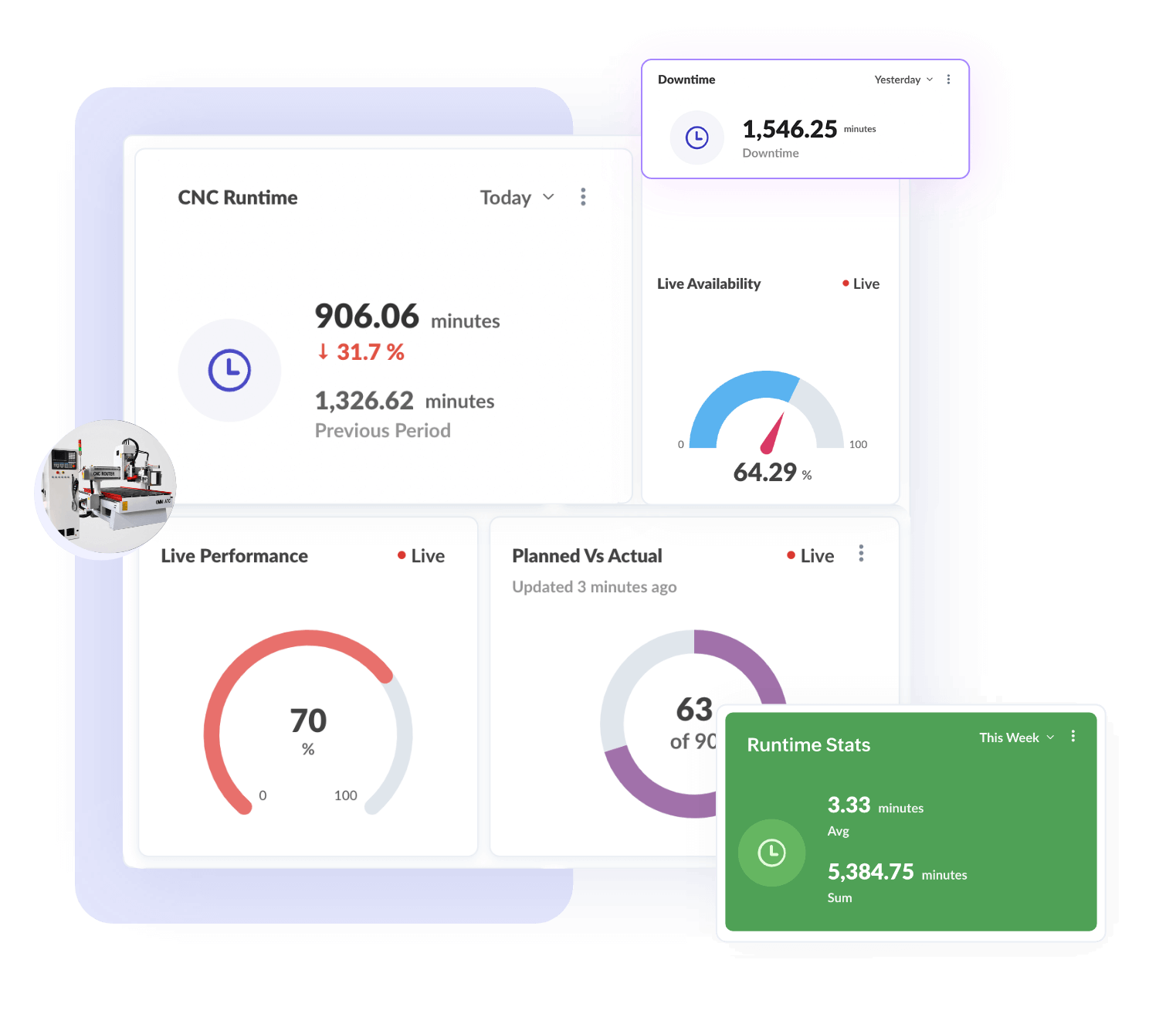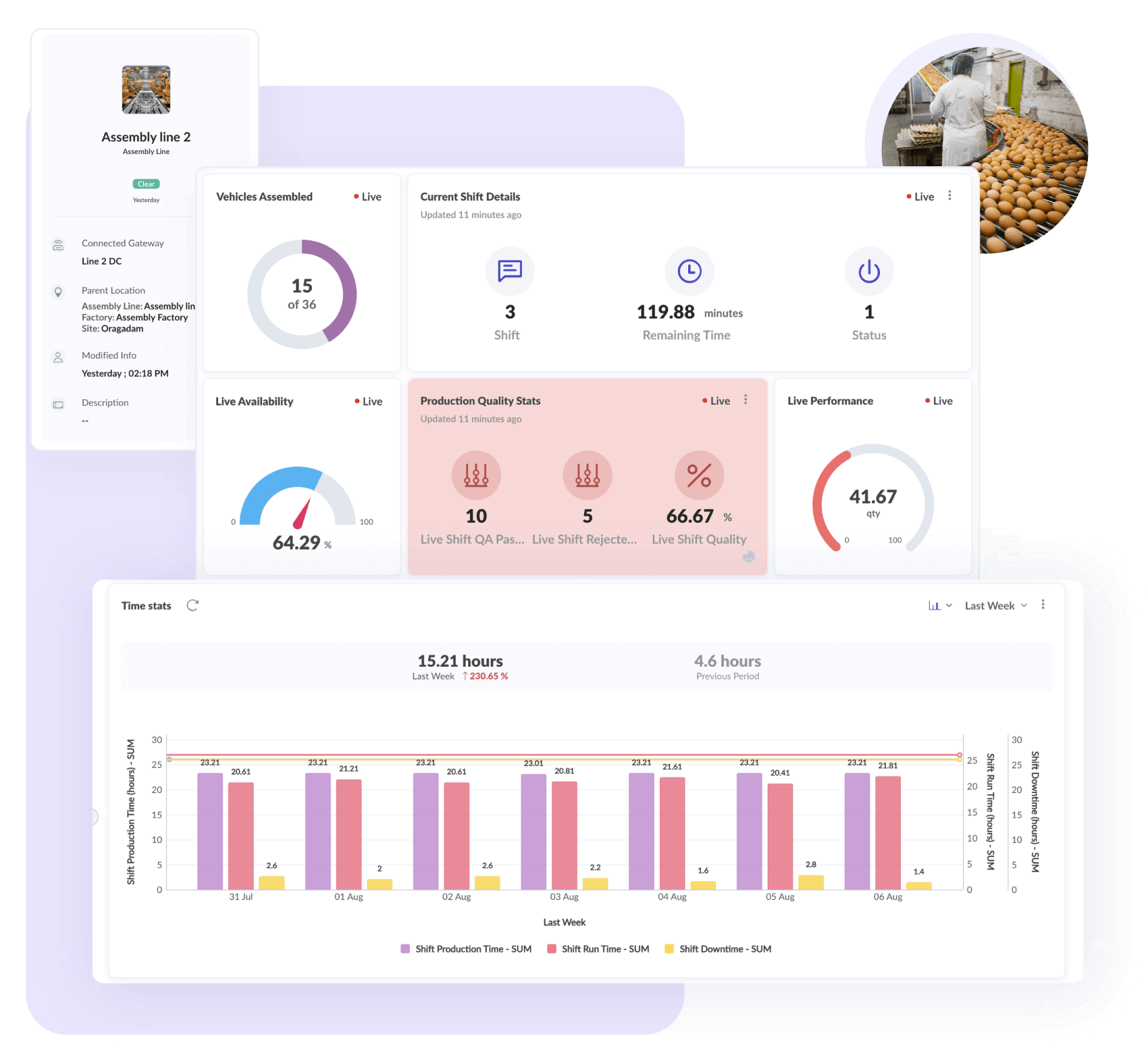 Production Line Monitoring
Reduce downtime and stoppages drastically
Accurate production line monitoring enables you to maximize efficiency/capacity, improve management, track line stoppages, cycle time, yield, reject rate, downtime, operator efficiency, etc.
OEE Performance
Overall equipment effectiveness for ultimate productivity
Combines availability, performance efficiency, and quality yield to measure the overall effectiveness of the equipment, identify production bottlenecks & areas of improvement, benchmarking, asset performance, and improving productivity.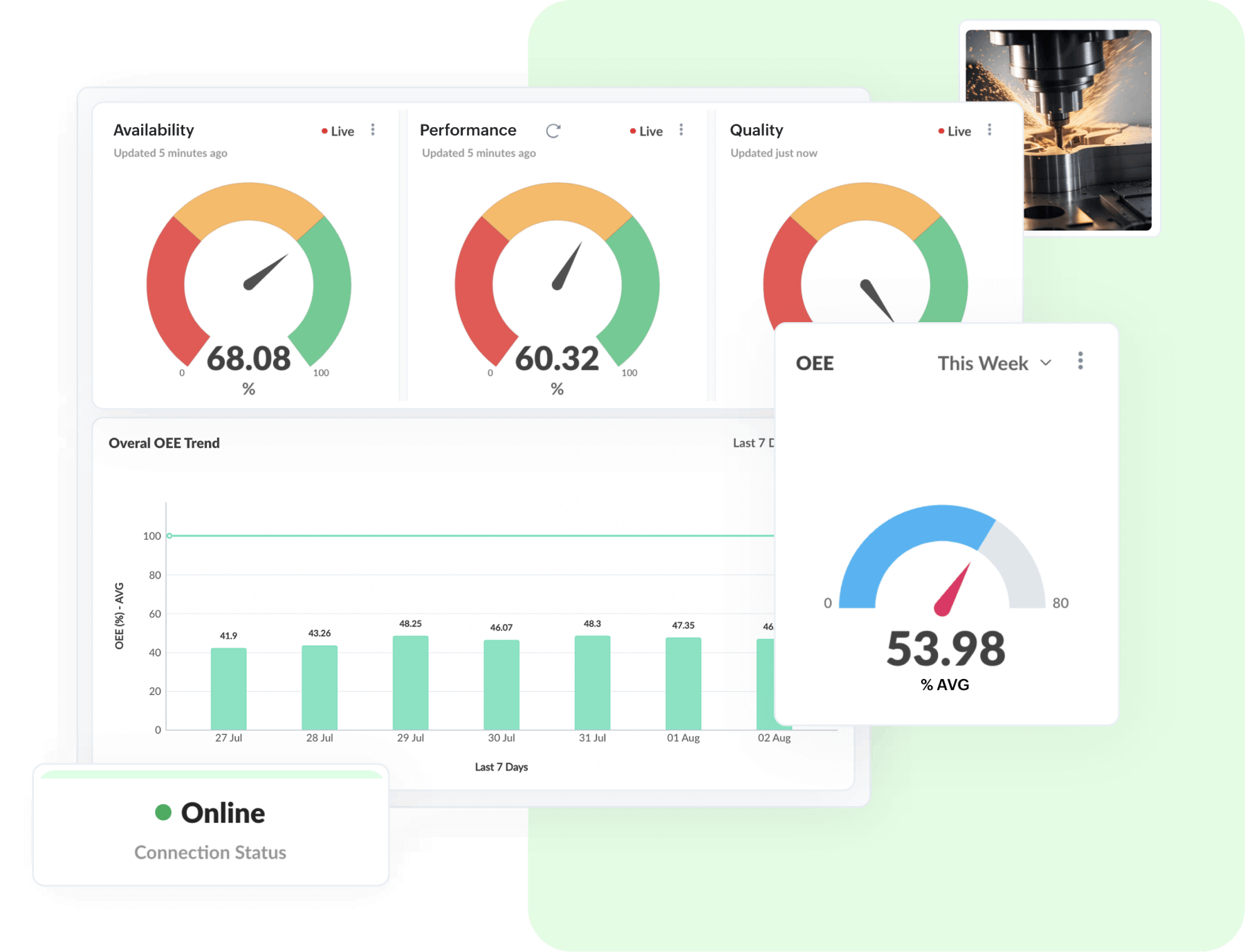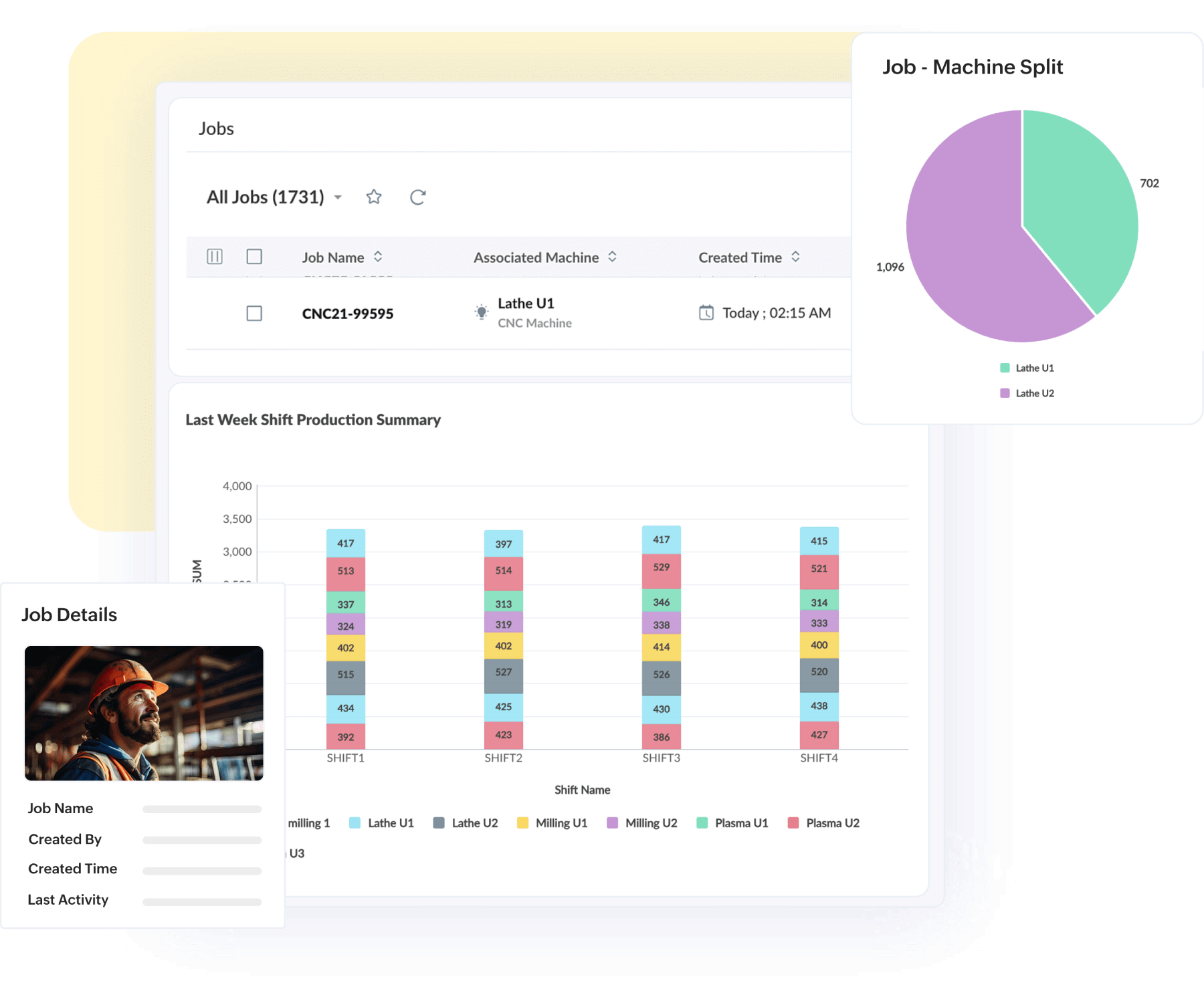 Shifts & Jobs Allocation
Pay the workforce based on efficiency & improve retention
The operational paradigm for keeping vendors in the loop, wherever you need them. Execute a smarter way to transition open issues in a real-time environment and update status on the go and equip every worker with the right information to perform tasks effectively.
Maintenance & SLA
Condition monitoring, Predictive maintenance & work orders
Track, report, and meet SLA's initialized by customer support teams to set customer service targets. Lose the mundane and automate tasks in a jiffy. From automated approvals to routing your own unique work processes to remote collaboration—Zoho IoT's digital workflows optimize how things get done.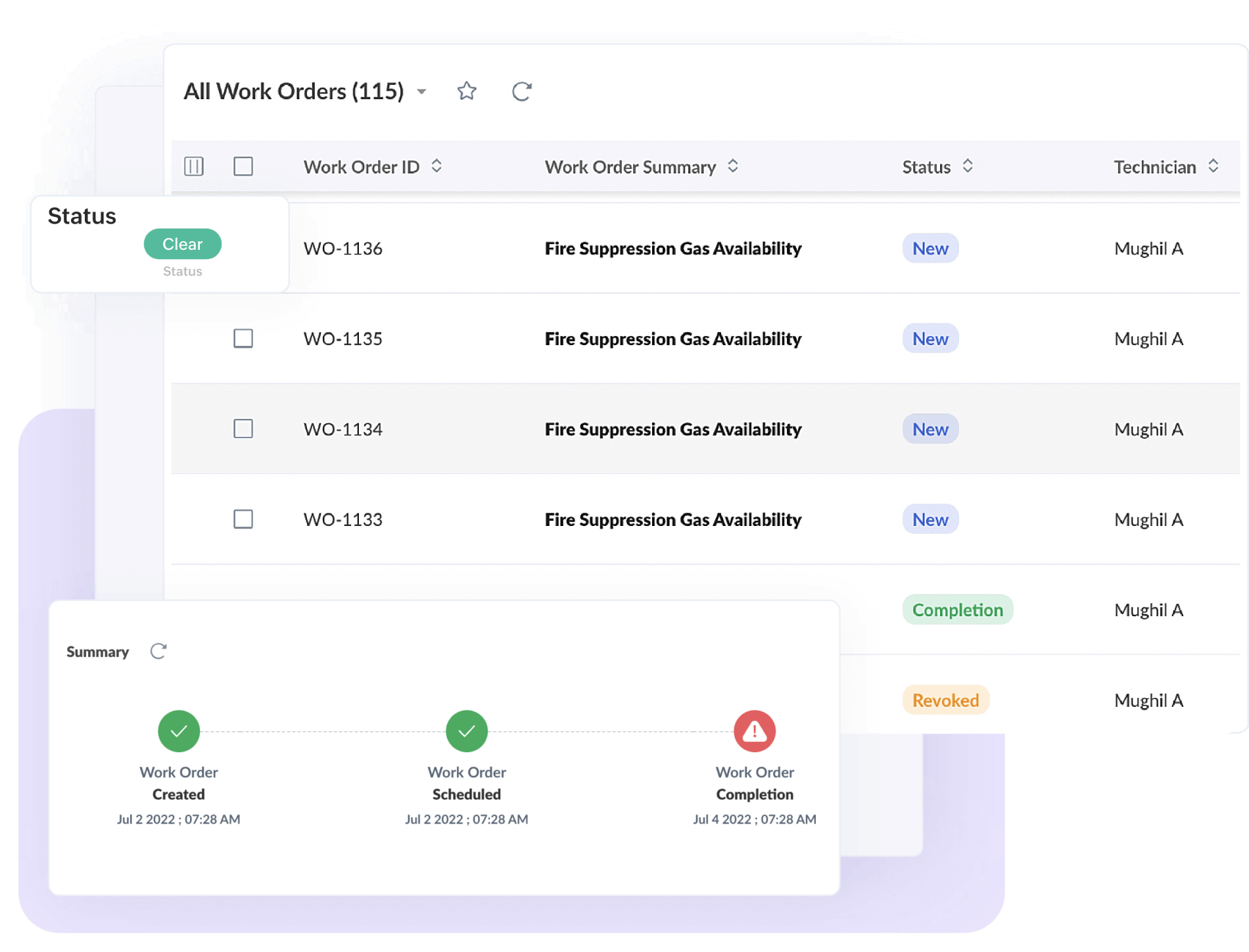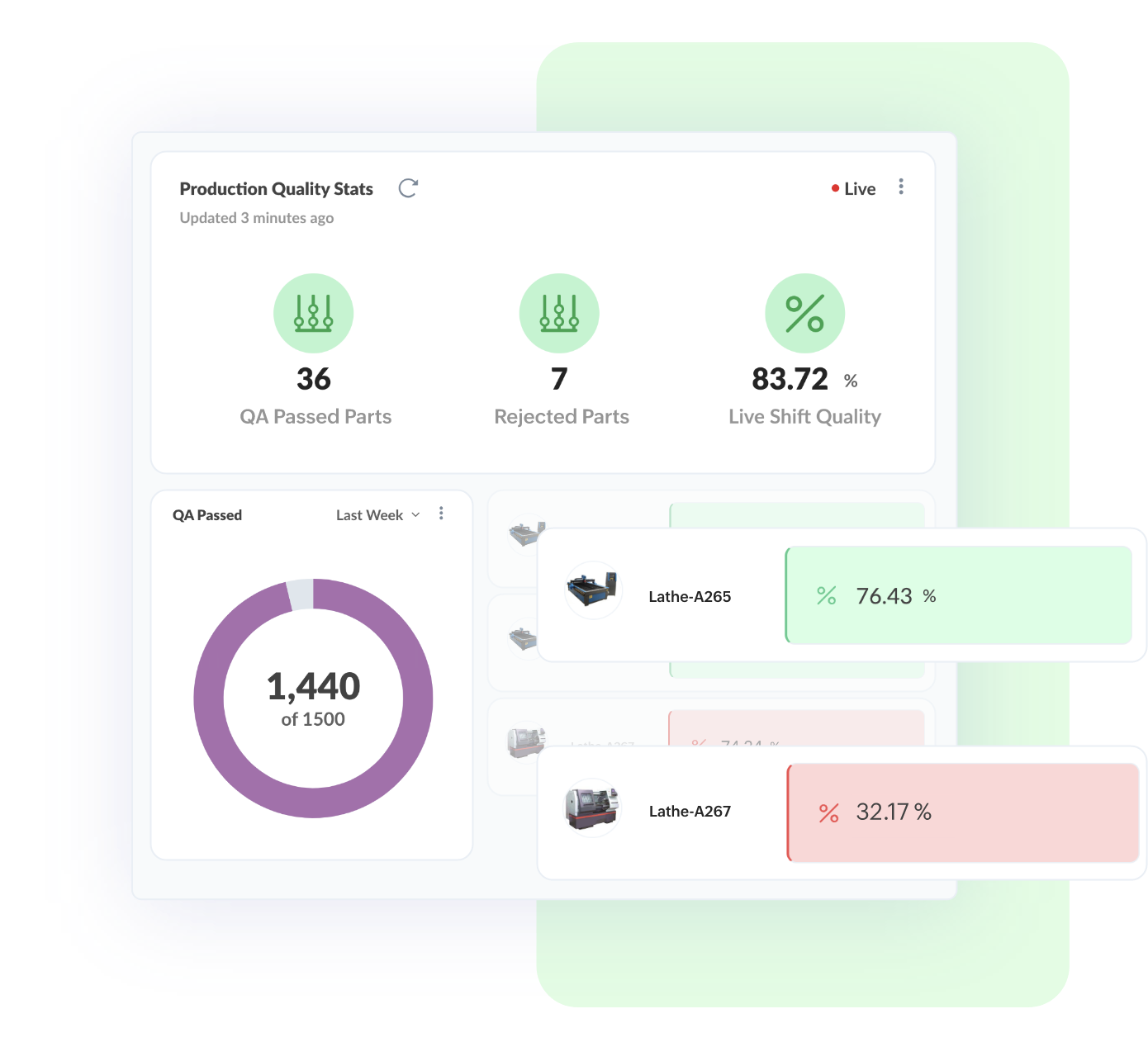 Quality Analysis
Check if your product meets quality standards
Examine the quality and design of the product by creating quality benchmarks & safe measures while ensuring regulatory compliance - with ISO standards, FDA regulations, and ITAR. The solution can also help in lower rejection rates.
Asset & Inventory Tracking
Keep a track on assets & stocks from source to shelf
Provides real-time insights & unified visibility on asset identification, location tracking, availability, maintenance and service history, utilisation analysis, and inventory to prevent theft or losses, maximize asset utilisation, and optimize their role in processes.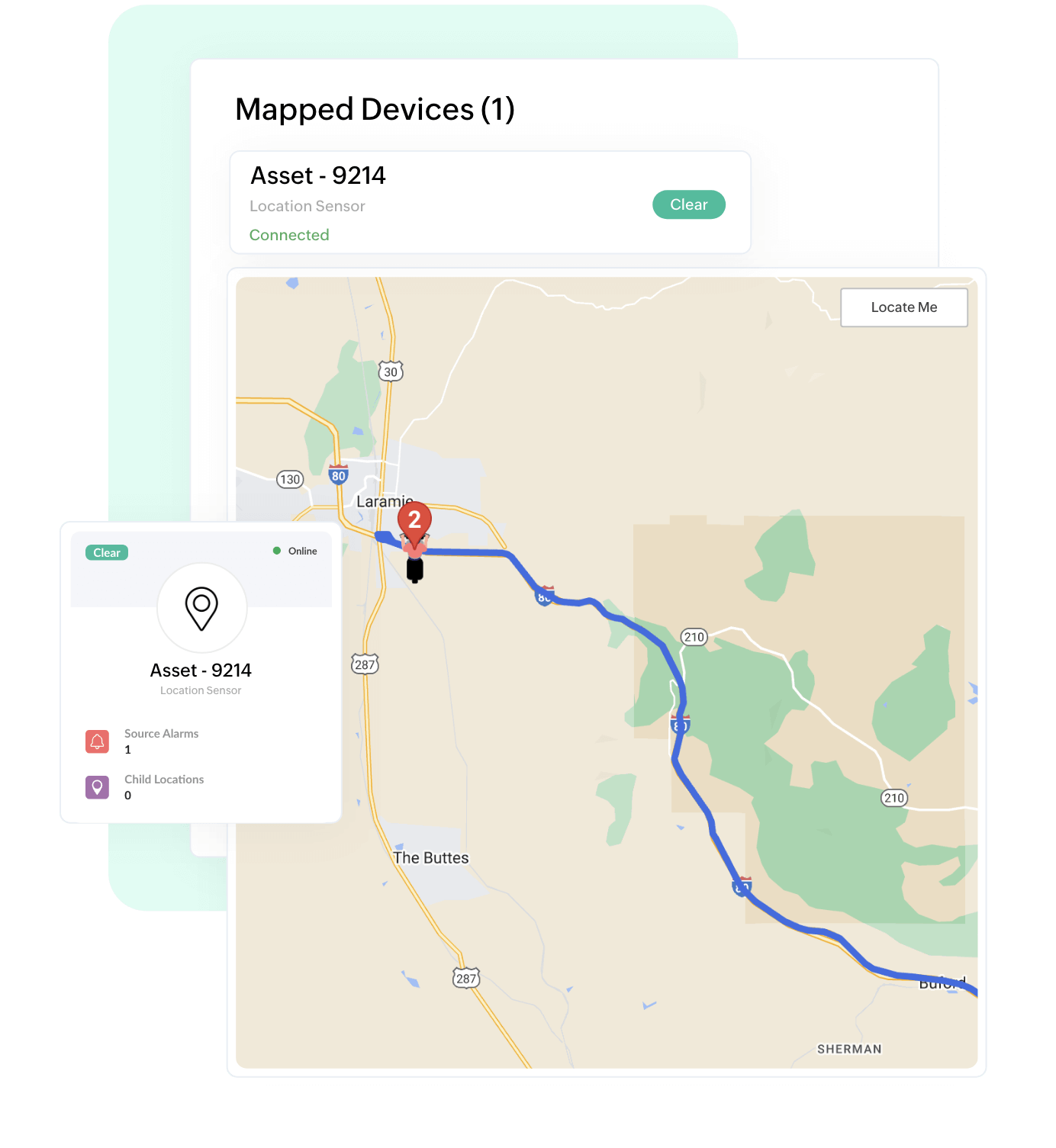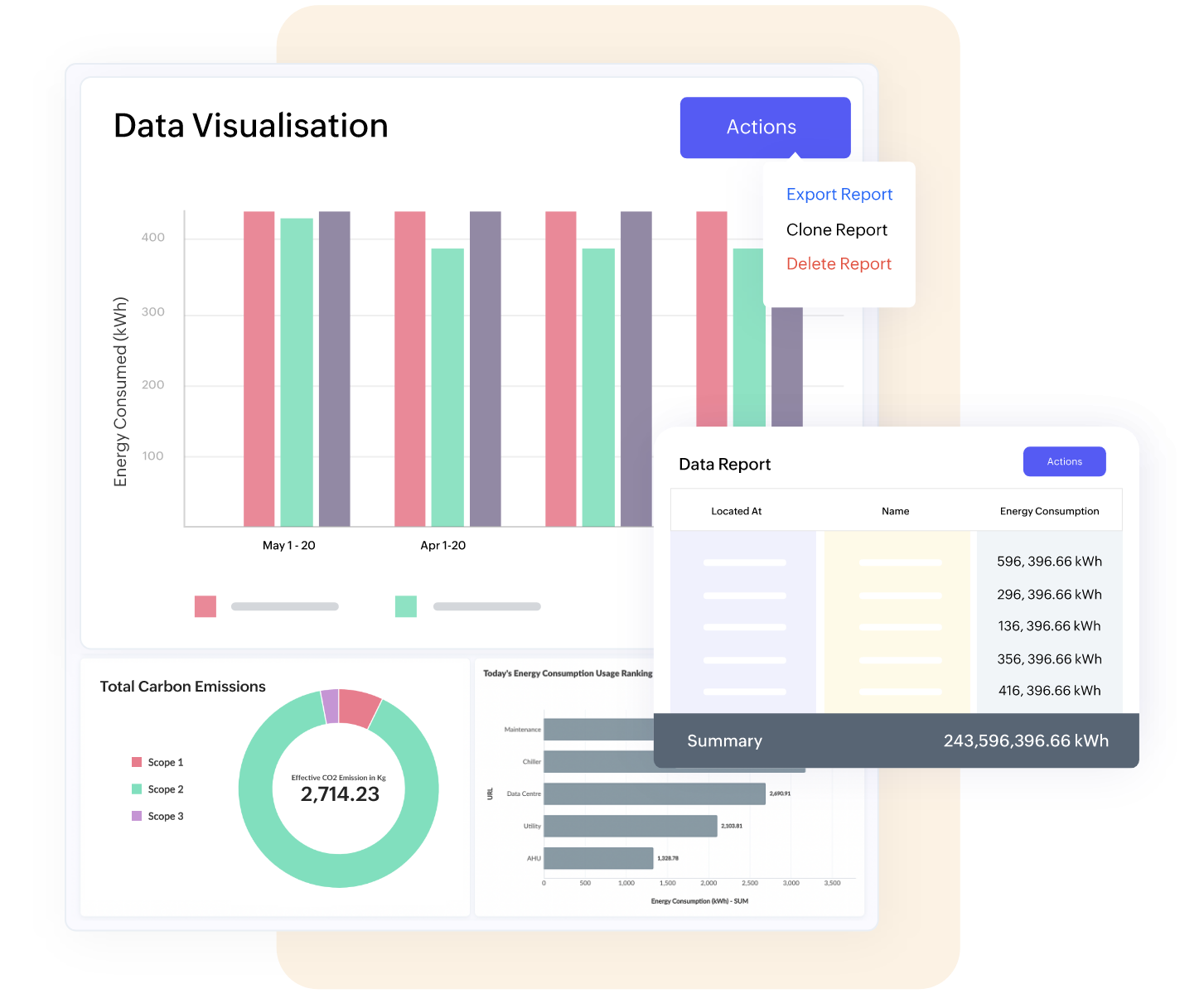 Energy & Sustainability
Optimize energy consumption and reduce carbon emissions
Monitor and control energy consumption of industrial infrastructure equipment (HVAC, DG, AHU, Chiller, Compressor, etc.) and production machines to reduce energy wastage, lower CO2 emissions, achieve net zero and sustainability goals, etc.
Utilities Monitoring
Unlock saving potential with smart utilities
Acquires, manages, and reports vital data from Power/Water/Gas meters such as voltage, velocity, pressure, leakage, etc. while performing demand planning, fault management, Measurement & verification, AI prediction & forecast, etc.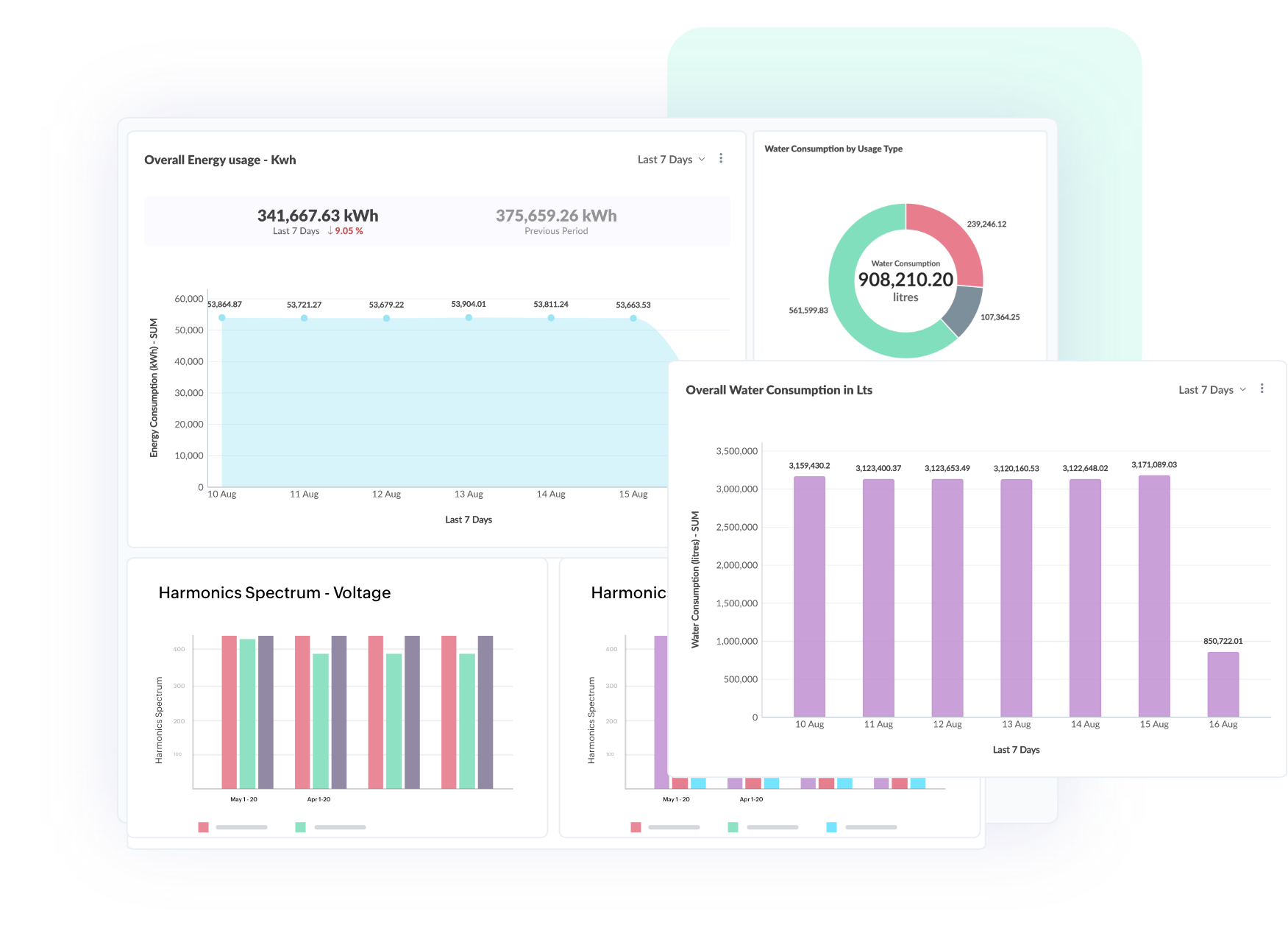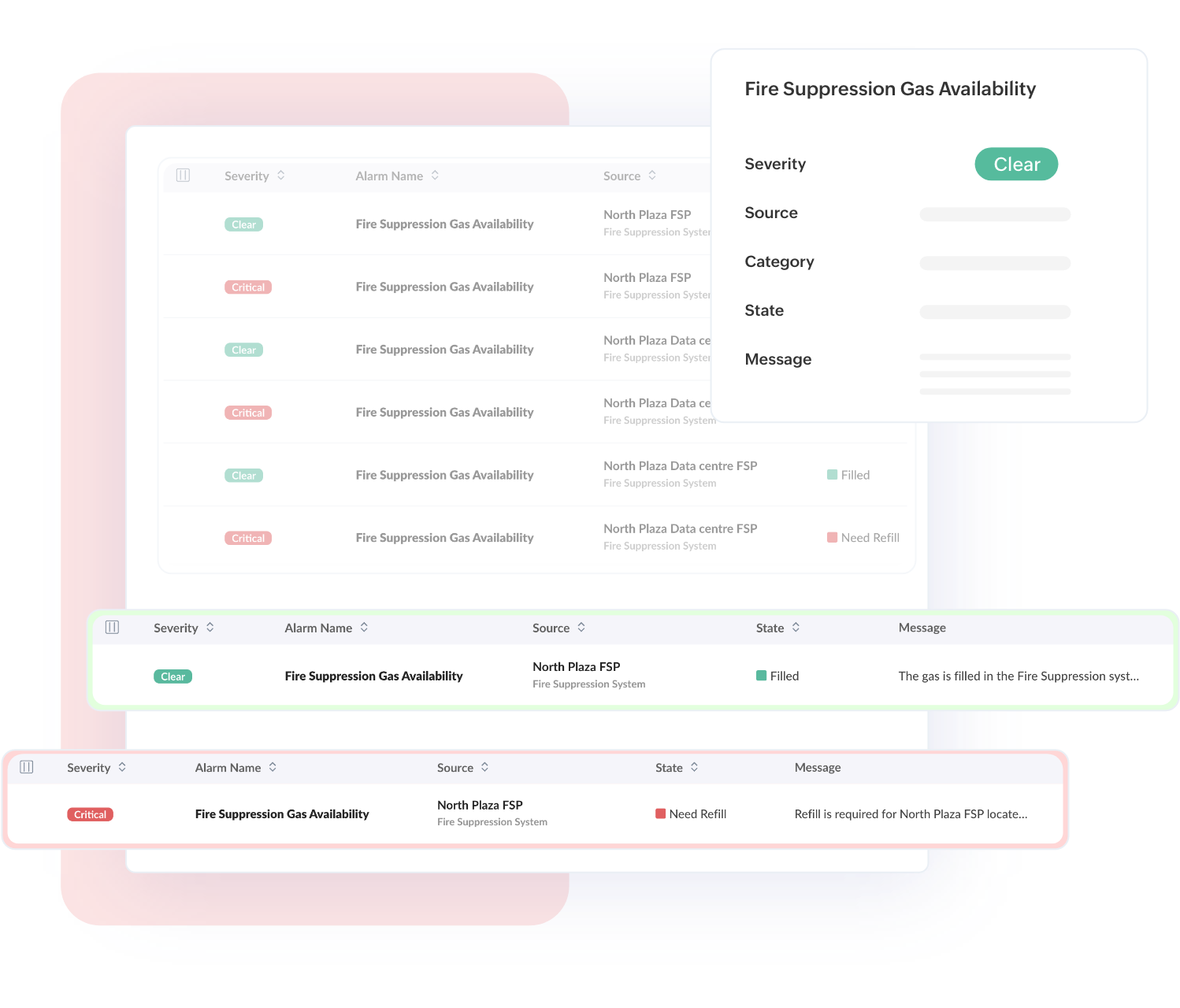 Safety & Control
For safe & secured manufacturing operations
Proactive monitoring & fault detection of the fire & safety operations constantly- fire extinguishers equipment, fire alarm system, sprinkler system, etc. to notify building occupants & service operators of an emergency.
Third-party Integration
Easy integration with legacy systems & retrofits
From individual applications to sensory platforms, connect with any existing SCADA/ ERP/ helpdesk/ CRM, etc. systems and discover new ways to improve your portfolio performance. Gives you a unified view of information from different systems in real time.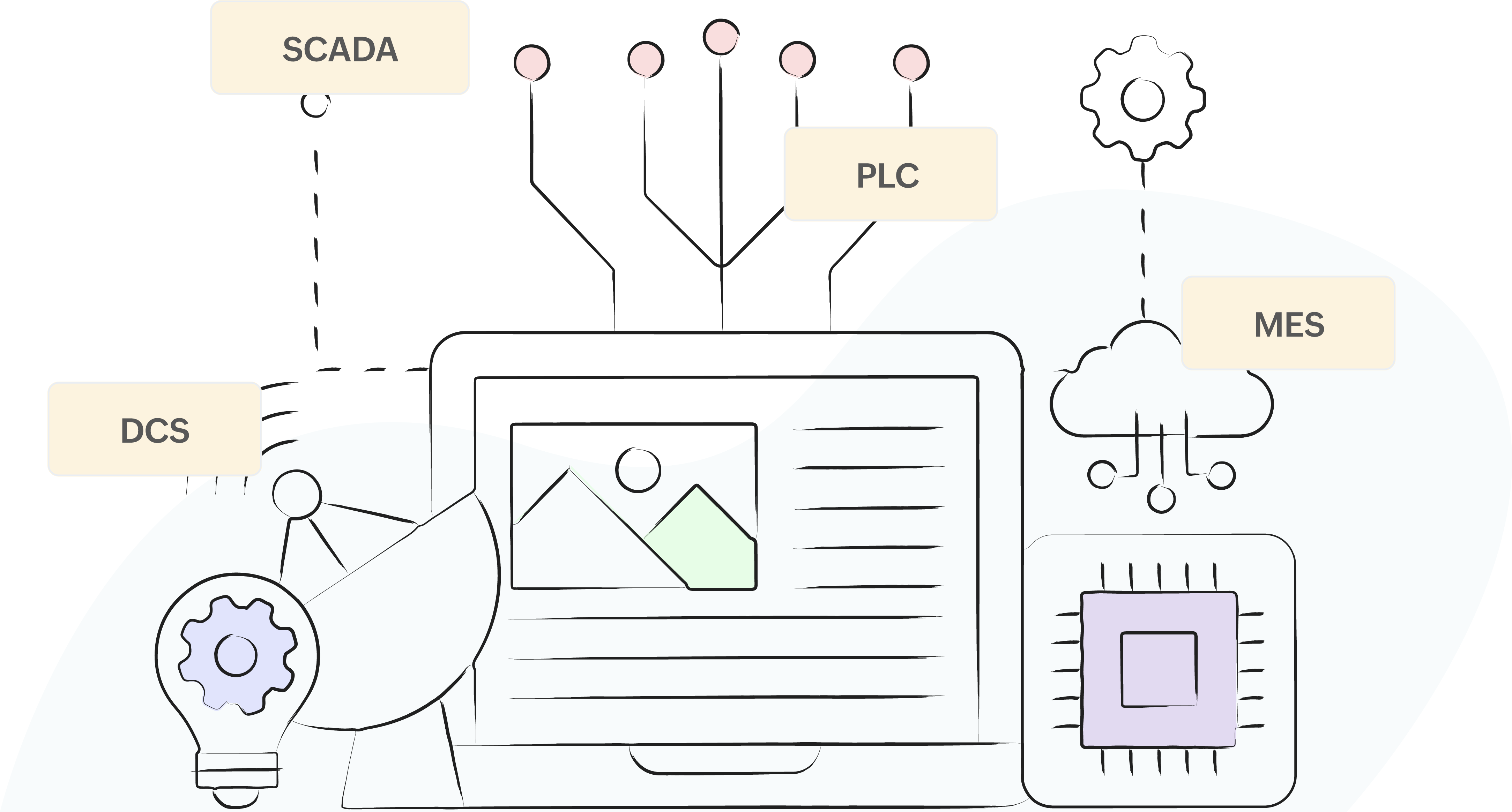 Expanding horizons beyond SCADA and MES for industries
Seamless data capture for real-time insights
Zoho IIOT ensures tech-agnostic (Multi-protocol, Multi-device, Multi-network) aggregation and processing of all your machine & production data in a singular centralized hub, providing secure access from anywhere across the globe.
Devices
IIoT gateways, PLC, HMI, DCS, SCADA, Energy meters, Drives and Sensors (Vibration, Temperature, Pressure, Noise etc.).
Protocols
OPC UA, MTConnect, Modbus TCP, SNMP, Profibus/Profinet, Ethernet/IP, MQTT & many more
Machine Monitored
CNC/VMC machines, SPM, SWISS, Lathe machines, Milling/Pressing/Welding machines & 20+ machines
Brands
Mitsubishi, Schneider, Hitachi, Beckhoff, Fanuc, Mazak & much more
Determine the cause & effect, and improve efficiency & predictability
Deliver unprecedented visibility on Machine-wise/Shop-wise/Building-wise energy, health and usage parameters, machine status, production/assembly line performance, maintenance and analytical insights.
Connect with any devices, sensors, machines, and communication protocols irrespective of the brands for a seamless production process.
Automate your shop floor by configuring triggers and actions based on machine or operator data - anomaly detection, machine inactivity, KPIs, line stoppages, etc.
‌‌Smart alerts and notifications
Shortfall in production targets, Unusual rejection occurrences, Machine downtime or breakdown, Allocation of operator tasks, Changes in setup configuration , etc.
Keep your IIOT data and device secure with our built-in device authentication and authorization.
Easily collect large scale real time data from traditional machines to modern machines and everything in between.
Intuitive Data Visualization
Create a custom dashboard and interface to keep track of what's happening at your shop floor with pre-built widgets- total output, machine availability, production time, monitor vibration, temperature, etc.
Track and drill down into your machine data - performance, availability, and quality data to assess your shop floor OEE.
Define how you want your machine data- performance metrics, conditions, etc. to process and trigger sequence actions.
‌Business App Integrations
Connect factory floor systems like ERP's, billing, helpdesk, or any other application of your choice to improve inventory management, job scheduling, etc.
Develop a custom mobile app to gain a competitive advantage through data-driven metrics and help manufacturers get the most out of the equipment.
Harness the potential of your manufacturing operations
Increase
Asset life cycle
Machine efficiency
Revenue
Improve
Operator retention
Machine performance
Quality of product
Optimize
Machine utilisation
Maintenance cycles
Production
Transform
Your Business
Manufacturing operations
Workforce efficiency
Reduce -
Downtime/breakdown.
Energy consumption.
Maintenance/replacement costs.
IIoT partner program
Envision, Unite, Prosper
We hold the belief that a prosperous journey towards Industrial transformation commences by fostering a collaborative partner ecosystem. This ecosystem comprises partners who can amalgamate distinct skill sets to generate incremental value for customers in the discrete manufacturing sector.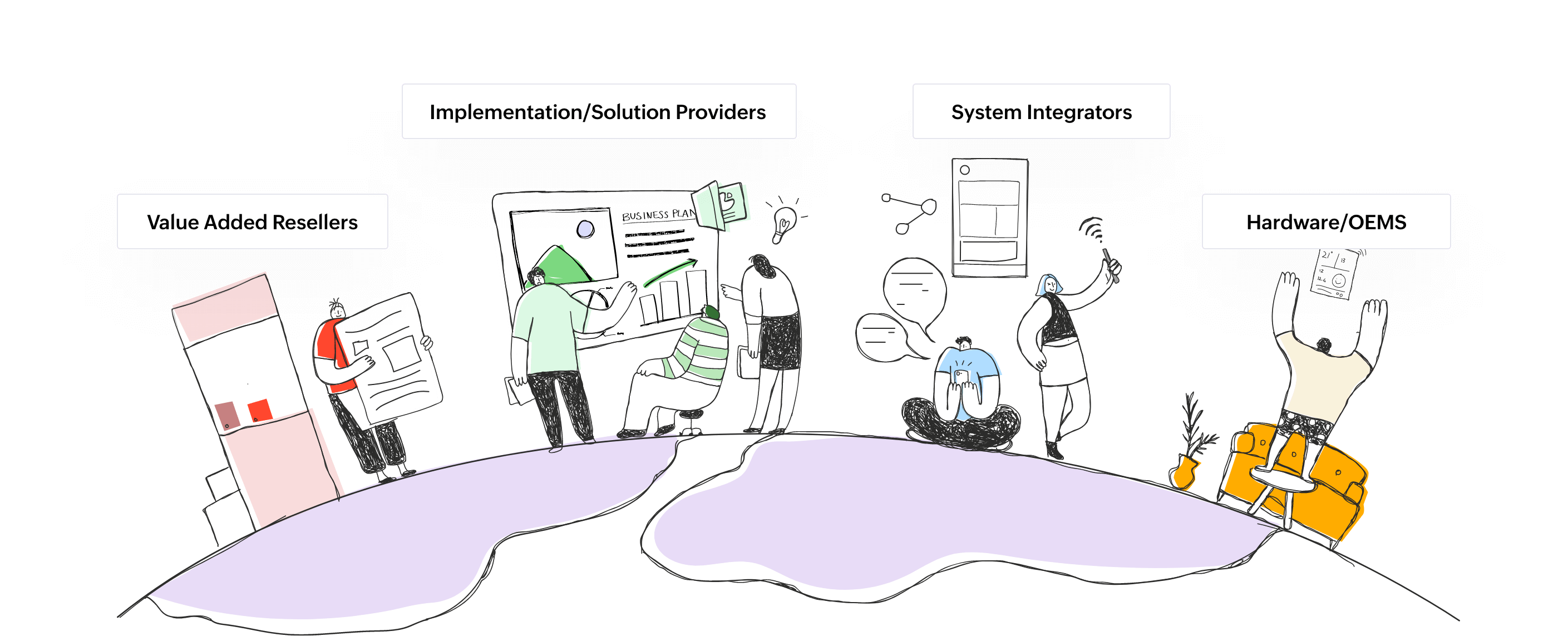 Look what our partners say about us
We are humbled and excited to be part of a future-facing product like Zoho IOT and we could in a small way put our honest efforts to drive Zoho IOT adoption in the industry. As catalysts to transform "Factories as a Product" which is our personal vision, we see that Zoho IOT is at the cusp of growth and adoption.
Purushothaman TGR
Zoho IoT is an incredibly powerful platform for developing illimitable custom IoT solutions for their unique requirements. The platform accelerates time to market, swift development, and maximizes profits. Zoho IoT offers multi-vertical solutions catering to a wide range of industries.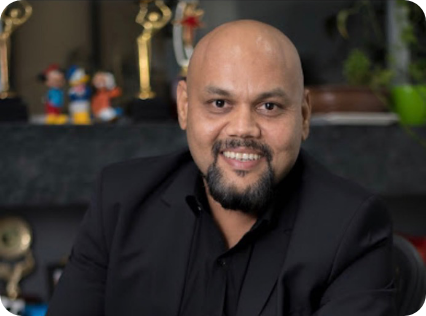 Vishal Patel
Frequently Asked Questions
1. What is the role of IIoT in manufacturing processes?
The role of IIoT in manufacturing processes is to enhance efficiency, visibility, and decision-making by connecting devices and systems, enabling real-time data collection, analysis, and automation for optimized operations
2. How IoT is impacting the manufacturing industry?
The IoT has played a major role in transforming the manufacturing industry from asset utilisation to workforce efficiency and asset optimization, etc. Some of the ways in which it impacts are- enhanced data collection and monitoring, predictive maintenance, quality control & productivity, and much more.
3. What are the manufacturing challenges addressed by IIOT?
The IIoT solution addresses end-to-end manufacturing challenges- equipment efficiency and reliability, inventory management, quality control and defect detection, energy efficiency and sustainability, workforce efficiency, shifts & job allocation, and much more.
4. What is the difference between IOT and IIOT?
The IIoT aka Industry 4.0 or Industrial IoT, is a subset of IoT that is specifically applicable for manufacturing sectors. It brings devices, machines, and industrial processes together via connectivity to enhance efficiency & productivity in industrial environments.
5. Is it a platform or solution?
It is a platform that serves as the foundation for implementing and customizing the end-to-end capabilities—enabling it to address every facet of the digital transformation journey.
6. Can Zoho IIOT be retrofitted in existing infrastructure?
Certainly, Zoho IIoT can be perfectly retrofitted in your existing infrastructure without having any need to ripe & replace it.
7. How can I implement Zoho IIOT in my manufacturing unit?
To implement the IIoT platform in your manufacturing unit, get in touch with our technical experts while allowing them to evaluate your manufacturing unit's current infrastructure, existing equipment, sensors, and communication systems. Helping us understand how our product aligns with your specific goals and requirements.
8. How can I be a Zoho IIOT solution partner?
To become our solution partner, click on the partner enquiry button and fill out the form. Our team will get in touch with you ASAP.
9. Who can be Zoho IIOT partners?
Anyone who is willing to kickstart the IoT journey and fall under any of the brackets- system integrators, resellers, hardware partners, implementation partners, MSPs, or solution providers.
10. Can I customize the Zoho IIOT solution to my customers' requirements?
Certainly! Zoho IIoT is an end-to-end customizable solution allowing you to cater your customer's requirements by bundling any type of hardware and third-party applications.