Reading Time:
5
minutes
The most critical focus of a business should be its consistent cash flow. And one of the primary factors that impact your cash flow is your invoice payment terms. Payment terms define how, when, and by which method your customers make payments to your business. By judiciously deciding on this seemingly small but significant detail, you can remarkably change your business's cash flow situation and improve profit margins. Here's a close look at what are payment terms and how they can help you streamline your cash flow and the range of options available to businesses.
What are invoice payment terms?
Invoice payment terms are mutually agreed upon terms between your business and your customers. It outlines how you prefer to receive payment and the timeline by which you expect them to pay you. Typically, invoice payment terms include the following:
Your preferred payment method (credit or debit cards, bank transfer, cash, or check)
Late payment fees and any other associated penalties for incomplete or erroneous payments

Any incentives for early payment (like discounts or free shipping on orders that meet certain requirements)

Other business terms or conditions that are specific to the customer
Defining your payment terms clearly and making them a standard part of your invoicing process eliminates misunderstandings and make it easier for customers to align with your payment expectations.
Why are invoice payment terms important?
While payment terms keep your customers accountable to pay as agreed and help you accurately project and maintain cash flow, there are other ways they can benefit your business.
Sustains healthy cash flow
According to recent industry research, one in three small business owners see late payments as the biggest threat to their business. Your cash flow will take the hit, affecting day-to-day operations and the company's ability to invest in growth.
Setting effective payment terms with penalties for late payments, incentives for early ones, and specifying a preferred payment method can reduce late payments to a great extent and ensure healthy cash flow. With established payment terms, it will be easy to forecast cash flow, budget for new projects, and invest in growth opportunities.
Strengthen customer relationships
Unclear or absent payment terms create miscommunications or misunderstandings with clients—two things that can threaten healthy customer relationships. Establishing payment terms and making them a standard part of your invoicing process sets the bar for what is expected, which helps your clients plan their finances to make timely payments. You can negotiate payment terms with your customers before the project commences in a way that benefits both parties, preventing unnecessary conflicts in the future.
Provides legal protection
When your payment terms are agreed upon in a contract, you have legal standing to recoup the funds if your customer ignores your invoices past the due date. An invoice alone is not a legally-binding document. However, if you have a contract in place where the payment terms are agreed upon by both parties, you can take legal action during disputes. For instance, when a customer refuses to pay late fees as mentioned in the payment terms they agreed to, you are empowered to get the fees through legal means.
What are the most common invoice payment terms?
While payment terms are largely concerned with the particulars of "When" and "How" your customers should pay you, there are standard invoice payment terms you need to understand. You can customize them based on your business needs, industry expectations, and credit terms you plan to provide for that customer. Here's a rundown of the most commonly used invoice payment terms.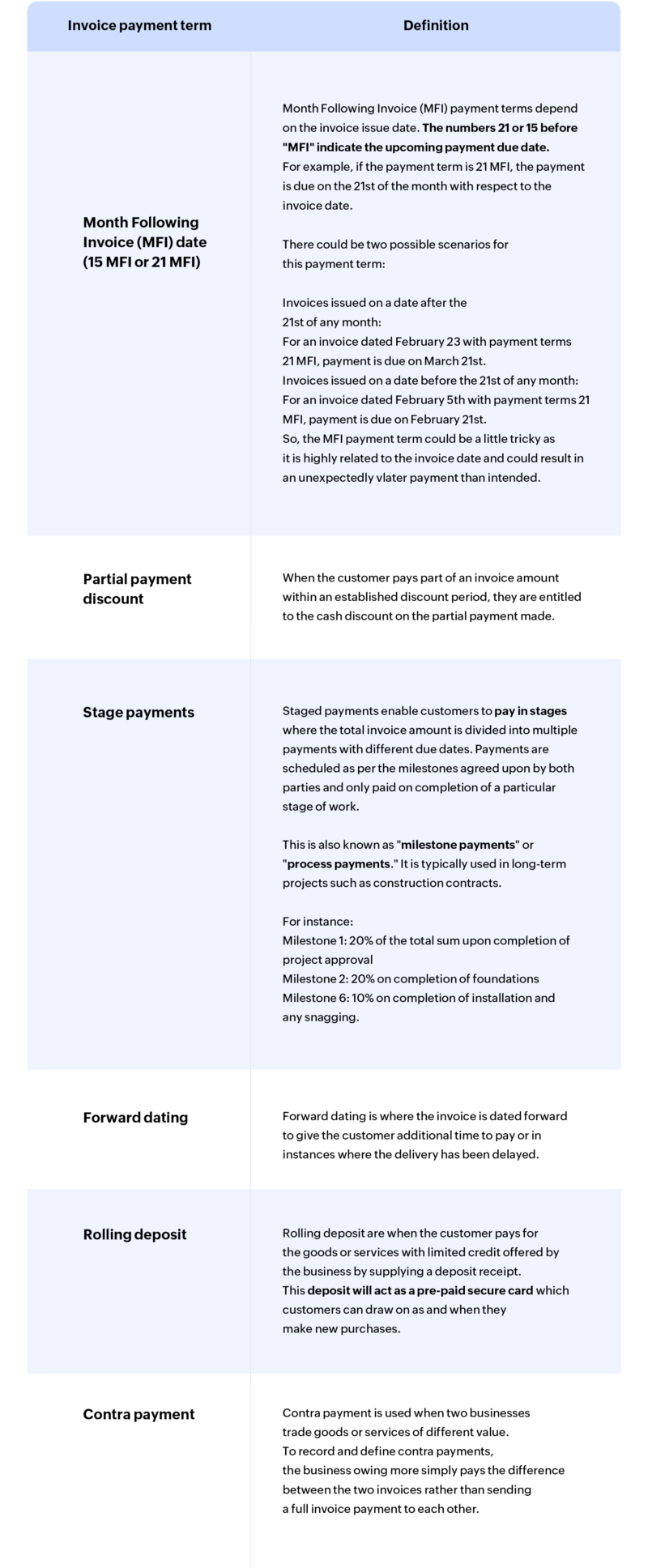 How to choose invoice payment terms for your business
When determining the payment terms for your business, it's critical to do diligent research on your customer's payment history, industry standards, and how your business operates. Here are some factors you should consider to find a balance between gaining customer loyalty and maintaining a healthy cash flow.
Analyze customer's credit history
Establishing standard payment terms for all customers might be easy to administer and manage. However, it is advisable to assess each customer individually based on specific things like how long they've been doing business with you and how established their business is.
New customers wouldn't have a track record with your business to analyze their creditworthiness and warrant shorter payment terms compared to loyal, trustworthy customers who might deserve extended terms. The next question should be if the customer has a history of timely payments. Even with long-time customers, if their payment history is shaky, you might want to provide shorter deadlines, request a down payment, or enforce late payment fees as a last resort. However, long-duration complex projects might make it unpractical to allow shorter payment terms, so consider accepting payments in milestones instead.
Consider your cash flow needs
From having to pay for utilities, vendors, and employees to investing in new avenues to expand the business, small business owners have many expenses. In such case, it is critical to keep track of your cash flow needs before determining the payment terms that work best for your business and your customers. You need to consider what payment terms wouldn't affect your working capital and interrupt your everyday operations if a key customer failed to pay on time. For instance, if your vendor bills and other expenses are due monthly, perhaps you can set your invoice payment terms to Net 30 or maybe even Net 15 to ensure proper cash flow.
Align with industry expectations
Before stating your payment terms, you might want to study the typical invoice terms used in your industry and get a sense of what your customers will be familiar with. For instance, the average payment terms in the construction industry, where delays and change orders can be expected, is 60 days or more, while businesses selling commodities would expect payment within a few days at most or Cash on Delivery. On the other hand, a tech consultant might do a month's worth of work for their customer on a retainer and set Net 30 as their payment term, but with the manufacturing industry, the net terms might range from Net 30 to Net 120. The takeaway is to ensure that your invoice payment terms align with your industry standards to avoid skewing too far from expectations and risk receiving late payments and confusing customers.
Key takeaway
Establishing clear and consistent invoice payment terms is critical in getting paid on time, forecasting your cash flow for better business planning, and sustaining long-term healthy customer relationships. Although there is no one-size-fits-all formula to negotiate perfect payment terms with all your customers, you can consider your cash flow needs, your client's credit history, industry standards, and other factors to lay out a sound basis for setting payment terms.
Having the right payment terms in place goes a long way in establishing clear business expectations and formalizing your invoicing process and credit conditions for your customers.
With a smart online invoicing solution like Zoho Invoice, you can offer your customers easy instant payment options via credit or debit cards, direct bank transfer, and set up flexible and customized payment terms. You can instantly send professional invoices, automatically follow up on payments, and streamline your whole invoice processing all for free, forever. Try Zoho Invoice today.