Reading Time:
5
minutes
Inventory tracking refers to the processes involved in monitoring all the inventory (raw materials, finished goods, and unfinished goods) that a business owns and stores. This tracking begins when a batch of inventory enters the storage space, and continues until the batch has been delivered to the next owner. With inventory tracking, you will be able to collect data such as item locations, available stock, product descriptions, and information about any similar products you have.
The methods of inventory tracking include manually without the help of technology, as well as automatically using a software system. While manual inventory tracking is simple to understand and cost-efficient, it can also be time-consuming and error-prone, especially when there is a lot of inventory to account for. As businesses expand, they eventually outgrow manual inventory tracking and switch to using an inventory tracking system that can quickly and efficiently monitor their inventory's movement.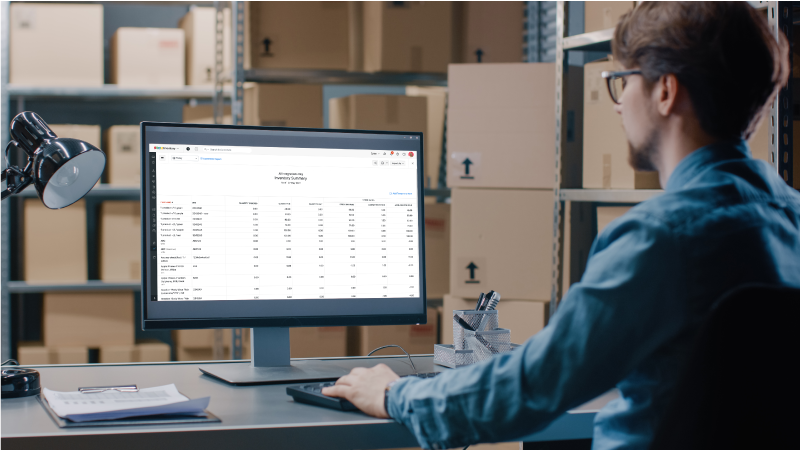 Zoho Inventory is an inventory management system that allows businesses to track inventory, manage orders, and oversee warehouses easily. It offers several tracking options, generates accurate data whenever you need it, tracks your deliveries, and consolidates inventory information into insightful reports. In this article, we'll discuss how Zoho Inventory can manage all your organization's inventory tracking needs.
One of the most important reasons for using inventory tracking is better stock visibility. Having oversight of your entire inventory is very valuable; it's what allows you to collect data like what items you have in stock, how much you have, where they are stored, and how they can be retrieved. But it's more than just accessing this data—it's also accessing it quickly and in real time. This helps you avoid understocking or overstocking since you will know exactly what you need to purchase at any given moment. The system will detect any numerical discrepancies or mismatches early on before they cause any significant trouble, which means you can confidently accept all of your sales orders because you'll know exactly what you can and can't fulfill.
To help you achieve all of these benefits, Zoho Inventory offers a few tracking methods method that help you track your inventory using an identification method, like a code, number, or description. The first method is serial number tracking where each item is given a unique code called a serial number. This is often used by businesses that need to track several items individually. For instance, a mobile phone manufacturing warehouse can use serial number tracking to keep an eye on each of their electronic parts separately. This form of tracking is also used to see how long products have been owned, which is useful for processing warranty claims. 
The next method is batch tracking, which is all about bundling items that share certain properties into groups, or "batches," and then tracking each batch together. Unlike serial number tracking, batch tracking is used to monitor a set of products instead of individual items. That's why this is commonly used by businesses that manufacture edible or perishable products where expiration dates need to be tracked. In this case, all the products that were manufactured together will belong to the same batch. If there is a situation where products from a certain batch are damaged or have expired, then you won't have to track down all the products from the bad batch individually because they'll already be entered together in the system.
The next two ways of tracking your stock are by categorizing items as either accounting stock or physical stock. In the accounting stock method, your inventory or stock count increases for every bill that is created, and decreases for every invoice that gets sent out. Similarly, in the physical stock method, your inventory count increases for every purchase that is added to the system, and decreases for every shipment that is sent out. With these methods, your stock is automatically counted when you make transactions.
Regardless of which tracking method you choose, Zoho Inventory will give you quick access to your product data. You'll be able to see the items you own, pricing info, item descriptions, available quantities, and exact locations—all in real time. To further speed things up, you can either run a quick system search using an item's identification number or even scan your product's barcode. Since barcodes are quicker and more efficient, we've also put together a free tool to generate barcodes for you.
Track your shipments and ensure safe delivery every time
If shipping is a big part of your business or even if you just do the occasional delivery, then you probably already know that until the shipment has been safely delivered to where it needs to go, you're still responsible for it. Sometimes that's easier said than done, however. Item tracking is a difficult task even when your products are in your warehouse, right under your nose. So it's understandable that it becomes much more difficult to track products that have already been shipped. Missing or delayed packages are unfortunately very common and may even seem unavoidable.
Luckily, Zoho Inventory is integrated with Aftership, a dedicated shipment tracking solution. With the Aftership integration, you can keep both yourself and your customer notified with timely shipment updates on where a package currently is and what date it's expected to reach it's destination. This helps give you and your customers more peace of mind. In the rare event of a delivery issue, this data from Aftership will also provide customers and your support staff with more insight into what went wrong. This leads to faster resolutions and better customer satisfaction.
Business reports are commonly used to monitor business growth and progress, giving you insight into the areas that are doing well and which could use some improvement. Zoho Inventory's reports go one step further, providing enough data to act as another way for you to track your inventory. You don't have to worry about getting bogged down with numbers though. These reports come with auto-generated graphs for faster insights.
With Zoho Inventory reports, you can quickly and easily oversee:
Sales, purchases, and expenses

Payables and payments received

Inventory information

Any stock-related business activity
The information that these business reports provide can help you conduct demand forecasting, trend identification, business budgeting, business audits, and SWOT analyses. Other reports, like the FIFO (First in, First out) cost lot tracking and inventory details reports, can show you a detailed account of every item you manage—what products you own, how much has come in or left, when items were moved, what is currently available, relevant transaction history, and more.
Final thoughts
Inventory tracking is an essential process for anyone who sells products from a warehouse. It shows you valuable data related to your inventory, including locations, quantities, and descriptions. This helps you avoid stock shortages, improve your product visibility, and detect and rectify any errors before they damage your business. While smaller organizations may be able to track their inventory manually, businesses that deal with a larger quantity of inventory will likely find that manual tracking is not efficient in the long run. Instead, they choose to use inventory tracking systems to get the job done. Zoho Inventory is one such system, offering multiple tracking options, fast data access, simple shipment tracking, accurate reports, and more. Check out our free trial to see how Zoho Inventory can help your business track its inventory more efficiently.