Bigin for Google Workspace.
All things customer, in one place.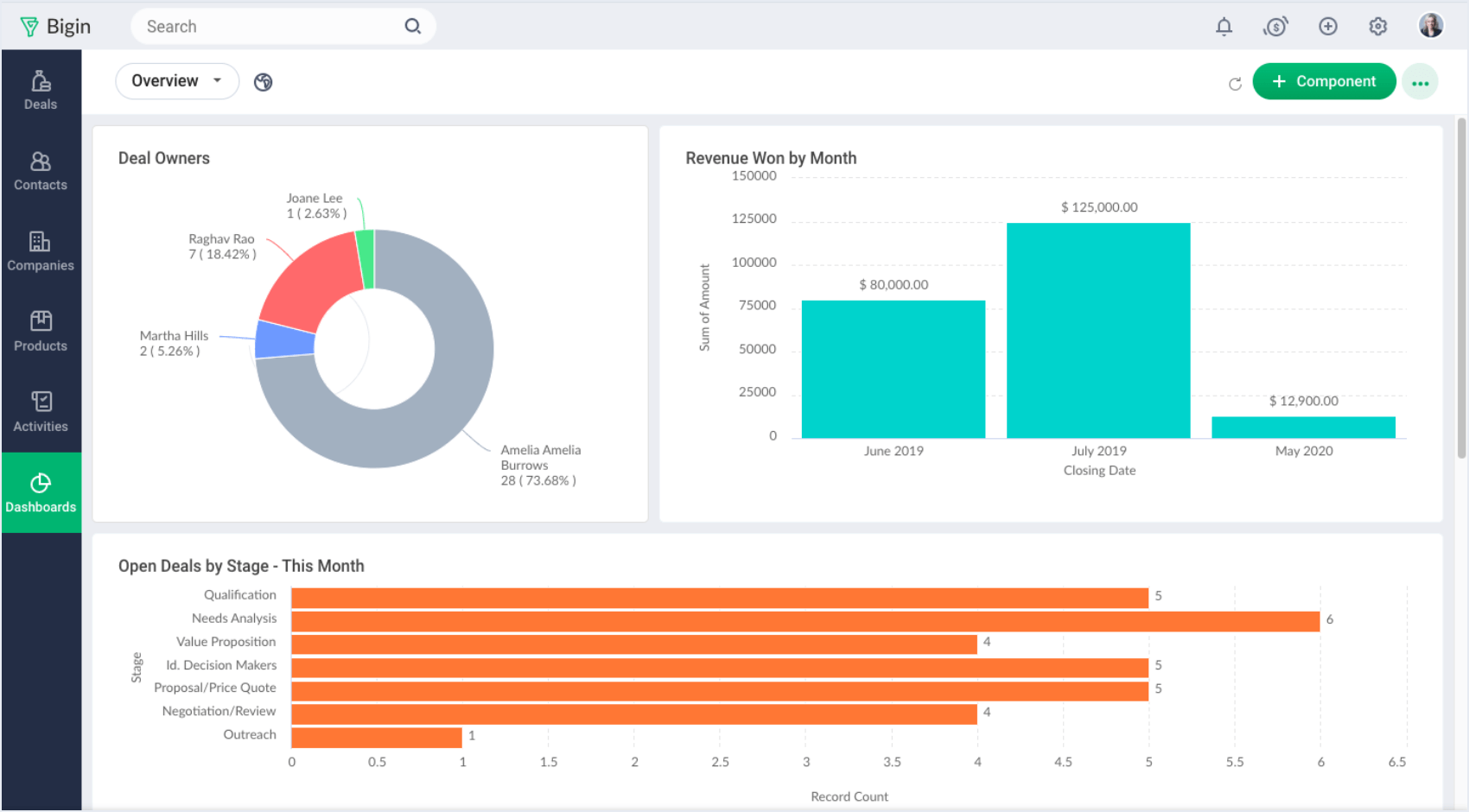 Google Workspace is useful for adding details of new contacts quickly. But to put that data to use, you need to be able to access it from your CRM, and manually transferring data is time-consuming and error prone. That's where Bigin for Google Workspace comes in. This integration enables you to seamlessly sync all your contact and calendar information between your Bigin and Google Workspace accounts. No manual uploading, no room for errors.
Bring your Google contacts to Bigin.
Sync your calendars.
Connect Gmail to Bigin
Bring your Google contacts to Bigin.
Automatically add all your Google contacts to your Bigin account. When you integrate, your leads and prospects stored as contacts in your Google Account will be automatically added to Bigin for better lead monitoring, nurturing, and conversion.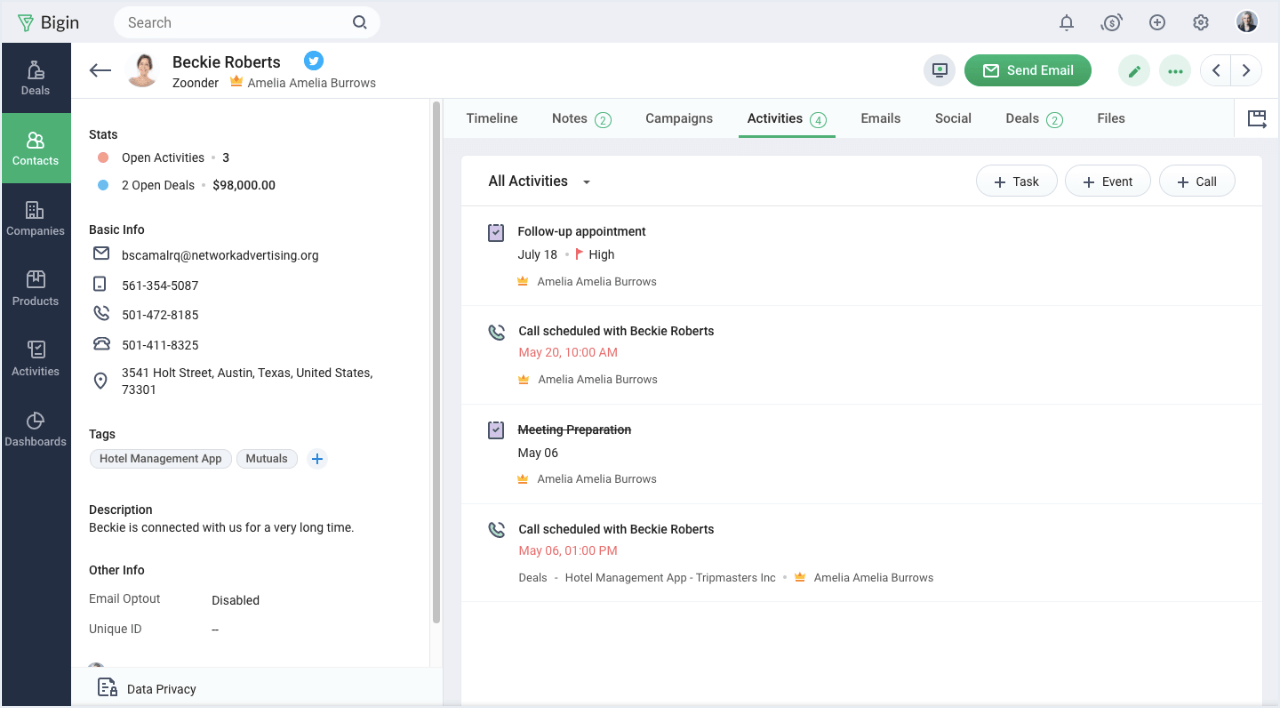 Sync your calendars.
Having your schedule, reminders, and events spread across two separate calendars is a recipe for disaster. Sync your Bigin and Google Workspace calendars together with this integration and new events will automatically reflect in both calendars.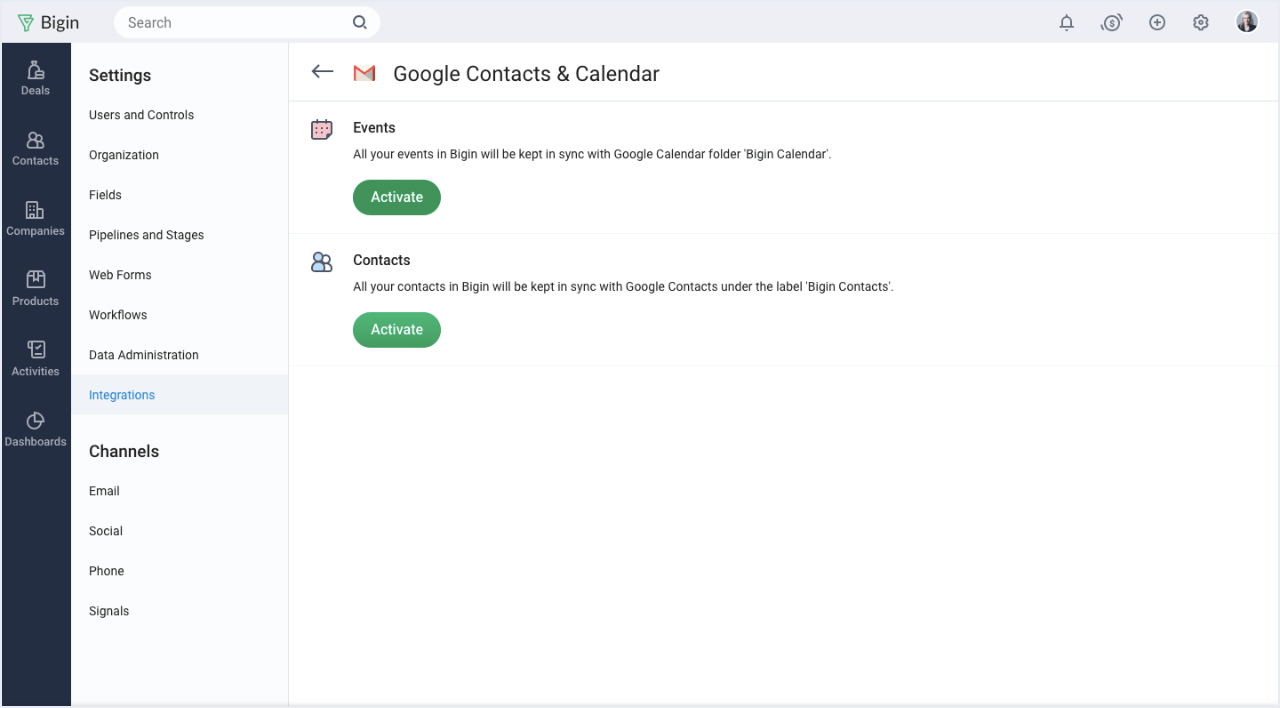 Connect Gmail to Bigin.
Communicate with your leads and contacts via email right from your Bigin account. By connecting Gmail to Bigin, you'll be able to send and receive emails without ever leaving the Bigin app.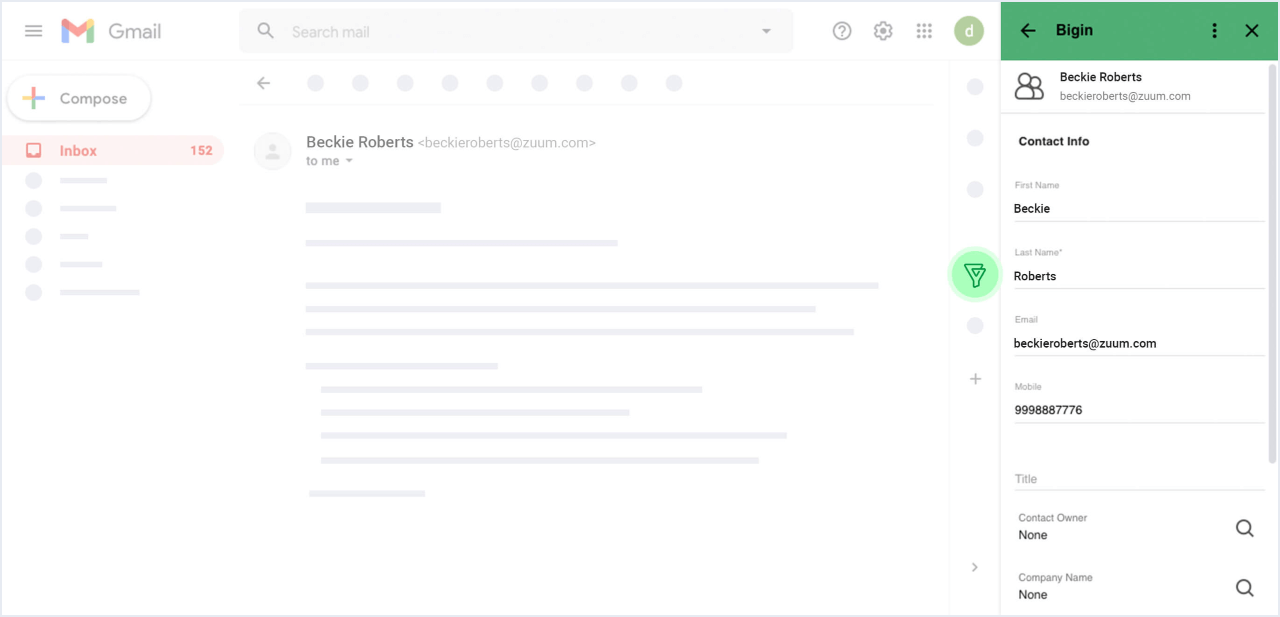 Why choose Bigin and Google Workspace?
Straightforward single sign-on.​
With this integration, you can easily sign in to your Bigin account using your Google ID. Free yourself from remembering separate passwords with single sign-on.
Add users from Google Workspace.
Automatically transfer users from your Google Workspace account over to Bigin.
Stay connected on-the-go.
With Bigin and Google Workspace, you can work from your laptop, smartphone, or tablet. The Bigin app is available on the App store and Google Play for both Apple and Android users.
Tried, Tested, Loved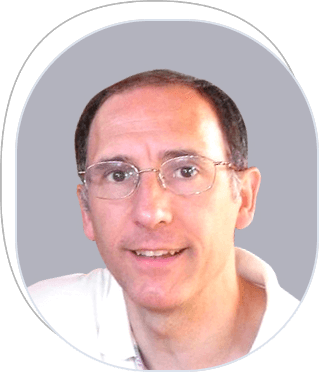 "We were so impressed by Bigin's 'perfect fit' for small organizations and we have now consolidated all information about our clients and projects in Bigin. It's impressive to see that such an affordable product helps in managing duplication of records, customizing fields specific to our processes, providing dashboards to manage the performance of emails, and even linking up with the Twitter accounts of our clients."
"I am super impressed with Bigin. I was looking for a simpler lead management and automation tool and I have finally arrived at the right platform after trying multiple tools in the last few years. It has completely transformed the sales process and I regularly recommend Bigin to my contacts."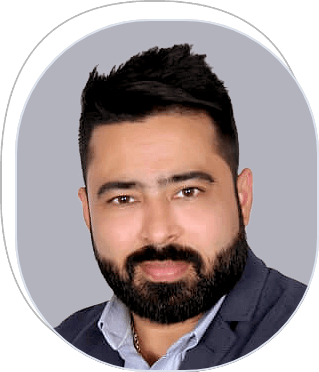 "I want to sincerely thank the entire Bigin Team for developing this excellent platform for SMBs who are quite keen on getting rid of excel datasheets. My primary requirement was exactly the same, and Bigin has offered so much more. This has increased the overall productivity of my sales team, and I have already recommended Bigin to friends in different sectors."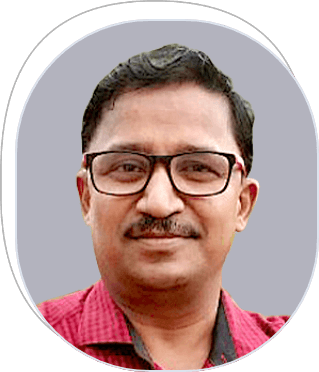 "I found Bigin extremely easy to learn and utilise. I was bit scared if my assistants will able to learn it quickly. But to my surprise they have started using fully within 2 weeks of time. Mobile apps and its connectivity with server is superb and quick."