A Solution To Complete Your Project Faster And Better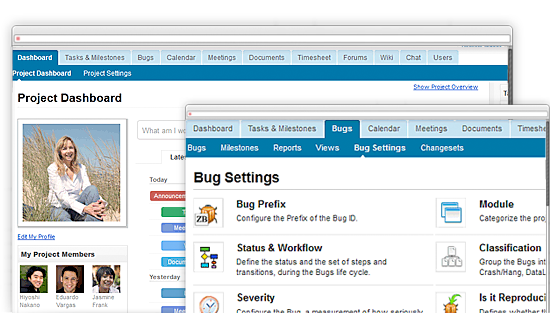 Zoho Projects is a free online project management software with a better collaboration and bug tracking modules. Collaborate with members of your team and revolutionize the way you work.
1 Project "Absolutely" Free. Get Started Now!
Features
|
Zoho Project + Google Apps
|
Pricing
Project Planning

Spend less time in planning your project and more on getting it done. Set Tasks, Milestones and Task Dependencies to complete your project on time. Assign ownership for a task to your team members based on priorities, and keep a check on how well your project is progressing.

Bug Tracking Module

Don't let the bugs bug you. Report and track issues with the powerful bug tracking system. With this in place, you'll never overlook another critical issue.

Time Tracking Module

Identify how productively your time has been distributed across a task. Track the time spent using the time tracking module and keep a record of the billable hours. You can also generate an invoice instantly, and follow up for payments too

Project Report

You can generate reports and analyze the performance of your team with an easily understandable graphical data. Get reports on project status, resources utilized, timesheet and every other metric you need to analyze. You can also determine the trend in progress using gantt charts.

Online Collaboration

For faster and better decision-making, use the built-in chat rooms and online wikis to collaborate with your colleagues and clients. Schedule meeting in the project calender and set notifications to remind attendees of the meeting.
Watch a Video
1 Project "Absolutely" Free. Get Started Now!