Easiest Website Builder, Ever!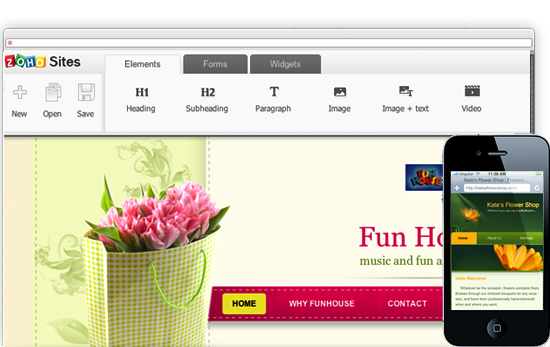 Zoho Sites is an easy to use website builder with drag and drop interface. Be it a simple blog page, portfolio or a full blown business website, you can create anything and a whole lot more with Zoho Sites without using any code! Every website created with Zoho Sites gets automatically optimized to look flawless on smartphones and tablets.
Get Started Here and Create your Own!
Features
|
Zoho Sites + Google Apps
Drag & Drop Interface

With Zoho Sites in place you need not bother about HTML & CSS to build your website. Simply pick and place the elements where you want them to be and your website is ready in minutes.

Mobile Website

Its mobile everywhere and there is high possibility of customer viewing your website from smartphones or tablets. Zoho sites automatically optimizes your website to look perfect on these devices without any extra effort from you.

Online Forms

Zoho Sites form gallery helps you conduct surveys, gather feedback and collect details about your customer, anytime you want. You can either pick a form of your choice from the gallery or build from scratch and collect all the information that you need.

Customization And Branding

Logo and icon are the foundation for your brand identity and the first impression your business has on a customer. Zoho Sites has an exclusive option to customize logo and set favicon to brand your website and stand differentiated from your competitors.

No Forced Advertising

You can always have your website totally ad free. We will never display any ads in your website even if you are using a free plan. But you can make these advertisements earn for you. Enable Adsense and get paid for each clicks made by the visitors of your website.
Watch a Video