How to use your team communication app to automate key workflows
Last Updated: July 20, 2021
456 Views
4 Min Read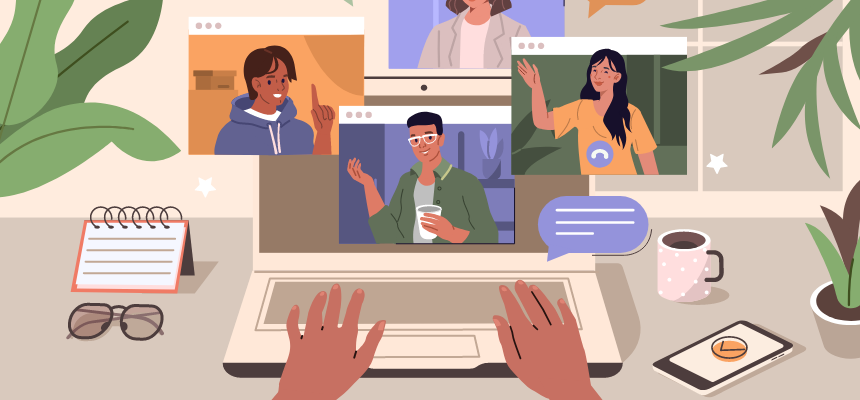 Team communication apps have been a game-changer in streamlining conversations. Dedicated channels for various discussions have ensured that the right people are always in the loop, and they give us the convenience of bringing people into a discussion just by mentioning them in a channel.
The emergence of these apps has fundamentally restructured team communication. Now, many daily discussions happen entirely on a team communication app, while important decisions and outside communication happen via email.
The ideal medium for automation
The way team communication apps are built makes them a perfect destination for building integrations. It's common for these apps to have a marketplace of bots that integrate with other apps you may use. For example, if you use a task management app, you can simply install their bot for your team communication app and you're all set to add tasks, see updates, and perform many more actions right from your chat bar.
However, these integrations are ready-made—the bot that you install will not necessarily give you the integrations you're looking for. You may want to see alerts just for support tickets marked as urgent by your team, but the bot might not support integrations involving custom tags.
One way to build custom integrations involving your team communication app is by using an integration platform. If you're using a platform like Zoho Flow to manage your integrations, you can create all sorts of integrations just by using a drag-and-drop builder, without writing a line of code.
7 useful workflows you can automate on your team communication app
Let's take a look at some examples of how you can use an integration platform to create custom workflows with apps you use every day:
1) Get notified of Twitter mentions
When people mention your brand on Twitter, it's best to reply promptly with a well-thought-out response. You can configure a workflow in your integration platform so that whenever your brand is mentioned on Twitter, the post is sent directly to a dedicated channel in your team communication app. This way, you can collaborate on the perfect response with your teammates and ensure that all your replies are reviewed.
2) Collaborate on form responses
You might use forms for many purposes, but it's critical that you closely examine each response you get. Suppose you're running a campaign to get customer feedback on a particular issue. You don't want to miss out on any of the insights hidden in the responses. If you set up an integration that delivers each response directly to your communication app, you can have a discussion about it with relevant people just by mentioning them.
3) Receive timely event reminders
Your team communication app is one app you're going to be using all the time, and it's pretty rare that you'll miss an update there, even if you miss them elsewhere! Configure a workflow in your integration platform so that you get an alert whenever an event is scheduled in your calendar.
4) Get customized reminders to reorder stock
If you're running an ecommerce business, the last thing you want to do is turn down a customer after they place an order. To mitigate this, consider setting up a workflow involving your ecommerce store, inventory management system, and team communication app. Whenever an item on your ecommerce store is low on stock (you can set the limit) and there's no active order placed for that item on your inventory management system, you can set it up to get alerts for the item in your team communication app.
5) Receive alerts for new support tickets
To ensure that you reply to support tickets as soon as possible, you can configure a workflow that sends alerts, including the content of the ticket, to a dedicated channel in your team communication app. You can then discuss it with your teammates and ensure each ticket gets the best response in the quickest possible time.
6) Stay on top of your tasks
When you're assigned a task in your project management app, you usually need to either open the app or check your email to see if you've been assigned a new task. A more convenient way to do this is to set up a workflow so that you automatically get a message on your team communication app whenever you're assigned a task.
7) Get notifications for emails from specific senders
When you need to respond to emails from particular people on priority, you can configure a workflow to get notifications for only those specific people. Whenever you get an email from any of the senders you've specified, you'll get an alert in your team communication app.

A team communication app doesn't have to just be a way to perform select actions on other apps using bots—it can be your own customized notification hub.
If you need help configuring any of these integrations using Zoho Flow, please write to support@zohoflow.com. We'd love to help!
Karthick

Content Marketer for Zoho Flow. Passionate about helping businesses make better use of technology.
Leave a Reply
Your email address will not be published. Required fields are marked