5 integration ideas to automate your project management using Zoho Flow
Last Updated: November 10, 2021
1.0K Views
4 Min Read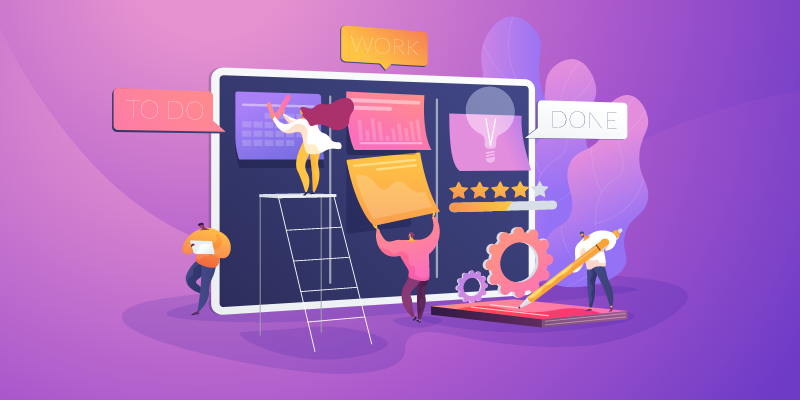 Project management involves handling multiple projects at any given point in time. As a project manager, you're responsible for converting raw ideas into practical tasks, tracking the progress of those tasks, and ultimately completing the project to perfection. Whether you're managing a team of five or a hundred, the pressure is always there to balance deadlines, keep the quality of work high, and to never let important tasks get lost in the chaos.
When you're doing everything right, you're orchestrating your entire team's work, and you know for sure that your projects will be completed just the way they were planned. Project management applications such as Zoho Projects, Trello, and Asana help you with this by providing a clear, organized platform to work on tasks. However, you can only get the best results from your team if you reduce the amount of manual, repetitive work that eats up their productivity and time. A workflow automation platform like Zoho Flow can help you integrate all your important apps with your project management app, which makes your job so much easier.
In this article, we'll go through some project management automation ideas and also some ready-to-use workflows that let you implement them on your team right away.
1. Create tasks from form entries
Today, businesses use online forms for a variety of purposes. You may use it to collect work requests from clients, request feedback from customers, gather leads, conduct market research, take orders, and more. In some cases, you need to convert a form submission into a task for your team. For example, a work request should be taken up in priority and should be assigned to the right person, to be able to deliver the right service.
One way to do this is to manually go through the form submissions, copy the data, create a new task in your task management platform, and notify your team members. Or you can just automate this tedious process by connecting all your required apps to Zoho Flow and creating automated workflows for different scenarios.
2. Convert scheduled calls and appointments as tasks
Client meetings, remote support sessions, or customer onboarding sessions are critical tasks that can't be missed. Generally, you add important meetings or calls to your calendar, and set reminders to ensure you don't forget them. However, if it involves other members of your team, or if you need to assign it to other members, then you shouldn't have to go through the pain of manually searching for events and creating tasks for them.
You can create a workflow in Zoho Flow so that whenever an event is added to your calendar, it is also added as a task in your project management app.
3. Create tasks from issues or bugs
If you're managing customer support, you need your team to act upon technical glitches instantly. Apps such as Bitbucket, GitLab, and GitHub help you with resolving bugs, and apps such as Zoho Desk and ZenDesk help you manage tickets. If you find a ticket in Zoho Desk that's pointing to a possible bug, or if a new issue is added to GitHub, you don't need to open your project management app and create a new task. Instead, you can create a workflow in Zoho Flow so that every time a ticket is tagged as a bug in your helpdesk application, it is automatically added as a bug in your project management/ bug tracking app.
4. Create tasks from multiple channels
Project planning and task creation usually don't take place in one go. You might come across interesting ideas during brainstorming sessions with your team members, while some tasks are formed as part of a team channel conversation. Keeping track of ideas that are coming from multiple channels can be laborious and exhausting.
Nevertheless, tasks shouldn't get lost in different collaboration applications. You can set up automated workflows that integrate your team apps with your project management app to create new tasks automatically.
5. Notify your team about important deadlines
Notifying the right team members at the right time about new tasks and deadlines is of utmost importance to a project manager. It keeps every team member aware of new tasks and lets them prioritize their tasks, as well. However, it gets tedious to post messages to each and every member when a new task is added, or if a deadline is close by. An automated workflow in Zoho Flow delivering important notifications at the right time ensures that nobody misses a deadline and no manual follow-ups are necessary as well.
While these are easy-to-use, simple workflows that you can utilize right away, there are also numerous other ways to build workflows to suit your team's specific requirements. You can use the Flow Builder in Zoho Flow to create custom workflows exactly the way you want, or you can even make changes to the above workflows to suit your requirements.
If you need any help to set up these workflows for your business, or would like to know more about how Zoho Flow can help in building your SaaS ecosystem, please write to us at support@zohoflow.com.
Arjun

Technical Writer for Zoho Flow. A curious person who loves to write, think, and research.
Leave a Reply
Your email address will not be published. Required fields are marked