How to automate your lead management in Zoho CRM using Zoho Flow
Last Updated: May 9, 2023
926 Views
6 Min Read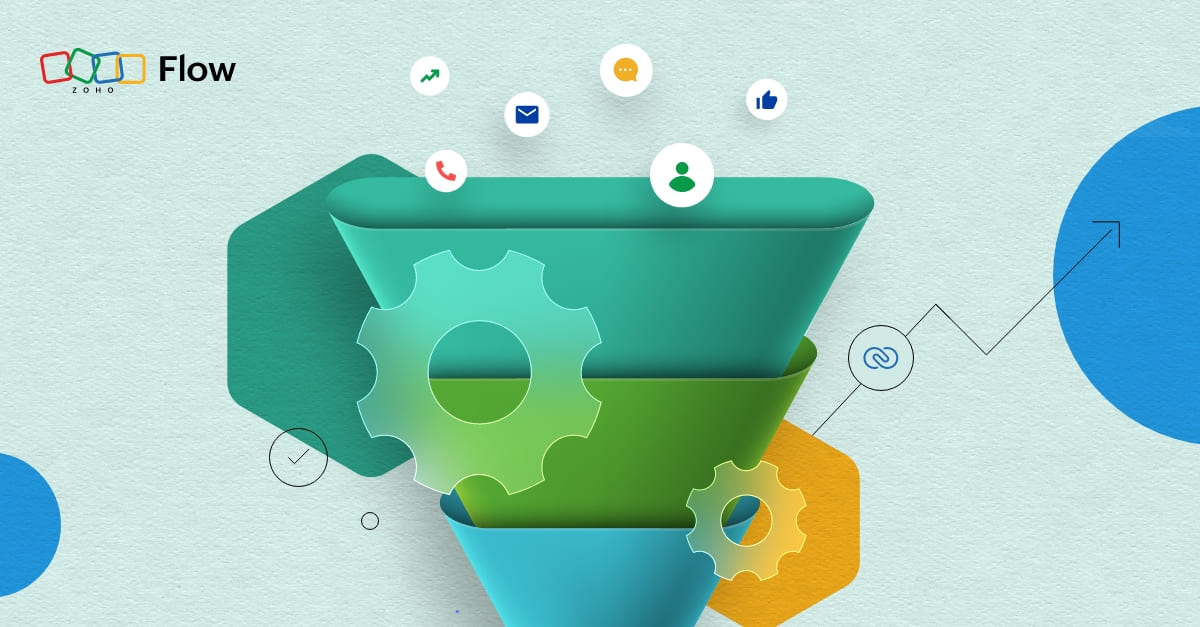 Driving leads through your sales funnel and ensuring that they reach the conversion stage should be the primary objective of your lead management strategy. It requires the company to understand the customer's pain points thoroughly, and be involved in their journey. Lead management involves capturing leads from multiple sources, qualifying them, distributing them to other teams, and tracking and recording online and offline interactions through emails, ads, forms, or webinars.
But even if you have a streamlined lead management strategy, being able to manage all your leads under one roof can make things very simple for your business—and that's where a platform like Zoho CRM comes in.

If you're using Zoho CRM, you already know that it's more than just an organized accumulation of your business' data. Zoho CRM is a complete platform that helps you streamline your whole business strategy, automate your workflows, run campaigns across multiple platforms, and much more.
However, to get the most out of Zoho CRM, you must ensure that the flow of data in and out of your CRM platform is seamless, instantaneous, and error-free. Thankfully, this can be achieved with an integration tool.
When you integrate Zoho CRM with other applications through an integration platform, many manually performed tasks, like entering data and communication, gets automated, making lead management more efficient. From reaching out to cold leads and getting them interested to converting, the lead management process involves steps like lead generation, lead nurturing, and lead closing, all of which can be automated.
Lead generation
Lead generation involves identifying and cultivating potential customers for a business' products or services. It's a critical component of any marketing strategy, as it drives revenue growth and helps businesses expand their customer base. Lead generation can be accomplished through various sources, like websites, social media, forms, webinars, and much more.
However, updating the lead information from all these sources to your CRM manually can be tedious and time-consuming. So here are a few instances where CRM integrations can help you speed things up.
Social media ads
In 2022 alone, social media ad spend stood at approximately around $230B USD. With social media ads being as expensive as they are, you cannot afford to lose out on lead information. Integrating social media platforms with your CRM will add the leads generated through ads as potentials in your Zoho CRM account instantly. This will not only save you time by updating lead information in your CRM automatically but it will also ensure that there's no loss of information.
Forms
When a lead fills out a form, it indicates that they might be interested in your product or service. However, manually transferring data from your forms to your CRM database every time new lead information is updated can be tiring and redundant. By integrating your forms with Zoho CRM, every time a lead fills out a form, the lead information will be updated as potentials in your Zoho CRM account directly.
Webinars and online events
76% of marketers believe that webinars help them reach more leads. People who attend your webinars are supposed to be interested in your products or services, and the chances of conversion are likely to be high. Fetching their information instantly by integrating webinar platforms with your CRM ensures that this lead information doesn't get lost in the shuffle. With these integrations in place, all the attendees of your webinars and online events will be added as leads in Zoho CRM.
Lead nurturing
Only a small percentage of the leads that you generate will be ready for an immediate purchase, which means most of those leads have to go through the lead nurturing process. Lead nurturing involves filtering out prospective leads by identifying their buyer persona, engaging them by offering relevant information, offering them support whenever they need it, and doing it all without creating any hassles or extra effort for them.
While this involves a lot of steps, automation can help you remove the mundane and repetitive parts of the process, allowing you to focus on coming up with creative campaigns for your leads. Here are a few integrations that can help you out.
Analyzing leads
The process of converting leads into customers can be improved by nurturing them with targeted content that aligns with their interests and needs. It's crucial to understand each lead's unique buyer persona to create personalized and effective campaigns for them. For example, a SaaS business may have leads with diverse requirements, such as small business owners seeking simple and affordable software tools, businesses looking for customizable workflow platforms, and organizations that require a comprehensive SaaS environment.
Attempting to target all leads with a single campaign would result in losing potential customers. Hence, it's essential to categorize leads based on their interests, goals, behavior, objectives, and triggers, then create personalized campaigns that cater to their specific needs. Sales engagement and marketing automation applications, such as Outreach, can help in segmenting leads appropriately based on those factors.
Integrating Zoho CRM with Outreach will add new CRM leads as prospects in Outreach automatically, removing the monotonous task of adding them manually. This integration makes it easier to categorize leads and create targeted content that resonates with each lead's unique requirements.
Mailing lists
When you have access to people's inboxes, it means that you communicate with them directly. Since email, as a medium, is inherently more personal than social media, it provides an opportunity to make your communication more relevant to the recipient. Having separate mailing lists for each set of customers based on their needs is a way to offer the right kind of content to your audience at scale. So integrating your email marketing app with Zoho CRM is something that is both essential and can empower you to communicate effectively, on top of saving time.
Having an integration where new leads in Zoho CRM are automatically added to a particular list in ConvertKit or Mailchimp is an important step in automating your lead management.
Lead closing
Lead closing is the essential final step of lead management, where a business convinces a prospect to take the desired action, such as signing a contract, completing a purchase, or using a service. Automation tools are invaluable in making lead management more efficient, reliable, and timely. Automating tasks—such as sending invoices and closing deals—assures customers that they are receiving prompt attention, thus building trust and enhancing the business-customer relationship.
Adopting these measures will ensure that every step of the purchase is complete and satisfactory for the customer. Here are a few steps that ensures that every box is ticked, to make the purchase complete and guarantee customer satisfaction.
Notifying team members
As soon as lead information is updated in Zoho CRM, it's important to get the information across to your marketing and sales team. This will let them start planning different marketing campaigns and sales pitches to close those leads out sooner. Integrating communication platforms like Slack with Zoho CRM will instantly notify your teams through chat when a new contact is added in CRM, letting them get on the job immediately. This way, you stay on top of your leads and ensure that no potential customer falls through the cracks.
Signing deals/proposals
The quicker you engage with your client, the more chances you have to convert them. Integrating digital signature applications like Zoho Sign with Zoho CRM can initiate the immediate and automatic sending of documents that need a digital signature. This increases the chances of closing a potential lead while the iron is still hot.
Sending invoices
Another important thing to take care of after converting a lead is to ensure that the financial aspects of the deal or purchase are taken care of immediately. Integrating your Zoho CRM with applications like Zoho Invoice will automatically send an invoice to the relevant customer once the purchase is made, ensuring that there's no delay in getting across the invoice and ensuring proper financial records.

While these are just a few integrations that can help with every step of the lead management process, there are many other Zoho CRM integrations that can save you a lot of time and effort.
Zoho CRM is a powerful tool that can help your business in many ways. However, your CRM is only as efficient as the data in it. By ensuring a more streamlined and immediate flow of data in and out of your Zoho CRM database, you can get the most out of the application.
Check out our Zoho Flow gallery and start integrating your favorite applications today!
Sooraj

Content writer for Zoho Flow. Ardent fan of sports and movies.
Leave a Reply
Your email address will not be published. Required fields are marked