Reading Time:
5
minutes
Business travel has its perks, but, especially around the holidays, you have to go through a lot to enjoy them. Let's say you are on a business trip. At your fifth business meeting of the day, you are probably picturing yourself going back to the hotel room and hoarding the plush bed all to yourself while dinner's on the way. However, to get there, you must brave the cold, the flu bug, lengthy waiting lines at the airport, and what not. After all, it is the holiday season and you cannot expect to glide your way through.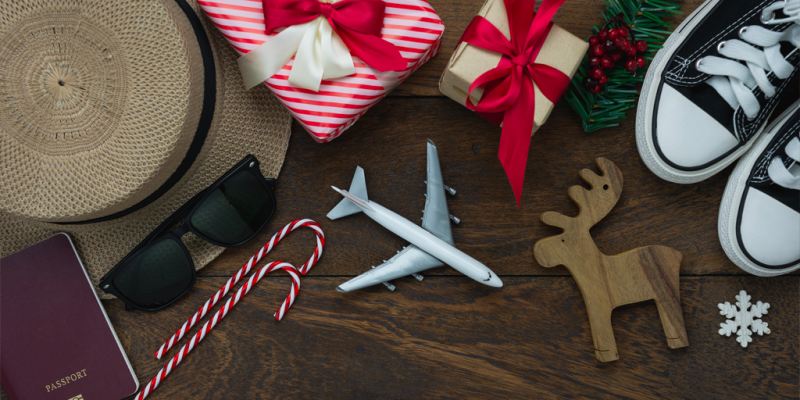 While it may not be a bed of roses, business travel during the holiday season is definitely survivable. We have put together some useful tips and hacks to ensure you have the smoothest possible business trip from start to finish.
Booking
Booking last minute
Ideally, you would have planned and booked all the elements of your travel at least three weeks before your trip. But hey, business trips can sometimes pop up without warning. Now, booking your air tickets and accommodation within the budget mandated by your firm's expense policy can be problematic.
To solve that, you can use travel booking websites and apps to find the airlines and hotels offering the best deals at the eleventh hour. Try Hopper's GTFO or Lastminutetravel.com to identify the cheapest flights to your destination and find accommodations there.
Choose an early flight 
While you may enjoy a good sunrise, the airport is probably not your favourite place to witness it from. However, it may be the best choice for your business trip. According to Transtats, around 21% of flights operated by the major airlines experienced delayed departure during the 2018 winter break. By taking the first flight of the day, you can avoid flight delays (since delays usually happen as the day progresses) and cancellations. You'll also beat the crowds and pay less—early morning flights are unpopular, which tends to make them cheaper.
Fly on the day 
Flying on a holiday itself can help you avoid the crowds and score a ticket at a cheaper price, since most travelers would have already arrived at their holiday destination. However, this is a good idea only if you're not trying to spend the holiday with your family, or if you're on a bleisure trip and have your family traveling with you.
Travel management
Let someone else do the planning
Booking business trips is pretty different from booking vacations. That is why most travelers prefer to hand it over to the experts: the travel agents. While the actual booking process may be simple, it can become strenuous when you include the hotel bookings, air tickets, car rentals, insurance, reward miles, and finding the lowest rates for each element of the trip.
Most firms partner with travel agencies or have an in-house travel team that handles corporate travel from end to end. The travel team handles everything: providing travel options, leveraging partnerships or bulk deals to get lower rates, even helping you submit your expenses. Additionally, travel agents have a 24-hour duty of care to help you with problems that arise while you are on a trip.
Download the mobile applications
Mobile apps are powerful tools for frequent travelers. If your travel agent or in-house travel manager recommends that you download an expense management app or a booking app, do it.
Some airlines, hotels, and car rental companies offer incentives for using their mobile apps to perform travel tasks. For instance, you may get points or discounts for using the right mobile app to make your reservations or check in for your flights.
Other apps offer a smoother process with some aspect of your travel. Zoho Expense, for example, allows travelers to view their itinerary, create trip requests, request advances, connect their corporate cards, and record their expenses on the go. Relevant details can be shared with bosses, travel managers, and finance teams, and that transparency even helps travel teams fulfil their duty of care if something goes wrong.
Be travel-savvy
Be early and prepared
It's a good idea to reach the airport early. Besides making sure you don't miss your flight, it also gives you extra time in case of any mishap or delay. Remember to check in online the day before your flight so you can skip the long line at the check-in counter. Skipping the check-in and baggage drop-off lines can be a real time saver.
Lounge your layovers
Unless you're at Singapore's Changi International Airport or Tokyo's Haneda, waiting for hours at an airport can bore you to death. However, if you have a Chase Sapphire Reserve card or a Platinum Card from American Express, you can access airport lounges across the world. Or grab one of the other cards that provide access to airport clubs worldwide, where you can treat yourself to the choicest items from the buffet and enjoy the free WiFi.
If you are not a fan of credit cards, you can still wait out your layovers in a nice lounge. LoungeBuddy gets you access to airport lounges without memberships, elite statuses, or first class tickets. All you have to do is purchase a lounge pass starting at $25.
Sign up for TSA PreCheck and CLEAR 
If you've been thinking about enrolling for TSA PreCheck or CLEAR, go ahead and do it.
Signing up for TSA PreCheck is money well spent—it only costs $85 and lets you breeze through the security checkpoints  at more than 180 U.S. airports. You get to keep your shoes and jackets on and you don't have to pull laptops and liquids from your bags. All together, the average amount of time to get through the TSA PreCheck line is less than 10 minutes. Best $85 you will ever spend!
If you are enrolled in CLEAR, you can use it at participating airports to have a personal concierge accompany you through the security line. Your concierge will walk you directly to the front of the line and help you put your bags on the belt.
Packing
Pack light
Packing for a business trip can get tricky. It is advisable to pack clothing items that you can mix and match. Basic colours like black, blue or brown are ideal for this and they are stain resistant too. If you are carrying a suit, fold it to keep it wrinkle-free instead of rolling each piece of clothing individually.
Packing the right items is one thing, but it all depends on how you pack them. Try to fit all your stuff into a small carry-on suitcase and a bag/backpack. By doing this, you can skip waiting at the baggage carousel and in case of a flight delay or cancellation, you can reschedule easily since you have all your bags with you.
Also, pack right
Here's a small checklist to prepare you for everything that comes your way:
Cash: What if the credit card system is down or your card gets declined? Having cash on hand is essential during the holiday season.
Medication for cold, fever, head or body aches, and stomach upsets: Get travel-friendly sizes of your medicines and do not forget to carry the prescription along with the pills.
A travel pillow: You can catch some sleep on your flight comfortably and the duty-free stores sell overpriced travel pillows.
Hand sanitizer and wet wipes: Cold and flu cases irrupt during the winter, and you don't want to risk picking up bugs and germs.
An envelope to keep your receipts in.
Ship some stuff
If you are flying to a conference or a trade show with brochures, giveaways, or presentation materials, ship them! You can send them via a carrier like FedEx or UPS directly to your hotel or the event venue. Otherwise, if the co-worker assigned to carry the bag containing your event materials misses their plane or is late to the event, it could spoil your agenda for the day. By shipping them, you can travel light and hassle-free.
Bonus travel tips
Having someone to cover for you while you are away on business can make travel much easier. It helps you focus on the trip without working overtime and stressing about what is happening back in the office. Also, don't forget to activate your e-mail auto-responder to let your co-workers, vendors, and clients know that you're away from the office. This way you can answer your work email at your convenience, knowing that the senders aren't expecting an immediate response.
Whatever holiday travel strategies you use, the important thing is that they should make the travel experience smoother and less stressful. We hope these tips were helpful! If you've got other favourite travel tips to add, please share them in the comments below. Happy holidays!