Your guide to Zoho's implementation, solutions and support services
The initial software deployment period is crucial for getting your employees up to speed and setting new benchmarks for performance. Use this guide to connect with the right team of Zoho experts and meet your organizational goals.
Download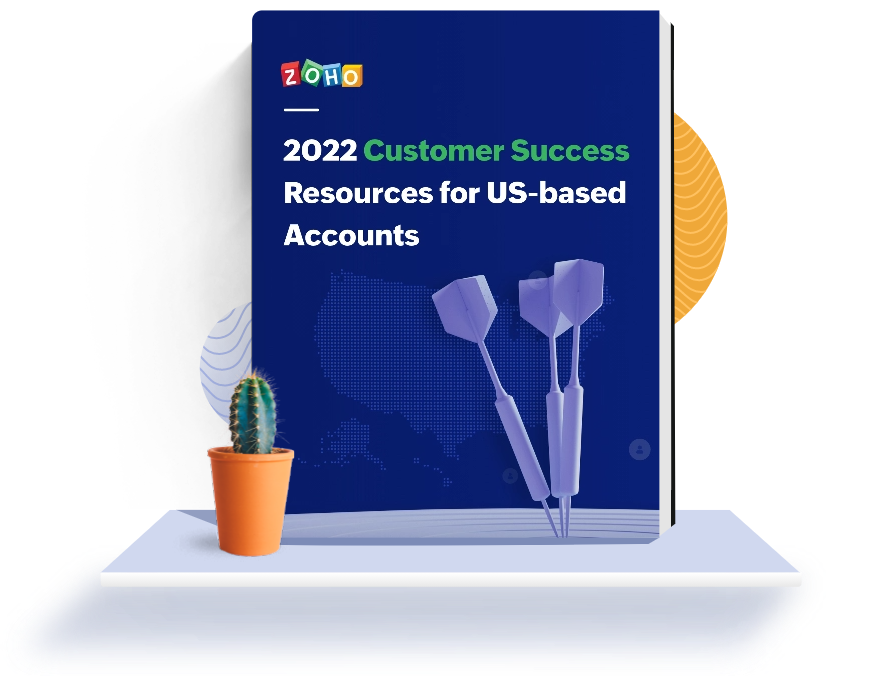 Upgrade to Zoho's Enterprise Support plan
For faster ticket resolution and access to in-house Zoho product experts, organizations can sign up for one of Zoho's paid support packages.
CONTACT YOUR ACCOUNT MANAGER
Benefits:
24/7 phone and chat support
Dedicated account manager
1-hour maximum response time
Quarterly report of feature usage and recommendations
Find ways to improve conversions, streamline the customer journey, and increase the efficiency of your workforce.
Better align your Zoho implementation with your organization's goals, processes, and KPIs.
Unlock new operational efficiencies across teams by integrating app categories and automating daily tasks.
What is the best way to get support from Zoho? How do I see my open support tickets?
To help us resolve your
support request
more quickly, please be as thorough as possible when outlining the problem and include the steps you took before the issue occurred, as well as screenshots of any error messages. To monitor the status of the support tickets you've submitted, simply log in to your
customer portal.
If you'd like to upgrade to Premium or Enterprise Support, you can
reach out to your account manager.
What is Zoho One?
Zoho One is an
all-in-one software solution
that offers access to more than 45 apps, covering sales, marketing, communication, project management, finance, HR and more. This comprehensive business software suite allows you to consolidate a wide range of existing standalone apps with a single subscription from a single vendor. With two pricing models to choose from—
All Employee pricing and Flexible User pricing
—Zoho One enables you to reduce your IT budget without compromising on functionality, all while overseeing your org-wide software provisioning from a single interface.
Should I switch to Zoho One? Which plan would be right for my organization?
That depends on the particulars of your business requirements, but in general, the more business apps your company uses (either from Zoho or other SaaS providers), the more likely it is that you'll benefit from Zoho One.
Our All Employee plan is ideal for organizations that need to quickly and easily equip their entire workforce with the full range of business tools, including everything from basic IT services (like email, internal chat, and document storage) to more complex business requirements (like sales process management, marketing automation, and accounting). The Flexible User plan, on the other hand, is ideal for organizations that want to consolidate multiple advanced software solutions on a single platform, but do not need to give their entire workforce access to Zoho's business tools.
If you'd like to discuss the particulars of your business requirements, feel free to contact your account manager.
How do I add a product, increase/decrease the number of licenses, or upgrade our subscription to one of Zoho's bundles/suites?
The process for making changes to your subscription depends on how you've chosen to pay for Zoho. If you pay via invoice, you will need to contact your Account Manager or support. However, if you pay via credit card, you can add users or update your subscription level by visiting Zoho's
online store tool.
If you're interested in upgrading to a bundle like
CRM Plus
or
Zoho One
, first start a trial within the desired app, then visit the store tool to pay for the subscription. Note: For some bundles, you will need to upgrade all users before your apps will fully migrate.
If my organization already uses one of Zoho's suites/bundles, can we add licenses for a standalone app to our subscription?
Yes, you can. Simply navigate to that app's page, start a trial, then pay for the subscription via the
online store tool.
Your organization can have multiple bundles/suites if needed to accommodate different teams, departments, or divisions of your organization.
What services does Zoho offer for new implementations/integrations?
If your organization would like to set up a new Zoho product, integration or automation, contact our
support team
to get advice on next steps and best practices. Depending on the technical expertise and bandwidth of your organization, most typical implementations of internal Zoho features/products can be completed with the help of Zoho support resources, technical documentation, and user education videos. If you need help with more complex custom implementations or integrations with third-party software products, we recommend contacting one of Zoho's
certified implementation partners.
Feel free to reach out to an
account manager
if you'd like help choosing a partner for your particular business case.
The lead admin from my organization is leaving/changing roles. How do we transfer admin rights account to a new user?
You will need to designate a new Super Admin for each subscription your organization has. If your current Super Admin is still at your company, this can be completed either as a self-service option or by contacting support@zohoaccounts.com. If your current Super Admin is not able to complete this process themselves, Zoho's support can help with the transfer, but will need to validate certain information to make the switch. We take the security of your data extremely seriously so please be prepared to go through this process so we can verify your information and the information for your organization.
Where do I update the payment method for my account or review my subscription details and past invoices?
The Super Admin for your account can update or add a credit card, change your billing address, or download invoices from inside
Zoho's store tool.
Note: Only the Super Admin has the ability to do this for your account.
How secure is my data with Zoho? Is Zoho HIPAA, ISO, or SOC-2 compliant?
Zoho takes security and privacy incredibly seriously by not only adopting industry leading security protocols, but also voluntarily committing to applying GDPR protections to all of our users regardless of where they are located. In recognition of our security and privacy efforts, Zoho is ISO and SOC-2 compliant, and many of Zoho's apps are HIPAA compliant. To learn more about which products have received which certifications, you can visit our
Security and Privacy compliance website.
How do I make a suggestion, share product feedback, or get early access to new features?
If you have feedback or suggestions, please fill out our
customer feedback survey.
We take this input extremely seriously, so all the insights and findings from the survey are passed along to the relevant teams at Zoho. If you'd like to get early access to new features, you can reach out to your account manager, who can tell you if any features are available for beta release.