Bring sales and support together to build a loyal customer base!
An ideal precursor to a full-fledged CRM, Bigin helps you build a strong customer base without relying on spreadsheets and third-party apps. When you integrate Bigin with Zoho Desk, you enable customer support to exchange information with the sales team about a customer's stage in the sales cycle, tickets raised, periods of activity, and conversation history. With informed context, both teams can respond faster and more effectively to your customers and prospects, increasing the overall efficiency of your business process.
Designed to make the sales process more effective, Bigin is an easy-to-use, pipeline-centric CRM solution built for small businesses. Integrating Bigin with Zoho Desk helps you maintain a central, fully synchronized customer and product database while developing a holistic view of your customers.
By integrating Zoho Desk with Bigin, deliver an excellent customer experience by keeping your customer data unified, secure, and up to date. You can expedite the sales process using insights into your prospects' top concerns to offer contextual support.
Identify the best time to nurture contact prospects
Prioritize tickets based on Bigin status
Use complete context to offer personalized support
Maintain updated customer data across tools
Maintain a unified database
The two-way sync between Bigin and Zoho Desk makes it easier than ever to maintain a current database of customer and product information. Using this integration, your sales and support teams can build a unified list of contacts, accounts, and products with data from custom fields. You can keep all of this information up-to-date with no additional effort from the sales or support teams.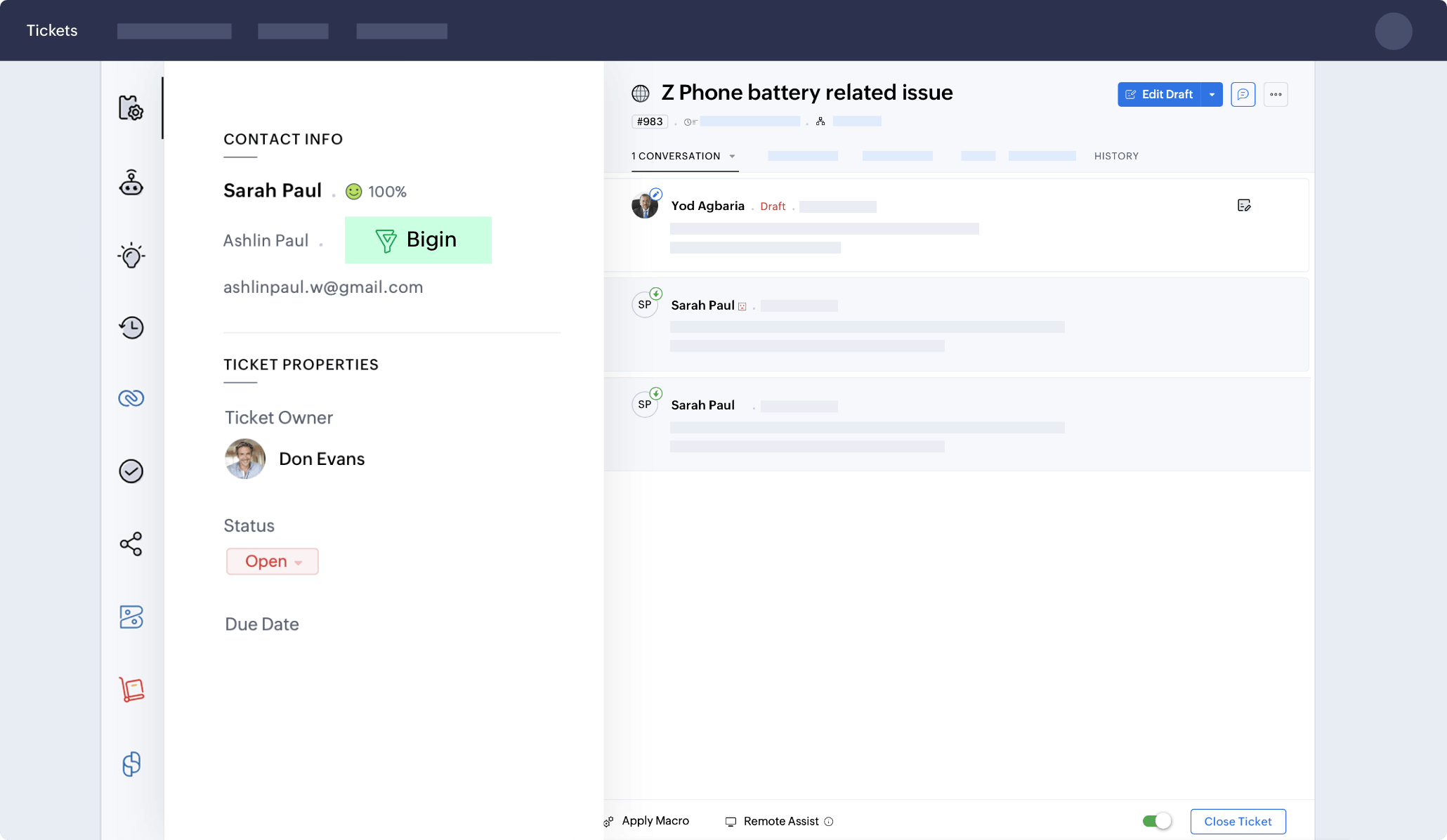 Prioritize support tickets
Never miss out on a potential customer when you integrate Bigin with Zoho Desk. Using Handshake Mode, your support agents can sort tickets by the contact's stage in the sales pipeline. This enables them to prioritize tickets and tend to prospects immediately. Agents can view complete customer information pulled from Bigin, including potentials, notes, and activities within the ticket screen.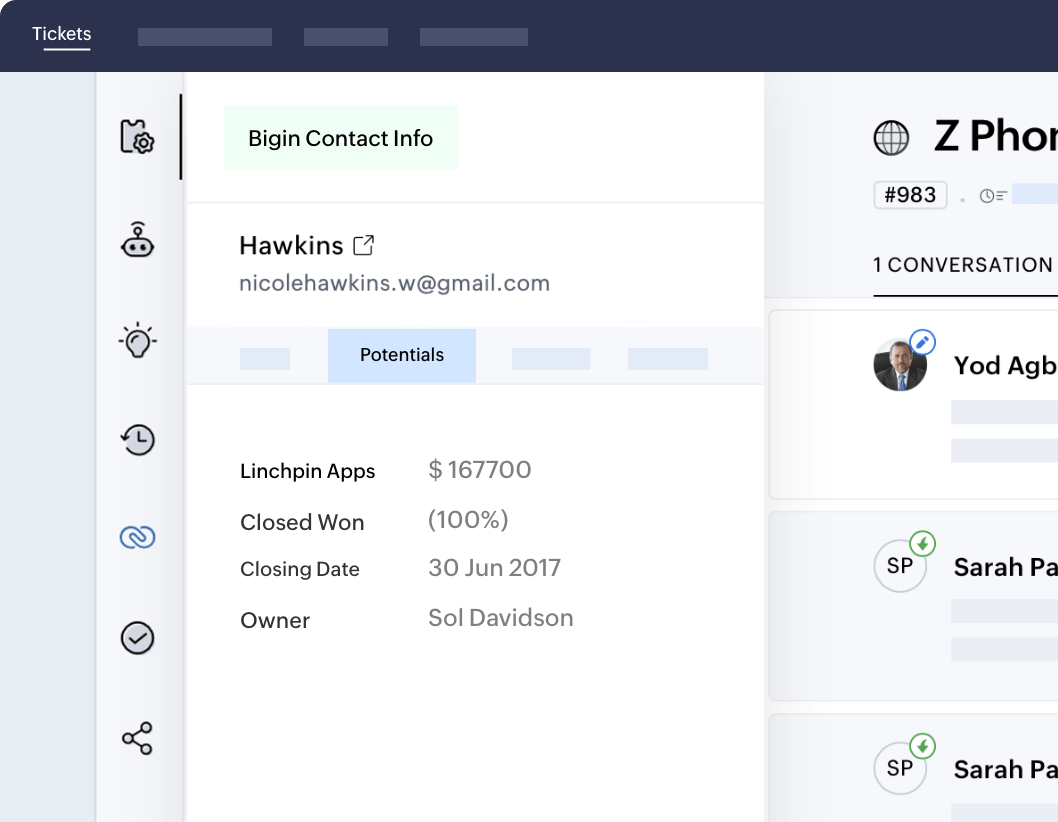 Drive better CX through context
By bridging the gap between your sales and support teams, you can provide personalized, well-informed responses to all your prospects and customers. Your sales team can see all the recent support tickets from a contact inside Bigin, and your support team can see the ticket's CRM details in Zoho Desk.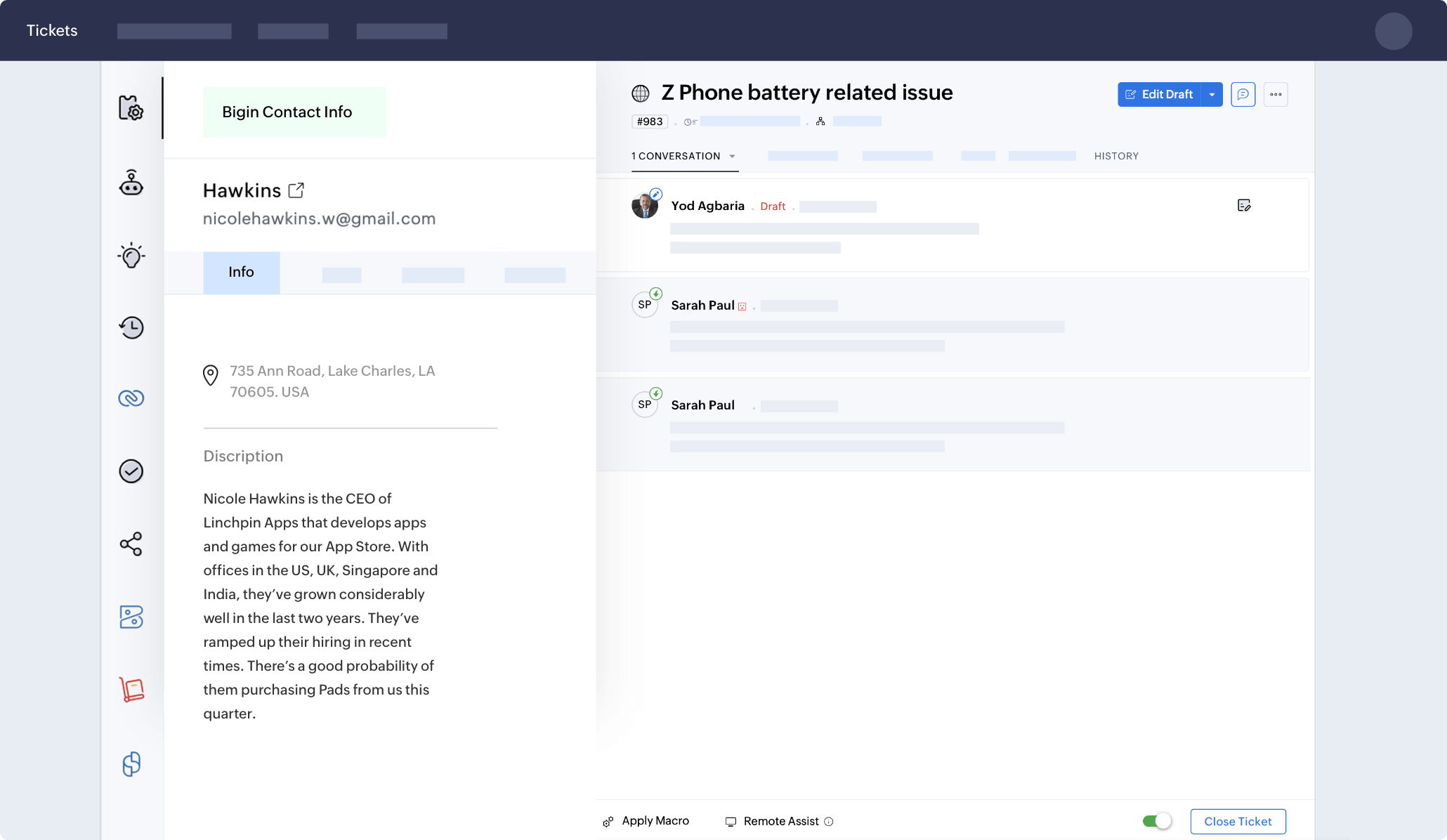 Time your responses right
When you approach a prospect at the right time, you can significantly expedite the buying process. The Bigin and Zoho Desk integration enables your sales reps to see when a customer has responded to a support conversation and predict the best time to reach them. While on a call with a prospect, your sales reps can respond to a support ticket or send a new ticket to the support team without leaving Bigin. This option can have a tremendous impact on your cross-sell and upsell efforts.