Do you encounter these problems?
We have a solution for you using Zoho Desk
Customer information and follow-up information are recorded in Excel and using it after a long time?

Complete records in a single dashboard

Record all customer information and contact information, never lose, quick inquiry, customer status and follow-up situation at a glance

Hard to manage/track customer issues from multiple channels?

Omni-channel customer service system

Zoho Desk collects all requests from different channels like email, social media, live chat, telephone, web forms to organize them in one tab. This helps agents reply to all of them from the same tab

Each member of the team has their own records, which cannot be synchronized, cannot work together?

Team collaboration and agent collision prevention

Collaborative features allow agents to communicate the records with other teams right within the ticket through private comments and tagging.

Group chat within tickets gives you a quick and easy way to communicate with the agents who are colliding with you on a ticket.

Customers are waiting for an agent to find answers to their questions.

Knowledge base articles for faster answers

Not every issue needs an agent's presence to be answered. By creating a repository of articles and FAQs in the knowledge base, customers can find their own answers without waiting for an agent.
Supplement your customer service efforts with a powerful after-sales management system.
Email Ticketing

Zoho Desk helps you convert customer emails to tickets, compiles and organizes them in a single place, and monitors how many emails enter and how many responses go out.

Multi-language help desk

You can set up help articles in multiple languages to offer customers help in their native language. Provide customer support in the language that suits best for customers.

Workflow Automation

Workflow automation can help you save time and increase efficiency by automating repetitive, manual actions. It is easy to configure and customize to suit your business needs.

SLAs & Escalations

With SLAs, you can specify the response and resolution time for a ticket based on criteria like a priority, channel, time due, and customer type.

Ticket Assignment

Round Robin is the simplest form of an automatic ticket assignment. It distributes tickets evenly to all your agents based on the limit that you set.

Reports and Insights

Use detailed reports to understand your teams' performance. Built-in dashboards help you track, and improve your service using the most common metrics.
Your Desk. In the palm of your hand.
With the Zoho Desk mobile app for iOS and Android, agents can catch up, collaborate and, provide top-notch customer support, wherever they are.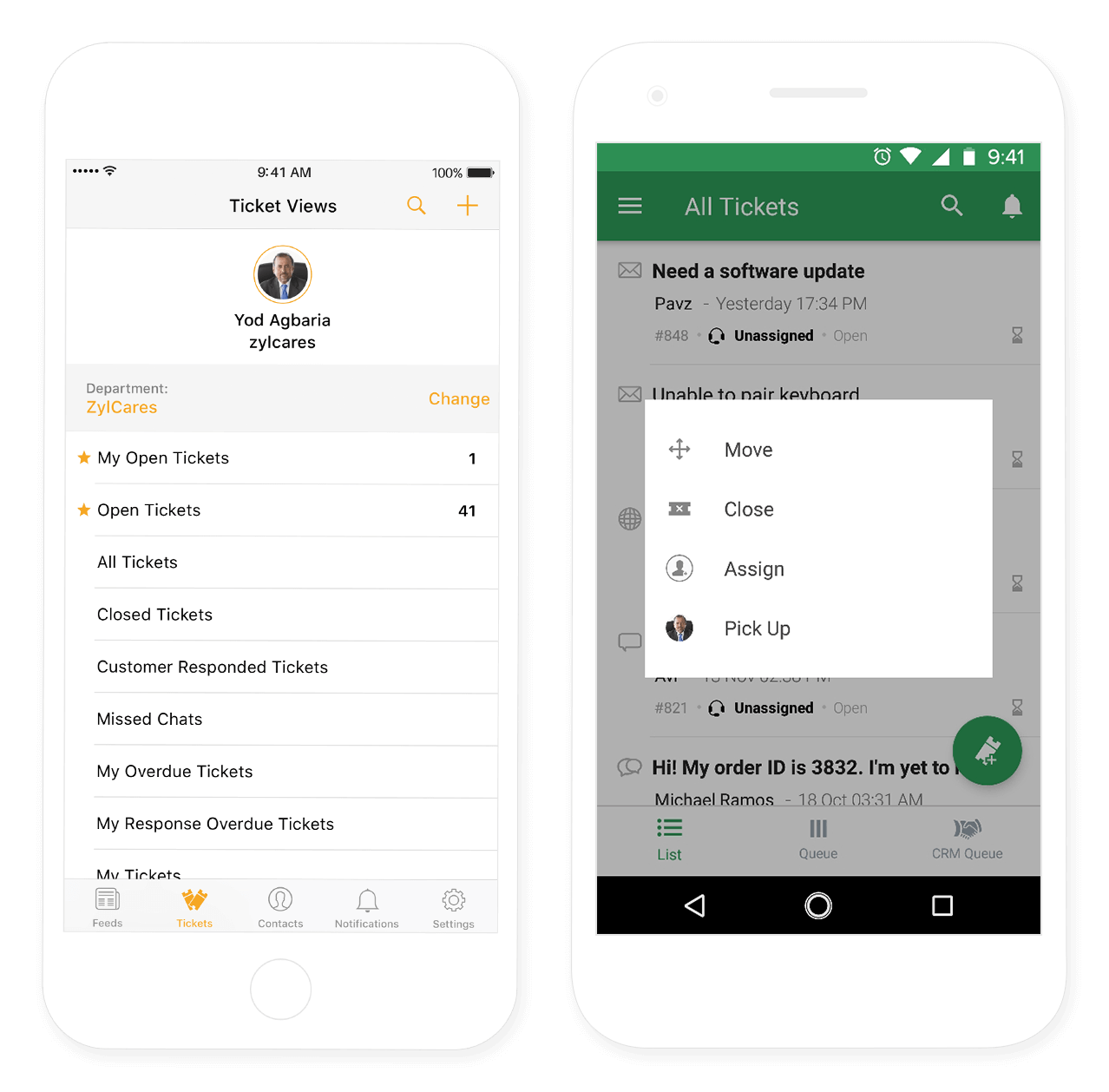 Not convinced yet? Begin your free trial with Zoho Desk today.