Handling customer experience challenges for a new world order
Over the past several months, the pandemic has changed the way we do business forcing companies to rethink how they manage employees and how they engage with and service customers.
In this webinar, you will learn:
What the customer journey is, why it is important and what it means for smaller businesses.
How various companies are changing their business models to enhance the customer experience.
The evolution of CRM and business communications and how they enable companies to connect with one another, their employees and customers.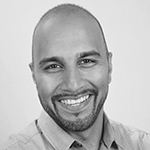 Reza Kamran is a seasoned technical marketer with over 25+ years' experience in telecom, unified communications and other high-tech fields. Reza is the Senior Director of Product Marketing at Intermedia and holds responsibility for the market rollout of UNITE, the company's flagship UCaaS offering.
Reza has experience working both domestically and internationally with a unique blend of skill sets across product marketing, product management and business consulting.
Working for companies such as 8x8, RingCentral, Oracle and other Tier 1 service providers, Reza has extensive global knowledge across mobility, voice, unified communications, contact center and commerce technologies. He has completed his leadership training at Stanford University and holds a degree from York University in Toronto in Business Administration.