Sales force automation for improved team productivity
This webinar addresses the no. 1 challenge faced by most businesses: Productivity. Learn how sales force automation in Zoho CRM can help your team improve productivity by minimizing the time spent on repetitive non-revenue generating tasks and allowing more time for closing deals.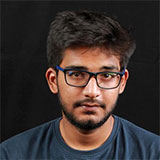 Shehzad Zaver is a Senior Customer Success Executive at Zoho. His strong interpersonal and communication skills help him to effortlessly strike up a conversation and build a rapport with customers. He believes in exploring different avenues, taking on new challenges, and learning from all his experiences. In his opinion, his spirit of sportsmanship keeps him going and acts as an impetus for him to work hard towards achieving nothing but the best.