Sales pipeline management in Zoho CRM
In this webinar, we will look at why effective sales pipeline management is important. We'll cover difficulties faced by sales teams in successfully closing deals and how pipeline management can help resolve these challenges and improve sales. You will learn how to build sales pipelines and effectively manage them in Zoho CRM.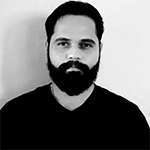 Padmanaban has been a part of the Customer Success Team for more than 3 years. He focuses on onboarding and helping customers implement the system effectively. His friendly and positive manner makes him a joy to work with. Customers appreciate his great depth of knowledge of how Zoho can be used in their real-world business scenarios.