Sales Enablement: To empower your sales team with the right tools
In this webinar, we will see the importance of sales enablement and introduce you to various tools available in Zoho CRM that will empower your sales team to successfully engage with your prospects throughout their journey and boost productivity.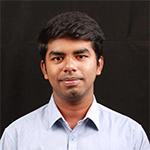 Arun K is a Customer Success Executive at Zoho. He onboards new customers with training and guidance during this crucial phase of implementation. His ability to quickly understand the needs of his customers and provide customized solutions helps him to build a strong rapport with customers. He believes that his unquenchable thirst to learn new concepts and how to apply them to real businesses keeps him constantly ahead of the game.