Stay on top of your business anywhere you go with Zoho CRM Mobile Edition
Access important information, connect with clients, and make big decisions on the move.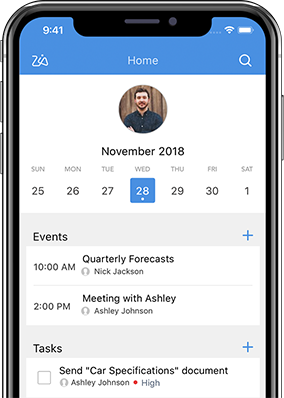 Why do you need
A mobile CRM?
We live in an increasingly fluid and interconnected world. Some say a 'mobile revolution' is underway, and the numbers back them up. The global usage of mobile devices is forecasted to reach 4.68 billion by 2019. For any sales team on the move, constant access to information has become a necessity.
When you're on the field closing a sale, getting back to the office to update the progress of every meeting, event, or sales call isn't a viable option. The hassle a manager has to go through to track the activities of their reps can become a challenge of its own. With a mobile CRM, you can easily stay in sync with any important information in real time from your smartphone.
Let's take an in-depth look at the beneits of having a mobile CRM, and how it can help scale your business.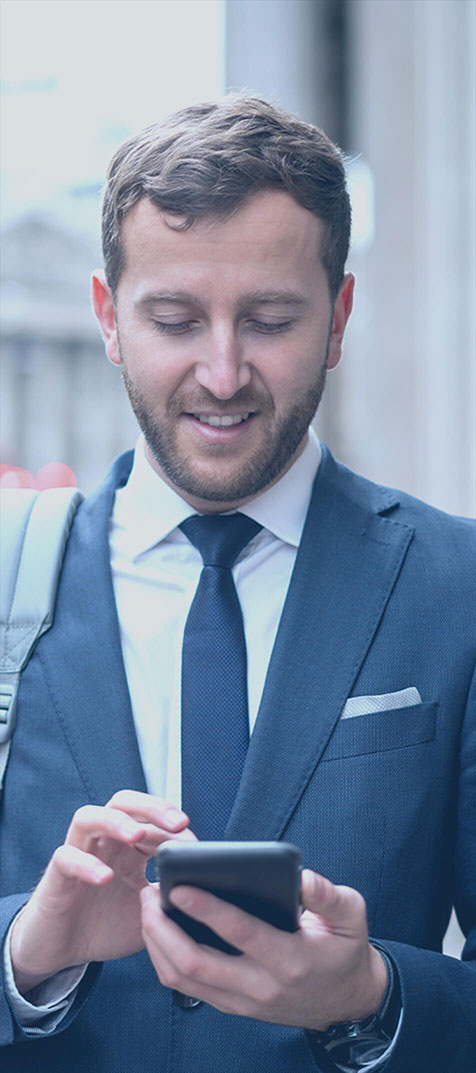 Benefits of going mobile
01

Access key information at any time, from anywhere

A mobile CRM provides constant access to customer interactions, contact history, recent transactions, and up-to-date pricing information. Having continuous, real-time access to customer data helps you prepare for meetings and follow-ups with leads while you're on the move.

02

Shorten your sales cycle

Spend less time tracking down customer information and more time closing deals. A mobile CRM keeps all your information handy so that you can invest your time anticipating your customers' needs instead of on redundant tasks.

03

Collaborate on the go

A mobile CRM not only benefits sales reps in the field, it also beneifts managers back at HQ who need to stay informed of their team's progress. When managers can access your real-time sales reports, track your sales pipeline, and provide support while you're out and about, you can respond to potential challenges with complete confidence.

04

Enhance customer service

Focus on building customer relationships by providing quality suggestions and answering customer concerns right away. Follow up after you've closed a deal and provide top-notch support.
Discover how the Zoho CRM mobile app can help you run your
business from your phone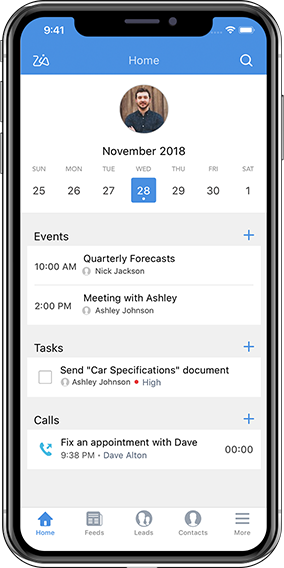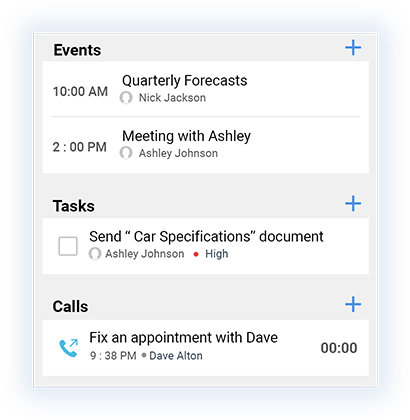 Manage your activities
Start your workday with a clear overview of your scheduled tasks, events, and calls. Set reminders for your activities, log calls, and capture the details of your conversations for further follow-ups.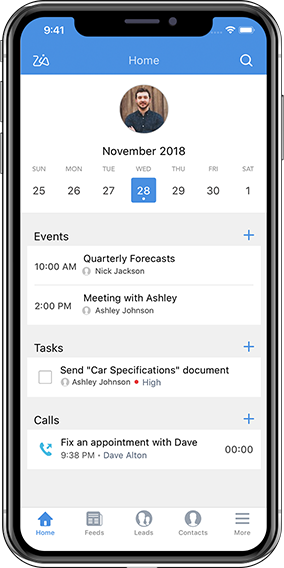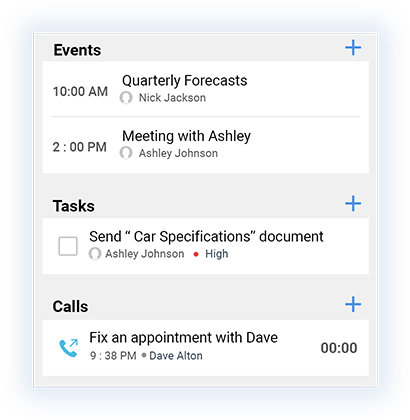 Navigate your workday
Check in at customer locations to record your visit and update your deal progress after every meeting. Plan smart and manage your time by geo-locating prospects nearby to schedule meetings efficiently.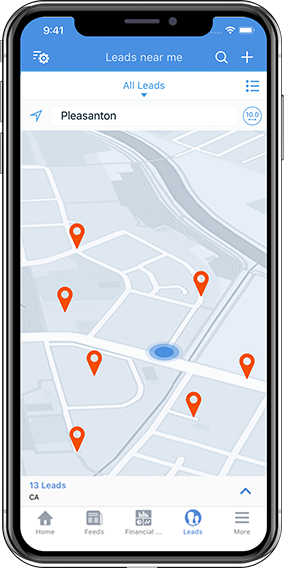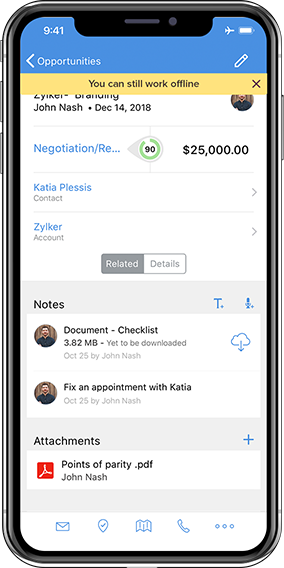 Access and manage your records
Stay on top of your game by reviewing notes, attachments, and deal details before you head out for important meetings. Access and modify your records even when you're offline and they will automatically sync when you're back online.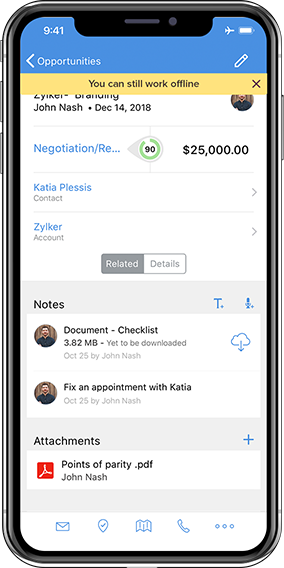 Collaboration made easy
Connect with your colleagues instantly, no matter where you are. Engage other team members by @mentioning them. Attach photos and files directly to your feeds for easier access.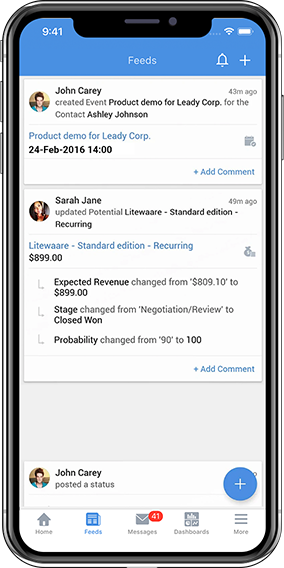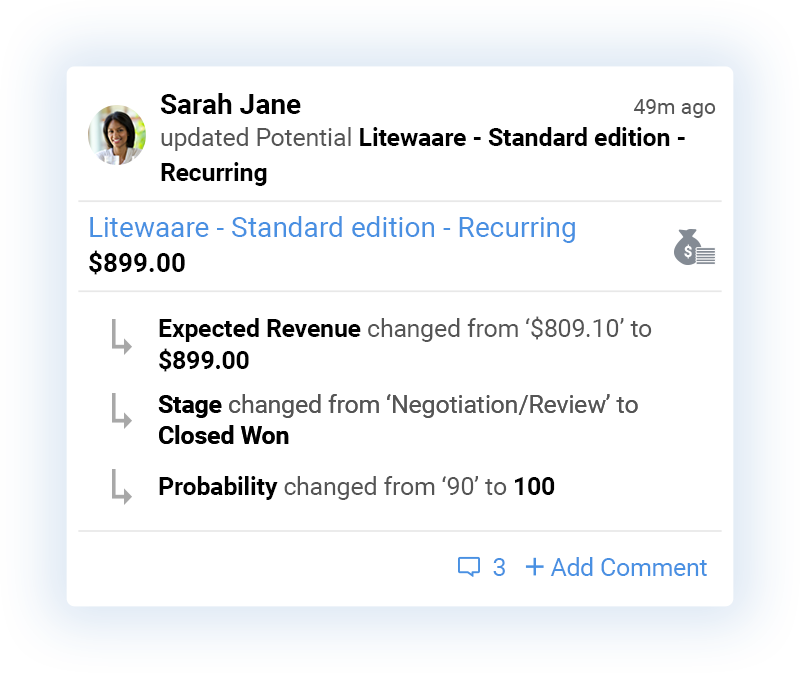 With Zoho CRM's Mobile App,
you can connect with your customers when you're on the move, and manage your end-to-end sales cycle.
Easily digitize and save business cards to your phone whenever you attend meetings, conferences, events, or trade shows.

Read More