Lead generation - the art of bartering
It's unrealistic to expect something in return for nothing. This has held true throughout history. When you need something from someone else, you have to trade something of equal value to get it—this applies to your lead generation practices, too. When people come across your business, you shouldn't make the mistake of assuming that they'll automatically give up their data. You need to show them that there is some benefit for them in return for sharing their information.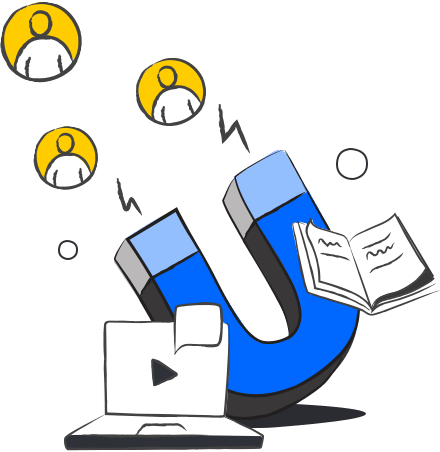 Offer them an interesting e-book
Offer a free trial of your product or service
Invite them to an important webinar
Discount on their first purchase
In-addition to building confidence in the leads, offerings such as a well written e-book or an informative webinar help establish your authority and improve your brand awareness.
Explore and find the right
lead generation strategy for you
There are numerous ways you can generate the leads you need for your business. But all of these different avenues fall into two broad categories: inbound marketing and outbound Marketing. A well-rounded lead generation strategy will likely involve a combination of both these methods to bring in new and relevant leads for your business.
Inbound Marketing
Outbound Marketing
Inbound Marketing
Inbound marketing is where you draw your customers into your business and earn their attention by providing something they're looking for—educational resources, helpful blogs, and more. You create awareness for your brand amongst your audience by delivering the right mix of informative and entertaining content. You need to identify where your audience spends their time, deliver content that draws them in, and start building a relationship with them. Let's explore a few inbound marketing techniques to generate leads.
Put out the right content
Your inbound marketing efforts rely on the quality of content that you create. Focus on creating quality thought leadership content with substance as opposed to promotional materials. Provide useful information to your audience. At the end of the day, search engines equate high quality content to a high quality website, helping bring more visitors to your pages by boosting your SEO rankings.
Source : Content Marketing Institute
Get active on social media
The advancement of technology has allowed for greater accessibility of social media to the public. Buyers can engage with brands, influencers, and peers to research the products or services they are interested in. Establish your presence by regularly sharing written, audio, or video content you've developed across your various social media platforms. Consistently engage with your followers and participate in discussions to get your brand name out there and direct people back to your website to generate those leads.
Source : Awario
Think outside the box for content distribution
Most businesses rely on their emails, websites, blogs, and social media to share their content and generate leads. Those are tried and true methods of inbound marketing, but it's important to not limit yourself when trying to get people interested in your business. Expand your roots and share your content to a wider audience through influencers, and guest posting on third-party publications and blogs.
Influencer marketing content deliver
11X ROI
than traditional digital marketing
Source : Tap influence
Outbound Marketing
While inbound marketing relies on generating leads organically by bringing in your audience to your landing pages and converting, outbound Marketing can be considered a little more disruptive. People are very conscious about what they pay attention to these days, and outbound Marketing is about getting your content to your audience by "renting" their attention through PPC, social ads, andtradeshows.
Deliver your messages to the right place
Display ads are a powerful tool to bring awareness to your brand and catch the attention of your prospects. They can be used to target very specific subsets of your audience based on their demographics and behavior. By showing relevant messaging to your prospects, you can drive leads to your landing pages and educate them on the value your business can offer them.
Source : Ads google
Capitalize on your time at events
Whether you're hosting your own event or attending a tradeshow, events can be a great way to demonstrate what your business is about, explain how your solutions can help prospects, and establish meaningful connections with them in person. Make the most of your time at these events by sharing well-written content and involving yourself in interactive discussions with the attendees. You'll increase the chances of converting booth visitors into strong leads.
81%
of trade show attendees have buying authority
Source : Ceir
Inbound
vs

Outbound
Which is a better strategy for lead generation?

Even as far back as 2007, your average buyer was exposed to over 5,000 ads in a day. This means that outbound techniques can end up leaving prospective buyers frustrated unless they're carefully targeted. The best move is a mix of both outbound and inbound techniques to get their attention and organically bring them to your content. Take into account your marketing budget and all the avenues available to you before mapping out your lead generation strategy.

Inbound Techniques

Outbound Techniques

Better Strategy
Build your lead generation funnel
You can optimize your lead generation by defining a lead generation funnel with distinct stages, each of which is designed to serve a specific purpose in guiding prospects through your sales process.

Attract Prospects
Focus on building brand awareness through blogs, infographics, social media engagements, paid ads etc.
Capture Leads
Offer something of value to your audience like ebooks, webinar invites, or a product trial in exchange for their information.
Nurture their interest
Build their trust with personalized drip campaigns, whitepapers, industry trend reports, how-to videos and more.
Convert high quality leads
Your sales team takes interaction forward with 1-on-1 consultations and demos to convert them into paying customers.
Depending on the scale and complexity of your business process, your lead generation funnels would need to be modified to meet your demand for quality leads. You must consistently experiment with advertising, content, nurturing campaigns and sales efforts to find the best funnel for your business.
Capture leads effectively with
Zoho CRM
Zoho CRM offers a wide range of powerful features and integrations that allow you to capitalize on your marketing efforts and capture incoming leads from various platforms like websites, landing pages, social media, events, and more.
Customized web forms for lead generation
Don't miss out on any interested leads visiting your website. Zoho CRM helps you capture leads from your landing pages hosted on WordPress, Unbounce, Joomla, and other content management systems with ease, without typing a single line of code.
Learn More

Complete event-to-sale process
Your event attendees could bring in your next sale. You can use CRM as your central platform of communication with attendees, where you can send out invites to your CRM contacts or leads, and connect with new leads that you've collected from the event.
Learn More

Capture leads from events
Zoho CRM combines your Google Ad spending with your sales data so you can figure out which campaigns, ads, or keywords are helping you convert leads into customers. Spend your dollars where they count, and get a better return on your investment by targeting advertisements toward your most profitable campaigns. CRM even marks which particular Google Ad or keyword brought in each lead.
Learn More

Convert social chatter to actionable leads
Manually add leads from the Social Tab, or automate your lead generation. Set up triggers to automatically add leads and contacts from social media based on the kind of customer interactions you're looking for. You can also integrate with Facebook Lead ads to run social media campaigns and capture those leads into Zoho CRM.
Learn More

You have your leads. What's next?
Generating your leads is just one challenge in the overall journey of growing the number of happy and paying customers. The next step is to focus your efforts on the right leads, nurturing them and getting them to make the purchase decision.

"We are seeing better collaboration across the business, especially between Sales and Support, and also in the efficiency of our marketing activities. Above all, we are cutting the leakage in lead and opportunity management through better visibility of next steps in customer engagement and automation of sales processes."
Peter Rasmussen
General Manager,

Practical Systems LTD
Capture leads you generate from any platform
with ease using
Zoho CRM
SIGNUP FOR FREE