FEATURES
Sales
Service
Marketing
Journey Orchestration
Business analytics
Omnichannel experience
Automation and
process management
Team collaboration
Artificial intelligence
Mobile
Unified administration
and search

Sales
Selling is an art, and Zoho CRM's wide range of sales tools helps you master it. From the moment a lead enters your funnel, you have everything you need to qualify, prioritize, and follow up with them, right up to the final sale—all in a relevant and engaging manner which creates a positive experience for your customers. Get cues from marketing about their interests, and keep track of service requests to understand their pain points. Whether you're a small local business or spread across multiple verticals or geographies, Zoho CRM's sales tools can fit into any sales structure, help you manage vast amounts of sales data, and accommodate all your selling needs.
Explore sales features

Service
When a customer trusts you with their business, they like to feel understood. Exemplary customer service is just a step away with Zoho CRM's service capabilities. Set up a comprehensive service operation across channels and strike the right balance between customer self-service and offering the human touch when necessary. From customer information to marketing interactions, agents have everything they need to provide contextual and efficient service. You can keep to your SLAs and service contracts while managing agent workloads and productivity. Build a favorable perception of your brand by being there for your customers when they need you.
Explore service features



Marketing
Marketing is only effective when it's relevant to your customers. Whether it's traditional email marketing or the more recent social media marketing, Zoho CRM's marketing tools help you understand and connect with your audience, as well as build your brand. Engage your leads and customers with targeted content, and nurture them at strategic points of the sales funnel. You can build and execute in-depth marketing strategies and measure how they impact your sales. Forward sales-ready leads to your sales team, or connect customers with the right service agent if any issues are raised through your marketing channels.
Explore marketing features

Journey
Orchestration
Zoho CRM doesn't just give you deep capabilities across sales, marketing, and service independently—it also helps you manage all functions together in the context of the customer journey. The customer journey begins from the first point of contact with your brand, and continues throughout their association with your company. This journey takes them across various touchpoints as they interact with your sales, service, and marketing teams. With CommandCenter, our journey orchestration tool, you can personalize customer journeys at every touchpoint and ensure they have a consistent experience with your brand.

Business analytics
Metrics are at the core of understanding your business and driving its growth. Access hundreds of pre-built reports and dashboards to examine how your sales, service, and marketing activities are performing—independently, or in conjunction with each other. Customize these reports or build new ones with ease to get answers to your most specific questions. Use a wide range of visualization styles and chart types to understand your data better and present it to stakeholders. You can even import data from third party apps and sites and build comprehensive cross-functional dashboards to gain deep insights into your business as a whole.

Omnichannel experience
Building an omnichannel presence helps increase your reach and ensures your customers can find and interact with you wherever they prefer. With Zoho CRM, you can coordinate your approach across channels and functions. Execute strategic marketing campaigns, close deals, and provide support across various channels, including email, telephony, social media, and live chat. Plan marketing activities to complement your sales process, and allow sales and support to collaborate over potential new opportunities or customer issues. Keep context intact across channels and provide your customers with a smooth experience.

Automation and process management
Automating all your routine tasks allows your customer-facing teams to focus on what matters most: connecting with your customers and building quality customer relationships. Be it automating contextual campaigns to your subscriber base, routing them to the right sales or service rep, managing approvals and escalations, or any other workflows, Zoho CRM can do it all for you. You can even use Blueprint, a drag-and-drop builder, to model your sales and service processes within the product and make it simple for employees to follow them.


Team collaboration
Fostering collaboration between customer-facing teams builds an environment of customer centricity. Using an array of tools like internal chat, feeds, calls, and virtual meetings, your sales, marketing, and service teams can communicate any pertinent information about a customer which might aid their work. For instance, service reps can inform sales about a potential upselling opportunity, or marketing can forward campaign responses from customers looking to resolve an issue. You can use project management capabilities to manage customer-related activities end to end and track their progress. Put your customer first and watch your business grow.

Artificial intelligence
Using artificial intelligence to complement your teams' activities can improve their productivity, give them deep insights into customer data, and improve the customer's experience. Zoho's AI assistant, Zia, is well-equipped to give your sales, marketing, and service teams intelligent suggestions to enhance their work, and make predictions to improve their decision-making. Zia can also answer vocal queries, detect anomalies in data, and analyze natural language sentiment. From making upsell and cross-sell suggestions to analyzing customer sentiment in service communications, Zia can bring great value to your operations.

Mobile
Zoho CRM's range of mobile apps fully supports employees who need to work on the go. Sales reps have everything they need to manage their schedule, log their visits, and pull up important customer information wherever they are. Service agents can monitor service operations, get notified of issues, and collaborate with their team members with ease. Marketing teams can schedule their posts and campaigns, track their performance, and manage their contacts and connections. All teams have access to relevant metrics and dashboards at their fingertips.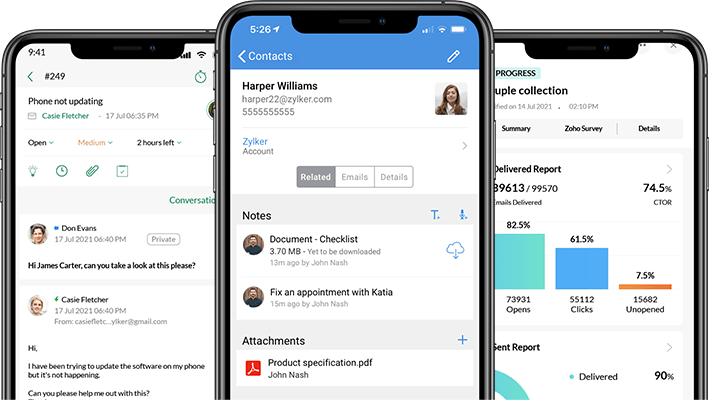 Unified administration and search
As an admin, the biggest challenge is handling disparate apps and managing users across these apps. Zoho CRM's apps are fully integrated and come with a central admin console. Administrators can easily manage users' access to various apps and even upgrade or downgrade the license in a few clicks. A single billing cycle adds to the convenience and makes it easy to handle the tools being used by multiple teams. Users can also easily run searches across apps and pull up all relevant customer information within moments.