The salesperson's guide to social media selling
Last Updated: June 15, 2022
307 Views
9 Min Read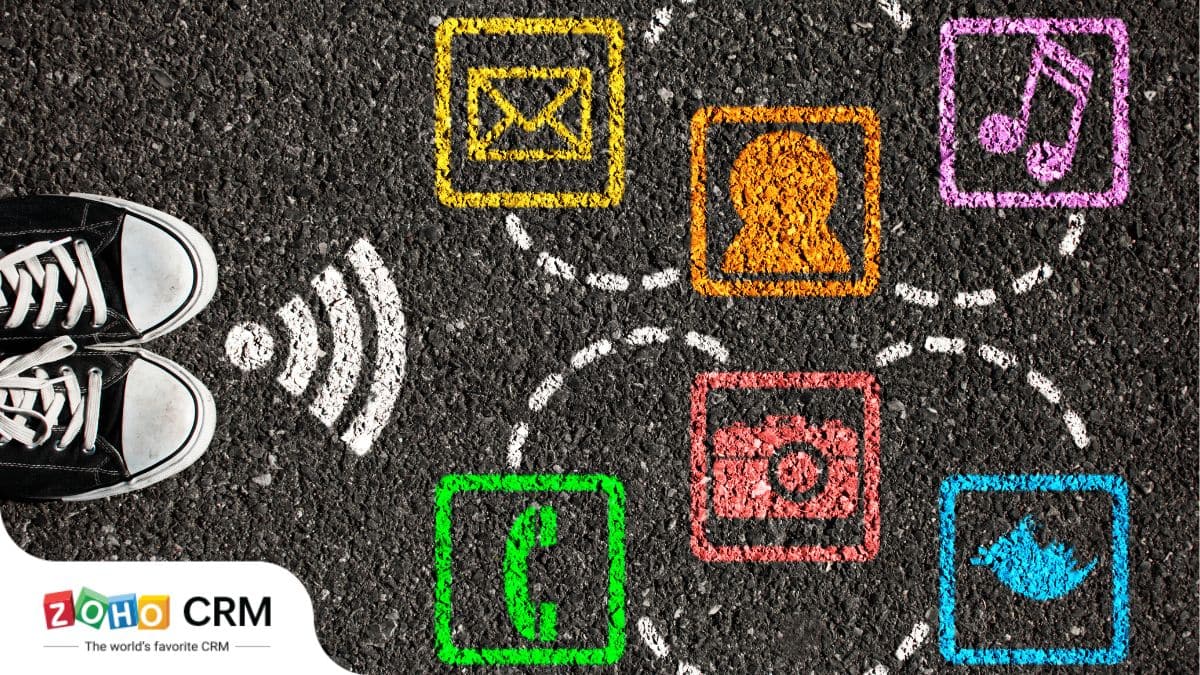 Do I need social media?
If you've stumbled across this article, it's not because you're just an average salesperson. You want to go the extra mile. You love competition, and you are trying to step up your game. Social media is the right platform to do just that!
You've probably noticed how the market has shifted. People don't want to listen to sales pitches that they don't relate to, nor are they overly eager to divulge their preferences. This is understandable, considering that they can theoretically find whatever they want themselves.
So, where do salespeople come in? Despite the world of customer experience becoming digitized, personal selling still prevails. The only difference is that personal conversations are happening online. But isn't this even better? You can talk to multiple prospects at once while you're still on the commute to your office.
You might argue that you don't have access to your brand's social handles,but at the end of this guide, you won't need to use that excuse anymore. You don't have to pose as your brand to sell.You are, after all, a sales representative, and therefore can represent your brand even without a brand account. Check the end of the guide for an email template that you can send to your CRM admin to up your social media engagement.
---
First things first, let's briefly look at the common social media platforms and their different audiences to understand what you should be sharing on each platform.
Twitter: shout out land.
Best for B2B and B2C
"OMG! I love this brand!!"
Someone could be tweeting this about any company right now, just as any of your customers could be tweeting about you. Twitter is where people go to share their opinions. The character limit helps reduce paragraphs of feedback to simple snippets packed with insight.
Where there are people posting opinions, there are people asking for them, too. Twitter is filled with conversations that go along the lines of "Hey, I'm starting a new business, I need a new xxx, what do you guys recommend?" or "Know anyone in the xxx area who is good at their job?" (You get the picture).
Other posts are often announcements of sorts, whether it's a video interview, or an article, or a listicle. They are the same—announcing your capabilities and enhancements—telling the world that you are here, and this is what you do.
What you can do
What we have to remember is that people on Twitter are looking for content consumption, recommendations, and offering their opinions on anything and everything. You can participate in these conversations to either offer your brand as a solution, or observe these conversations to understand what your prospects expect. Twitter exposes trends. Even with the character limitaions, there's so much info a sales rep can provide when they come across a lead, like an elevator pitch,a phone number, email address, website, or a link. This is where delivery matters. Just as you can find your audience on Twitter, so can your competition. For example, imagine these two responses to a product inquiry:
A – "I work for [Company] and would like to talk to you about [Product]. Please email fakeid@salesrep.com"
B – "Hey, I would like to offer some insight: [explanation]. I work for [Company] and would love to clarify more. Let me know if I can be of assistance. Email – fakeid@salesrep.com"
Considering these two, which rep would you reach out to?
Caution
There is also another side to Twitter, filled with hashtag games and GIF wars. Professionally, you don't really have to venture there unless you can fit a sales pitch casually into the conversation. Twitter is also filled with a lot of bots. Try to not engage with them.
LinkedIn: Digital word-of-mouth
Best for B2B
LinkedIn is a great platform to connect with people who you either know professionally or would like to get to know. It also lets you keep track of your professional friends-of-friends, which you can use as an opportunity to make an introduction.
Your connections and their connections can see all activity on your account⁠—including every like and profile edit. That said, LinkedIn is NOT the place to be your vibrant self, but you can still use the exposure to your advantage. Conversations held on LinkedIn usually consist of brand referrals, job updates, industry updates, info on courses, and even recruitment. LinkedIn is not meant for casual conversation; you won't find anyone posting about the weather or current political affairs unless it directly relates to their jobs. This makes LinkedIn on of the best places for B2B conversions.
What you can do
Firstly, make sure your LinkedIn profile is always up-to-date with regards to your job role. You can also post company and industry updates. You don't have to post frequently, but just enough to keep it active (around once a week). Even if you can't reach out to prospects, every time your connections like or comment on your posts, your updates will be seen on their connections' updates. That might catch the eye of a prospect, and they could end up commenting on your posts as well.
LinkedIn lets you follow hashtags, so pick the hashtags that relate to your job as well as hashtags that are relevant to your account conversations. Just like Twitter, there are a lot of product recommendations and requests for product solutions that happen on LinkedIn. Find those posts and jump in on the conversation to recommend your product or service.
Instagram: Feel good inc.
Best for B2C
Let's be honest. Instagram is where people go to show off. We show off our possessions, what we're doing, or just about anything, really. Wouldn't it be great if your product or service were being shown off, too? On Instagram, you have to make everything seem wanted or in demand. This is done by adding emotion to the object, taking advantage of social media trends, and more than anything, making your posts feel personal. Then, all that's left to do is remind people that your link to purchase or your product website is on your profile.
There are two ways to do this: the subtle way and the hard sell.
Hard sales are for brands who use their entire page to talk about their product or service, its features, and their happy customers. They can go the extra mile by talking about general advice that could benefit or pull in an audience. For example, if a brand sells chocolate, not only should they post about the different flavors they offer, they should also post about what their happy customers have to say, and even talk about the benefits of eating chocolate, like how it lifts your mood, or how dark chocolate is a good source of antioxidants.
When people post about how they're treating themselves at a spa, they will post a pic of themselves looking relaxed, and in the background, you see the name of the establishment. Someone looking at the pic thinks, "I've heard of that place, and I always wanted to check it out," or "Hmm, I could use a spa day, maybe I should go here." If you run a clothing store, all people have to do is tag the brand, and if users like the merchandise, they'll reach out to your brand. These are examples of subtle selling.
What you can do
You can sell subtly. You can ask your customers to make posts about your product and tag your brand. If you have a good relationship with your customers, you can ask them to tag you, too. If its a very commercial product, you can also ask your friends and family to post about it, like a pic of them wearing a t-shirt from the store you work at. If their audience is interested in the merchandise, tell them to ask you about it. In fact, you can even make posts about working at your company showing that you are having a good time. Customers trust companies that employees enjoy working at. You can also add the link to purchase with a referral code to your profile so that your company knows these orders are coming in because of you.
Facebook: Be a voice of reason
Engage in groups only
Facebook has started to become a little outdated, with some companies beginning to boycott the platform. Many users aren't really that active anymore, but many Facebook groups are. With the size of its user base, there are likely several relevant Facebook groups that you can use to talk about your product. For example, if there's a group about quarantine safety, you could talk about the protective masks your company sells. Facebook might not be for everyone, but its still a popular platform nonetheless, especially if you can find an audience.
Reddit: Proceed with caution
If you're a Reddit user, you'd already know that product plugs are not appreciated in the community. Most ads and posts that have plugs get downvoted. The exception to this rule is if you talk about what you sell in the right situation or if a demo of your product is featured on the right subreddit like r/DidntKnowIWantedThat.
YouTube/Twitch: Pro level
These platforms may be a little harder to infiltrate as an individual rep. If you make videos, you could throw in references to your product and bring in new leads to your brand. No pressure though.
---
Social media works in real time, and so should you. But that doesn't mean you have to stay online 24/7. You can follow these simple tricks to maximize your social media presence and ensure no prospect is left unattended.
What your company can do:
Hopefully, your CRM or sales software has social media integrations available, and you can ask your admin or manager to connect your brand's social media accounts to the software so you can monitor prospects. You can also ask them to set up an auto lead capture when someone shows interest in your brand. You can then follow up with these leads personally.
What you can do:
Get in the habit of saving the social media accounts of leads in your CRM or in your personal notes. You can then follow them and maintain a relationship with your customers over time. With this, you can create a different follow-up process for these prospects and nurture them if you see them leaning towards another product or having difficulties with your own products.
---
Should you get a separate social media account for professional use?
It depends! Although, it may be safer if you do. You'll never know when you might post something from your personal life that could rub your business audience the wrong way, or if a customer comes across something much earlier in your timeline that may be embarrassing. If you don't have these concerns, then go ahead and use your own account. Your personal account will be more real, developing trust.
---
How to associate yourself with your brand and build an "expert" rep for yourself:
Tag – Your company or brand posts, such as photos on Instagram or articles on Medium.
Answer – Questions people post on Quora and the forums where you can talk about your company or product solutions.
Share – Company updates so people start reaching out to you if they need assistance.
---
Trolls blocking your pathway to sales? Don't give in!
Social media can be like a fairytale forest, where you'll never know what to expect. And just like in a story, if you engage with a troll, things can go bad. As a baseline, don't engage with malicious comments unless you feel you absolutely have to, and block or report any comments your customer base may find offensive.
---
Here's an email template you can send your manager or admin asking them to emphasize social media interactions within your company.
Subject: It's time we took advantage of our opportunities online.
Dear xxx,
As you know, social media is a great channel to capture new leads and build relationships with our customers. I've done some research, and it seems like we could really benefit from this. I was hoping we could start making our social media presence more prominent. I've heard that the best way to do so this is by adding our social media brands to our CRM so that we can do online monitoring to know what is being said about us, catch negative feedback, and find new prospects.
I really think this could up our game and boost our sales numbers. I've done some research, so I would be happy to lend a hand with setting this up.
Let me know what you think.
Regards,
xxx
---
I hope this guide has been able to help you with any lingering social media questions you've had. If you do have more questions, suggestions, or feedback, please leave a comment so we can improve in the future.
Happy selling!
Leave a Reply
Your email address will not be published. Required fields are marked