6
 

FREE

GET STARTEDAccess Zoho CRM

STARTER

TRY NOWAccess Zoho CRM

STANDARD

TRY NOWAccess Zoho CRM

PROFESSIONAL

TRY NOWAccess Zoho CRM

ENTERPRISE

TRY NOWAccess Zoho CRM
PRICING

 

Billed Annually
Free for 3 users

/user/month

/user/month

/user/month

/user/month
Billed Monthly
Free for 3 users

/user

/user

/user

/user
SALES FORCE AUTOMATION
Leads
Yes
Yes
Yes
Yes
Yes
Contacts
Yes
Yes
Yes
Yes
Yes
Accounts
Yes
Yes
Yes
Yes
Yes
Deals
Yes
Yes
Yes
Yes
Yes
Tasks, events, call log, and notes
Yes
Yes
Yes
Yes
Yes
CRM views
Yes
Yes
Yes
Yes
Yes
Sales forecasting
-
Yes
Yes
Yes
Yes
BCC dropbox for email
-
Yes
Yes
Yes
Yes
Email insights
-
-
Yes
Yes
Yes
Macros
-
-
-
Yes
Yes
Multiple currencies
-
-
-
-
Yes
Contextual custom related lists
-
-
-
-
Yes
SalesSignals
-
-
-
Yes
Yes
Advanced filters
Yes
Yes
Yes
Yes
Yes
Scoring rules
-
-
10 fields/module
20 fields/module
30 fields/module
Reminders
-
Yes
Yes
Yes
Yes
Email parser
-
-
-
-
Yes
Email Association with Deals
-
-
-
Yes
Yes
PRODUCT CUSTOMIZATION
Page customization
Yes
Yes
Yes
Yes
Yes
Rename tabs
Yes
Yes
Yes
Yes
Yes
Custom fields
-
5 fields/module
10 fields/module
155 fields/module (Note: Activities module has only 140 fields)
300 fields/module (Note: Activities module has only 230 fields)
Picklist history tracking
-
-
-
-
Yes
Custom links
-
-
-
10/module
10/module
Web tabs
-
-
-
-
25
Custom modules
-
-
-
-
100 modules
(2 modules/user license)
Custom buttons
-
-
-
-
50 buttons
Sandbox
-
-
-
-
Yes
Page layouts
-
-
-
-
3/module
Canvas view
-
-
-
-
3 views/module/org. with every user license
Layout Rules
-
-
-
-
10/layout
Validation Rules
-
-
-
5 rules/layout
10 rules/layout
Subforms
-
-
-
-
2/module
Translations
-
-
-
-
Yes
Reporting Hierarchy
-
-
-
-
Yes
Multi-select Lookup
-
-
-
-
2/module
Unique fields
-
-
2 fields/module
2 fields/module
2 fields/module
Custom list views
5/module
50/module
50/module
Unlimited
Unlimited
Tab groups
-
-
10 groups
10 groups
25 groups
WORKFLOW MANAGEMENT
Workflow rules
1 rule/module
2 rules/module
2 conditions/rule
6 rules/module
5 conditions/rule
20 rules/module
5 conditions/rule
50 rules/module
10 conditions/rule
Email Notification
5 emails/rule
50 emails/ User License
150 emails/ Day
5 emails/rule
50 emails/ User License
5000 emails/ Day
5 emails/rule
100 emails/ User License
5000 emails/ Day
5 emails/rule
200 emails/ User License
10000 emails/ Day
5 emails/rule
500 emails/ User License
25000 emails/ Day
Task Action
5/action
5/action
5/action
5/action
5/action
Field update Action
-
-
-
3 updates/action
3 updates/action
Webhook Action
-
-
-
1/action
10000 calls/day or 100 calls/user license/day
Limit applicable for the org. (whichever is lower)
1/action
25000 calls/day or 500 calls/user license/day
Limit applicable for the org. (whichever is lower)
Convert Action
-
-
Yes
Yes
Yes
Functions
-
-
-
-
1 Instant Action and 5 Scheduled Actions per Rule
Scheduled Actions
-
-
-
-
5/workflow rule
Approval process
-
-
-
-
Yes
Assignment rules
-
-
-
20 rules & 20 rule entries
20 rules & 50 rule entries
Schedules
-
-
-
-
Yes
Case escalation rules
-
-
-
-
Yes
PROCESS MANAGEMENT
No. of Blueprints allowed per organization (inclusive of default Blueprints) Active Blueprints
-
-
-
3
20
Common Transition per Blueprint
-
-
-
2
10
Transition per Blueprint
-
-
-
10
50
Field count during Transition
-
-
-
4
10
ARTIFICIAL INTELLIGENCE (ZIA)
Lead Conversion Prediction
-
-
-
-
Yes
Deal Closure Prediction
-
-
-
-
Yes
Data Enrichment
-
-
-
-
Yes
Supported in English only. Zia Voice
-
-
-
-
Yes
Zia Reminder
-
-
-
-
Yes
Best time to contact
-
-
-
-
Yes
Macro suggestion
-
-
-
-
Yes
Zia Intelligence for Automation
-
-
-
-
Yes
REPORTS
Standard reports
Yes
Yes
Yes
Yes
Yes
Custom reports
-
25
100
Unlimited
Unlimited
Schedule reports
-
5 Schedulers/user Maximum 100 schedulers/day.
20 Schedulers/user Maximum 100 schedulers/day.
20 Schedulers/user Maximum 100 schedulers/day.
20 Schedulers/user Maximum 100 schedulers/day.
ANALYTICS
Charts
Yes
Yes
Yes
Yes
Yes
KPI
-
Yes
Yes
Yes
Yes
Funnels
-
-
-
-
Yes
Target Meter
-
-
-
-
Yes
Comparator
-
-
-
-
Yes
Anomaly Detectors (Powered by Zia)
-
-
-
-
10 trends
Standard dashboards
-
Yes
Yes
Yes
Yes
Custom dashboards
-
3 Dashboards
10 Dashboards
Unlimited
Unlimited
SOCIAL
Enrich data with Twitter profile
-
Yes
Yes
Yes
Yes
Enrich data with Facebook profile
-
Yes
Yes
Yes
Yes
Social tab
-
1 Brand
1 Brand
1 Brand
2 Brands
Automated Lead Generation from social media
-
Yes
Yes
Yes
Yes
Social interaction with leads/contacts
-
Yes
Yes
Yes
Yes
An exclusive edition of Zoho Social comes bundled with Zoho CRM. Learn more Social Lite
-
Yes
Yes
Yes
Yes
MARKETING AUTOMATION
Email templates
10
25
100
Unlimited
Unlimited
Email opt-out
Yes
Yes
Yes
Yes
Yes
A functionality of the Zoho SalesIQ integration. Website visitor tracking
Yes
Yes
Yes
Yes
Yes
Mass email
-
250 emails/day
250 emails/day
500 emails/day
1000 emails/day
Email relay
-
-
-
10 relay servers
20 relay servers
Marketing campaigns
-
Yes
Yes
Yes
Yes
Auto-responders
-
-
-
-
3 autoresponders
Zoho CRM for Google Ads
-
-
-
Yes
Yes
WEB FORMS
Web-to-lead form
1 form/module
2 form/module
5 form/module
10 form/module
20 form/module
Web-to-contact form
1 form/module
2 form/module
5 form/module
10 form/module
20 form/module
Web-to-case form
-
-
-
Yes
Yes
Notify owner
-
Yes
Yes
Yes
Yes
TEAM COLLABORATION
Gamescope
-
-
-
Yes
Yes
Calendar
Yes
Yes
Yes
Yes
Yes
Calendar sync through CalDAV
-
Yes
Yes
Yes
Yes
Calendar Booking
-
Yes
Yes
Yes
Yes
Status updates
Yes
Yes
Yes
Yes
Yes
Direct messages
Yes
Yes
Yes
Yes
Yes
Attach files to feeds
Yes
Yes
Yes
Yes
Yes
Follow-up rules
Yes
Yes
Yes
Yes
Yes
Groups for team collaboration
-
Yes
Yes
Yes
Yes
Tagging
-
-
5 tags/record
20 tags/module
10 tags/record
60 tags/module
10 tags/record
100 tags/module
INVENTORY MANAGEMENT
Products
-
-
-
Yes
Yes
Price books
-
-
-
Yes
Yes
Sales quotes
-
-
-
Yes
Yes
Sales orders
-
-
-
Yes
Yes
Invoices
-
-
-
Yes
Yes
Vendors
-
-
-
Yes
Yes
Purchase orders
-
-
-
Yes
Yes
CUSTOMER SUPPORT
Cases
-
-
-
Yes
Yes
Solutions
-
-
-
Yes
Yes
Web-to-case form
-
-
-
10 forms/module
20 forms/module
Business hours
Yes
Yes
Yes
Yes
Yes
DOCUMENT LIBRARY
Folder sharing
Yes
Yes
Yes
Yes
Yes
Attach documents
Yes
Yes
Yes
Yes
Yes
File versioning
Yes
Yes
Yes
Yes
Yes
Reviews
Yes
Yes
Yes
Yes
Yes
USER PORTAL
First portal user type creation is free with 10k portal invites. Additional portals could be purchased within the product. Portals
-
-
-
-
Yes
FILE STORAGE
Free storage/org
1 GB
1 GB
1 GB
1 GB
1 GB
Free storage/user license
-
512 MB
512 MB
512 MB
1 GB
Additional file storage
-

/month/5GB

/month/5GB

/month/5GB

/month/5GB
DATA ADMINISTRATION
Data storage (all modules)
5,000 records (10 MB approx)
10,000 records (20 MB approx)
100,000 records (200 MB approx)
2.5 Million records (5GB)
5 Million records (10GB)
Storage/user license
-
-
-
10 MB
20 MB
Additional max purchase limit
-
-
-
5 GB
10 GB
Price mentioned is per month. Purchase available offline. Additional data storage
-
-
-

/100 MB

/100 MB
Import data (per batch)
1000
10,000
10,000
20,000
30,000
Export module data
Yes
Yes
Yes
Yes
Yes
Free Data backup
-
1 backups/month
2 backups/month
2 backups/month
2 backups/month
Additional Data backup

/request

/request

/request

/request

/request
De-duplicate data
-
-
-
Yes
Yes
Import history
Past 60 days
Past 60 days
Past 60 days
Past 60 days
Past 60 days
SECURITY ADMINISTRATION
Profiles
2
3
5
15
25
Organizational hierarchy (Roles)
2
3
5
10
250
Field-level security
-
-
-
Yes
Yes
Data sharing rules
-
-
-
-
15 rules/module
Groups
-
-
20
30
50
Record-level sharing
-
-
-
-
Yes
Data Encryption (EAR)
-
-
-
-
Yes
Territory management
-
-
-
-
150 territories
Audit Logs
-
Yes
Yes
Yes
Yes
Allowed IPs
-
Yes
Yes
Yes
Yes
ADD-ONS & INTEGRATIONS **
CRM Marketplace (Extensions for Zoho CRM)
-
-
Yes
Yes
Yes
Zoho PhoneBridge for Call Centers
-
Yes
Yes
Yes
Yes
Integration with Zoho Campaigns
Yes
Yes
Yes
Yes
Yes
Integration with Zoho Analytics
Yes
Yes
Yes
Yes
Yes
Integration with Zoho Projects
Yes
Yes
Yes
Yes
Yes
Integration with Zoho SalesIQ
Yes
Yes
Yes
Yes
Yes
Integration with Zoho Desk
Yes
Yes
Yes
Yes
Yes
Integration with Zoho Cliq
-
Yes
Yes
Yes
Yes
Survey campaigns can only be created in Enterprise edition and above. Integration with Zoho Survey
Yes
Yes
Yes
Yes
Yes
Integration with Zoho Social
-
Yes
Yes
Yes
Yes
Integration with Zoho Forms
-
Yes
Yes
Yes
Yes
Zoho Mail Add-on
-
-
-
Yes
Yes
Zoho Writer Add-on
-
-
-
Yes
Yes
Includes Zoho Books, Zoho Invoice, Zoho Expense, Zoho Inventory and Zoho Subscriptions. Zoho Finance Suite Integration
-
-
-
Yes
Yes
Zoho Webinar Integration
-
-
-
-
Yes
Zoho Backstage Integration
-
-
-
-
Yes
Plug-in for Microsoft Outlook
-
-
-
Yes
Yes
Plug-in for Microsoft Office
-
-
-
Yes
Yes
Integration with Zoho Creator
-
-
-
-
Yes
Slack Integration
-
Yes
Yes
Yes
Yes
Zoho SalesInbox
-
-
-
-
Yes
INTEGRATION WITH GOOGLE APPS
Zoho CRM contextual gadget for Gmail
Yes
Yes
Yes
Yes
Yes
Export events to Google Calendar
Yes
Yes
Yes
Yes
Yes
Export to Google Tasks
Yes
Yes
Yes
Yes
Yes
Zoho CRM web forms for Google Sites
-
1/module
1/module
10/module
20/module
Synchronize Google Calendar
-
Yes
Yes
Yes
Yes
Synchronize Google Contact
-
Yes
Yes
Yes
Yes
DEVELOPER TOOLS
Mobile SDK
-
-
-
-
Yes
Web Apps SDK
-
-
-
-
Yes
Widgets
-
-
-
-
Yes
Connections
-
-
-
-
Yes
API limits vary based upon user license purchased. Please visit here to know more. API
5000 credits/day/org.
100000 credits/day/org.
100000 credits/day/org.
500000 credits/day/org.
1000000 credits/day/org.
Functions limits vary based upon user license purchased. Please visit here to know more. Functions
-
10,000 credits/day/org.
15,000 credits/day/org.
20,000 credits/day/org.
100,000 credits/day/org.
Functions - Send Mail
-
1000 emails/day.
1000 emails/day.
1000 emails/day.
1000 emails/day.
SUPPORT
Basic
Yes
Yes
Yes
Yes
Yes
Classic
-
Yes
Yes
Yes
Yes
Premium
-
Paid
Paid
Paid
Paid
Enterprise
-
Paid
Paid
Paid
Paid
** Integrations with third-party vendors and products within the Zoho family often require paid licenses from both Zoho CRM and the integrated software.
Try Zoho CRM Plus.
Deliver exceptional customer experiences across all stages of the customer lifecycle and convert customers into brand advocates.
TRY NOW
TRY NOW
/user/month billed annually
Mobile features on every plan.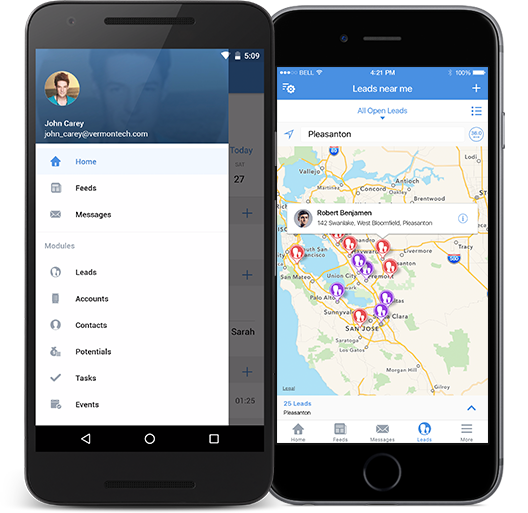 Access customer emails
Locate prospects anywhere across the globe
Manage inventory
Work offline
Log phone calls
Add voice notes
Check in
View customer location in Google Maps
Collaborate using feeds
Attach files from Zoho Docs