Backup and restore apps
To create a new backup:
Click the Setup icon in the top-right corner of your homepage. The Account Setup page will open.

Select Backup Apps under Data Administration.

Click Take a New Backup.

In the New Backup dialog, select the application to backup and its required frequency. The backup takes place based on the set frequency. Click Done.

While the backup is in progress, the Backup/Restore Logs tab will show the status of the backup.

The application will be listed under the Backup list tab, along with the version number and the date of backup when it is complete.
Manage backup schedule
The Backup Schedule List contains the scheduled backups that take place according to its configured frequency. From here, you can create a new backup schedule, set the backup status, edit the frequency of any scheduled backup, and search for backups using search keywords.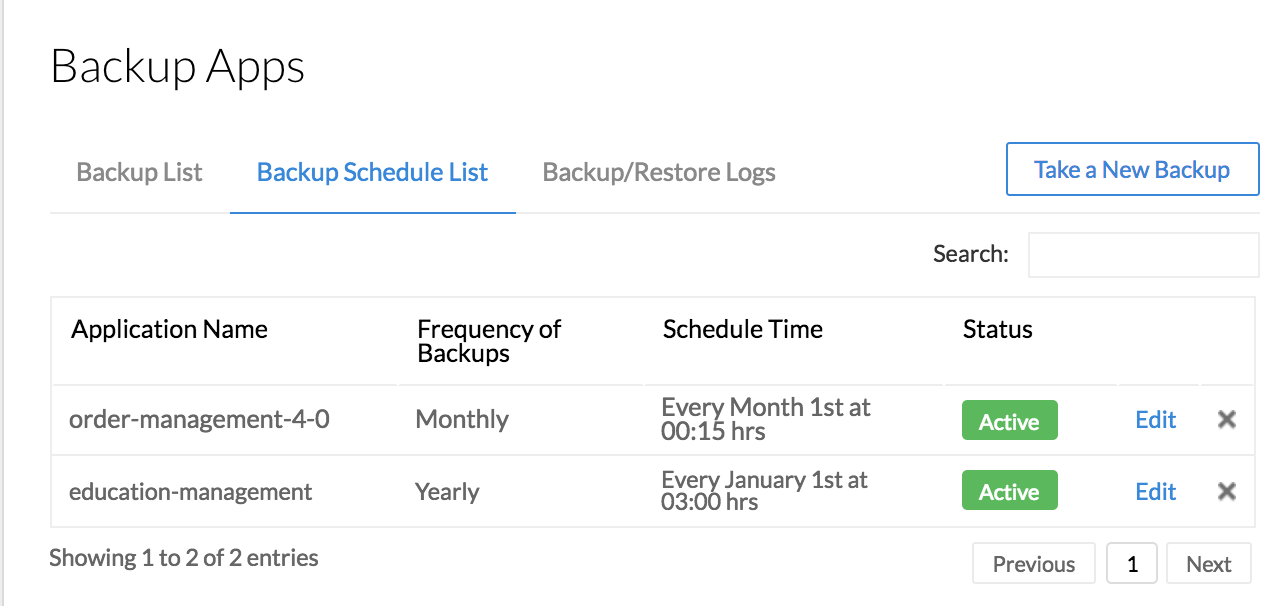 Note:
Zoho Creator supports only one backup schedule per application.
Restore a backed up application
To restore an application:
Click Restore from the Backup List tab for the application that you want to restore.

Check the details in the New Restore dialog and click Restore Now.

The homepage will list the restored application when the restore is complete.
Download the backup file
Click the Download button from the Backup List tab of the Backup screen. The backup file is a .zip file that includes the Deluge script file of the application (.ds file) and a set of .csv files containing the data.