Automate tasks, organize information, and respond faster to customers
Automate ticket assignment
With Creator's low-code powered customer support platform, you can build custom ticketing tools that help you automatically track and assign new tickets to your service representatives. Prioritize based on specific criteria, categorize them based on things like type or region, and assign them to the right people.
Empower your field teams
Nobody likes to handle paperwork. With ready-to-use customer service mobile apps, your field service teams can update information, upload images from the service site, generate invoices, and get customer e-signatures on the go. All from a single powerful and 100% customisable customer service platform.
Gain insights to improve customer service
Collect feedback from customers at retail outlets to help improve customer service. And, with a single dashboard on Zoho Creator, you can track of everything important— customer feedback, average response time, ticket backlogs, customer ratings, agent workloads—and spot bottlenecks quickly.
Provide personalized portals
Combine your service desk application with an online community so that your customers can find answers from past conversations. With Creator's customer service / support platform you can quickly deploy dedicated customer portals, through which your customers can track their support requests, interact with peers, and contribute to the community.
Switching to Zoho Creator is simple
Our low-code customer service platform can help your team in multiple scenarios: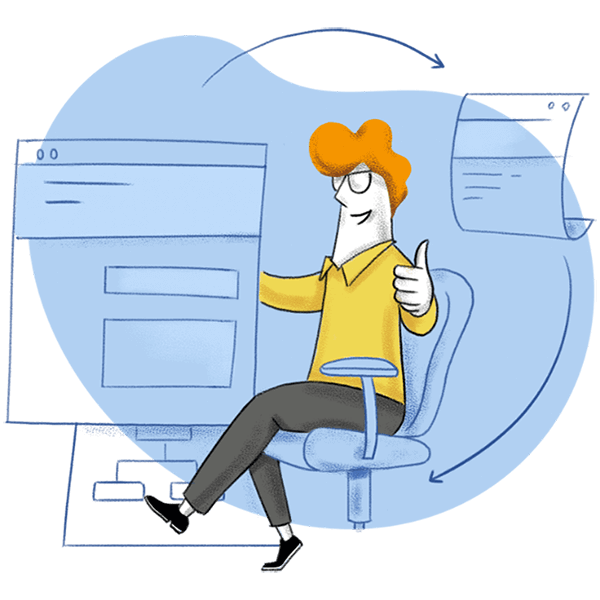 Paper-based systems
If your team is reliant on a paper-based system, you can easily replicate a Creator application to handle the same processes, using our drag-and-drop form builder—and you won't need developer experience to do it.
Spreadsheet systems
If your team works with a lot of spreadsheets—and are finding it difficult to collect and collate data into one unified version—Zoho Creator lets you convert your spreadsheets into apps in a matter of minutes.
Traditional systems
If your team has to wait weeks or months for IT to build a project-based application or a quick form, Creator gives you the power to do it yourself. And don't worry, Creator applications can be built or tweaked with minimal technical knowledge.
Top brands

create on our platform
Get started with customer service app templates built on low-code platform
Frequently Asked Questions
What is a customer service platform?
Customer Service Platform enables your customer-facing and support teams to a efficiently streamline the various processes involved while providing multi-channel support to customers, be it via live chat, phone calls, or emails. With a Customer Service Platform in place, your teams can automatically track and assign new tickets to your representatives, gather feedback. They can also monitor important KPIs, such as average response time, ticket backlogs, customer ratings, and agent workloads.