Web HTML Form Builder Features
Drag-and-drop HTML Form Builder

Zoho Creator's easy to use Web Form Builder helps you to create HTML forms easily and quickly . All you have to do is just drag-and drop required fields into your web form. No Programming skills required!!

Set Email Notifications

Get email notifications when a new record is added to your HTML forms. You can also program your web forms in such a way that you receive notifications when a new record is added, modified or deleted.

Embed HTML form and view into your website/blog

Zoho Creator provides you code snippets that you can embed your HTML forms into your website pages. You can also customize the look of the html form to match your website or blog.

"I have been in the field since computers were running on candles. Discovering Zoho Creator is one of the highlights of my career."

Dr. Hanan Yaniv, Faculty.

Data Reporting and Analysis

Use different kinds of data views - List, Calendar, Summary, Grid and Chart to vizualise the data collected through your HTML forms. Searching, Filtering, Grouping and Sorting helps you to analyze and find the data you are looking for quickly and efficiently..

Form Data Validations

Efficient validations to make sure you receive entries which are correct, complete and not duplicate. You can set the HTML form entry to be mandatory, unique or check the syntax of dates, numbers, email addresses and phone numbers.

File upload/attachments

You can have your users to upload files along with the form entries. This can be very useful when you want to receive image files or documents from your users. For eg: A job application form can provide the ability to upload a CV of the applicants.

Ready-to-use HTML form templates

Zoho Creator offers a list of ready-made HTML form templates like - Contact form, Feedback Form, Registration Form, Customer Form, Survey form...for you to get started quickly.

Customizable HTML form layout

Combine layouts and themes to create visually appealing HTML form. Pick from a range of themes available in the gallery or create customized themes.

Go Mobile - Access HTML forms from your mobile devices

Zoho Creator html forms can be accessed on any mobile devices with any of the following browsers - Internet Explorer, Opera, Safari and other WAP browsers. Zoho Creator's interface has been optimized to work well in iPhone also. You can access your HTML forms using the url - //creator.zoho.com/mobile from your mobile device to stay connected to your data all the time.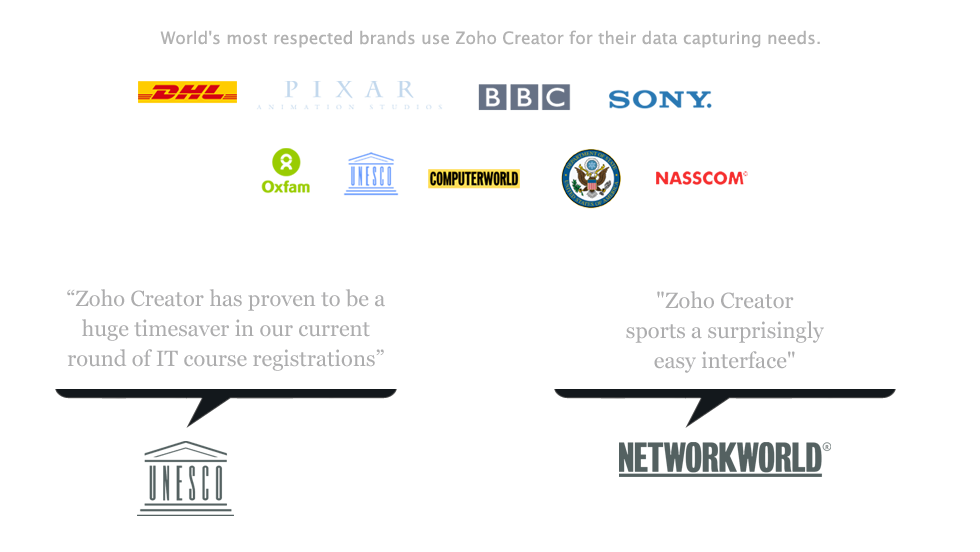 s