Top brands that use our platform
What are business workflows?
A set of activities or processes linked together based on specific conditions that help to attain a business-level goal is known as a business workflow.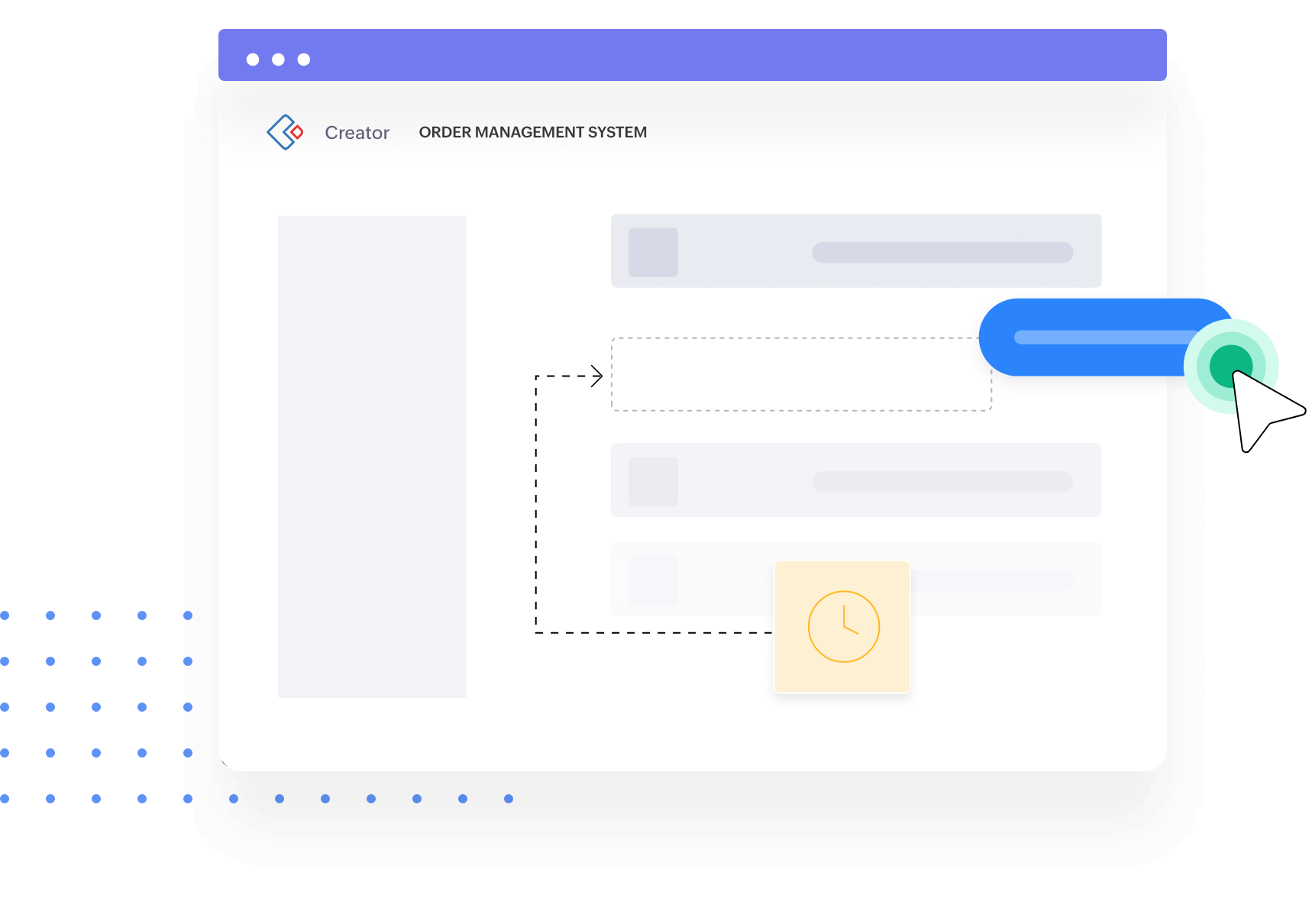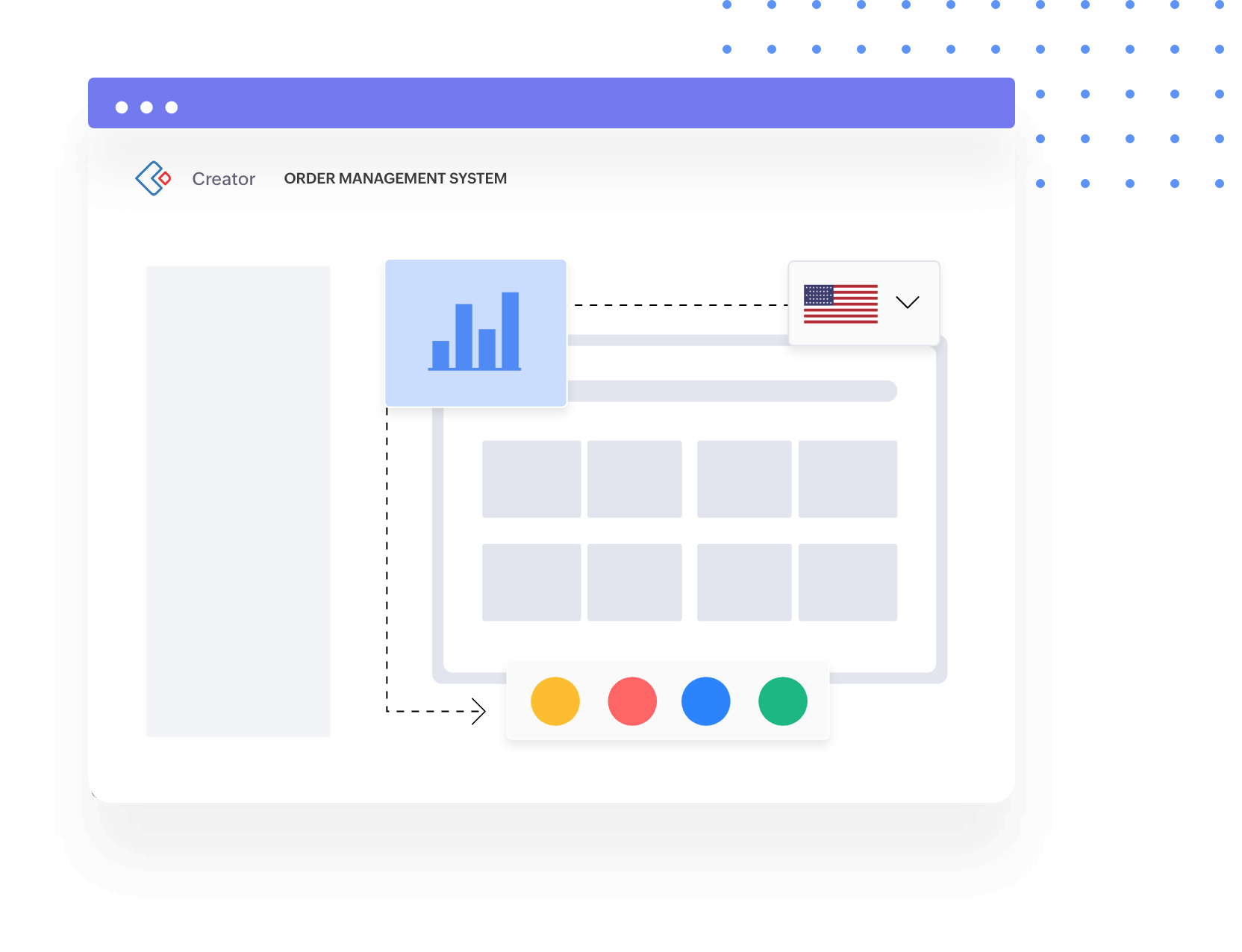 Oversee your business workflows with Zoho Creator
Define tasks, decide who's in charge of what, specify criteria, and automate every aspect of your business processes with Zoho Creator's workflow automation software.
Blueprint - End-to-end control of your business workflows
Blueprints are visual replicas of your business processes and their workflows. The new, intuitive blueprint builder in Zoho Creator makes it simple for you to map out your processes. With blueprints in place, your business workflows become well-oiled machines.
Creating a blueprint involves three key elements:
Stage
The different steps in the process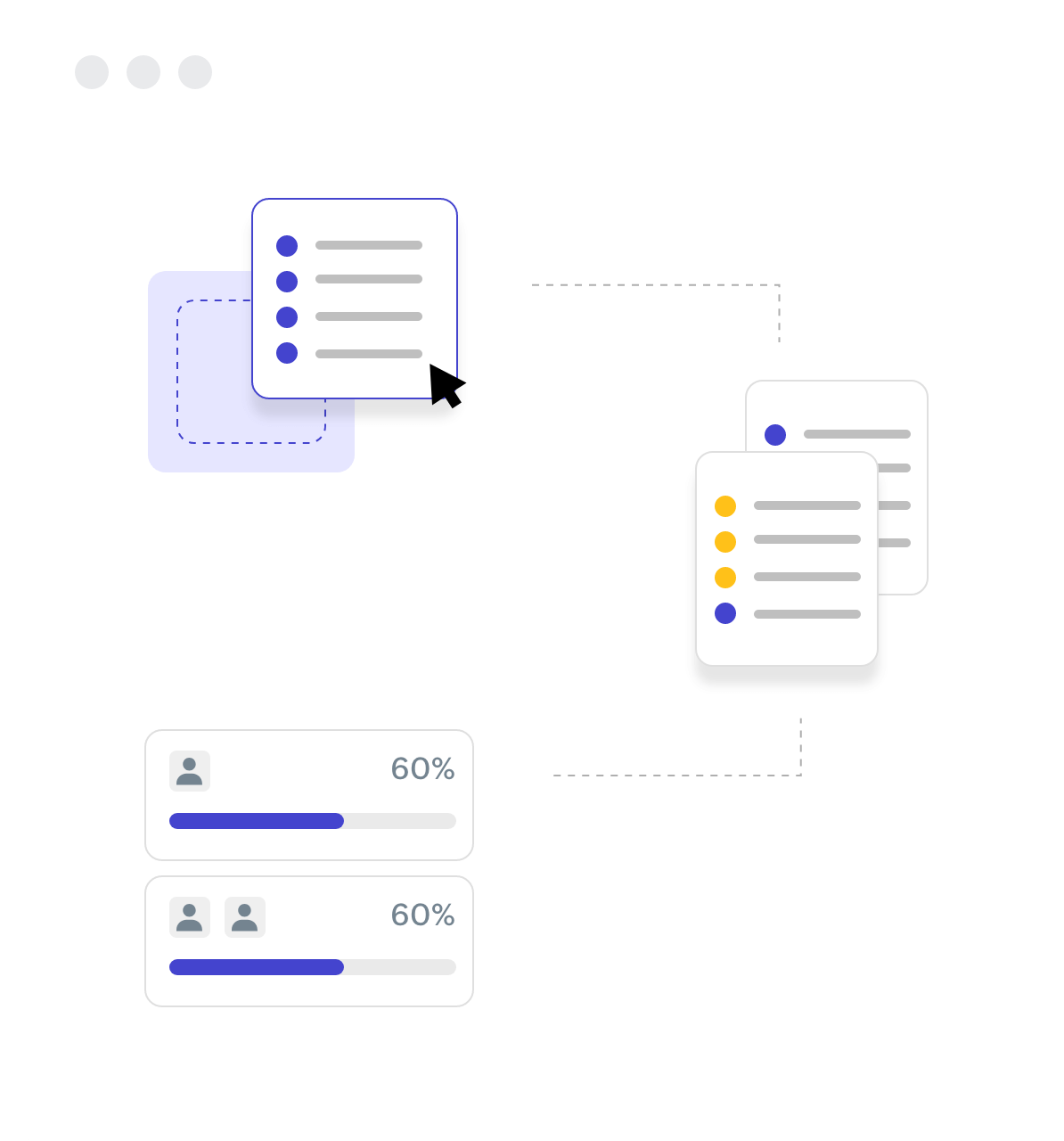 Transition
The action(s) performed in order to move from one stage to another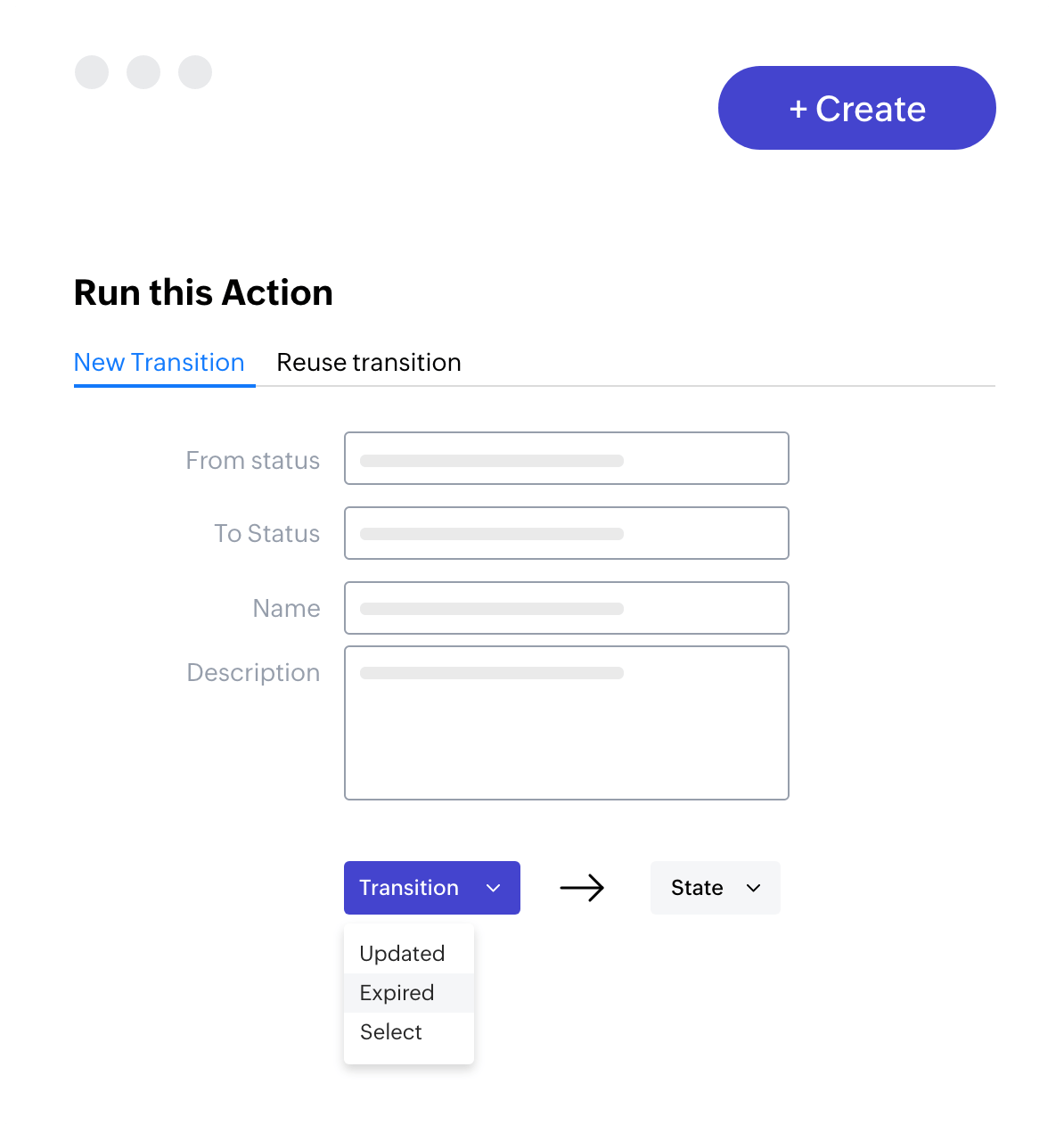 Criteria
The condition(s) that decides when to display a transition button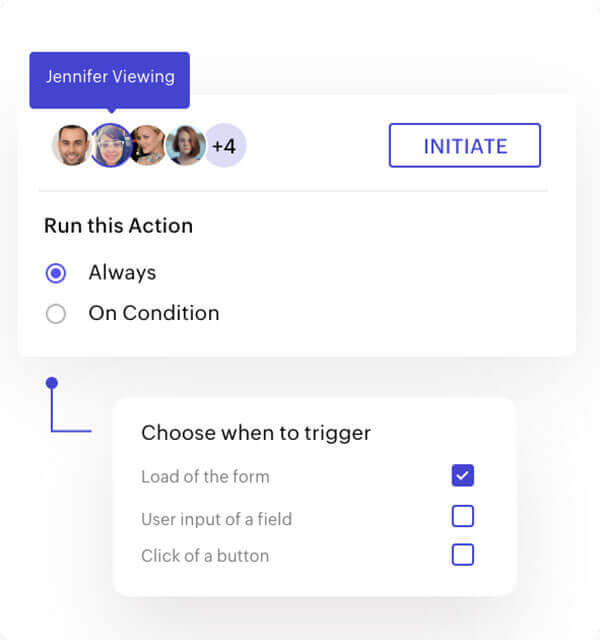 Benefits of Zoho Creator's business workflow software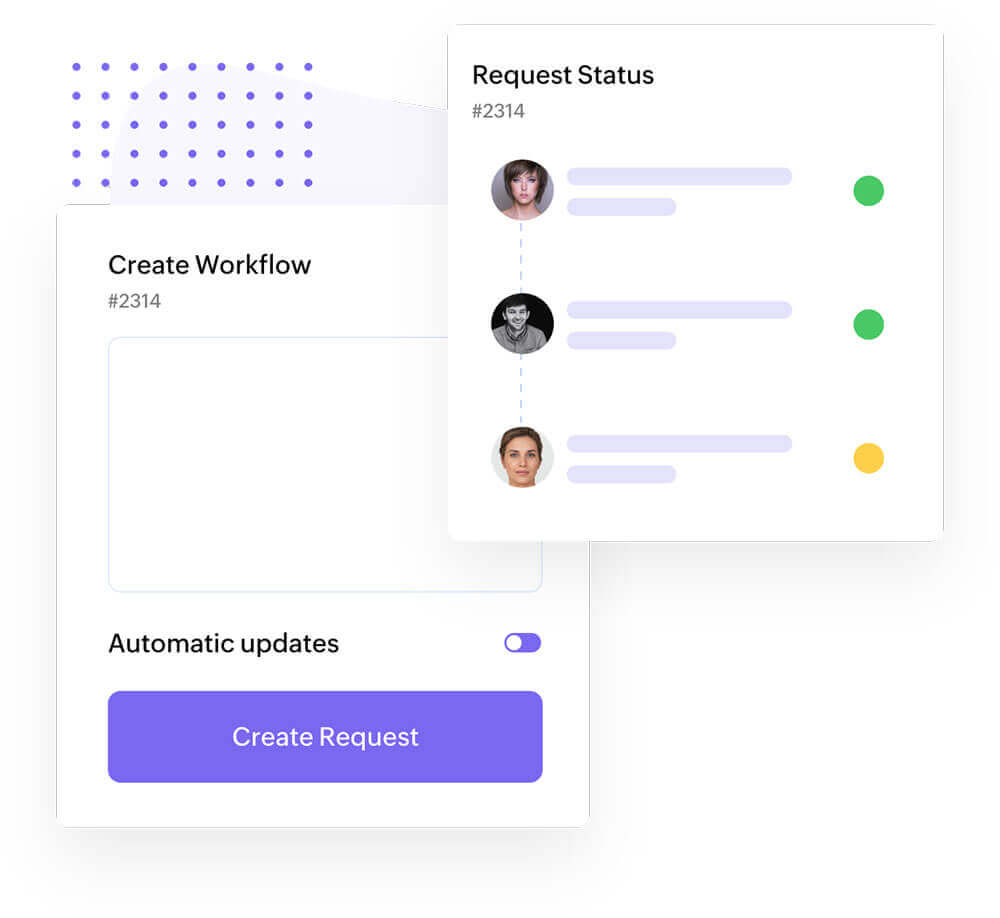 Enhances collaboration

Organizations are often fragmented, with departments working in silos. Cultivate effective collaboration across departments and teams by encouraging them to design workflows collaboratively—and visually—to optimize end-to-end, multilayered business processes and improve business outcomes.

Increases visibility

Creator enables businesses to capture processes and map the flow of work between people and systems visually. It also helps you collect all process information in one centralized blueprint, so you can plan dependencies, controls, regulations, or handovers. At any time, you can bounce the visuals of proposed solutions off potential users and gather feedback before investing in development.

Accelerates outcomes

Better process transparency can help you quickly identify areas for improvement, establish a regular process optimization culture, and accelerate business process automation. It also helps you empower stakeholders in your organization to quickly build new—and improve on old—processes. With business workflows in place, you have the freedom to make changes and update your processes at any time, helping you respond quickly to changing market conditions.

Promotes accountability

Configure multilevel approvals for any process. With visual blueprints, you create a common lingo that's understandable by all levels of management and decision-makers. Set the required conditions, add approvers, and customize approval emails to get approvals on the go. And with access controls and defined user roles, responsibilities are clearer, keeping blame games to a minimum.
Commonly automated business workflows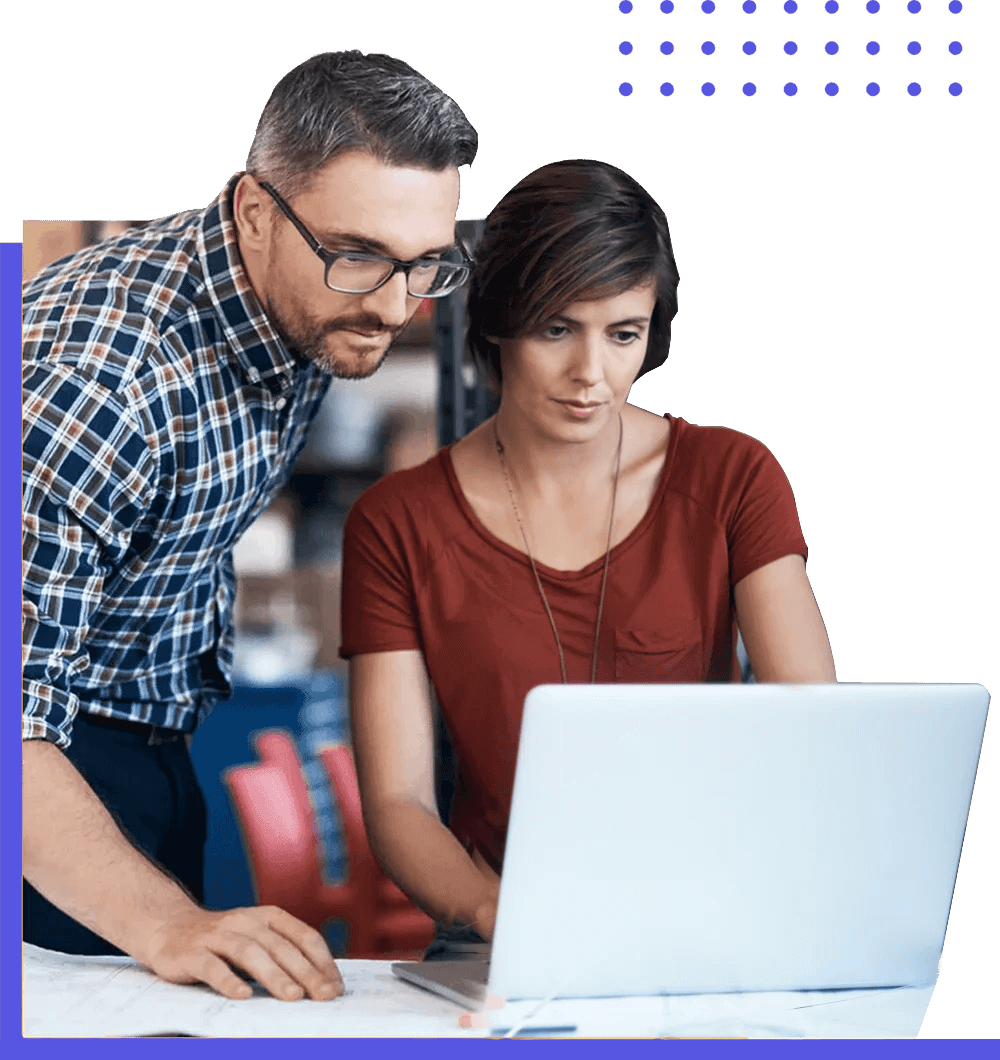 Procurement management
Employee onboarding
Invoice processing
Attendance tracking
Incident reporting
Patient surveys
Coca-Cola
Earlier we were using paper-based forms, where users would submit approvals manually. After implementing Zoho Creator, they just need to fill in the forms and submit it to the approvers directly. This meant a reduction in time spent, as the approvers are now notified promptly.

Floral Impressions
Zoho Creator has provided us with the opportunity to create bespoke workflow processes that would otherwise not be possible with off-the-shelf software.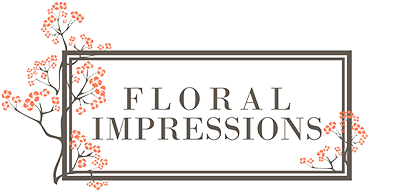 Altivore Global Investments
Sales teams can now create business proposals in seconds and send them to customers to have them accept/deny instantly. That gave our team more time to spend on more valuable projects, rather than spending operational time doing manual tasks.

Jessica Lum,

Coca-Cola Amatil Fiji Ltd

Clinton Fisher,

Manager, Floral Impressions

Rodrigo Ferrer,

Altivore Global Investments
Zoho Creator - More than just business workflow software
You're not limited to workflows—you can manage every aspect of your business processes using Zoho Creator's workflow automation software.
Automate, validate, and collaborate business workflows with ease!
Try for free
Frequently Asked Questions
How do I create a business workflow?
It's pretty similar to how you create any process workflow:
Identify the tasks that needs to be automated.
Figure out the POC for each task and assign roles accordingly.
Sketch a workflow diagram for better understanding.
Train stakeholders on the tool of your choice.
Create and deploy the workflows!
What's the difference between a workflow and a process?
A workflow is the process of identifying and defining a series of activities to achieve a specific result, whereas a process is a set of workflows to attain a large-scale goal. Zoho Creator's workflow automation software automates every aspect of your business, and helps you streamline your organization's operations, from the smallest workflows to the most mission-critical processes.
How to choose the right workflow automation software for your business processes
A well-rounded workflow automation tool should be easy to use, and have excellent AI and BI features, seamless APIs, multi-platform compatibility, and role-based controls.
Is workflow automation similar to BPM software?
No. Business workflow software specifically caters to automating and streamlining the workflows and processes of your business, whereas business process management (BPM) software manages the overall lifecycle of your business, and its people, processes, and data.