What is contract lifecycle management (CLM)?
Contract lifecycle management (CLM) refers to the way a business handles contracts through their various stages. An effective CLM solution streamlines and simplifies the contract management process while minimizing errors.
Try Zoho Contracts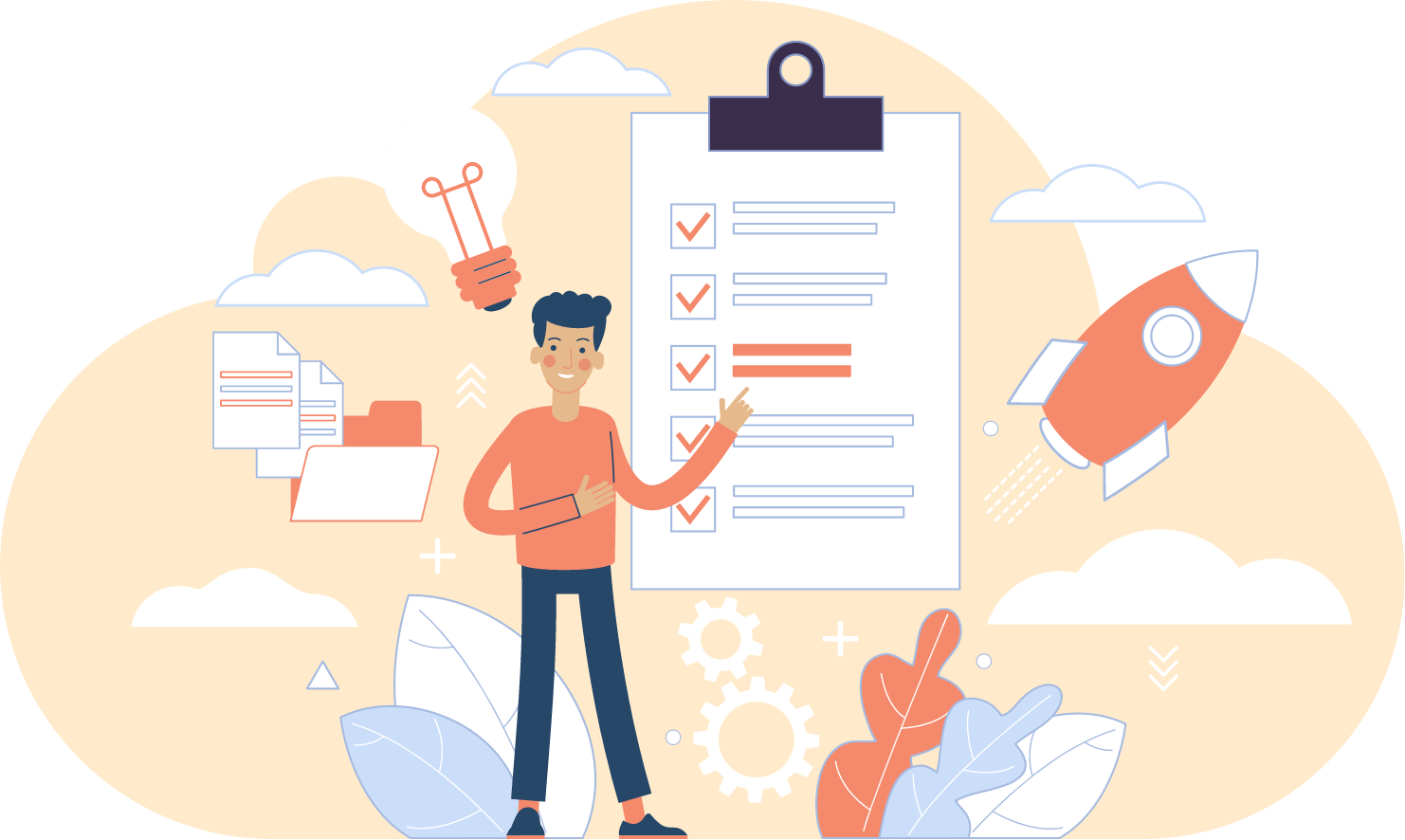 Stages in CLM
Stages in contract lifecycle management (CLM)
A contract undergoes nine stages in a typical lifecycle. These are:
Contract request
When a business agreement is imminent, the parties discuss terms and gather data to draft an acceptable contract.
Authoring
Contract authoring is the actual drafting process. The author puts the terms and clauses of the contract in writing. Contract owners/authors usually collaborate with peers during this stage.
Approval
After drafting the contract, the contract owner sends the document to internal stakeholders for approval. This process ensures stakeholders are aware of potential risks and opportunities early on.
Negotiation
Both parties discuss the terms and clauses in detail to reach a consensus. Contract negotiation can go through several rounds and is often the most challenging part of the contract management process.
Execution
The parties sign the contract document, and the contract comes into effect. In the digital CLM process, secure e-signature software is used for this step.
Obligation and compliance
Every promise made in a contract is an obligation. The contract owner assigns obligations to directly responsible individuals (DRIs) and ensures they are fulfilled. Unfulfilled obligations can lead to legal, financial, and reputational damage.
Amendments
Sometimes, parties mutually agree to make changes/amendments to existing clauses. Contract amendments usually go through the approval, negotiation, and signature cycles.
Renewals/extensions
When the involved parties decide to carry out an existing agreement beyond the chosen end date, they either renew the contract or extend the term period.
Reports
A company's contracts contain critical information that can be used to refine the contract management process. An appropriate analytical model can help derive valuable insights, while providing contract managers an opportunity to impact company strategy.
Why CLM
Why should your business use contract lifecycle management software?
Small businesses and startups might manage to get through the CLM process manually. But as a company scales and deals with more contracts, a digital CLM solution becomes indispensable. With business landscapes becoming highly volatile and increasingly regulatory (not to forget pandemic-driven supply chain disruptions), the emphasis on risk mitigation and compliance is high.
CLM software can help your company improve compliance by empowering admins with more control and visibility over their business contracts. The right software also improves contract turnaround times by streamlining the contract lifecycle, giving contract managers time to focus on high-value tasks rather than spending hours each day on paperwork.
Benefits of CLM
Benefits of contract lifecycle management (CLM) software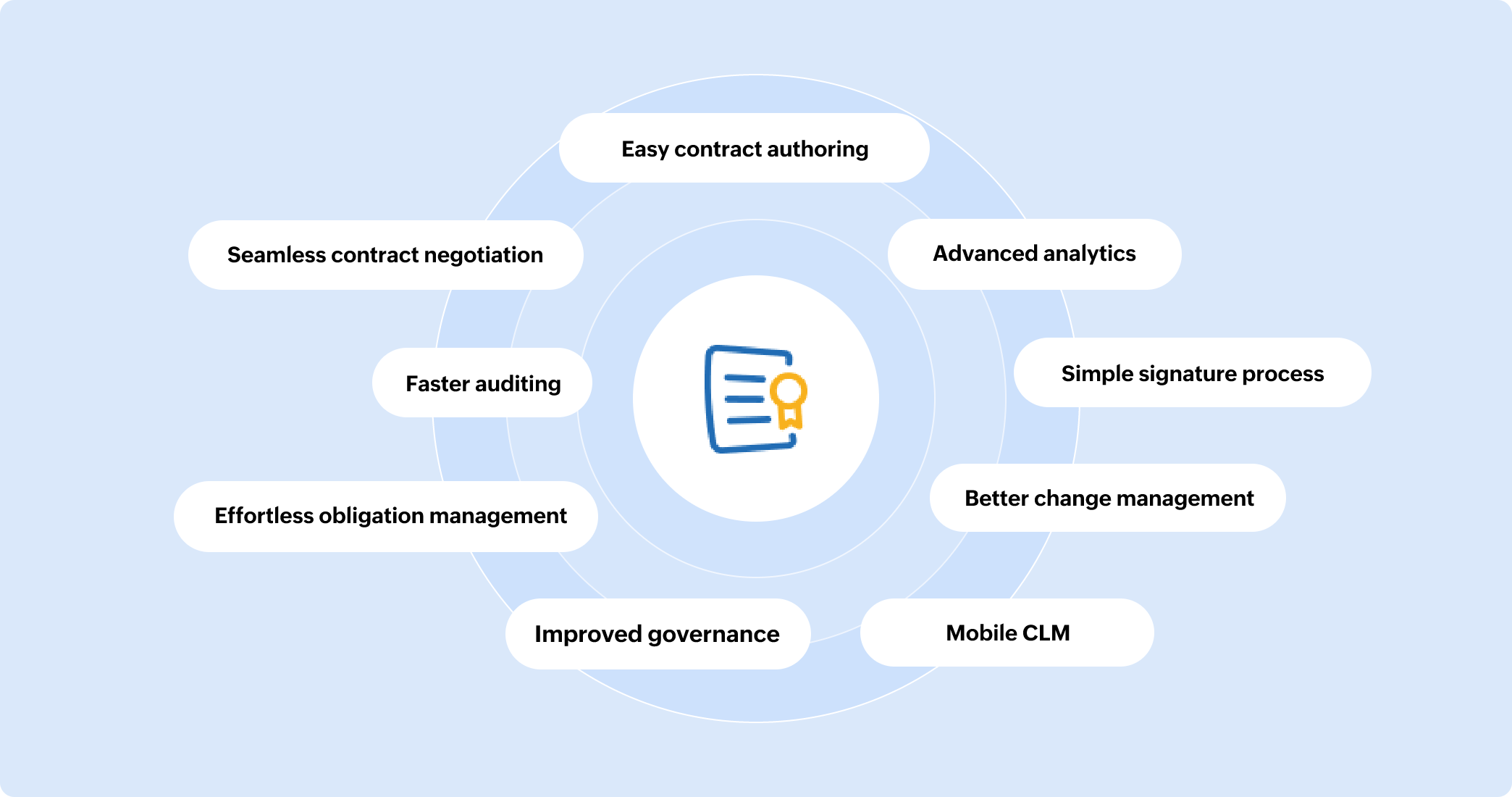 Easy contract authoring
Most CLM software solutions offer both predefined and custom templates. This drastically reduces the time it takes to author a contract. A sophisticated CLM software solution comes packed with a full-blown word processor with real-time collaboration features to improve the quality of the contract language and reduce errors. Advanced document assembly allows clause selection and switching between alternative clause languages under the same clause, eliminating duplication of templates.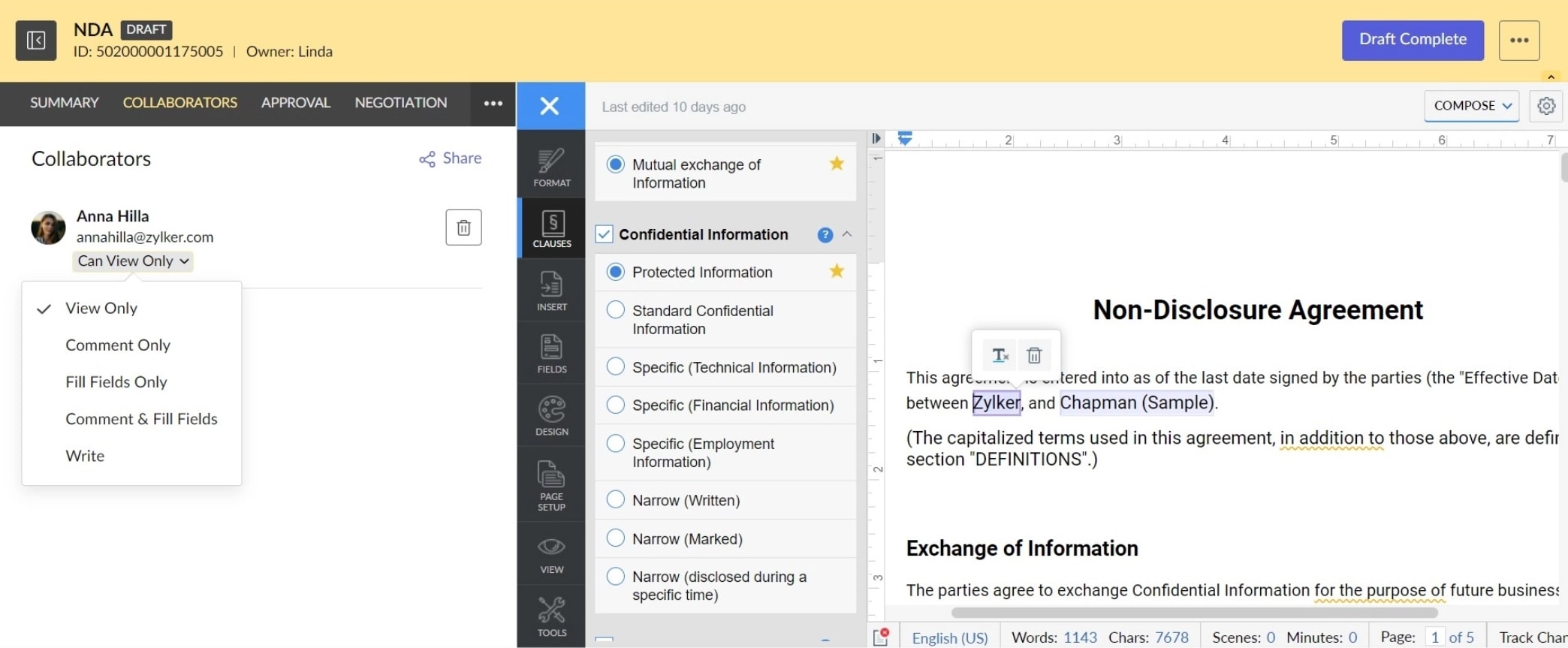 Seamless contract negotiation
CLM software eliminates the need for sending contract documents as email attachments throughout the negotiation process. Contract owners can provide controlled access to contract documents by sharing password-protected links with counterparties. Counterparty contacts can collaborate with their peers, leave comments on the document, suggest changes, and track them. If needed, both parties can quickly access or revert to older document versions.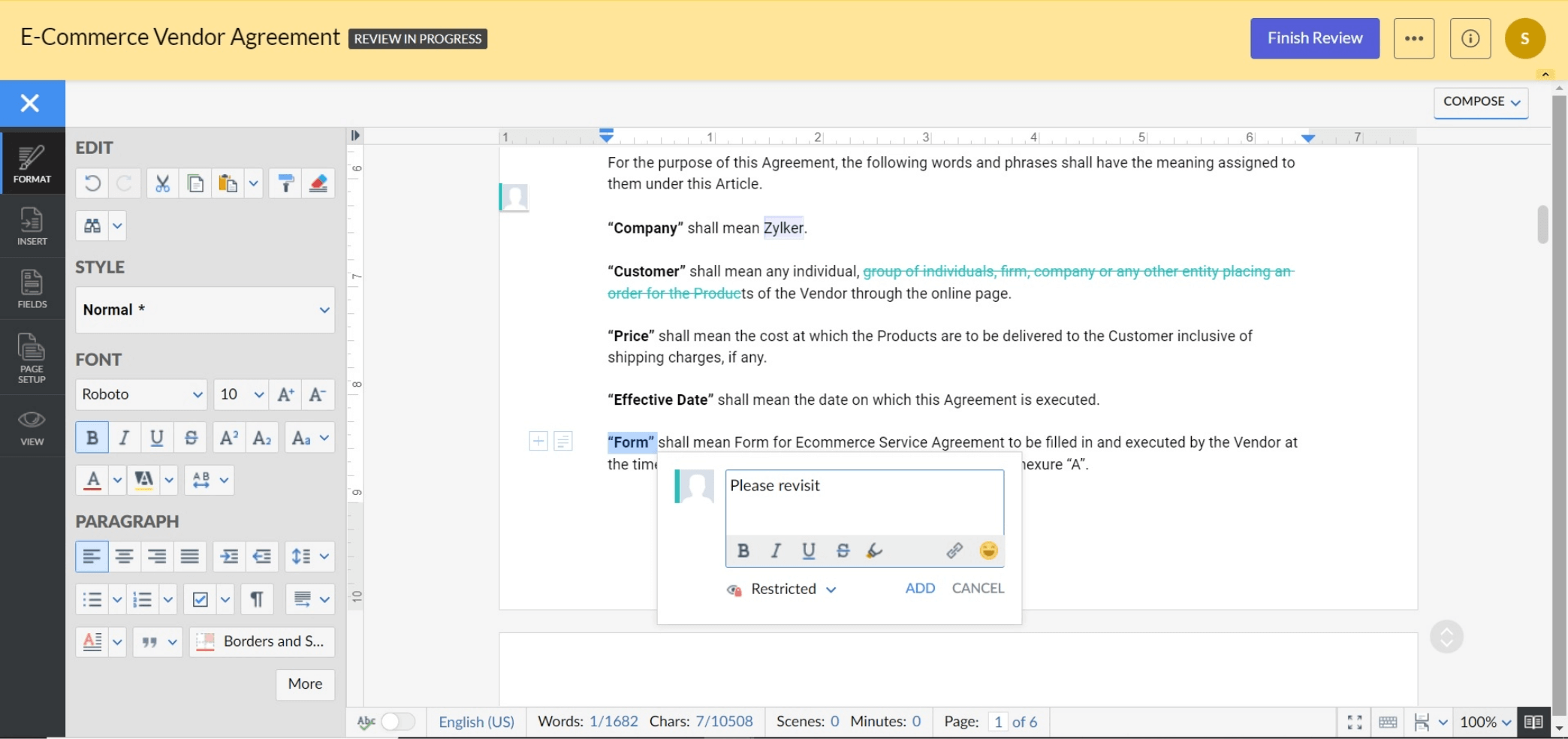 Simple signature process
Physical documents no longer need to be passed between companies for signature. Most CLM software solutions come bundled with secure e-signature software so documents can be signed digitally. Contract owners can set the signing order. High-quality e-signature software solutions offer military-grade encryption and are compliant with e-signature laws, such as ESIGN and eIDAS.
Effortless obligation management
Failing to fulfill contractual obligations can impact your business legally and financially and potentially damage your brand reputation. CLM software enable contract owners to extract, track, and manage contractual obligations at an individual contract level. They can assign task and non-task obligations to business owners and track their progress without leaving the CLM platform. This level of granular obligation management mitigates business risk.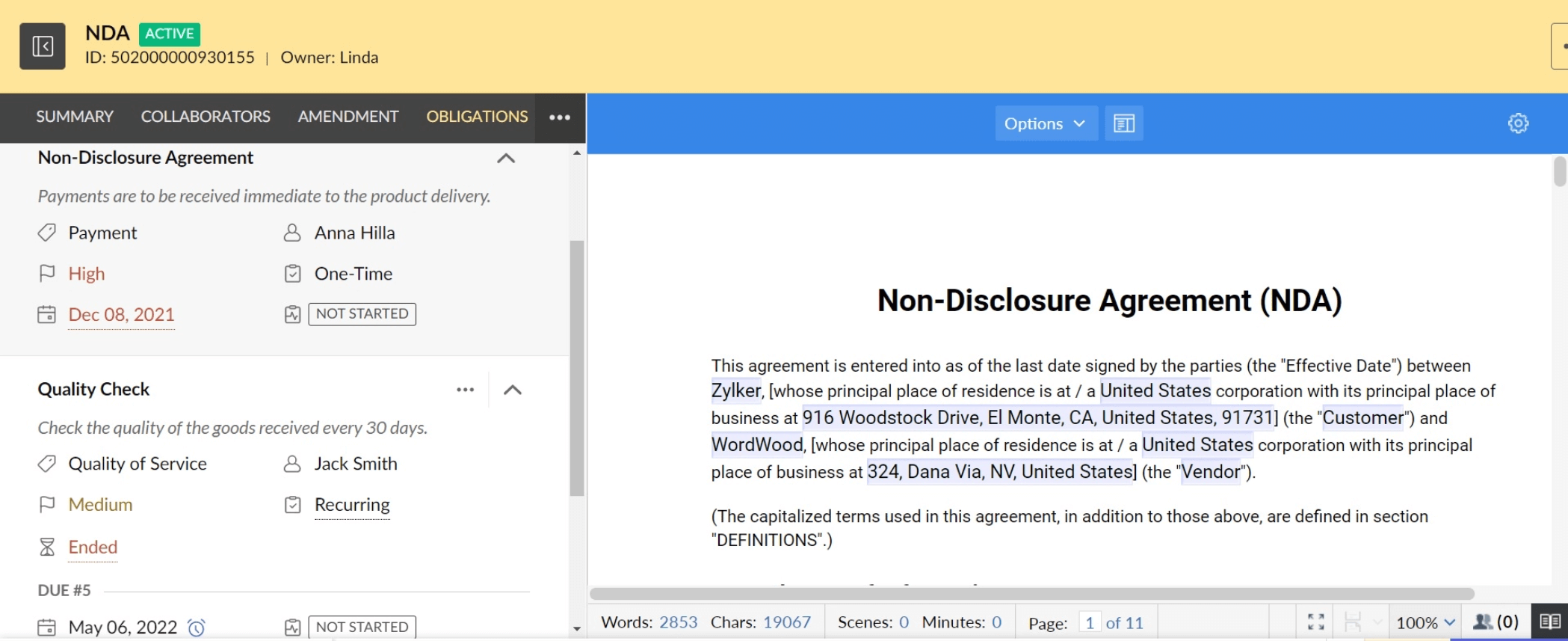 Advanced analytics
Reports transform your contract data into business insights. These insights can help you refine your strategies. Clause-based reports help admins quickly identify and amend clauses to comply with changing government regulations. Similarly, performance-based reports offer insights that help admins understand what is impacting/delaying the contract management process so they can take impactful actions. Sophisticated CLM software comes with a dashboard that presents key performance indicators to help users prioritize tasks.

Faster auditing
Auditing is a time-consuming and sometimes painful process that requires digging through pages of data and tracking all activities within the system. A CLM software solution stores all activities performed by users in a central audit system. Logs provide information about CLM system access, downloads, activities (such as approvals and signatures), and more. These logs give admins better control over the system, fast-tracking the auditing process and improving compliance.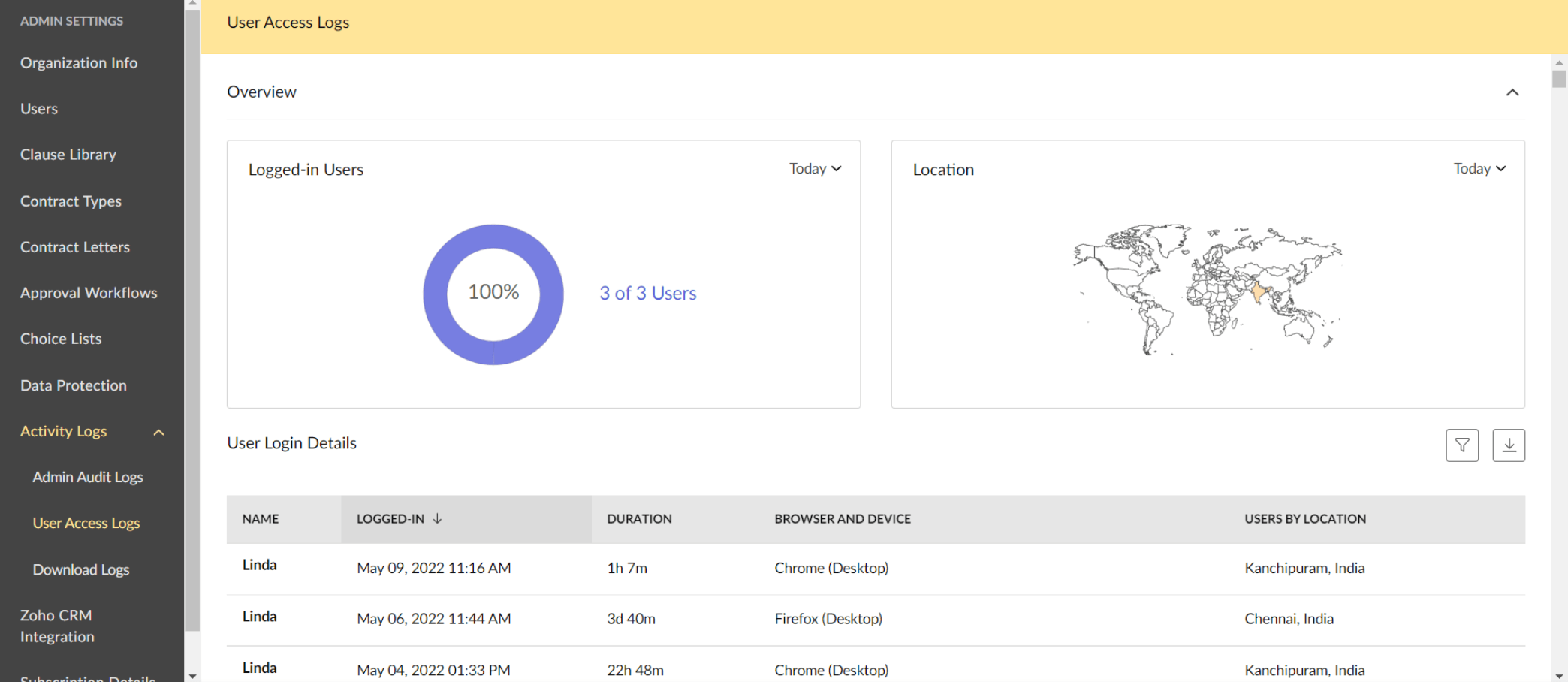 Improved governance
Admins can configure approval workflows to keep stakeholders aware of potential risks. With its advanced search and filter options, the central contract repository in a CLM system enhances visibility. Modern CLM software also have advanced data protection settings to help your business comply with data protection regulations.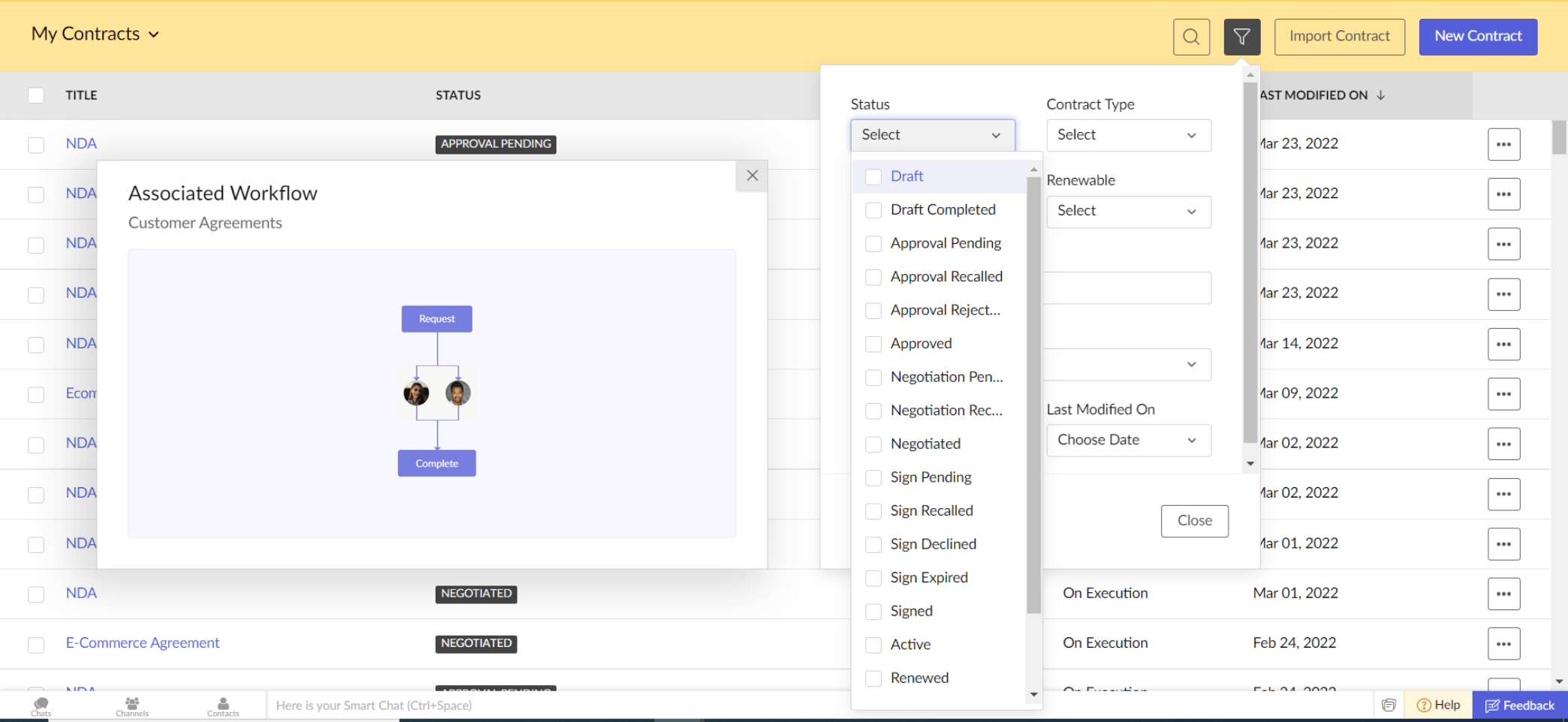 Better change management
The current business landscape is constantly changing. CLM software can help your business stay abreast of changes with intuitive features, such as smart letter templates that are generated automatically in the event of a contract amendment, renewal, extension, or termination. This ensures that all contract stakeholders are aware of any change made to the contract at any point in time.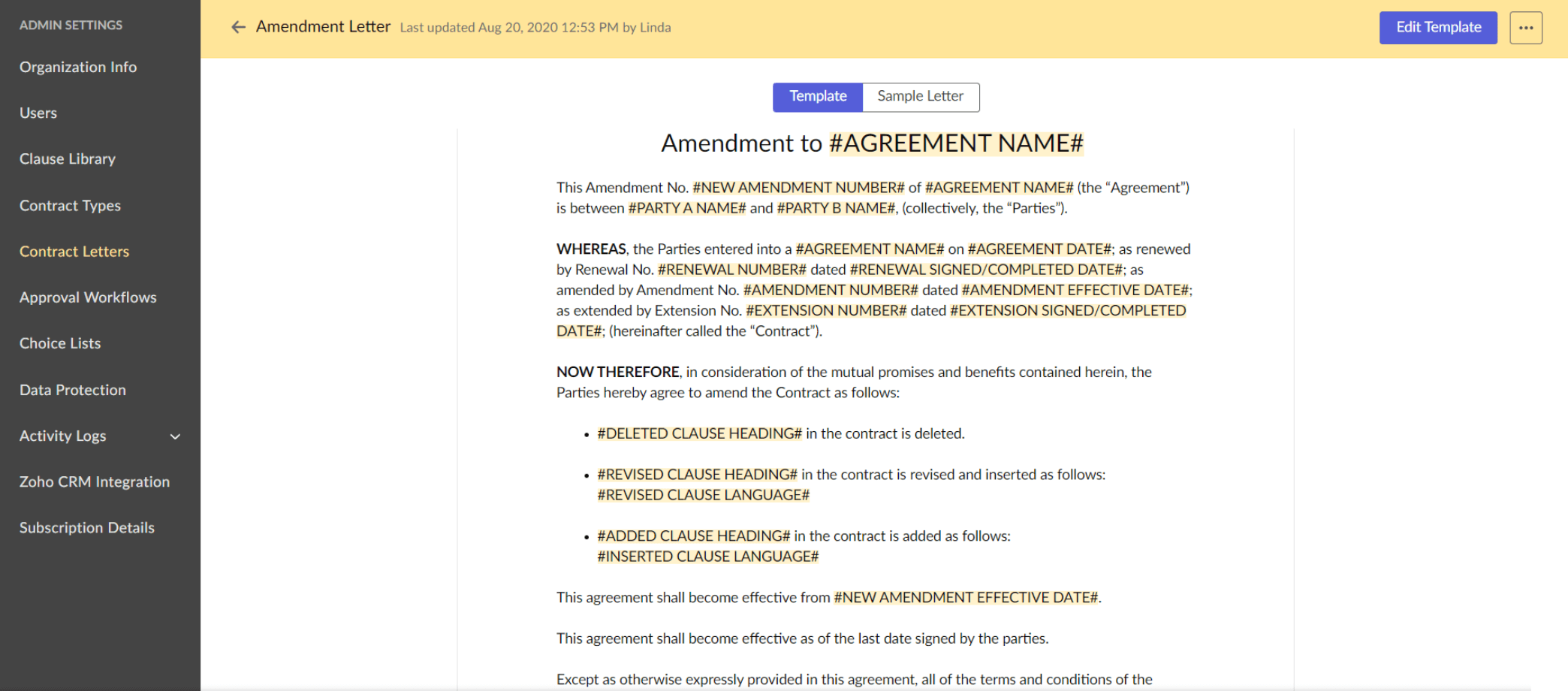 Mobile CLM
Keep track of your contracts on the go with mobile applications. Modern CLM software allow you to approve contracts, track and manage obligations, and gain insights with a personalized dashboard right from the palm of your hands.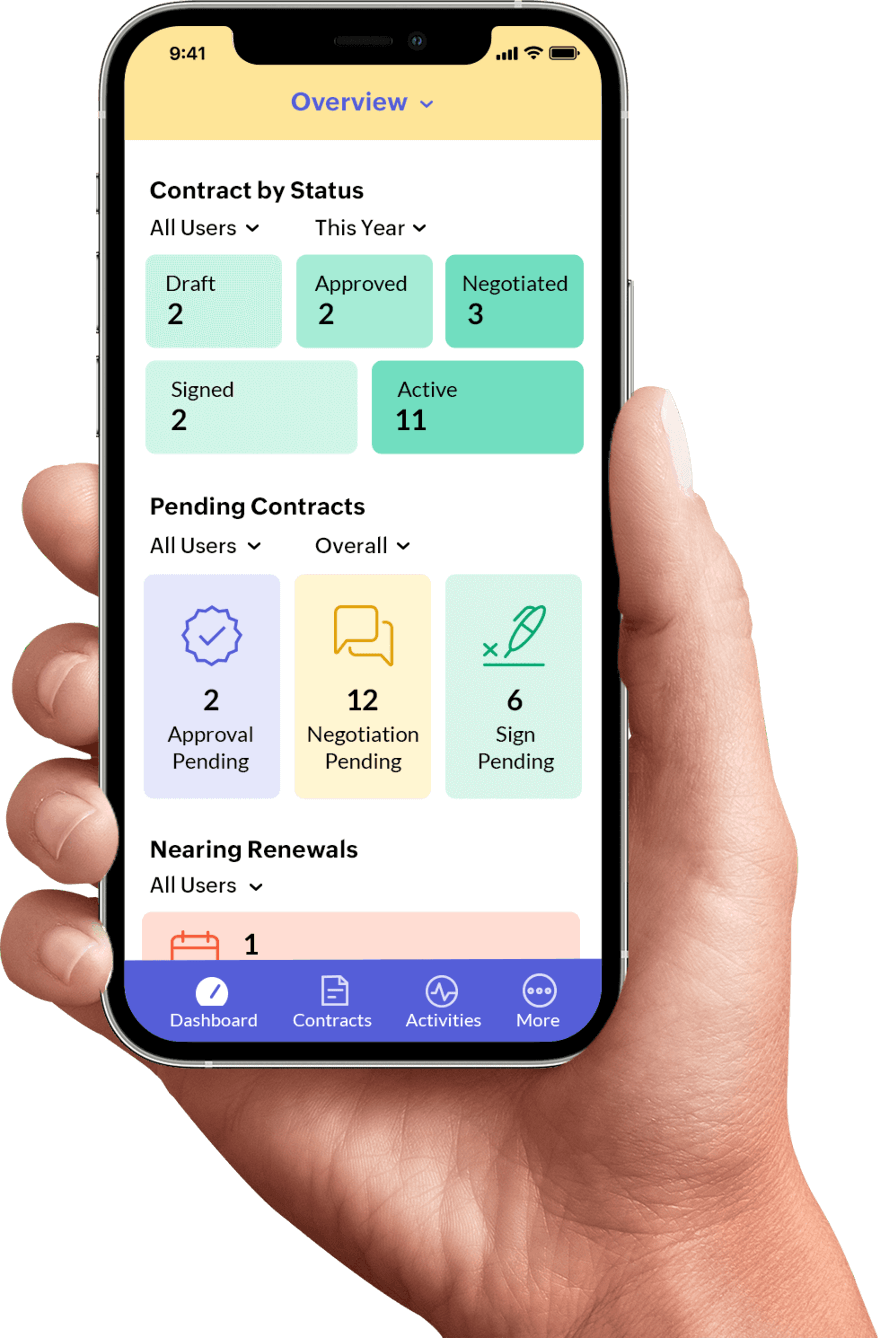 Buy-side vs. sell-side CLM
Contract lifecycle management (CLM) : Buy-side vs. sell-side
Organizations execute contracts both on the buy-side and sell-side. There are different requirements, considerations, and goals for each mode.
Buy-side
Buy-side contracts are drafted for the procurement of goods and services from suppliers.
The ability to sift through similar contracts within a CLM system can help procurement teams negotiate the best possible price and better utilize spend under management (SUM). Improved efficiency will also ensure that procurement teams bring down lead times and meet their deadlines.
Sell-side
Sell-side contracts arrange for the sale and delivery of goods and services to a buyer.
When it comes to the sell-side, time-to-sale is the most critical metric. Inefficient contract management and the resulting delays can lead to lost deals. That's why sales managers adopt modern CLM solutions to streamline their contract processes. The wealth of pricing information in existing contracts also helps devise the right pricing strategy.
While the two functions are usually separated within an organization and follow different processes, most of their critical contract requirements are the same. These requirements include managing delivery, performance, payment, and fulfilling obligations. That's why it helps to have one holistic CLM software that caters to the needs of both departments.
CLM implementation
Implementing contract lifecycle management (CLM) software
Once you've chosen a CLM system, the following best practices will help you with successful implementation:
Map out your contracting process
How are the procurement and sales teams going to access your CLM system?
What happens once they raise a contract request?
After contract execution, what does the handover to implementation teams look like?
What happens once the contract has completed its term?
How frequently will compliance audits take place?
Train your team
Does your team understand how a CLM system can improve the contract management process?
Does your team know how to make optimum use of a CLM system?
Are they aware of the cost of non-compliance?
Automate repetitive tasks
Which of your contracting actions can be automated?
Which specific tasks should be automatically assigned to an individual once a contract request is raised?
FAQ
What does CLM stand for?

CLM stands for Contract Lifecycle Management. The term CLM is also interchangeably used to denote a CLM solution that can streamline the contract lifecycle process making contracting fast, effective, and risk-free.

What are the capabilities of digital CLM software?

CLM software should boast a wide range of capabilities, including:

- Contract management
- Contract authoring and collaboration
- Contract negotiation
- Contract execution
- Obligation management
- Post-execution management
- Analytics and reporting
- Auditing and governance
- Data protection


What are the CLM metrics to measure?

CLM software provides the following metrics to give you a clear picture of the health of your contract management process:

- Average contract cycle times
- Approval turnaround times
- Contract negotiation cycle times
- Number of contracts executed within a period
- Annual contract value
- Gain/loss from terminated contracts


How should you choose a CLM for your business?

Choosing the right CLM software for your business depends on a number of factors:

User experience: CLM software that offers a simple and clean user interface improves user experience and streamlines the implementation process.
Scalability: A CLM system with tools to adapt to your organizational needs as it scales is a necessity.
Customization: Good CLM software should support customization to accommodate your organization's needs.
Analytical capability: By choosing a CLM system with advanced analytical capabilities that derive business insights from contract data, you can transform your CLM investment from tactical to strategic.

How does a CLM software work?

CLM software helps reduce contract cycle times and mitigate risks by streamlining the contract lifecycle and managing obligations. It simplifies the auditing process for contract managers by improving visibility through audit, user, and download logs. It also ensures better governance by enabling processes such as approval workflows and providing a central repository for all the organization's contracts.