Create risk proof contracts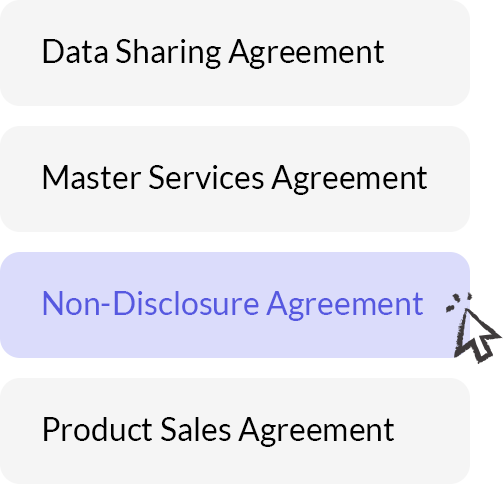 Predefined templates
Gain access to our predefined set of templates for commonly used contracts, such as NDAs and MSAs. Templates will act as guide rails for the contract authors. You can change the details as much as you need when authoring a contract. You can also create your own templates.
learn more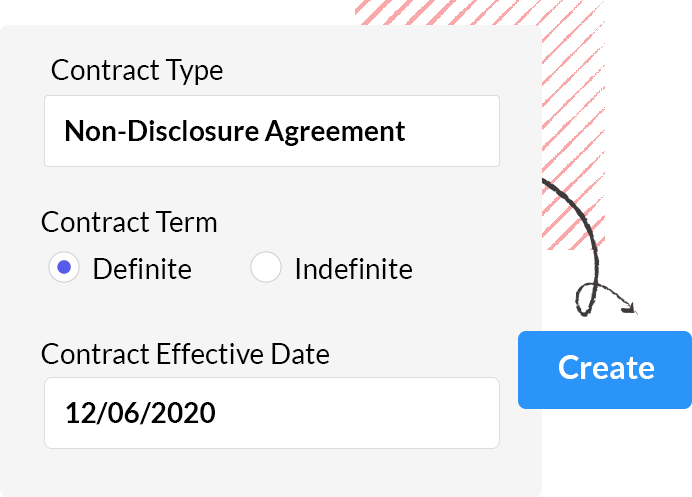 Instant contract creation
Simply add the contract and counterparty information in a form to generate contracts with all the right details in place. The contracts will be created based on your templates. This empowers members to create contracts while also ensuring language consistency across all your contracts.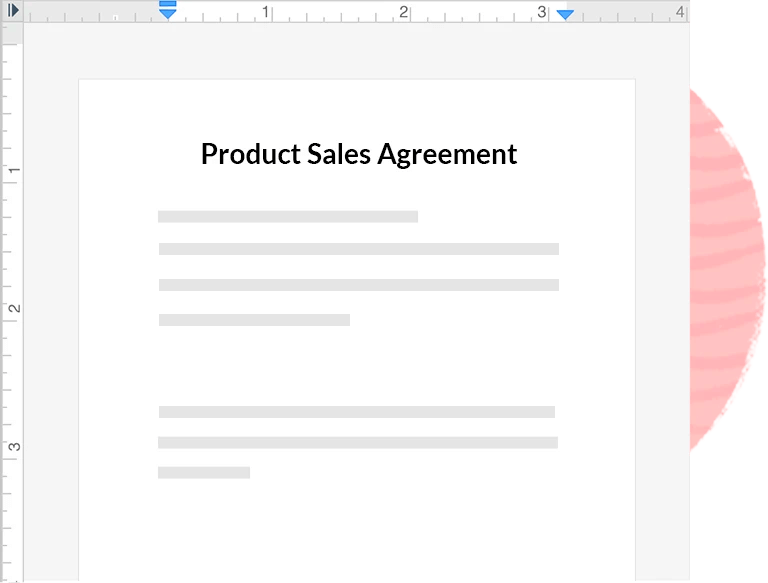 Built-in document editor
Zoho Contracts has a built-in document editor with all the features in our powerful word processor: Zoho Writer. Our complete cloud offering lets you author contracts from wherever you are.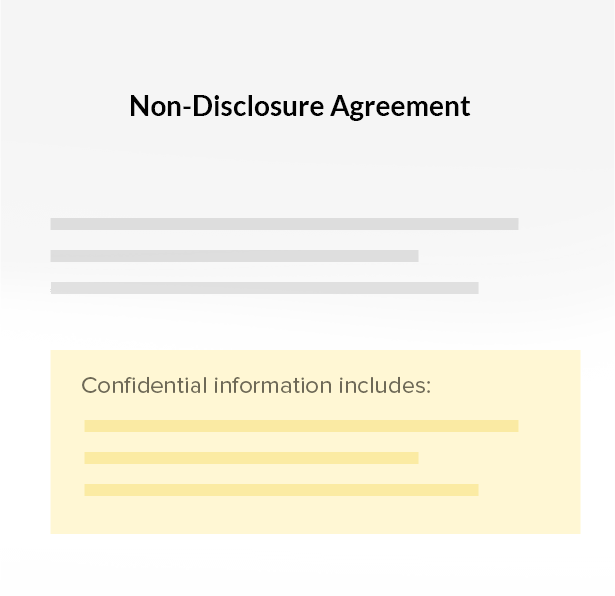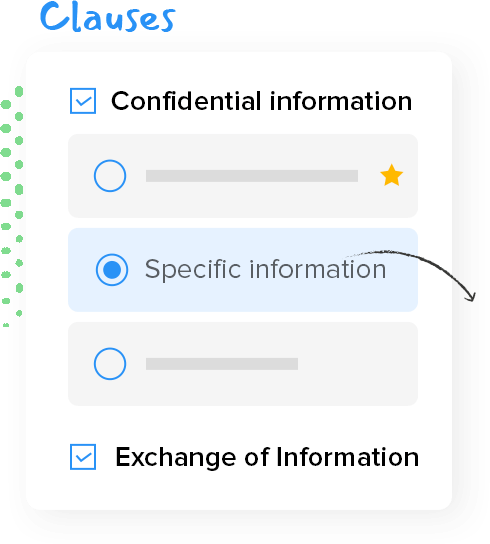 Document assembly
Our advanced clause picker allows contract authors to search for and insert a clause easily in a contract. All clauses in the predefined templates and the ones you add manually will be available in the clause library.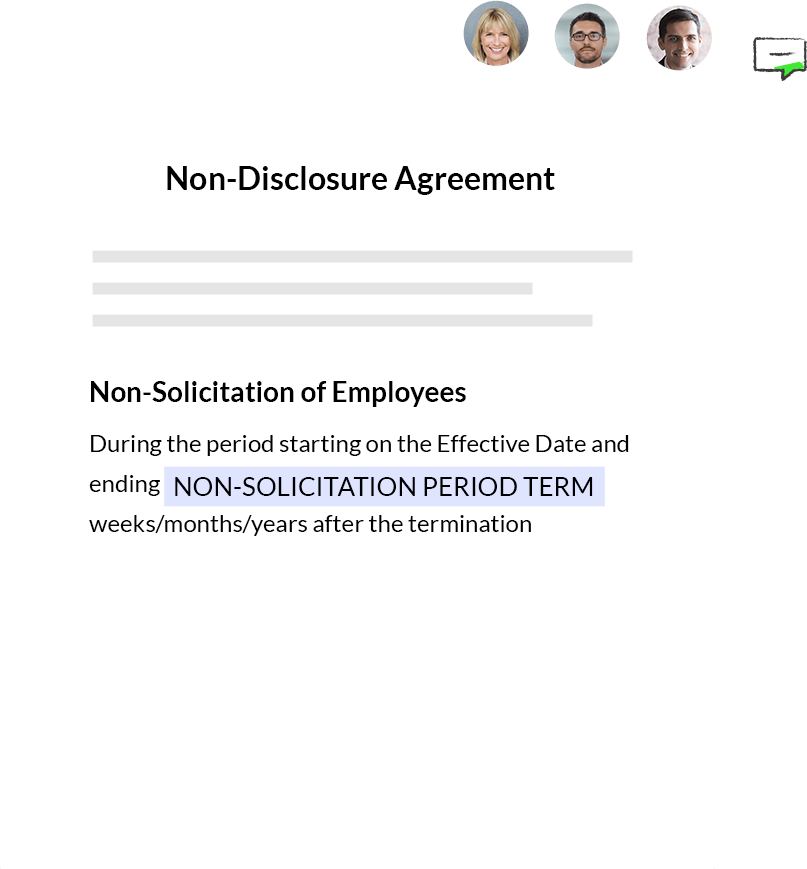 Share contracts
Coauthor contracts with other members of your organization or get them reviewed by peers. Track changes made by collaborators with the help of redlining (color-coded text). Set view, comment, fill fields, or write permissions for your collaborators.
Obtain field values
When there are unknown parameters at the time of authoring, the author can leave the contract fields unfilled. The author or collaborators with Fill Fields and Write permissions can fill in the fields later.
Comments section
Add review points as comments and participate in discussions with other collaborators via replies. You can also choose who can view your comment with comment visibility settings.
Seamlessly negotiate online
Secure share
Forget the pain of emailing documents as attachments back and forth. Send contracts for negotiation to counterparty contacts via password-protected links. The counterparty contacts can access the contract without a Zoho account.
Counterparty review
Counterparty contacts can collaborate, suggest edits, and add comments to the contract. In contracts with multiple rounds of negotiations, they can compare the document with the versions in earlier rounds.
Review summary
Get a summary of all the changes and comments made by the counterparty after they complete their review.
Track changes
The changes made by the counterparty contacts will be displayed in the form of redlining, so you can easily see the additions, edits, and removals. Accept or reject the changes with just a click.
Execute faster than ever
Effectively manage obligations
Turn contract data into business insights
Execute faster than ever
eSignature
Securely send contracts for legally binding signatures via Zoho Sign—Zoho's eSignature software—that comes pre-integrated with Zoho Contracts. Eliminate the email, print, sign, and fax cycles and reduce turnaround time drastically.
Set signing order
Specify the order in which the contracts must be sent for signature. The signing order pans across the signer groups: Organization Signers, Counterparty Signers, and Other Representatives such as witnesses.
Effectively manage obligations
Manage Obligations
Manage obligations from a designated tab within each contract. Add obligations that are action items as one-time or recurring tasks and delegate them to the business owners in your organization.
Reminder alerts
Failing to fulfill obligations will result in adverse financial and regulatory consequences. It will also leave organizations with damaged business relationships. Never miss an obligation with the help of reminders. Set reminders for obligations and get reminded on time.
Turn contract data into business insights
Dashboard
Gain a high-level overview of your business at a glance and quickly make informed decisions. See the KPIs regarding your business health and growth at your fingertips.
Reports
Gain actionable insights across all aspects of contract management: Milestone, Performance, Clause, Obligation, Counterparty, and other general contract attributes.
Achieve better control and compliance
Approval workflows
Keep stakeholders aware of potential risks and opportunities in a contract before it becomes active by adding them as approvers. Design your own approval workflows, both sequential and parallel. Approvers can also collaborate via the comments section.
Central repository
All your contracts in a single central repository. The search and filter options enable better visibility and accessibility.
Audit trail
Stay on top of all the user activities in your CLM. View the complete history of all the progress, changes, and suggestions made in one place.
Version control
View all versions of a contract in chronological order, compare versions, and restore any of the older versions.
Calendar view
A month view calendar displays all your contract schedules and reminders. Never miss an obligation or an opportunity for a renewal with the help of reminder alerts.
User roles and permissions
Assign roles for users in your organization. With different access permissions for each role, have better control over your Contract Lifecycle Management (CLM) software.
Holistically manage entire lifecycle
Amendments
Create contract amendments for the changes in terms and conditions. Send the amended contract for approval, negotiation, and signatures.
Renewals and extensions
Renew or extend contracts for the changes in term period. You can also choose to renew a contract automatically.
Letter templates
Leverage the power of letter templates to amend, renew, extend, or terminate contracts effortlessly. The automatically generated letters capture the changes made in the contract or the term period.
Gain/Loss calculation
Determine the gain or loss of terminated contracts by providing financial details at the time of contract creation and termination.