Contract templates
A contract template is a collection of standard clauses tailored to a specific use case or contract type. Pre-approved contract templates allow all users (even those without a legal background) to fill in relevant information quickly, tweak specific clauses to suit the counterparty or engagement, and roll the contract out for swift execution.
Clause library
A clause library is a repository of standard and custom clauses with pre-approved languages you can insert into a contract template. The clause library accelerates the process of building custom contract templates. It also ensures quick reusability and supports scalability.
Contract templates for all your business needs
Benefits of contract templates and clause library
Faster contract authoring
Fewer human errors
Language consistency across all contracts
Accelerated contract revision and approval
Easy incorporation of organization-wide policy changes
Improved compliance
Reduced legal dependence and costs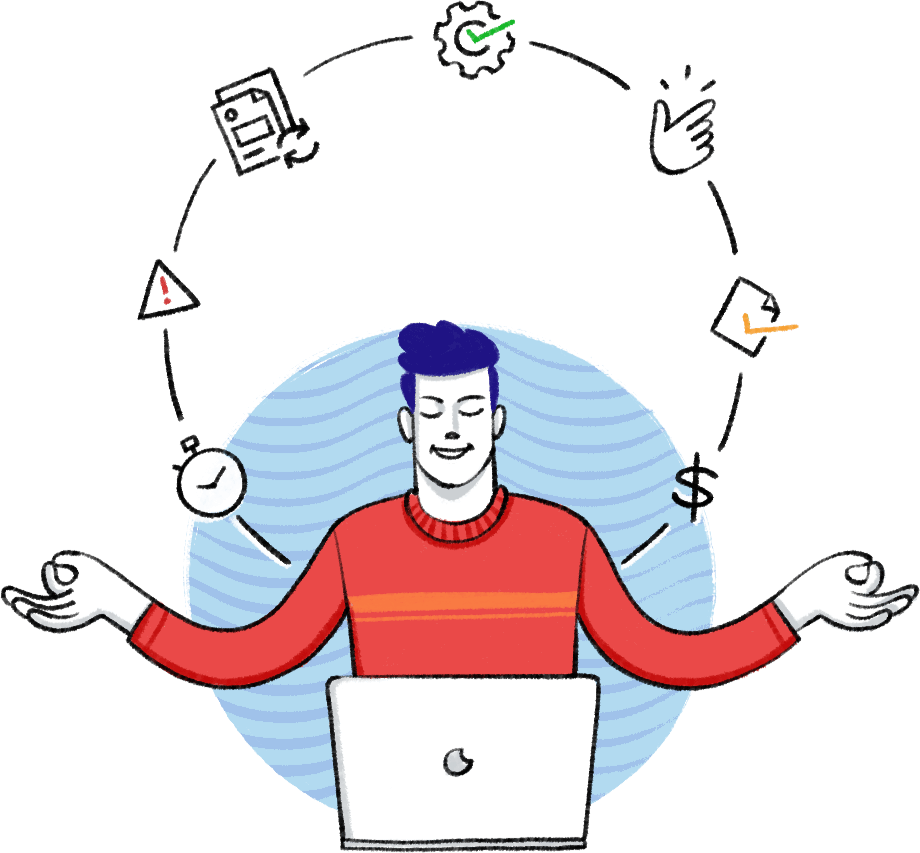 Contract templates for every aspect of your business
Whether you're a sales manager putting together NDAs and MSAs or a recruitment manager drawing up employment contracts, you'll probably find that contract authoring and customization takes more time than it should. This is especially true when your contracts are highly standardized. Zoho Contracts's extensive clause library and contract templates make contract curation and customization a breeze!
Access contracts library
Contract templatization in Zoho Contracts
Our approach to contract templatization has reusability and scalability at its core. This approach can transform the way contracts are curated and repurposed at your organization.
Pre-built contract templates
In Zoho Contracts, based on their purpose, contracts are classified into contract types like non-disclosure agreements or product sales agreements. Each contract type defines the primary attributes of a contract and has an associated contract template. These attributes include the contract intent, category, and approval workflow. We currently have 14 built-in contract types with predefined contract templates. You can also create new contract types and build custom contract templates from scratch or by uploading a Word document.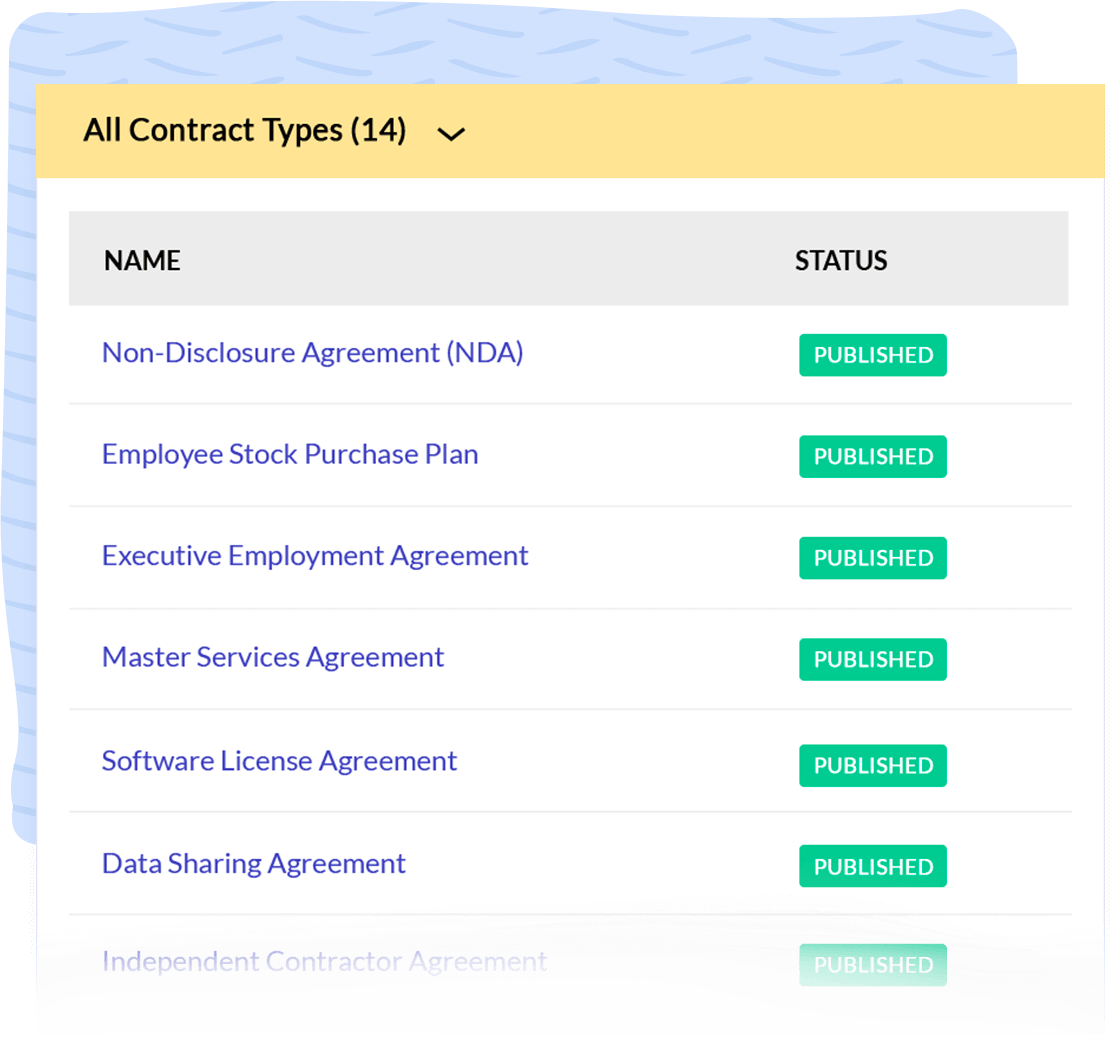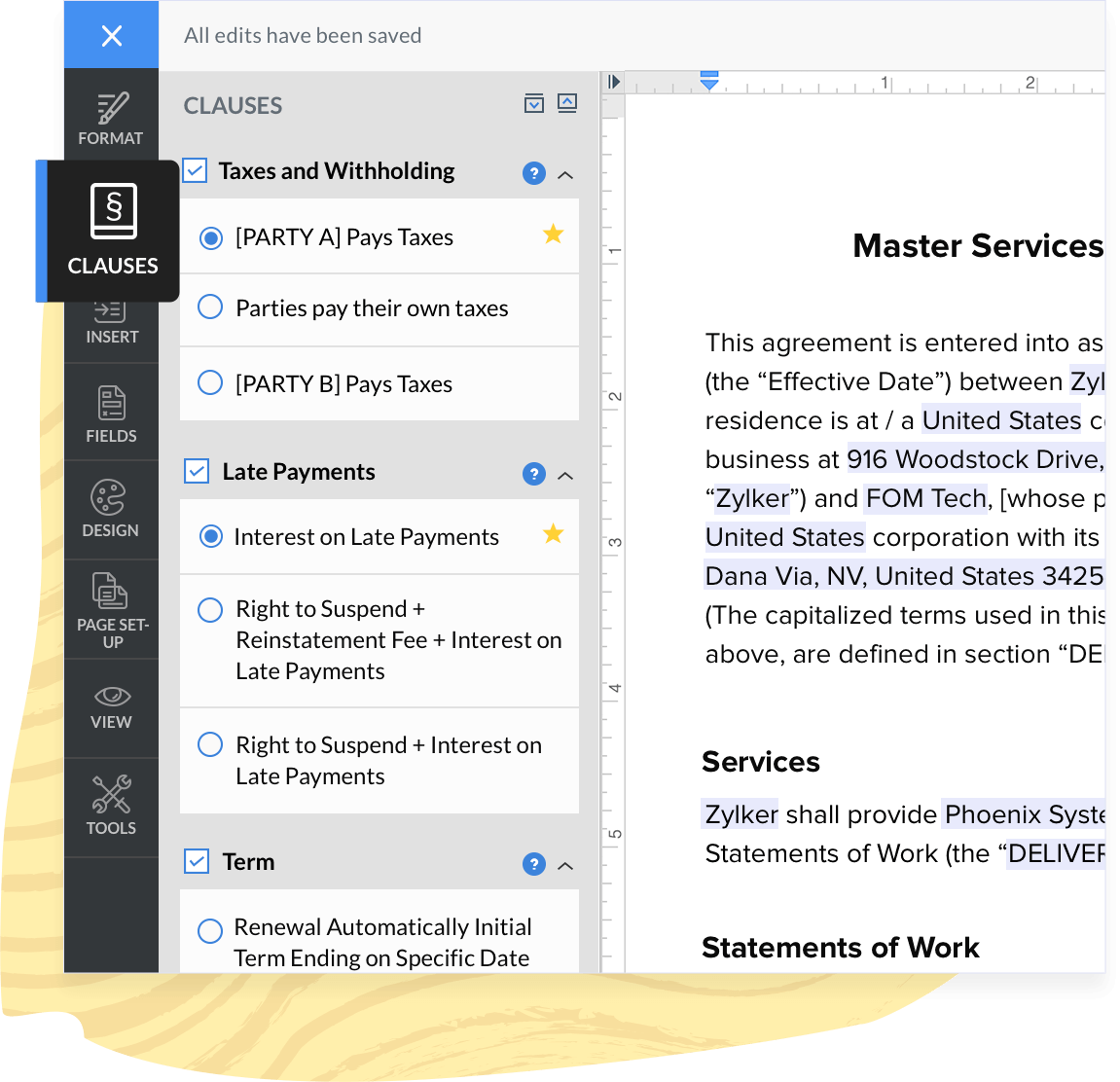 A structured approach
Zoho Contracts uses clauses as building blocks to help you customize existing contract templates and also author new contracts without a template. This method ensures critical information is stored and can be contextually considered for all relevant future contracts. Our clause-based reports also provide insights into clauses used across all your contracts.
Custom clauses and templates
Custom clauses with a standard language and multiple alternative languages can be created and used to build custom contract templates. The standard and alternative language classifications enable contract authors to choose the right language based on the context. Standardized clause languages will reduce the cycle time during the contract approval stage.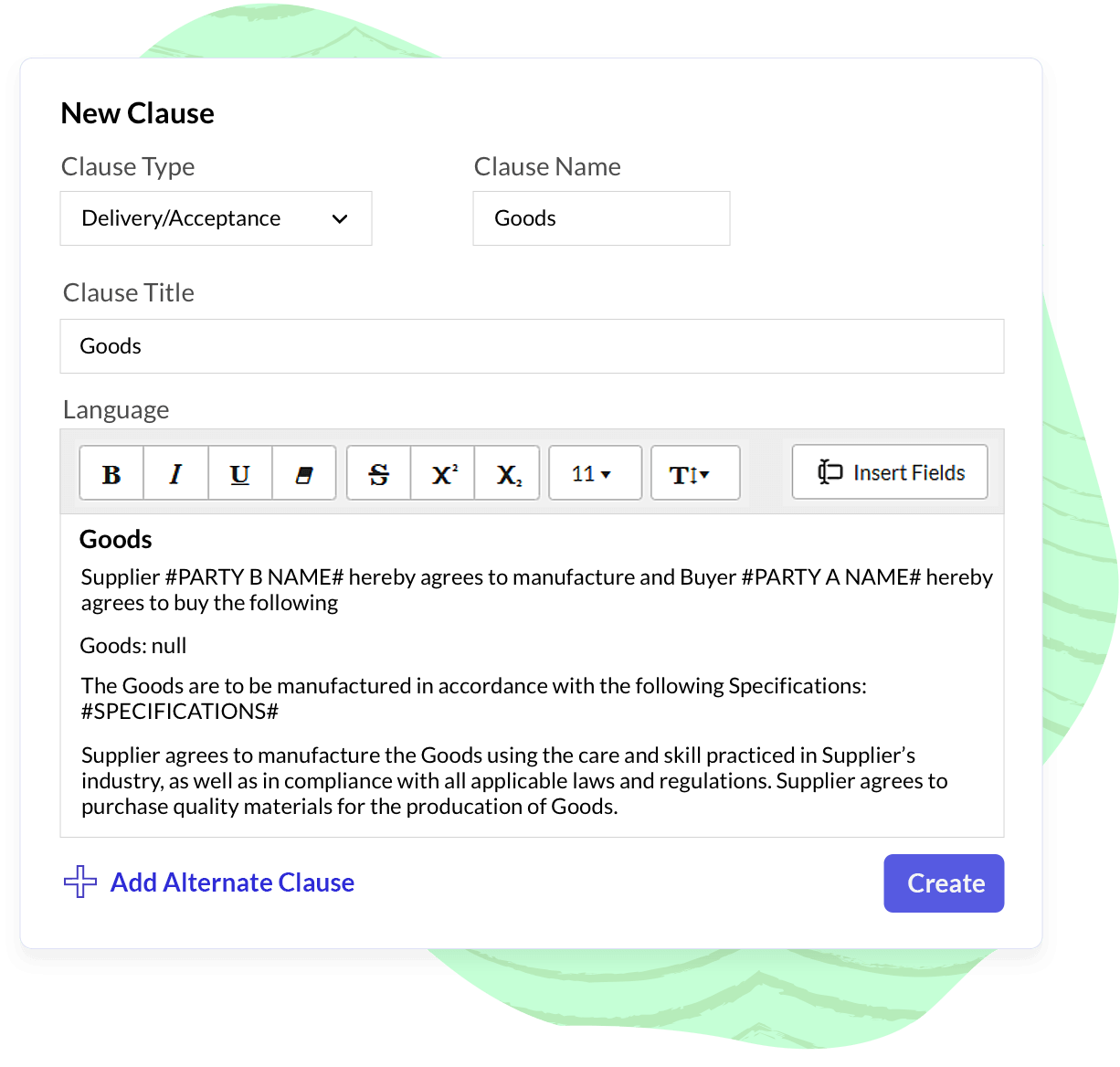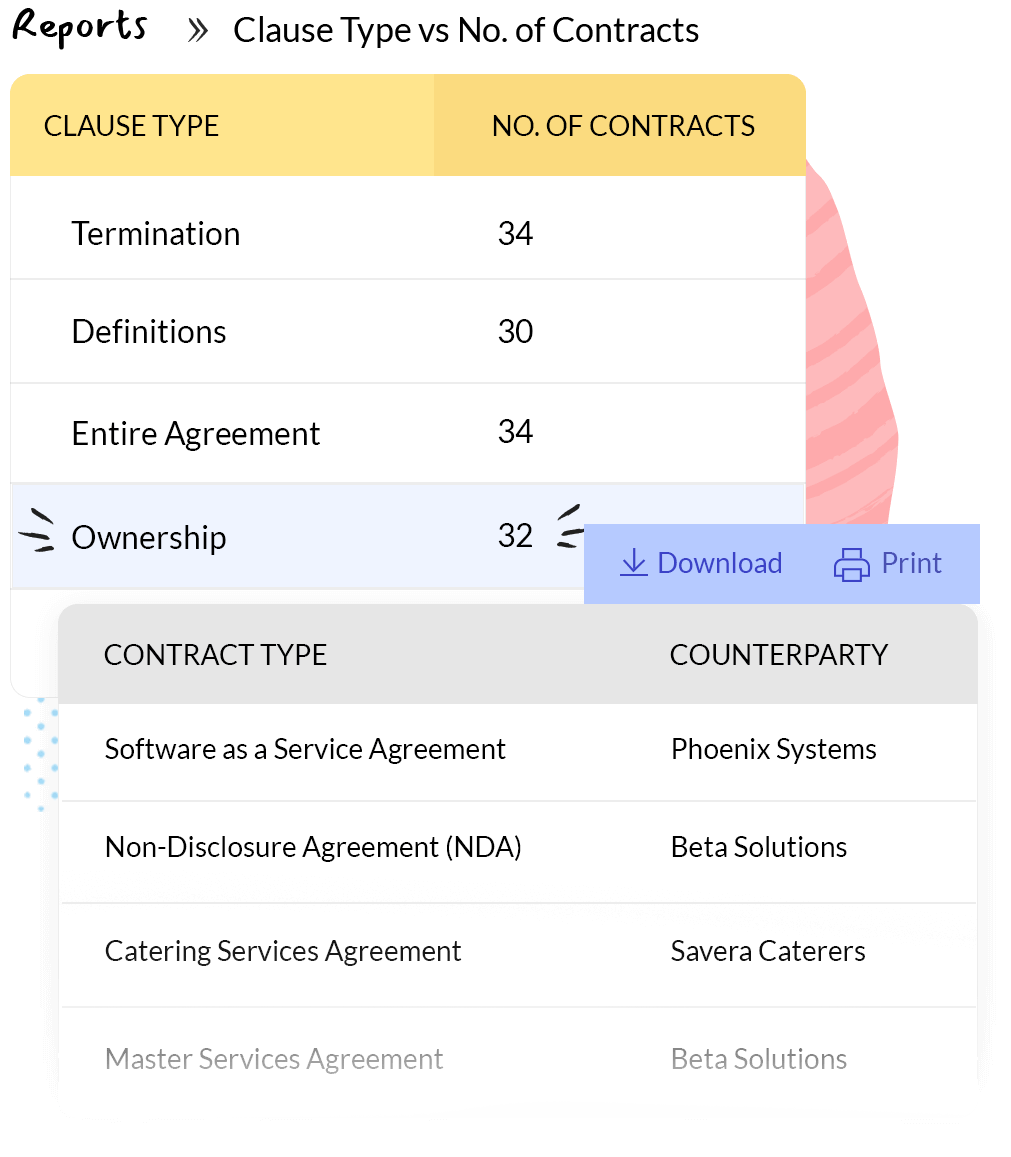 Analytical insights
The clause-based reports in Zoho Contracts provide admins with insights to frequently used clauses and clause types. They can also view all contracts containing a specific clause or a clause type within the Reports module. These reports come in handy for admins who need a quick impact study when introducing organizational policy changes that impact the languages in their existing contracts.
Letter templates
Zoho Contracts has predefined letter templates for amendment, renewal, extension, and termination. You can also customize these templates. Letter templates are automatically generated, eliminating the need for manual intervention. The WHEREAS clause in the letter captures the contract history and the NOW THEREFORE clause identifies and displays the current changes made to the contract terms and the term periods.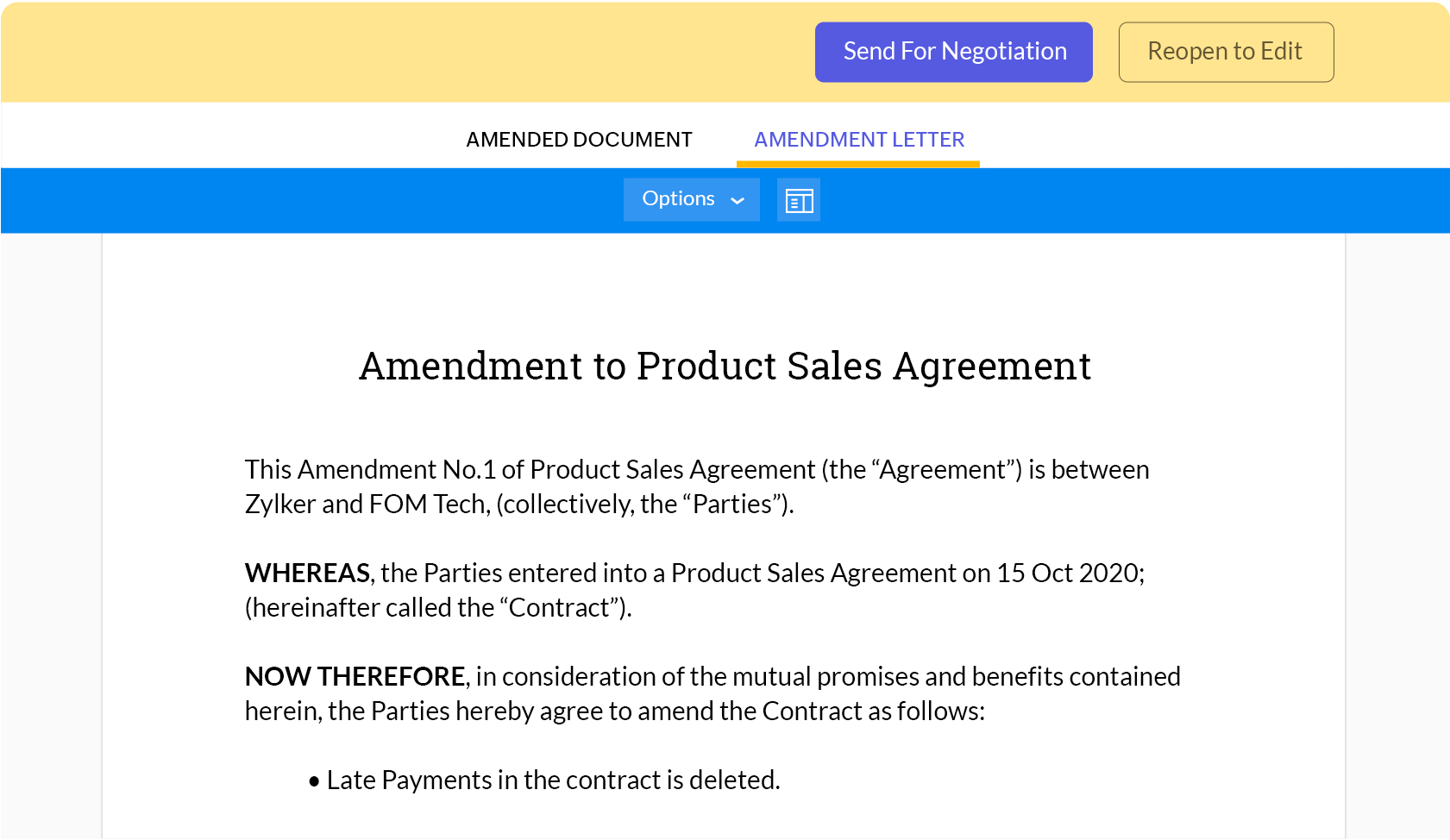 FAQs on contract templates
How many contract templates can I create and store in Zoho Contracts?
While 14 pre-built contract templates come as part of the paid editions, there is no limit on the number of custom templates you can create and store in Zoho Contracts.
What are the pre-built contract templates available by default in Zoho Contracts?
The available templates are:
Master service agreement template
Nondisclosure agreement template
Product sales agreement template
Reseller agreement template
Executive employment agreement template
Employee stock purchase plan template
Severance agreement template
Software as a Service agreement template
Subscription agreement template
Software license agreement template
Data sharing agreement template
Investor rights agreement template
Independent contractor agreement template
Catering service agreement template
Can I procure the contract templates as a standalone service?
Unfortunately, you cannot. Contract templates come as part of our overall contract lifecycle management bundle. To learn more about this bundle, see our
Features Page.
Are contract templates available as part of the free plan?
The free plan gives you access to two basic contract templates, the Master Service Agreement (MSA) and Nondisclosure Agreement (NDA). Sign up for our professional trial to view the entire list of contract templates offered by Zoho Contracts.
Are the predefined contract templates legally validated?
Laws and government regulations vary from region to region. We currently do not support localized templates. The predefined contract templates in Zoho Contracts are only intended to act as general guidelines for contract authoring. While most of the languages in our contract templates will suit US regions, we strongly recommend you consult with legal counsel to ensure the terms in the templates comply with applicable local laws.