Cliq Home
Home Screen
View offline chat notifications, upcoming event reminders, as well as new bots and commands from your home screen.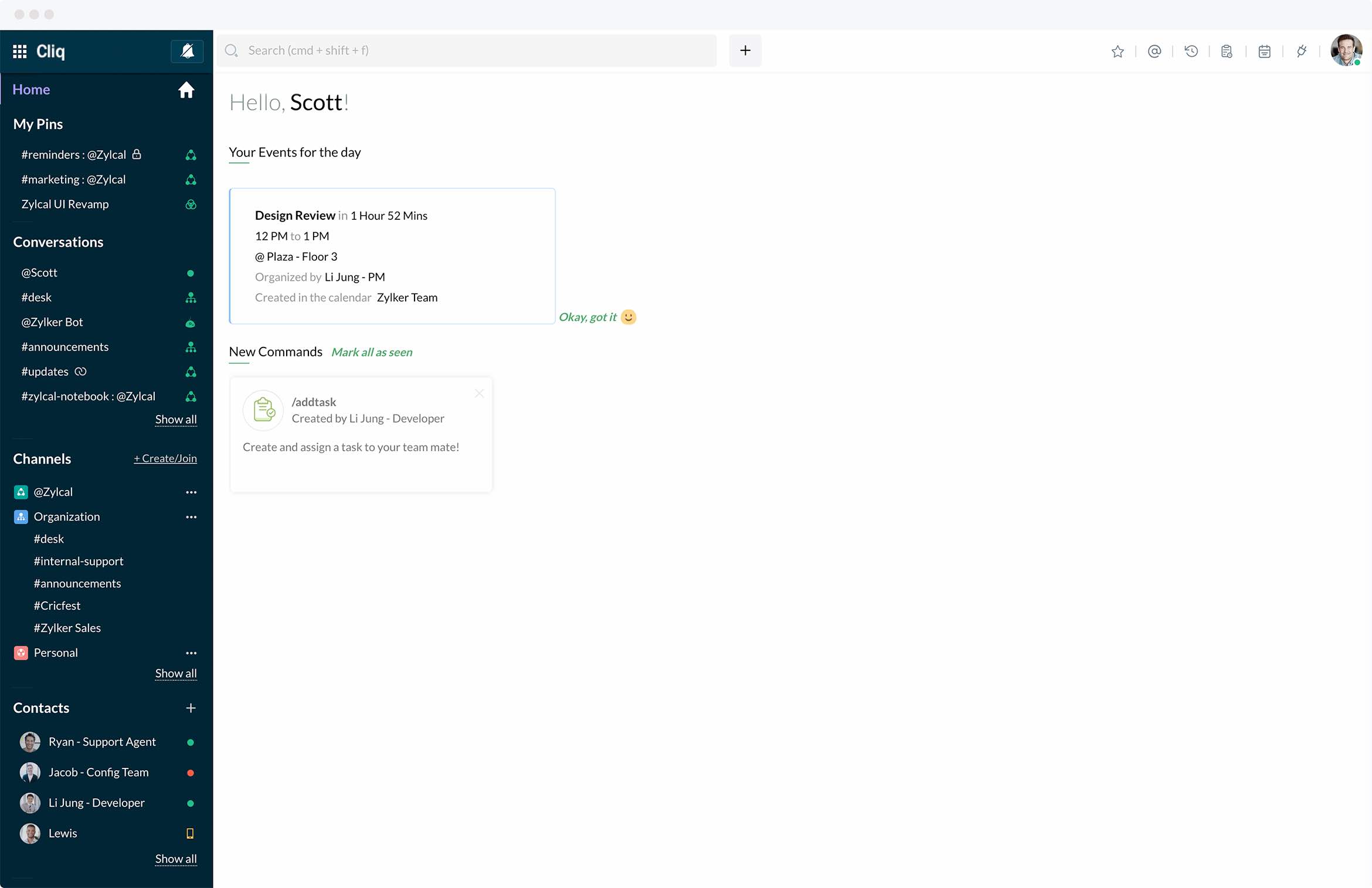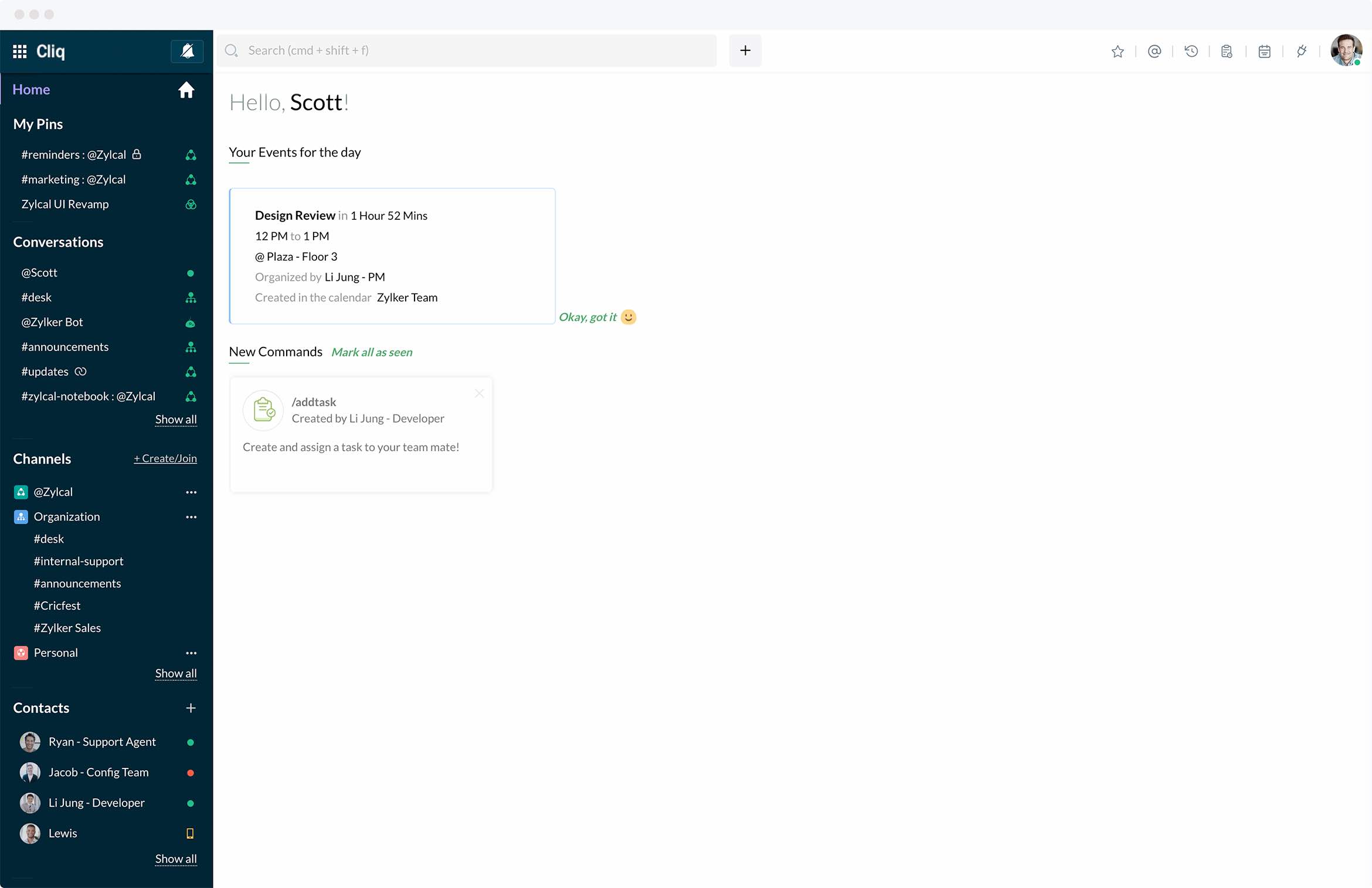 Conversations
Collaborate Over Audio / Video Calls
Hop on a call or a video chat, to connect with your teammate anywhere and from any device.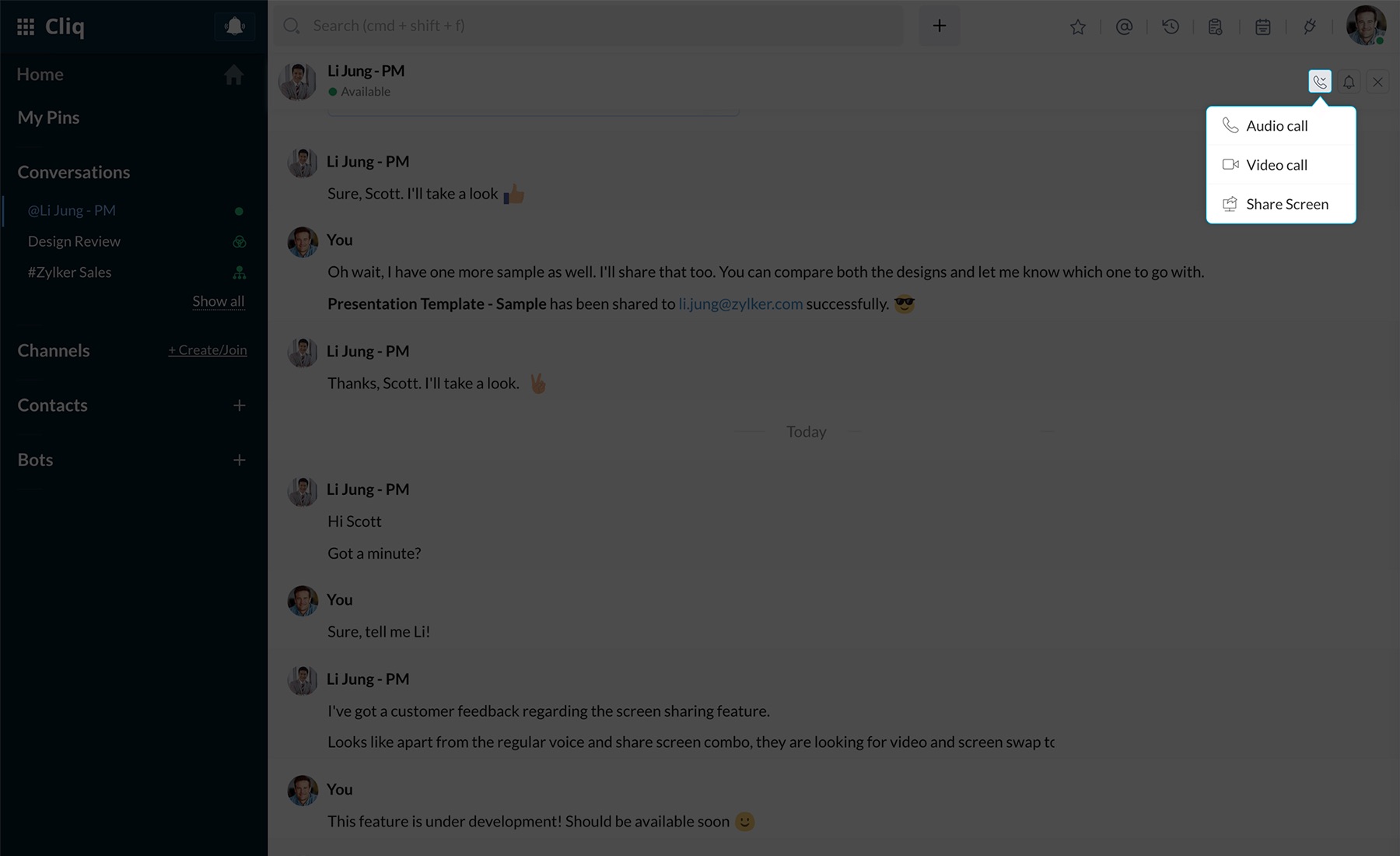 Screen Sharing
Share your screen and ideas, even when you're on an audio or video call! To share your screen, click on the Share Screen option in the chat header.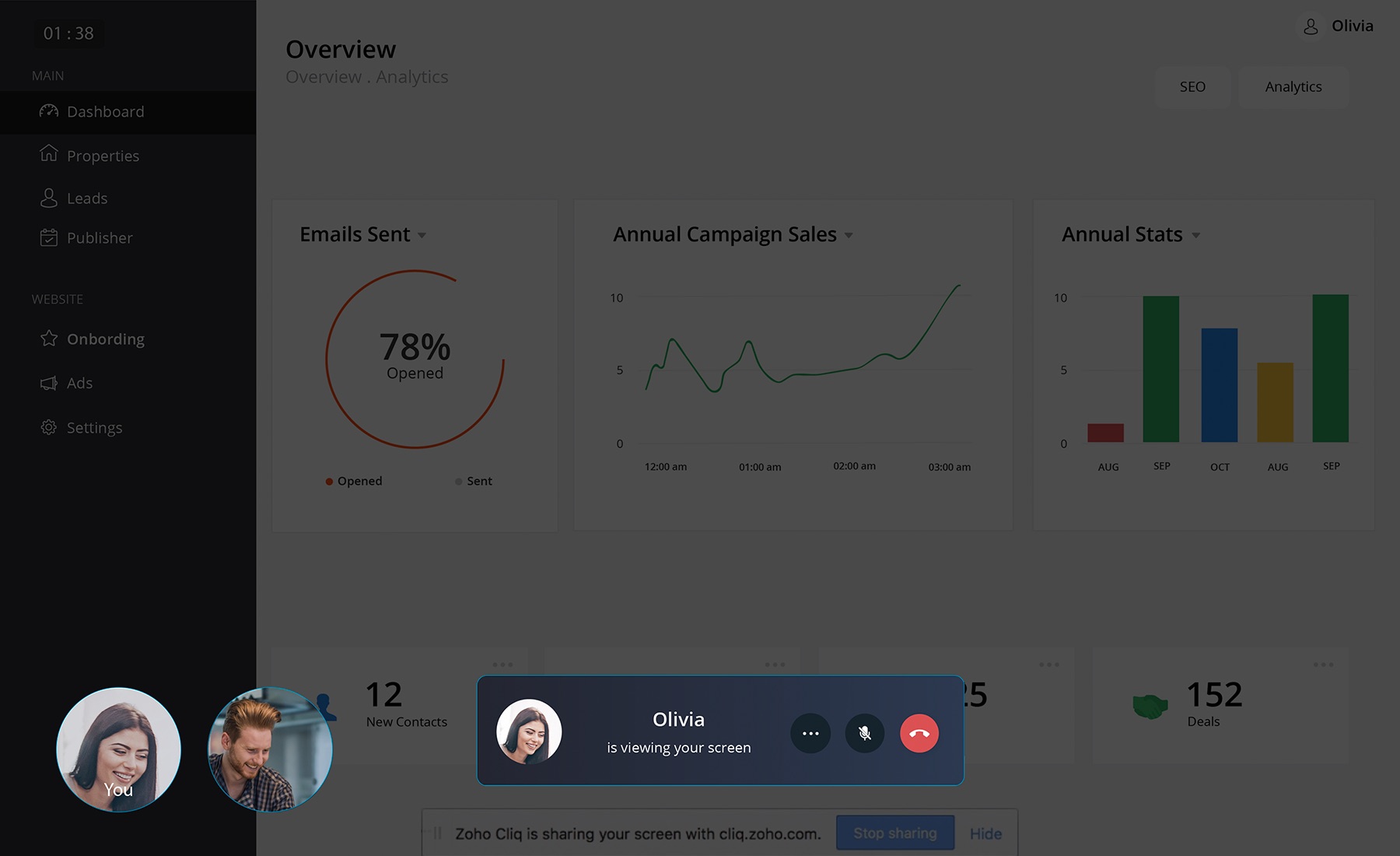 User & Group Mentions
@mentions a user in chat to notify them. You can also use @participants to address everyone in the group or @available to get the attention of all group participants who are currently available in Cliq.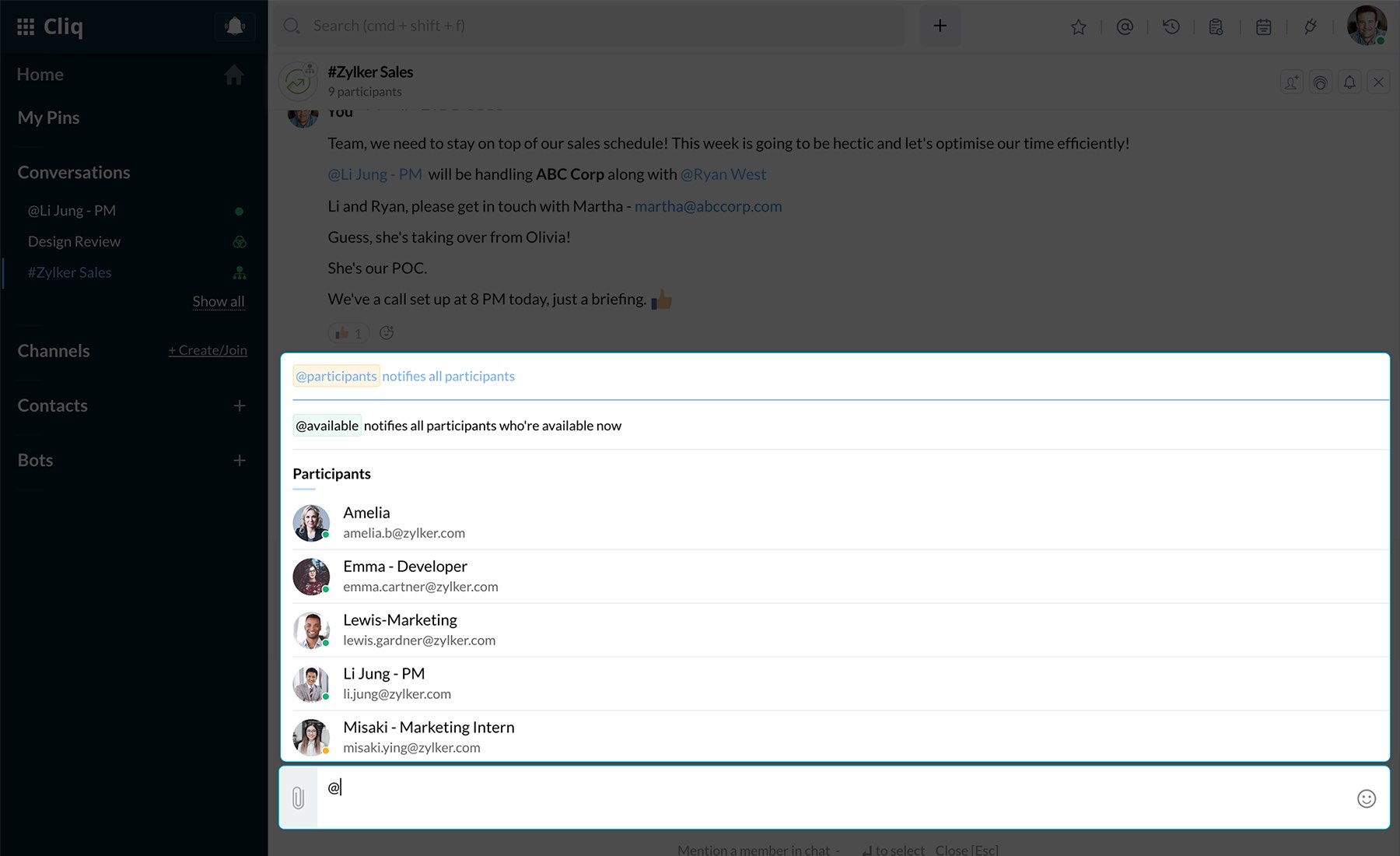 Fork From Here
Create a group chat with context by forking conversations. You can do this by hovering on any message in a conversation and clicking the Fork From Here option under Message Actions.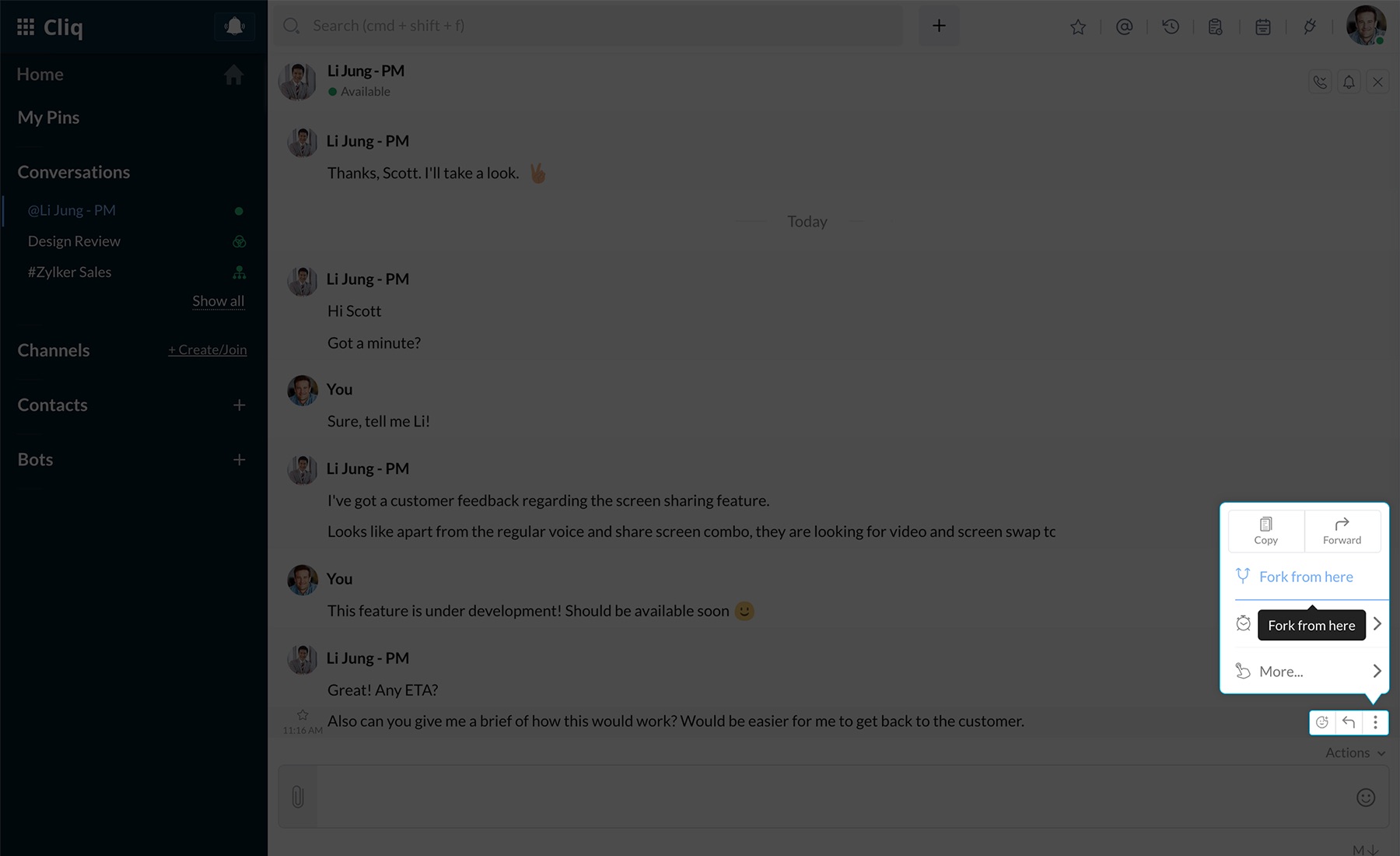 Starred Messages
Bookmark important messages in a conversation by starring them category wise. Click on the star icon to view the list of all the starred messages!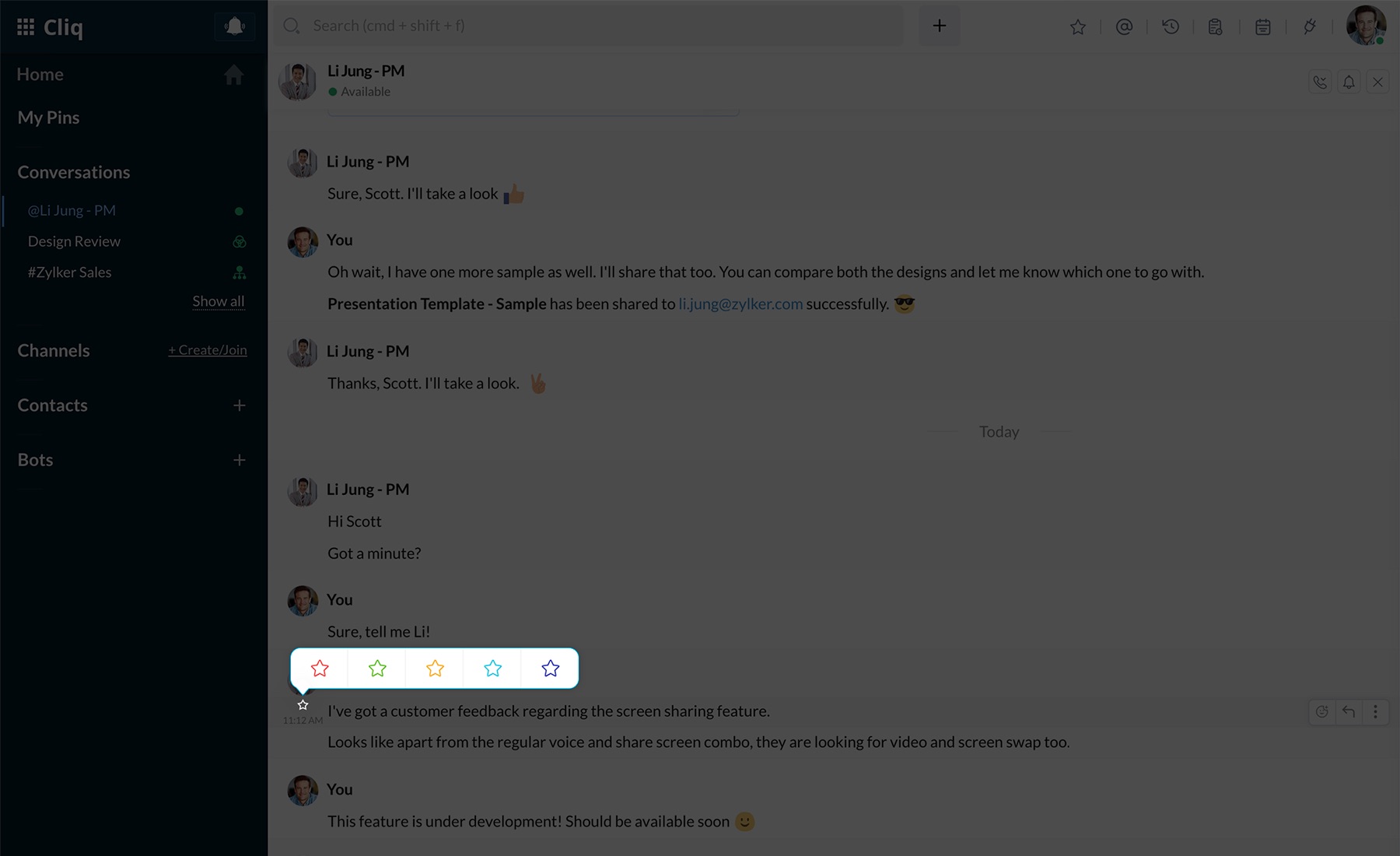 Pinned Conversations
Pin important chats for easy access. Hover over the chat name and click on the Pin Chat icon.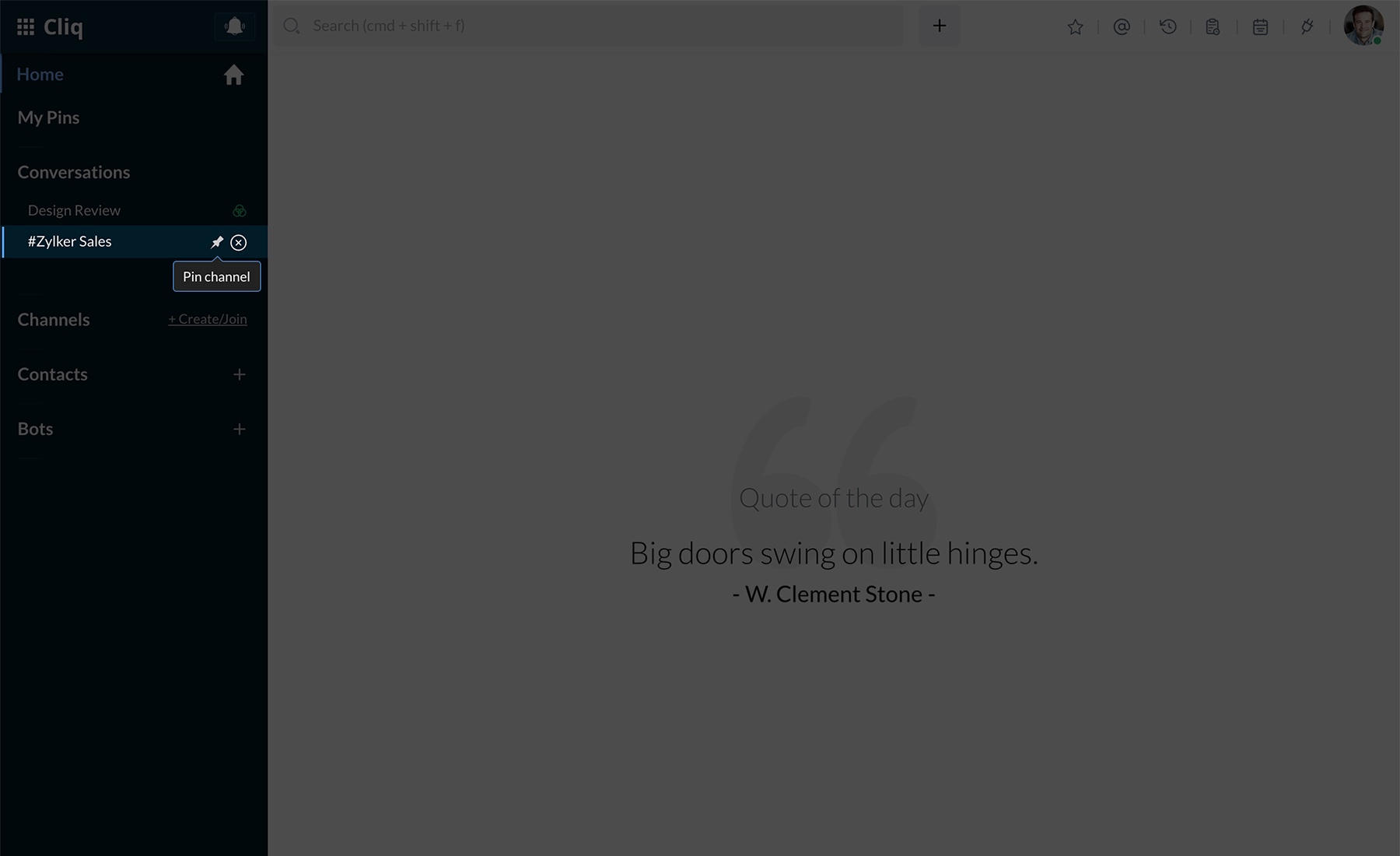 Global Search
Locate old messages in an instant with Cliq's advanced text and file search options. Enter a phrase in the search bar and you'll pull up all messages where the phrase has been used.
Secret Chat
Turn off chat history for conversations you don't want saved by clicking Actions above the text bar and choosing the Turn off history option.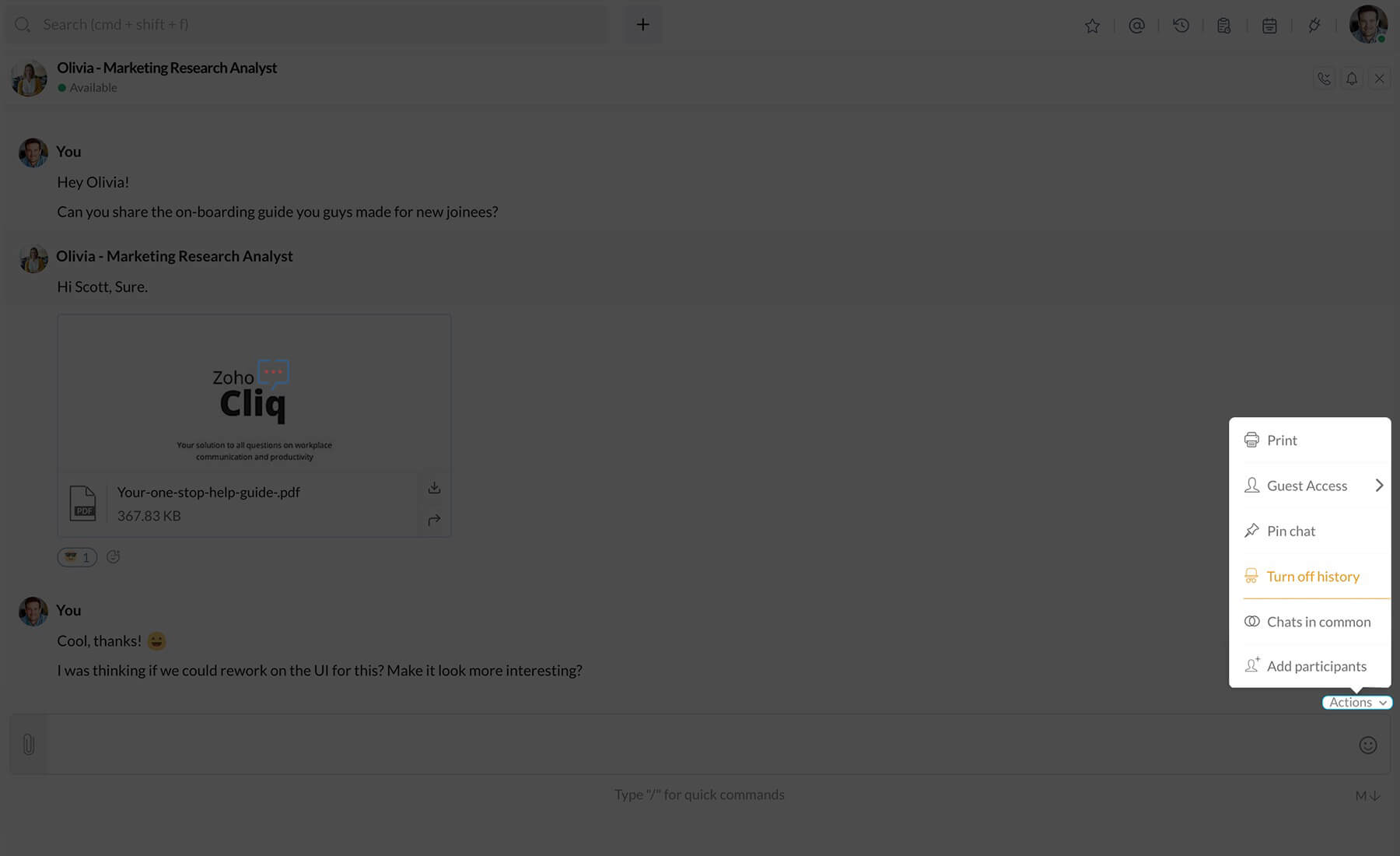 Send Message
Audio / Video Calls
Screen Sharing
User & Group Mentions
Fork From Here
Starred Messages
Pinned Conversations
Quick Create Menu
Global Search
Secret Chat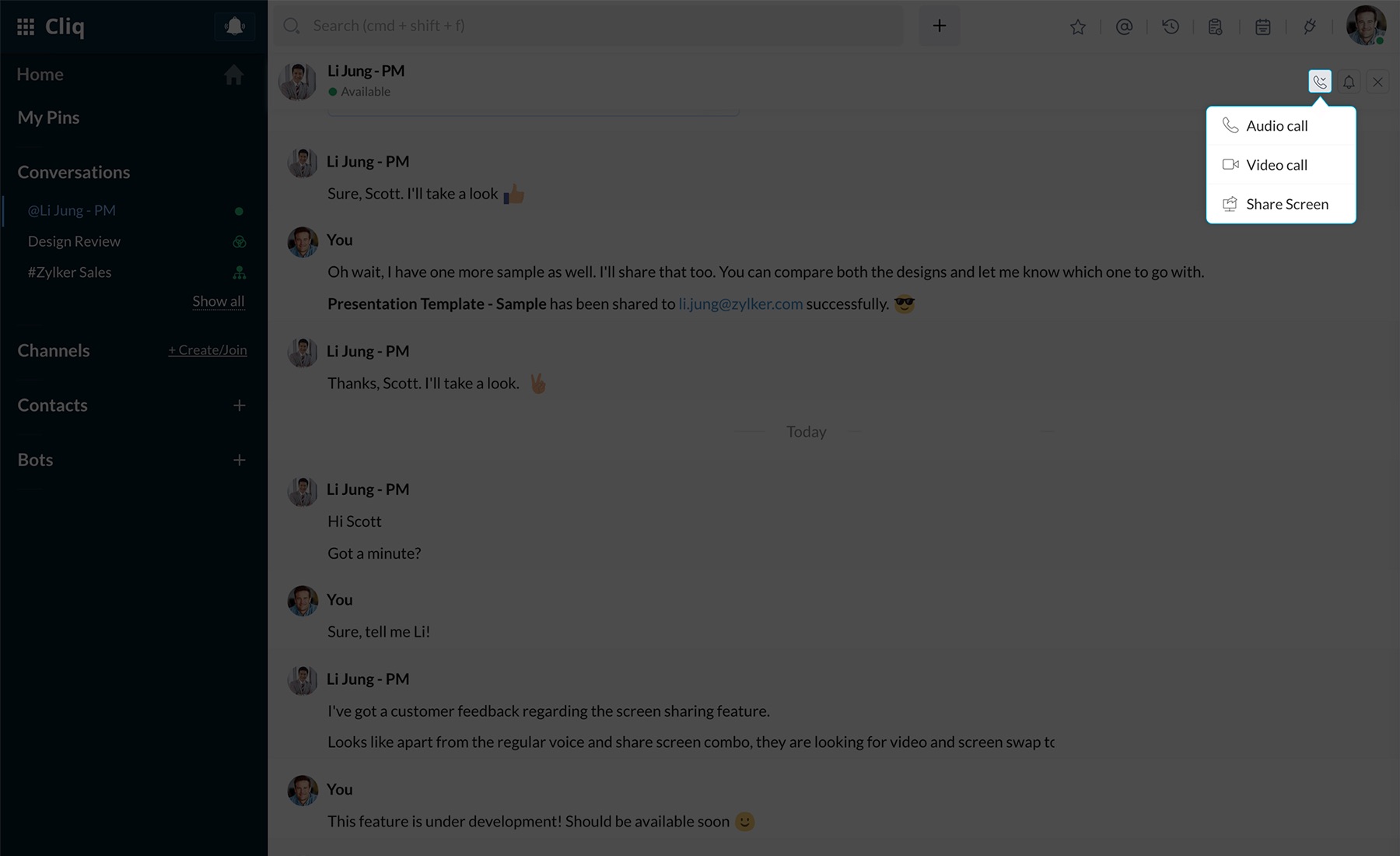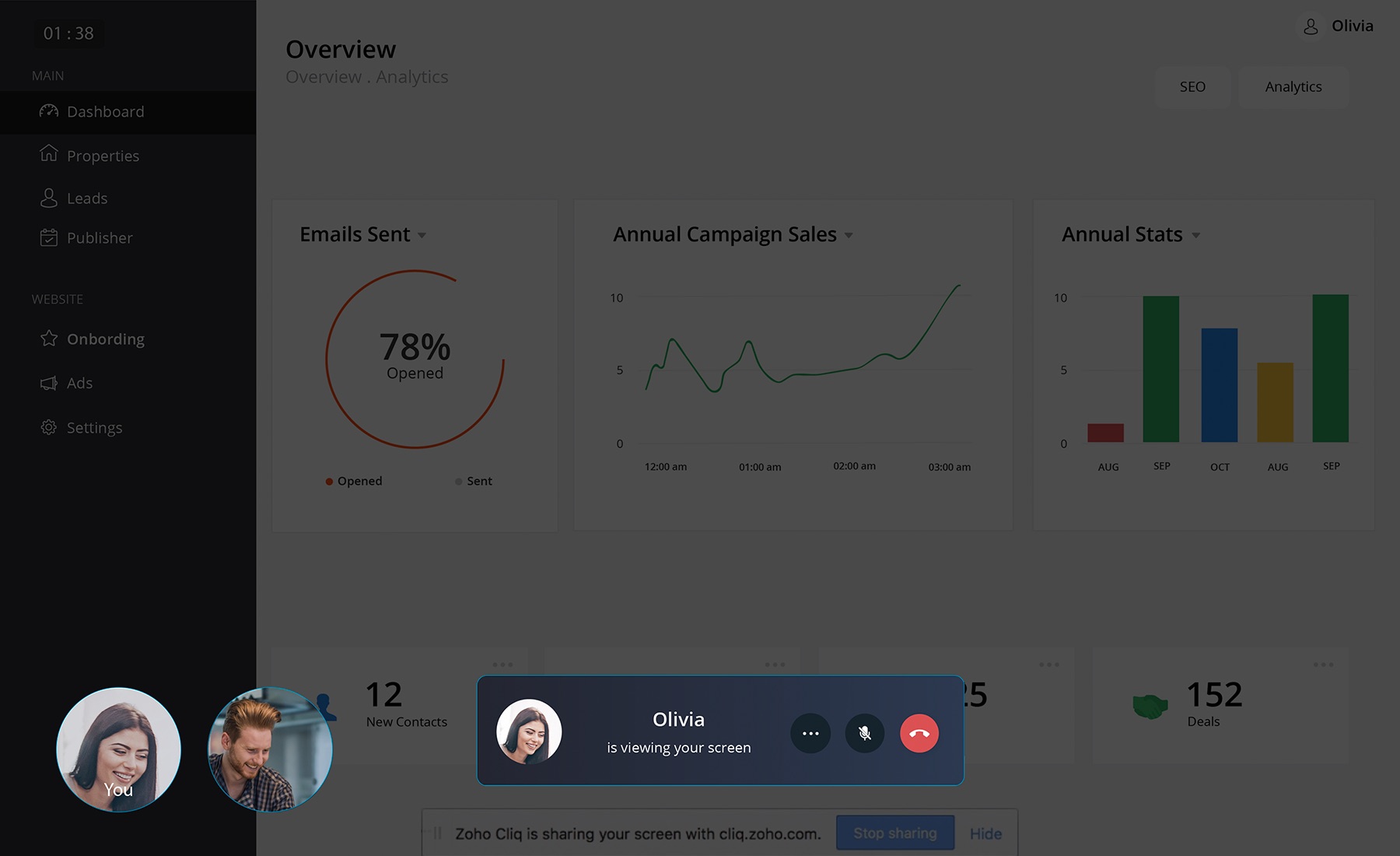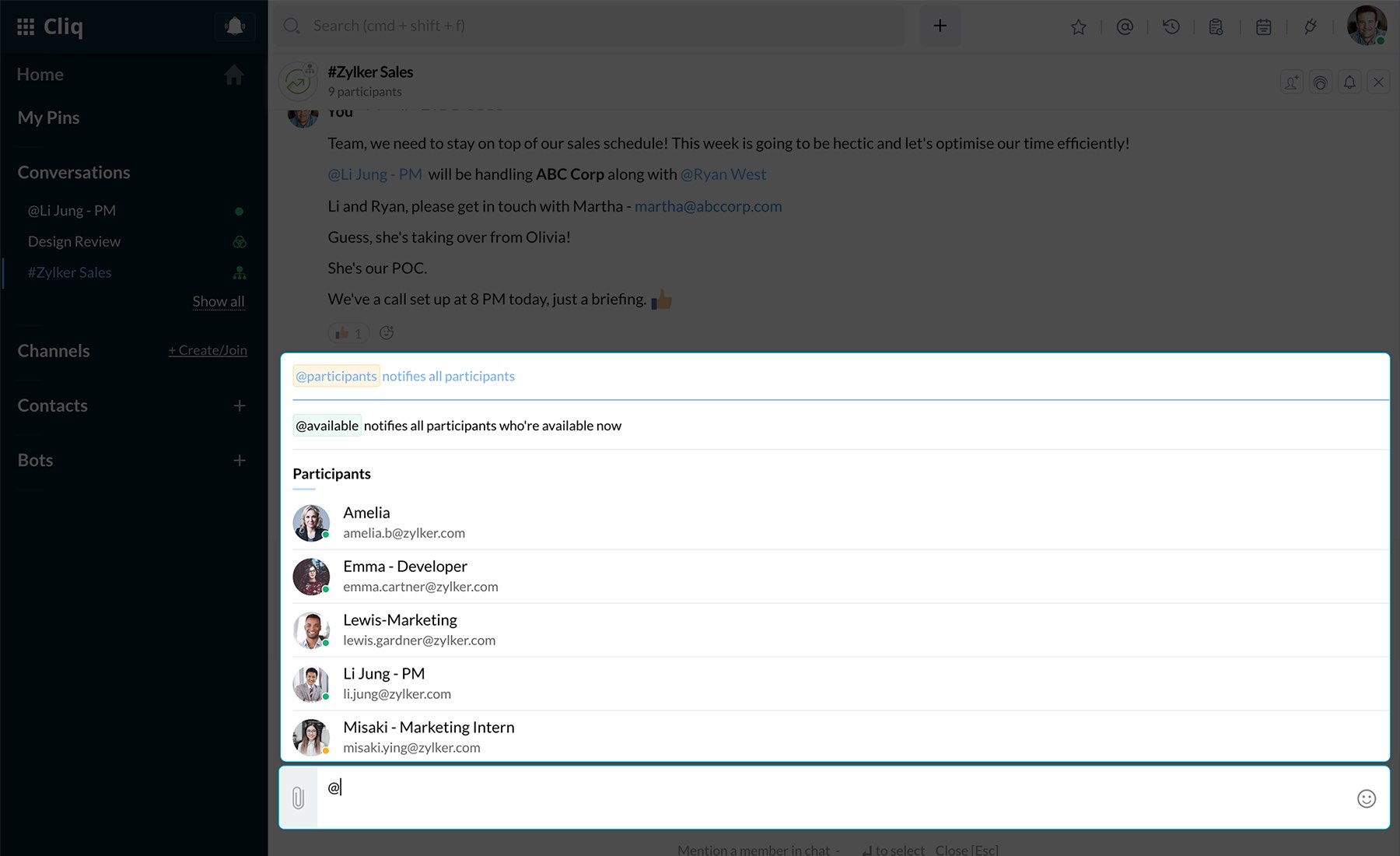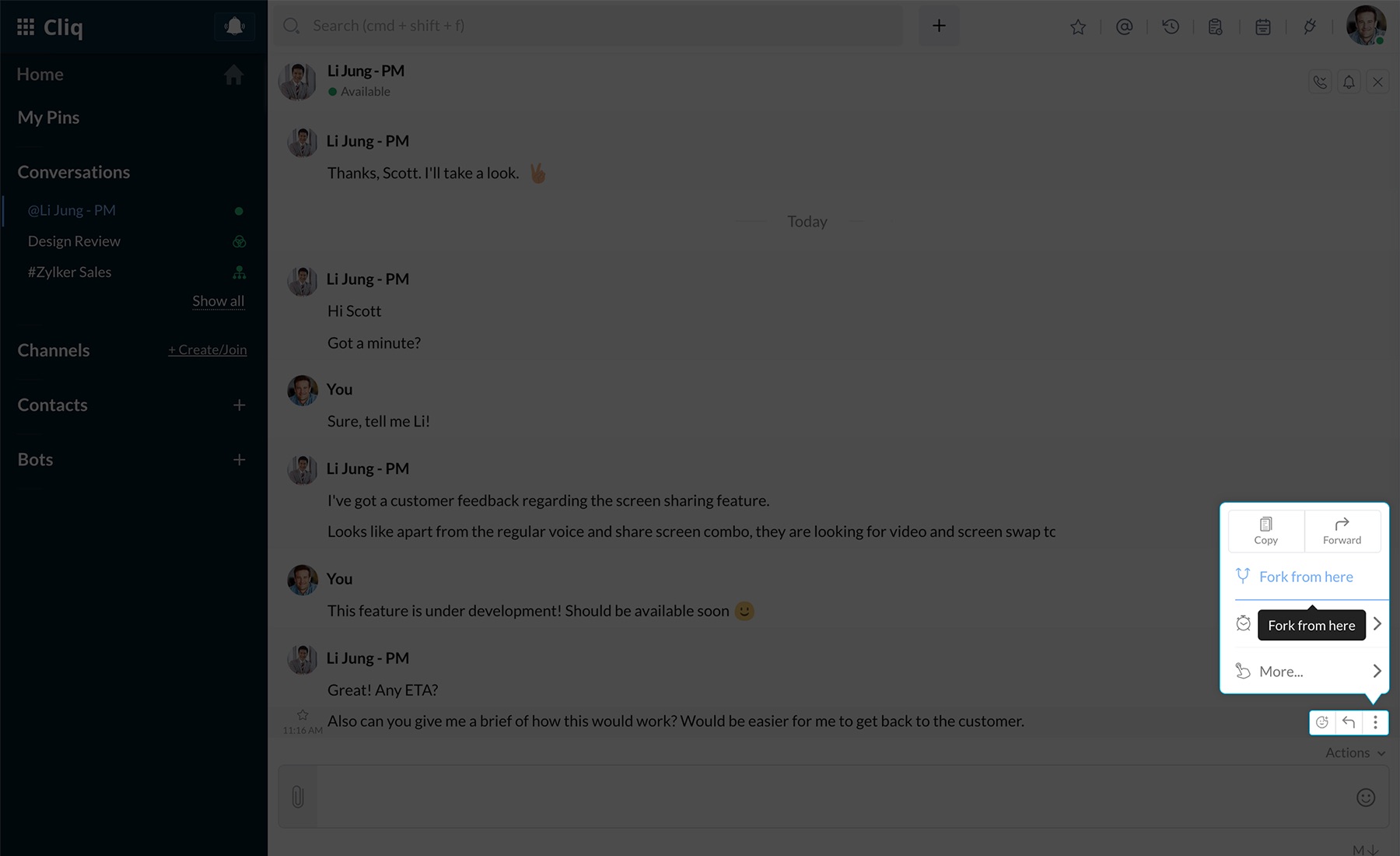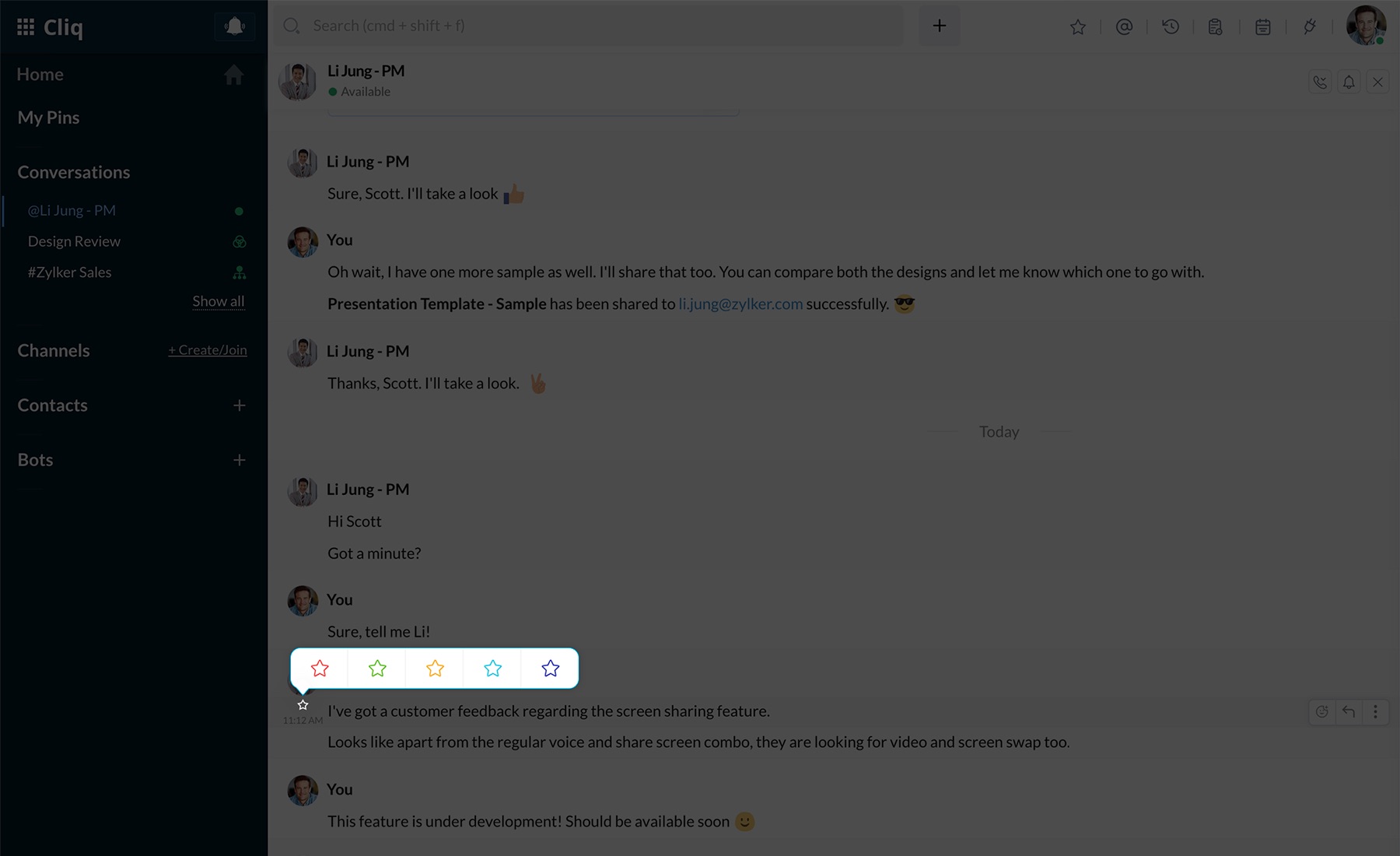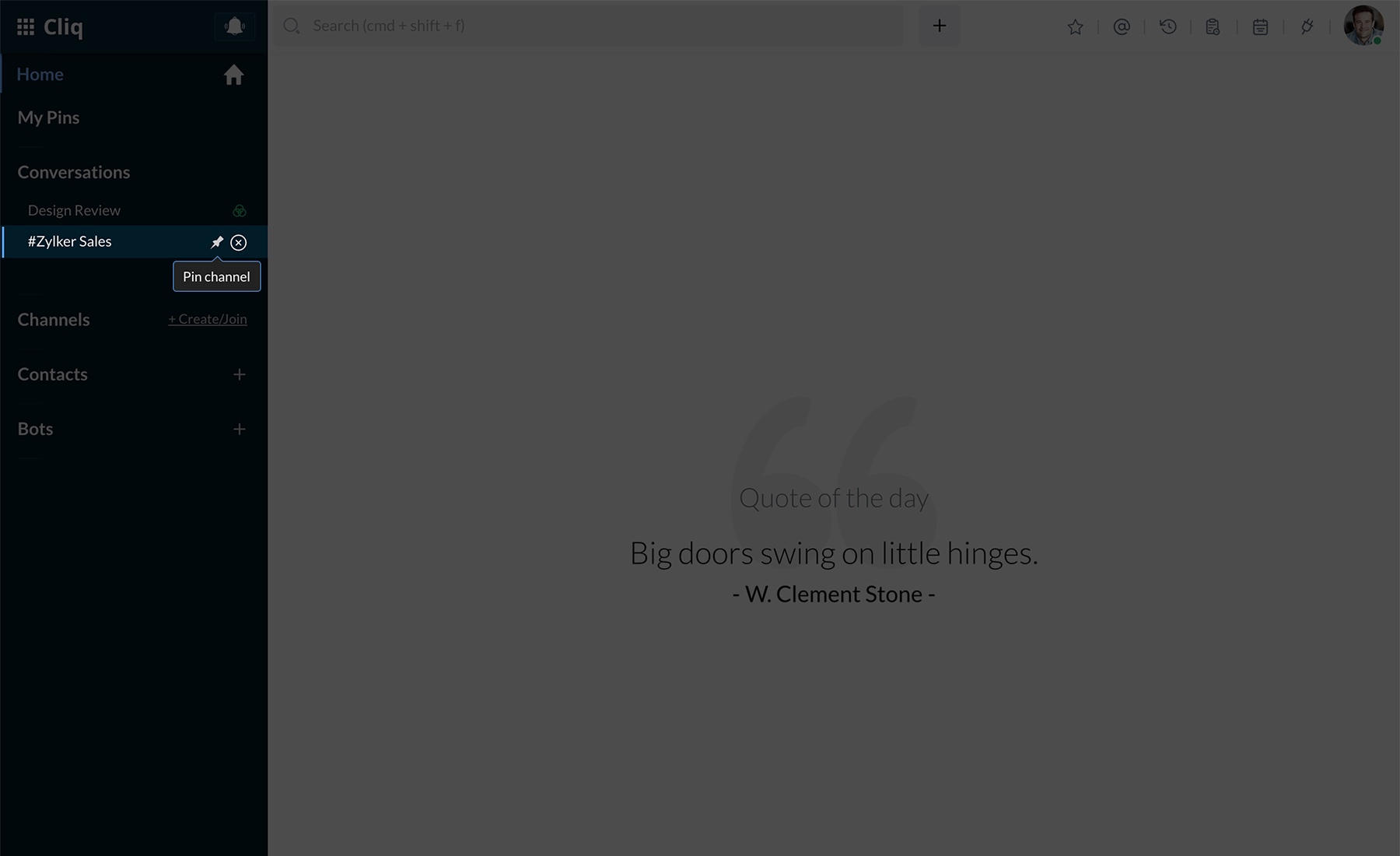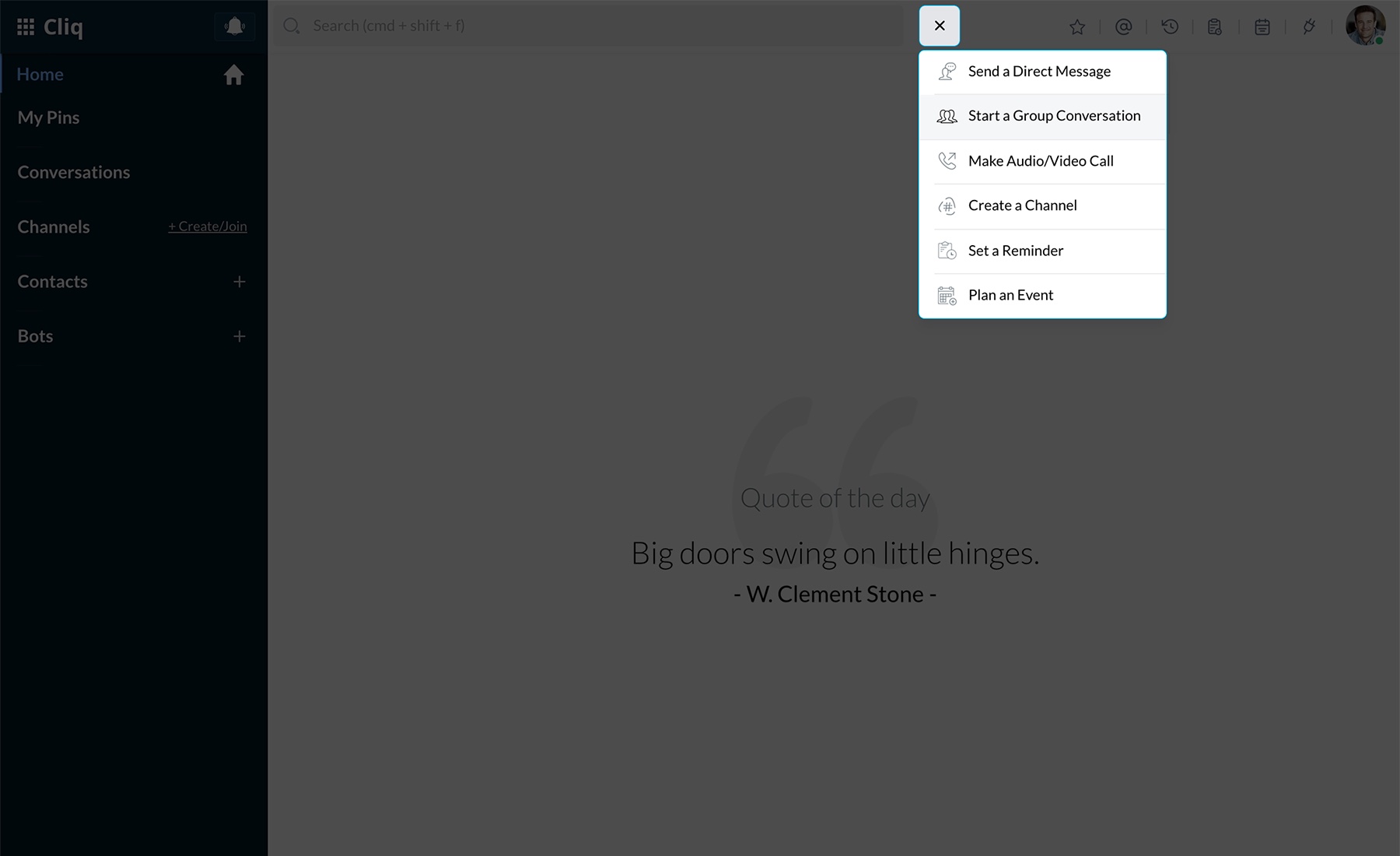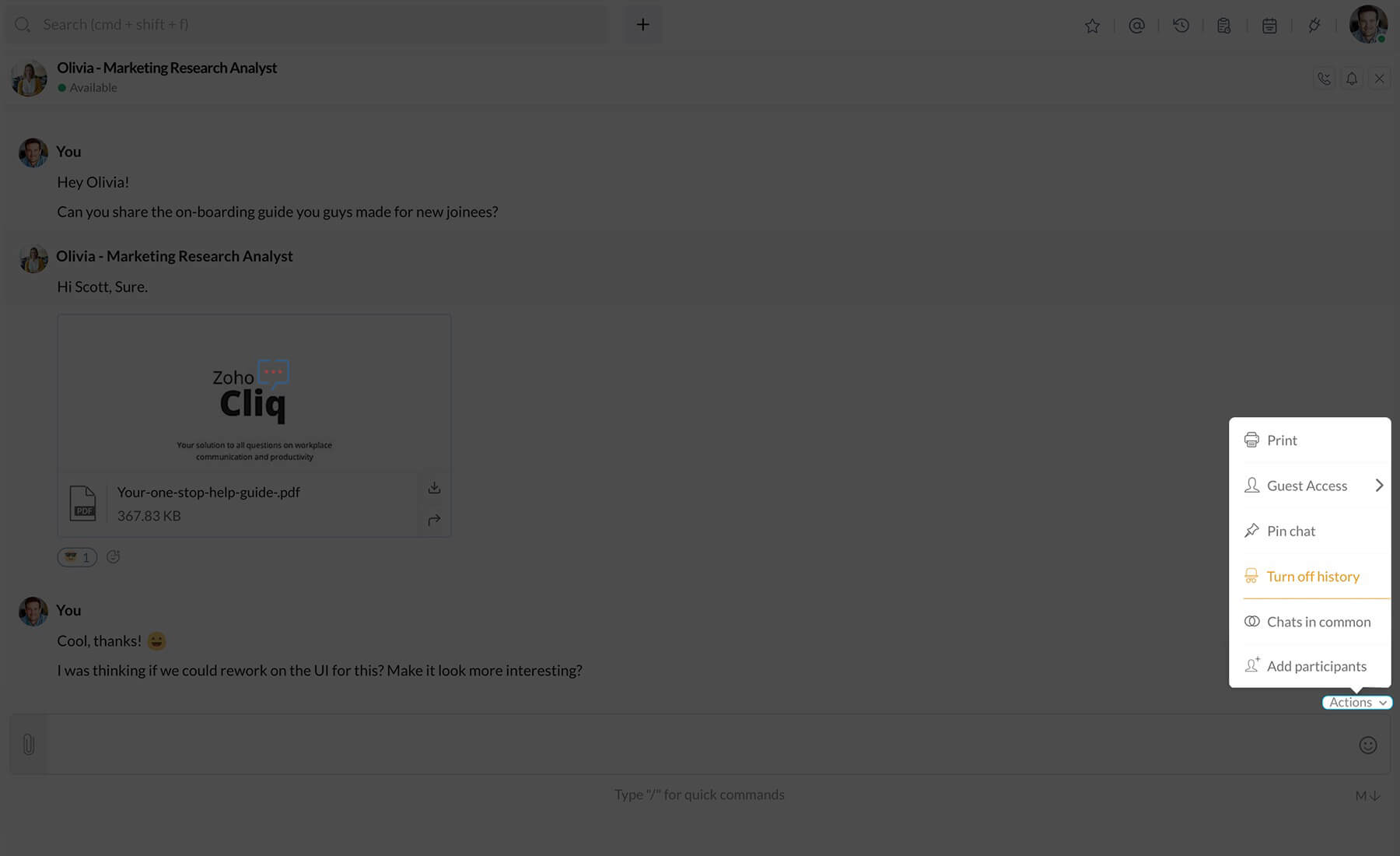 Contacts
Add Contact
To add a contact, click the + icon next to Contacts in the left pane.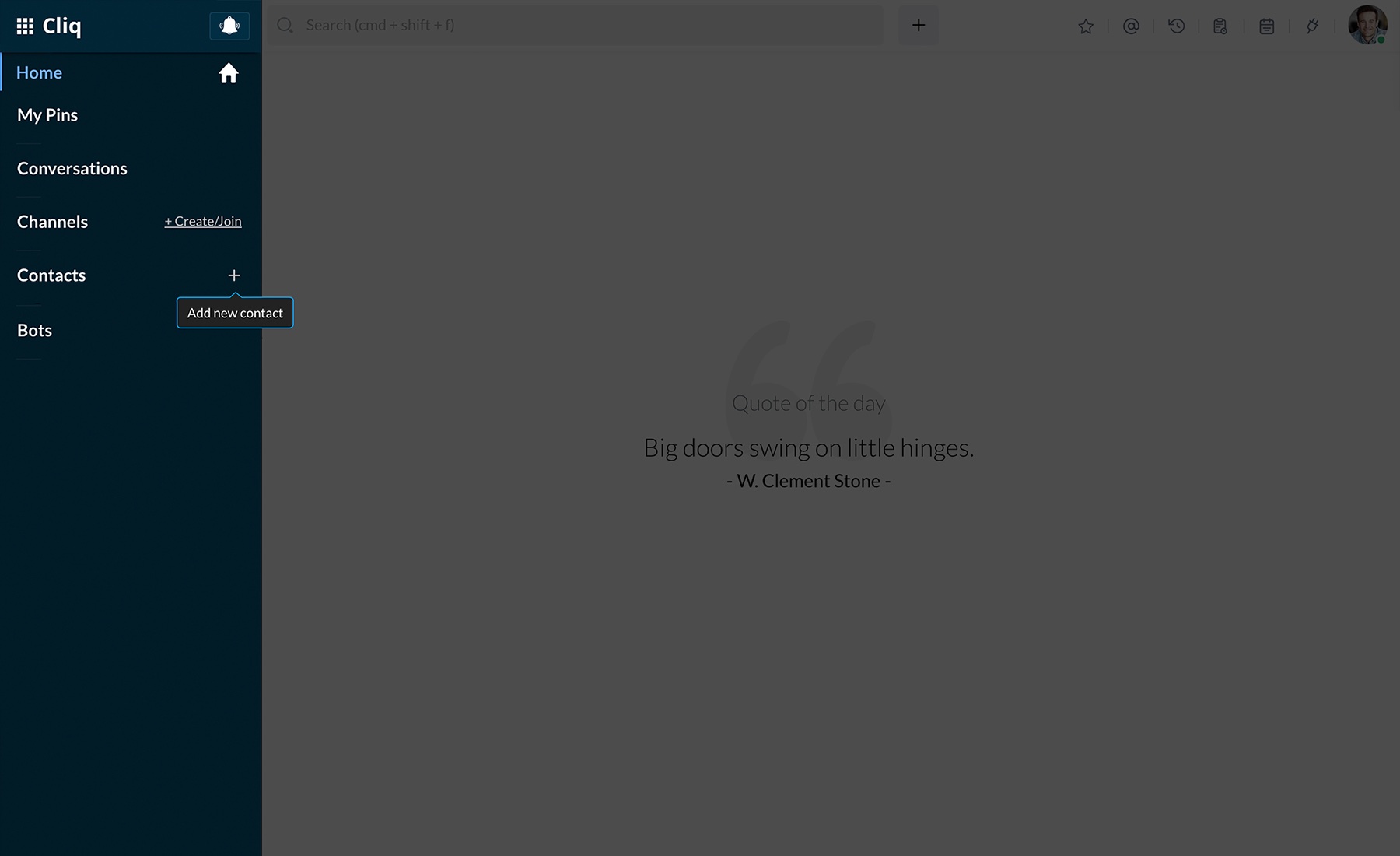 Send Contact Invite
Type their email address in the Invite Contact dialog box, send them a personalized message, and click Invite.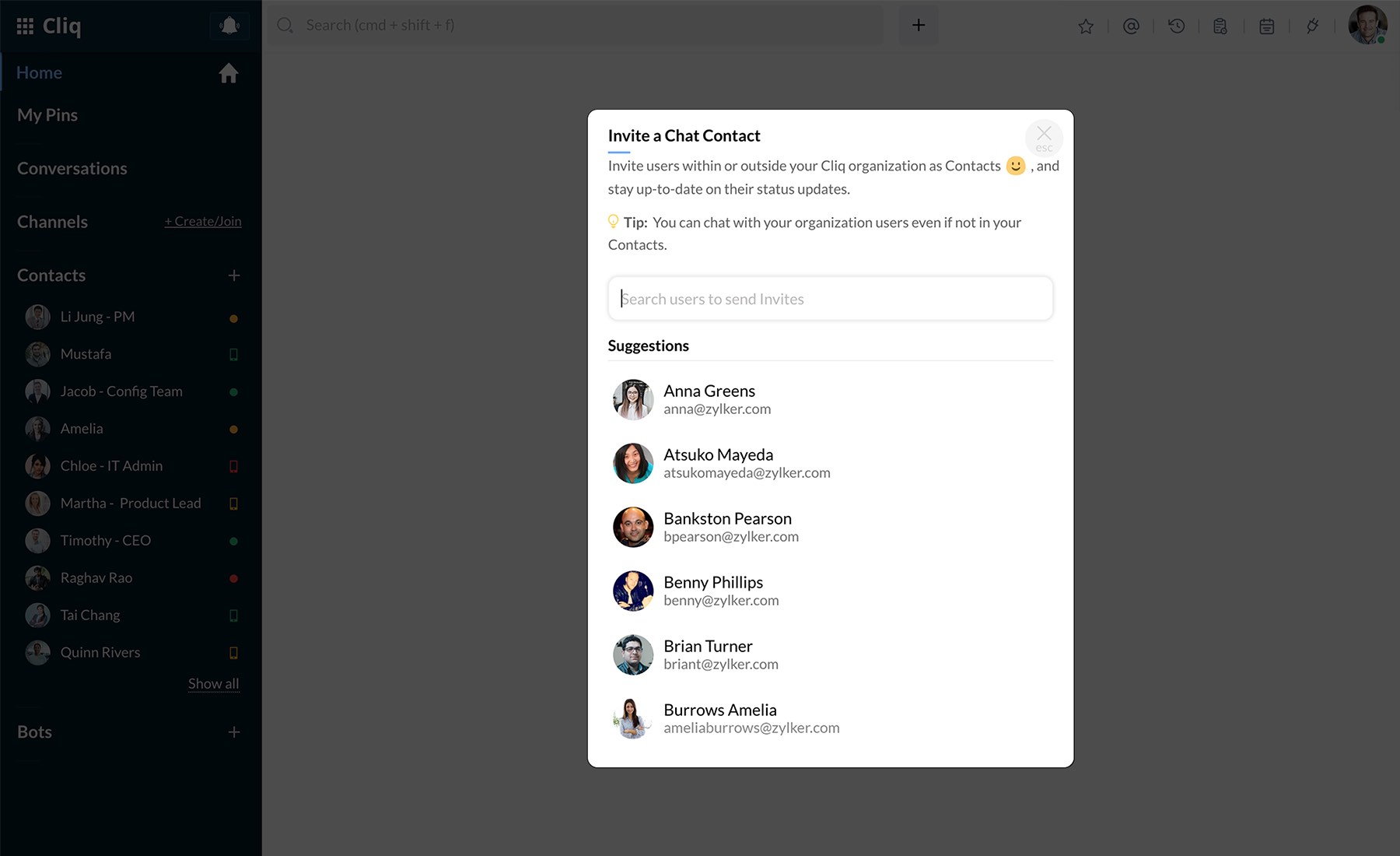 Contact List
All mutual contacts will be listed under the Contacts section in your left pane.
Add Contact
Send Contact Invite
Contact List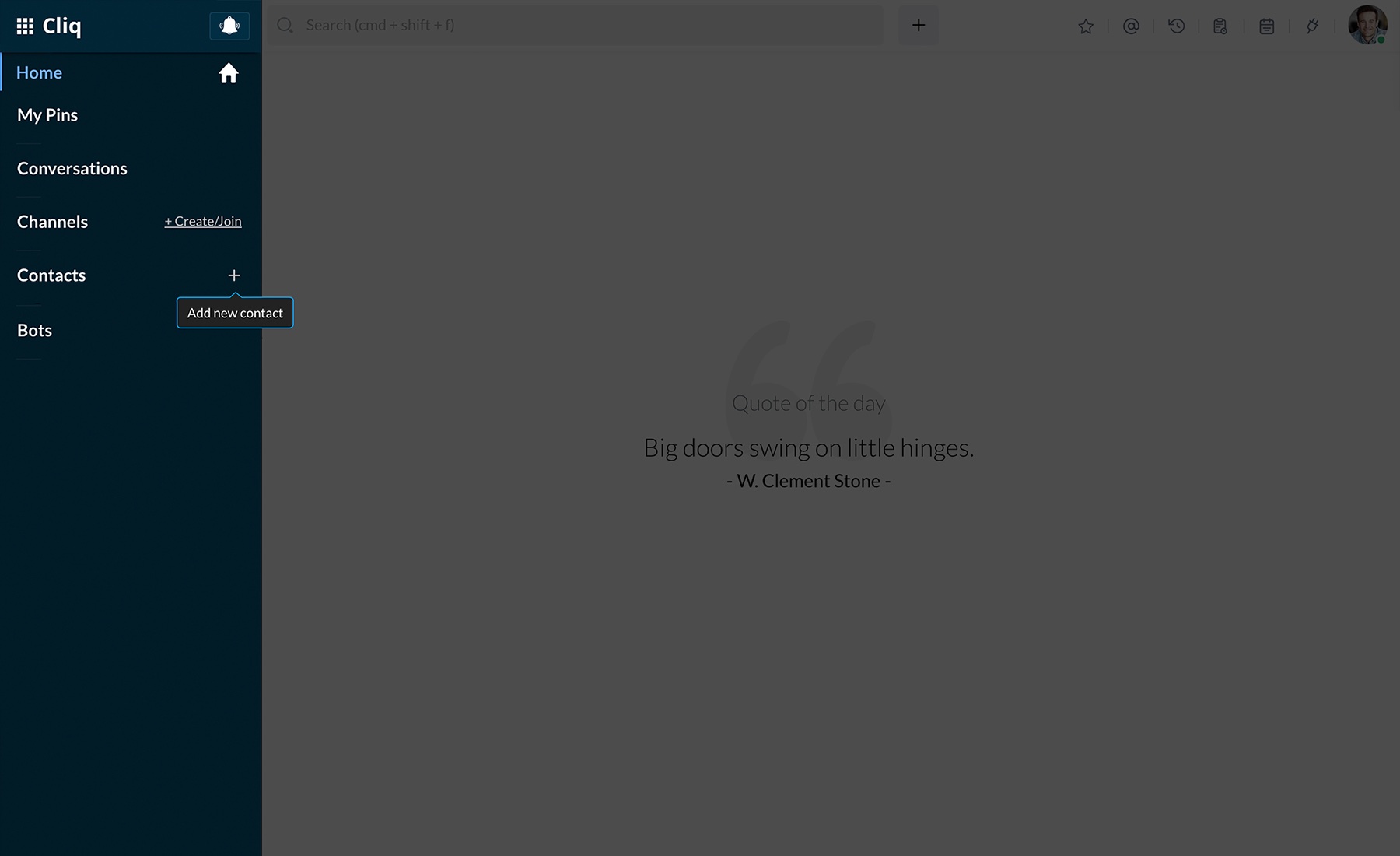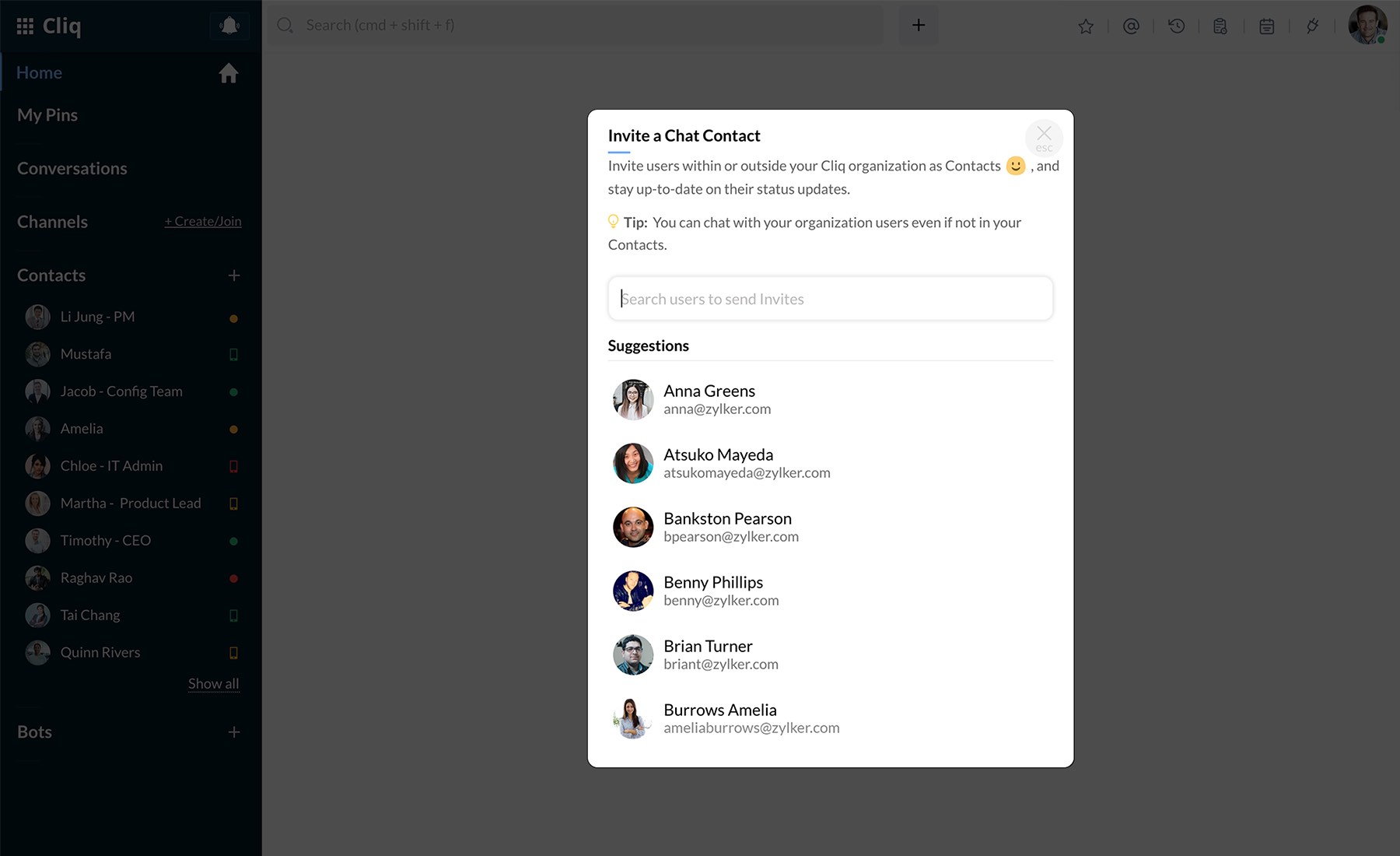 Channels
Create a Channel
Create a channel by clicking on the Create/Join option next to Channels in the Left Panel. Search and join existing channels from the channels section.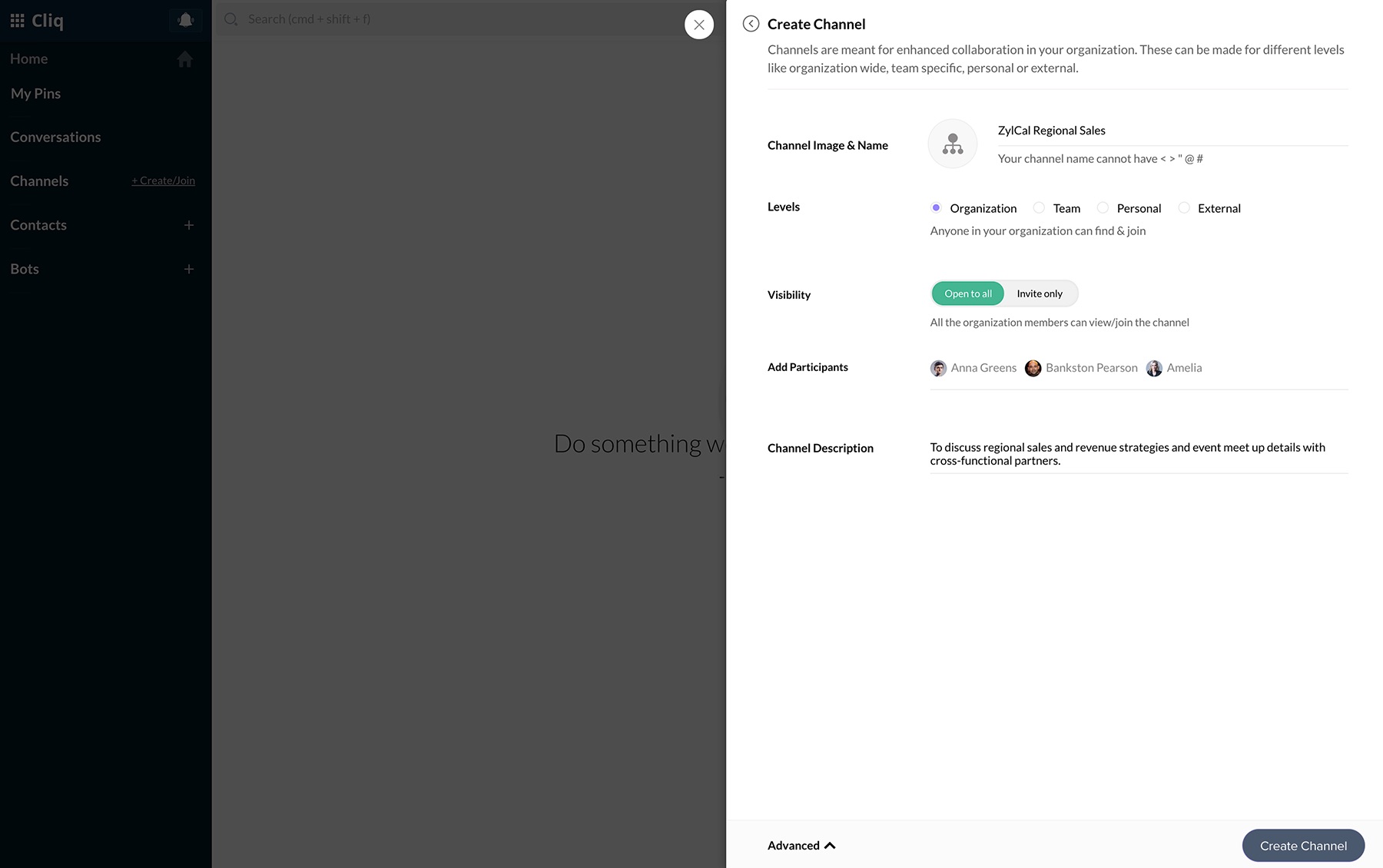 Channel Participants
View channel participants and their roles by clicking on the number of participants under Channel name in your chat header.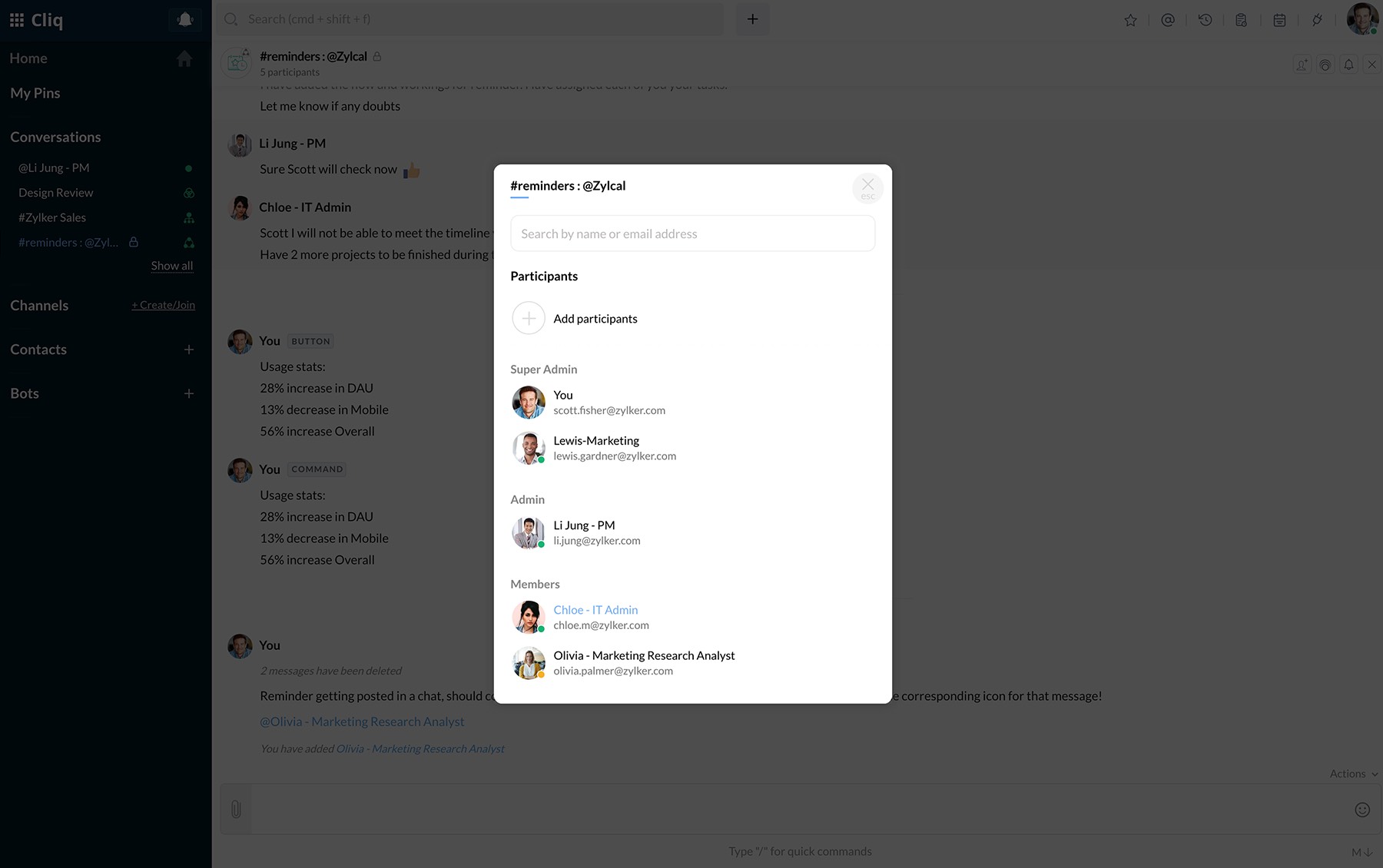 Participant Roles & Permissions
You can view and moderate permissions based on participant roles from the channel's preview section.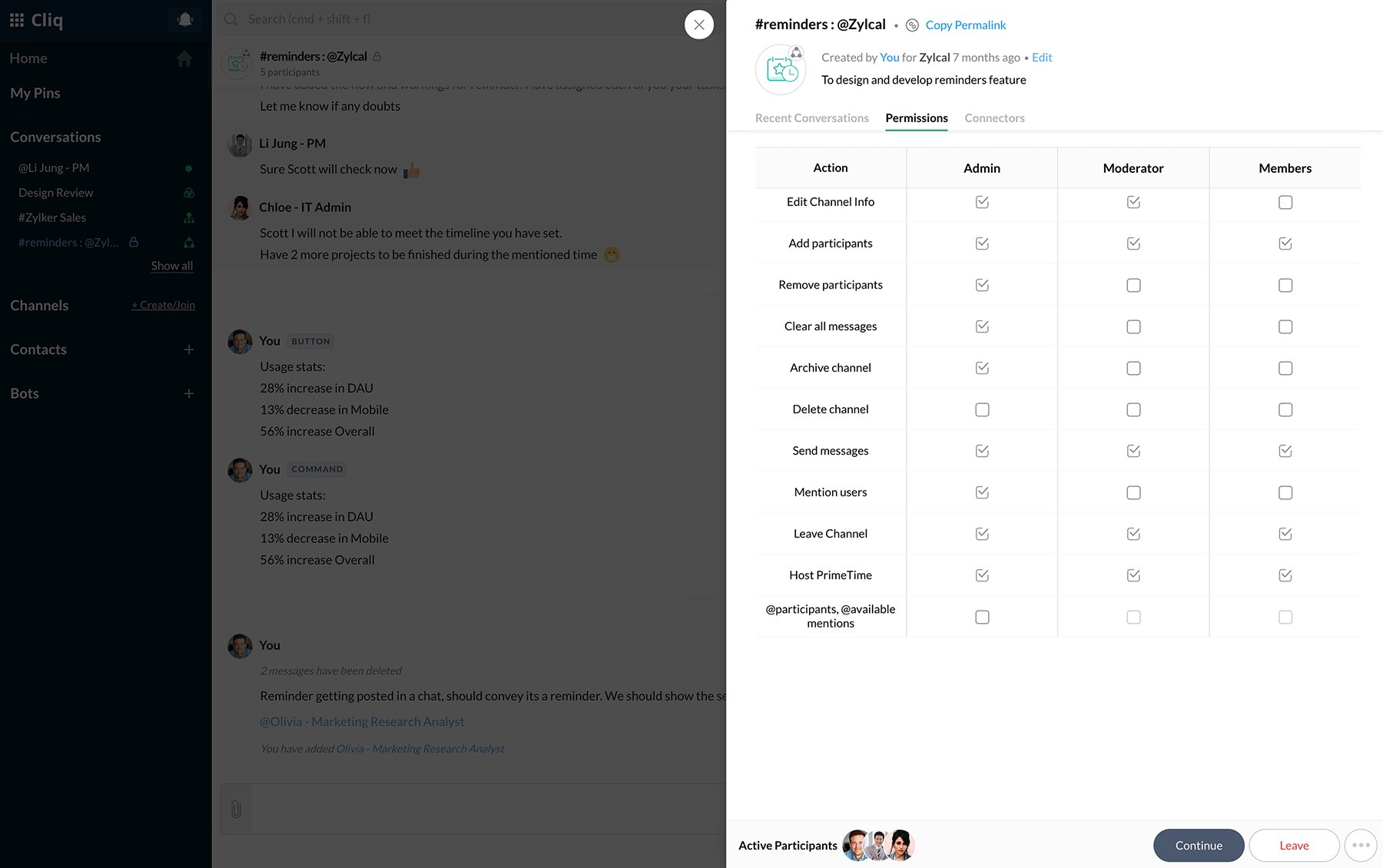 Create a Channel
Channel Participants
Participant Roles & Permissions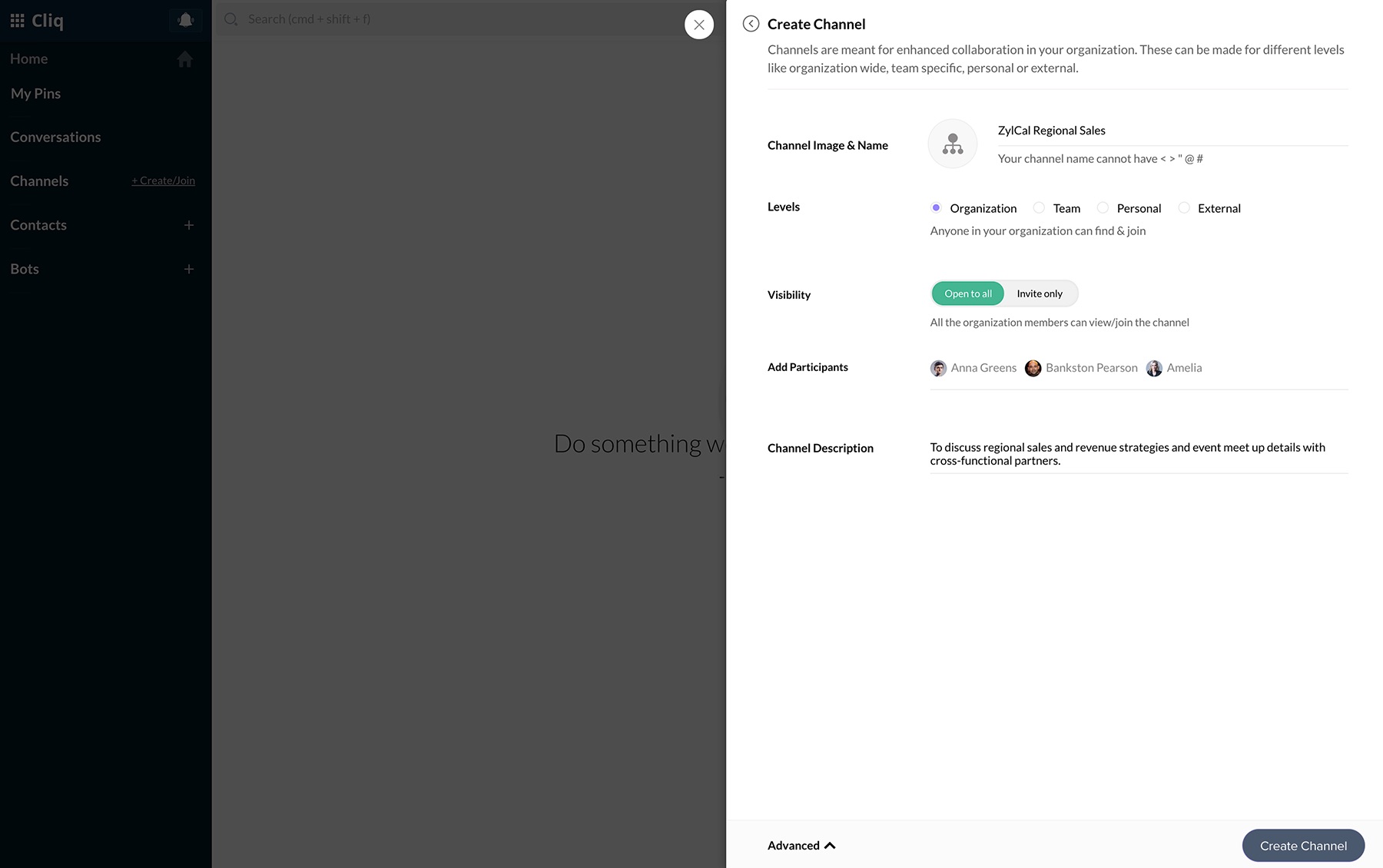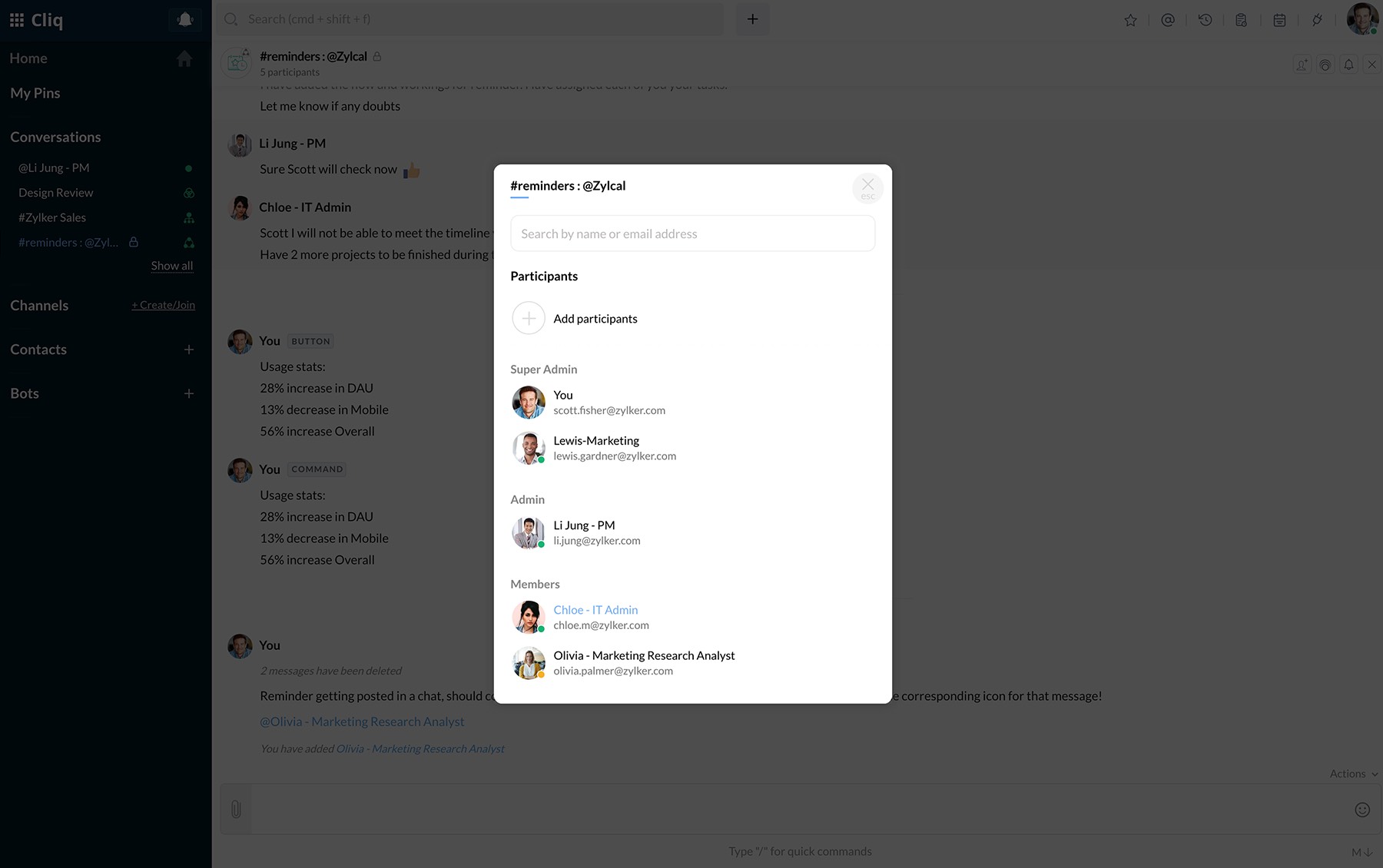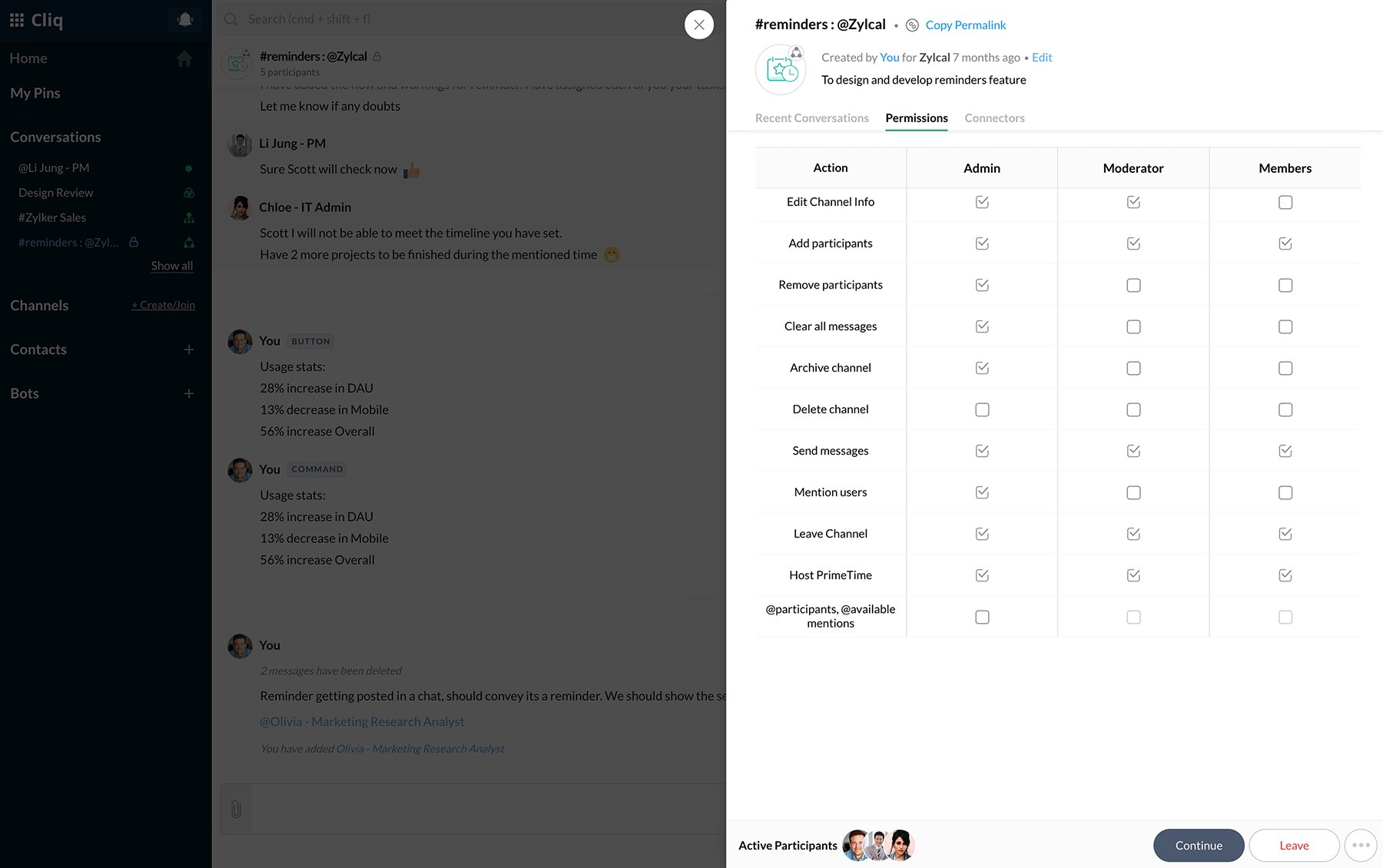 Video Collaboration
Host PrimeTime
PrimeTime is Cliq's video broadcasting feature to help remote teams collaborate better. Begin a session by clicking the PrimeTime icon and enabling camera and microphone access.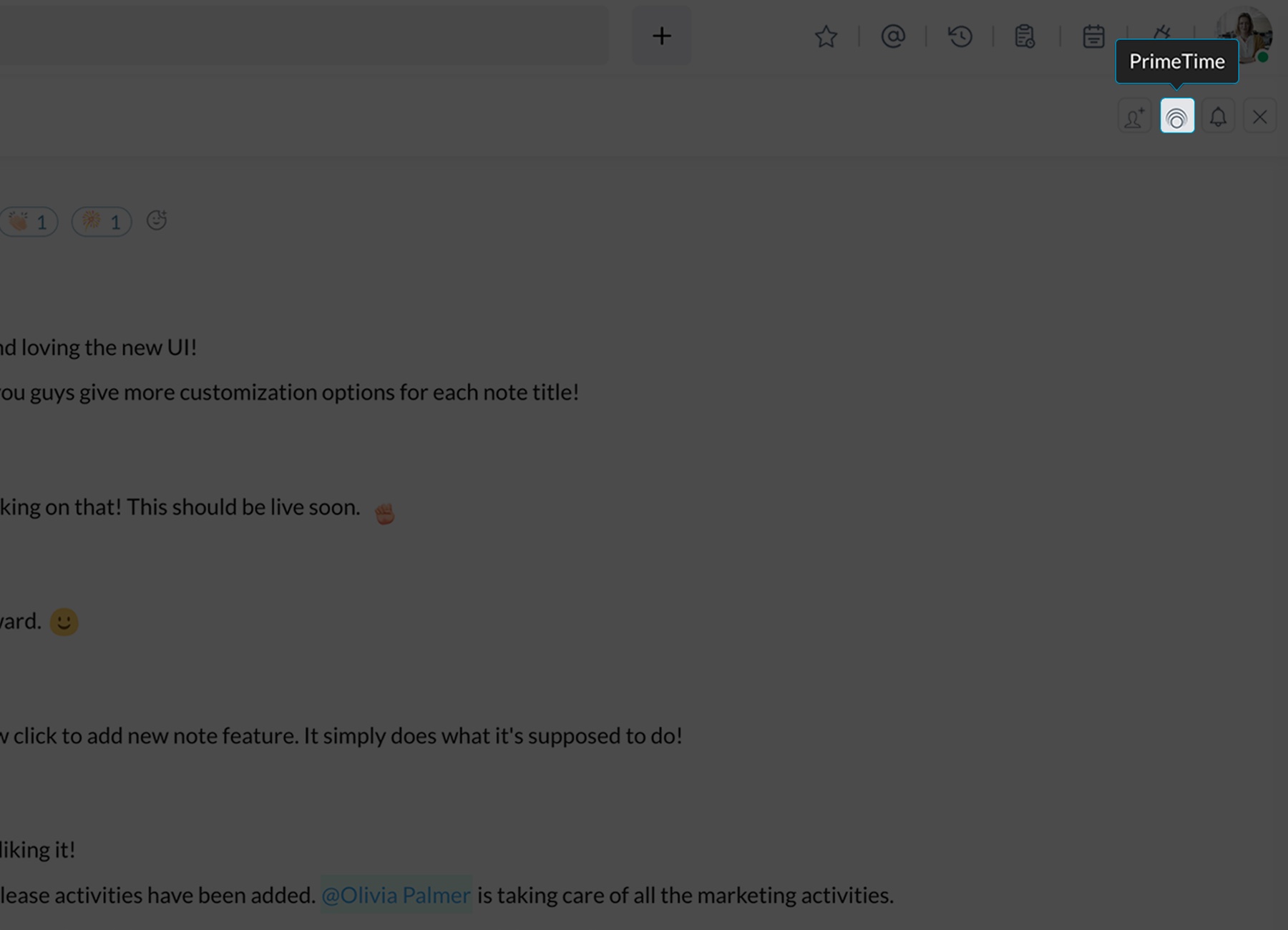 The PrimeTime Window
As the session host, you'll be addressing the audience. Attendees in the session will be listed at the bottom of the window.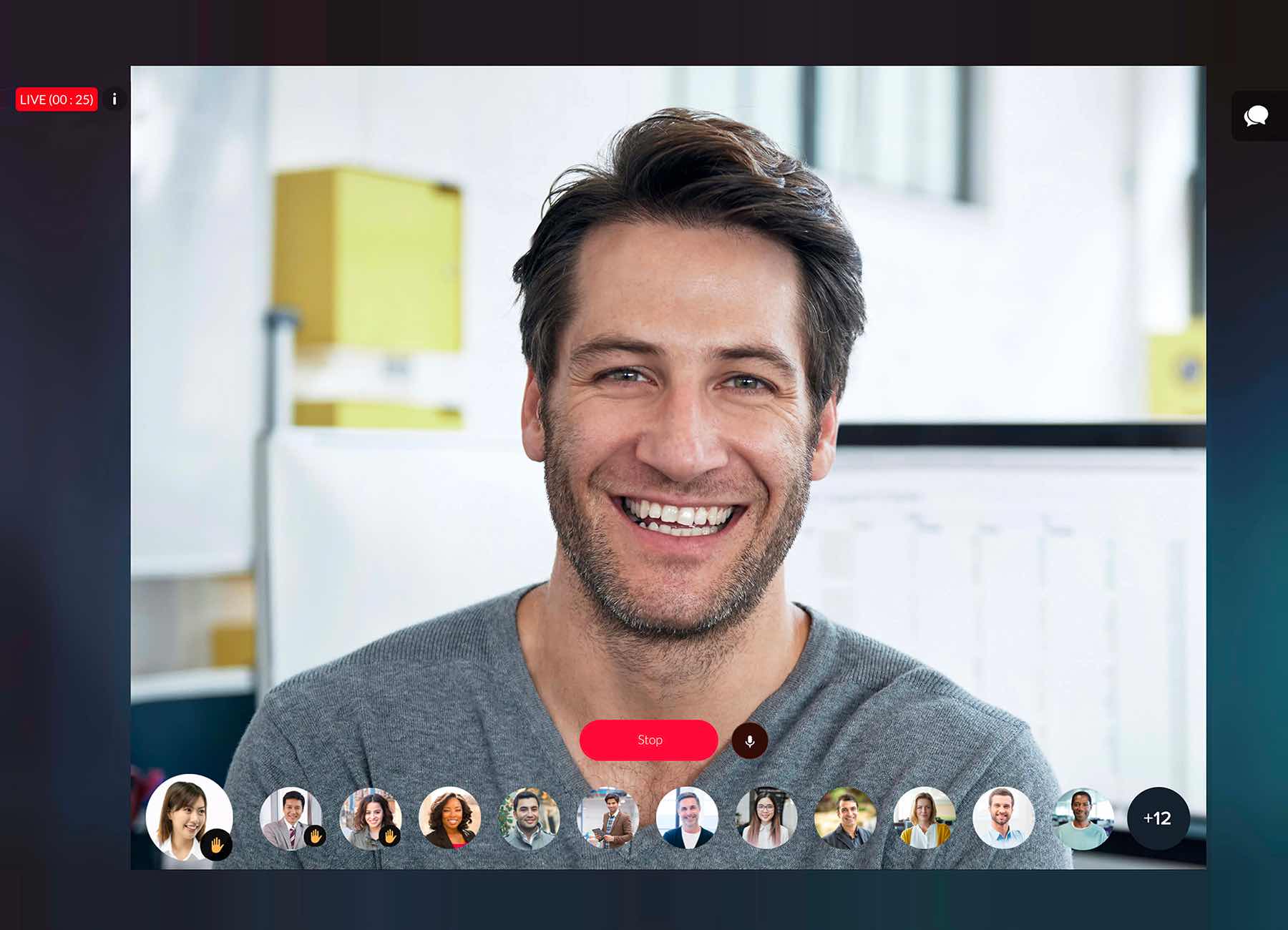 PrimeTime Chat
Once your PrimeTime session begins, you can click the Chat icon in the top-right corner to access your chat in the same window.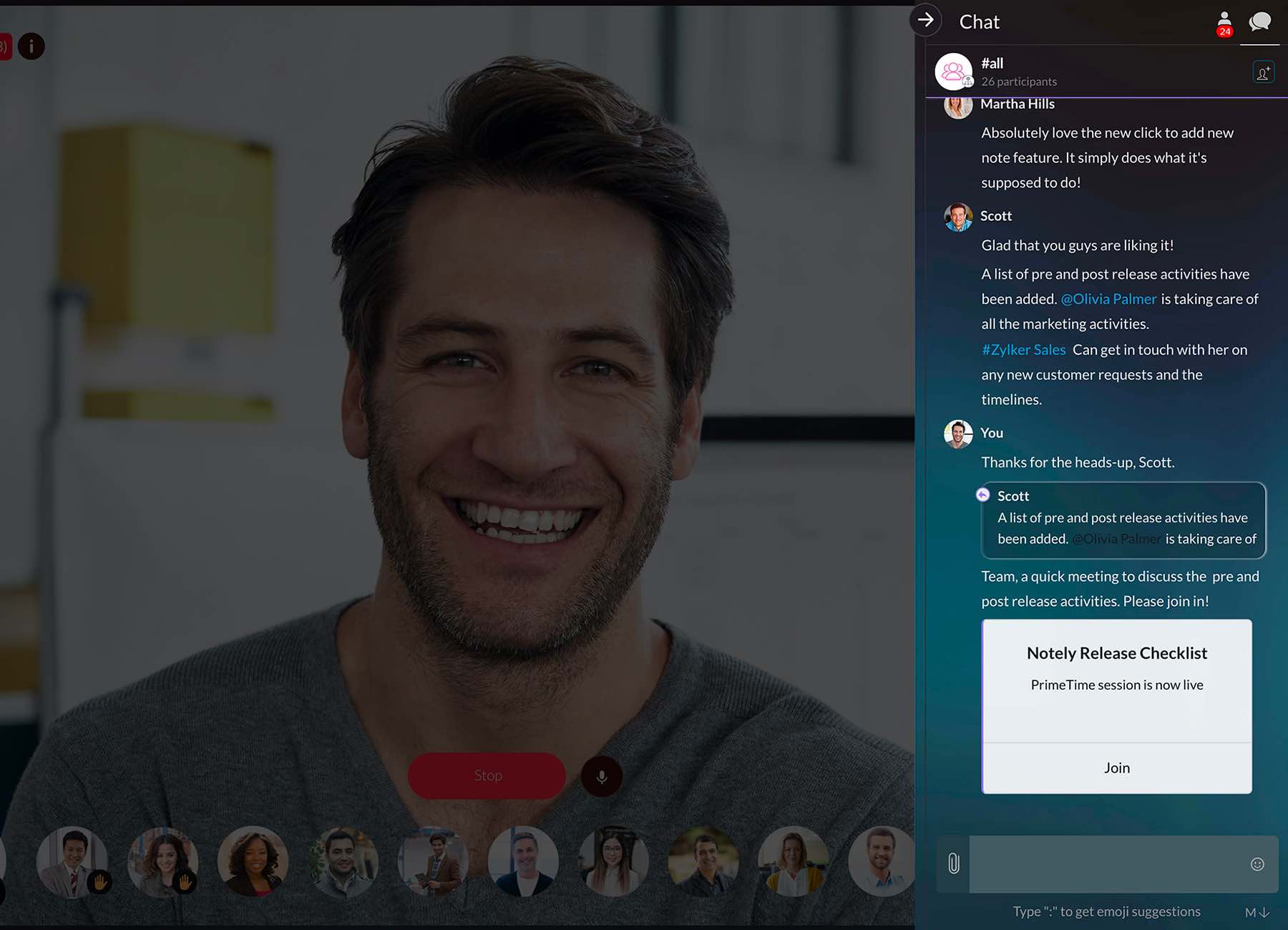 Raise Hand
All attendees can use the raise hand option if they would like to join in as a co host. The host can decide to approve or decline a request.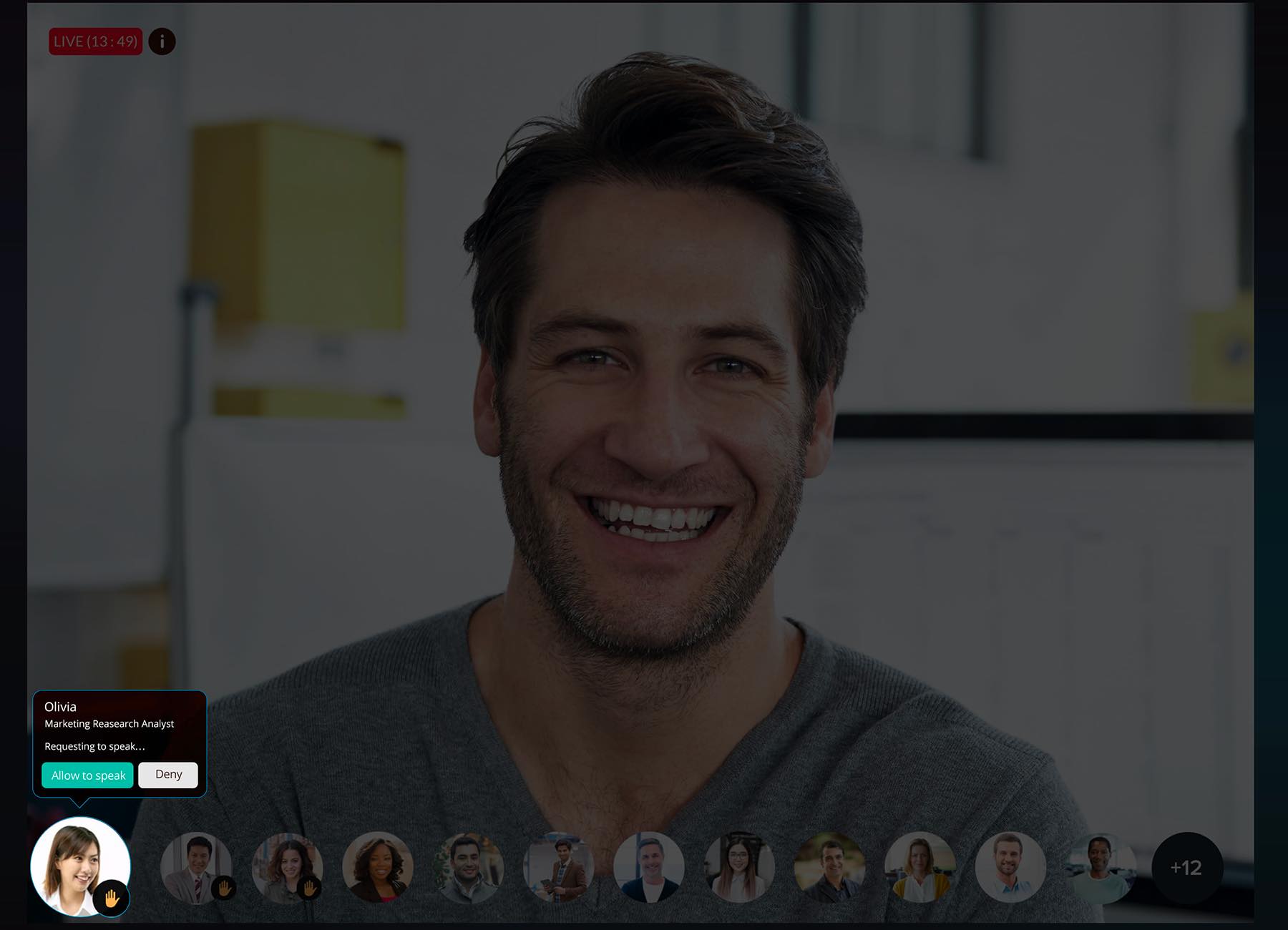 Co host a PrimeTime
When the host approves your request to speak, you will be joining in as the co host.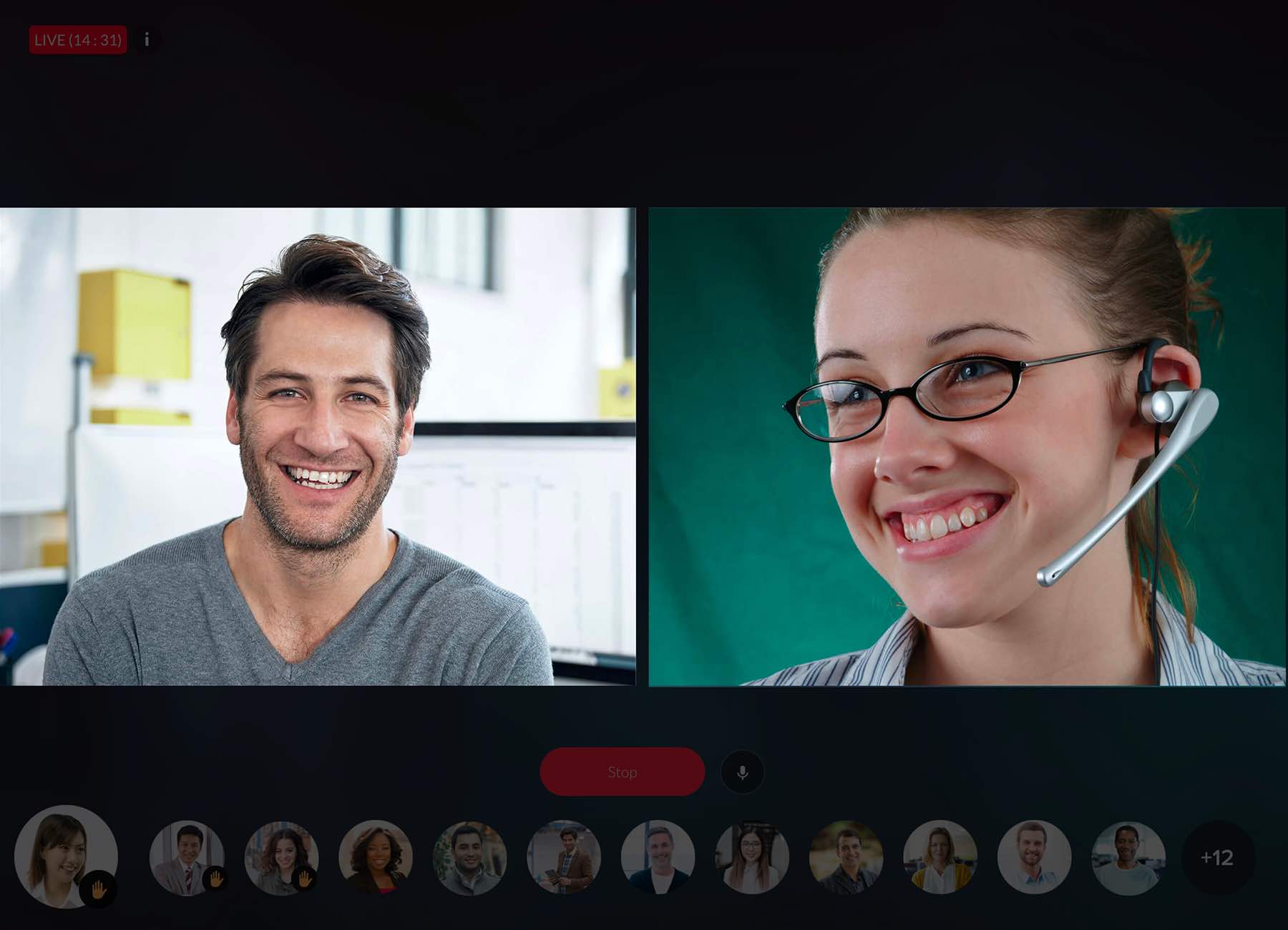 Host PrimeTime
The PrimeTime Window
PrimeTime Chat
Raise Hand
Co host a PrimeTime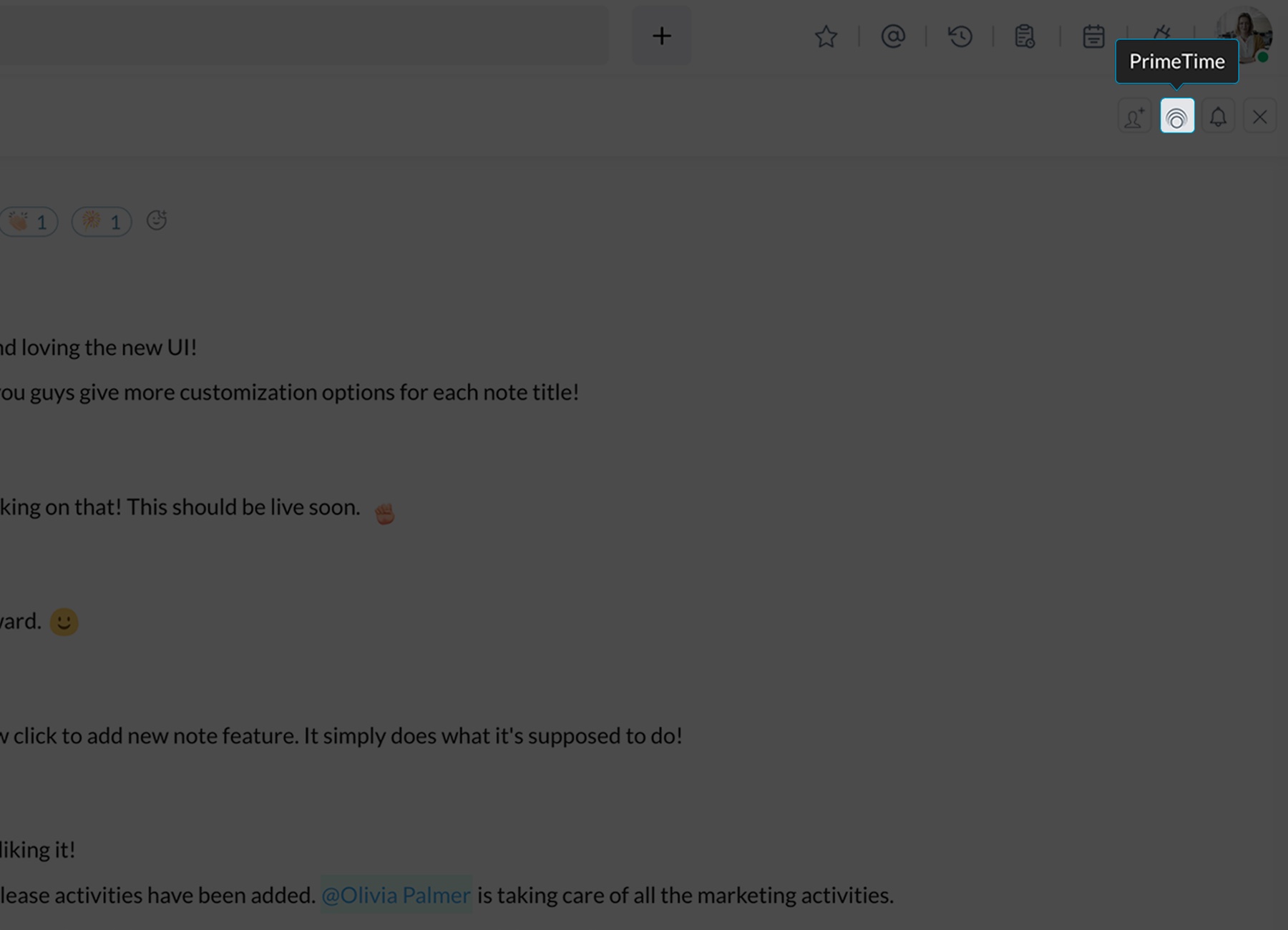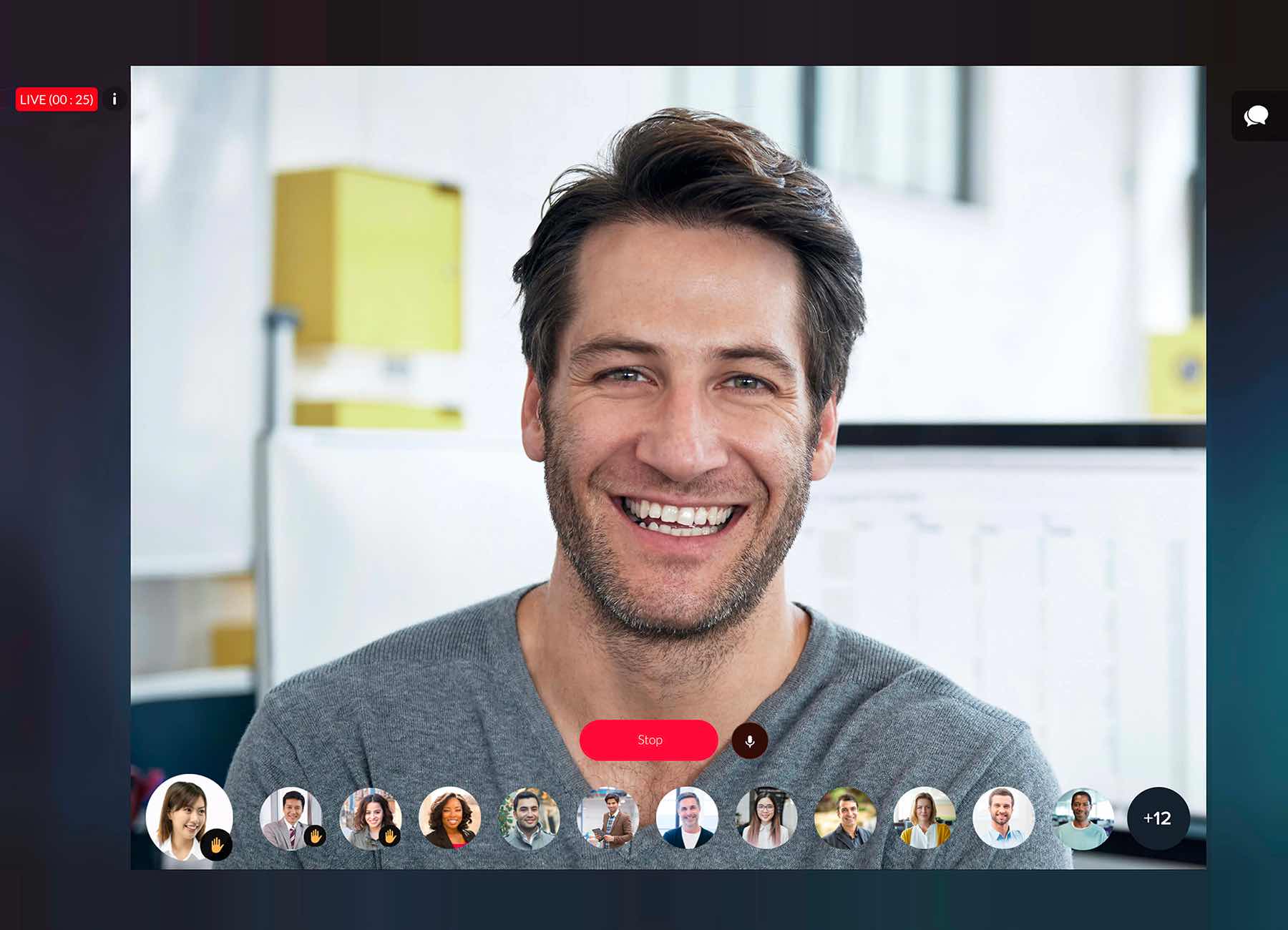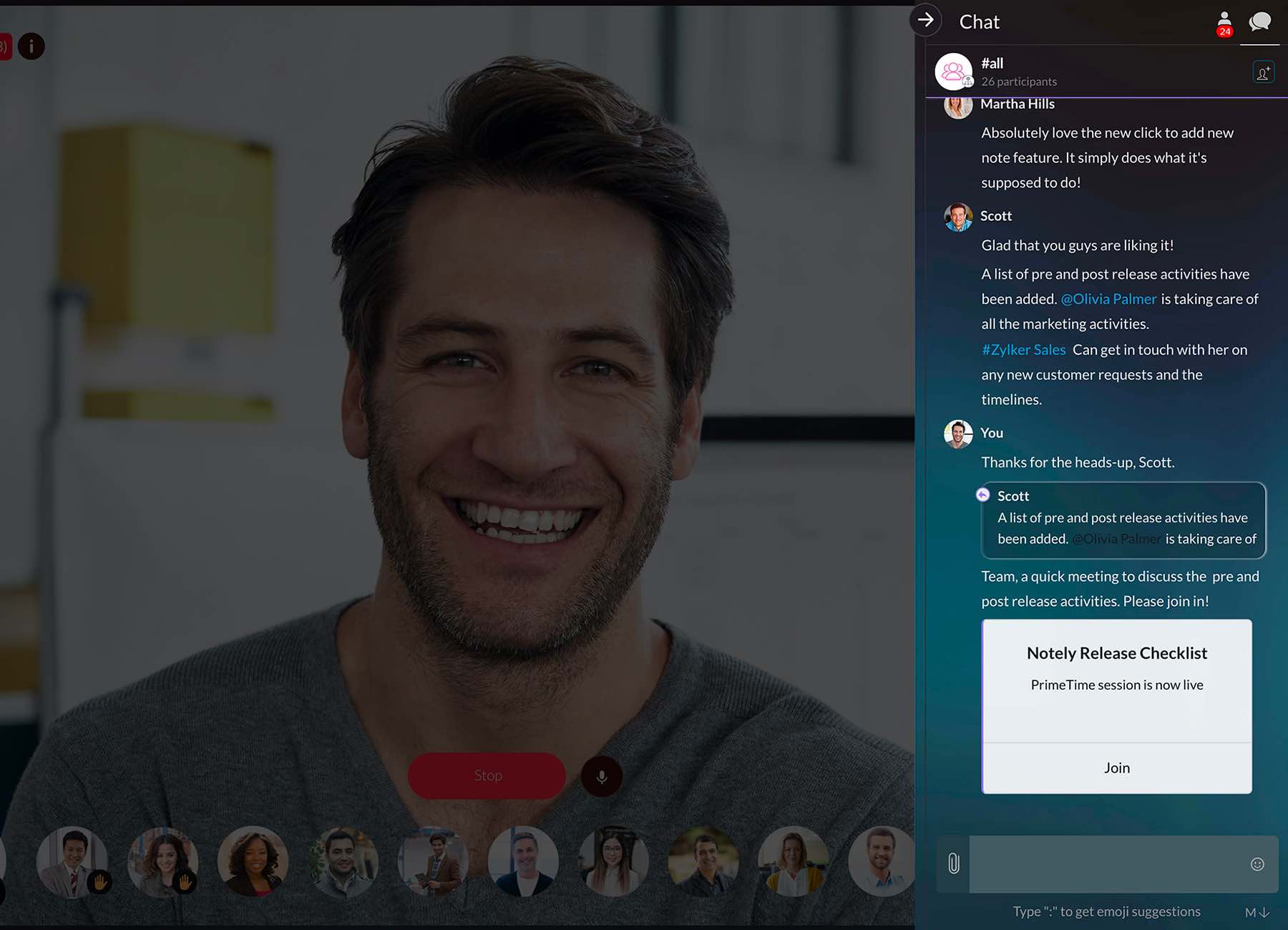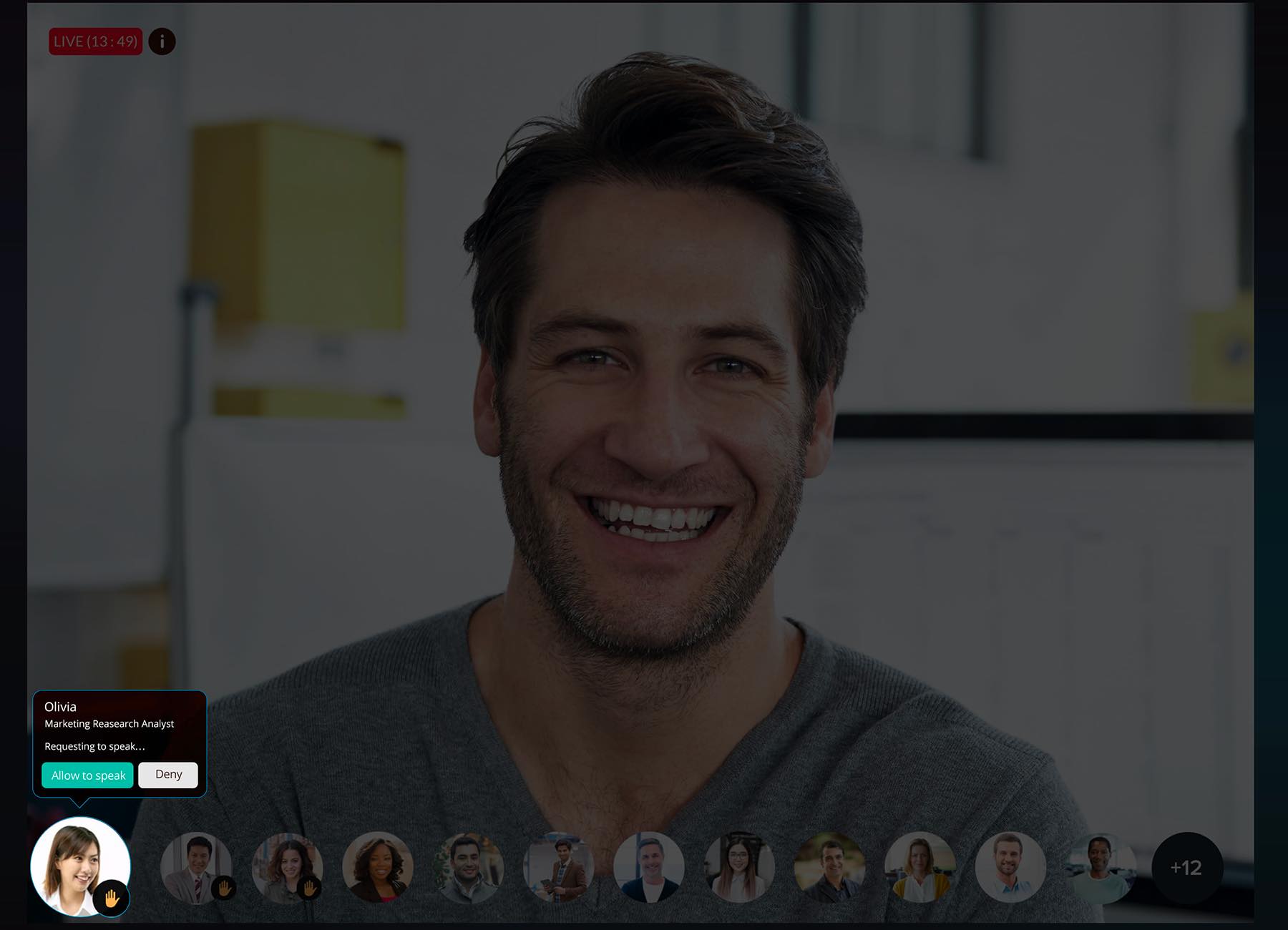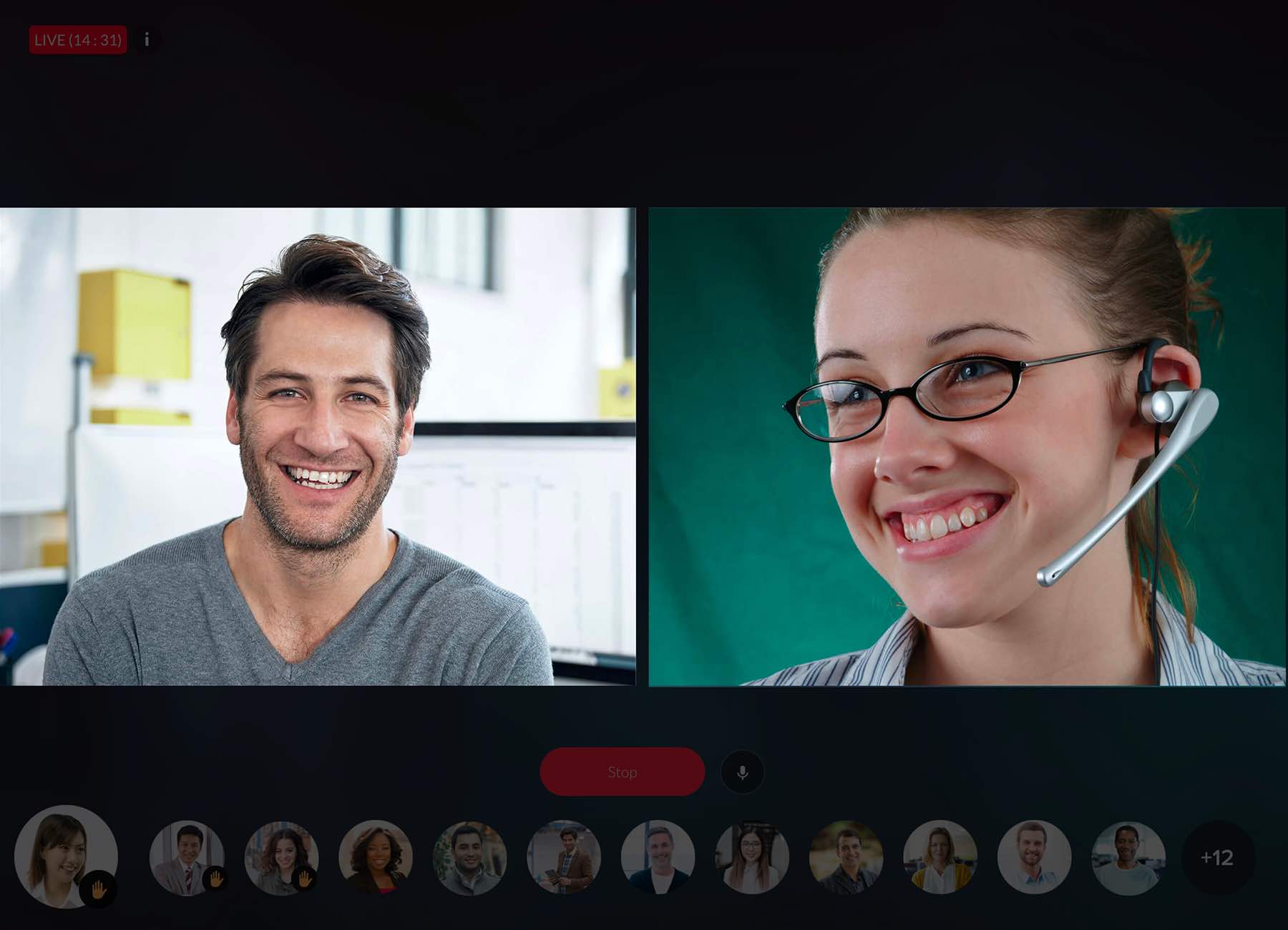 Reminders
Set a Reminder
You can add a reminder for yourself, teammates, a group conversation or a channel.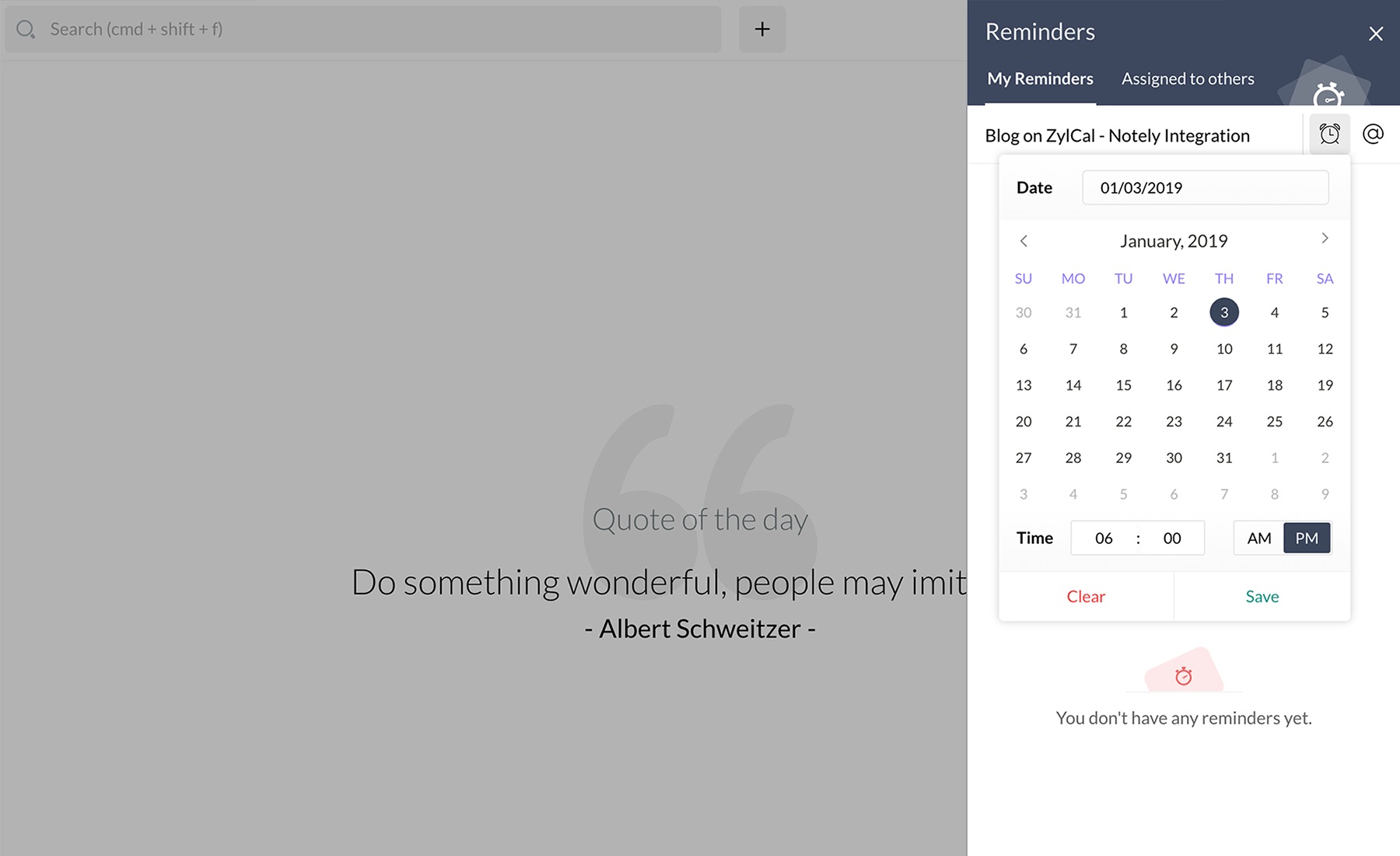 My Reminders
View reminders assigned to you, by yourself or your teammates under the My Reminders section.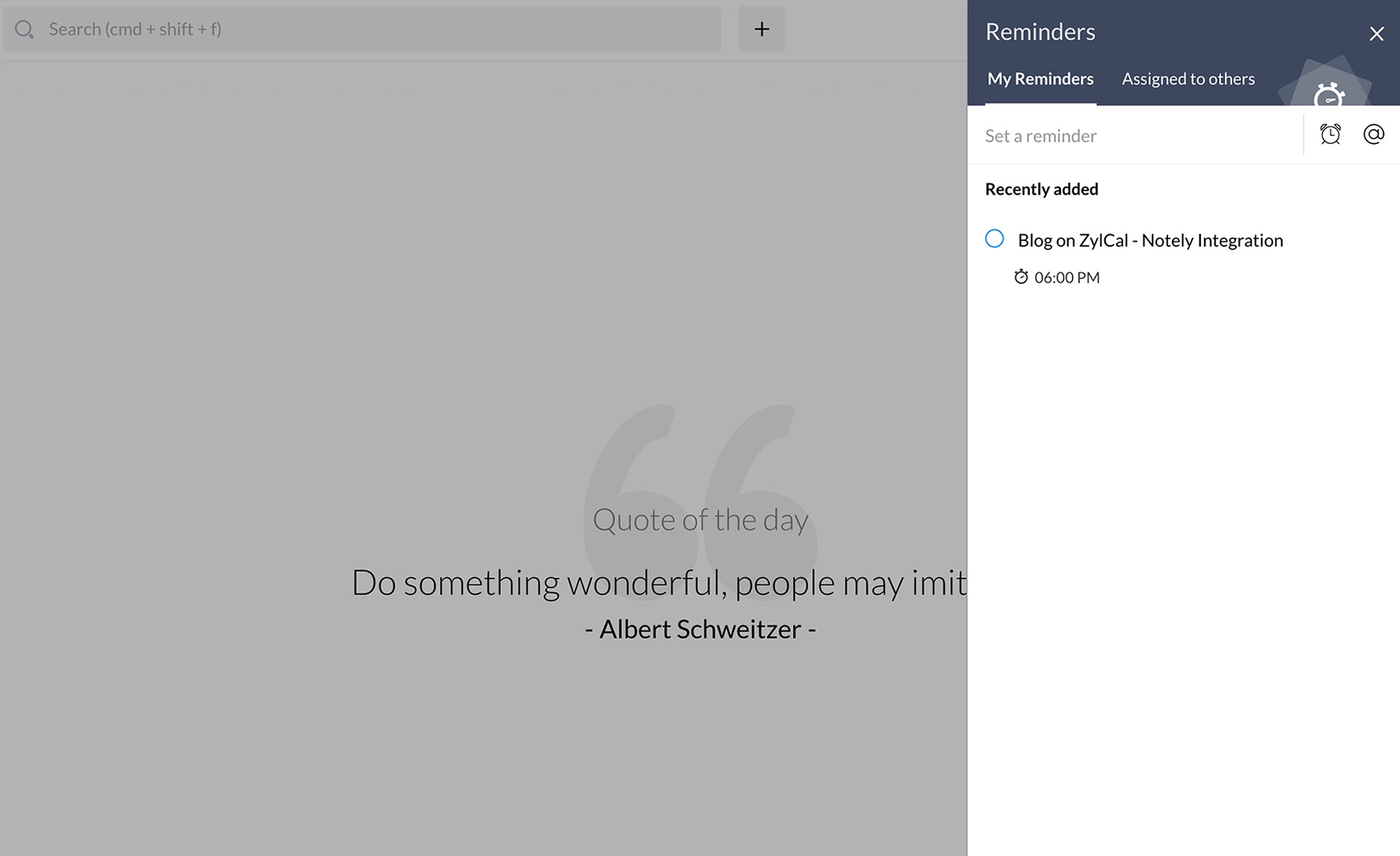 Assigned Reminders
Reminders that you've assigned to teammates, group conversations, or channels will be listed here.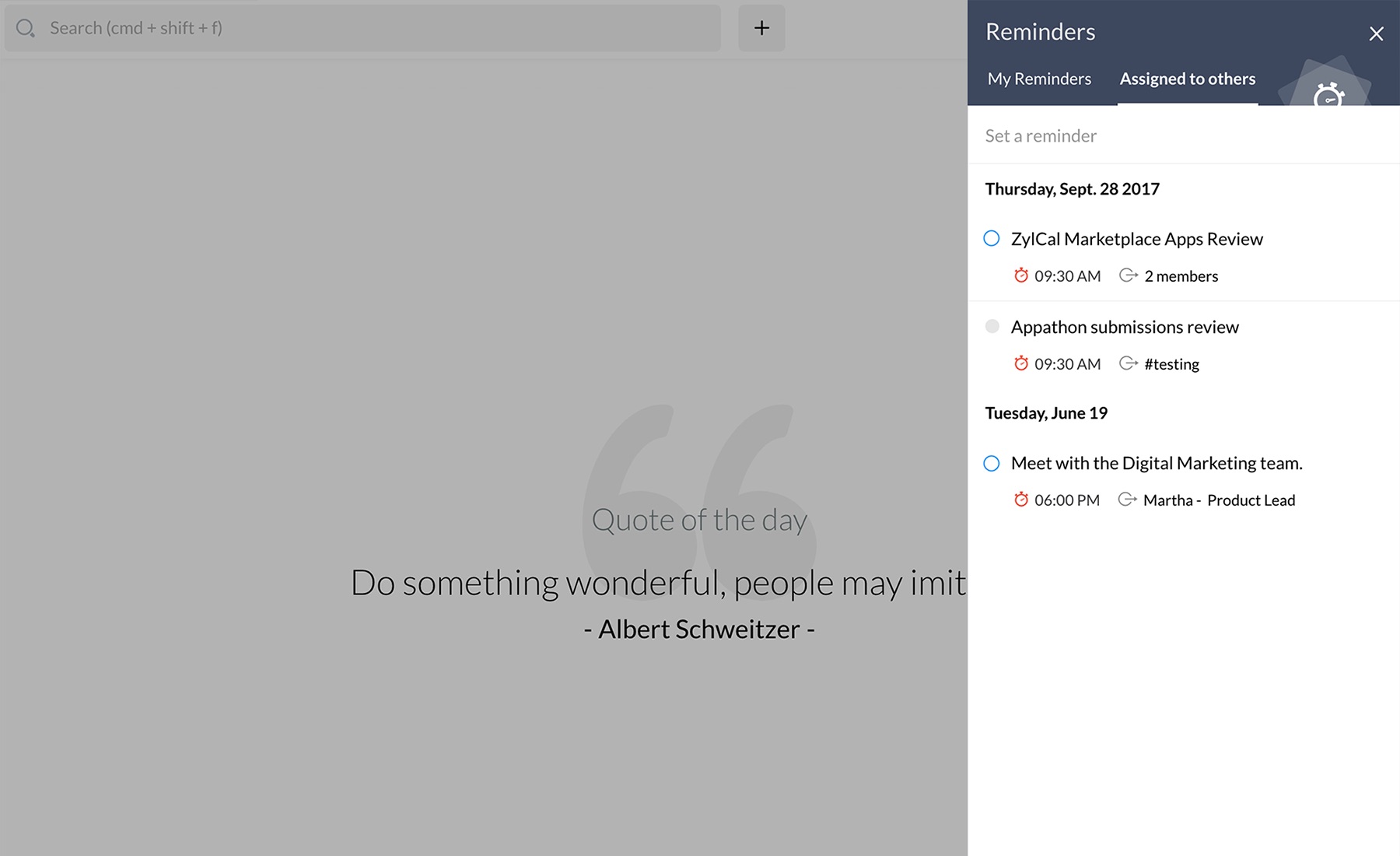 Reminder Notification
@Taz notifies you of due reminders. You can either mark it as complete or snooze the reminder.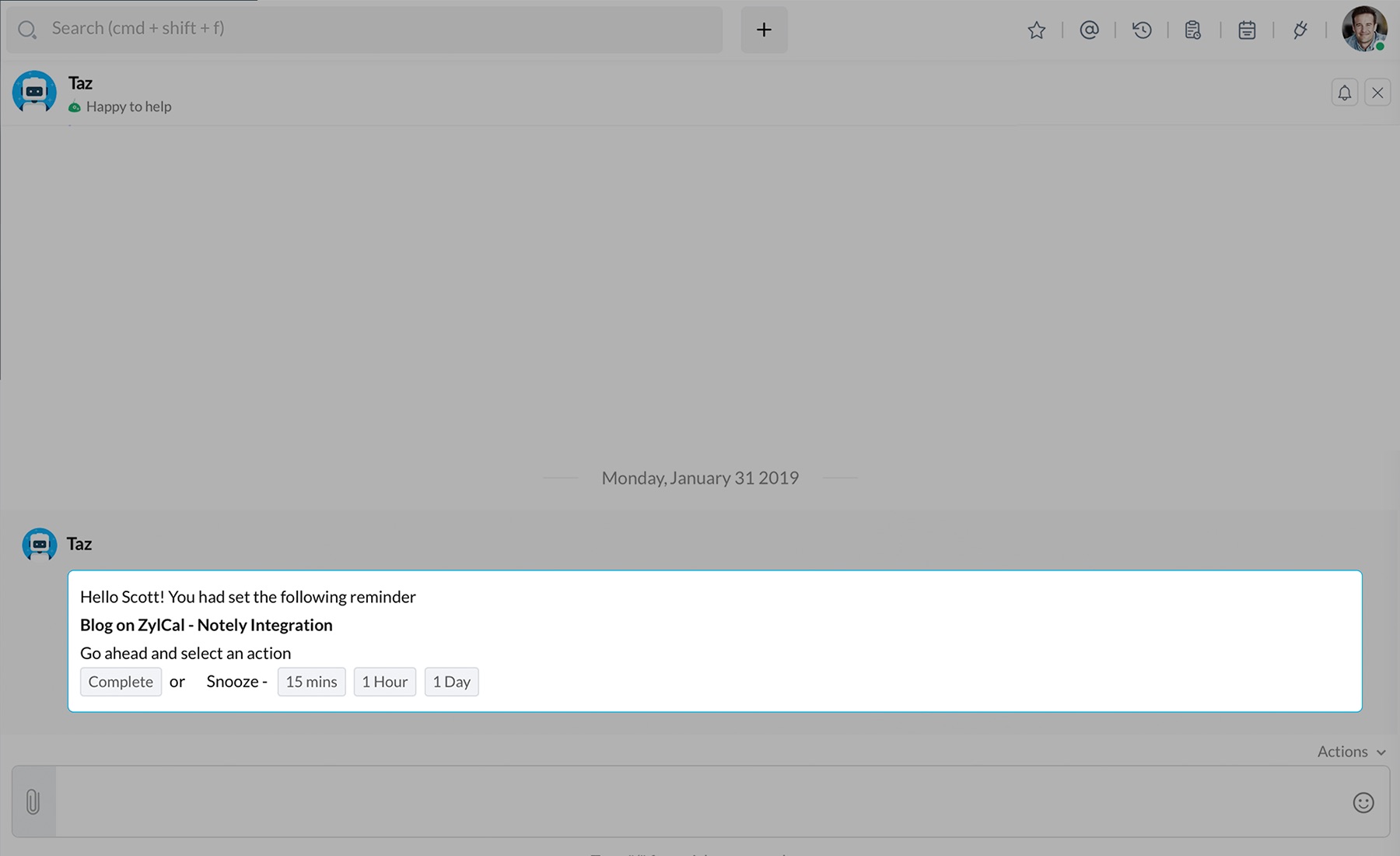 Set a Reminder
My Reminders
Assigned Reminders
Reminder Notification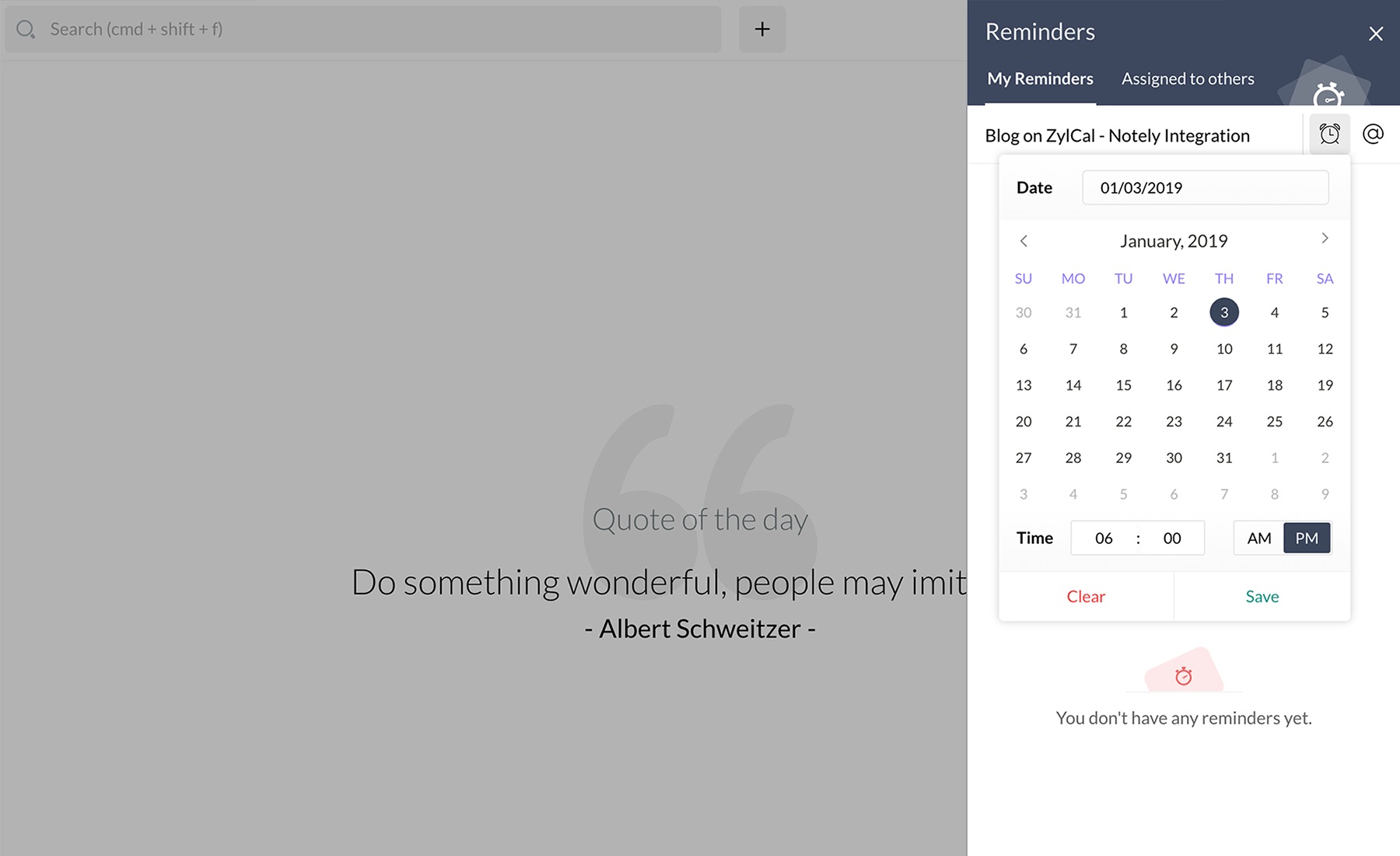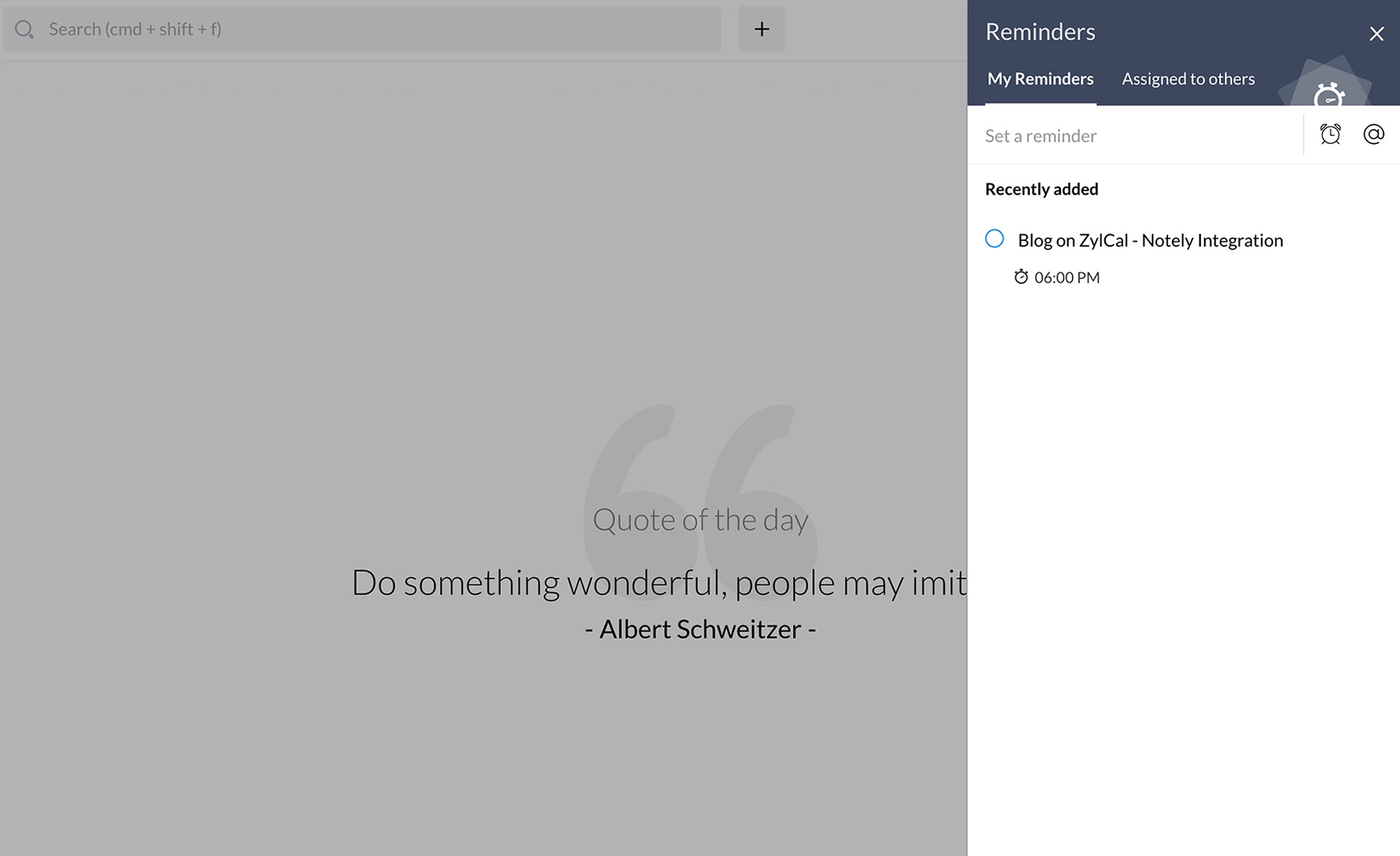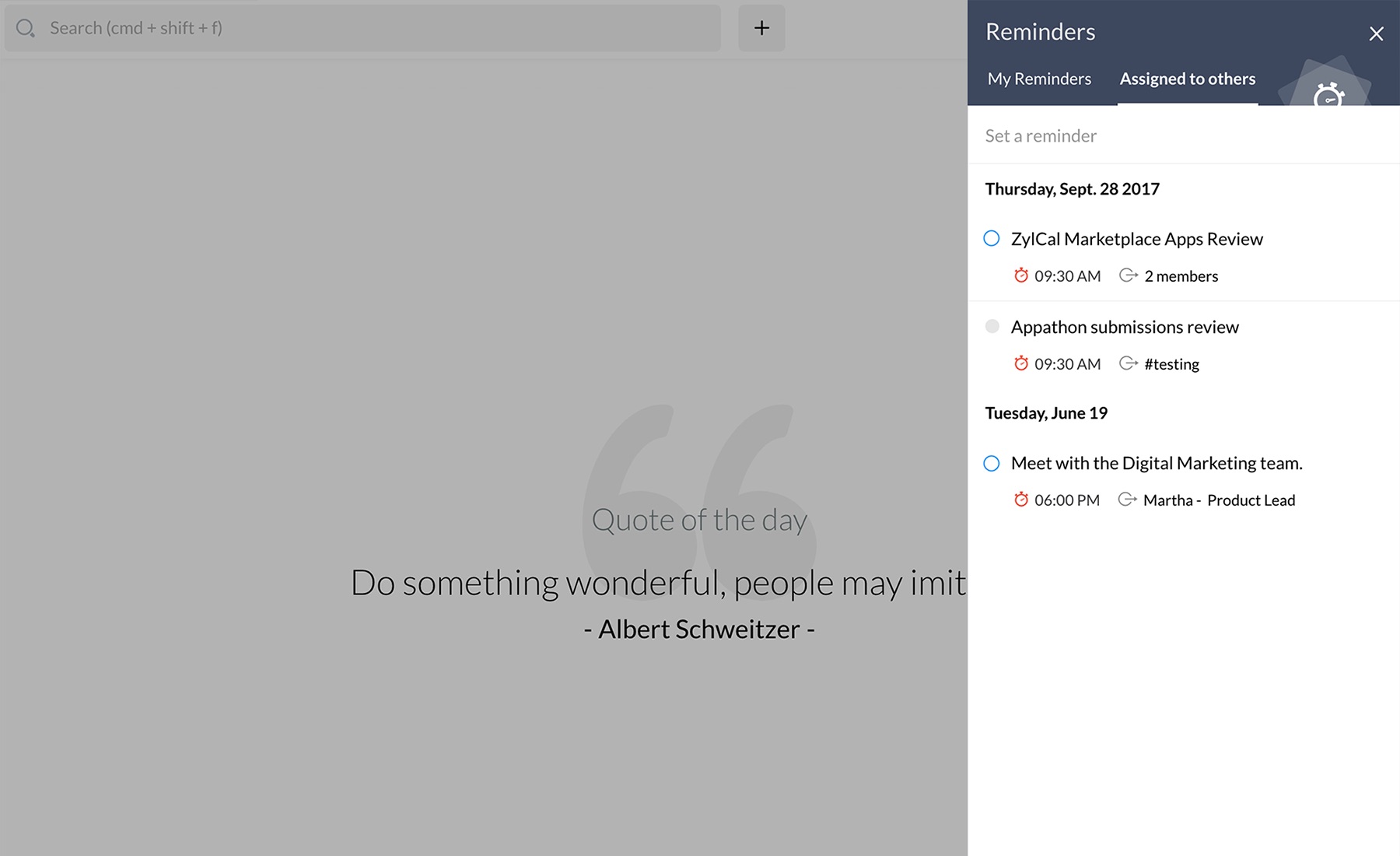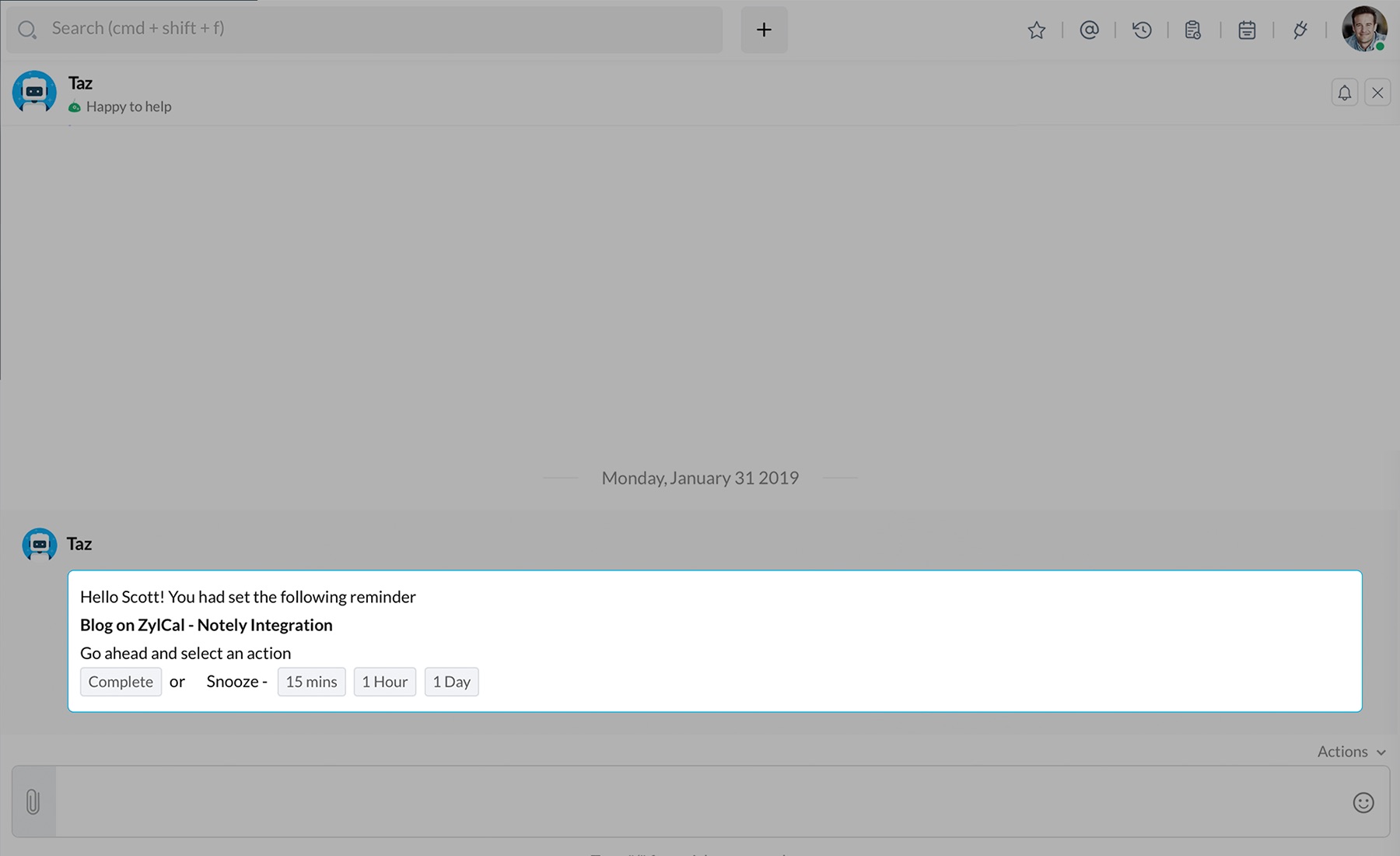 Event Management
Create Event
To create an event, click the event notifier icon in the top-right corner and select Create Event.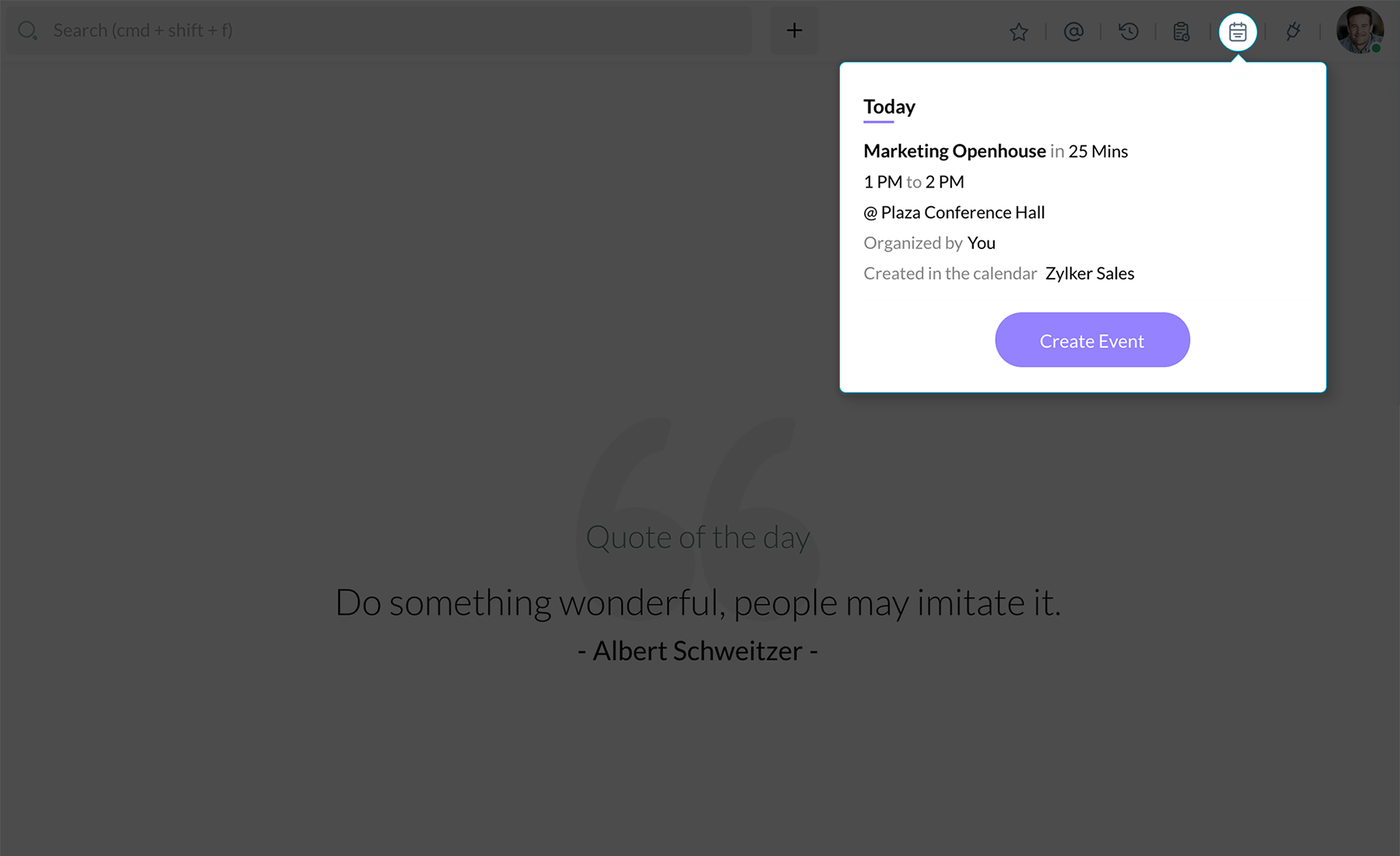 Zia in Events
Zia is Zoho's intelligent assistant; use it to automate event reminders. Just select the Include Zia in your Event option.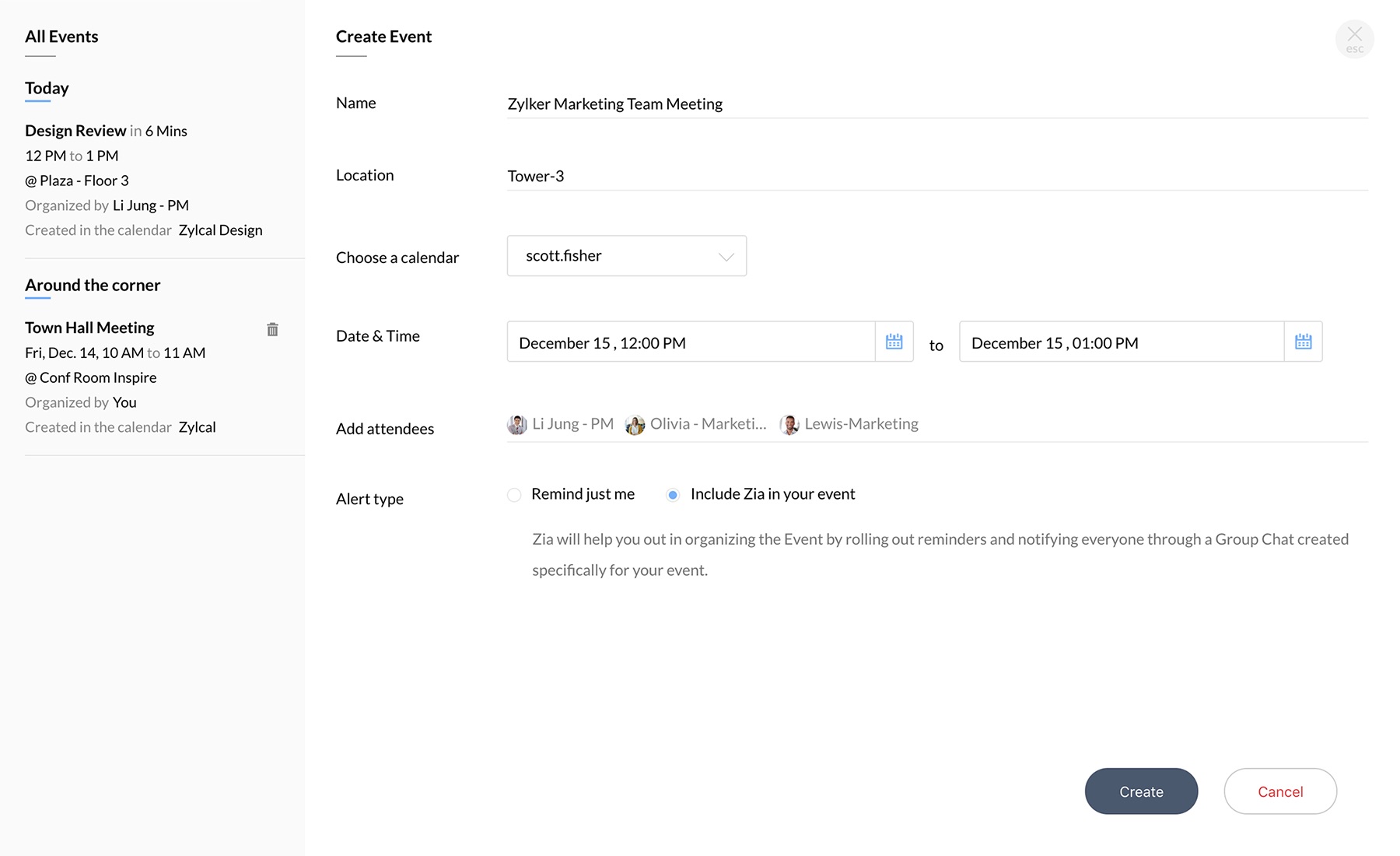 Smart Suggestions
Cliq identifies the message context and provides you suggestions to follow-up! You can either create an event or add a reminder using smart suggestions.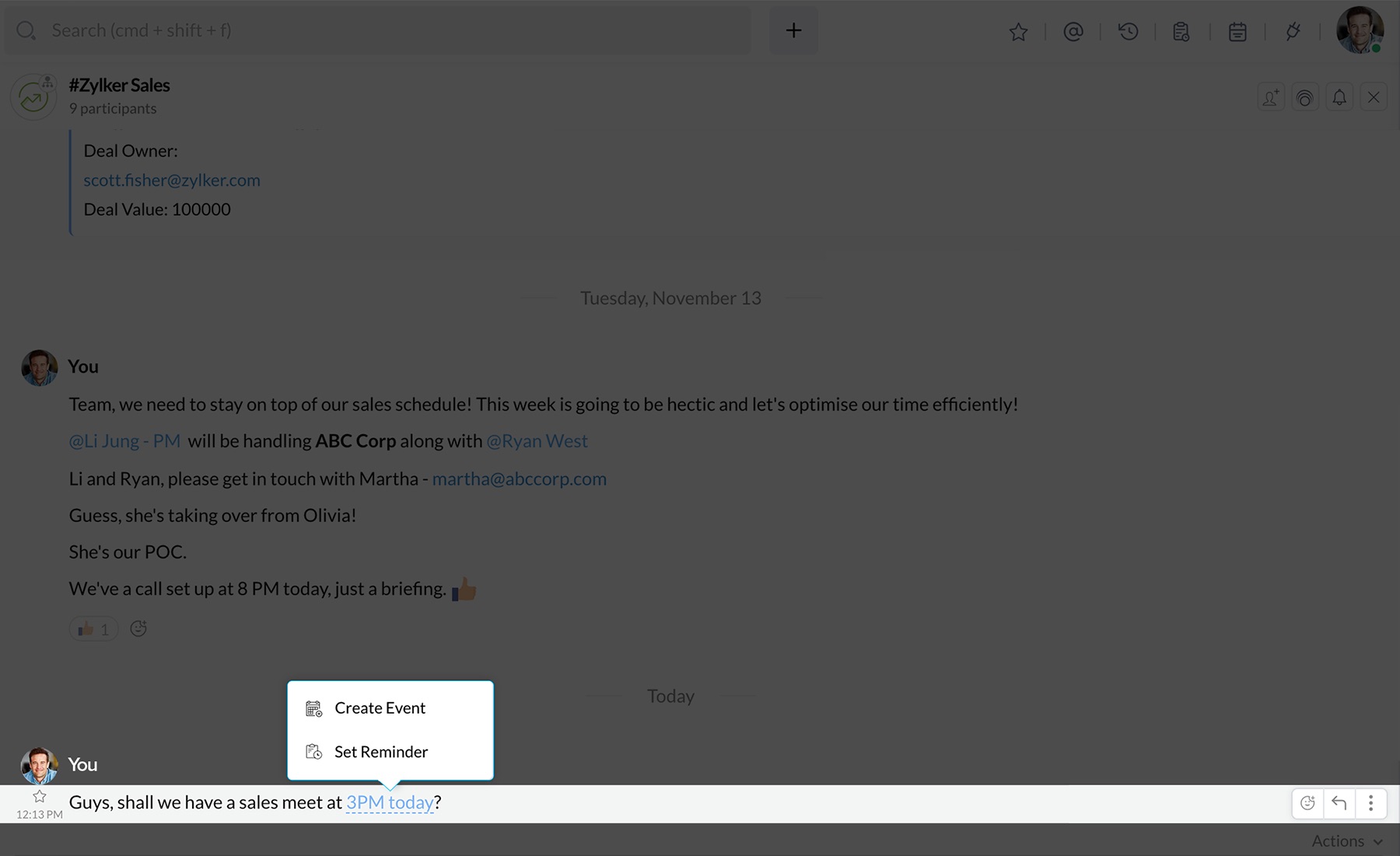 Create Event
Zia in Events
Smart Suggestions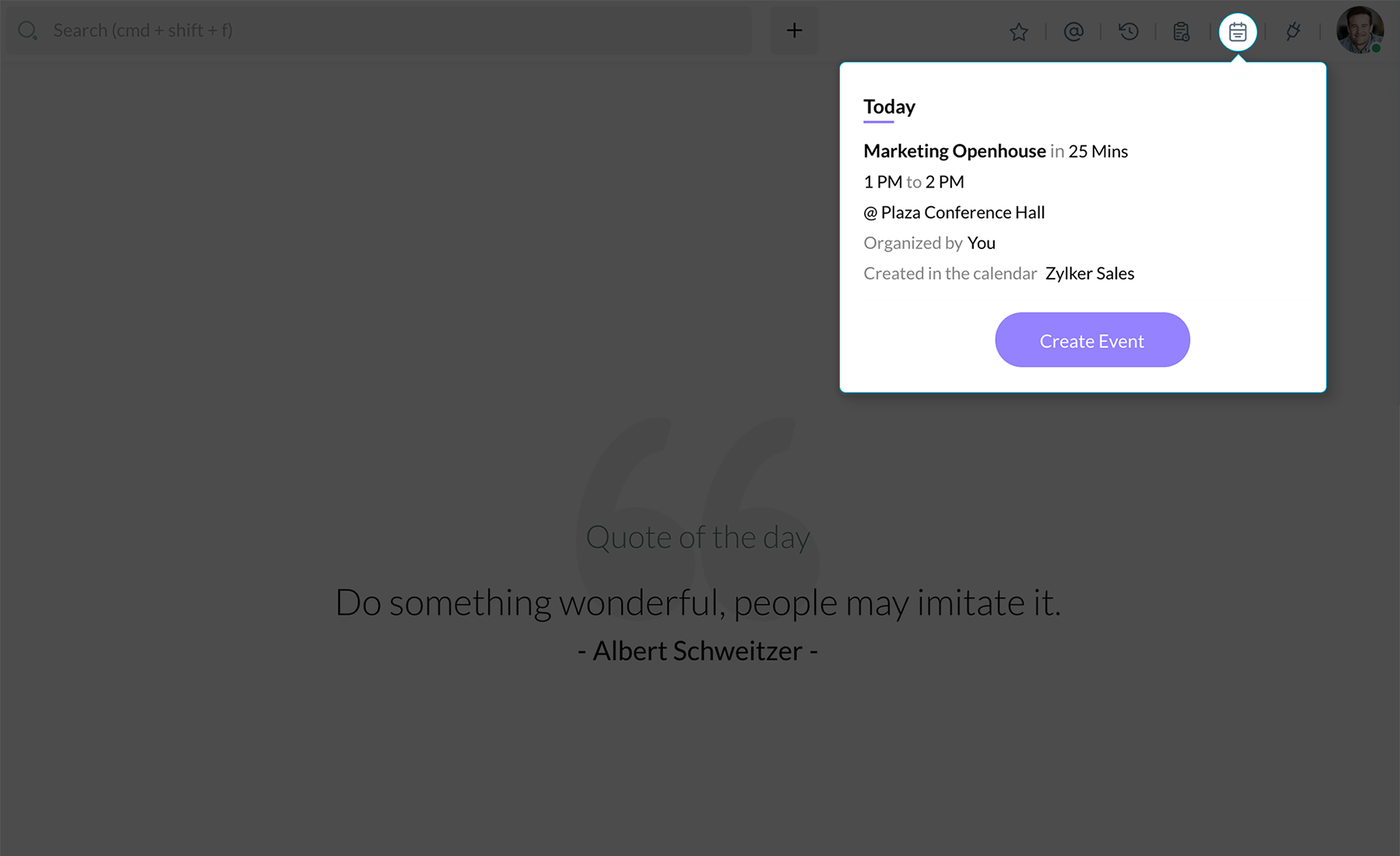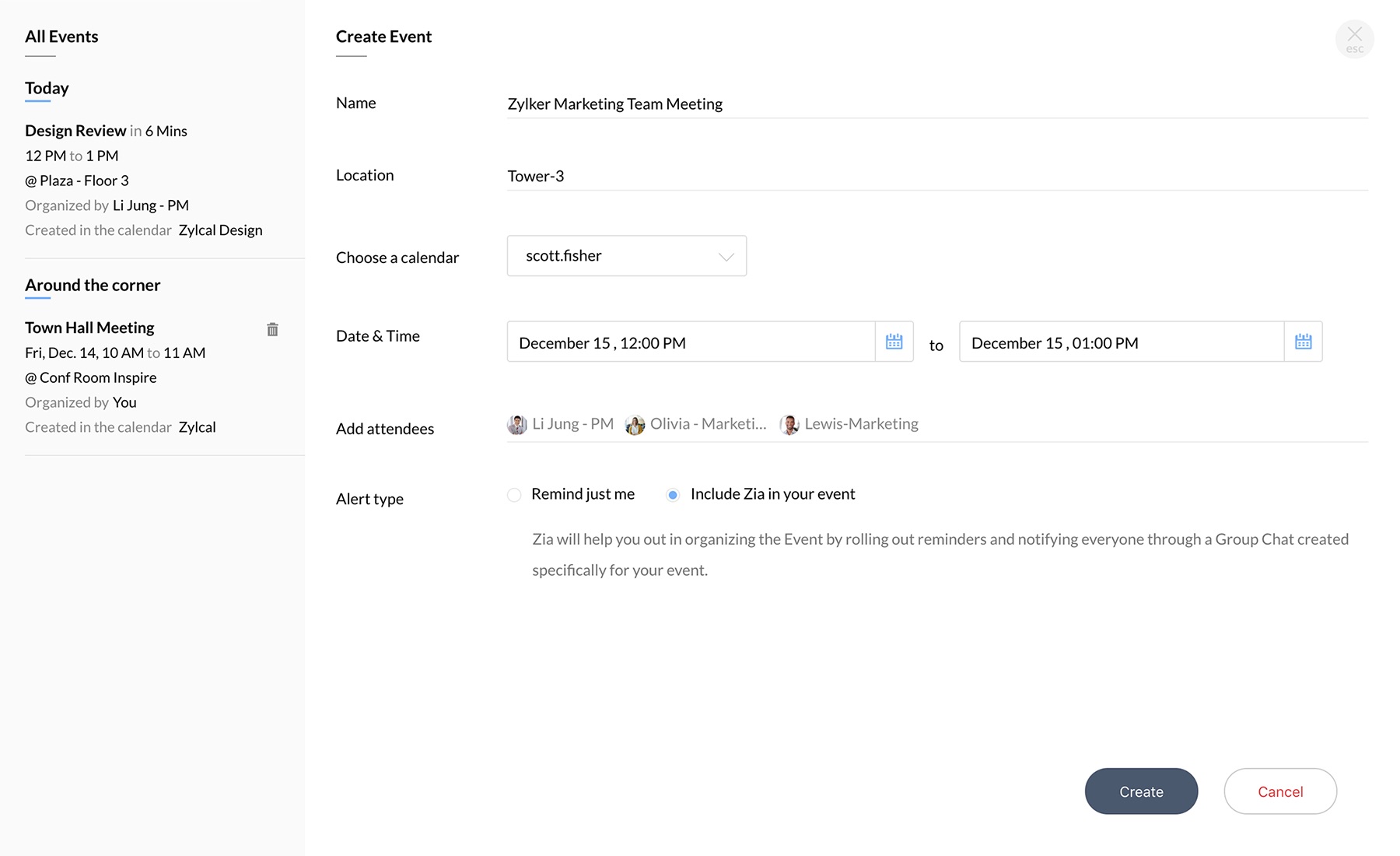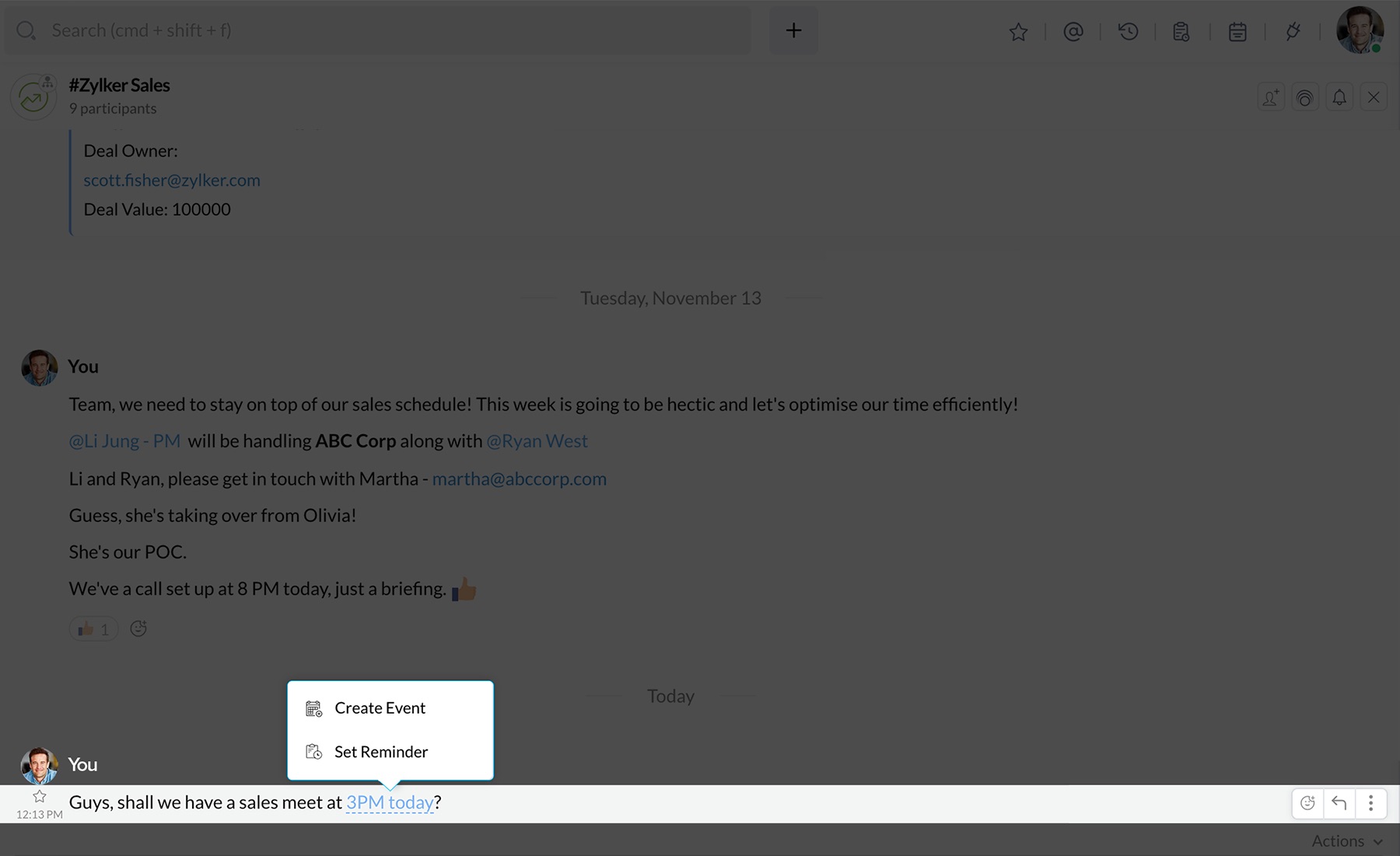 Chatbots
Bots to Subscribe
Bots in Cliq are conversational assistants that can be involved in a conversation, asked to perform a task, or bring alerts. Subscribe to available bots by clicking on the + icon next to Bots in the left pane.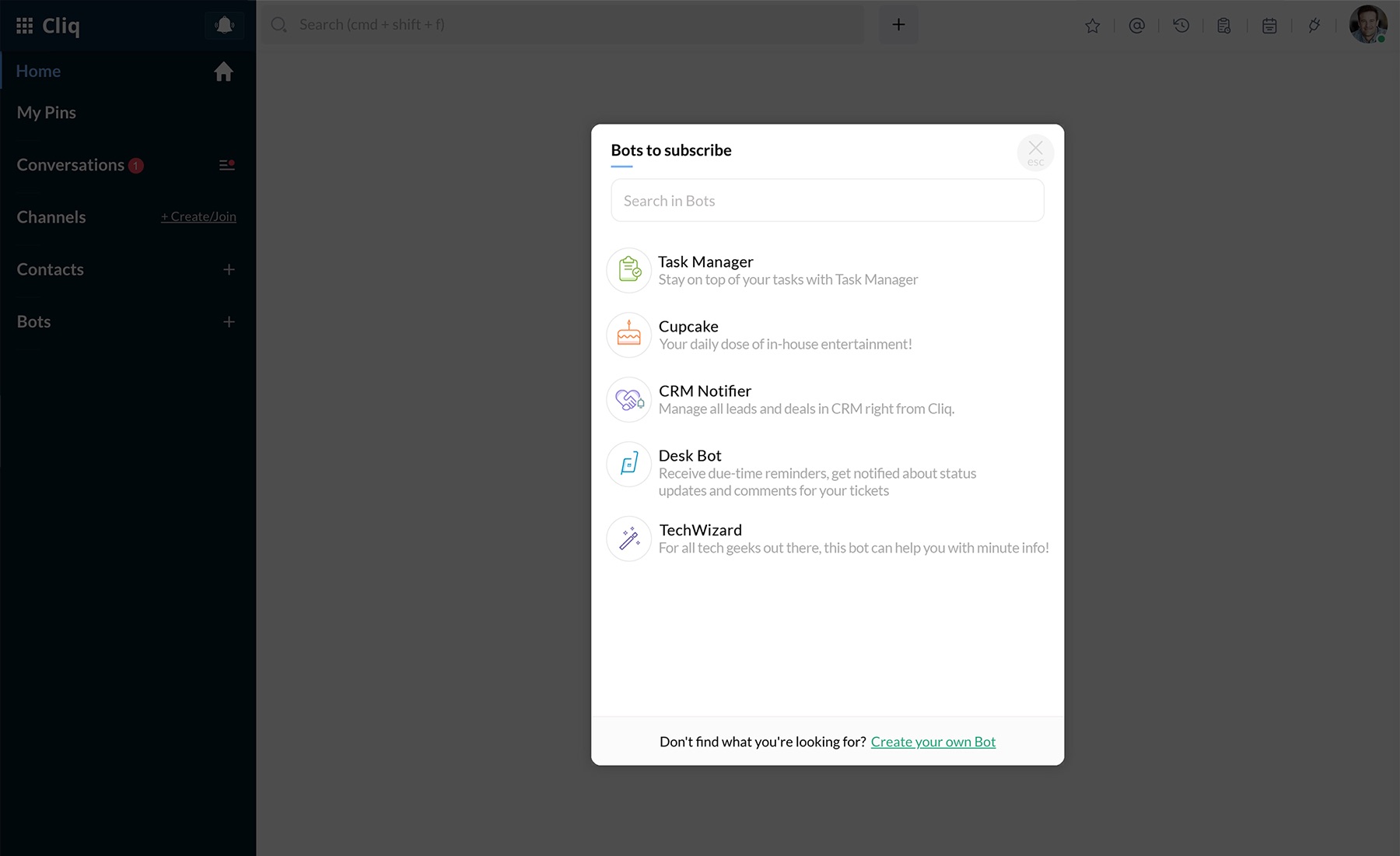 View all Bots
Open Settings, then select Integrations and choose Bots. From here you can view all the bots in your organization or create new ones.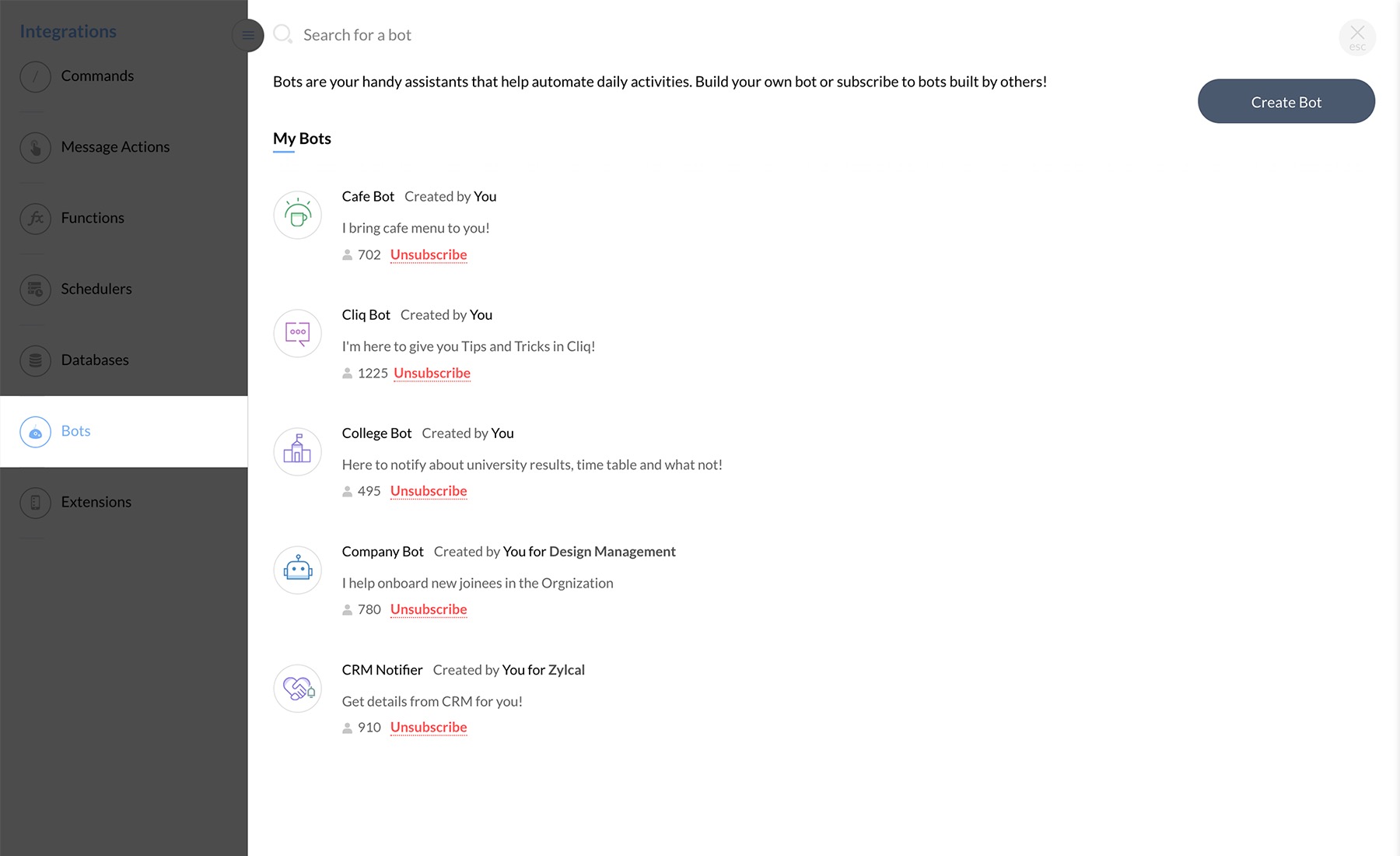 Bot Configurations
To create a bot, get started by adding the bot's name, description, display picture and status.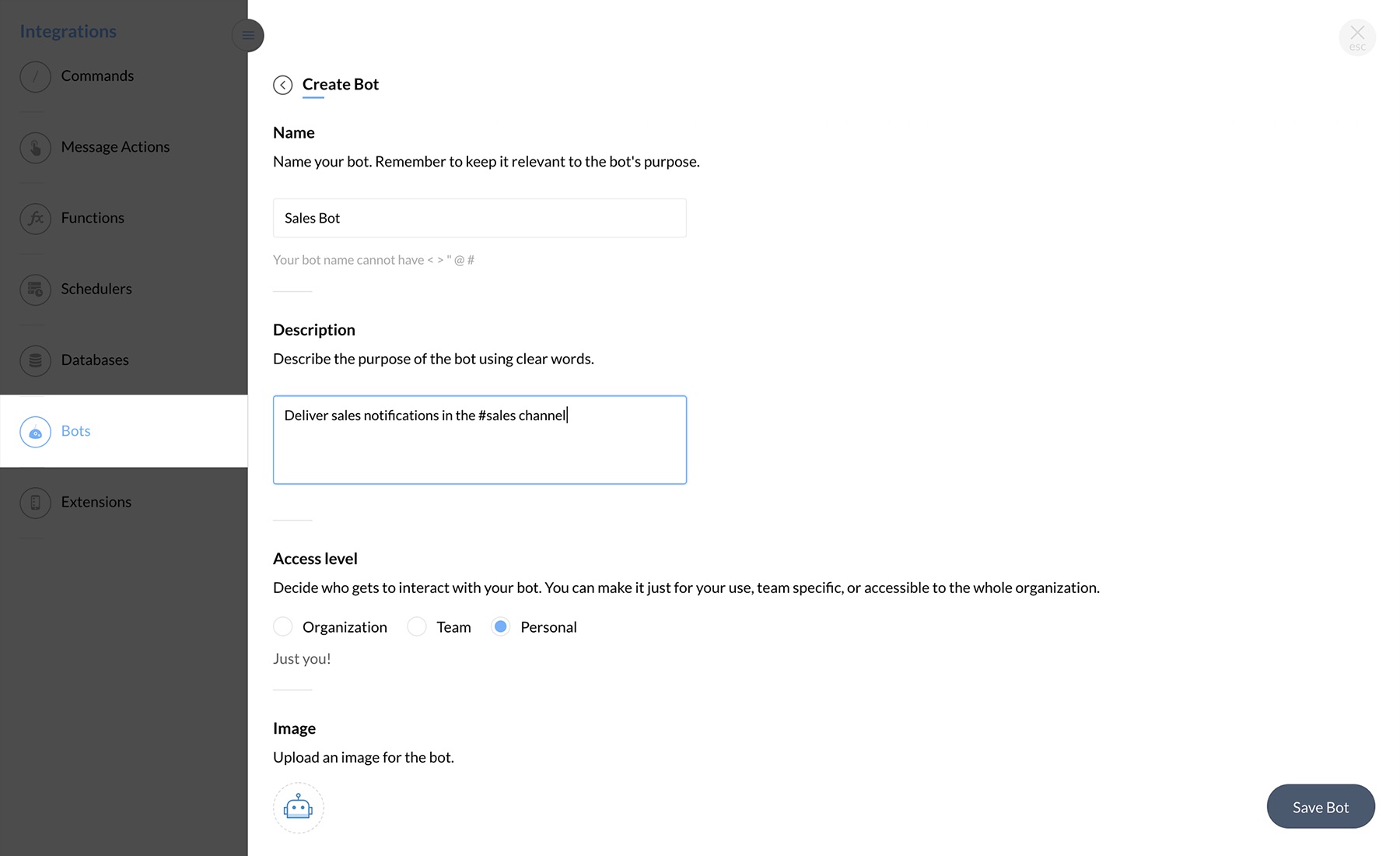 Bots to Subscribe
View all Bots
Bot Configurations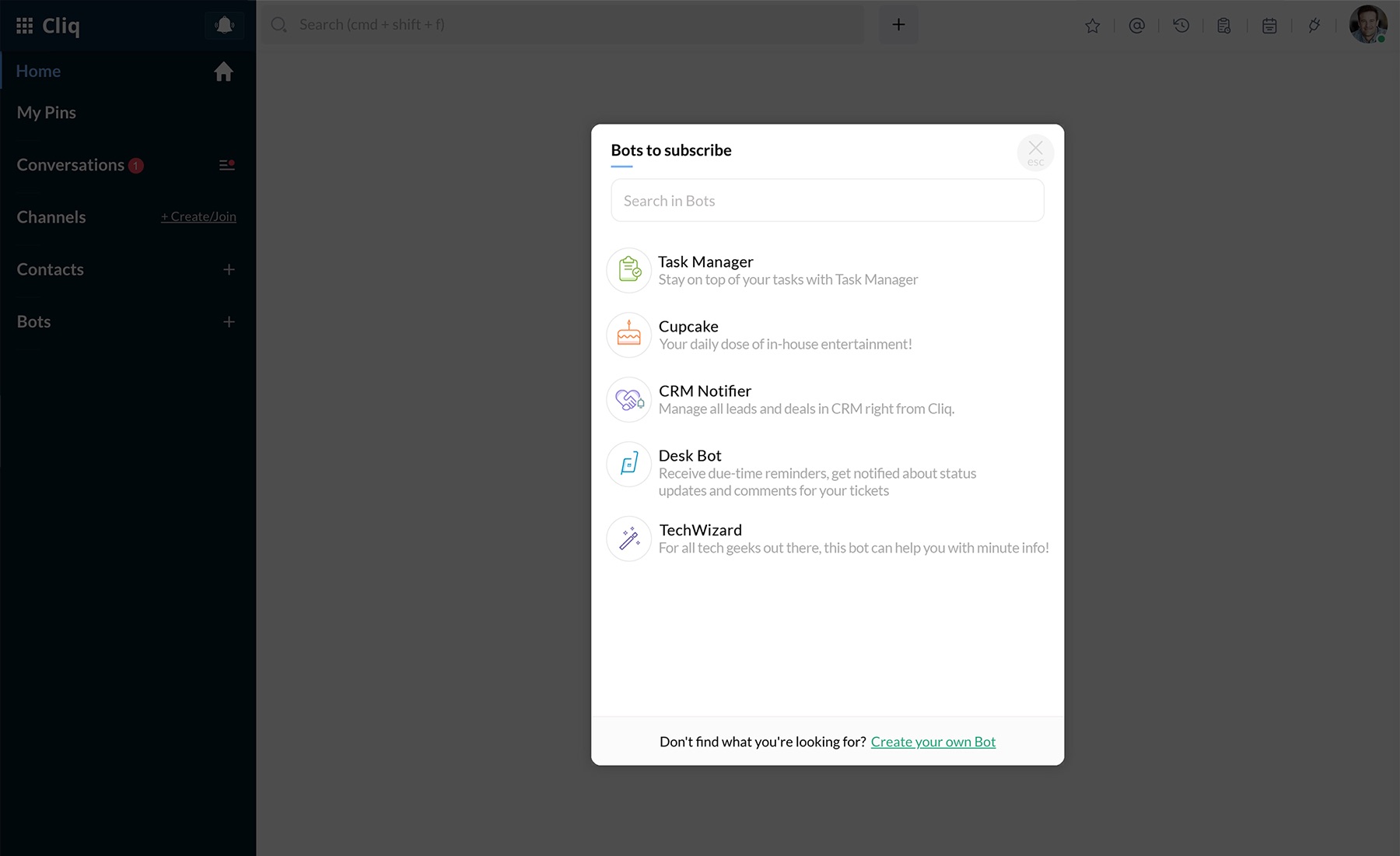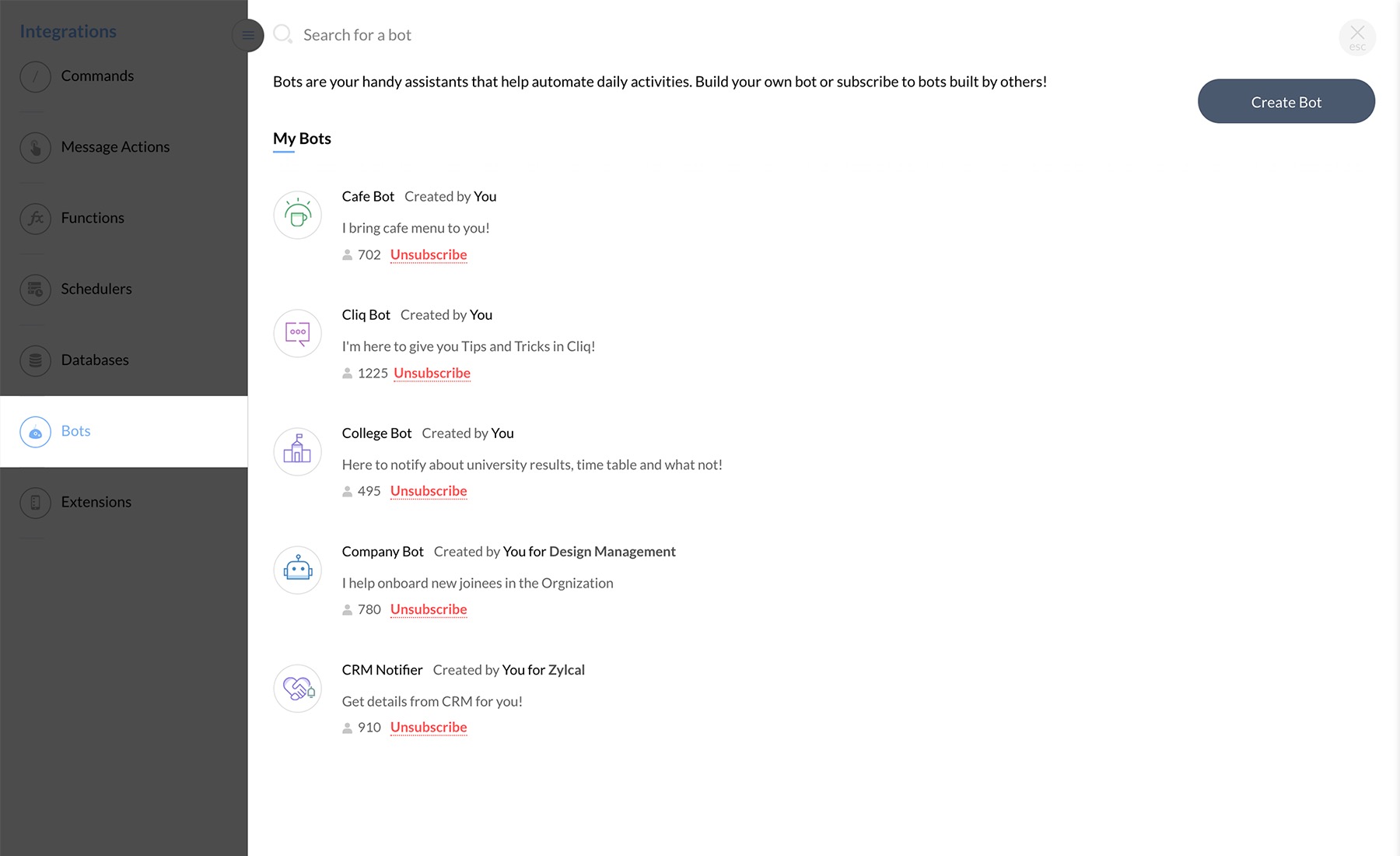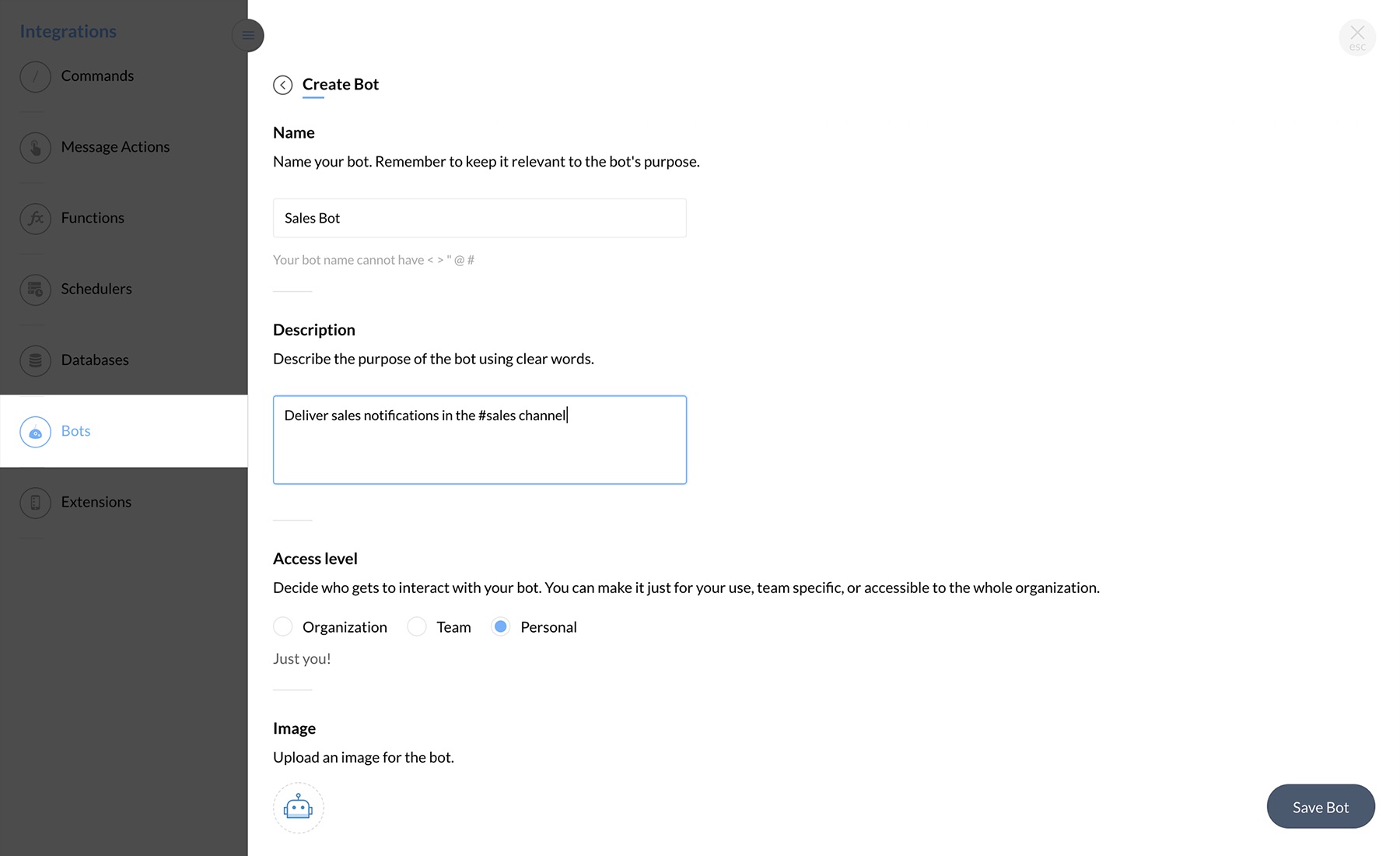 Slash Commands
Using a Command
Slash commands are shortcuts you can use to perform quick actions. Simply typing / in the chat window will pull the list of commands available for you to use.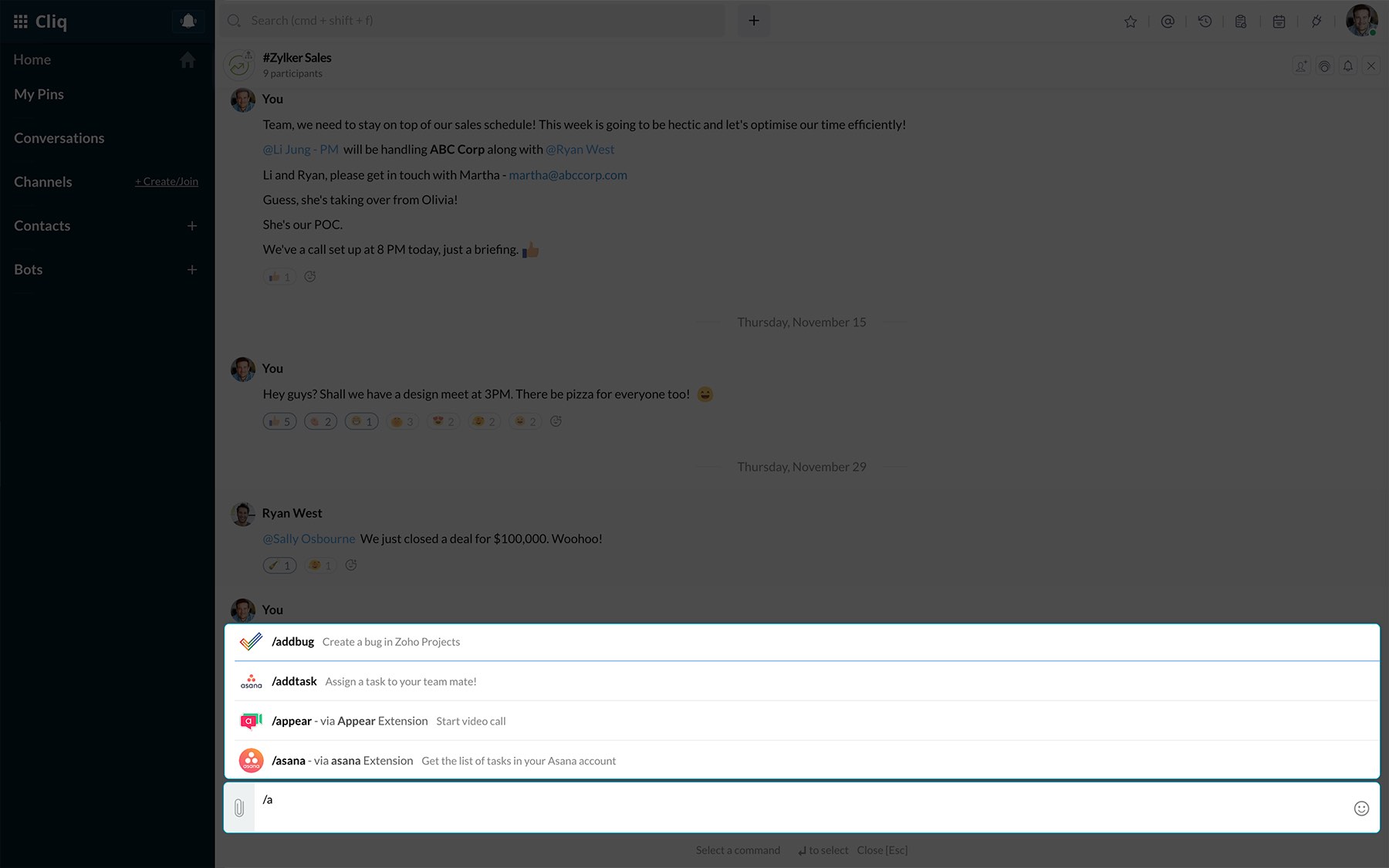 All Slash Commands
Open Settings, then select Integrations and choose Commands. From here you can view and create slash commands.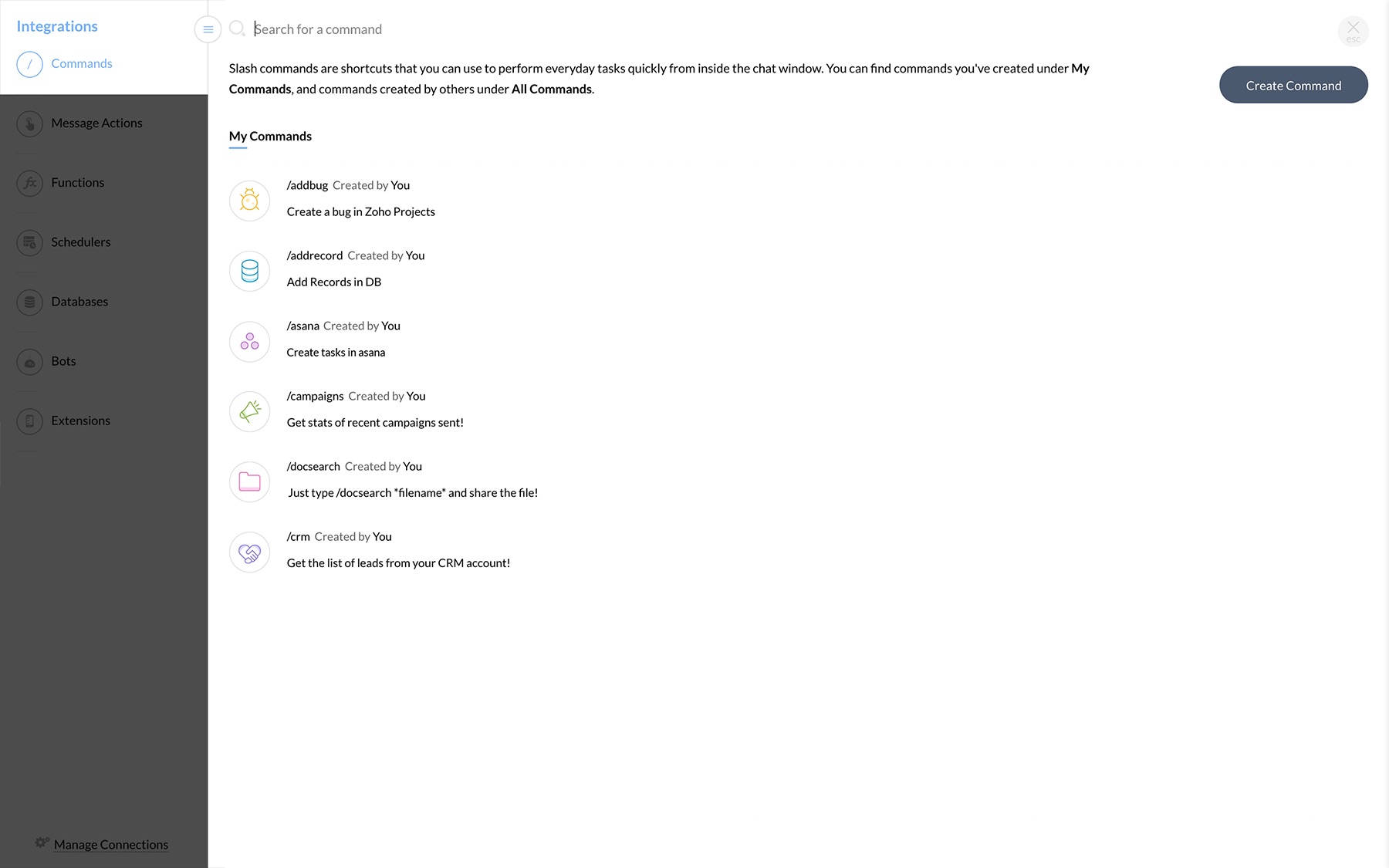 Create Command
Create and configure a command by giving the command a name, a description, a display image, and parameters.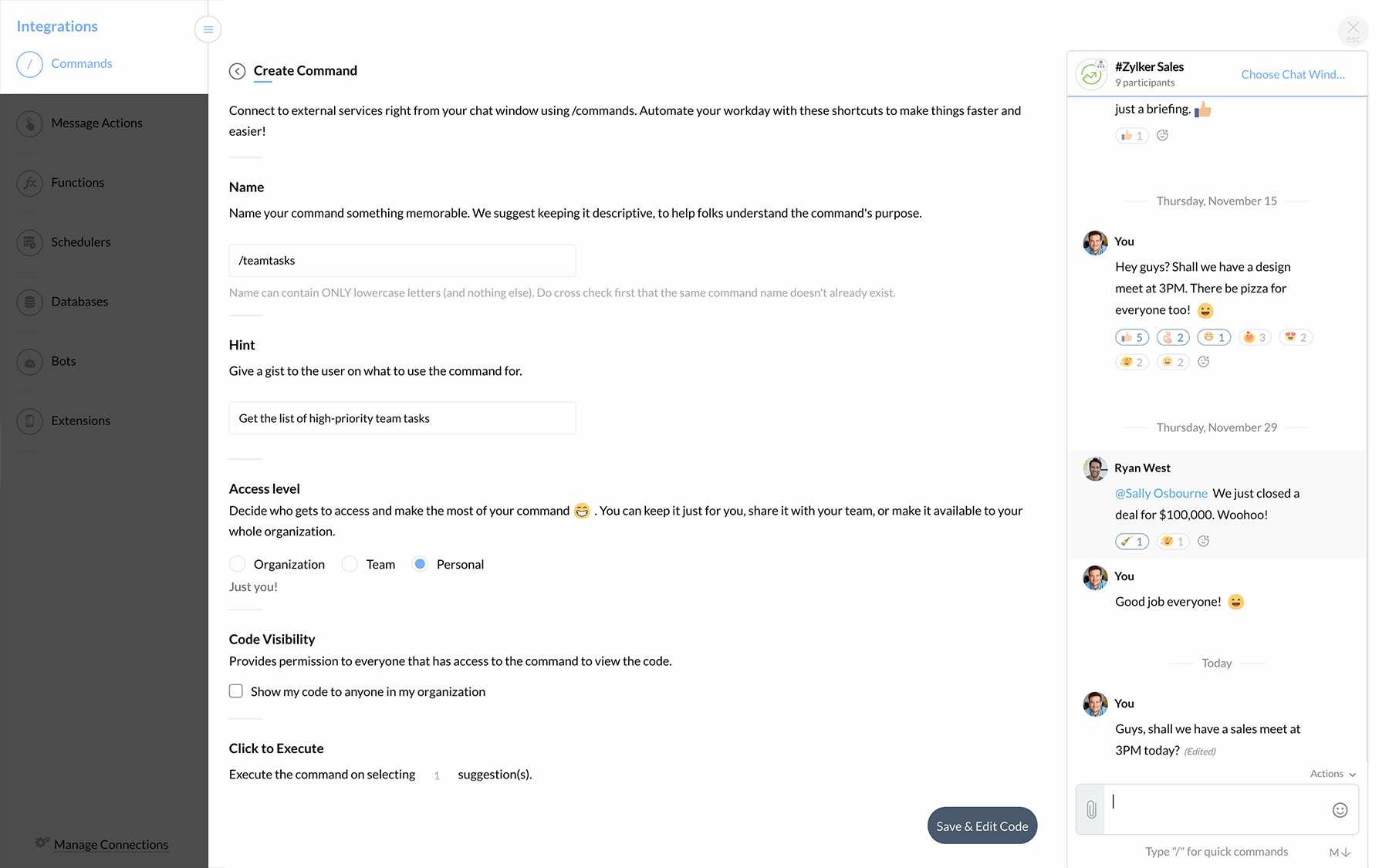 Using a Command
All Slash Commands
Create Command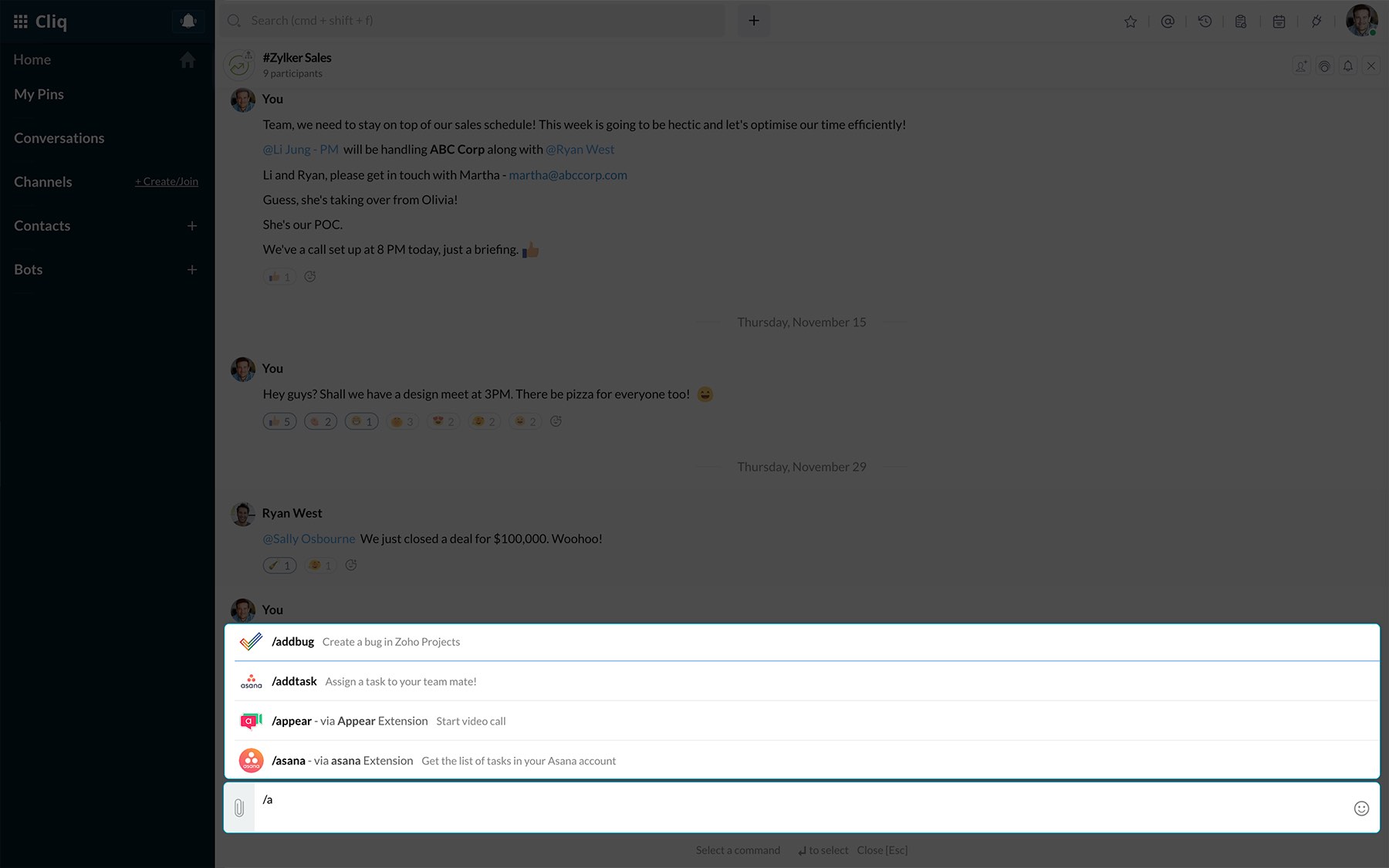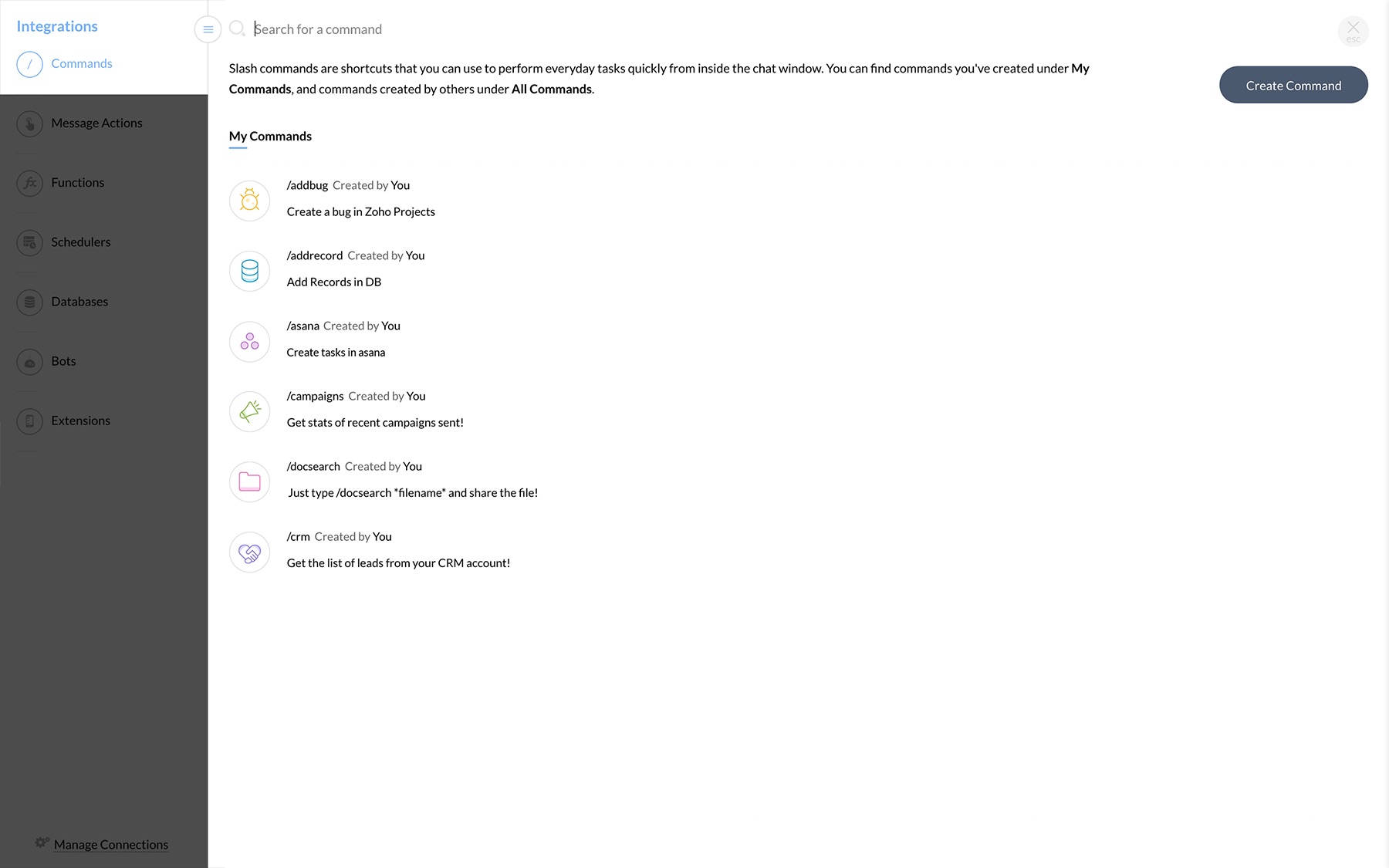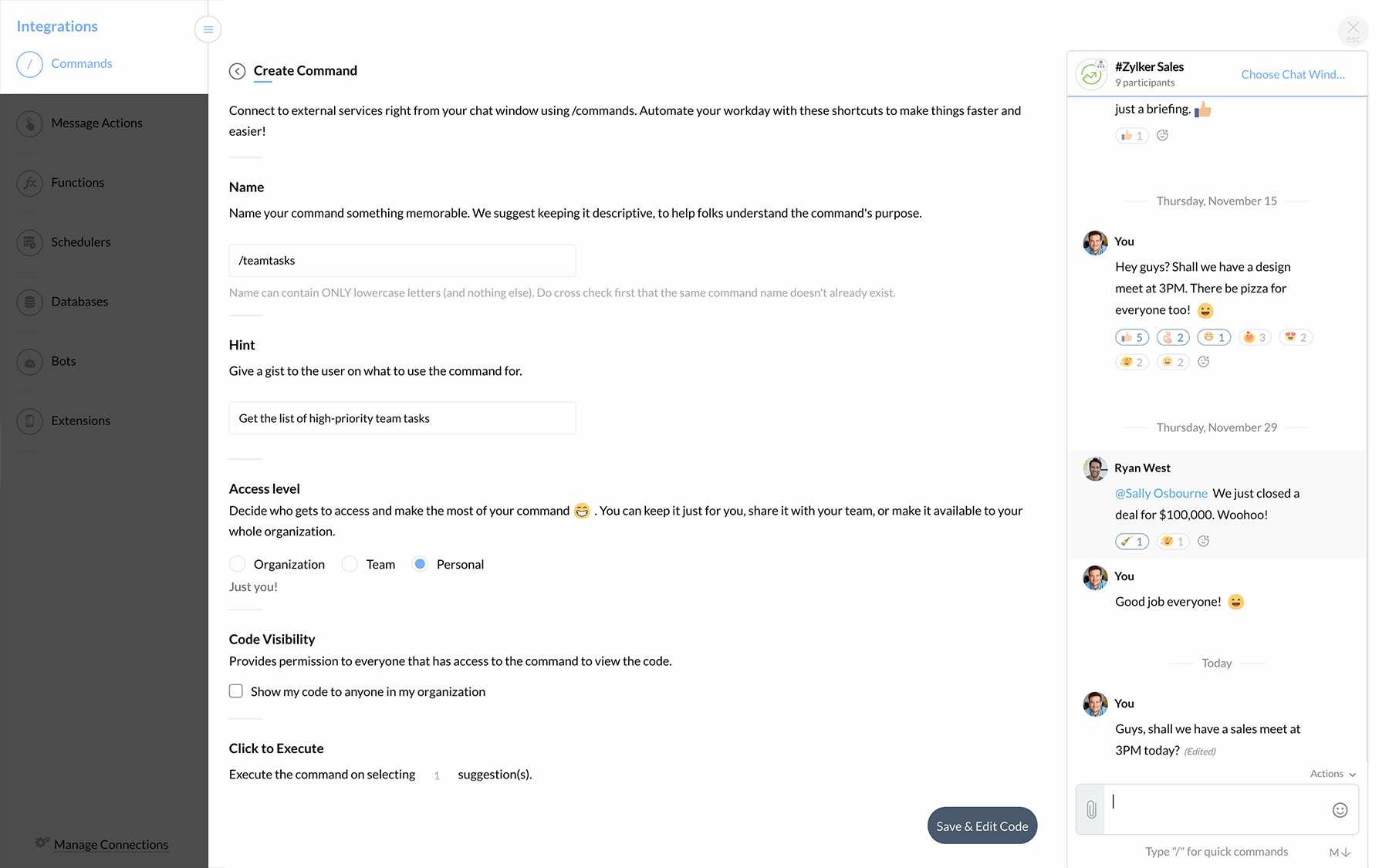 Extensions
All Extensions
View all installed extensions by opening Settings, selecting Integrations and choosing Extensions. From here, you can create and activate custom extensions. You can find and install all available extensions here.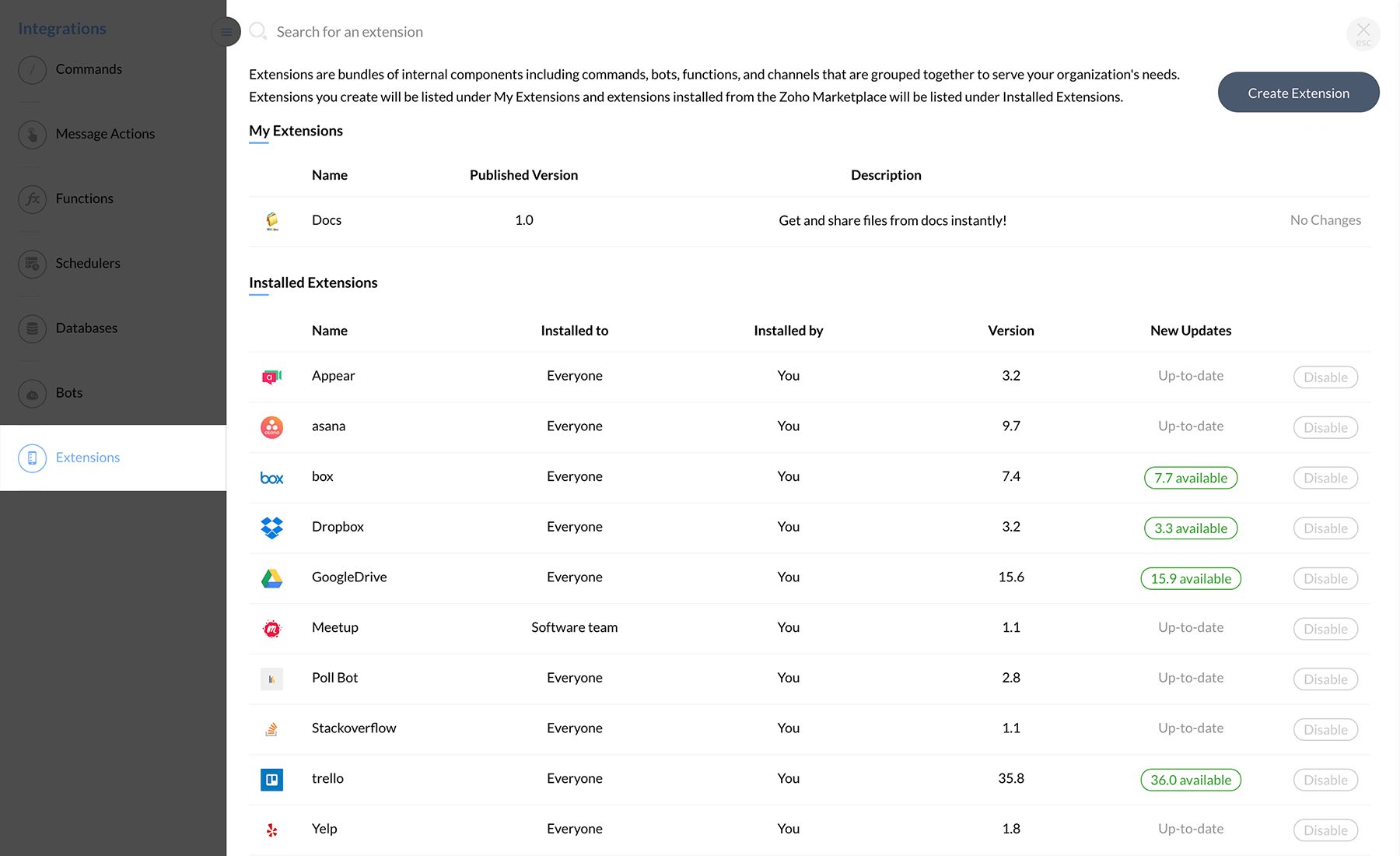 Create Extension
You can create your own extension and publish it in the marketplace. Select the integration components you would like to bundle into an extension and publish.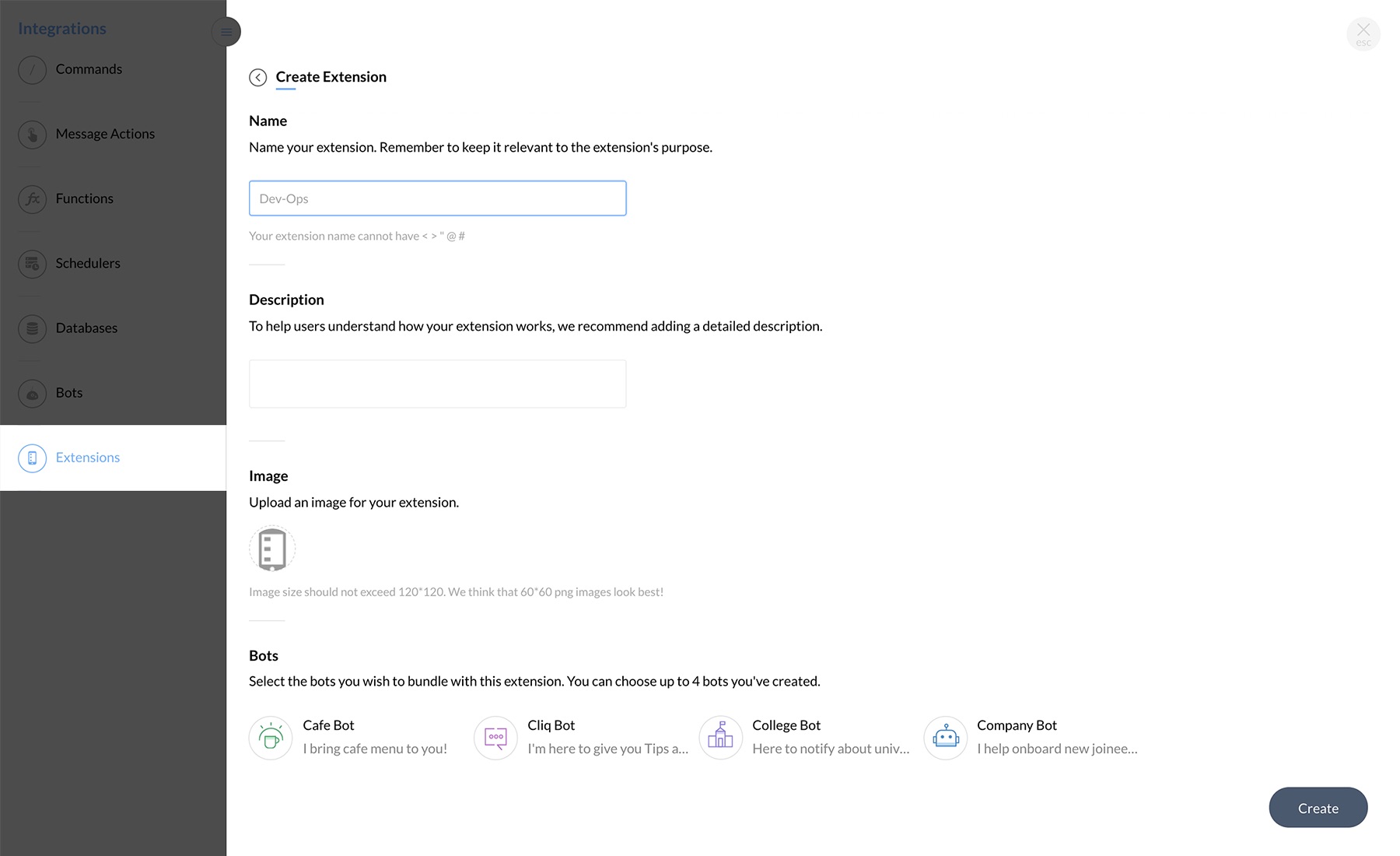 All Extensions
Create Extension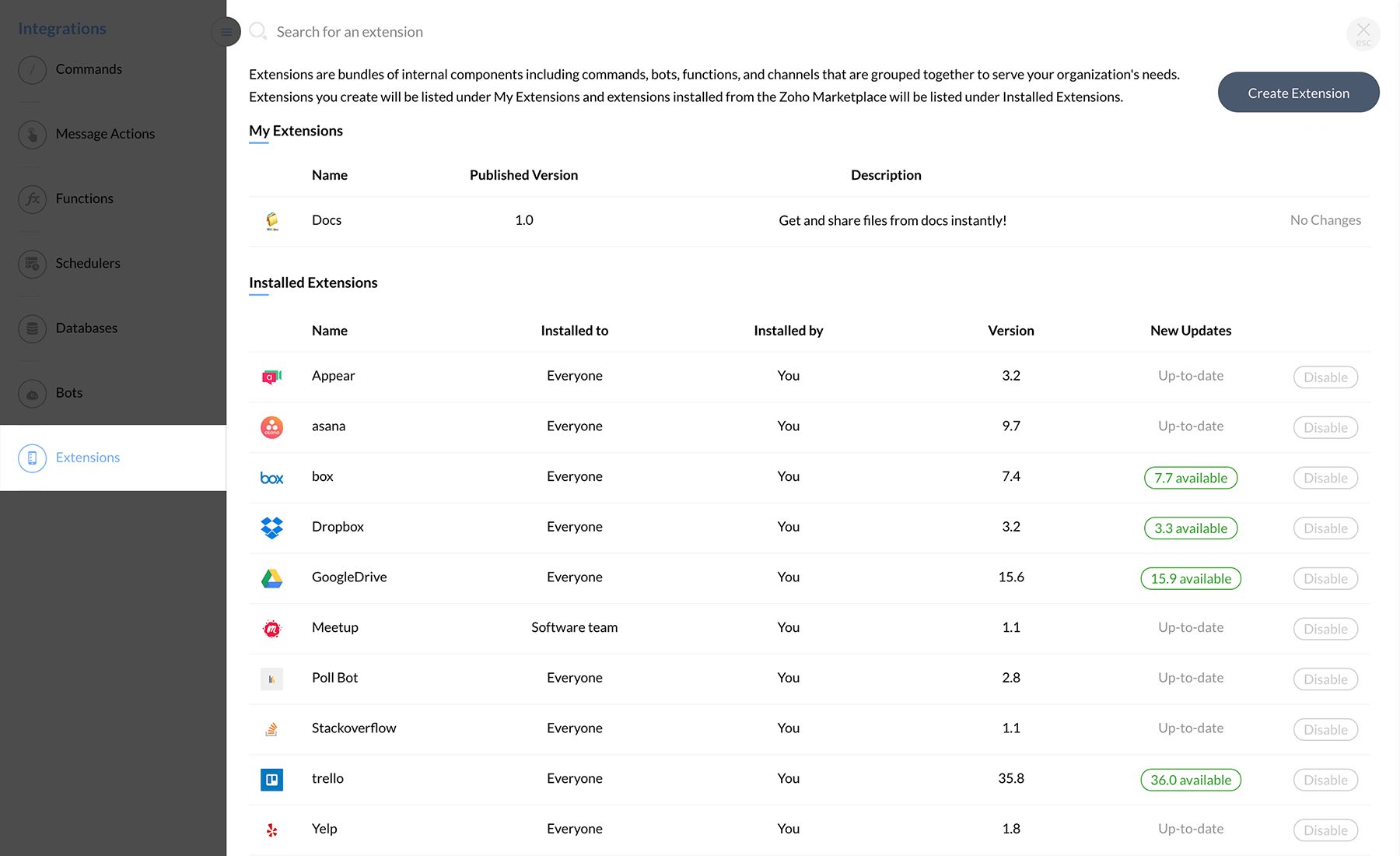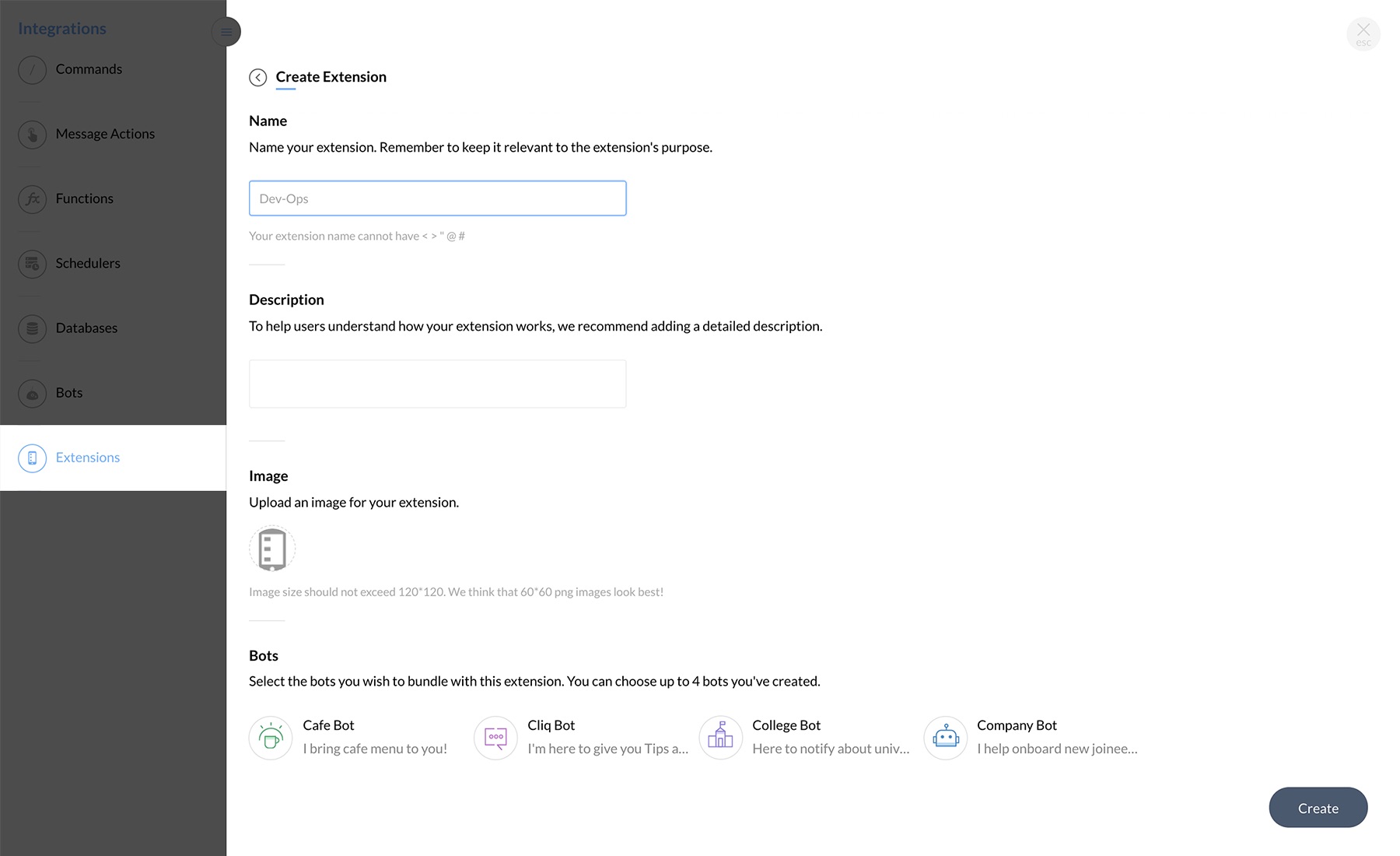 Admin Panel
Admin Dashboard
The dashboard provides an at-a-glance view of all the sections that you can use to set up and configure Cliq for your organization.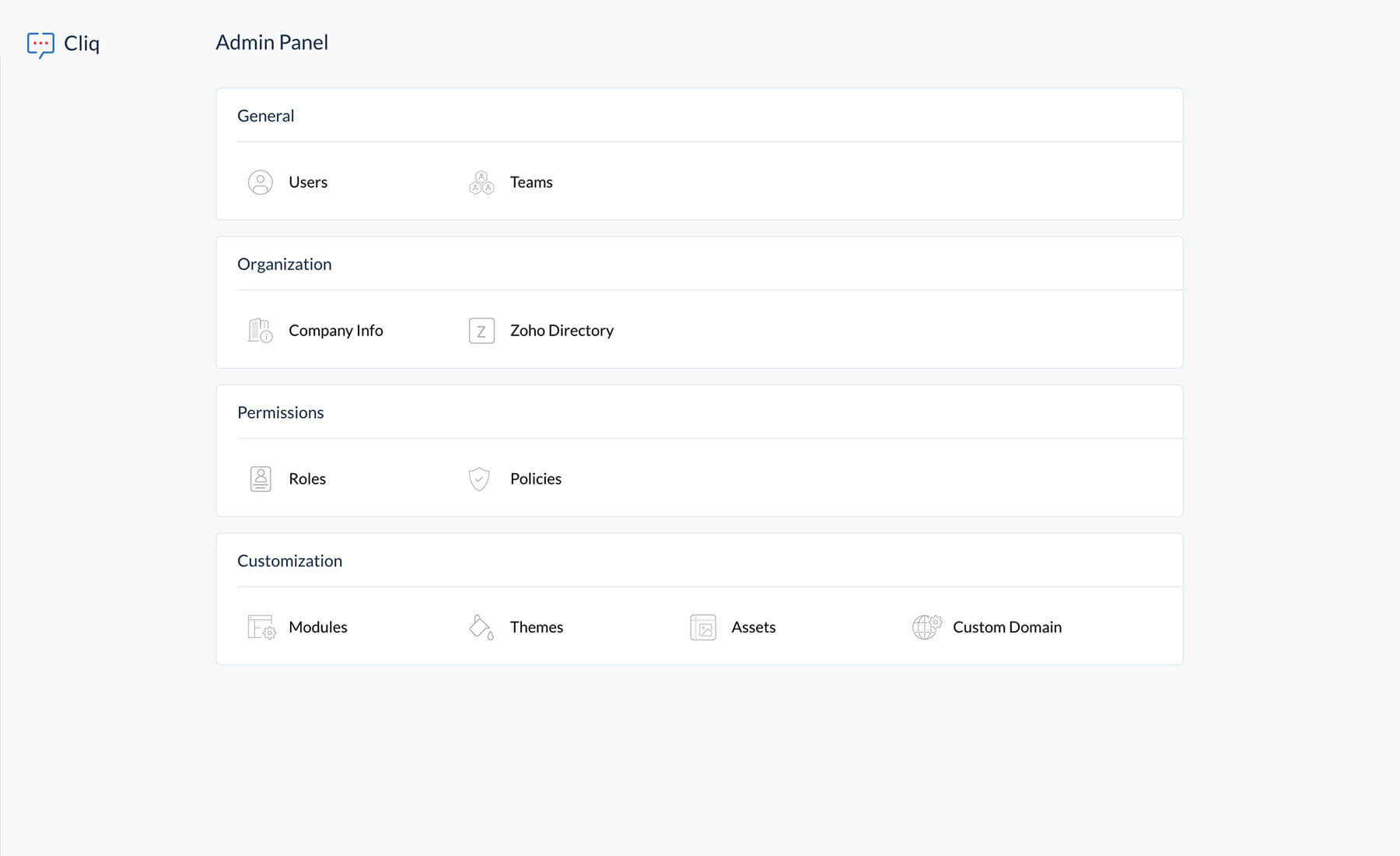 Add Users
Manage all your user records —view, update and export existing user details, or import new records— from one central location.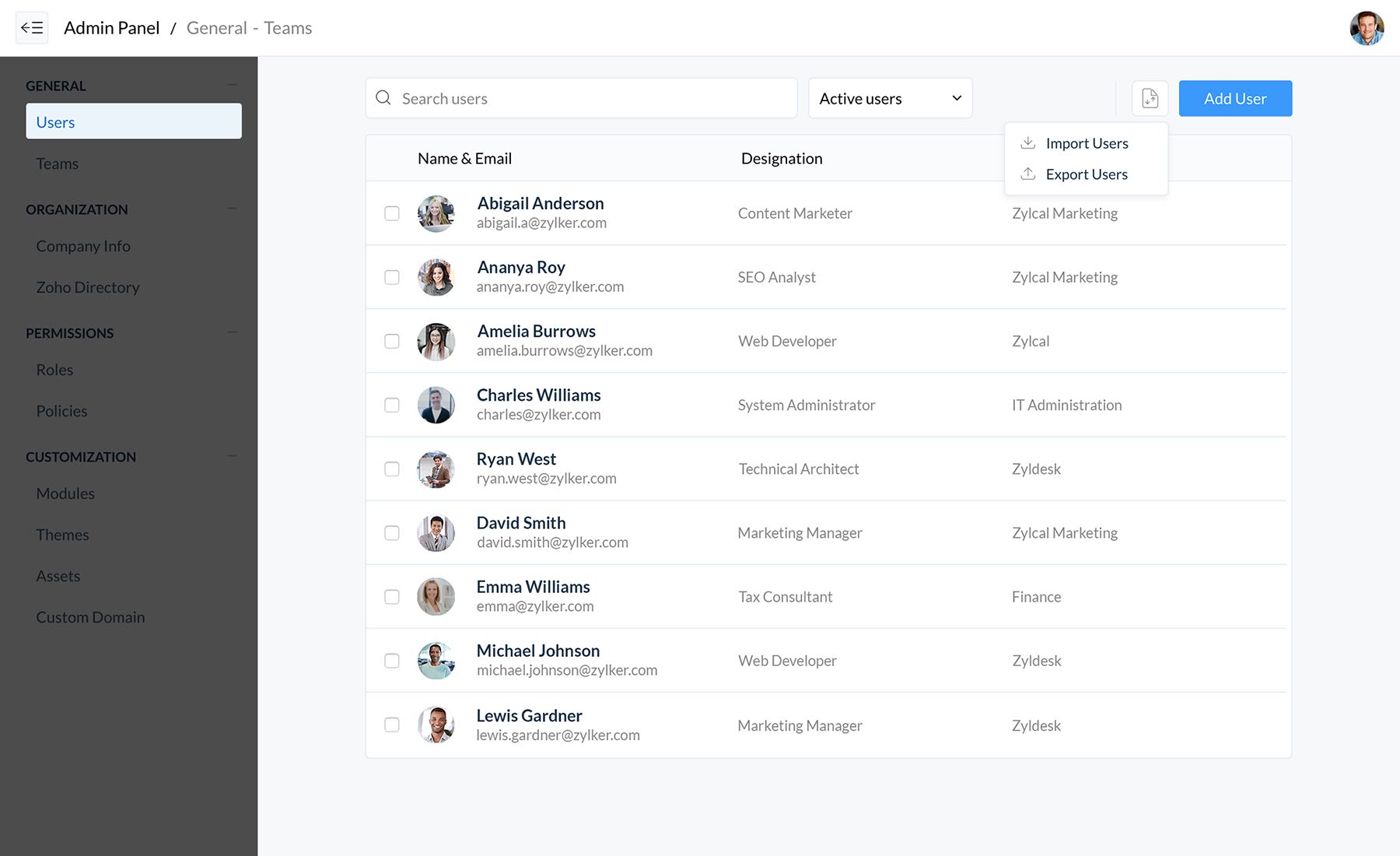 Create Teams
Create teams, categorize them into departments in Cliq to reflect your organizational layout.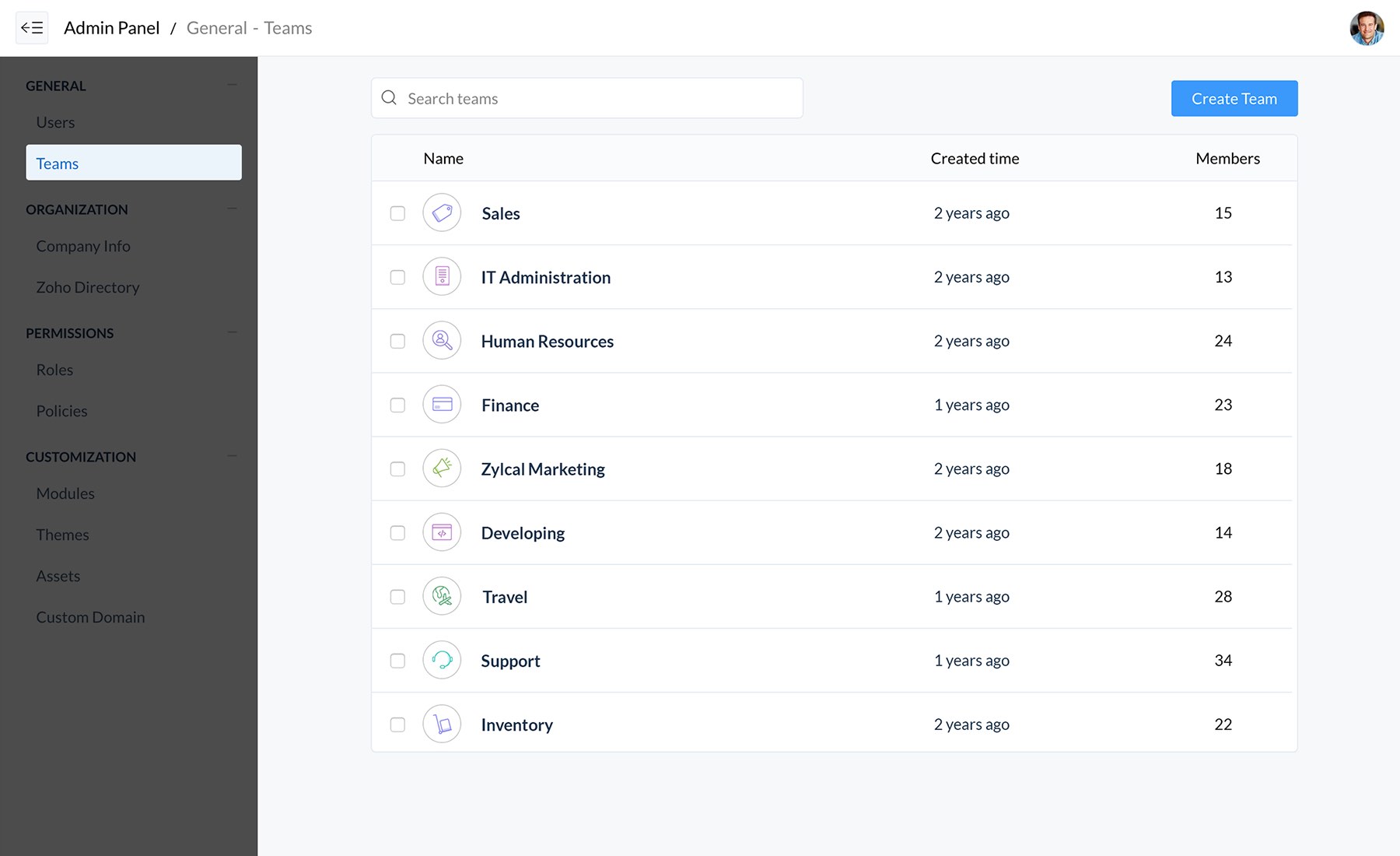 Manage Modules
Choose from a list of modules we've laid out and tailor-make Cliq to suit your needs.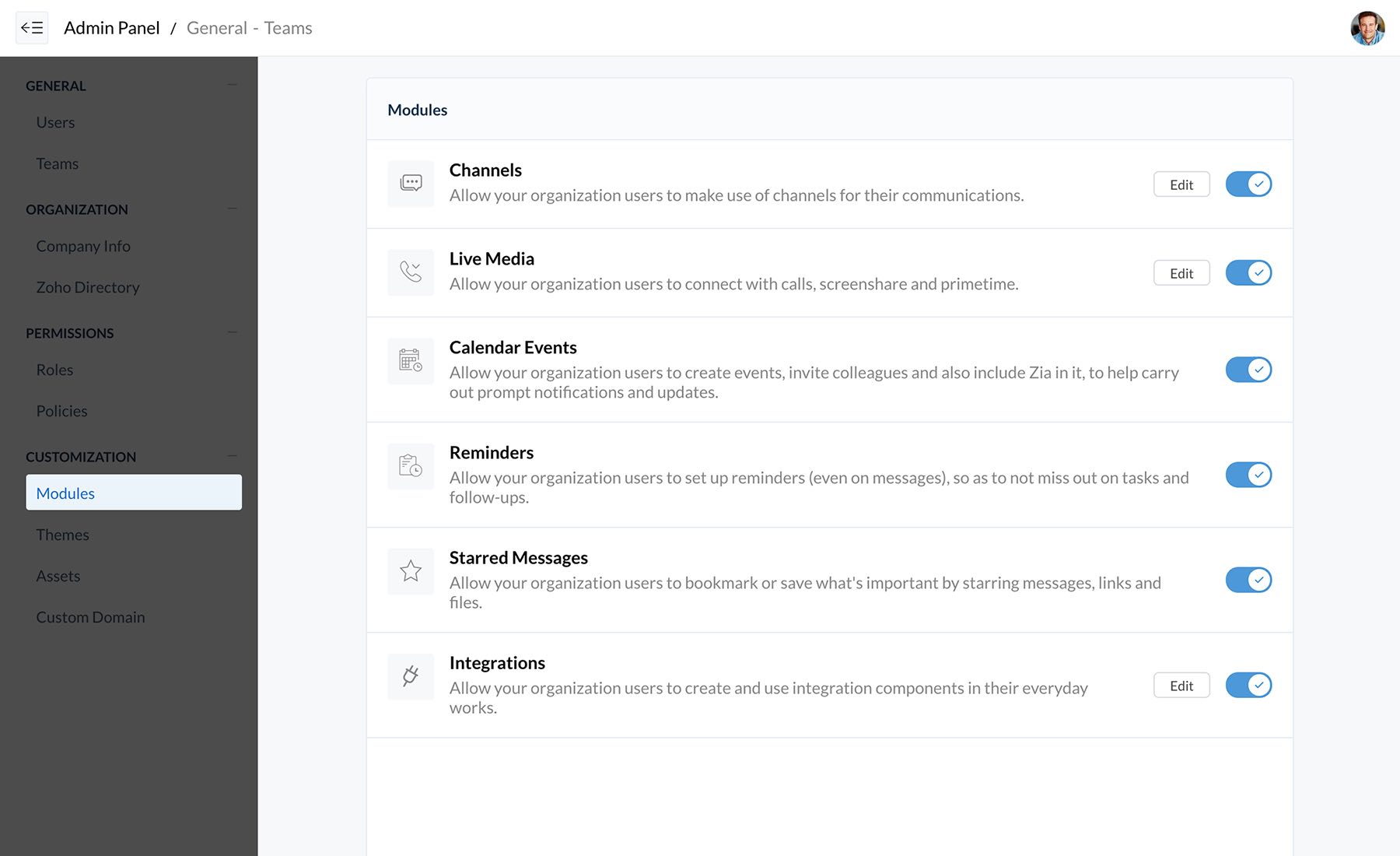 Set Custom Domain
Make Cliq accessible within your company by setting up a custom domain.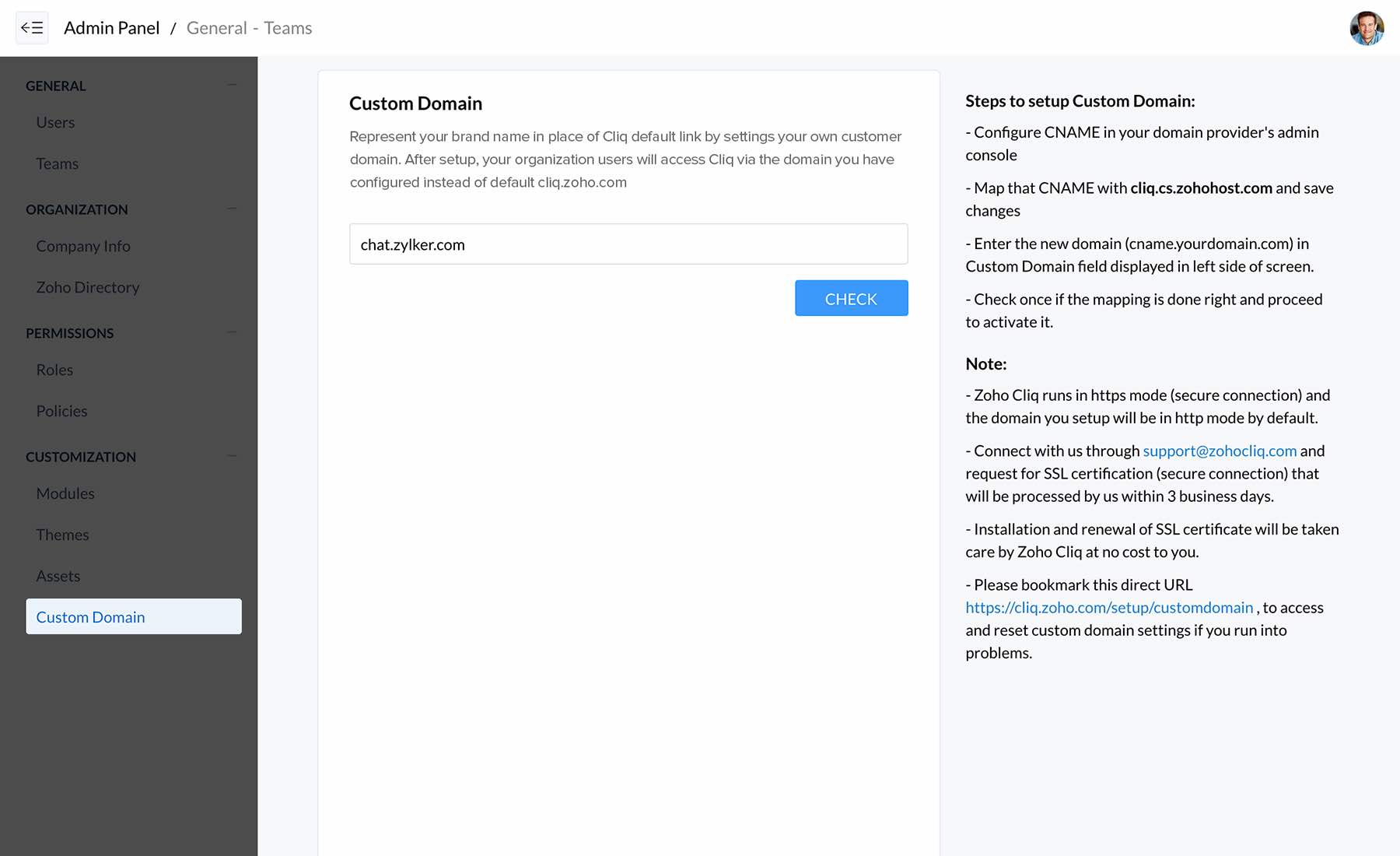 Create User Roles
Configure roles for users based on your organizational hierarchy.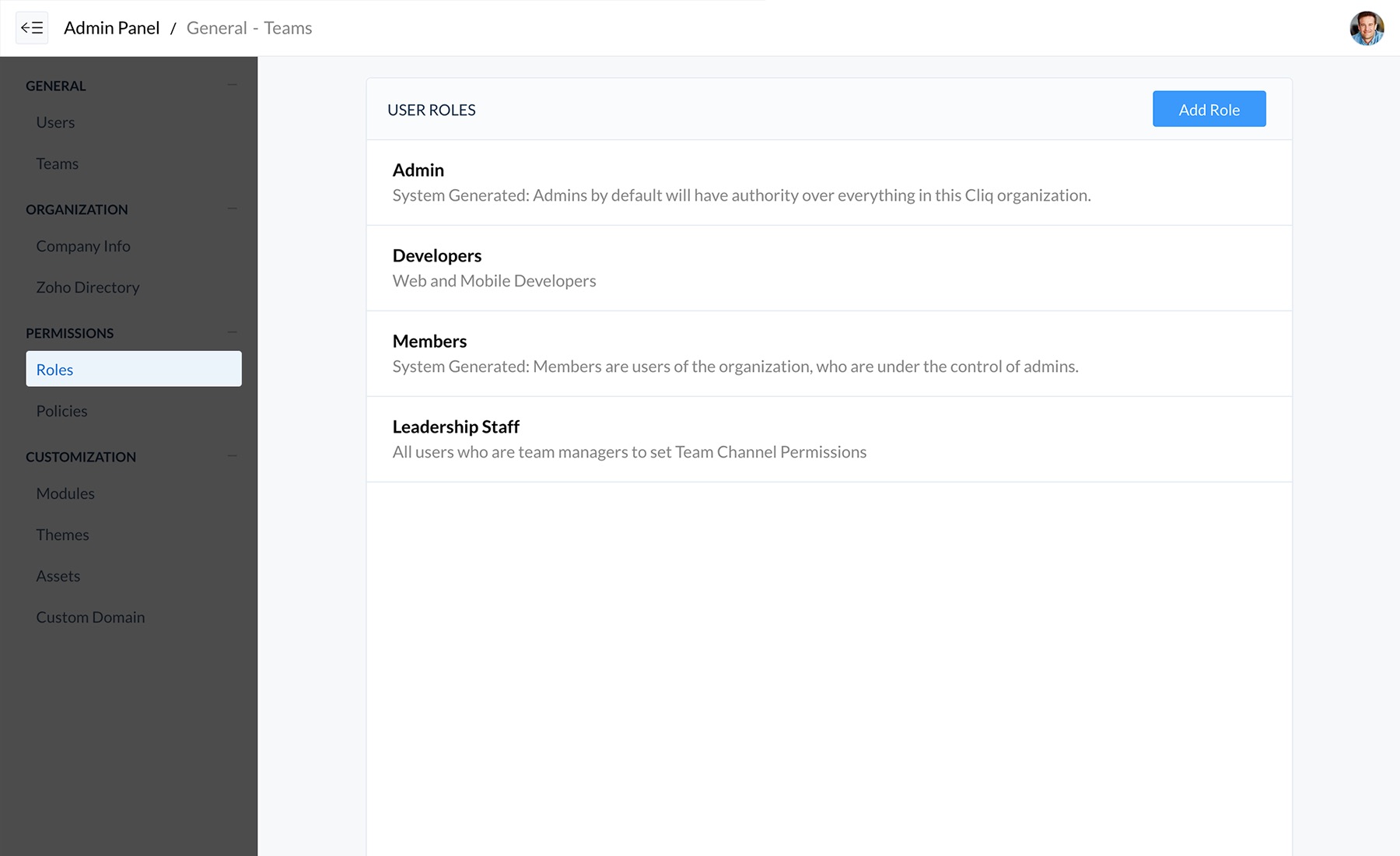 Set Permissions for User Roles
Set permissions for user roles. Selectively decide who gets to access and perform module actions.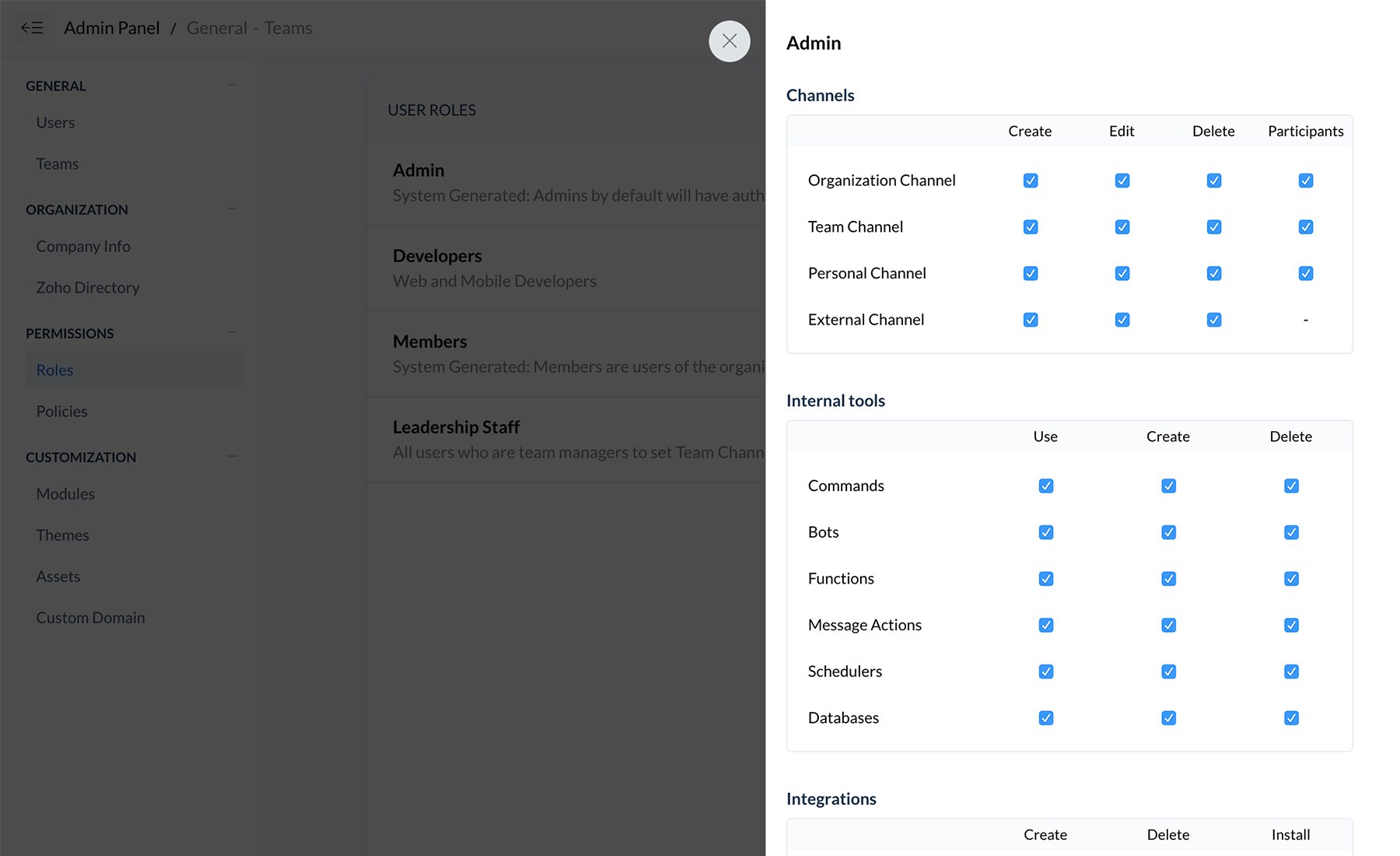 Admin Dashboard
Add Users
Create Teams
Manage Modules
Set Custom Domain
Create User Roles
Set Permissions for User Roles