Secure, Searchable Chat
All your interactions on Cliq are SSL encrypted, which means your data remains safe with us. All chat data and files are stored in servers protected by physical and network security. As we have no storage limits, your files will stay on our servers as long as you need them.
Locate old messages in an instant with Cliq's advanced text and file search options. Enter a phrase in the search bar and you'll pull up all messages where the phrase has been used.
Turn off chat history for any conversations you don't want saved by clicking Actions above the text bar and choosing the Turn off history option.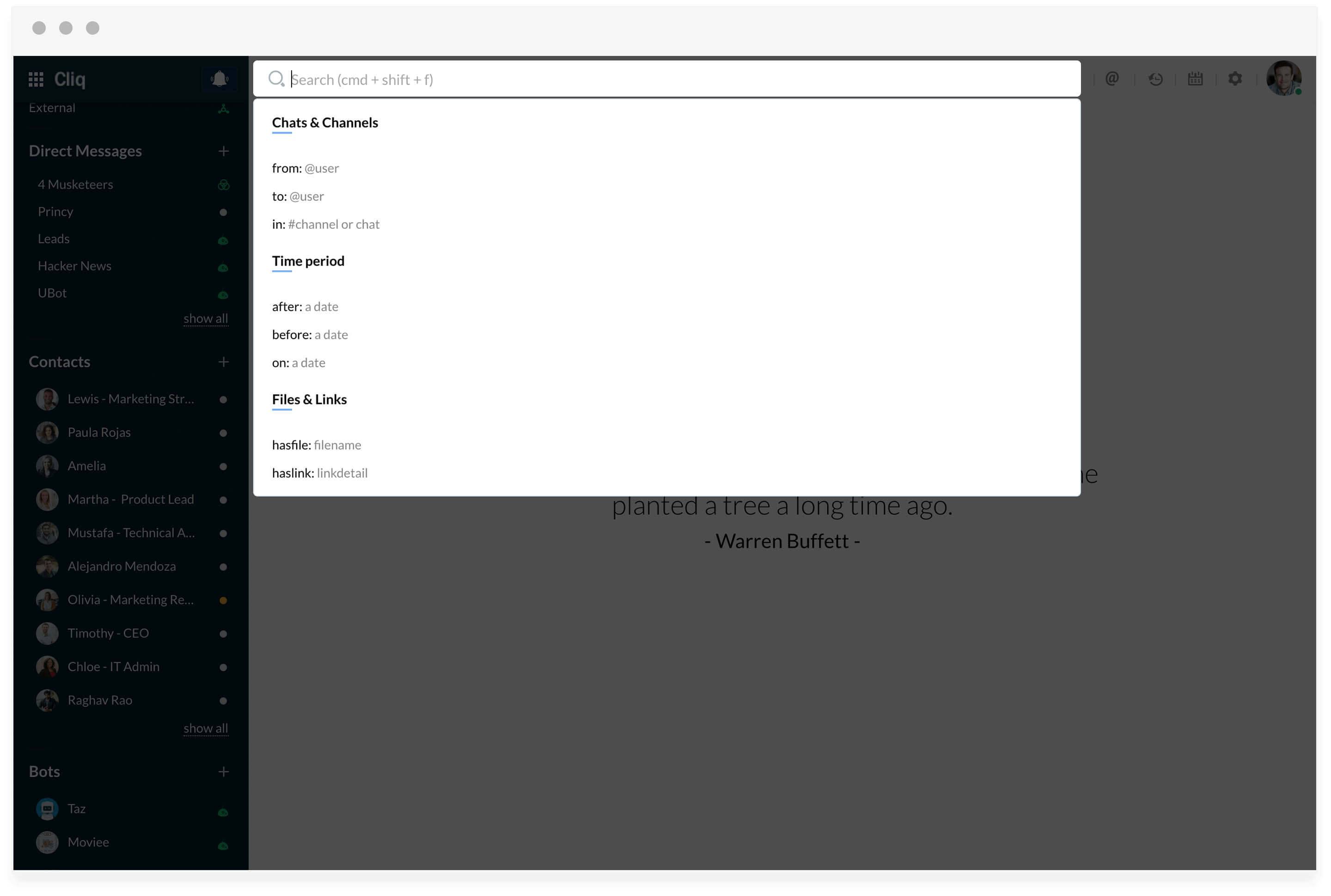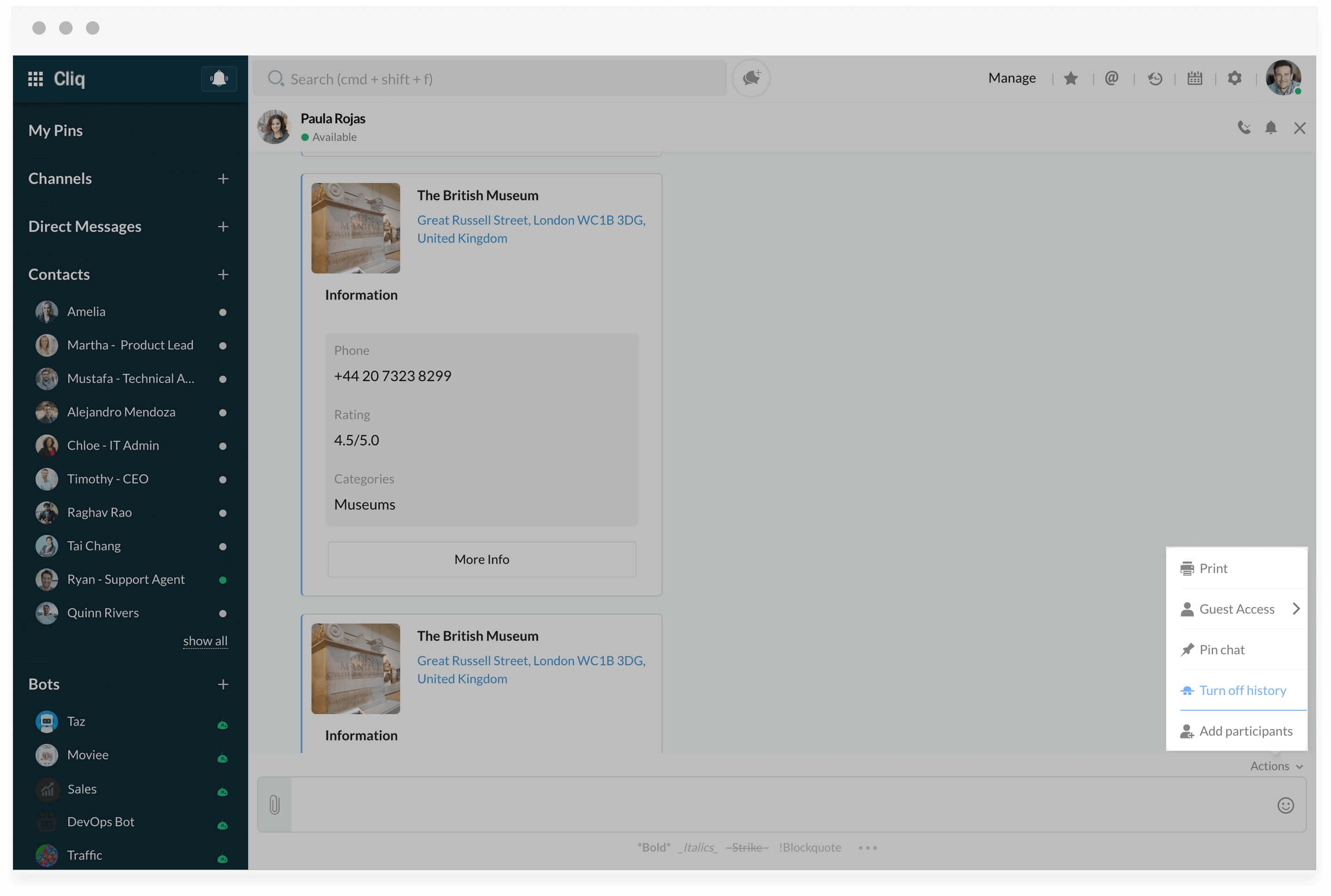 Home Screen
Home Screen

View offline chat notifications, upcoming event reminders as well as new bots and commands in your home screen.

Left Pane

The left pane includes all your pinned conversations, channels, direct messages, contacts, and bots.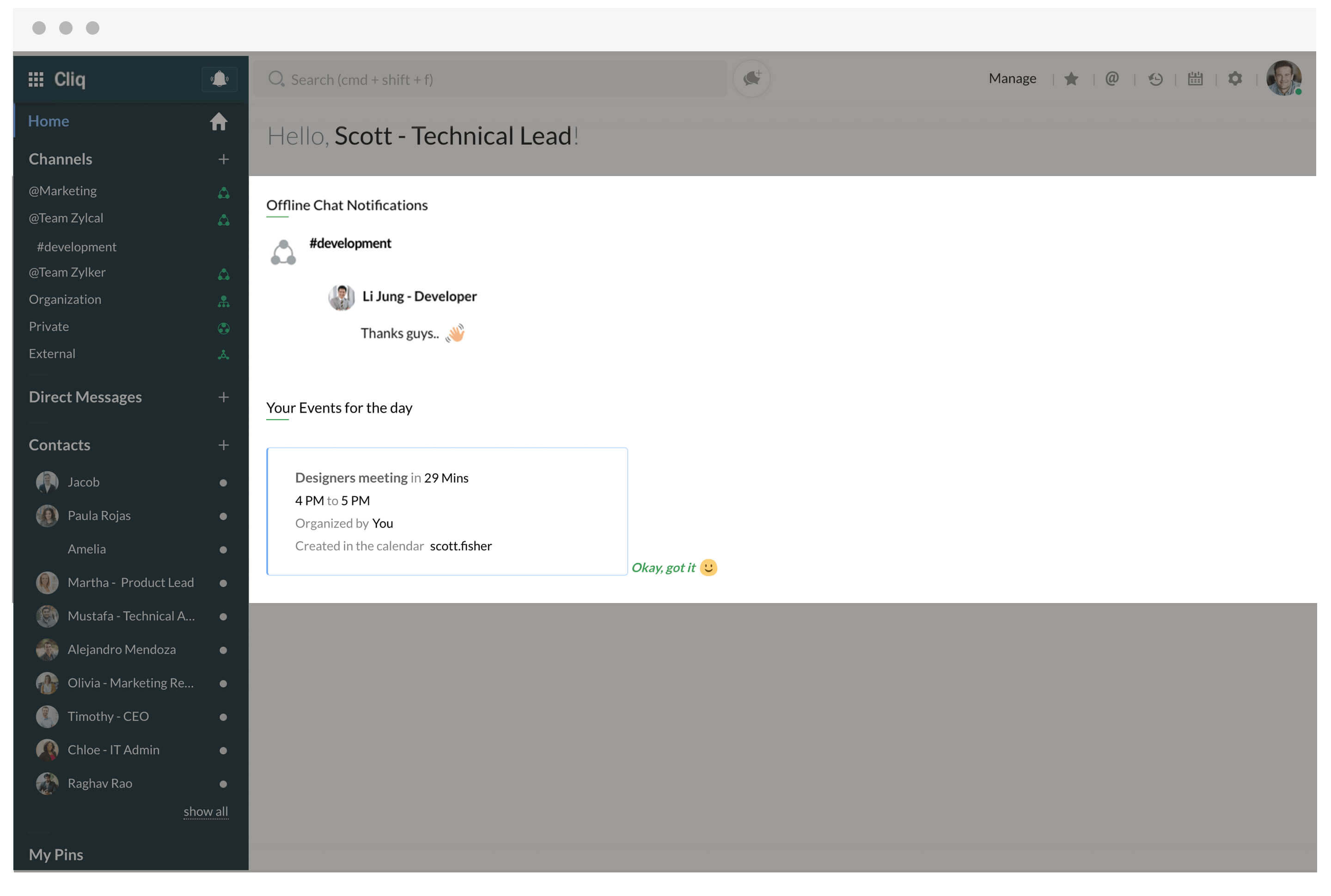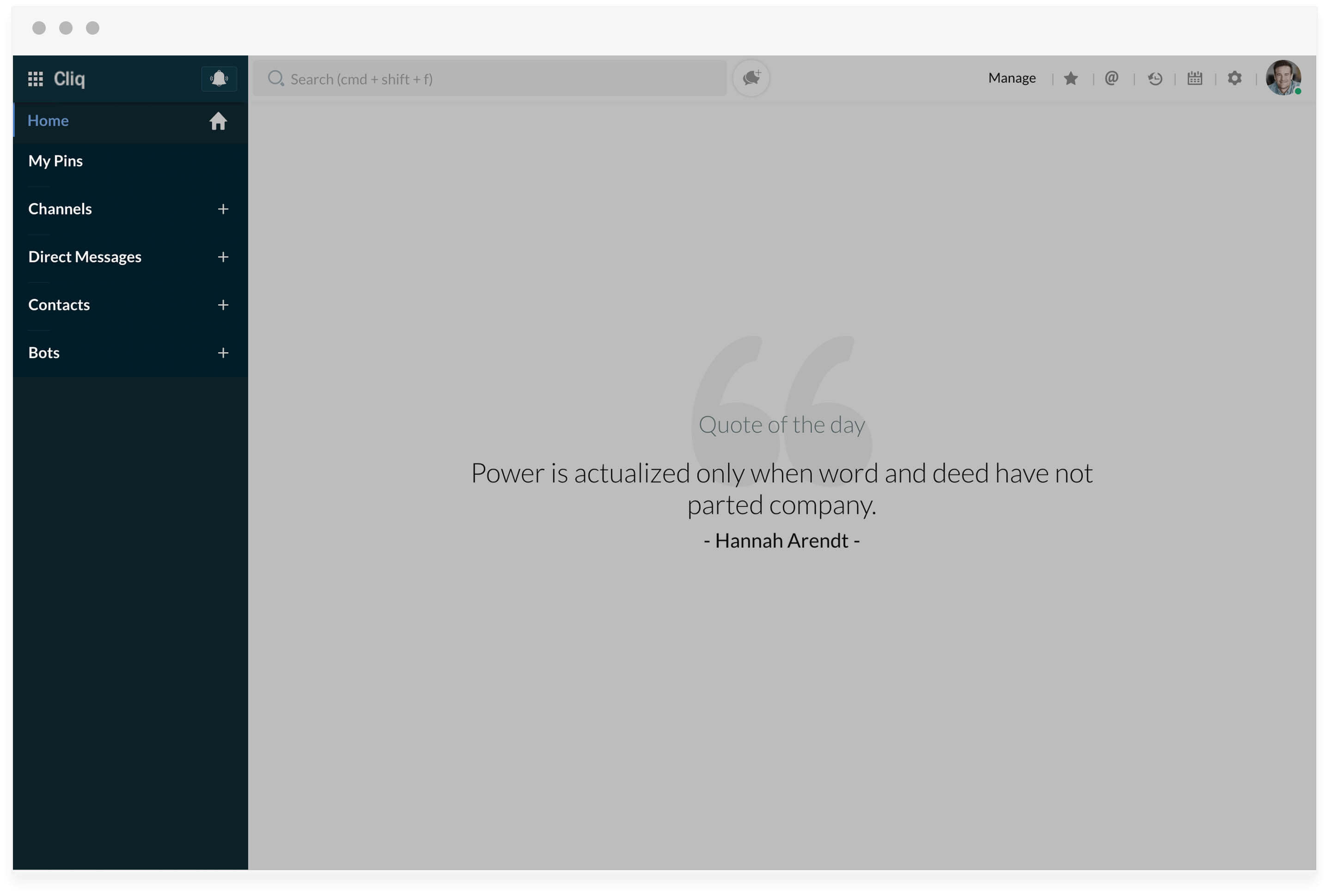 Contacts
Your Contacts are colleagues who accept your chat invitations.
To add a contact, click the icon next to Contacts in the left pane.
Type their email address in the Invite Contact dialog box and click Invite.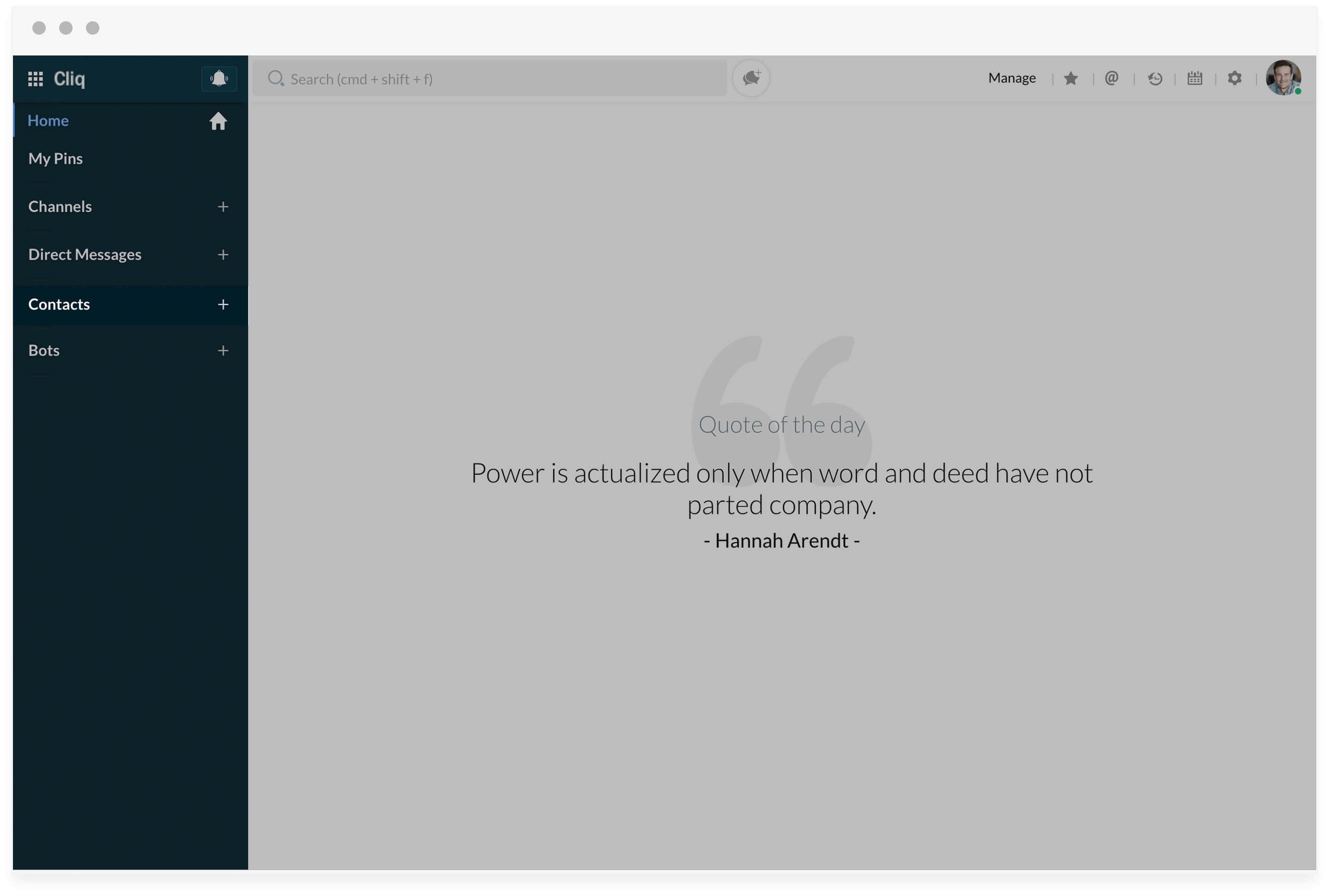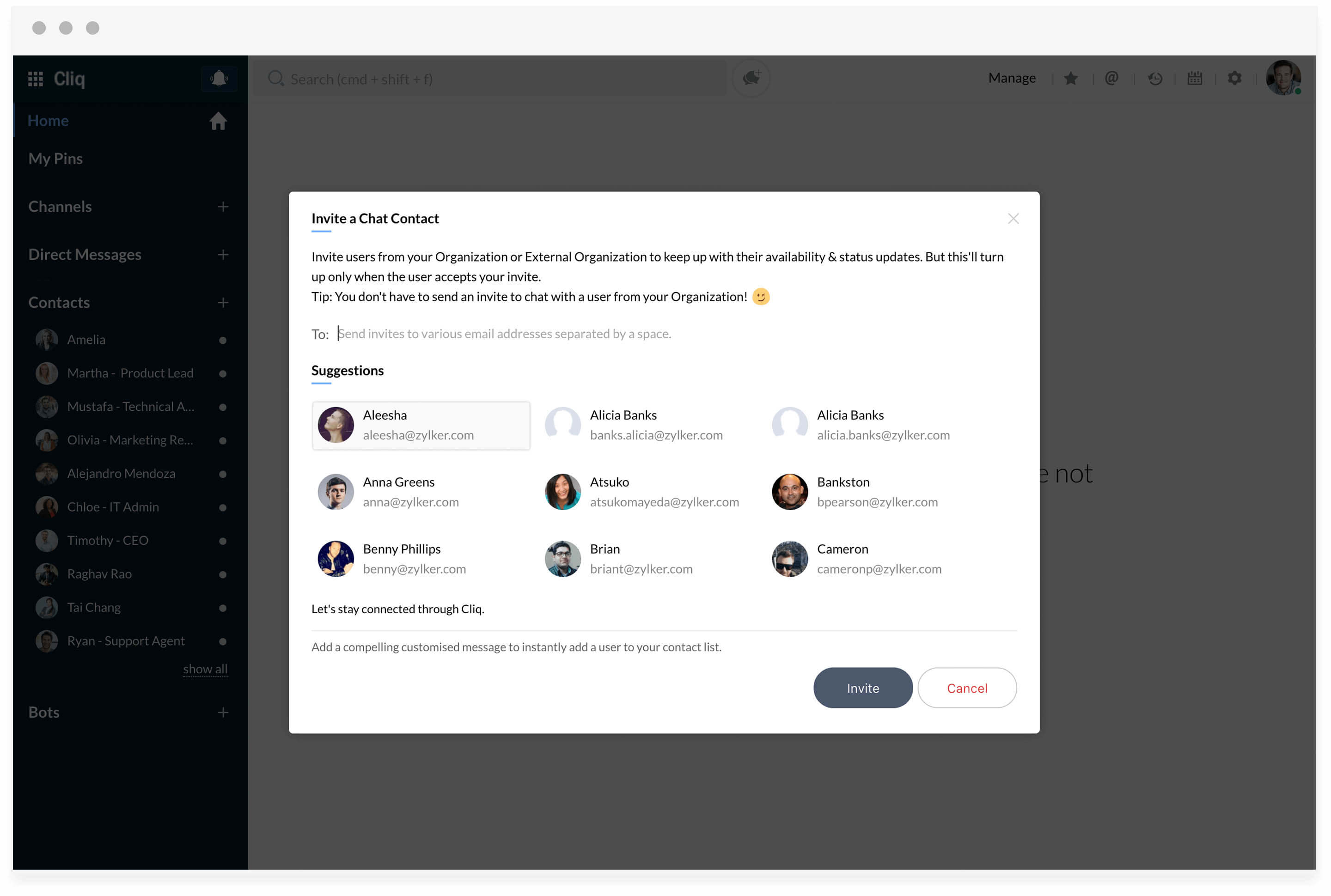 Chats
Chats include all your direct message conversations, group chats, and channels.
To start a direct message, click the contact's name and start typing in the chat window.
To create a group chat, click the Quick Chat button and add members from your contacts list.
Pin chats that you want easy access to by hovering over the contact's name and clicking the Pin chat icon.
Add new members to an existing chat by forking conversations. You can do this by hovering over the chat and clicking the Fork Henceforth option under Message Actions.
Use @mentions in your chat to ping someone instantly. Type @ followed by the recipient's name and they will receive a notification right away.
To make audio or video calls, hover over the video call icon in the chat header.
Hover over important messages and click the icon to list it under your Starred messages. Access all your starred messages by clicking the Star icon in the top header.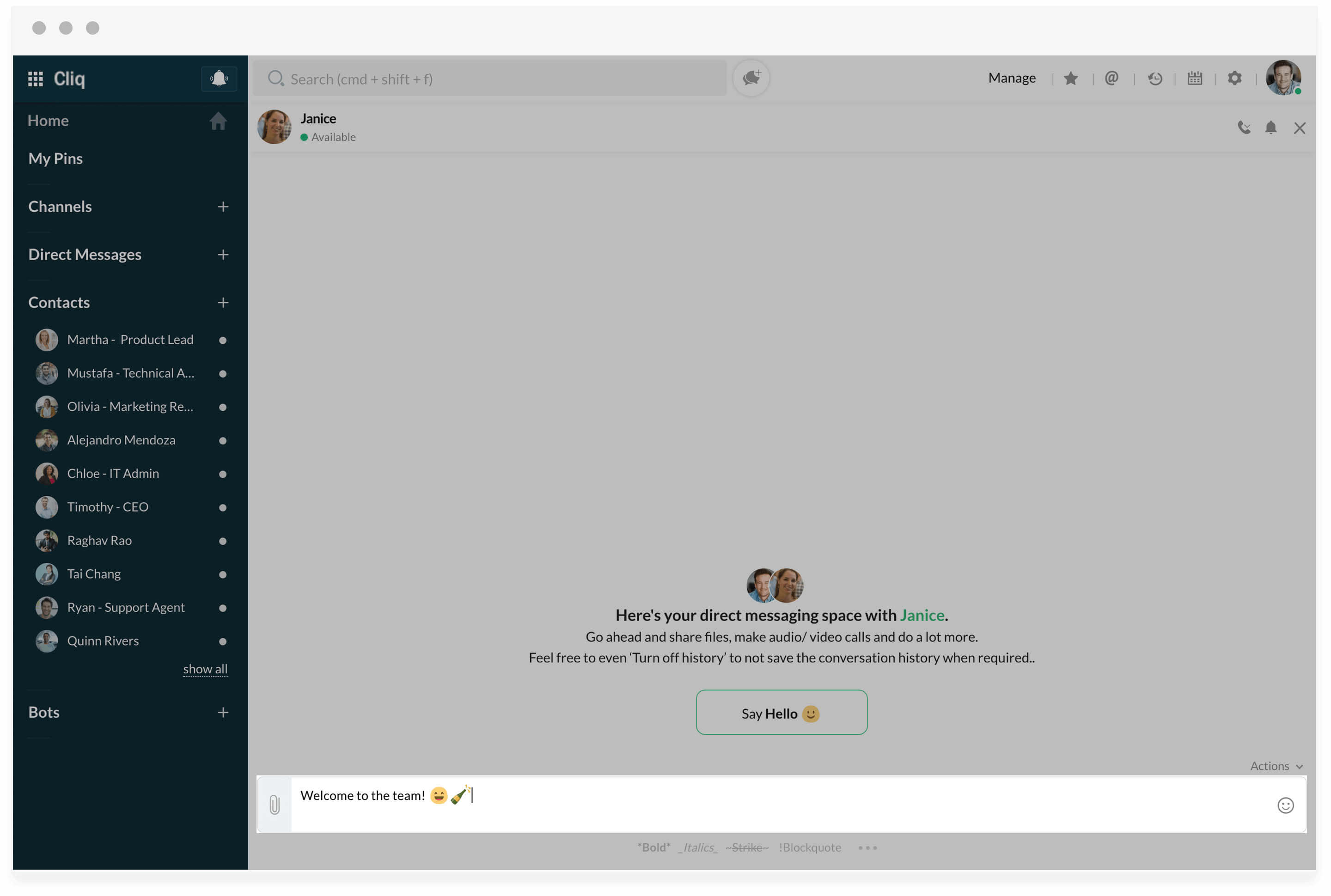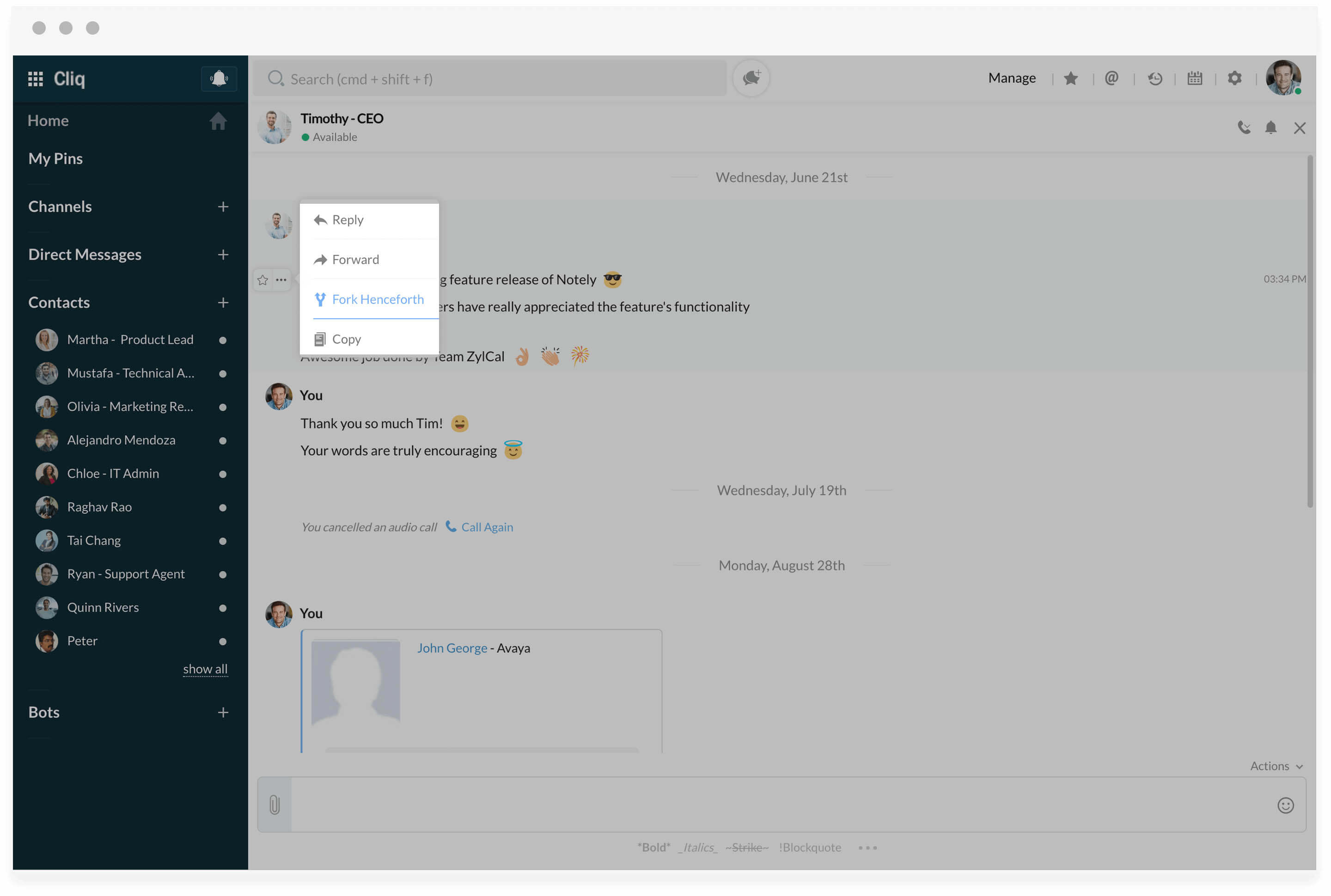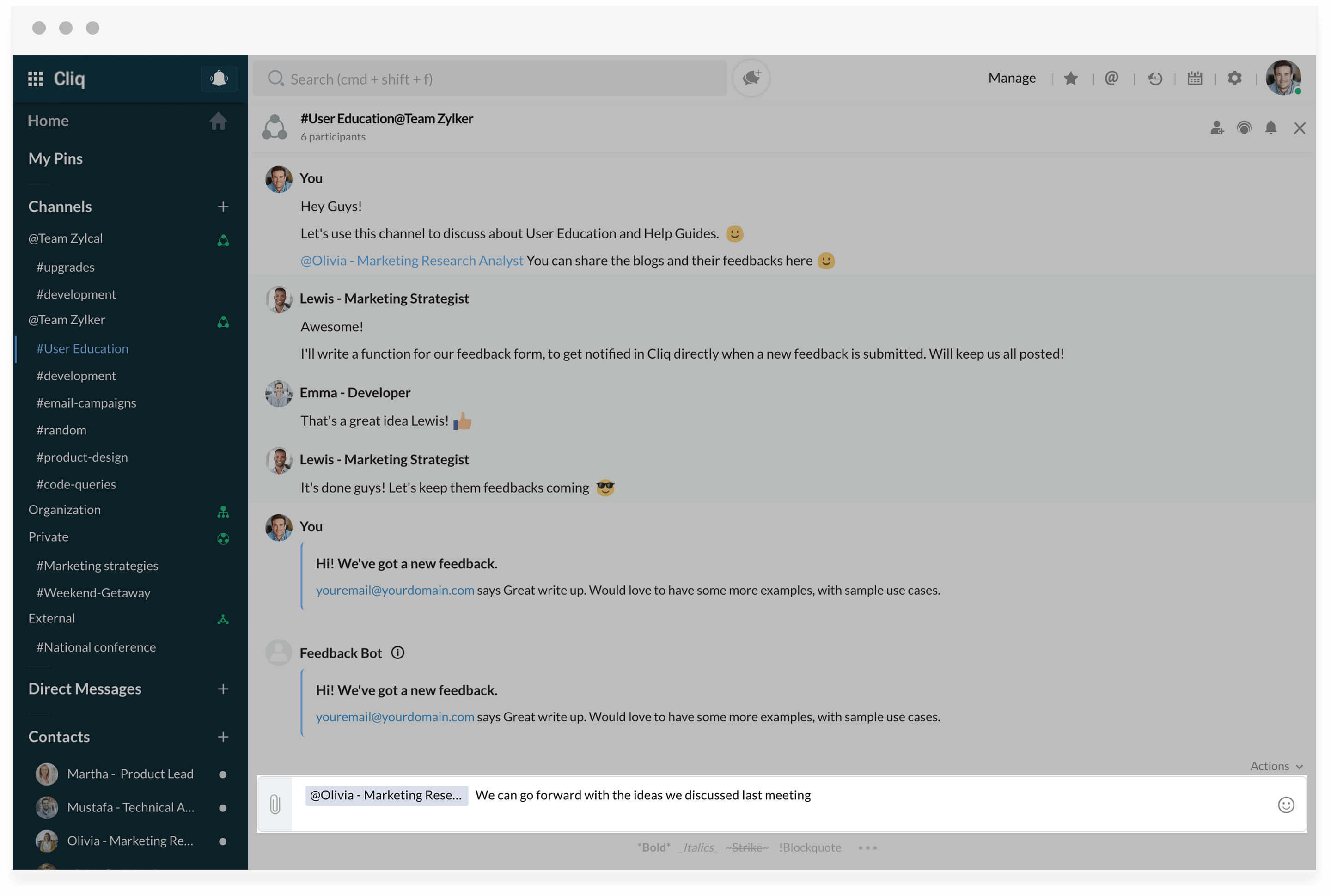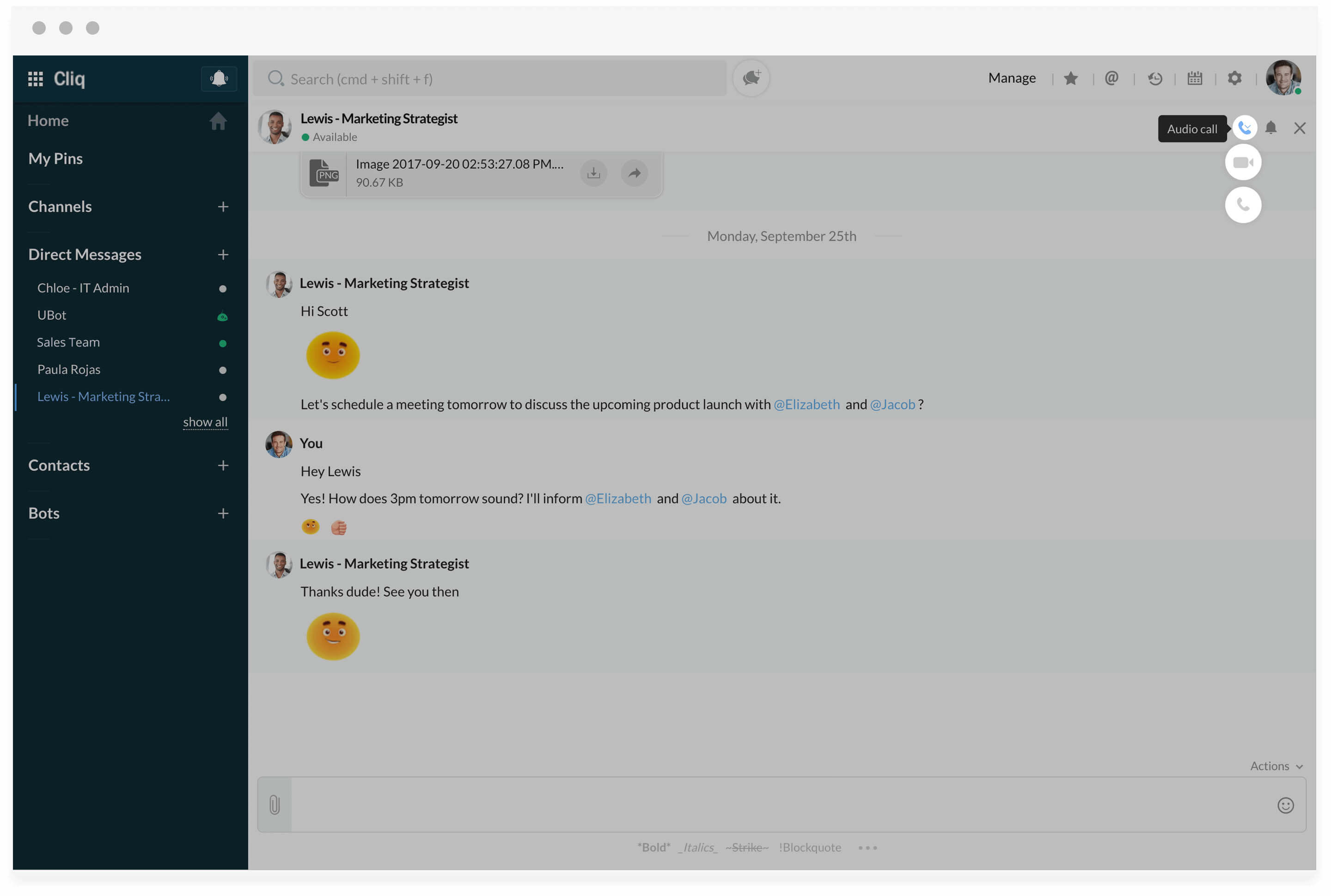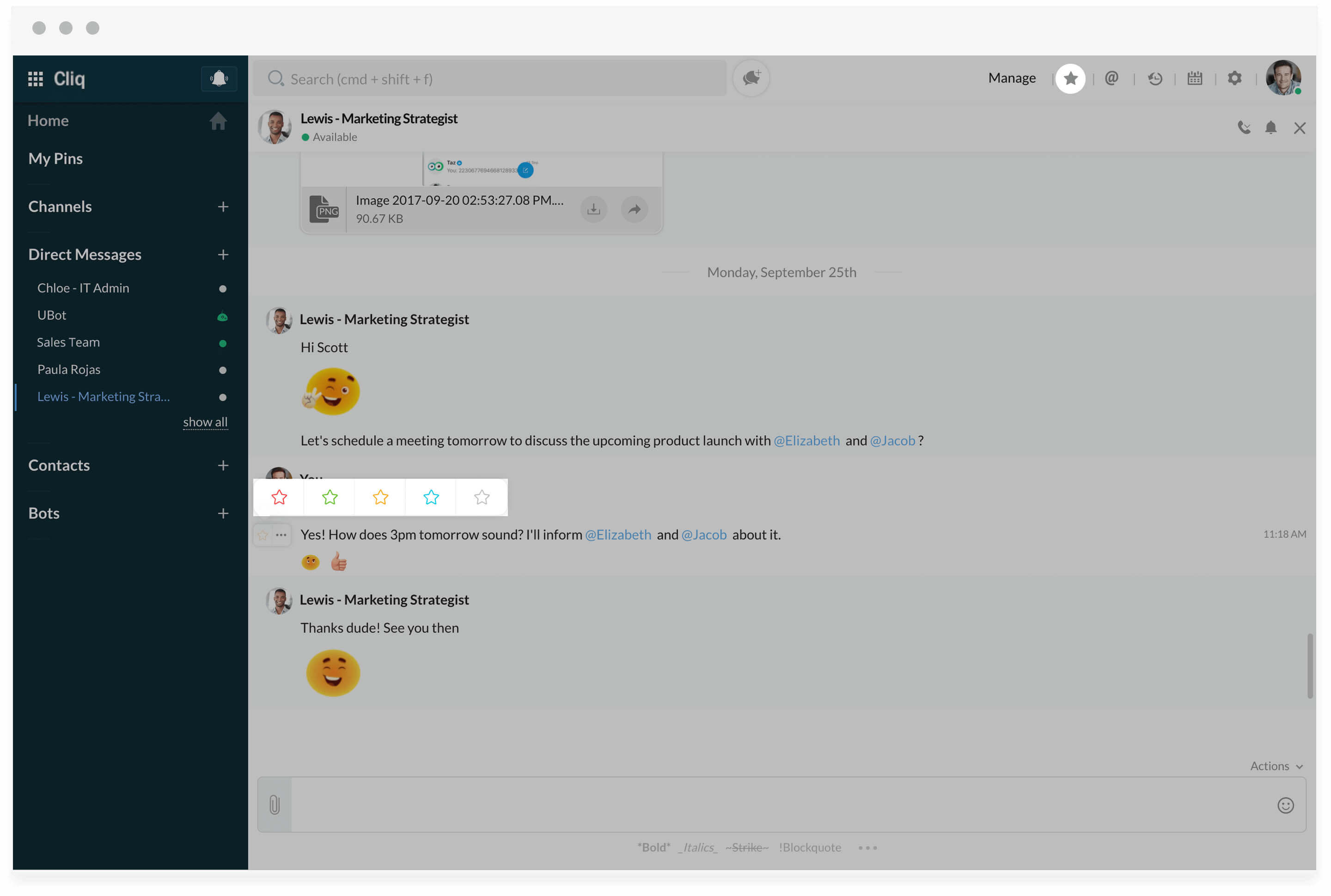 Channels
Channels are group chats that you can create for individual teams within your organization. Stream your conversations with these channels, designed for topical discussions. Cliq provides organization channels, which are visible to everyone in the organization, team channels that only members of a particular team can access and join, private channels where you may choose which members to include in the conversation and external channels, which are used to add members from outside your organization.
Create a channel by clicking on the icon next to Channels in the Control Panel. Join existing channels by clicking Join under the required Channel name.
View the roles of participants in your channel by clicking on the 'number of participants' under Channel name in your chat header.
View Channel Permissions by clicking on the Channel icon and selecting Permission in the dialog box that appears. If you are the Channel Admin, you can regulate actions that can be performed by channel members.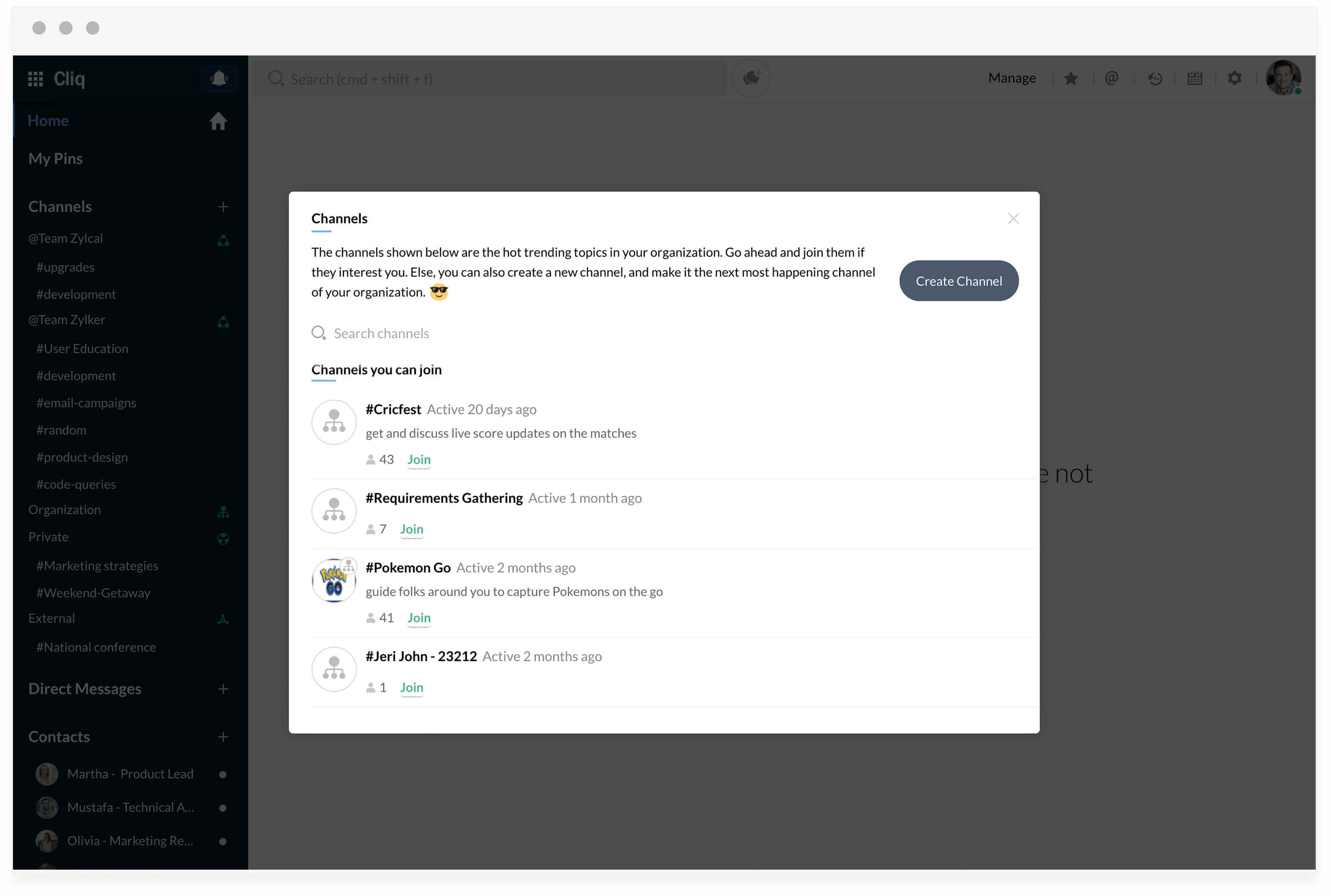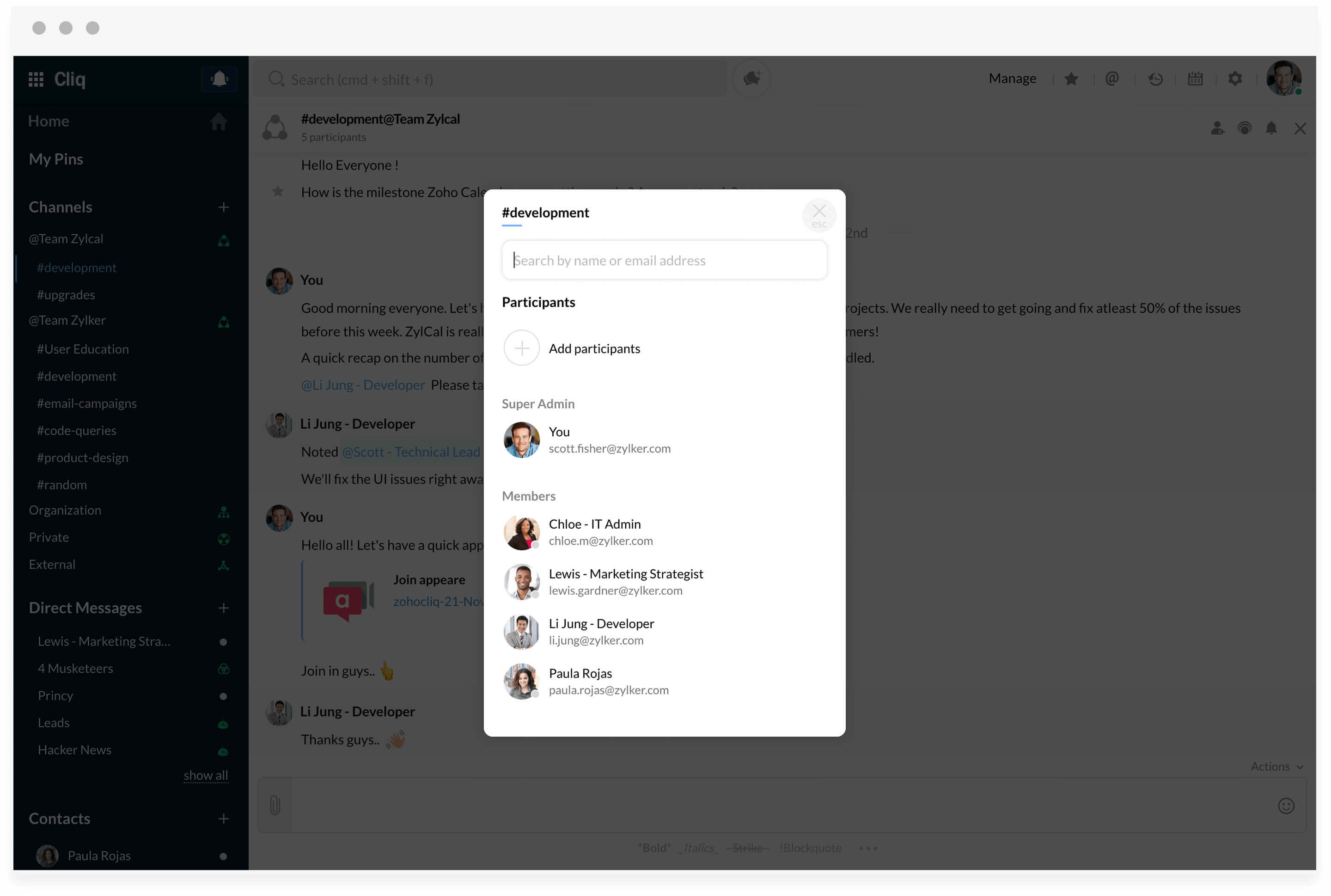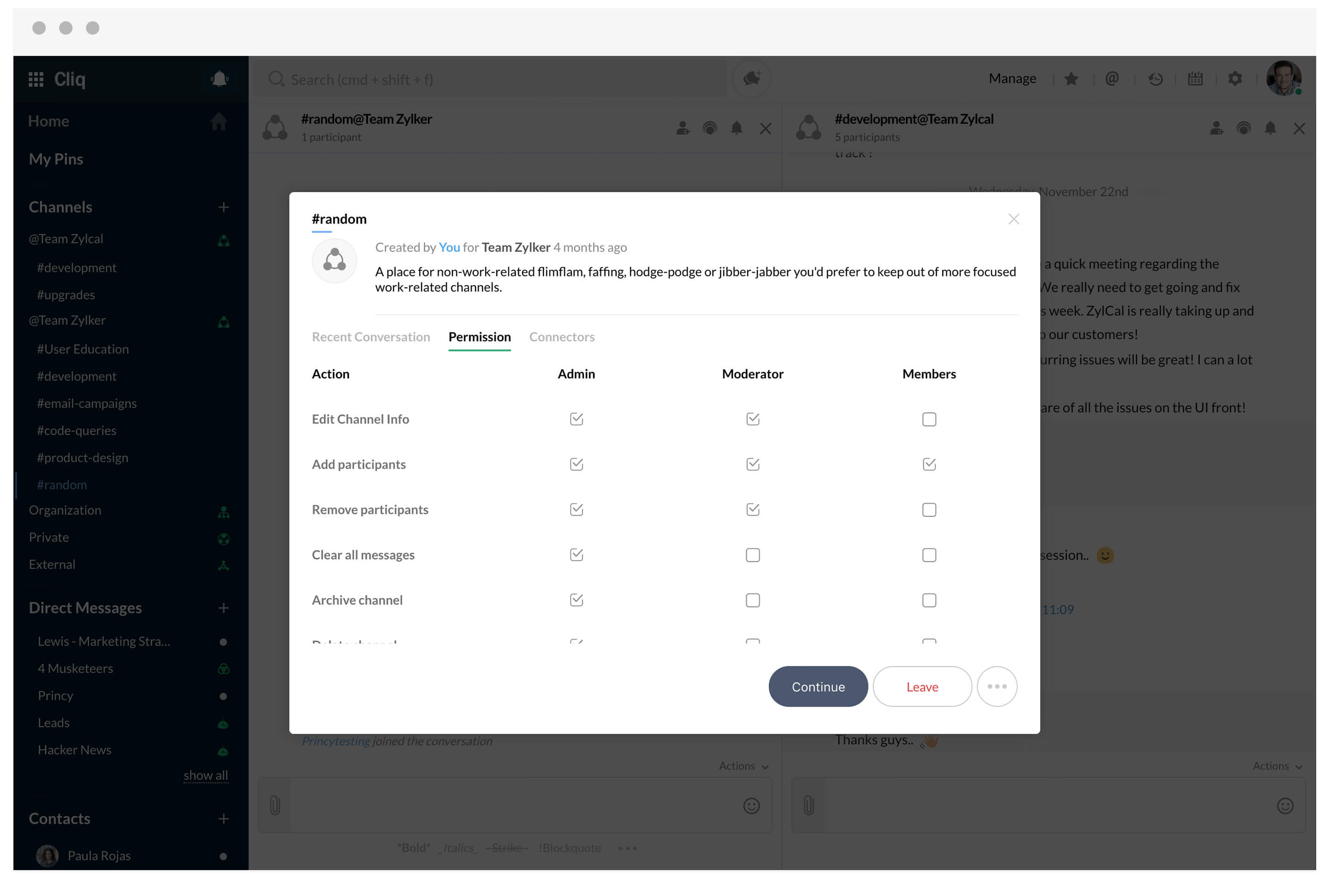 PrimeTime
Join team meetings from anywhere in the world with Cliq's virtual meeting room, PrimeTime
Begin a video call session by clicking the PrimeTime icon and enabling camera and microphone access.
Once your PrimeTime session begins, you can click the Chat icon in the top-right corner, to access your chats in the same window.
Click the Request to speak button to join the conversation.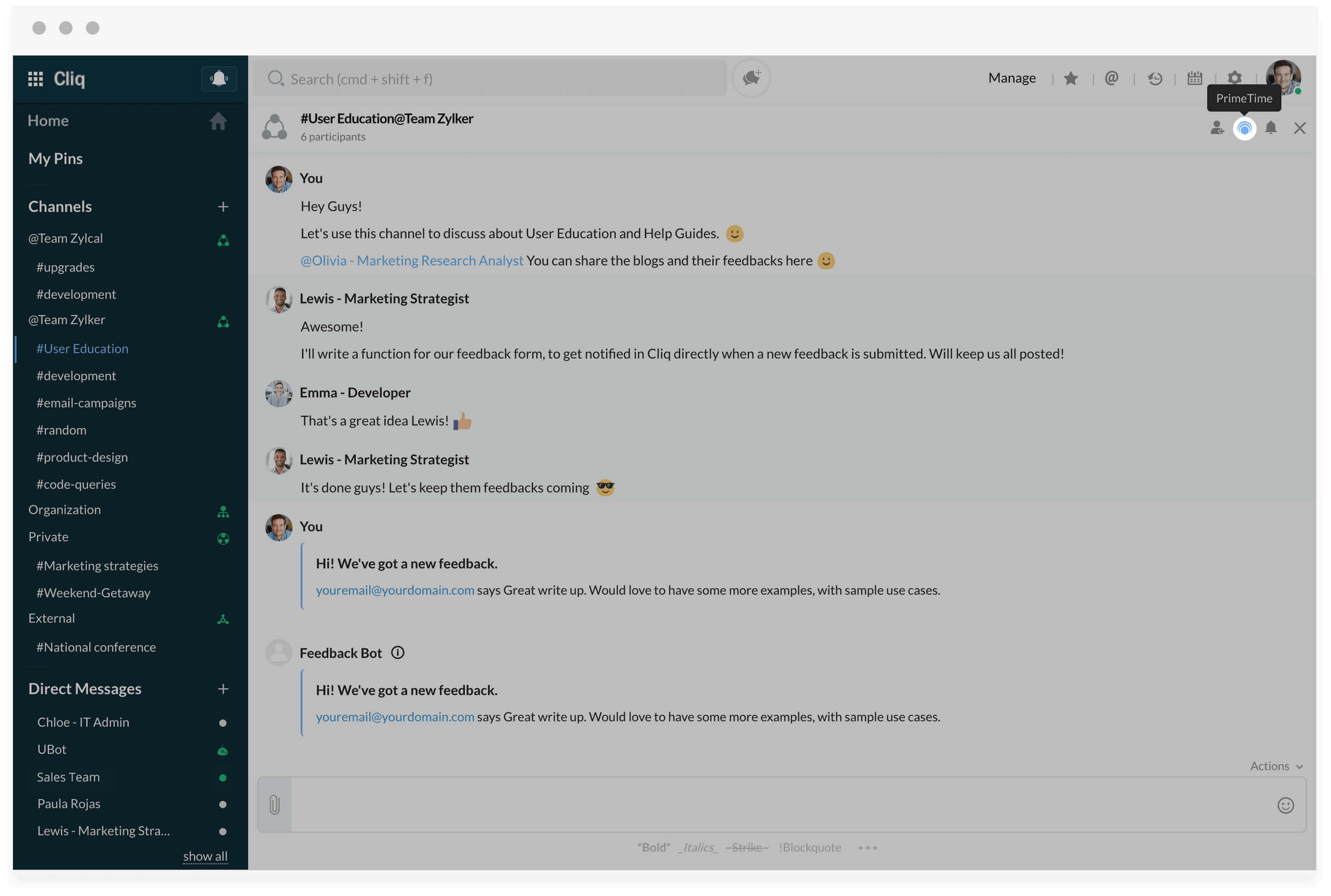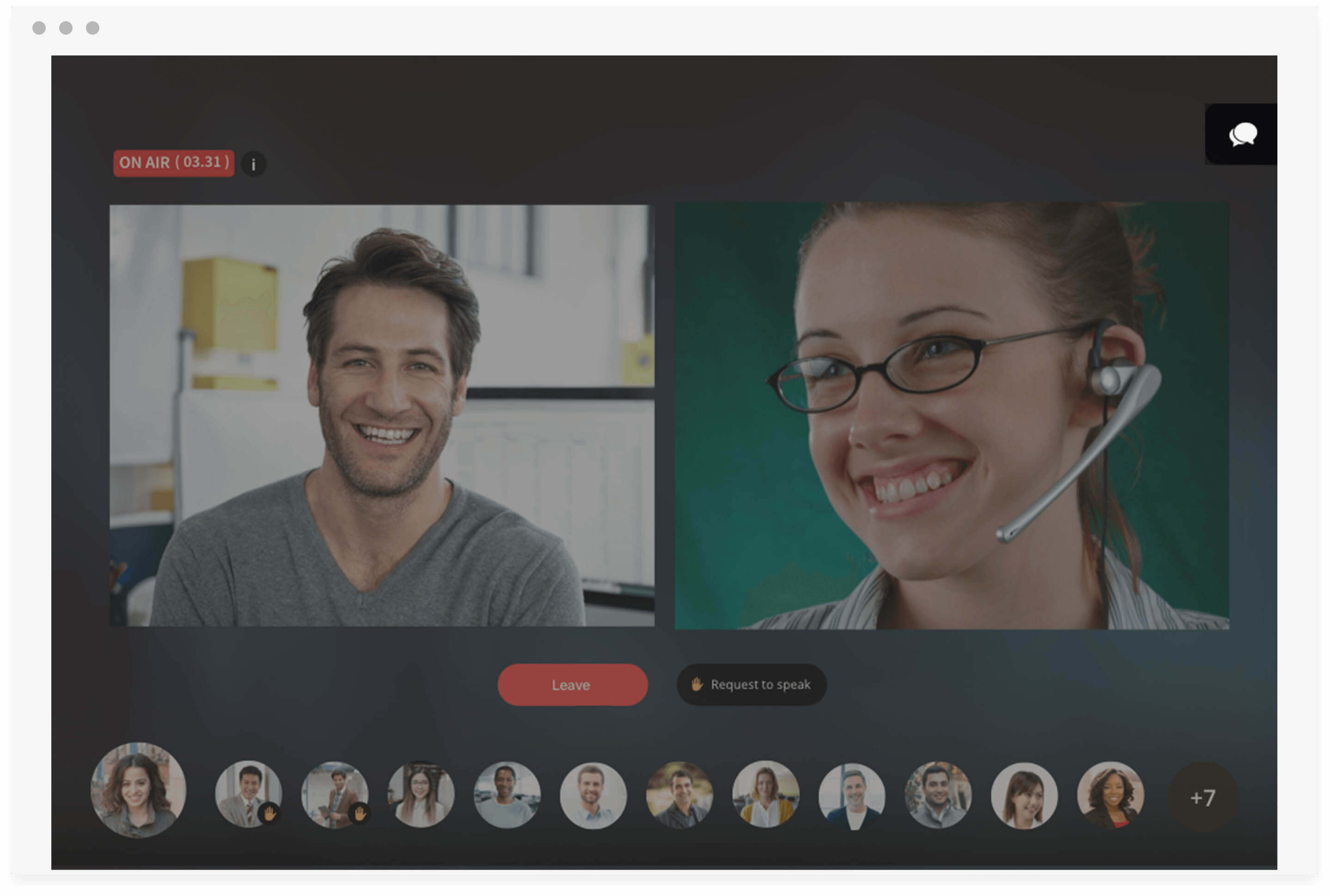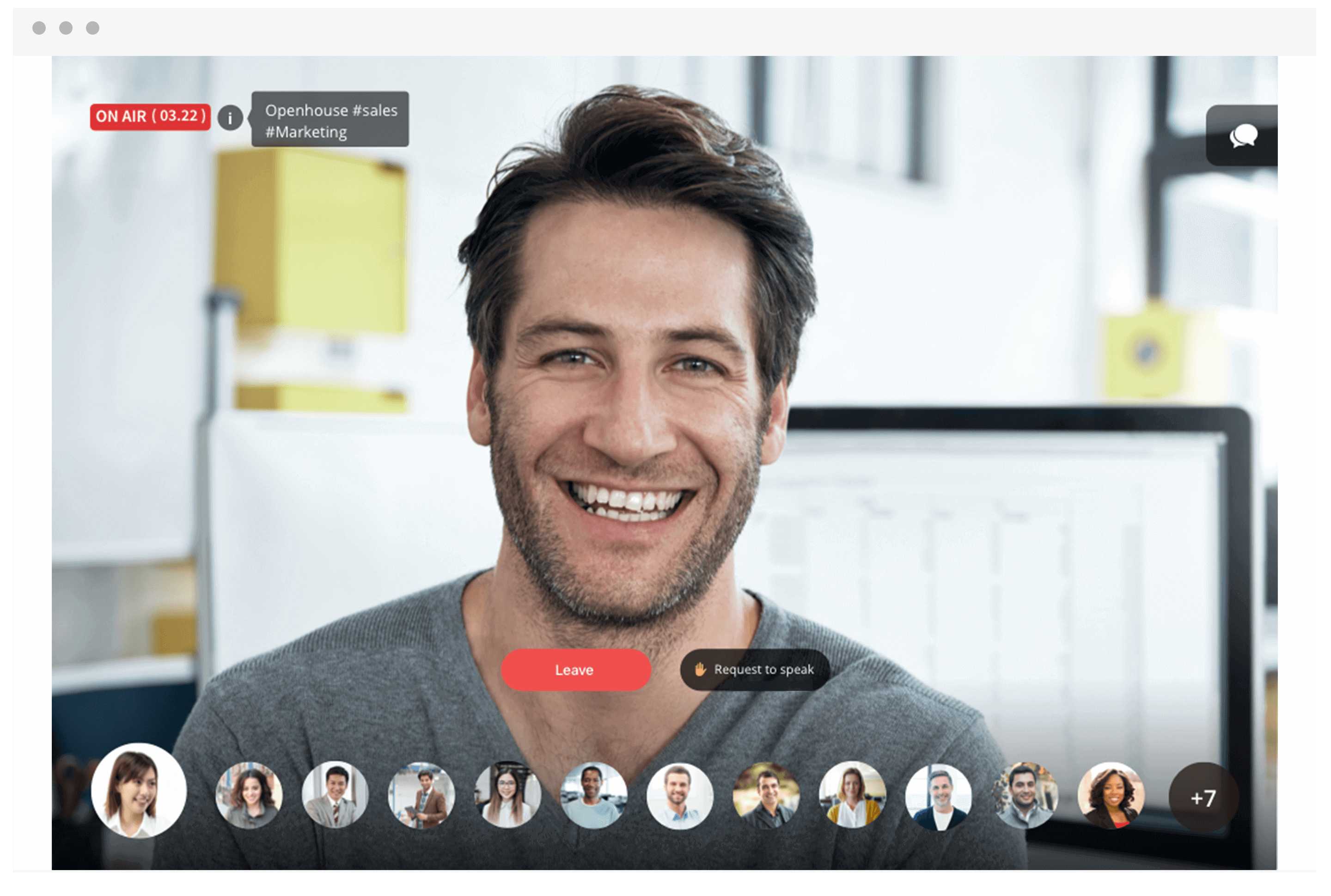 Events
Sync your calendar with Cliq Events and stay on top of scheduled meetings, webinars, and events.
To create an event, click the event notifier icon in the top-right corner and select Create Event.
Zia is Zoho's intelligent assistant; use it to automate event reminders. Just select the 'Include Zia in your Event' option.
Create an event from your chat window with Taz by entering this in your chat:

@Taz(space)create(space)an(space)event(space)<event_title>(space)<time_am/pm>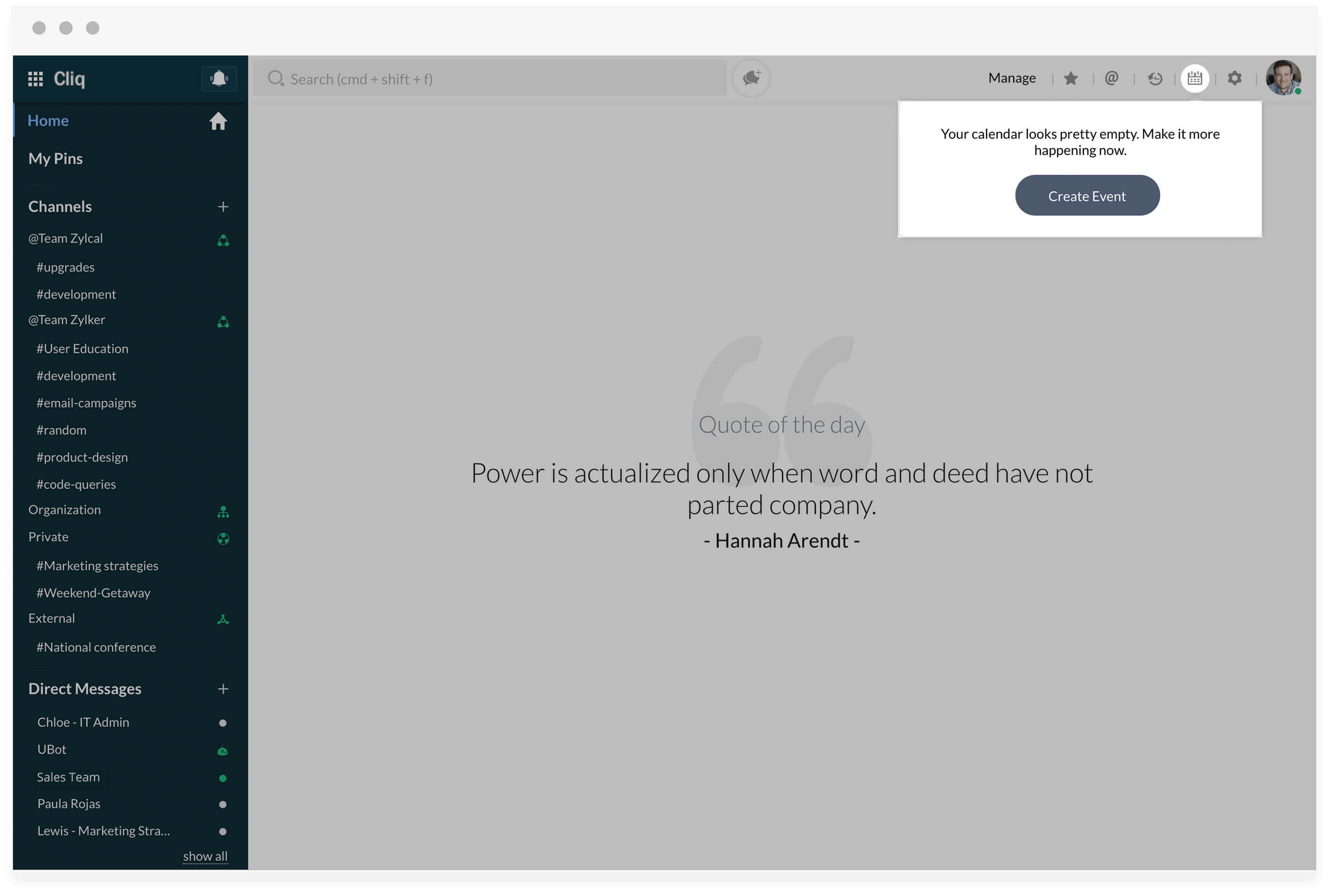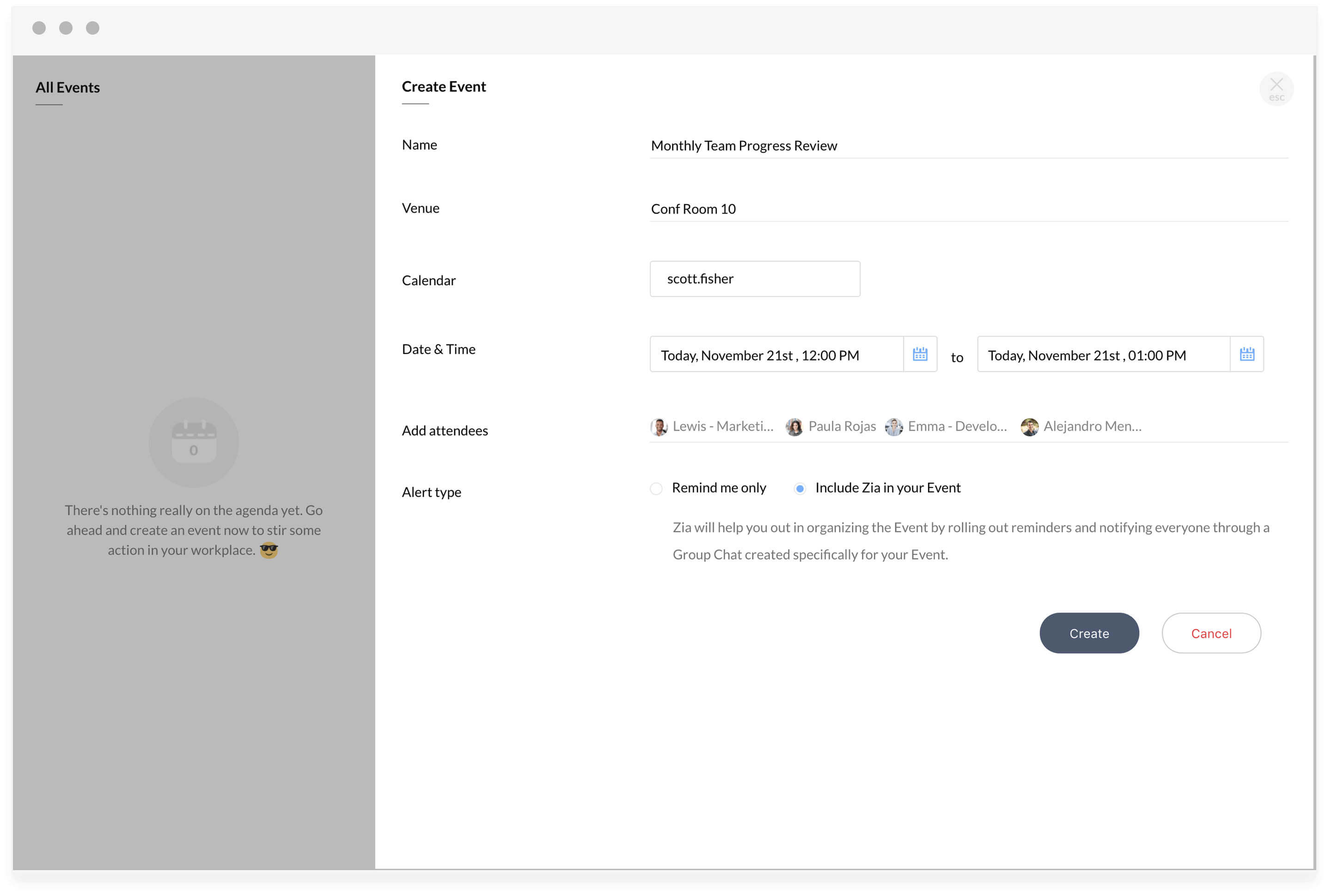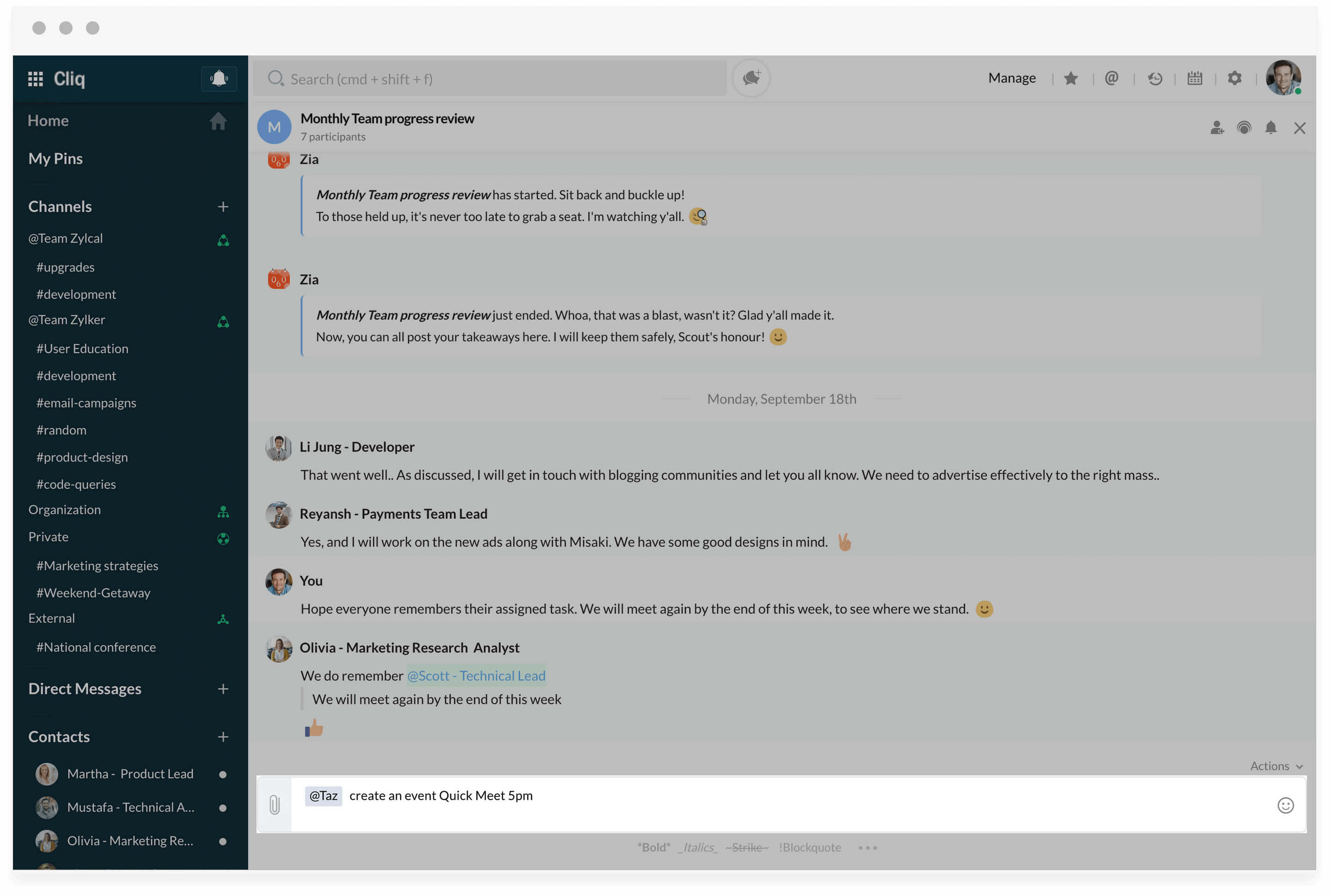 Bots
Automate your workflow and improve your team's productivity and cohesion by assigning your day-day tasks to bots.
Subscribe to available bots by clicking on the + icon next to Bots in the left pane.
You can create your own bot by clicking Create bot on the same page.
View and access new bot notifications on your home screen.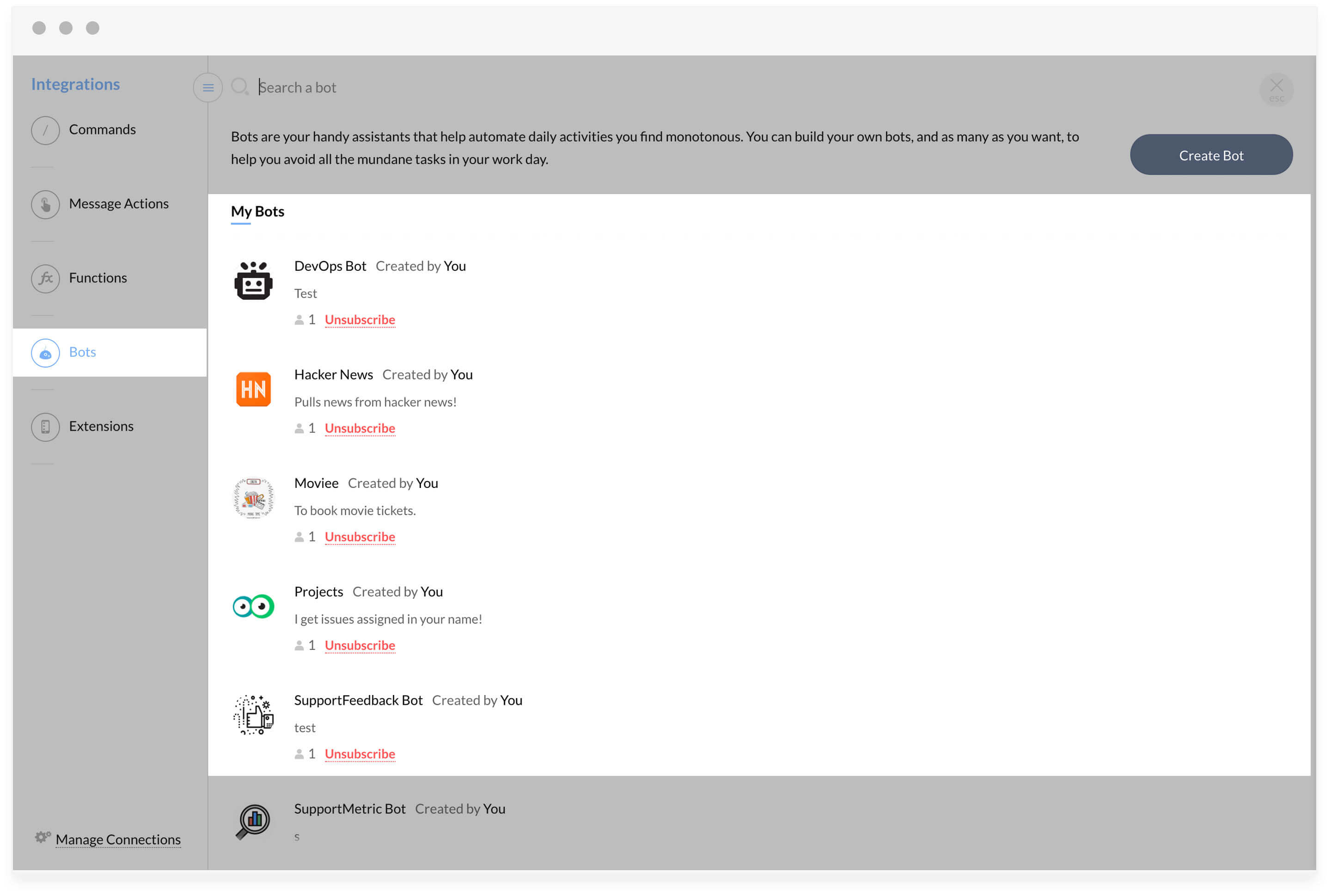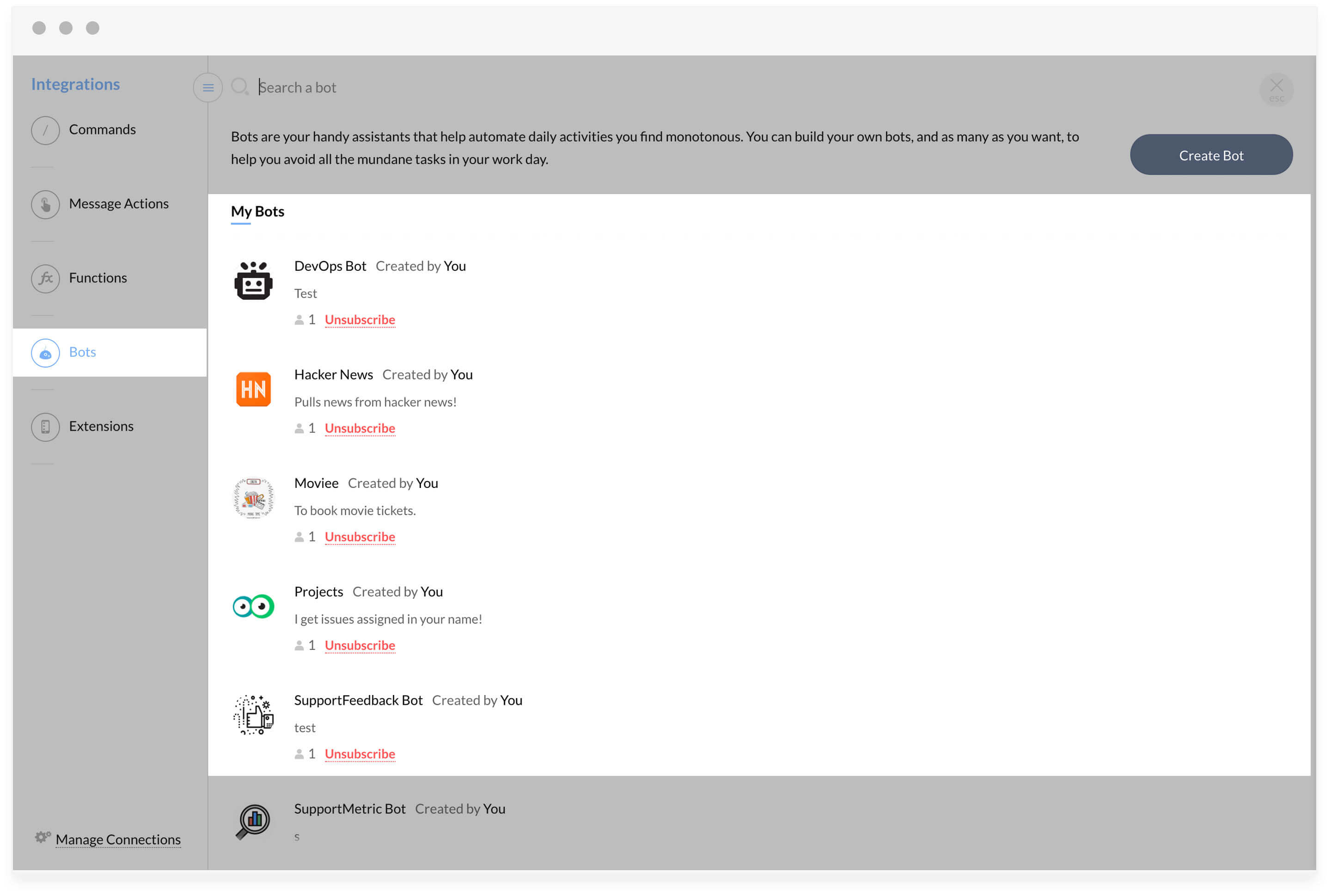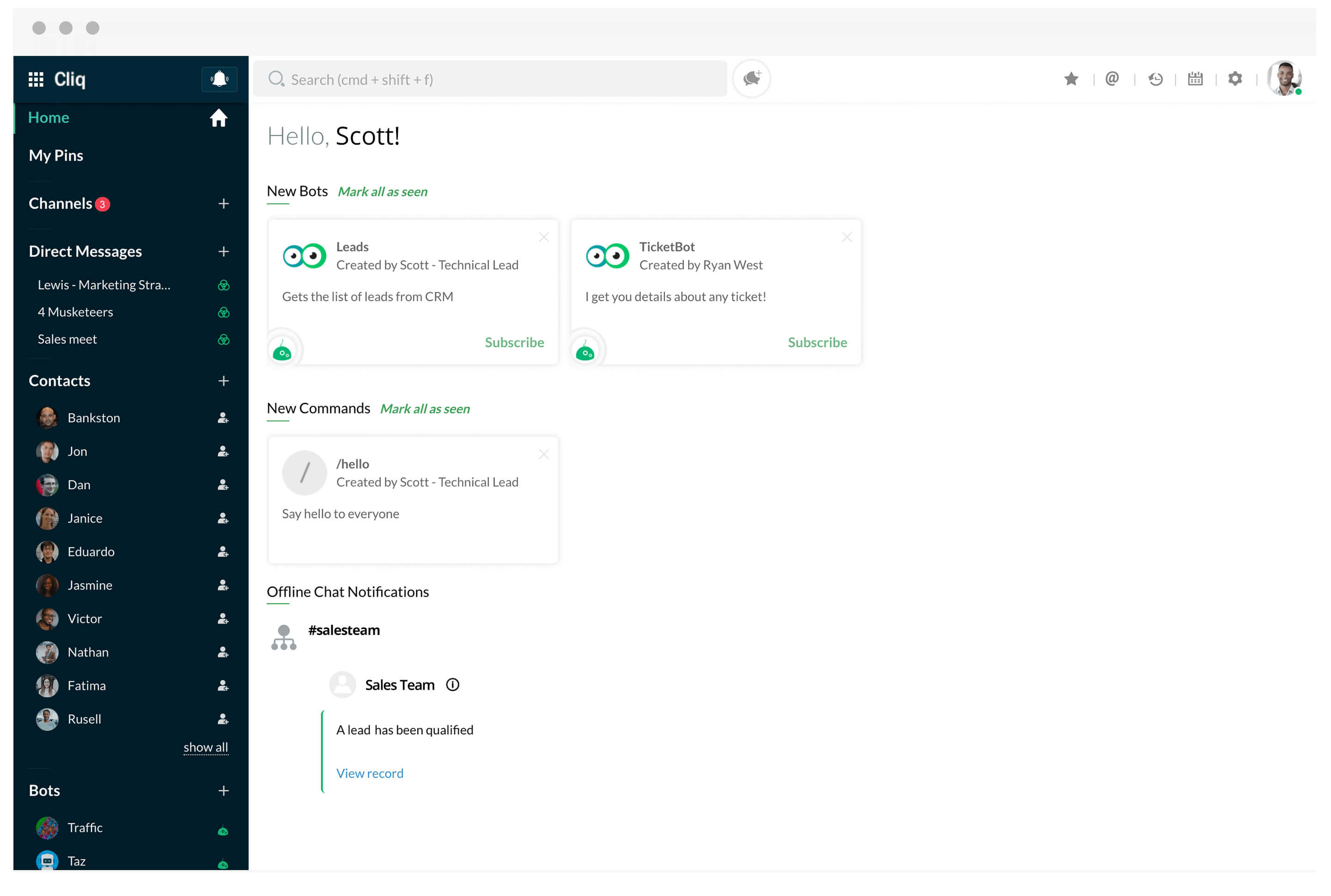 Commands
Use slash commands to perform tasks fast, right from your chat window.
Open Settings, then select Integrations and choose Commands. Here, you can view and create slash commands.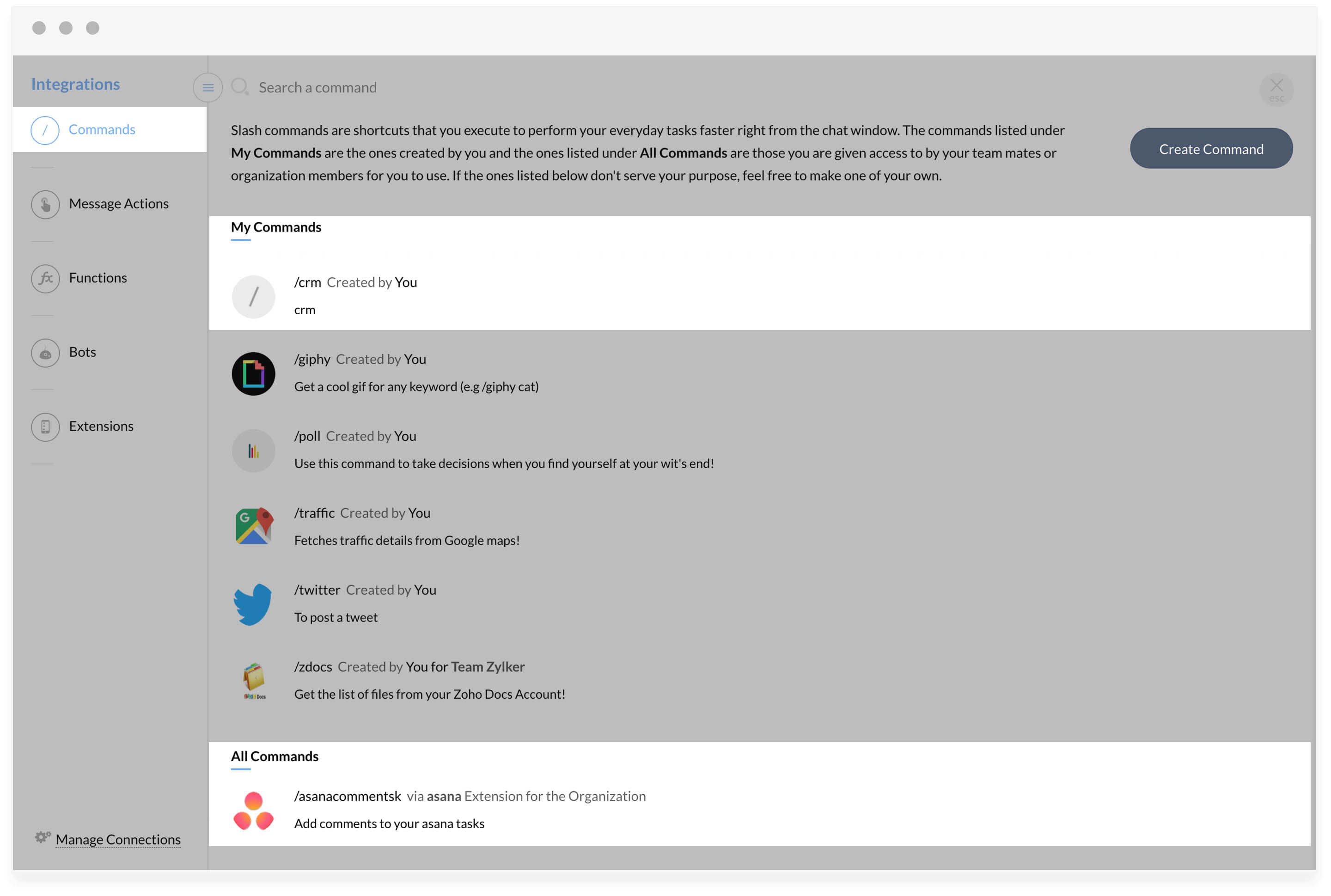 Extensions
Extensions are bundles of actionable code that include bots, commands, and other custom functions.
View all installed extensions by opening Settings, selecting Integrations and choosing Extensions. From here, you can create and activate custom extensions. You can find and install all available extensions here https://marketplace.zoho.com/cliq