The Global Information & Communications Technologies Research Team at Frost & Sullivan has released a detailed analysis on the growth of companies providing cloud meetings and team collaboration services.
Zoho Cliq has been identified as one of the innovators by Frost Radar for its recently-updated features that promote synchronous and asynchronous collaboration. These features include a new DND mode, threads, audio and video meeting enhancements, project management, HR management, calendar, and notes.
"Companies plotted on the Frost Radar™ are the leaders in the industry for growth, innovation, or both. They are instrumental in advancing the industry into the future."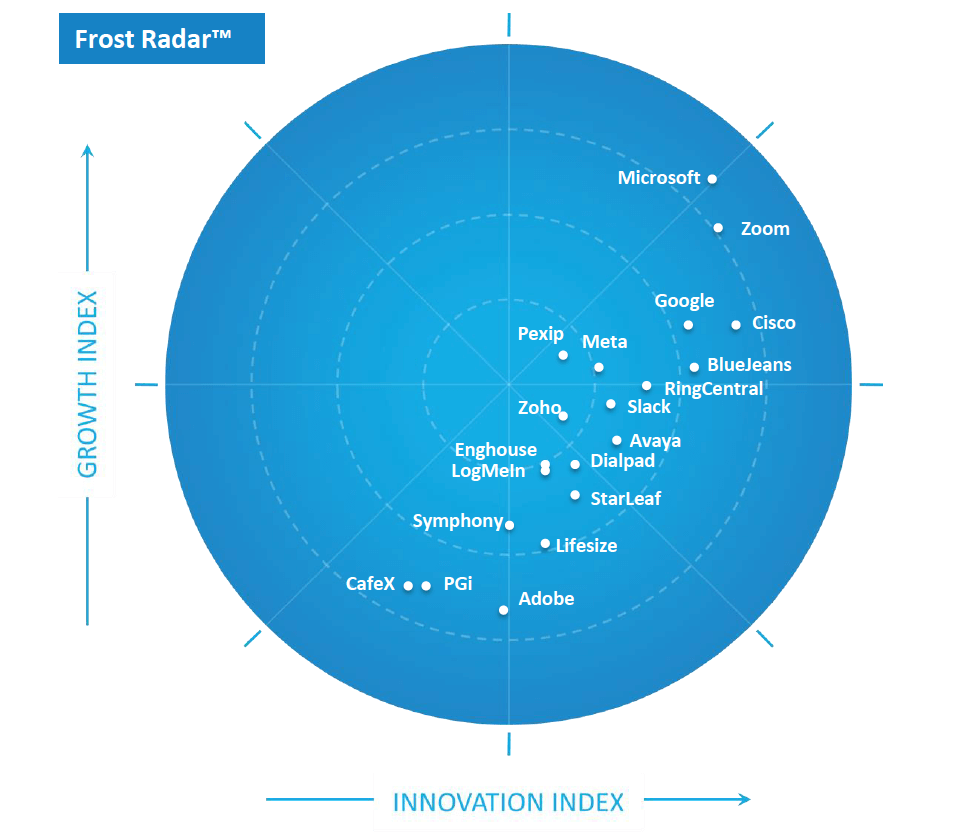 With hybrid work becoming the growing trend worldwide, there's a need to equip employees working from both the office and remote spaces with the right tools to bring them closer to company leaders. Organizations are looking for tools that will help increase engagement, acquisition, and employee retention—the same metrics used to gauge customer success.
Frost & Sullivan has analyzed the need for collaboration and meetings and benchmarked various companies depending on their growth in this sector. Among notable companies, Zoho has been recognized as one of the leading innovators in this category. According to the 2021 report, Zoho Cliq's message volume increased by 225.0% per day in the wake of COVID-19, and online meetings increased by 300.0%
"Zoho offers high-quality and secure video conferencing and collaboration solutions to meet existing demand for data privacy and secure hybrid work.
- Alaa Saayed,
Information & Communication Technologies Industry Director, Frost & Sullivan
For more information about Frost & Sullivan's research on cloud meetings and team collaboration services market, check the full report.
Frost & Sullivan is an American business consulting firm offering market research, growth strategy, consulting, and corporate training to help companies grow and succeed.