Reading Time:
5
minutes
Nonprofits, NGOs, and charities worldwide play a key role in improving healthcare and education, promoting equality, providing disaster relief, and advocating for the environment, among other causes.
A 2018 report titled "The Financial Health of the United States Nonprofit Sector" revealed that approximately 50% of the nonprofits in the US have less than one month of operating reserves. This means that in order to continue operating, these organizations need to fundraise continuously throughout the year.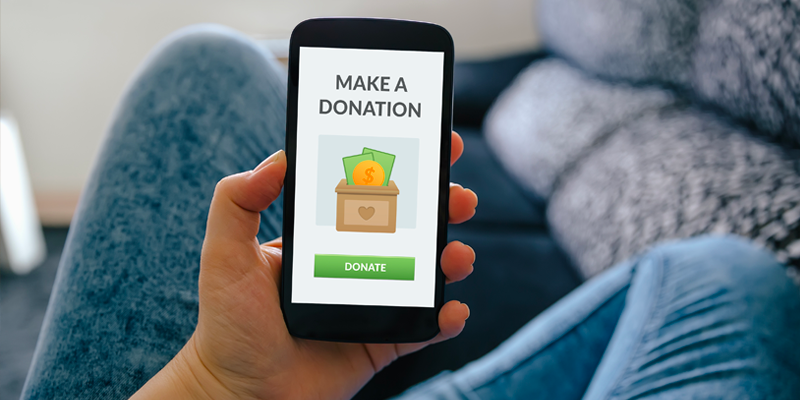 Traditional fundraising campaigns rely on collecting funds through offline methods like cash and checks. Besides being time-consuming, offline fundraising methods can shrink the potential outreach of your campaigns. By switching to online fundraising using an online payment collection app like Zoho Checkout, you can not only offer your donors more convenience, but also reach more people to collect more funds.
Read on to learn more about the challenges of traditional fundraising methods and how an online payment collection app like Zoho Checkout can help.
Challenges in offline fundraising:
Despite helping many organizations to raise funds over the years, offline methods of collecting funds have always had some challenges:
1. Inconvenience for both donors and nonprofits
In any transaction, the payers' convenience plays a crucial role in the purchase or payment decision. This is even more important for donations because they're entirely optional for the payer.
If your nonprofit runs completely on offline fundraising, the most likely payment methods are cash and check. Usually, donors making cash payments will donate relatively small amounts. But as they add up, it can be challenging to keep the cash safe until it's deposited in your organization's bank account. Check payments are safer to store, but depositing them may require your staff to make time-consuming visits to the bank in person. In addition, check payments take several days to clear before the funds show up in your bank account.
If the funds are sent via post, the donors have to go through the trouble of mailing their donation envelopes to you. They may incur additional charges for postage, and money sent via post is susceptible to loss and theft.
2. High overhead costs
In traditional fundraising campaigns, it's common to send out volunteers to collect donations door-to-door. These campaigns are costly and need extensive research, planning and allocation of resources. You will need to find volunteers, plan your pitch and have them practise it, and spend money on flyers and other campaign collateral.
For a for-profit business, these overhead costs could easily be offset by income. But since the main source of income for nonprofits and NGOs comes from the donations themselves, every spend is crucial and high overhead costs can eat into the funds being collected.
3. Limited outreach
Offline fundraising techniques limit the outreach of your campaigns—if you're relying on face-to-face interactions to convince donors, it's simply not possible to reach a large group of people in a short amount of time.
You can boost your outreach by using modern tools like social media to spread information about the campaign, but how will you collect payments from your donors if you don't have an online payment collection tool in place?
4. Limited insights
Many nonprofits use spreadsheets to track their donors' contact information, how much they've contributed, and so on. This involves a lot of manual data entry, which is time-consuming and prone to errors. It also doesn't really help with the bigger picture, like your progress toward your fundraising targets. Without knowing how far you've gotten, it's difficult to plan ahead.
5. Unreliability
It takes a long time to gather a fundraising crew and do enough in-person outreach to get the funds flowing in. If you're trying to respond to an urgent need, that's time you can't really afford to wait, right?
Overall, offline fundraising methods limit your potential outreach and the effectiveness of your campaign. Here's where an online payment collection app like Zoho Checkout can help.
How can Zoho Checkout help with the fund collection process?
With Zoho Checkout, you can create and customize payment pages for one-time and recurring fund collection, and share them via social media or email so your donors can pay immediately, even if you don't have your own website. The best part is, you don't need to write a single line of code.
Let's look at how Zoho Checkout helps you collect funds.
1. Convenience
According to the 2017 Global Trends in Giving Report, 61% of donors prefer to donate online. This preference for digital payments can be attributed to the convenience it offers. Zoho Checkout gives you a direct payment link that can be shared with your donors. Using the direct payment link, they can donate from any device, whether it's a laptop, a tablet, or even a smartphone.
2. Saves time, effort, and cost
Easy to implement: You don't need coding skills to build your donation page. As soon as you set up the form with the required fields, it can be embedded on your website, or you can directly share the payment link in your emails or social media posts. This means you can start a fresh fundraising campaign, create a donation page, and start collecting funds within an hour.
Low overhead cost: Making the switch to online fundraising greatly reduces your expenses for printing and postage. It also reduces your travel and transportation costs by eliminating the need for your fundraising team to travel to the donors in person.
3. Better outreach and visibility
In 2010, the Red Cross raised $3 million in just 24 hours through a texting campaign. This level of outreach is possible with techniques like crowdfunding and peer-to-peer fundraising.
In crowdfunding, you reach out to a large number of people for donations; in peer-to-peer fundraising, your supporters raise money on your behalf through individual fundraising pages that are linked to your main fundraising page. Both of these are possible using Zoho Checkout. Once the payment page is set up, it can be instantly shared with your team of fundraisers and the external world.
You also get real-time visibility into your fundraising campaign—how much you've collected so far, how many people visited your donation page but haven't made a payment, and so on.
4. Improves donor relationships
With Zoho Checkout, you can keep track of every single donation made, including the donor's contact information. Rather than painstakingly entering these details into spreadsheets, you can pull all this into one place automatically.
By connecting your Zoho Checkout account with email marketing applications like Zoho Campaigns or Mailchimp, your donors' email addresses can be automatically added to form a comprehensive mailing list. This will not only be useful for your future fundraising campaigns, but also for a lot of other activities—you could share updates about your organization's successful work or new projects, invite them for an upcoming volunteering work, and so on.
5. Recurring donations
Recurring donations are the backbone of any nonprofit's financial footing, but it's hard to convince donors to sign up for ongoing gifts on the spur of the moment. And keeping in touch with your one-time donors for future fundraising requests can be difficult if the contact information you have was collected in a hurry on paper forms.
Zoho Checkout lets you place a simple option on the donation page: one-time or recurring? You can set either of these as a standard for all of your donors, or you can let them choose for themselves. For donors who offer their consent for recurring donations, Zoho Checkout can charge their card automatically for future transactions. And for donors who choose a one-time gift instead, you get reliable contact information for future fundraising campaigns, with no need for manual data entry.
6. Low risk
When funds are collected digitally, you don't need to worry about them getting lost or stolen—they will be deposited directly to your registered bank account. It reduces the risk of failed payments too—if a donor enters invalid information on the payment page, Zoho Checkout will prompt them to correct it to complete the transaction. Plus, eliminating checks means that there are no check payments to bounce!
When collecting donations online, you have to ensure the security of sensitive information like the donors' credit card information. Zoho Checkout takes care of that too—the payment pages you create using Zoho Checkout are PCI DSS compliant, which means that your donors' credit card information is collected, processed, and stored securely.
Here's your takeaway:
Offline fundraising methods are inconvenient for your donors and time-consuming for your fundraising team. By using an online payment collection tool like Zoho Checkout, you can offer your donors easier payment options to choose from, create a smoother checkout experience, and effortlessly increase the outreach of your fundraising campaigns.
If you are running a nonprofit or a welfare organization, you can enjoy all the features of Zoho Checkout and create multiple payment pages, completely free of cost. Get started with Zoho Checkout and run your fundraising campaigns much more effectively!