Multiple channels. One experience.
Meet your customers no matter the medium, with built-in support for email, social media, phone, and live chat. Engage with them on the right channel and at the right time, with data intelligence that analyzes response patterns and auto-suggests the best time to get in touch.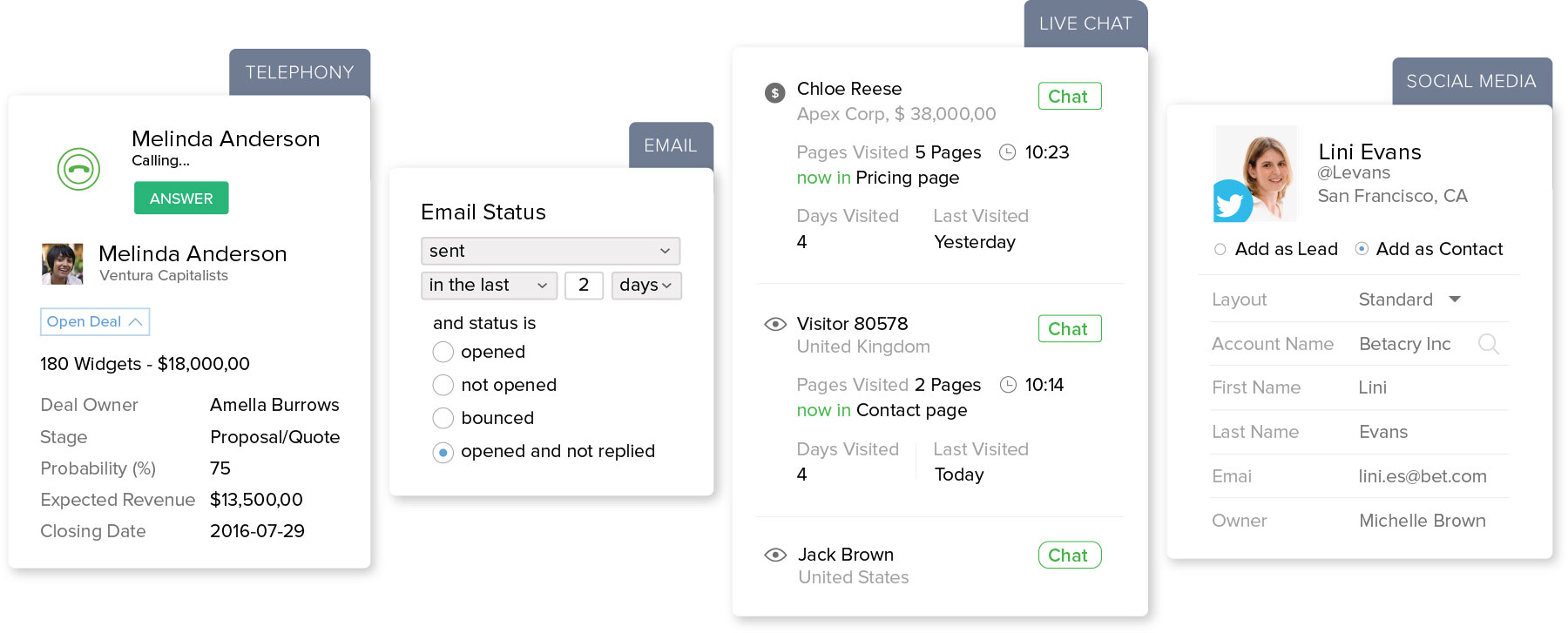 Segment your customer base.
No matter how your organization is set up, it's easy to segment your clientele into territories that reflect every group's needs and wants. Whether your company organizes sales teams around geography or product lines, territory management handles any form of customer segmentation.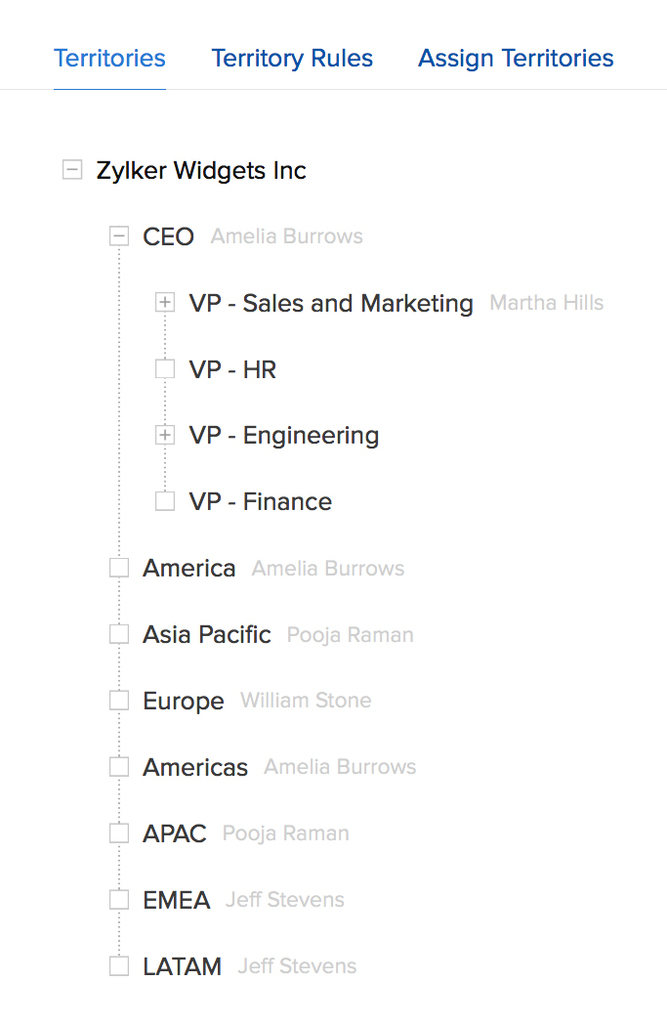 Focus only on what matters.
Use Zoho SalesInbox, the first-of-its-kind inbox for salespeople, inside Zoho CRM to prioritize and organize your emails according to the deals that matter most to you. See more and do more, right from your inbox.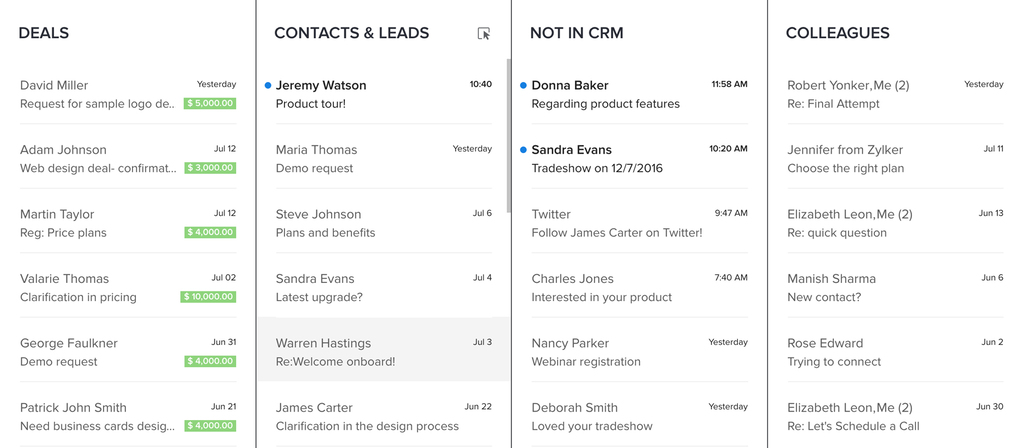 Personalize support for your prospects.
A ticket from a prospect needs to be treated a little differently, compared to a ticket from someone who's a long-standing customer. Agents can get this extra context from the Handshake Mode, where they can see exactly who has reached out.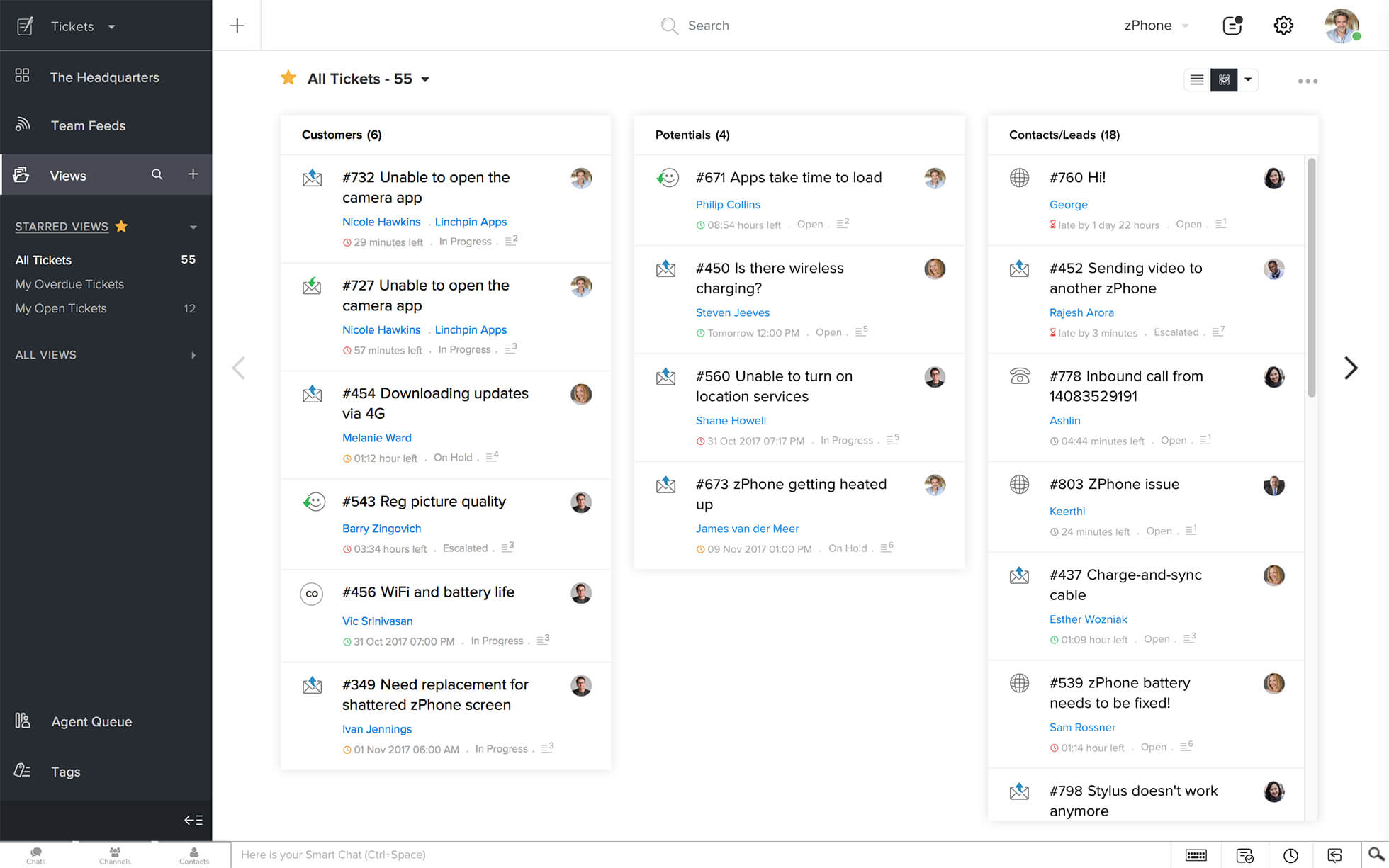 Pick up where you left off.
With the timeline feature, your support agents have all the context they need to pick up the conversation where it ended. See the entire history of tickets a customer has submitted—including date created, the agent who handled them, and how happy the customer was with their experience.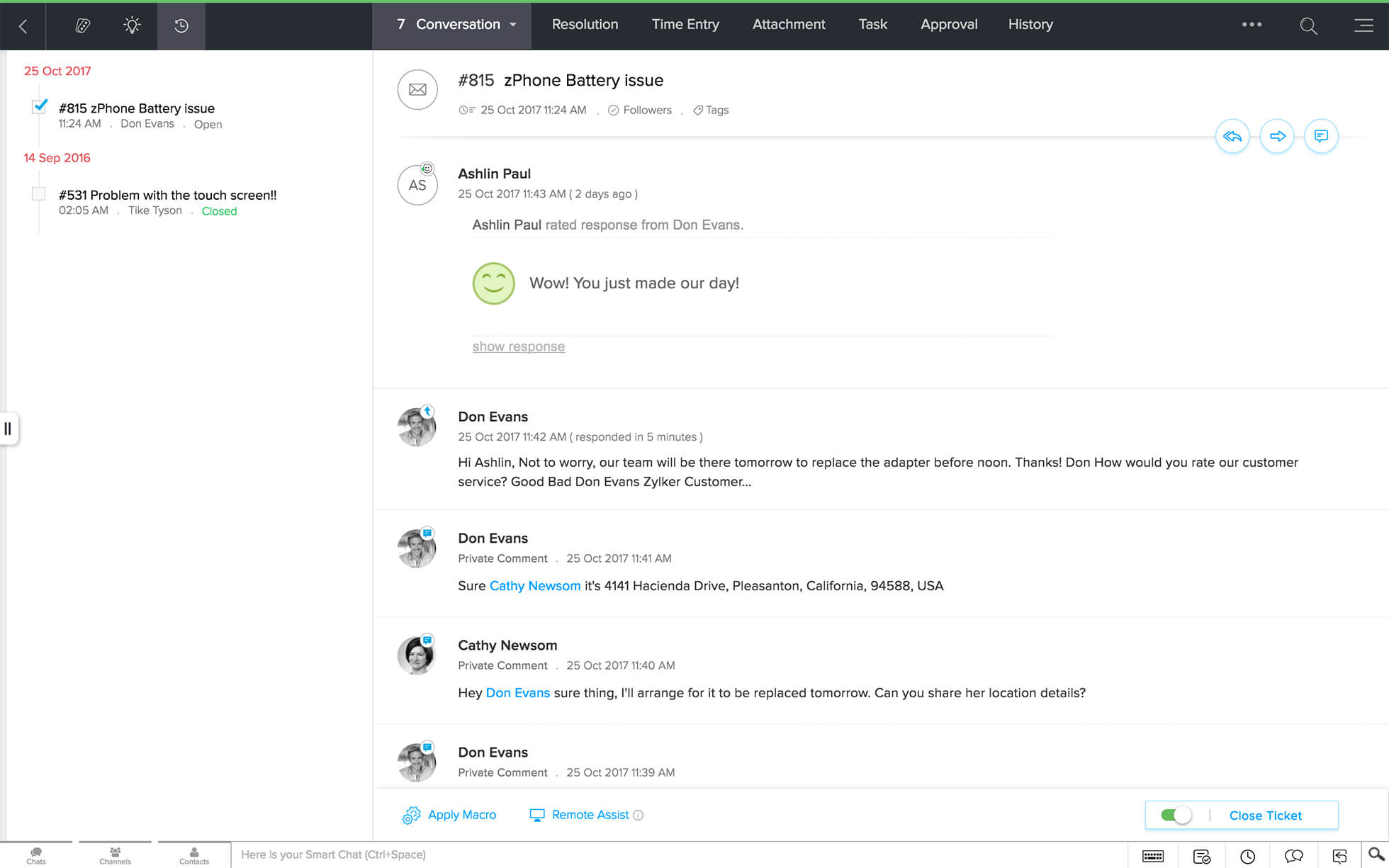 No more mixed signals.
Get real-time notifications about every activity a prospect or customer engages in. When a customer opens your email or provides their happiness rating on Zoho Desk, your sales team gets instantly notified through SalesSignals.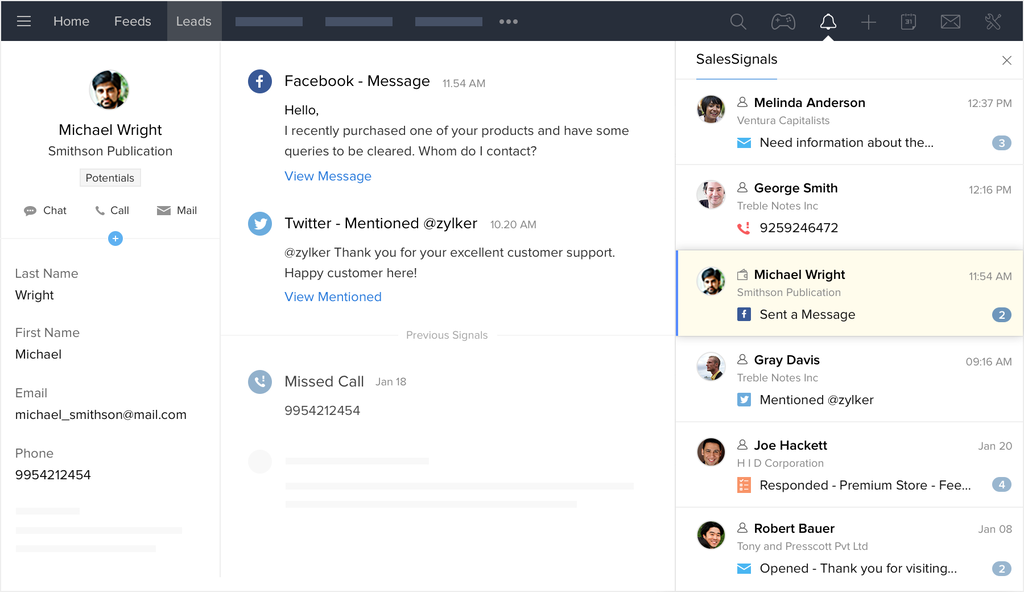 Turn happy customer experiences into lasting relationships.
Survey customers to find out how satisfied they were with your service. Review detailed feedback to determine how you can improve with Customer Happiness Ratings.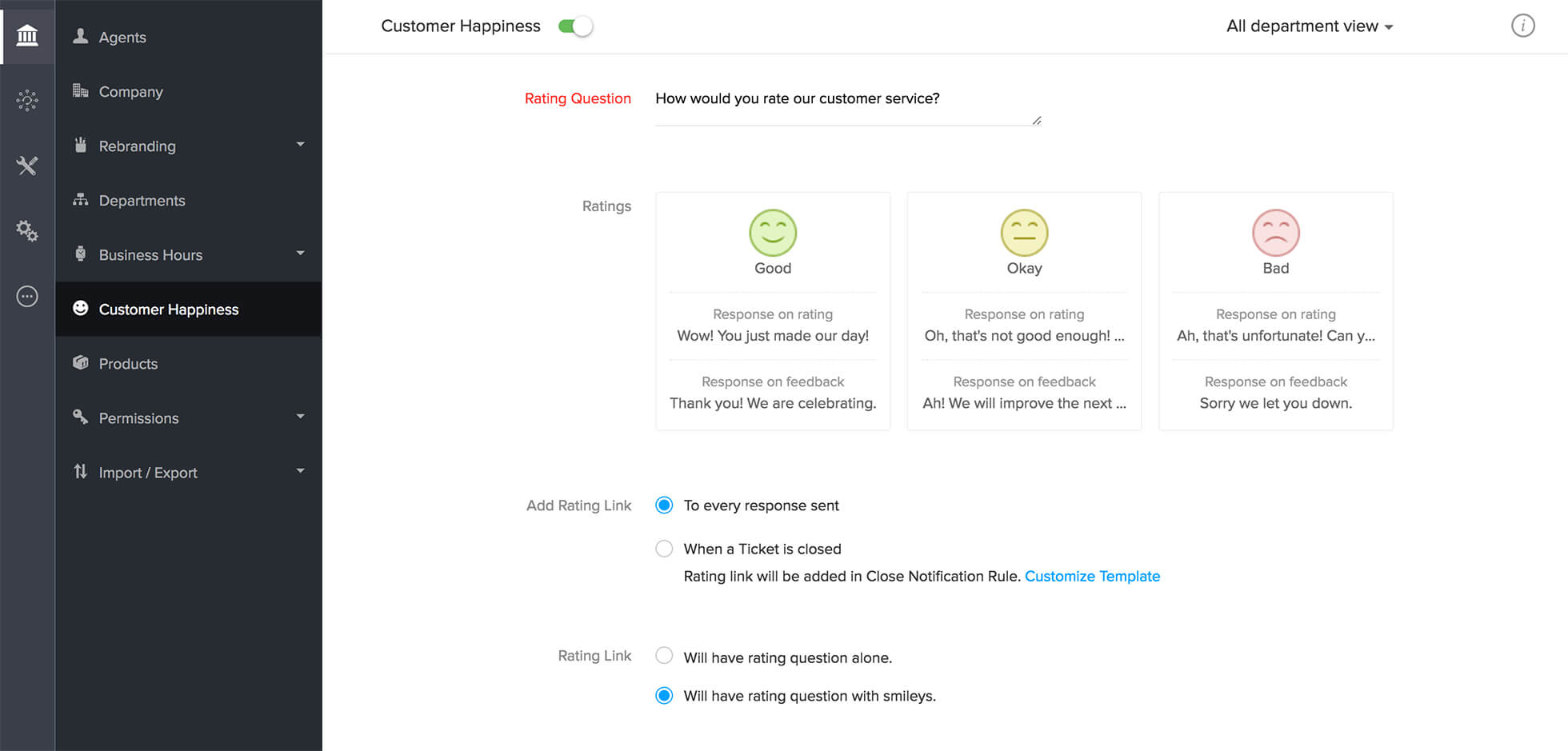 Monitor and act.
Address the issues that negatively influence retention, especially long wait times and delayed resolutions. The Headquarters dashboard gives you the complete picture of your team's performance in a single dashboard.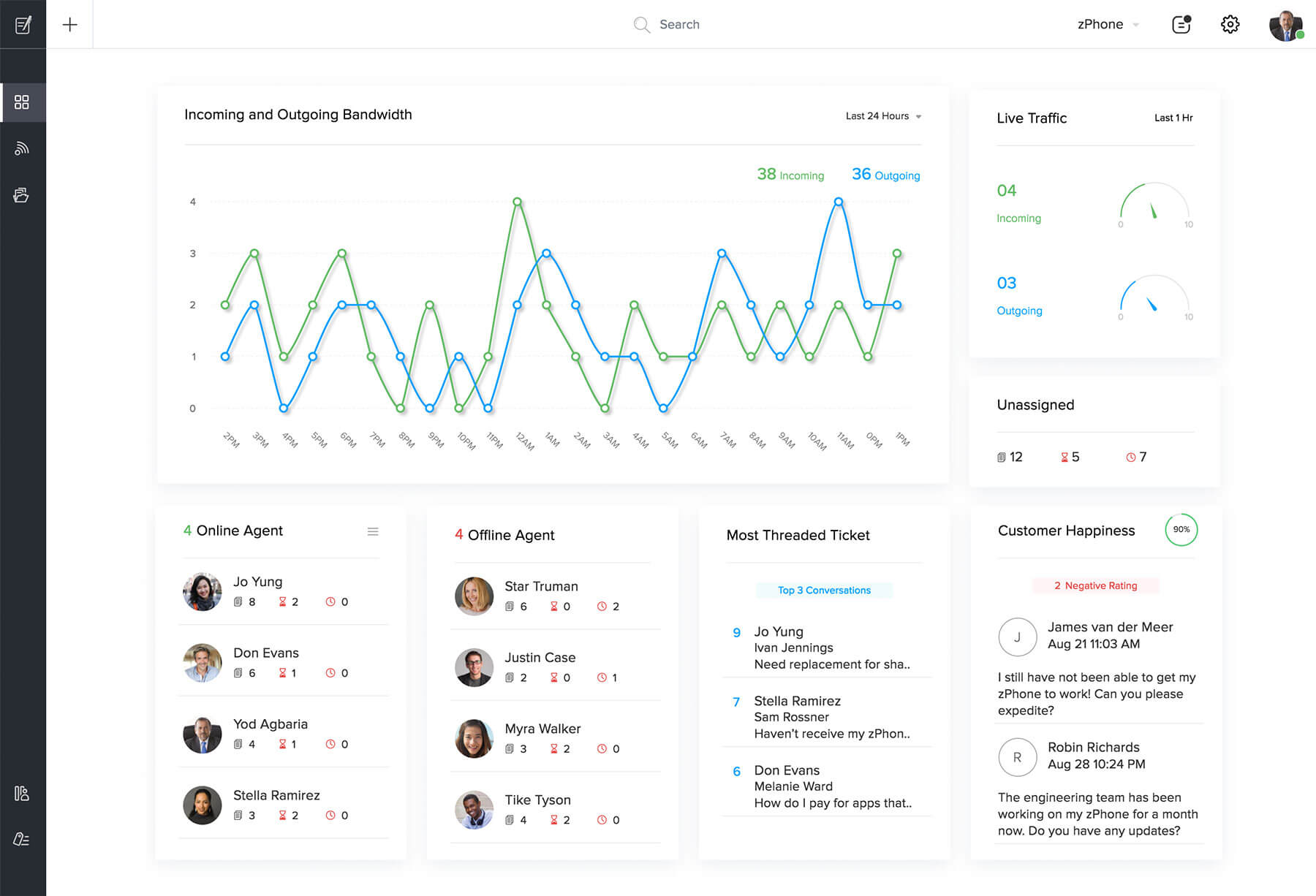 Uncover repeat sale opportunities.
The two-way data sync between Zoho CRM and Zoho Desk helps your sales and support teams stay on the same page. Support agents have all the context they need to identify up-sell and cross-sell opportunities, and loop in the right sales rep.
The best of both: Zoho CRM and Zoho Desk.
Use the combined features of the market's leading applications—Zoho CRM and Zoho Desk—to create a seamless customer experience across multiple touch points.
Pipeline management

-
From lead generation to securing happy feedback, there's a tool for it all.
Sales dedicated email client

+
An email inbox that automatically prioritizes your emails according to the deals that matter most to you.
Sales process builder

+
Build and execute sales processes that are systematic and repeatable.
Artificial intelligence

+
Get performance-based interpretations, solutions, and predictions for your sales team and individual reps.
Work Modes

-
Work Modes help agents organize tickets based on their due time, priority, status, and the type of contact, so every ticket gets the right amount of attention.
Team Feed

+
Bring every person from every team together using Zoho Desk's collaboration feature, The Team Feed. Talk, work, and resolve tickets, all in-app.
Advance Analytics

+
Use detailed reports to understand your team's performance. Built-in dashboards help you track and improve your service using the most common metrics.
Customization

+
Customize Zoho Desk by defining your own Fields, Templates, Statuses, and more.
Need more information?
Please fill out the form below, and one of our product experts will get in touch with you.
Choose privacy, choose Zoho.
The EU's General Data Protection Regulation (GDPR), which will take effect May 25, 2018, will implement a comprehensive list of regulations in the way user data can be processed. At Zoho, we understand the implications this can have for businesses that use our software. Not only are we working towards ensuring that we process our customers' data in compliance with the new regulations, but we're also making sure that our software helps customers manage their sales, marketing, and support efforts in compliance with GDPR. To this end, we have put in place a dedicated team to meet the new regulations. To learn more about our ongoing initiatives, please read our blog post here.