Zoho Campaigns Webinars
Learn how email marketing can help you reach and engage with your customers, with Zoho Campaigns webinars.
How to nurture and convert webinar leads to prospects and customers
Every smart webinar will have a goal. What is the goal for your webinar? If it is to get better customer base and drive more sales, watch this recording to learn how to do it most effectively with the help of webinar email marketing and email workflows.
Q&A
We couldn't attend to all the questions during our webinar. However, we have answered them in detail here.
Q1. Is Zoho Meeting included with Zoho CRM and Zoho Campaigns, or is it an extra cost?
A1: Zoho Meeting is a separate application integrated with both Zoho CRM and Zoho Campaigns. You need to buy Zoho Meeting to get the pro features. The webinar edition starts at /month/host. Here you can view the webinar editions and pricing.
Q2. If I want guest presenters periodically, can I do it with the collaboration feature?
A2: Yes, if you know the presenter prior, you can invite guest presenters to your webinar using the co-organizer feature. Alternatively, you can also choose from the attendees during the webinar to make them a presenter using the "Make Presenter" option. Remember when you add co-organizers, they will get all the in-session features same as the webinar presenter.
Read more: To change presenters, To add co-organizers
Q3. Can you duplicate workflows or would you need to rebuild this every time you do a webinar?
A3: Yes, the workflows can be cloned and used again.
Q4. What is 'topic' while activating workflow?
A4: Using Zoho Campaigns, you can categorize your mailing lists under different topics so that you send your contacts the right emails. Let them choose the topics they want to hear from you. Using topics, you can let your contacts know all the types of email newsletters you offer, and they can choose the types that interest them. Read more
Q5. What is the use of scoring?
A5: Contact scoring is an effective way to give points to your contacts based on their email actions. By giving scores to your contacts, you can split them and move to a different list or you can update the field based on the score. For example, if you want to remove contacts having '0' score, then you can use the segment option to split them based on the score. Read more
Q6. How do you decide score for contacts?
A6: Deciding score for your contacts depends on the importance of the action they take for your email. For instance, if a person clicks on a link or opens your emails, you can give a high score. Likewise, for any action of your contacts, you can assign (add/reduce) a score to each of them and discover quality contacts and convert them to loyal customers.
Q7. Can I schedule my webinar emails from Zoho Campaigns.
A7: Yes, you can schedule your emails using Zoho Campaigns. There are four options in Zoho Campaigns that will help you to schedule your emails:
Fixed Time and Time Zone - The campaign will be launched to your recipients' inbox at the date and time that you specify.
Recipients' Time Zone - The campaign will be launched to your recipients' inbox according to the recipient's time zone.
Recipients' Optimal Open Time - Optimal time for each recipient will be calculated based on their past three open time patterns. Once you schedule the emails, it will be delivered to your recipients within the next 24 hours of when they're likely to open it.
Send in Batches - The campaign will be scheduled in batches at time intervals you specify. Batch sending will help to send emails to your contacts without straining your server and affecting your sender reputation.
Speaker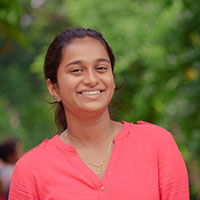 Annet Mathews
Product Marketer