Zoho Campaigns Webinars
Learn how email marketing can help you reach and engage with your customers, with Zoho Campaigns webinars.
Interactive email marketing to boost your revenue
We couldn't attend to all the questions during our webinar; however, we've answered some important ones here.
Q1: Can you elaborate a little further about responsive templates?
A1: The templates that you design in Zoho Campaigns or the predesigned templates are all mobile-responsive templates. Based on the device (PC/laptop/mobile) they are accessed, the template will align itself accordingly. Read more about it here: https://help.zoho.com/portal/en/kb/campaigns/faqs/email-campaigns/articles/how-do-i-make-sure-that-my-emails-are-optimized-for-desktop-and-mobile-devices
Q2: How to upload our own brand templates?
A2: You can use your own brand templates in your email campaigns by importing them as HTML files. If you face any issues, you can reach us at support@zohocampaigns.com by attaching the HTML file for immediate assistance. We will be checking it to get it corrected and will revert with the corrected file.
Q3: Are bounced email ids removed from mailing lists automatically?
A3: Yes, bounced contacts and contacts who opt-out from your emails are removed from the active list and maintained as data in separate lists so that they are not added to the active contacts. They are not counted for your subscription and also you cannot email them.
Q4: How to enter a customized name while sending bulk emails?
A4: You can use merge tags from the content editor in the template. When you send email campaigns, this merge tag will be replaced with a relevant value based on the consented data that you've collected about your recipients. You can read more about merge tags here: https://help.zoho.com/portal/en/kb/campaigns/user-guide/settings/merge-tags/articles/predefined-merge-tags
Q5: When designing a campaign, I often find that the email looks very different in the editor, from how it appears in the preview or test email. For example, the font will be different from how it appears in the editor, or there will be random gaps or spaces that should not be there. Do you have any advice or recommendations about this?
A5: You can paste the text content as plain text when creating the design and then make the font updates within the content editor. Try sending test emails to check the outcome. If you still face issues, please reach us at support@zohocampaigns.com for immediate assistance related to templates and designing.
Q6: How to enroll for the free version of Zoho Campaigns?
A6: You can sign up here: https://www.zoho.com/campaigns/. Or download our mobile app and sign up from the mobile app.
Speaker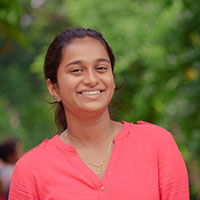 Annet Mathews
Product Marketer