Are you
...trying to customize a template for your invoices?
...having trouble importing contacts into Zoho Books?
...finding it hard to manage your inventory?
...looking for a faster way to reconcile accounts?
Worry not. We have a series of webinars lined up to help you become a Zoho Books Pro in no time! These webinars will guide you right from setting up your account to automating workflows for your business.
Join our free webinars to get the most out of Zoho Books.
Title
Duration
Speaker
Setting up your Zoho Books account
14 Mins

In this webinar, you will learn how to set up your account, customize it according to the nature of your business, and make your migration to Zoho Books seamless by setting up opening balances for your accounts.

The topics covered in this webinar are:

Signing up using email
Setting up your organization: Company details, Tax settings
Setting up opening balances
Subscribing to Zoho Books

Building your brand effectively with Zoho Books
16 Mins

Learn how to effectively use the gallery of templates in Zoho Books to customize your invoices and create a domain of your own that reflects your brand.

The topics covered in this webinar are:

Organization customization
Portal customization
Custom fields, views, and buttons
Template customization
Report customization

Working remotely with users and accountants
25 Mins

Learn how to do accounting on the go with Zoho Books. You will also learn more about working collaboratively with employees and accountants.

The topics covered in this webinar are:

Defining roles and access levels
Custom roles in Zoho Books
Working remotely with accountants

Managing your inventory with Zoho Books
32 Mins

Learn how you can use the inventory management tools in Zoho Books to reduce data entry and speed up your invoicing.

The topics covered in this webinar are:

Managing inventory levels & price lists
Understanding FIFO stock management in Zoho Books
Inventory workflow and item adjustment
Inventory valuation and other reports
The Zoho Inventory add-on in Zoho Books

Effective contact management & enhancing customer engagement
24 Mins

Get insights on managing your customer and vendor details, and improve the relationship with your customers by enhancing the utility of your client portal.

The topics covered in this webinar are:

Importing contacts into Zoho Books
The Zoho CRM-GSuite integration
Managing customer and vendor details
Setting up and branding client portal

Streamline your sales with Zoho Books
30 Mins

Start with the basics of creating your first sale transaction. From sending quotes to generating invoices, we will help you automate your selling process.

The topics covered in this webinar are:

Managing sales cycle in Zoho Books
Generating retainer invoices for projects
Recording payments (Offline and Online)
Handling credits for customers

Streamline your purchases with Zoho Books
30 Mins

Learn how to manage your payables, account for your expenses, and track the amounts due from your vendors within Zoho Books.

The topics covered in this webinar are:

Handling your expenses seamlessly
Setting up approval workflows
Recording bill payments
Automation and advanced features in purchases

Monitor projects and timesheets with Zoho Books
30 Mins

Get to know how to manage and track your project schedules, bill your customers by the hour, and import multiple projects into Zoho Books.

The topics covered in this webinar are:

Creating projects and corresponding transactions
Managing expenses and billing a project
Billing projects in multiple ways- Fixed Cost of Projects, Based on Project Hours
Adding a task to a project & logging time
Chrome extension for Timesheets

Understanding banking within Zoho Books
30 Mins

Save tons of time with the Banking module in Zoho Books. Learn how to reduce your workload with automatic bank feeds, transaction rules, and bank reconciliation.

The topics covered in this webinar are:

Connecting your bank or credit card account
Fetching bank feeds automatically
Categorizing transactions using rules
Matching transactions
Reconciling bank accounts

Automation and custom functions: Going beyond the basics
30 Mins

Learn how to automate workflow scenarios that help you get things done faster in Zoho Books.

The topics covered in this webinar are:

Automating workflow scenarios
Setting up custom functions
Understanding email alerts and webhooks

Generating business reports with Zoho Books
30 Mins

With this webinar, you'll learn how to get a real-time look at your business data. View, customize and schedule over 40 interactive reports and get insights into your finances to know what's working for you.

The topics covered in this webinar are:

Getting started with reports
Understanding the functionality of each report
Performance tracking with reports
Advanced analytics with Zoho Reports
Our Presenters
Varun Singh
Product Expert
Maruthi Kumar
Product Expert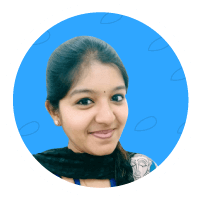 Raajashri Ramesh
Product Expert
Pallabi Sen
Product Expert
Navaneeth Soori
Product Expert