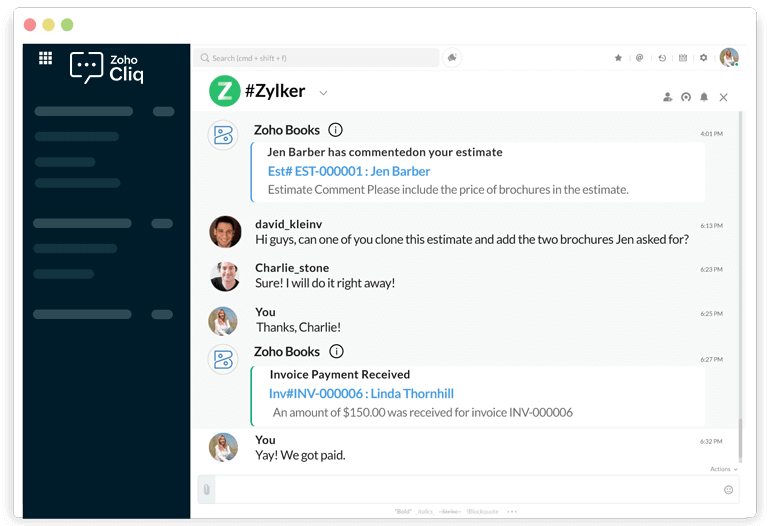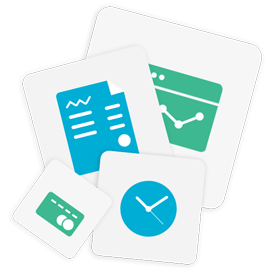 What is Zoho Books?
Zoho Books is a cloud based accounting software that helps you craft beautiful invoices, track income and expenses, automate workflows, and receive online payments.
LEARN MORE
Stay up to date on your client's account status
Be informed on the activities of your customers at all times. Sit back, relax and let Zoho Cliq tell you when to reach out to your customers.

Get notified when your invoice is viewed
Zoho Books will keep you updated on the status of your invoices, telling you when an invoice has been viewed and letting you send payment reminders if needed.

Discuss quotes without much ado
Know when a customer accepts or declines your quote. Interact with them through comments, and close the deal.

Send out reminders on time
Stay posted on your invoice due dates and send payment reminders to your customers to make sure you get paid on time.

All's well that ends well
Get a notification on Zoho Cliq when a customer makes a payment on an invoice. Send personalized thank-you notes to build better relationships with your customers.
To integrate Zoho Books and Zoho Cliq
Log in to your Zoho Books account. Select the organization for which you would like to receive notifications in Zoho Cliq.
Click the Gear icon in the top right corner of your screen.
Select Integrations, click Zoho Apps, then click the Zoho Cliq button.