You focus on their growth—we'll focus on yours.
'Round the clock scheduling
Set up your business details, and we'll automatically give you a fully customizable booking page. Embed it on your website, launch it on your domain, and share the link in emails so potential clients can book a discussion with you any time they want. 
Instant payments
Collect your fees upfront. You can specify a fixed amount as a security deposit for each service or charge the full cost. Either way, our popular payment gateways will ensure you get paid right away. Or if you'd rather collect your payments offline instead, you can set that up too and manually update the status afterward.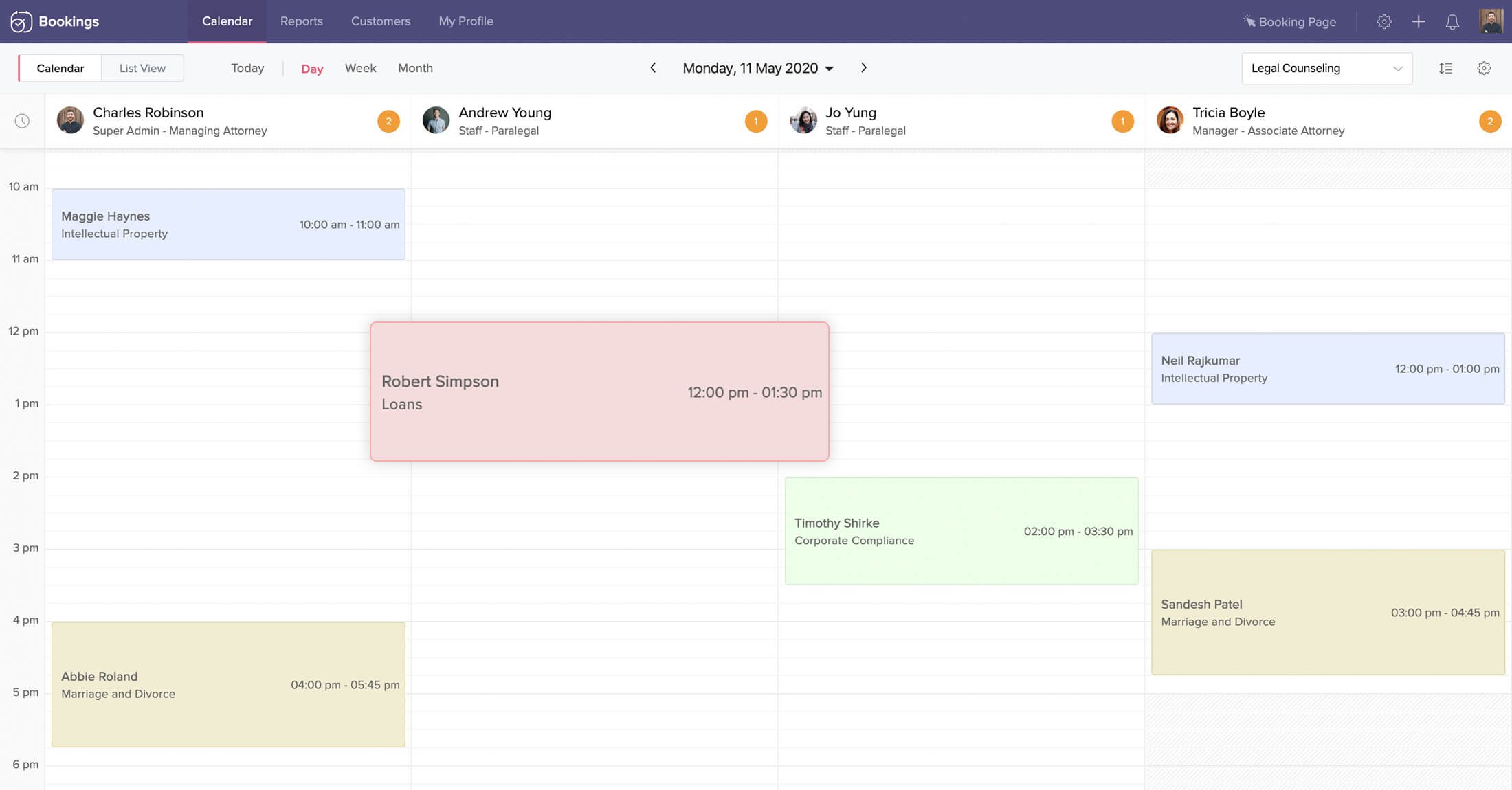 Scheduling time with a lawyer has never been more straightforward.
Timely reminders
Configure email and text alerts, and we'll help you keep up with your schedule. We'll notify you about upcoming and rescheduled appointments so you can take breaks when you need to without losing track of what's happening every day, week, and month.
Custom policies
Zoho Bookings caters to your preferences. If that means you want to close off bookings two days before the date of an appointment, so be it. You can also set up booking policies and charge extra fees for late cancellations and no-shows. However you run your business, we'll help you run it well. 
Flexible working times
Not every business has a fixed 9-to-5 schedule. We understand that, as a lawyer, you also work outside of regular business hours. With Zoho Bookings, you can specify the exact hours you're available each day. For instance, if you're working a couple of hours this weekend, but 10 hours the next, you can accommodate it all without a hitch.
Client data management
Give customers the comfort of accessing their details. With a dedicated customer portal, your clients can check upcoming appointments, book new ones, and even refer notes from their previous bookings. You, on the other hand, will get a comprehensive database of your regular clients and their case history.
Mobile updates
You don't always work from the office, tied to a desk. So why should your booking system be? Zoho Bookings comes with iOS and Android apps so you can access your schedules, customer details, upcoming appointments, and more—all from anywhere you are.
Features for your consideration
Try Zoho Bookings—no upfront fees and no credit card necessary
Get Started