Amazon Smbhav checks in 2,000+ attendees with custom printed badges thanks to Zoho Backstage
INDUSTRY

E-commerce

TYPE

Summit
The Challenge
On January 15th and 16th, Amazon India hosted its first-of-a-kind mega summit, Smbhav, for MSMEs to discuss the endless possibilities they can discover when they embrace technology. The two-day summit focused on getting diverse perspectives from eminent industry experts, policymakers, solution providers, and Amazon leadership on topics that are relevant for MSMEs today. This included discussions on e-commerce, logistics, payments, digitization, global trade, web services, and more.
Running an event of such a massive scale, with more than 4,000 participants isn't easy. With the limited time available to plan and organize Smbhav, the team at Amazon realized some of the challenges they would have to face, including:
Hosting an easily navigable event website that can withstand traffic surges
Getting event registrations and issuing tickets to attendees
Printing badges and checking in attendees
Engaging participants during the event
To address these needs, Amazon.in worked with Zoho to enlist Zoho Backstage's capabilities to run the mega summit.
100+

global leaders

4,000+

registrations

2,500+

daily attendees

70+

tech partners
Getting everyone on the same page
Zoho, in association with Amazon, created a dedicated microsite for Amazon Smbhav.
The microsite for the summit was designed to provide a seamless experience for visitors by providing them with details about the event such as the agenda, speakers, exhibitors, and partners. The challenge was to create a microsite and take it live in less than seven days. To address this, the microsite was built using a pre-designed template. Through unique features including the registration and ticketing system and the customized organizer mobile app, Amazon sold more than 4,000 tickets for the event and ensured that the transactions for each one were seamless. This meant that Amazon.in could host the biggest event of 2020 for SMBs and provide them with an enriching experience. This was possible due to Zoho's technological capabilities and integrated solution offerings. Satish Upadhyay, Head of Seller Marketing at Amazon India pointed out,
"We did not have the luxury of time when it came to planning the event, Zoho helped us overcome a lot of functionality requirements which our limitations on time did not allow and helped us pull off a successful event."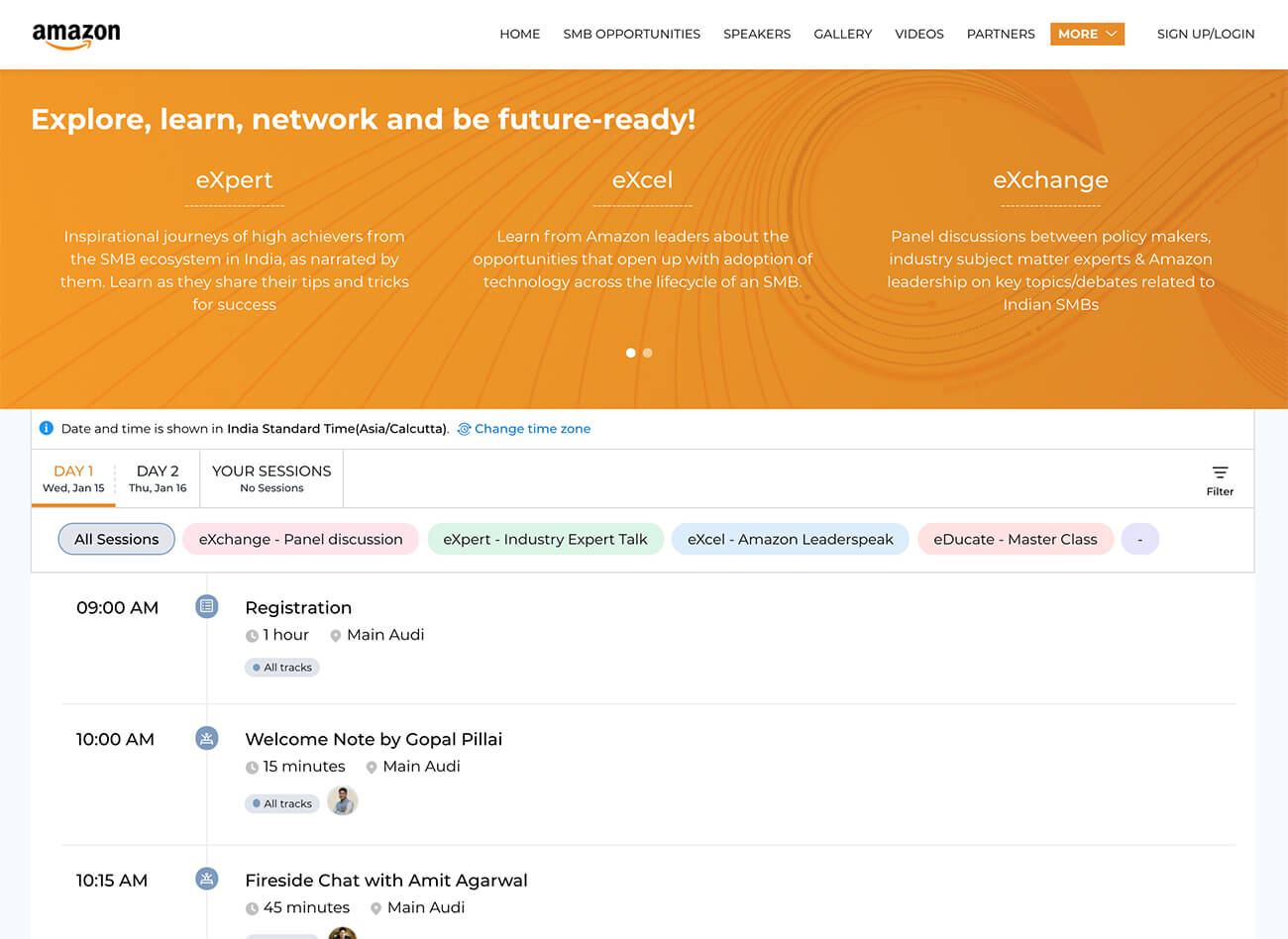 Fast and efficient check-ins
With numerous registrations and the presence of VIPs at the event, the Amazon team wanted to ensure that long queues were avoided. The venue of the summit had limited space for registrations and with crowds streaming in, avoiding queues seemed far-fetched. However, the Zoho Backstage team made sure that badges were printed for all the attendees and check-in ran seamlessly with QR code scanners through Zoho Backstage's mobile app for organizers. Here's what Satish had to say,
"The remote scan and check-in was a valuable feature as we had very limited space to work with for the check-in counter at the venue and wanted to avoid massive bottlenecks at the registration booths."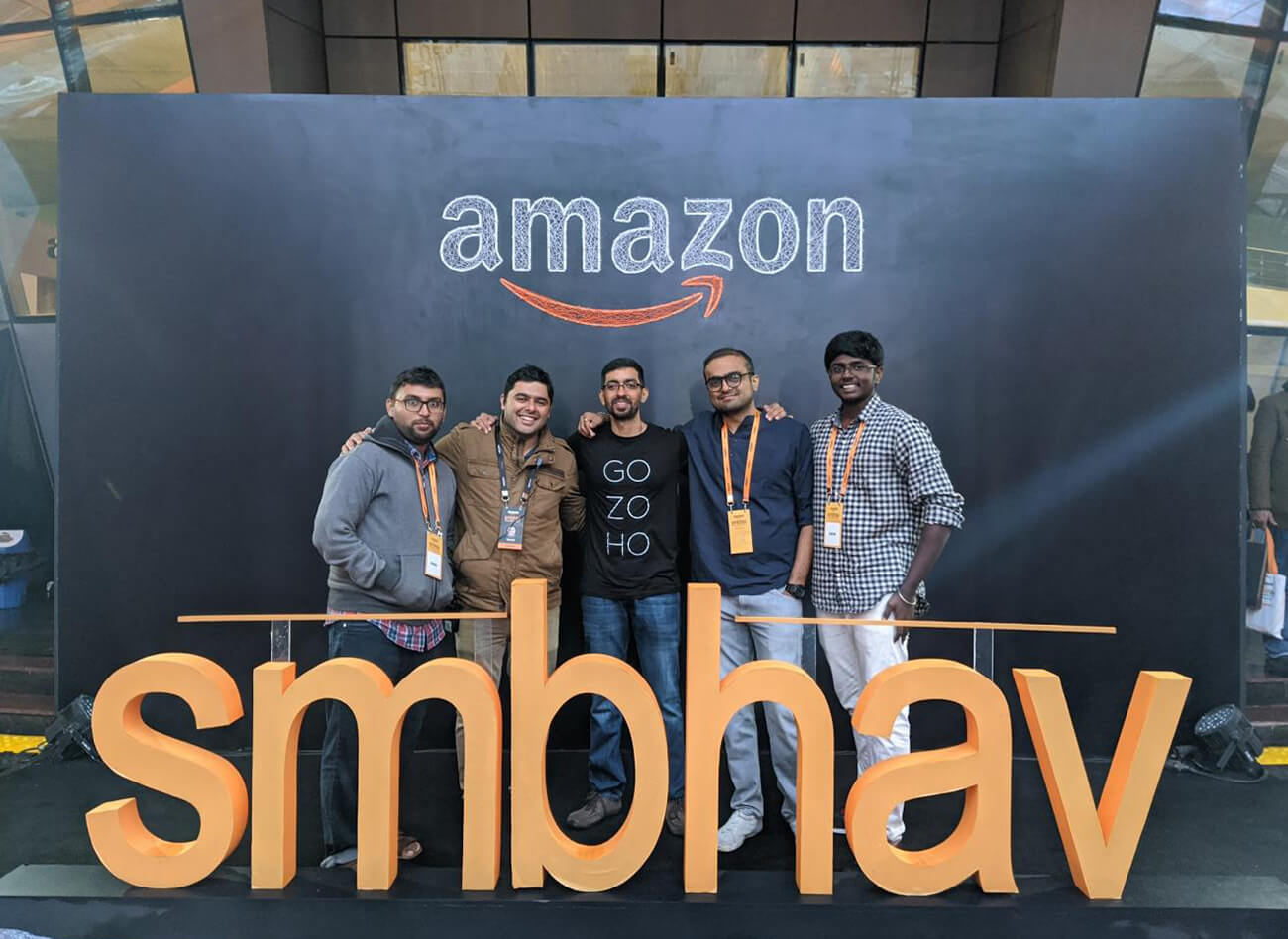 Event assistance
Managing events is one of the stressful job and the team at Zoho Backstage is very aware of that, motivated to do all they can to reduce that stress on organizers. From making sure the website and the mobile app are in good shape, guaranteeing no glitches in ticket sale transactions, to printing the attendee badges and checking in the attendees, everything was managed smoothly and promptly. That is how the team managed to put together the complete event in a week's time and also check-in 4,000+ attendees in a span of just two days during the event.
Zoho Backstage provides pre-designed templates for event badges. All that the team had to do was select the information they wanted to include on the badges and print them as and when attendee checked-in to the event. On the day of the event, Backstage's badge kiosk model ensured that the printing load was spread across the allocated printers so that attendees could collect their badges without having to wait in line for extended amounts of time. The Amazon.in team added,
"What we enjoyed about working with the Zoho team was their enthusiasm and 'can do' attitude. With an event of this magnitude and the various uncontrollable variables, the Zoho team sprang into action at every available instance. We appreciate the support received from the Zoho team and the initiative they took to support us with activities, some of which were outside their area of expertise."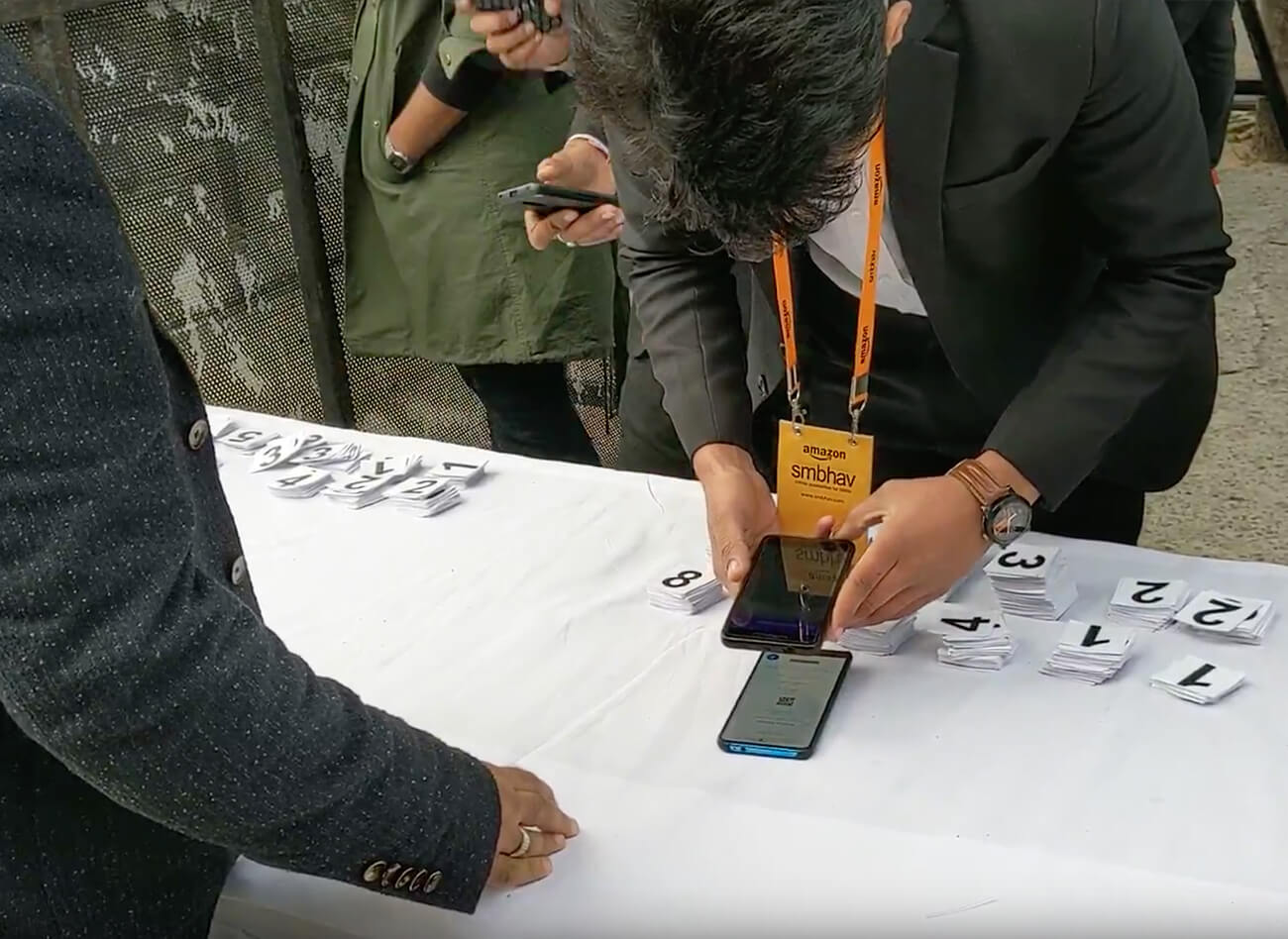 Customized mobile apps to engage attendees
Apart from quick check-ins thanks to e-tickets, attendees could also use the customized mobile app to chat with organizers and fellow participants, stay updated, follow sessions, and stay engaged. This helped attendees follow the event schedule, customize it based on the sessions they planned to attend, and provided an opportunity to communicate and plan effectively throughout the event.