What instant chat options are available in Zoho Assist?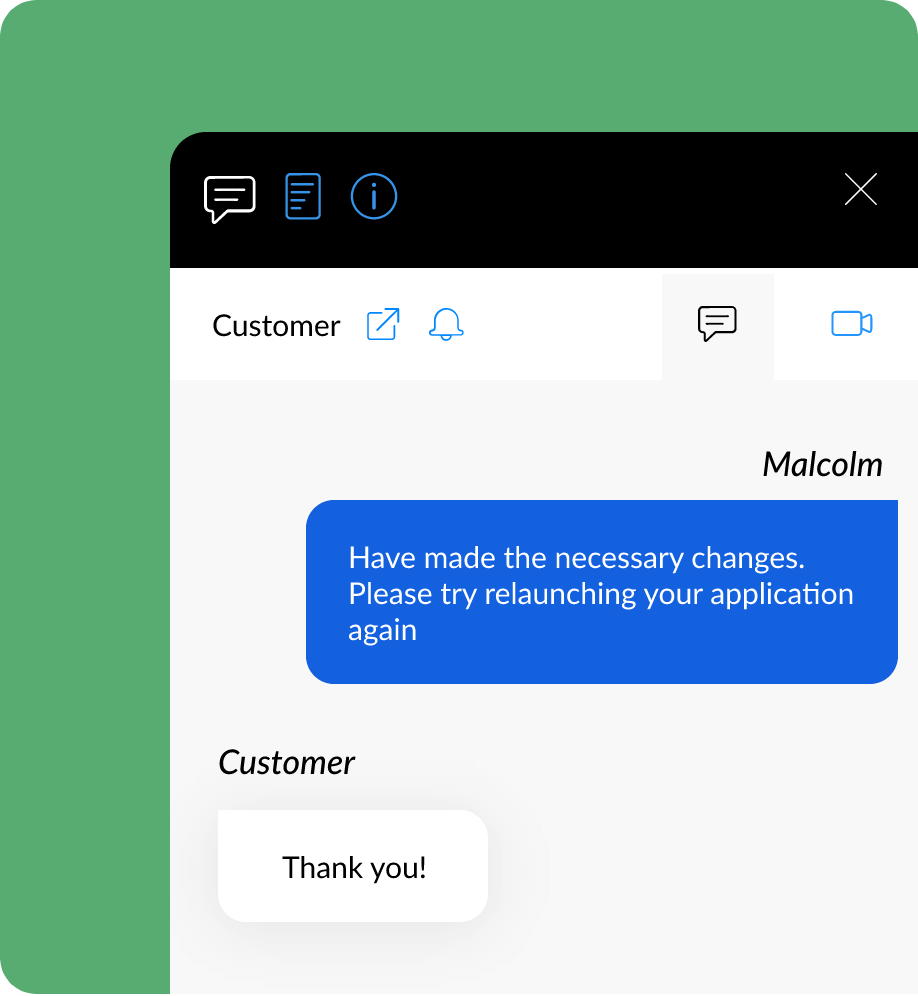 Text
Enable our browser-based secure chat option to send messages in remote desktop and seamlessly collaborate with clients. Technicians can easily direct clients to effective resolutions with multi-platform, text-based chat assistance. This is often used in combination with other remote support features, such as screen sharing or remote control, to provide comprehensive support and clear instructions.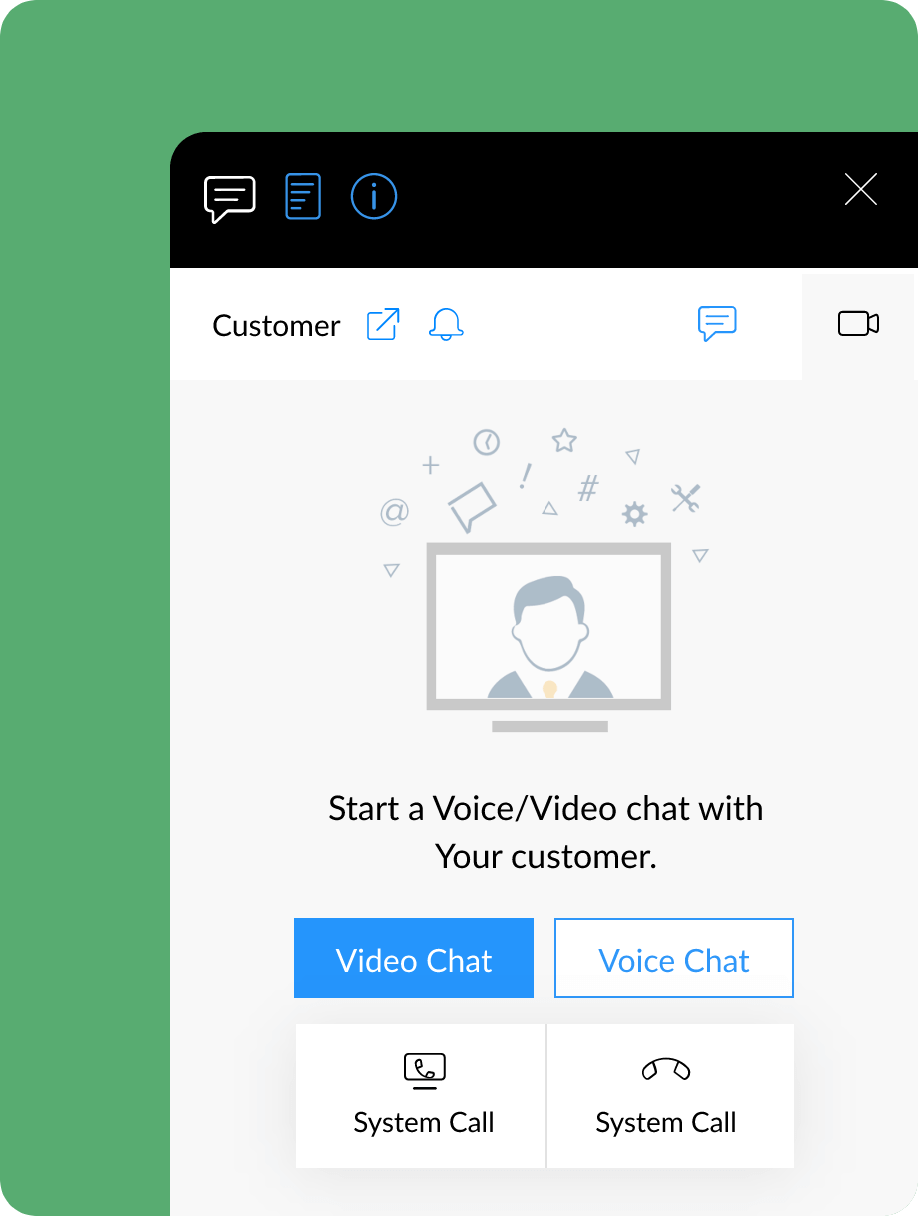 Voice and video
Provide an interactive and personal support experience using Zoho Assist - a comprehensive remote desktop software with voice chat and video call feature. Once the call is initiated and accepted, both parties can communicate using audio and HD-quality video in real time. Clients can even pause screen sharing at any time during a remote session to protect their privacy.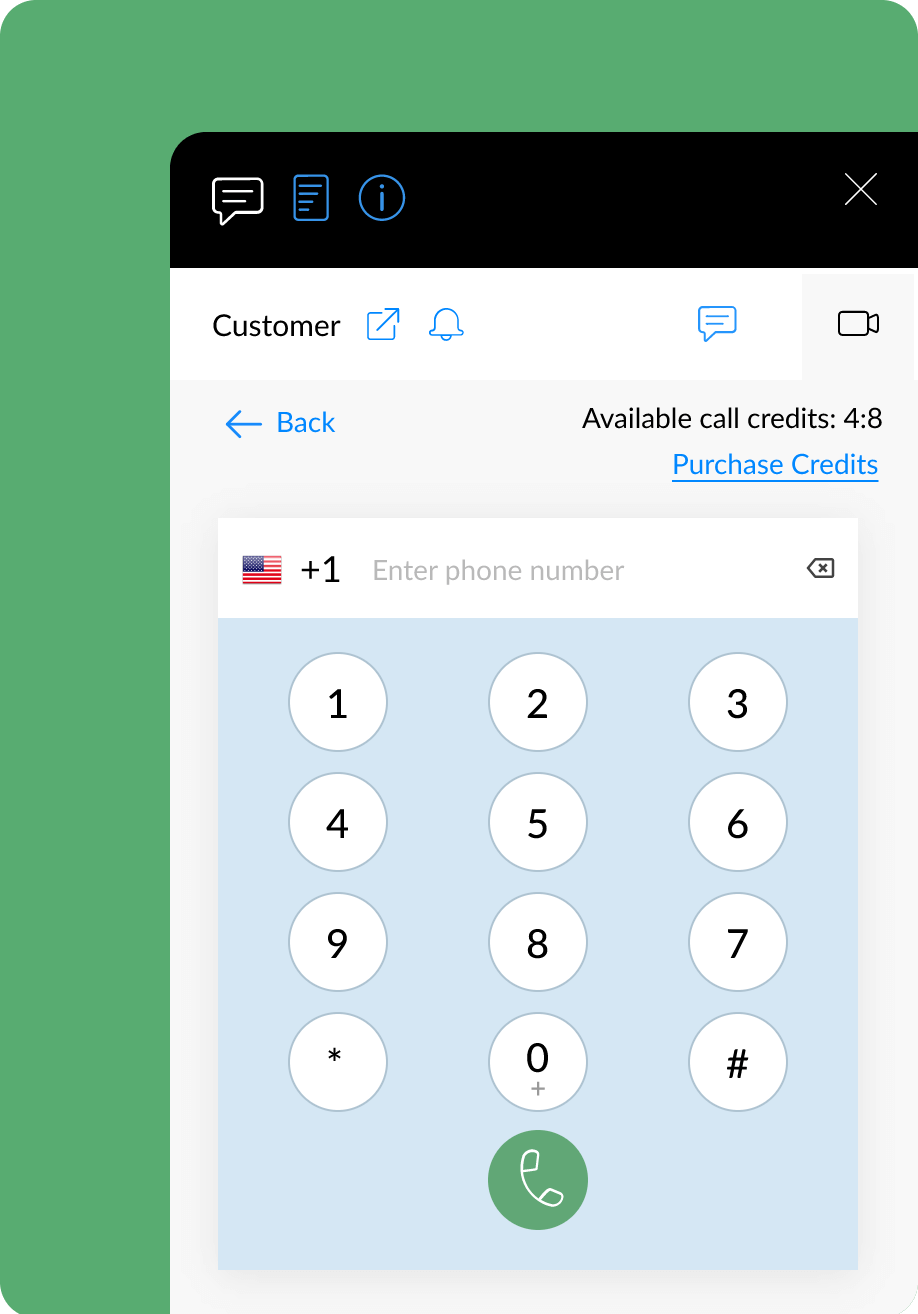 VOIP
Making phone calls over the internet is easier with a VOIP (Voice Over Internet Protocol) tool. All you need is your client's contact data to instantly connect during an ongoing remote support session. To get started, simply dial the client's number, including the applicable country code. VOIP is useful for troubleshooting and resolving technical issues more effectively, as the support agent can listen and speak directly with the customer.
Top reasons why Zoho Assist's Instant Chat feature is ideal for all your needs
Elevates customer satisfaction
Create an instant connection with your customers and build rapport using Zoho Assist's chat feature. Our voice and video call tools help bridge the gap, increasing client engagement and ensuring that instructions are understood clearly. Whether you're a small businesses or a large-scale enterprise, Zoho Assist can help you enhance client satisfaction with rapid support and real-time responses to questions.
Maintains accurate records
Track and follow up on customer issues using Assist's Chat Transcript feature. This feature helps boost the quality of your support services by allowing technicians to review interactions and build on earlier discussions. Once the session has ended, the technician can download the session chat history and refer to it if a similar problem arises in the future.
Facilitates seamless collaboration
Dealing with customers remotely during a support session can be frustrating. With our built-in chat tool, and voice chat in remote desktop feature, technicians can speed up the support process, and customers can easily share relevant information and files, leading to quick and effective diagnoses and resolutions.
Increases productivity
Zoho Assist's instant live chat during remote session eliminates the need for technicians to toggle between multiple messaging platforms, reducing the time and effort required to resolve customer issues. With the Instant Chat feature, technicians can provide intuitive demos and manage multiple interactions simultaneously, efficiently managing a variety of customer concerns.
Protects data with secure and encrypted transmissions
With end-to-end SSL and 256-bit AES encryption, Assist provides a reliable and secure messaging platform. Our security compliance ensures that all your sensitive information (such as your passwords) is safeguarded against unauthorized access. Users can communicate without worrying about data breaches.
Frequently Asked Questions
Can third parties view my messages?
No, with a 256-bit AES and SSL encrypted transmission path, you can rest assured that all your messages and sensitive data are protected during voice, video, and text chat.
What can a customer do if they do not want a technician to view their screen during an ongoing remote support session?
If customers open private data on their device during a support session, they can temporarily pause screen sharing. This prevents technicians from viewing their screens.
Can I transfer files using the Instant Chat feature?
Yes, you can. Zoho Assist's Instant Chat feature allows you to chat with remote desktop clients and transfer files of all formats up to 5GB.
Do VOIP calls require an internet connection?
Yes. Along with a stable internet connection, you will need your client's contact number to make a VOIP call. However, Zoho Assist's VOIP feature is available only to US DC users.
Do I need to start a new remote session if I want to switch from a voice call to a video call?
No, Zoho Assist is a comprehensive remote desktop software with voice chat and video call feature. Both technicians and customers can switch between them without having to leave the session.