AI powered Data Analytics with Zia
Zoho Analytics is augmented with AI capabilities through Zia, our AI-powered data analytical assistant. Zia provides critical business insights in seconds through natural language processing capabilities via Ask Zia for conversation analytics, Zia Insights for automated insights, and more.
Sign up for free
Here is how we can help you
Ask Zia questions,
get insights
Ask Zia is a conversational AI assistant within Zoho Analytics, and she's here to help you go from raw data to actionable insights in seconds. Start a conversation with Zia, ask her anything, get meaningful insights as KPIs and powerful visualizations, and quickly arrive at critical business decisions. Your insights are now just a chat away!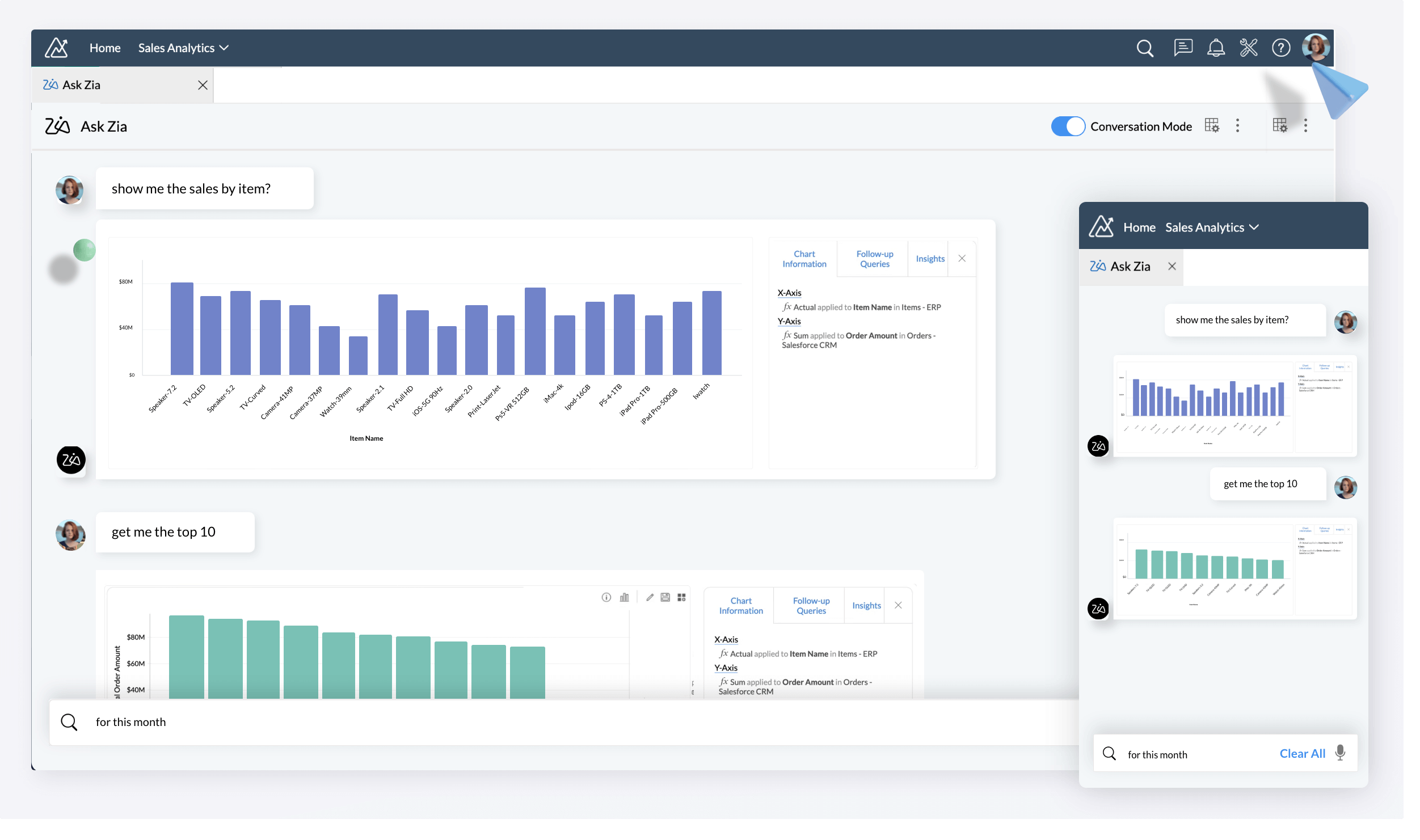 Build
business metrics
Ask Zia puts the power of data in the hands of people. From CTOs to support agents, anyone can get actionable insights in seconds, regardless of their querying skills. Whether it is sales, marketing, or finance, Zia understands all your data and gives you 360° visibility into your business.
Smart
interpretation
Ask Zia provides smart suggestions, eliminates ambiguities and typos to create the best-suited visualizations based on your data. You can directly add these KPIs to any of your existing dashboards or build a new one from scratch.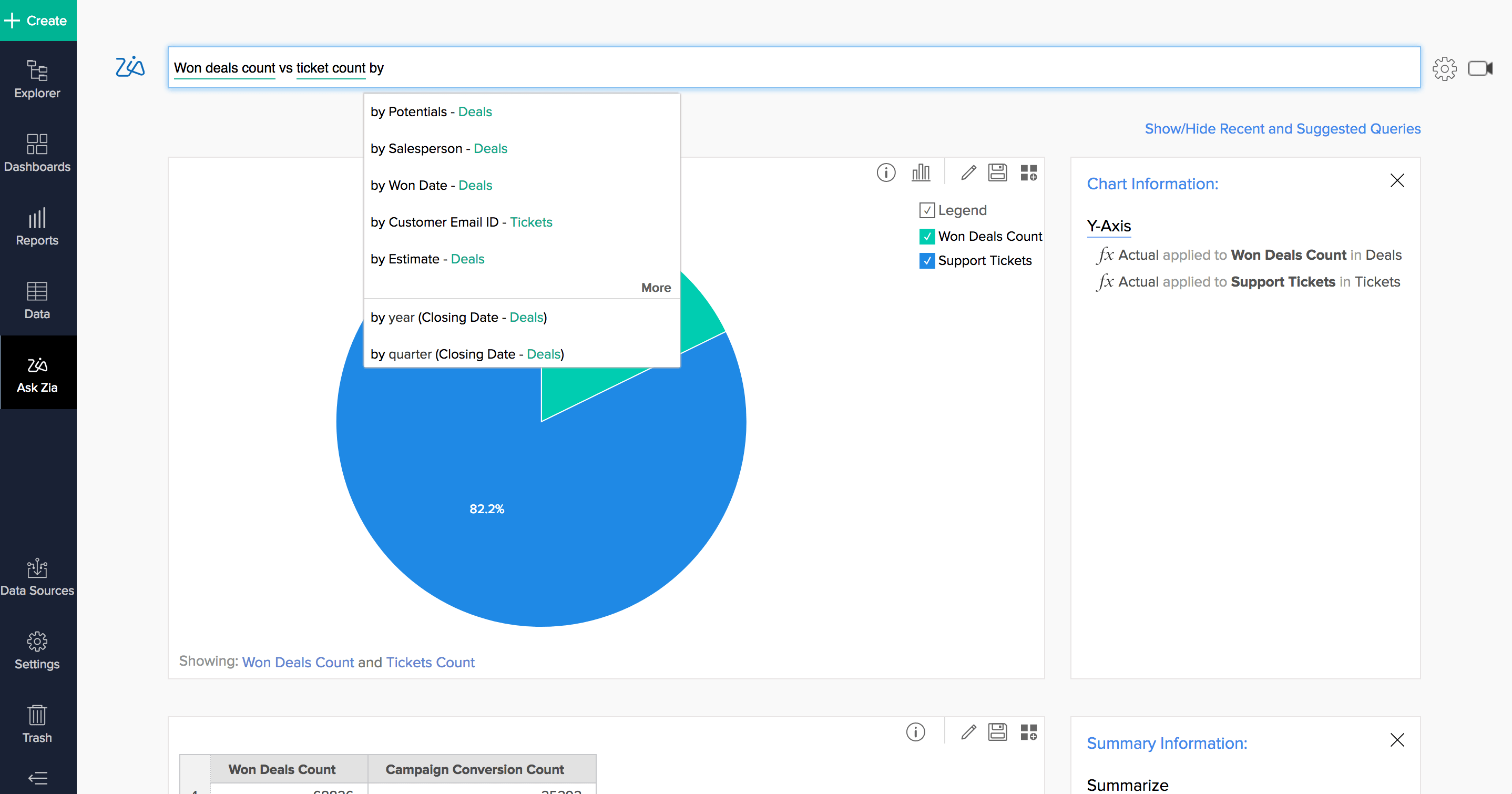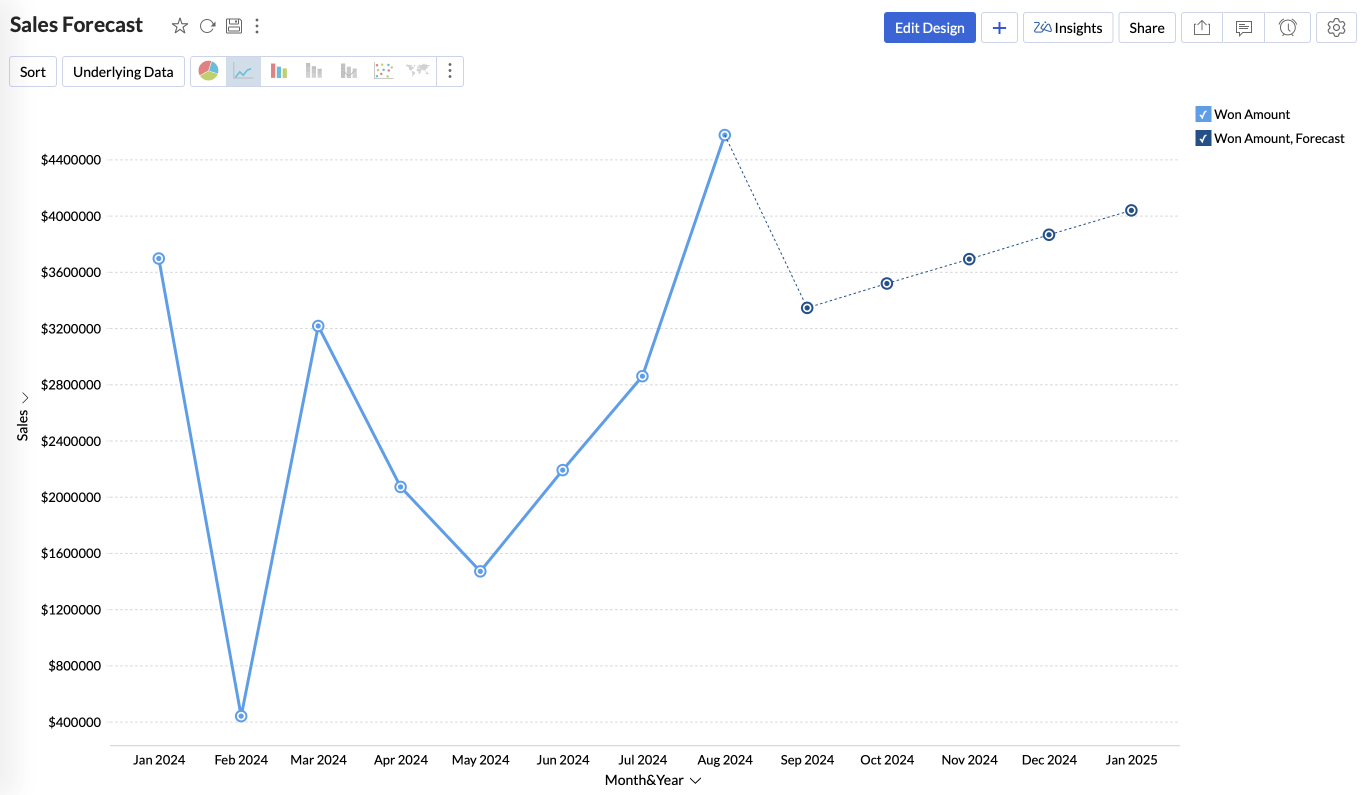 Predictive

analysis

Ask Zia anything about future trends, predict scenarios, and plan ahead of time with smart forecasting. Arrive at data-driven, smart decisions and future proof your business with powerful insights.
Zia Insights
Insights don't have to be a needle in the haystack anymore. Save time gathering insights, and focus on turning those insights into action with our all new Zia insights.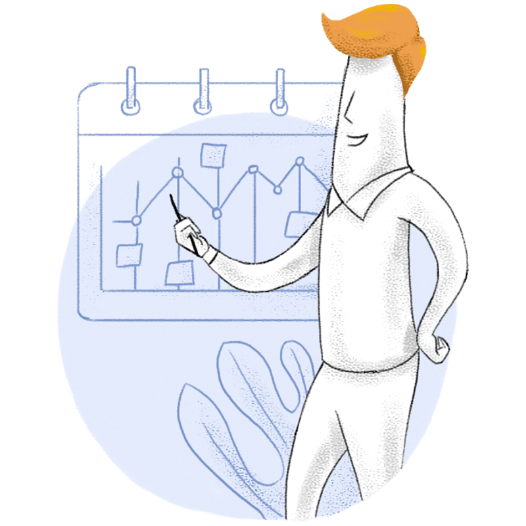 AI-driven

automated Insights

Zia, with her deep understanding of your data, can now provide actionable insights in the form of easily understandable narratives about important trends in your data. Leverage the power of AI and unearth hidden insights that would otherwise be impossible or time-consuming to find in a single click.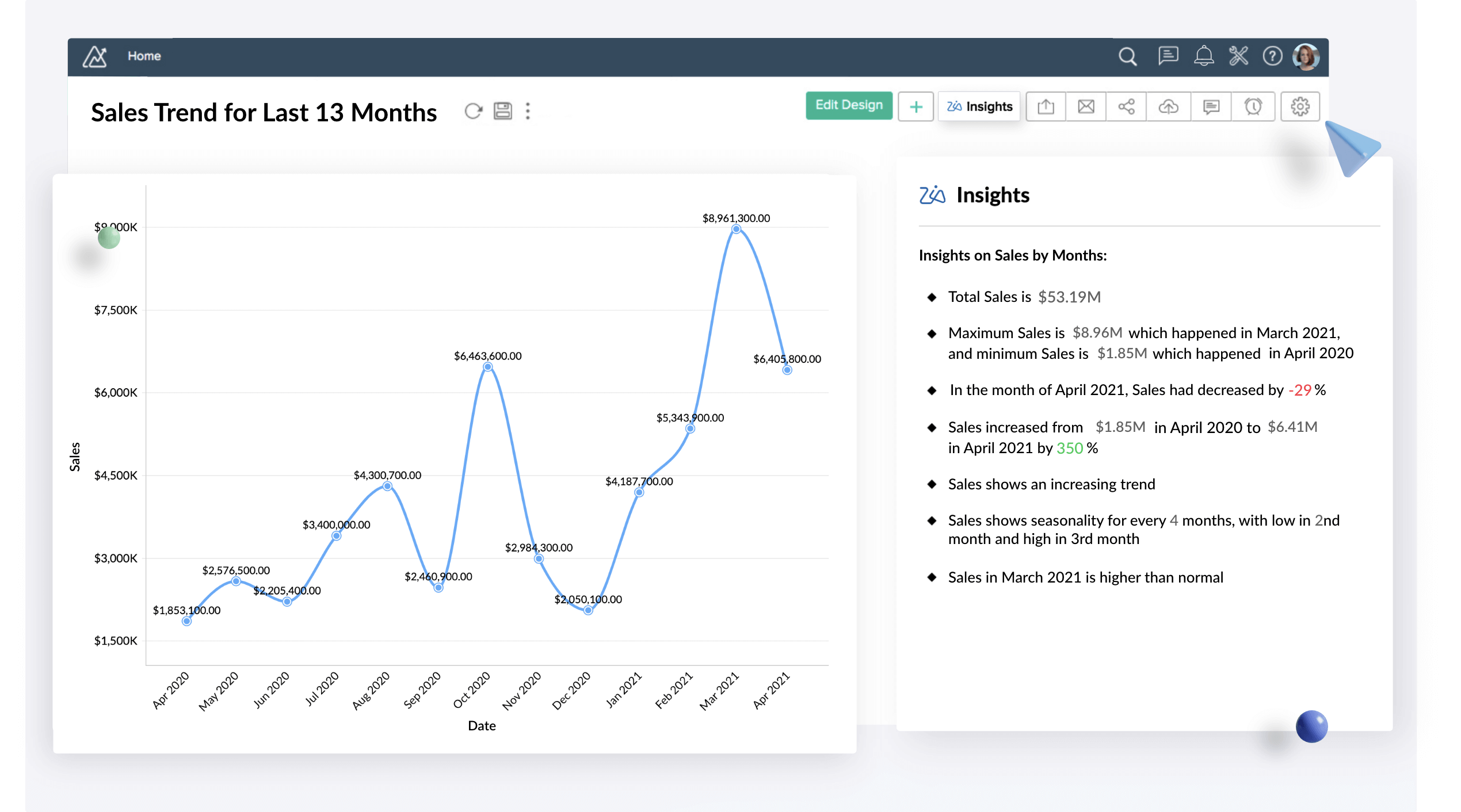 Generative
AI
Zia is integrated with OpenAI's ChatGPT, and you can experience the power of GPT-4 seamlessly from within Zoho Analytics. Be it finding a public dataset and importing it into Zoho Analytics, creating formulas and generating SQL queries by just asking in natural language, or getting synonym suggestions for table column names, Zia's generative AI capabilities can help you solve a myriad of analytics tasks in pretty quick time.
Learn more
Analyze
on the go
Zia is now available on your mobile device as an immersive chat-like interface. Carry your insights wherever you go, analyze on the move, and get powerful, real-time insights at your fingertip – anytime, anywhere.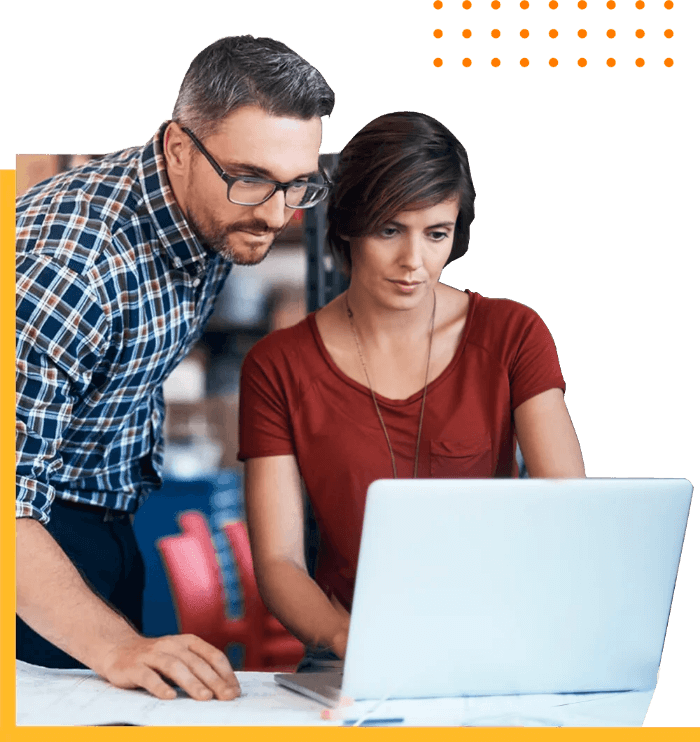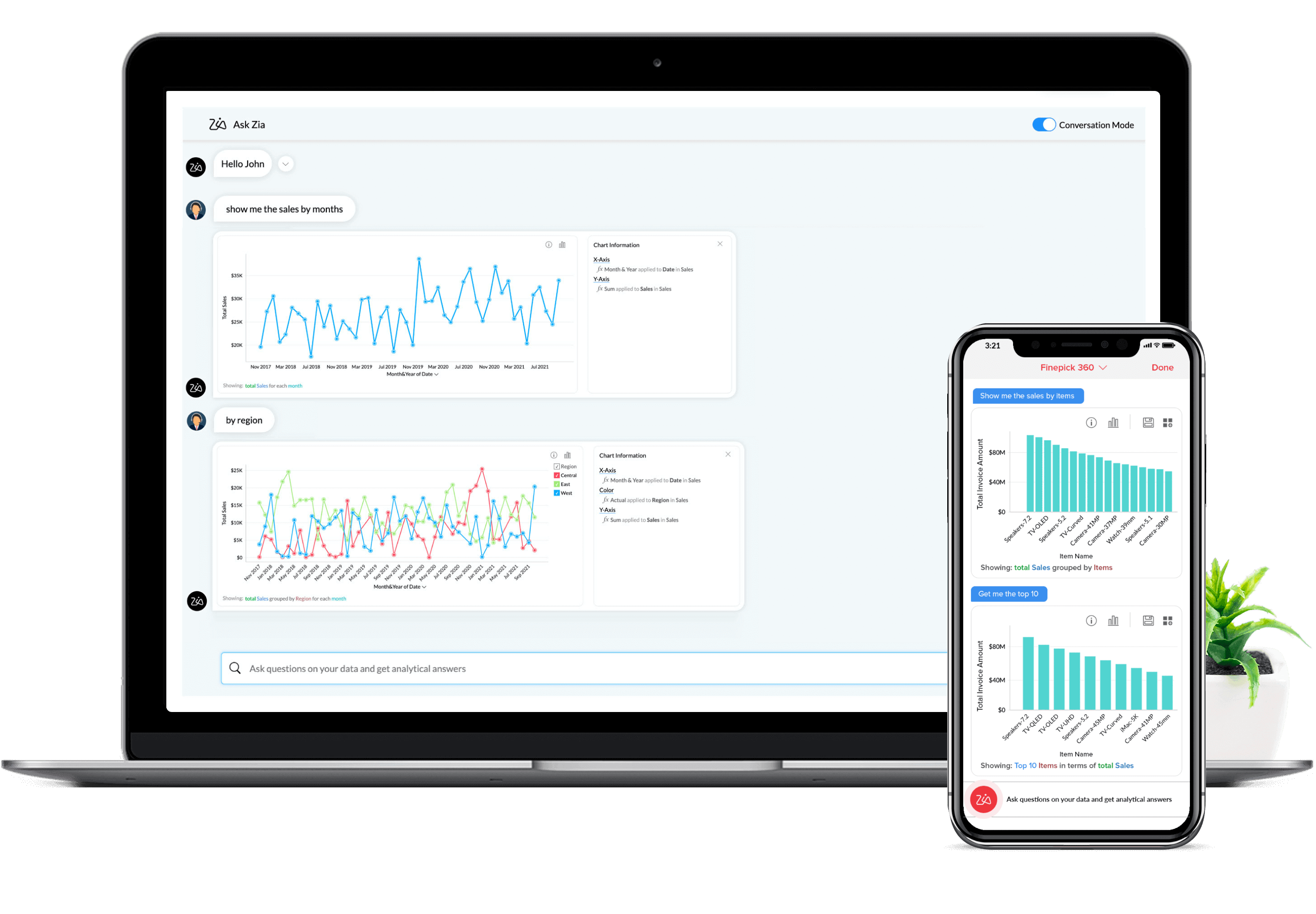 Zia

understands your business functions

Zia understands data from popular business apps along with the domain lingo to offer contextual interactions & insights for you
Zoho SalesIQ

Zoho CRM

Zoho Books

Zoho Analytics

QuickBooks

Google Ads

Zoho Desk
More integrations
What our customer says
"The Ask Zia and Zia Insights features are also cool. I can ask for a specific agent name for their quarterly or monthly performance and get to see if their sales numbers are trending up or down, and from which geographic area their sales are coming from. I can also dive into why they can't close deals in other areas and try to replicate the successful ones. From Zia insights, I get which agent is doing the most amount of business and who is doing the least, and I can give their manager an update along with actionable insights—like which specific salesperson has a better understanding of customers on the coast rather than the mountains. These insights give a clear picture of the performance of all our sales reps, and we had this discovery within minutes because of Zia Insights."
John Sheldon
Business Intelligence Manager,Renu Energy Solutions
Read more
Solutions / How-Tos
Icon
Getting started with Ask Zia
Watch the video
Icon
How to train
Zia
Watch the video
Icon
Zia with ChatGPT
Watch the video
Frequently Asked Questions
How do I get started with Zia?
In Zoho Analytics, click the "Ask Zia" button on the left navigation bar and ask your questions to Zia.
Is my data safe with Zia?
What languages is Zia available in?
Right now Zia is available in English and Spanish(available in beta).
Where can I learn more about Zia?