Zoho Analytics Newsletter - February 2014
Case Study: EcoMark Solar
EcoMark Solar offers a full range of residential energy products. Know how Zoho CRM and Advanced Analytics for Zoho CRM in tandem, are helping EcoMark run its rapidly growing business. Read more

Public Dashboard Examples
Zoho Analytics is used by businesses and organizations worldwide in a myriad of ways. Showcased here are some examples of how Zoho Analytics is being used.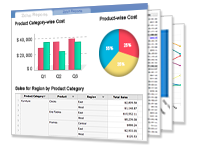 New Feature Enhancements
Now email your filtered analytics, plot moving averages and import xlsx files. Also in 100% group bar chart, column sub-totals, renaming chart's legends and more.