Create KPI dashboards quick and easy
Visualize and analyze your data with insightful KPI dashboards. Monitor your key business indicators with KPI tracking software. With our KPI dashboard tool, share the business dashboards you create with your colleagues for easier data analysis and collaboration.
Sign up in less than 60 seconds
KPI Tracking Tool that Empowers your Business
With KPI dashboards, you can access, analyze, and monitor all your KPIs from one place. They also allow you to track business progress towards goals set.
Track business performance

Measure and monitor your organization's performance and ensure it's on the right path in real-time.

Predict problems earlier

Forecast business' progress and growth with the help of advanced technologies such as AI, and find out problems that may arise in the future.

Make decisions at the right time

By using insights and predictions collected, make the right decisions and plan or revisit your strategies.
Want to see sample KPI dashboards before getting started with your own? We've prepared a list of KPI dashboards based on multiple use cases.
See KPI Dashboard Examples
Create insightful KPI dashboards & reports with Zoho Analytics
Make use of a variety of charts, widgets, pivot, summary and tabular views, and create insightful KPI reports and dashboards with our KPI software.
Easy-to-build dashboards
Combine multiple reports into tabbed dashboards, using a drag-and-drop designer. Insert images, formatted text, widgets, and web components in a flexible designer layout. Make it easier for your executives and users to track KPIs (Key Performance Indicators) effectively.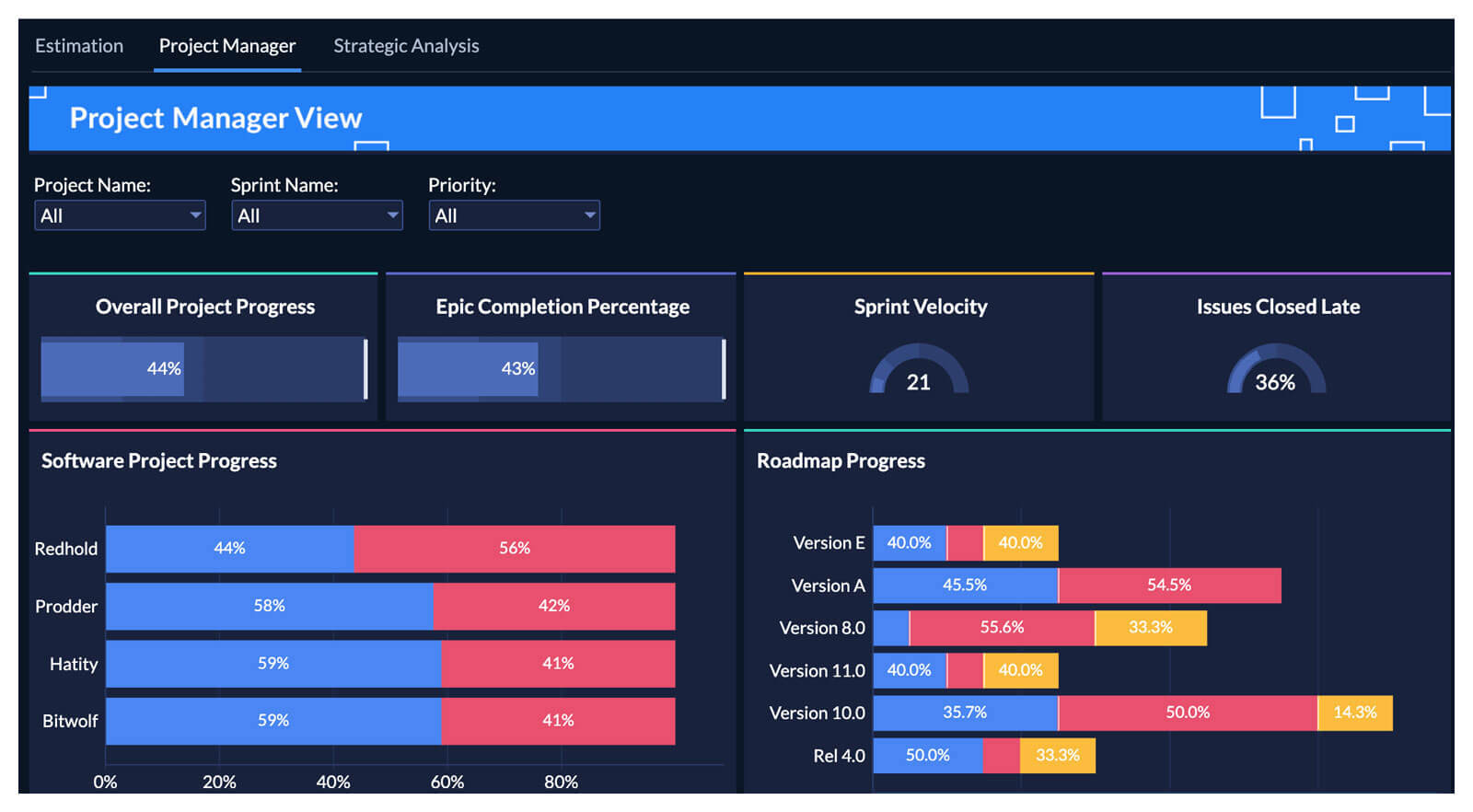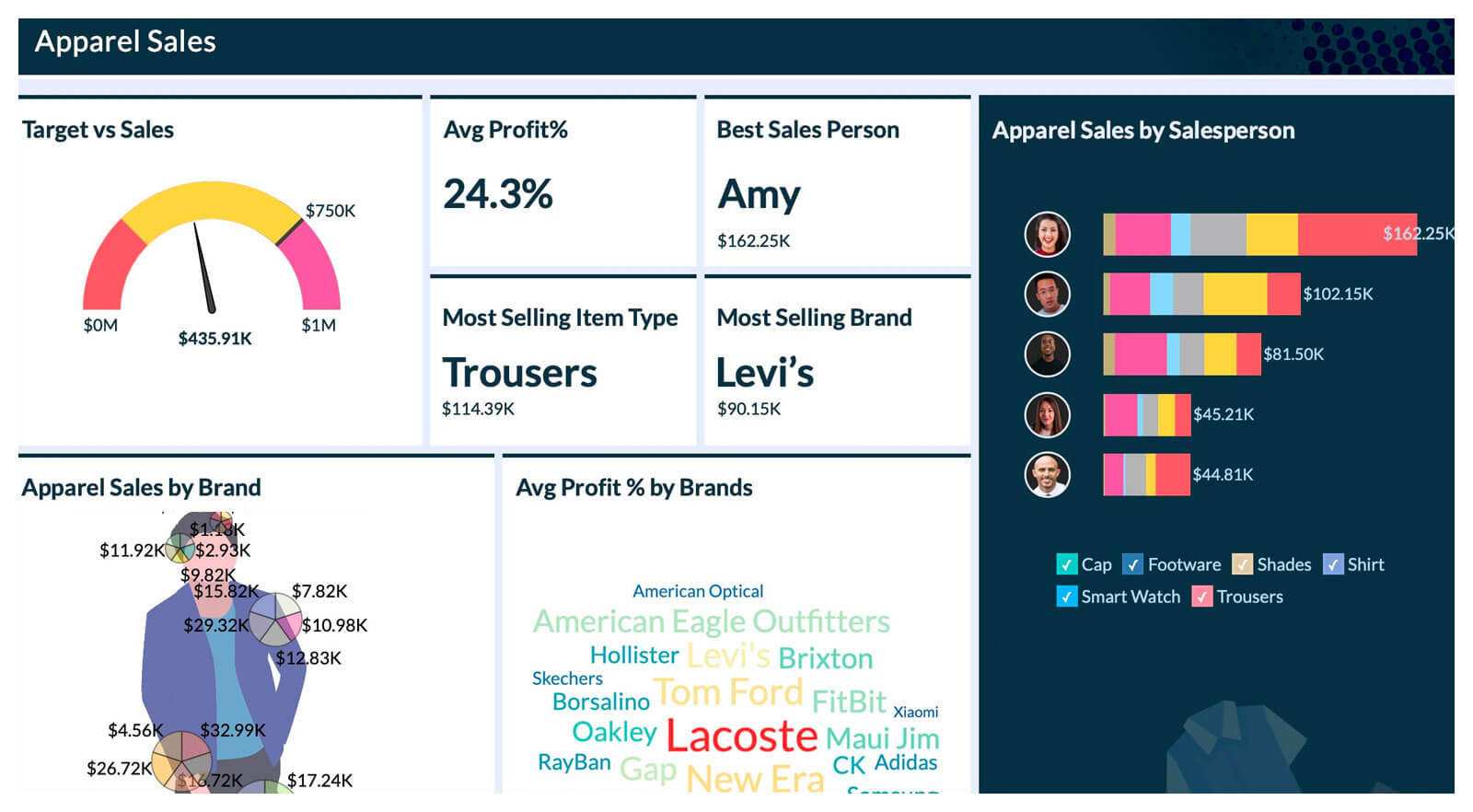 Image based visualizations
Plot location data spread over custom image boundaries like basketball courts, city parking lots, roads etc. Include creative image visuals in your KPI dashboards to enhance visual appeal and readability.
Fine-grained access control
Have full control over what your colleagues or clients can see and do with the dashboards you share. Avail fine-grained access control with specific options like read-only, read-write, report authoring, drill-down, export and much more.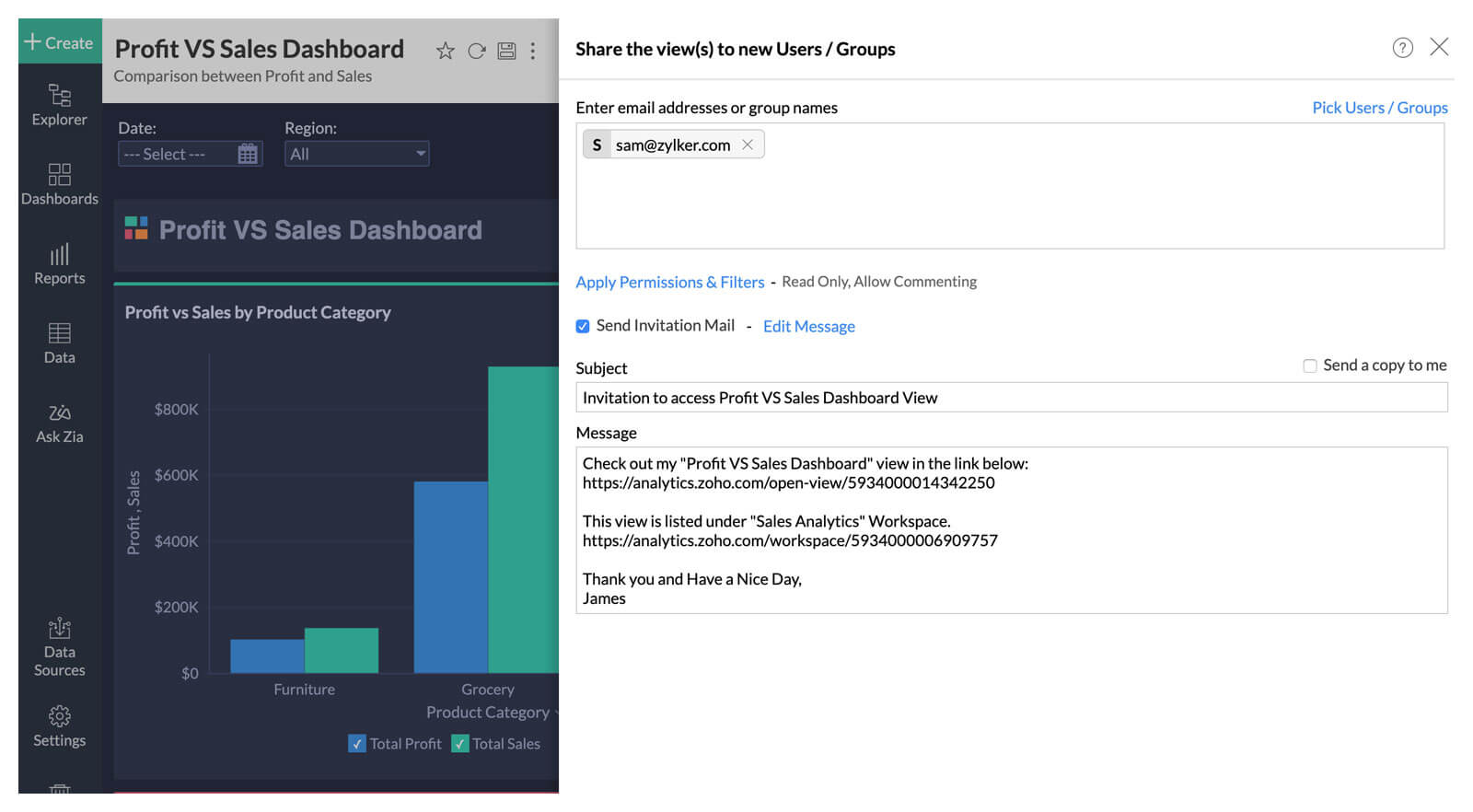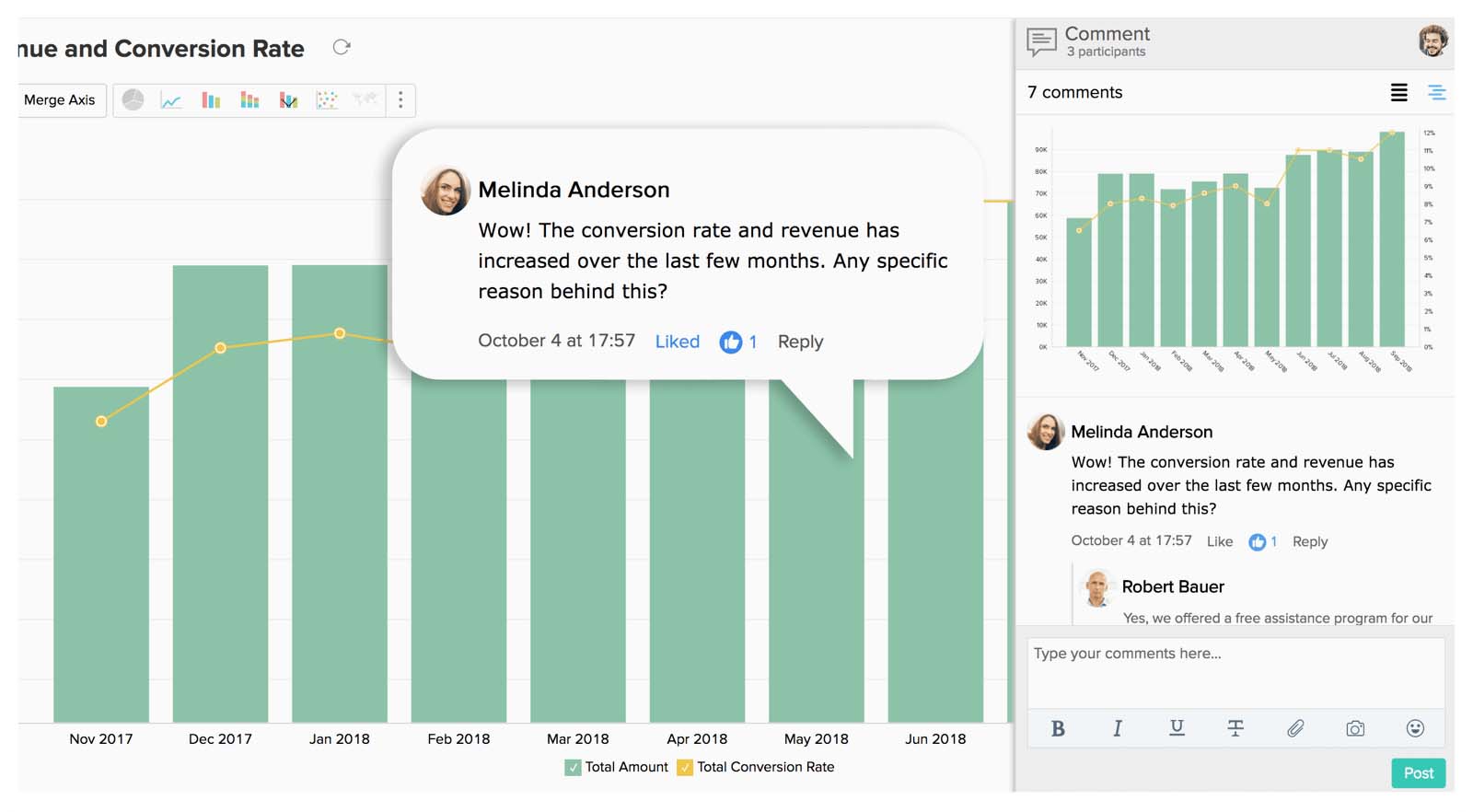 Effective Collaboration
Start a contextual comment thread from inside your KPI dashboards and instantly collaborate with your peers. Add and annotate images, and see the entire comment history anytime, anywhere.
Publishing and embedding
Publish your KPI dashboards and make them accessible to users with/without logins. Embed reports and dashboards across websites, intranets, blogs and applications for wider consumption.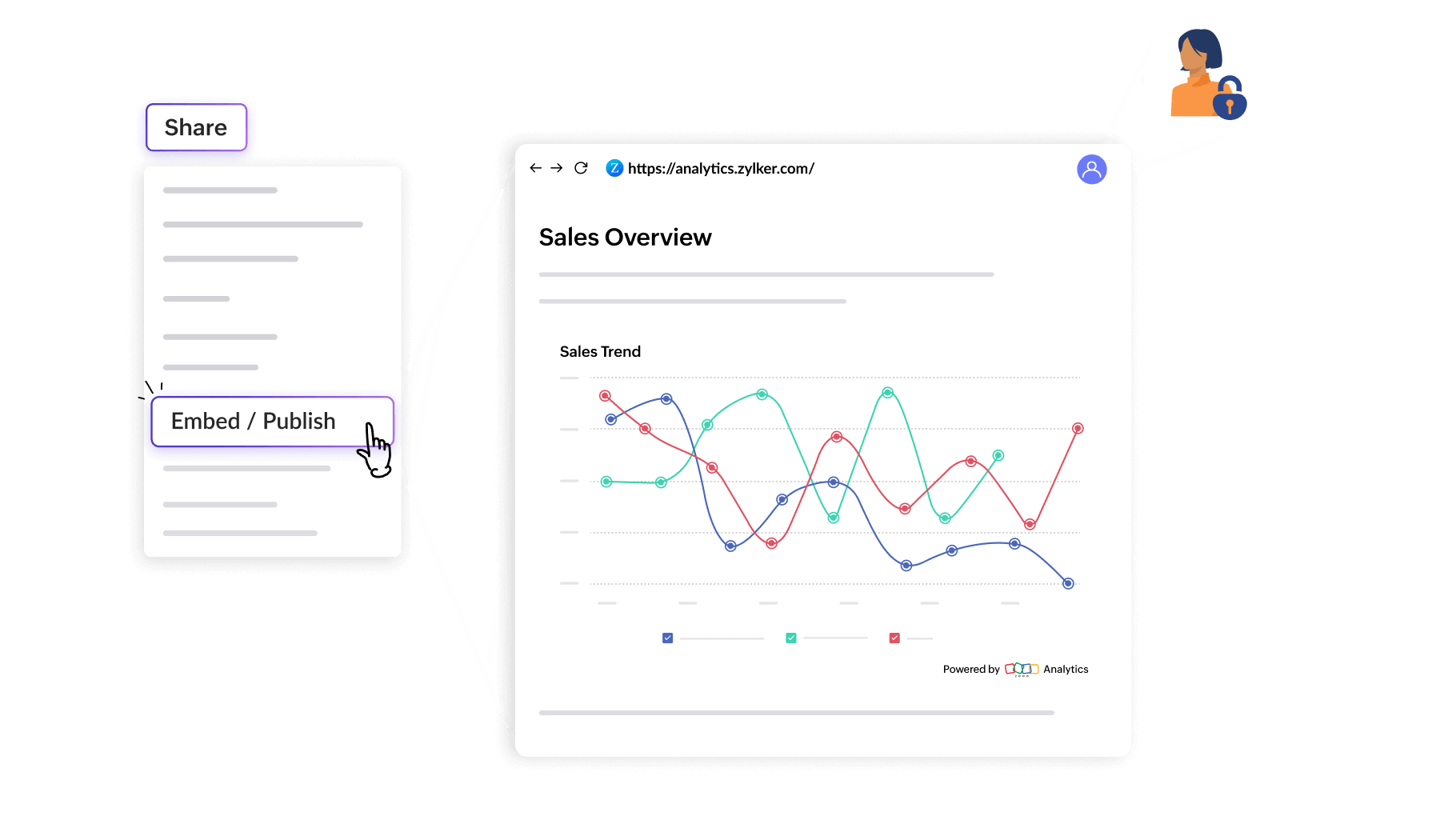 Create KPI dashboards in 3 simple steps
Import data

Import your business data from one or multiple sources such as files, feeds, business apps, etc.

Visualize & analyze KPIs

Transform your business data into insightful KPI reports and identify trends and data outliers.

Create KPI dashboard

Simply drag and drop the reports that you have created and analyze all the relevant KPIs in one place.
"Zoho Analytics enabled us to create KPIs with complex business logics built-in. It's easy enough but at the same time quite powerful for a marketer to use. Personally, it's my number one tool for reporting."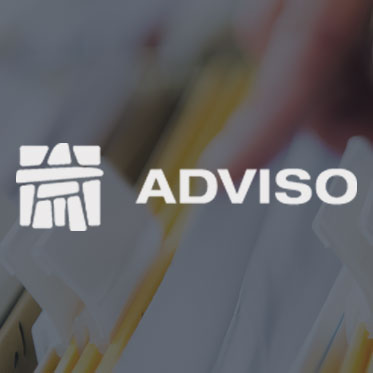 Louis-Dominic Parizeau
Director of Adviso
BARC - BI Survey 21
Zoho Analytics received great feedback in BARC's latest "BI Survey 21" report scoring an impressive 12 top rankings and 28 leading positions across 5 different peer groups.
Dresner Advisory's Wisdom of Crowds® Business Intelligence Market Study
Zoho Analytics is rated as an overall leader in customer experience and vendor credibility and has a perfect recommend score.
Frequently asked questions on KPI Dashboards
What are KPI dashboards?
KPI dashboards are tools that enable you to conveniently monitor your business's overall performance by consolidating essential key performance indicators (KPIs) from various data sources. It offers valuable insights to managers, allowing them to assess the health of the business and track its performance effectively.
How to create an effective KPI dashboard?
To create an effective KPI dashboard, follow these steps:

Define the purpose of the dashboard and identify the intended audience.
Select the most suitable KPI software for your needs.
Visualize your data using appropriate charts and graphs.
Arrange the KPI widgets and reports in a cohesive manner.
Compile the components to create a comprehensive dashboard.
Why should I create KPI dashboards?
KPI dashboards enable you to uncover performance trends and insights from a large amount of data—everything from one place. With these insights, businesses can make data-driven decisions and improve their performance without spending much time on data analysis.
What to include in KPI dashboards?
When creating KPI dashboards, it's essential to focus on presenting relevant and actionable information. Here are some key elements to include in KPI dashboards:

Targets and Thresholds
Trends and Historical Data
Real-Time Updates
Data Filters and Drill-Downs
Data Context
Why should you choose Zoho Analytics to create KPI dashboards?
With Zoho Analytics, you can effortlessly import data from various sources, seamlessly visualize data, and create dynamic KPI widgets. Furthermore, you can enhance your analysis through the integration of artificial intelligence capabilities. Collaborative work becomes hassle-free as you can easily share KPI dashboards with your team. Experience these benefits and much more by selecting Zoho Analytics for your KPI dashboard needs.