Zoho Books, a smart alternative to Sage business cloud accounting software.
Zoho Books, an FTA accredited, VAT-compliant cloud-based accounting platform with affordable pricing, quick and responsive online support, and an easy-to-use interface, continues to revolutionize how business is done in the Middle East and across the globe.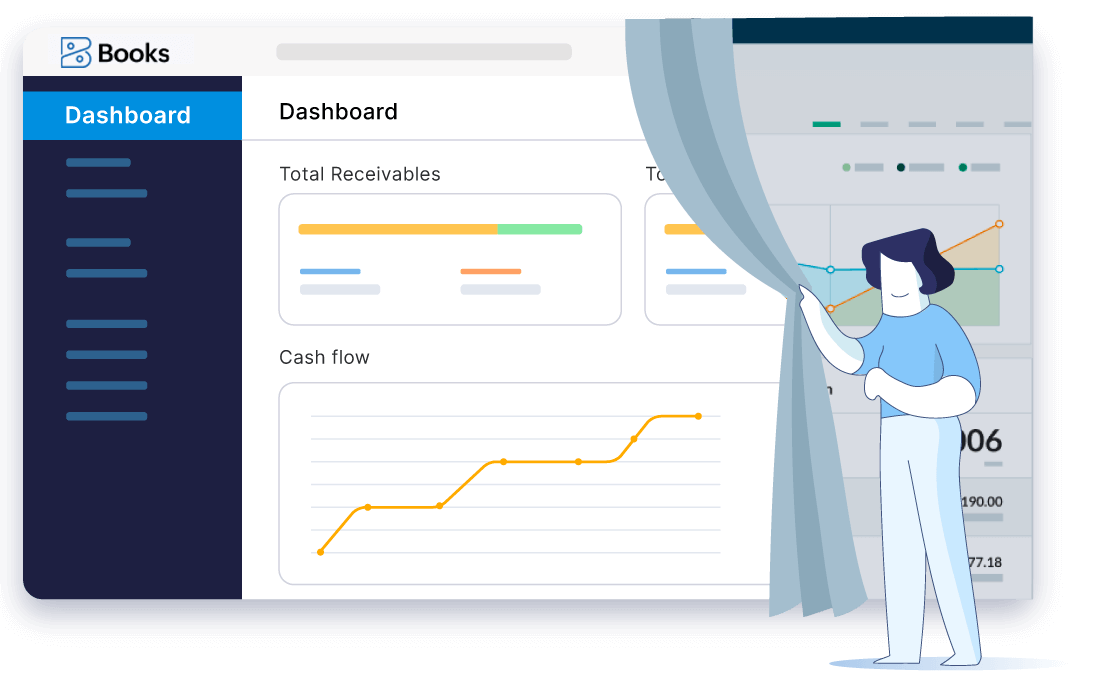 Why choose Zoho Books
over Sage business cloud accounting?
| Features | | Sage One |
| --- | --- | --- |
| PRICING MODEL | Offers monthly and annual subscriptions | Offers monthly and annual subscriptions |
| FREE PLAN | | |
| ARABIC INTERFACE | | |
| FTA ACCREDITED | | |
| CONTACTS | | |
| Customer Portal | | (Paid Service) |
| INVOICE MANAGEMENT | | |
| Recurring invoices | | |
| Add attachments | | (to customer receipts) |
| BANKING | | |
| Online banking | | |
| Import bank statement PDFs | | |
| PAYMENTS | | |
| Auto-charge through Customer Portal | | |
| Support online payment gateways | | |
| Refund history | | |
| INTEGRATION | | |
| Slack, SMS integrations | | |
| AUTOMATION | | |
| Email alerts, field updates, webhooks, custom functions | | |
| REPORTS | | |
| Scheduled reports | | |
| PROJECTS AND TIMESHEETS | | |
| Project summary | | |
| Timesheet details | | (add-on module) |
| DOCUMENT MANAGEMENT | | |
| Auto-scan | | |
| SUPPORT | | |
| Email, chat, and phone | (with Arabic customer support) | |
What makes Zoho Books users' top pick
User-friendly software
Zoho Books is no-manual-required accounting software. Even without any prior hands-on experience with an accounting tool, you can easily get started right away. And if you do require any assistance, Zoho Books' support team will be on standby to help you then and there.
Wide range of integrations
Zoho Books' wide range of integrations lets you deal with all your business tasks, from sales and finances to human resources, on one single platform. For instance, you can integrate Zoho CRM or Shopify stores with Zoho Books in a matter of minutes without a single line of code.
Dedicated customer and vendor portals
The customer portal and vendor portal in Zoho Books are dedicated spaces for you to collaborate and keep track of all your transactions. They also provide your customers and vendors with more control over their actions, increasing satisfaction and productivity.
Tax filing made easy
Zoho Books is a complete VAT-compliant accounting application, with FTA accreditation and features designed to suit all your accounting needs in the UAE. With Zoho Books, you can create and send VAT-compliant invoices, view business reports, and generate VAT returns in the format specified by the FTA.
Automated workflows to save time
Zoho Books encourages you to organize your work and handle multiple assignments simultaneously with automated workflows. Generate email or in-application notifications, send payment reminders, and set up triggers to perform specific activities. Let the work manage itself.
Supports local payment gateways
Zoho Books is integrated with major online payment gateways to further automate your cash flow and ensure faster, hassle-free receipt of payments. You can find payment gateways like PayTabs, PayPal, Authorize.net, Stripe, and more among Zoho Books' integrations.
Effective project management tools
For some projects, you might want to charge your customers based on the actual time spent working for them. Now, you can do that more efficiently. From assigning users to particular tasks to tracking unbilled hours and generating invoices for the same, Zoho Books helps you make every moment count.
Built-in document archive
You no longer have to run from point A to point B to fetch your documents. Zoho Books provides all-encompassing document management right within the application. Organize, auto-scan, and attach your documents to contacts or transactions.
Well-rounded pricing plans
Zoho Books' pricing plans are intended to accommodate businesses of all sizes, from sole proprietors to enterprises. Try out the complete set of features with a 14-day free trial, then choose the plan that best fits your business. Also, Zoho Books offers an exclusive free plan for small businesses with turnover under AED 200,000
We let our growing base of satisfied customers across the globe speak for us!
" Zoho Books made our lives a lot easier, specifically for somebody like me, who has no IT background or solid accounting background.
Zoho's support team really helped us in solving day-to-day problems and to develop custom functions to automate certain processes with our company. "
NIKOLAI DOMEYER
FOUNDER AND GENERAL MANAGER - BOCK MIDDLE EAST FZCO
" During the VAT launch, all my friends were struggling with managing their accounts. They had to compile the data and keep it in a format how the Federal Tax Authority (FTA) wanted it.
But for us, it was very simple, because with Zoho Books we already had the data how we wanted it. "
RIYAS AND NOUFAL
ALCHEMIST ACCOUNTING, DUBAI, UAE
" Zoho Books is very useful when it comes to managing my business and accounting. The mobile app for Zoho Books is especially handy.
Now I can generate quotes, send invoices and keep track of my finances no matter where I am, right from my mobile. "
FERAS AL NAJJAR
SALES MANAGER, ALNAJJAR GATE TRADING EST, BAHRAIN
Out of the box integrations
Zoho Books is tailored to help your business connect across multiple platforms. Extend your accounting and connect to other business apps with a library of more than 300 extensions, or grow with Zoho's own app ecosystem.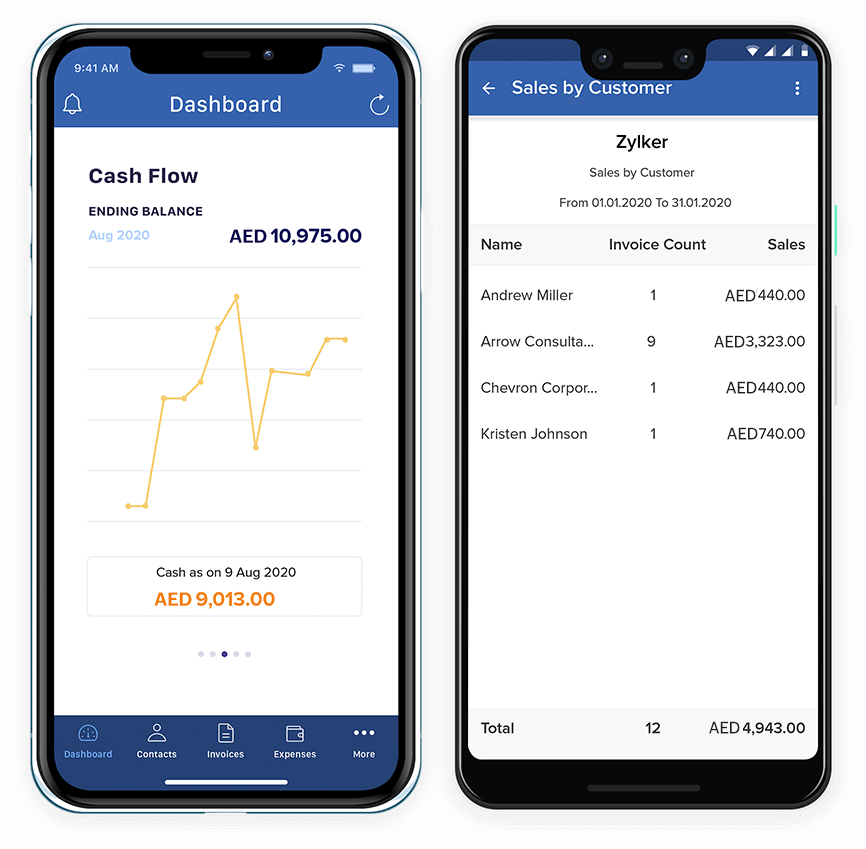 Accounting on the go
Zoho Books lets you take your accounting wherever you go. The Zoho Books app is now available for both Android and iOS users. Download the free app and stay connected with your accounting data and workforce through any device with an internet connection!
Are you ready to explore the future of accounting? Are you ready for Zoho Books?